This gallery of beech kitchen cabinets including different designs, pros and cons, reasons why this wood is a good material, types of beech cabinets, and staining tips.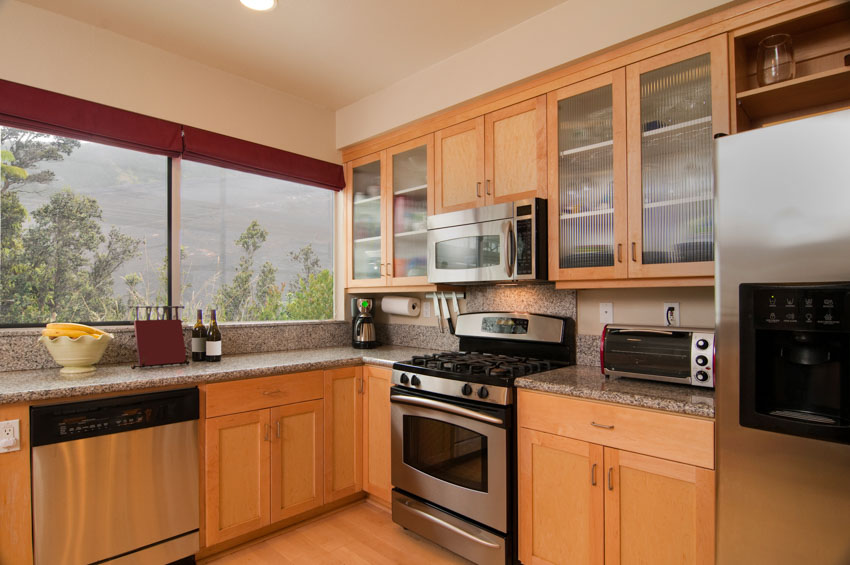 Beech wood has a reputation for being incredibly hard, durable, and attractive. Though it's also extremely heavy, expensive, and not all that popular. Beech wood is simple to work with and receives staining and polishing quite well, making it an ideal material for kitchen cabinets.
To fully comprehend what beech wood is and find out why it's a wonderful option for kitchen cabinets, let's take a closer look at this wood species. We will go over the pros and cons of beech wood cabinets as well as their different varieties.
What is Beech Wood?
Beech wood, which comes from beech trees often located on northern continents, is a pale, reddish-brown tint that is excellent for staining. The wood features microscopic pores, discernible rays, as well as a slightly gritty texture.
It is known for its high strength and is often used for the construction. Both manual and electric cutting devices cut through it without leaving any visible signs of damage. Beech wood has a wide range of uses in and around the house since it is simple to stain. It is frequently used to make kitchen cabinets, chairs, stools, and hardwood floors.
Moreover, beech wood is a great option for furniture that requires endurance to continuous use because it is an extremely durable wood variety. This type of wood is appropriate for daily-used furniture as it has a considerable degree of stress resistance.
Due to its unique wood fibers, beech wood has a very high hardness value that results in more strength and durability. When it comes to actual hardness ratings, the Janka hardness for beech wood is 1300 making it harder than other wood cabinet materials such as cherry, yellow birch and red oak.
The wood's high density and durability makes it resistant to shock and useful for a variety of woodworking projects. Nevertheless, beech wood is prone to pests, henceforth for maximum performance, a protective treatment must be applied.
Beech Wood Cabinets Pros And Cons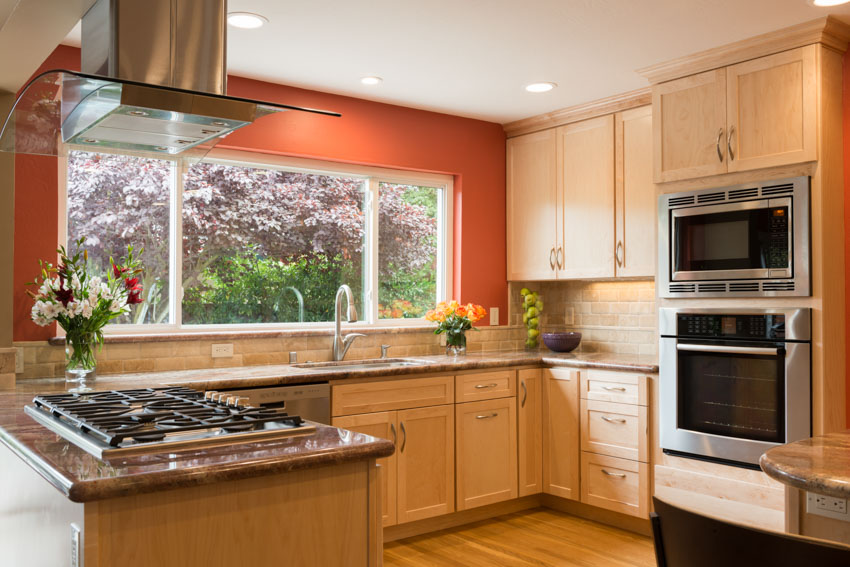 Without further ado, here are the pros and cons of beech wood cabinets:
Pros of Beech Wood Kitchen Cabinets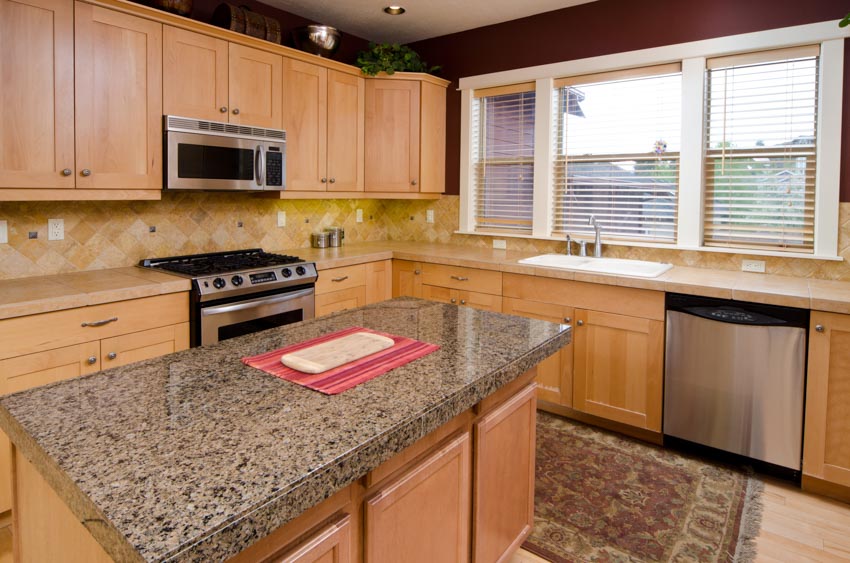 After learning more about beech wood's properties and applications, check out some of the pros of using it for your kitchen cabinets on the following:
• Incredible Shock Resistance: Indeed, beech wood is used commonly for hardwood flooring and other high-traffic purposes because it is a shock-absorbing material. Additionally, it has superb bending properties, henceforth making it a very good option for kitchen cabinets that encounter daily wear and tear.
• Excellent Durability and Longevity: In comparison to other wood species, beech wood is renowned for being rigid and robust. Therefore, it is an excellent option for any piece of furniture that is used frequently, particularly kitchen cabinets.
• Absorbs Stains Properly and Features a Beautiful Appearance: Beech wood is quite simple to stain and polish, making it simple to obtain a smooth, perfect finish that is tailored to your preferences.
Its grain provides a superb surface and maintains the polish and paint effectively. Beech possesses a straight grain and a delicate, consistent texture that, once finished, provides a stunning appearance.
• Exceptional Workability: This kind of wood is simple to cut and handle, which makes it the best option for creating high-quality kitchen cabinets. It firmly grips the nail and screw thanks to its medium density and hardness. Additionally, it has outstanding steam flexibility, making it very easy to shape-bend.
Cons Of Beech Wood Kitchen Cabinets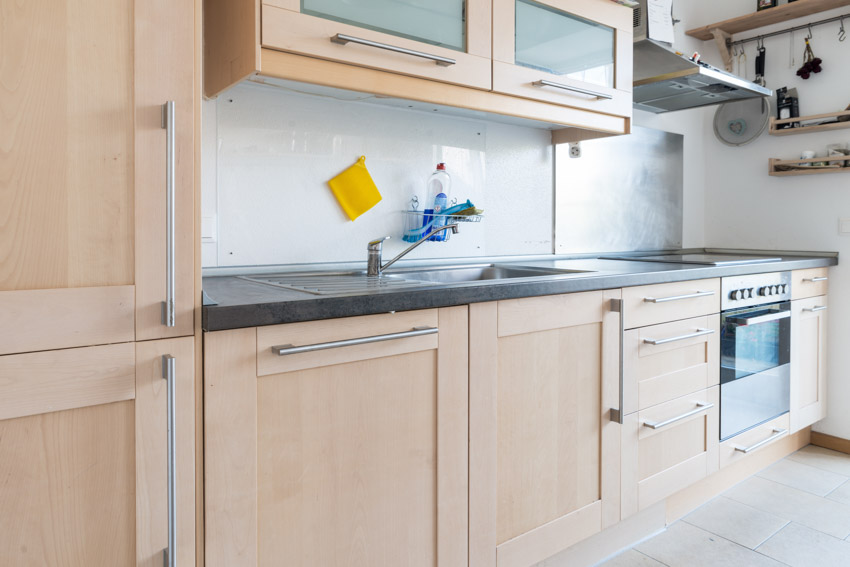 Similar to other types of wood that are used to make kitchen cabinets, beech wood also has its drawbacks when used to build cabinets. Here are some of them:
• It Accumulates Moisture: Beech wood is not advised for usage outside because it has a reputation for accumulating a lot of water. Beech wood also inclines to absorb moisture, which makes it bend, split, and fracture on the surface.
It is also prone to shrinkage and should be dried properly. Hence, if your kitchen cabinet would be in constant contact with moisture, beech wood might not be a suitable option.
• Extremely Heavy: Beech wood cabinets are often extremely heavy because the material is very dense by nature. This can make working with wood for amateurs a little difficult. Hence, for easier installation or handling, hiring an expert would be ideal.
• Can be Costly: In comparison to other common wood types of kitchen cabinet materials, beech wood is often much more pricey. However, on a positive note, beech wood is still less expensive than other common types of hardwood such as maple and mahogany.
• Vulnerable to Infestations and Cracks: Both the longhorn beetle as well as the common household beetle can infiltrate this type of wood. Thus, the wood needs to be regularly sealed to stave off an infestation.
Additionally, due to its rapid moisture absorption, it tends to deform or crack. As it dries out again, it can leave numerous cracks and spaces in the wood's joints. The most effective approach to stop moisture, on the other hand, is by applying paint and polish.
Is Beech Wood Good For Kitchen Cabinets?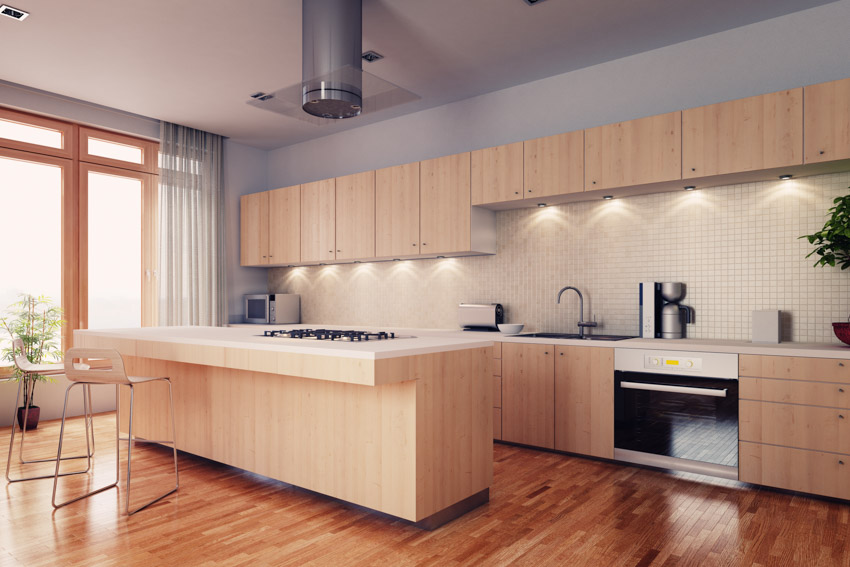 Generally speaking, yes. Earlier furniture builders admired beech wood for its strength, availability, and affordability. It is still more frequently used today to manufacture furniture pieces.
Hence, beech wood is still considered a good material to use for making kitchen cabinets. The straight grain of beech wood adds durability to anything you make with it, from different types of tables and chairs to floors and kitchen cabinets.
Furthermore, beech wood is renowned for its hardness and good reactivity with stains. Although it has a few weak points, it is still graded more thoroughly than many other types of wood species. As a result, the market is supplied with only the best beech wood products.
Beech wood has a hardness rating of 1300 which is in the medium range for wood hardness. This rating is used to determine a woods ability to stand up to scratches, dings and dents.
Although it is unlikely that you would receive low-grade beech wood, it is, nevertheless, vital to inspect the wood for straightness and ensure that it has had appropriate time curing in a kiln. This virtually guarantees that you have the finest lumber for building your beech wood kitchen cabinets.
Unfinished Beech Kitchen Cabinets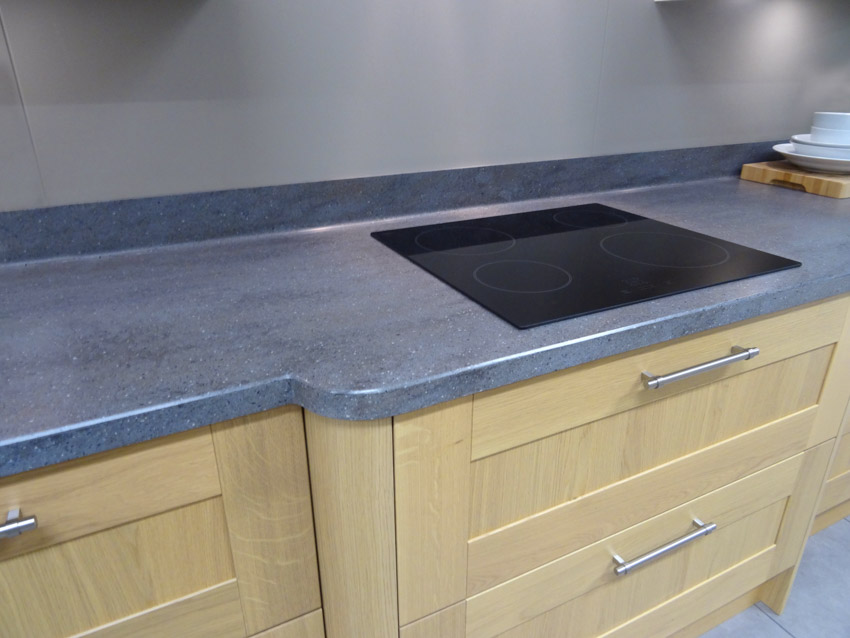 Unfinished beech kitchen cabinets usually include strong beech doors and a solid box design for long-term use. High-quality panel doors and appealing unfinished beech can make your kitchen look more professional. Truly, the surface of an unfinished beech kitchen cabinet is convenient to paint or stain to complement your current kitchen interiors.
Although unfinished beech can be sanded to a brilliant polish, it absorbs more stain and shows the grain of the wood, especially in darker finishes. If muting the grain is required, applying a sanding sealer to seal the pores of the wood can allow unfinished beech to attain a certain effect as well.
Modern Beech Wood Kitchen Cabinets
Modern beech wood cabinets are popular in contemporary interiors because they are straight-grained and have a smooth, uniform texture. When distinctive characteristics exist in the wood used, beech wood cabinets with a raw finish can be exceptionally lovely.
Furthermore, modern beech wood kitchen cabinets are typically pale cream, although they might look pastel pink or light brown at times. Beech wood does have a natural sheen and a fairly straight grain, making it excellent for minimalist modern kitchen decors.
Rustic Beech Kitchen Cabinets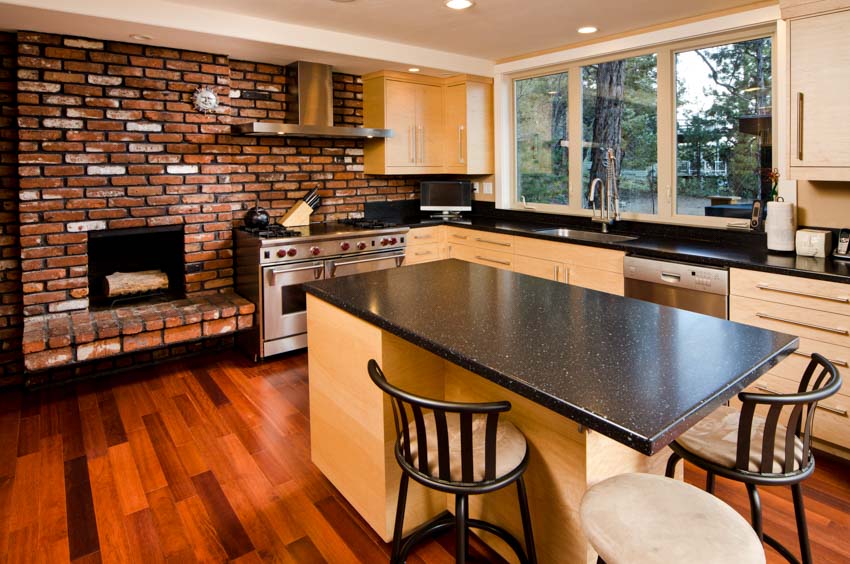 Rustic beech kitchen cabinets have a more distinct, vivid appearance and a fractionally darker color than both typical and modern beech kitchen cabinets. A rustic beech kitchen cabinet is often made out of genuine beech wood that has been weathered or distressed to seem old. However, rustic beech kitchen cabinets are a great option for kitchens with farmhouse-style decors.
Beech Kitchen Cabinet Doors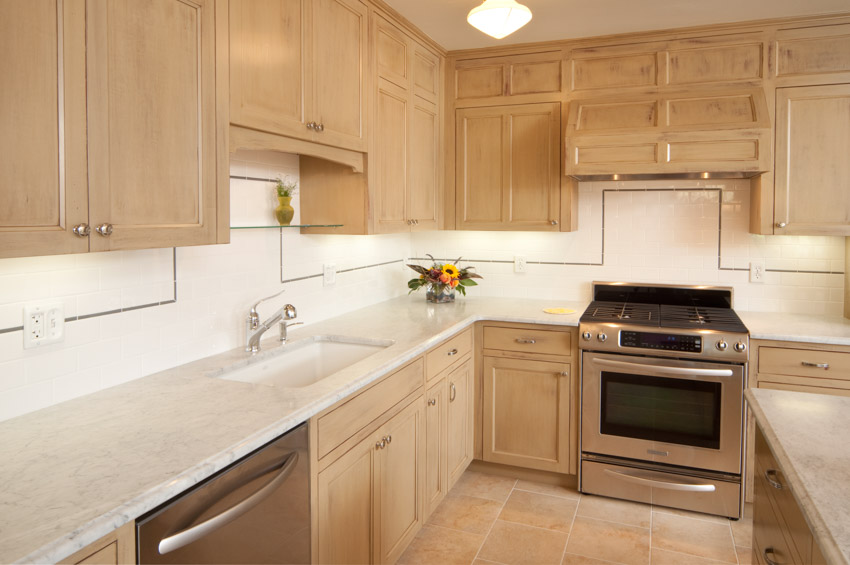 Beech wood may be a good alternative if you are searching for an ideal solid wood kitchen cabinet door option. Beech complements every kitchen cabinet door style.
It is simple to machine and deals with, and it responds well to steam bending. This type of wood is a tough, substantial material that works well for kitchen cabinet doors.
Beech is available in a range of colors, from light brown to beige and even darker shades with a rustic feel. This straight-grained wood is ideal for harmonizing your kitchen cabinets with the remainder of your kitchen. Beech cabinet kitchen doors are easy to paint and long-lasting, which makes them a suitable option for modern kitchens.
Shaker Beech Kitchen Cabinets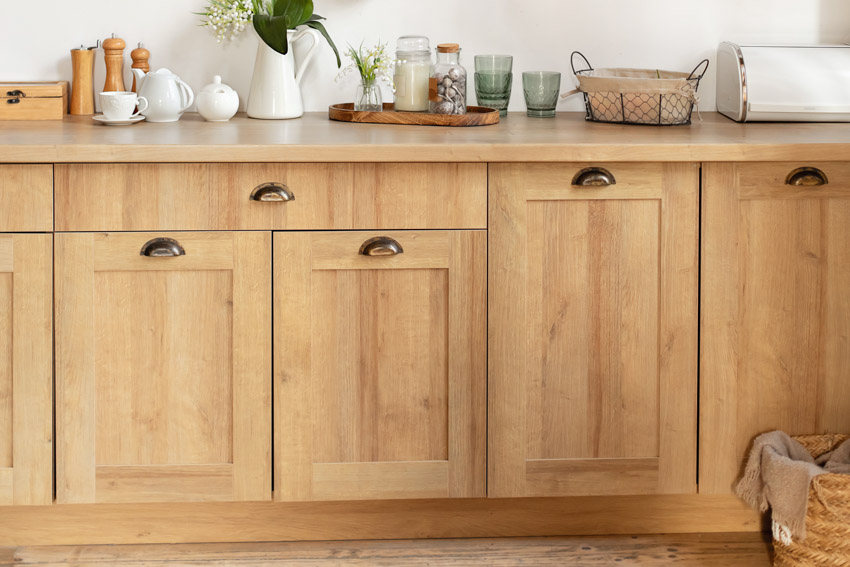 The classical shaker style in beech wood looks great in any kitchen. Shaker beech kitchen cabinets exude elegance with complementing appliances and countertops.
Shaker beech kitchen cabinets are distinguished by their square edges or box-like design. Shaker-style cabinets have the look of a four-cornered cabinet frame that features an inset panel. Shaker beech kitchen cabinets typically have straight grains and delicate curves.
Shaker style cabinet doors made of beech wood are constructed in a somewhat different way than standard kitchen cabinets, and they are normally made out of five pieces such as two stiles, two rails, and a central panel.
The good thing about shaker beech kitchen cabinets, and why they are so popular, is their ageless design, which blends in with any accompanying furniture as well as a kitchen layout.
Shaker beech kitchen cabinets are recognized as timeless in the idea that, because of their exceptional quality and styles, it will take considerable time before you need to think about another kitchen redesign. Additionally, the shaker beech kitchen cabinets' exquisite and timeless appearance is both simple and interesting.
Shaker beech kitchen cabinets often feature curved edges, a shaker-style cabinet door, and drawers that can be embedded, partial overlay, or complete overlay. They are typically supplemented with natural and mild stain finishes that are suitable for modern or farmhouse designs.
Staining Beech Wood Cabinets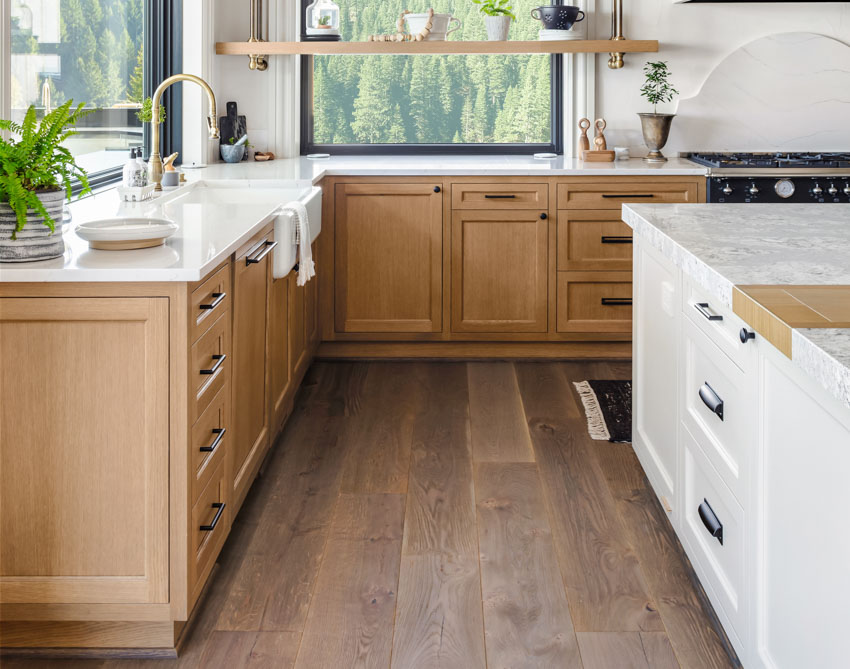 Staining your beech wood kitchen cabinets will help to safeguard the wood from filth, keep it from absorbing moisture, bring out the underlying charm of the wood, and enrich it with vibrancy. However, here are some tips and instructions for staining beech wood kitchen cabinets.
Steps on Staining Beech Wood Cabinets:
• Use the highest-quality sandpaper. A grit of 180 to 220 is generally sufficient. Over-sanding wastes time and money and might cause the stain to not adhere properly.
• Smooth all edges; stains and finishes do not adhere effectively to a square edge.
• Make sure the sanding is even, with no excessive or under-sanding.
• Begin by applying your preferred dye. Dyes are combined with a glazing method to create more vivid colors.
• Using a sealer, cover the dye. In the final step, ensure that the sealer is compatible with your desired topcoat.
• Water-based dye stains work best for staining beech wood cabinets since the effect is more uniform and does not appear blotchy or rough. Distribute the stain according to only what you need, reducing waste and saving expenses even further.
• Add your protective top coat finish, then rub off and wax it to achieve the desired gloss and smoothness.
Kitchen Color Ideas With Beech Cabinets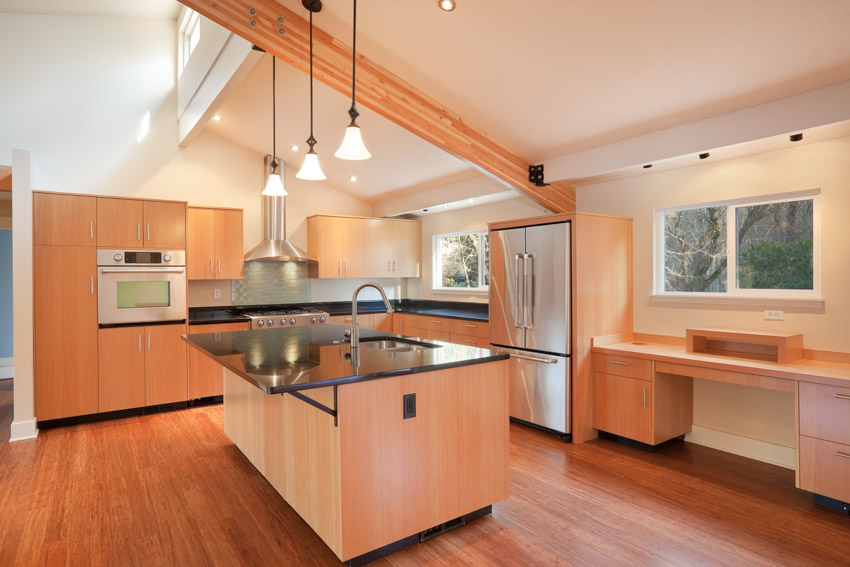 • Gray: Gray is a paint color that will be relaxing in any kitchen. In the instance of a kitchen with beech cabinets, it will undoubtedly tone them down and act as a neutralizer.
• Gray and Beige Combo: Greige, a color trend that combines gray and beige, is still popular. It is indeed a great way to soften the look of rustic beech cabinets.
• Sage Green: Sage green is another cool color that will complement your beech wood cabinets. This is a widely known hue right now because it is natural and relaxing.
• Navy Blue: This color will calm down the beech wood cabinet while also adding flair and intensity to your kitchen. See more kitchen color ideas with brown cabinets here.

Oak Vs Beech Kitchen Cabinets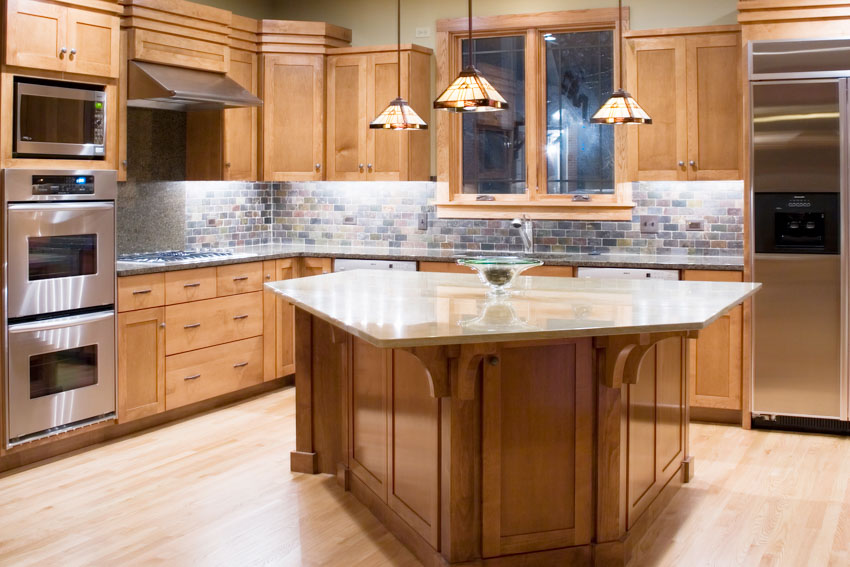 Differences and Similarities of Oak and Beech Kitchen Cabinets:
• On flatsawn surfaces, beech does have a straight grain and a fine, minimal texture, whereas quartersawn surfaces have a silvery fleck pattern. It features visible rays and small pores. It is often yellowish. The grain of oak wood is straight, with a gritty, irregular texture. Ray fleck patterns are also seen on quartersawn surfaces. It is often light brown.
• Beech wood is durable but not pest-resistant. Oak, on the other hand, is more durable and rot-resistant. They are both vulnerable to insect attacks though.
• Oak has a moderate crush resistance, but beech has superior bending qualities and is excellent for steam bending.
• Both beech and oak are simple to work with, both with hand and power tools. They adhere well to nails, adhesives, stains, and polishes.
• Oak and beech are both widely accessible.

• For cabinet-making, beech is typically more expensive than red oak cabinets. White oak cabinets, on the other hand, is much more expensive than beech and red oak.
• Beech wood dries quickly, although red and white oak both dry gradually. Both beech and oak tend to crack and split.
See more related content in our article about alder wood cabinets on this page.