On this page we cover gas vs electric fireplace pros & cons as well as cost differences and design features.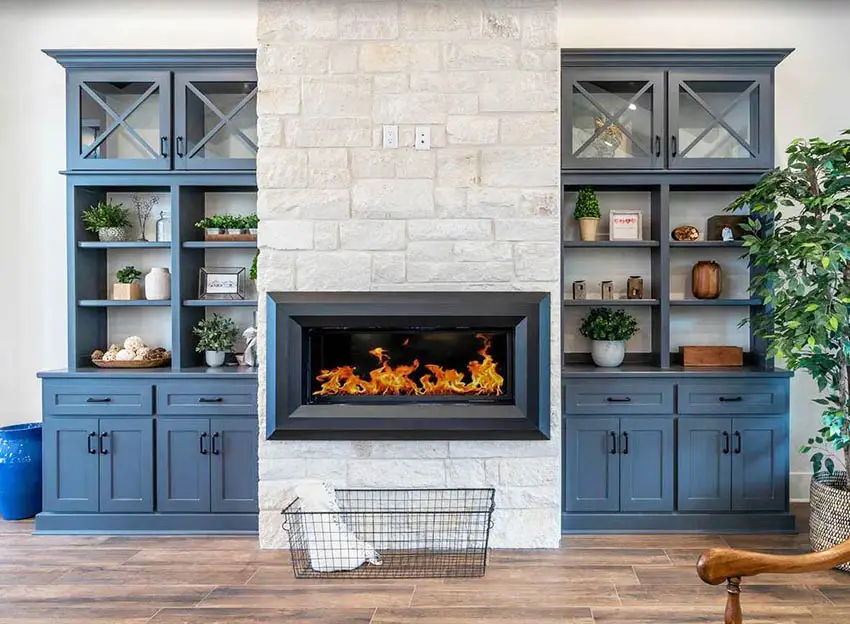 You may have heard that a fireplace increases the value of your home up to 12%. A fireplace is a useful and beautiful feature that will enhance your enjoyment of your home. But should you choose a gas fireplace or an electric fireplace? To determine the best answer, you need to ask yourself a few questions.
First, do you have an existing gas line? If not, you will need to build in space for a propane canister, in an easily accessible area. If you do have a gas line, your gas fireplace will still need professional installation to make sure it vents properly, keeping the inhabitants of the home safe.
When you think about fire, you think about flames. There is nothing like a flickering fire to make you feel warm and cozy. We'll now cover the pros and cons of both gas and electric fireplaces to help you select the best one.
Gas Fireplace (Pros & Cons)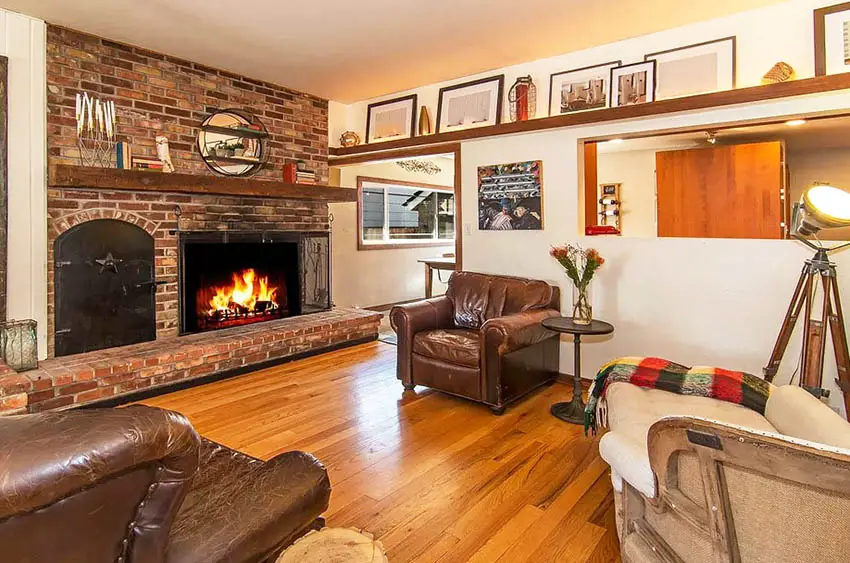 Gas fireplace with traditional wood mantel design.
Pros:
Better heat – Gas fires also throw significantly more heat than their electric counterparts. The amount of heat that a gas fireplace generates can be up to three times as much as an electric fireplace!
Requires little maintenance – Besides a yearly checkup a gas fireplace is very low maintenance.
Can be vented through an existing chimney – While this may be considered a pro a proper liner will possibly be needed for proper exhausting of all gasses.
Ability to use during a power outage – Another advantage that comes with a gas fireplace is the ability to use it during a power outage, as they do not rely on electricity to function.
Cons:
Can get hot – They get hot to the touch, so they are not a good fit for homes with small children or incautious pets. The presence of flame increases the risk of a fire hazard, but this can be mitigated with proper installation, maintenance, and use.
Permanently installed – One obvious drawback of gas fireplaces is that they are permanently installed. The location is limited by needing an exterior wall, and possibly access to a chimney. Once installed, It is not possible to move them to a different area of the house, as they rely on a gas line or propane tank to fuel the fire.
Need a gas line – As stated earlier an existing gas line is required or you will need to install a refillable propane tank.
Electric Fireplace (Pros & Cons)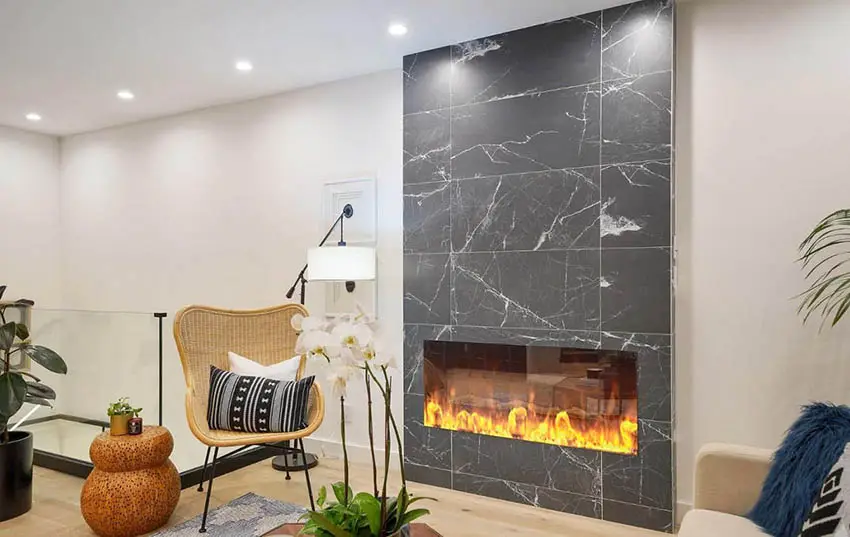 Do not need permanent installation – The major pro for an electric fireplace is flexibility. They do not need to be permanently installed in one place. If you want to move the fireplace to a different room, all you need is an appropriate outlet and a clear space.
Low maintenance – Another clear advantage of an electric fireplace over a gas fireplace is the ease of maintenance — other than replacing the electric fireplace if it starts to deteriorate, these are true 'plug and play' appliances.
Cons:
Less heat than gas – However, you might not get as much heat as you'd like. The heat output of electric fireplaces is usually limited to two kilowatts (kW). A gas fireplace, on the other hand, usually emits at least four to five kW. If it is designed to heat a larger room the heat output may be even larger. It is important to consult the specifications of the model and carefully choose which fireplace is right for your space and intended use.
Cannot use when the power is out – One factor to consider is that, during a power outage, you will not be able to use an electric fireplace. An ecological benefit of an electric fire is that electricity does not emit any harmful gases, like carbon monoxide or carbon dioxide.
Gas vs Electric Fireplace Design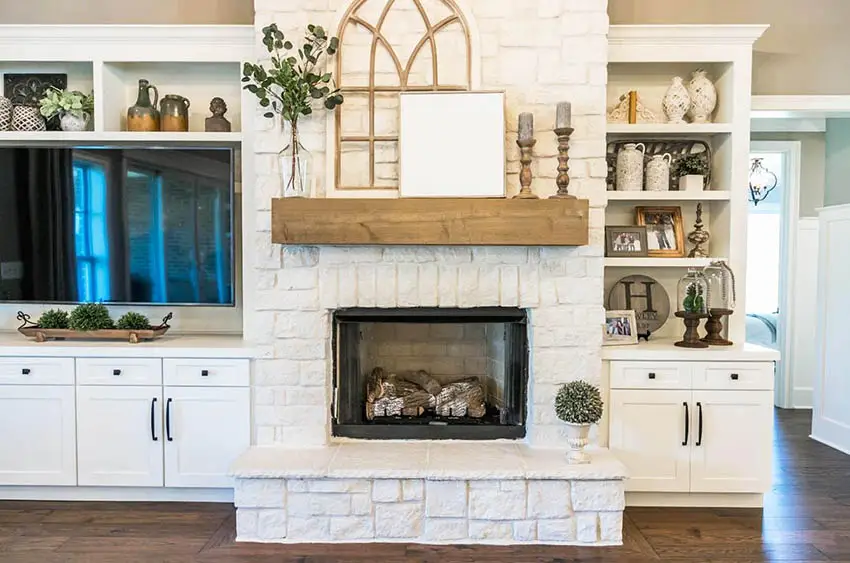 White washed brick fireplace with gas model insert.
Contemporary electric fireplaces come with sleek designs that enhance the decor of any space. Wall-mounted electric fireplaces avoid taking up coveted floor space and add sophistication.
Recent technological advances have eliminated the need for a chimney. 'Flueless' gas fireplaces are available, as well as 'balanced flue' fires, which can be vented through an external wall (rather than a chimney that extends to the roof.)
Which type is most energy efficient?
Gas fireplaces can reach levels of efficiency up to 90%, depending on the make and model. Up to 10% of the heat generated by a gas fireplace escapes through the chimney or flue. Electric fireplaces, however, are 100% efficient — every degree of heat is released into your home.
Gas vs Electric Fireplace Cost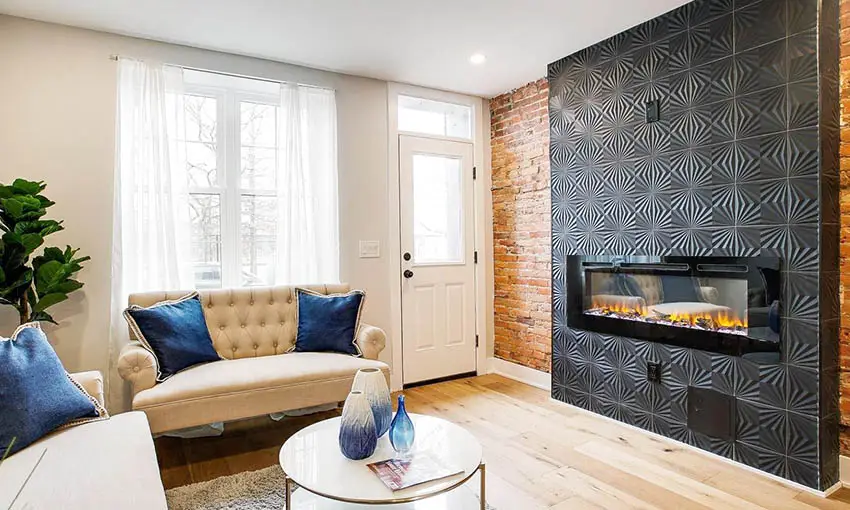 Electric insert with black fireplace surround.
Electric fireplaces have a cost advantage over gas fireplaces at the point of initial purchase. You can usually find an electric fireplace unit for less than the cost of a gas fireplace unit, and there is no installation to consider.
However, if you plan to use the fireplace to heat your home, there are additional costs to consider. Electric is a much more expensive fuel than gas, and a lot of fuel is required to create heat. But gas fireplaces require installation and regular maintenance in addition to the cost of fuel.
Calculate the total cost of running the appliance, including the purchase of the device, delivery and installation, maintenance, and fuel costs over the life of the appliance. When all these factors are considered, it is usually more cost-effective to install a gas fireplace.
Cost Differences Between Gas vs Electric Fireplace
An electric fireplace is cheaper to purchase and install than a gas fireplace. However, using electricity as a source of heat is much more expensive than using gas.
Gas fireplace manufacturers regularly claim that the running costs for their units are about 17 cents per hour with much higher heat output than electric fireplaces. On the other hand the running costs for electric fireplaces will run about 3 cents an hour with the heat off, and 8 cents an hour with the heat on. Electric fireplaces can heat a much smaller area than gas.
Gas vs Electric Fireplace Maintenance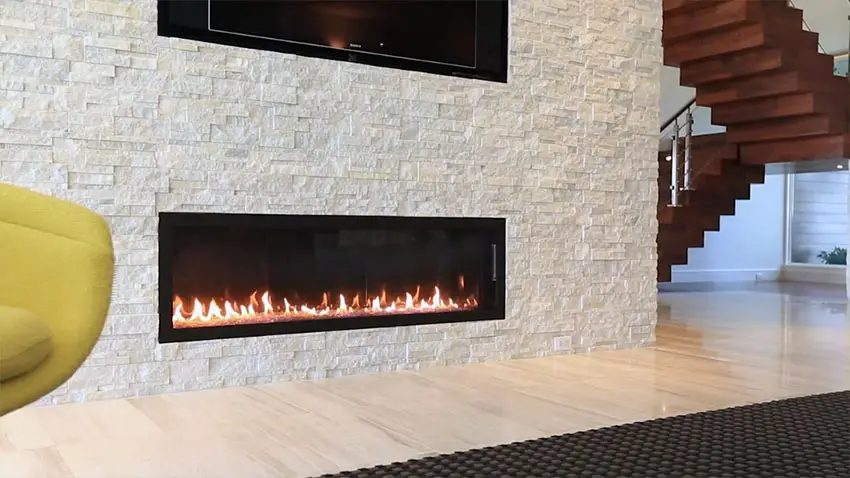 A gas fireplace needs professional maintenance every year to be operated safely. And, if you are utilizing a chimney, it will need to be cleaned once or twice per year. See the most popular types of chimneys.
The frequency of cleaning depends on how much you use the appliance. An electric fireplace requires no maintenance, beyond keeping it clear of ignitable fabrics.
Fireplace Safety
The safety of a gas fireplace depends on proper installation, maintenance, and use. The burden of ensuring safety is on the installer and the user. Electric fireplaces are built to code in factories. Once properly manufactured, an electric fireplace can be plugged into a regular socket. If the electric is run correctly, it is as safe as any other appliance.
Which is Best, Electric or Gas Fireplace?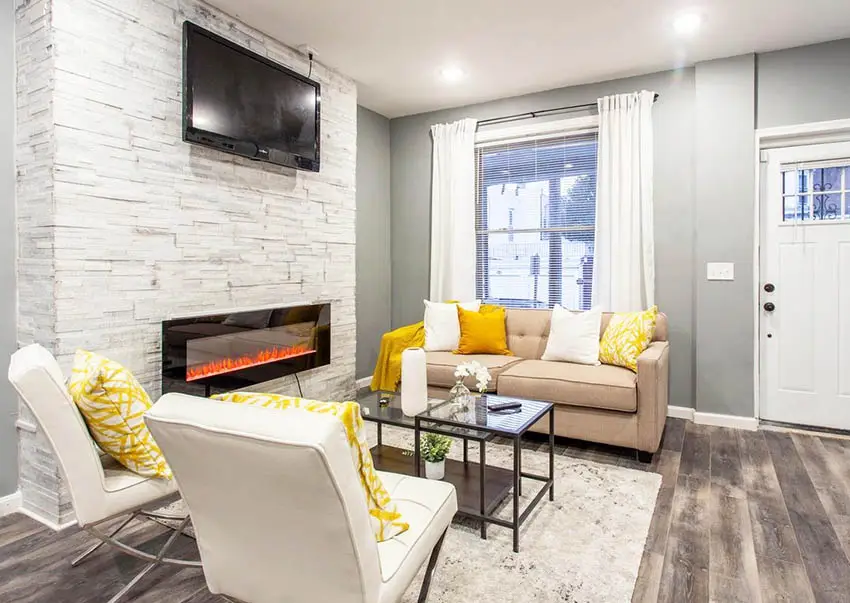 An electric fireplace is safe, easy to install and maintain, and highly energy efficient. However, a gas fireplace has real flames, is more cost-effective in the long term, and produces more heat overall.
A gas fireplace is best if you already have a gas line installed, or are prepared to commit to installation and maintenance in the long term. If the fireplace will be the primary source of heat in your home, a gas fireplace is the right choice. However, if the fireplace is decorative and intended to supplement the heat in your home, an electric fireplace is the best option.
For another related article visit our gallery of master bedrooms with fireplaces.