If you are looking for a storage choice that offers the benefits of functionality and versatility, pole barns are the way to go. Pole barn designs use poles or beams to create a structure adaptable to many uses, from agricultural to residential needs. In this pole barn sizes guide, you'll see standard dimensions, pole barn house and garage measurements and what direction a pole barn should face.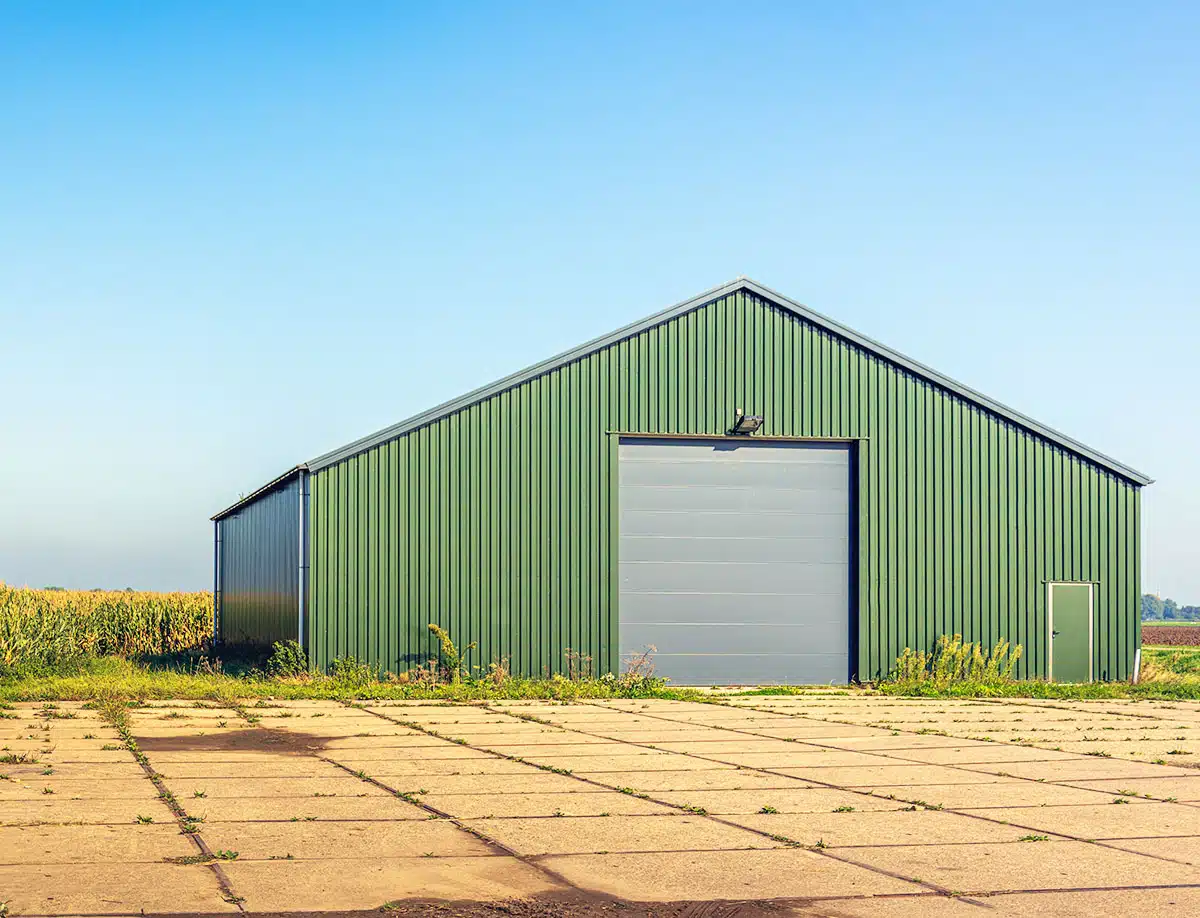 One of the most essential things to consider before constructing a pole barn concerns sizing. A pole barn is an investment, and making sure to get the correct measurement will ensure that you get the most out of the barn pole.
Standard Pole Barn Dimensions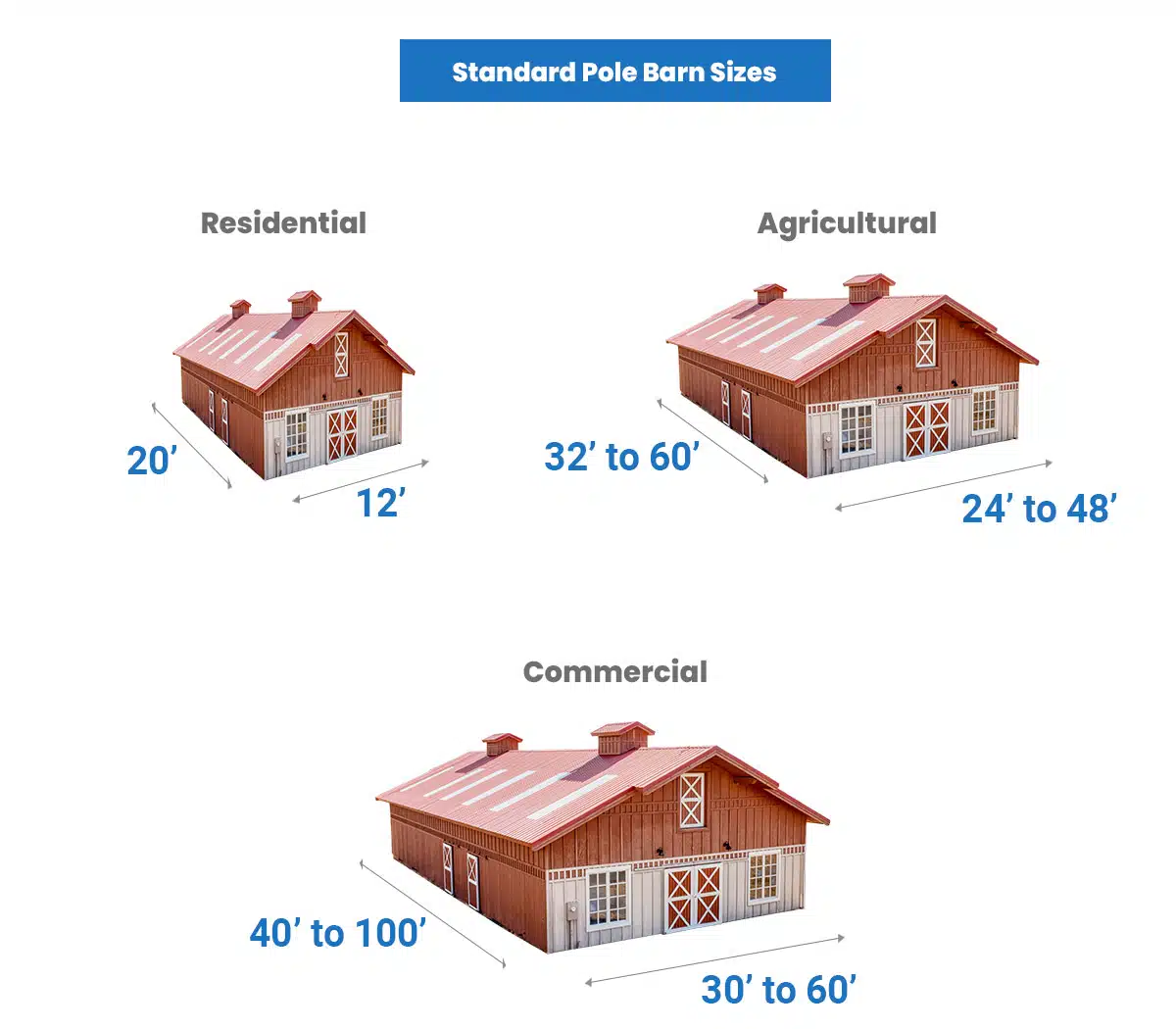 Pole barns are measured in square footage, and they are easy to construct, which makes them famous for homeowners prone to lean more on doing it themselves with renovations or constructions around their homes. Sizes vary for a pole barn, but looking at the standard pole barn kits can be your benchmark before deciding on customizing it according to your specifications.
For agricultural pole barns, sizes can range from 24 to 48 feet wide by 32 to 60 feet long. Many agricultural pole barns are utilized for farm vehicle parking or even homes for horses and chickens.
Commercial pole barns can be used for Sunday markets and such, and they can range from a width of 30 to 60 feet and a length of 40 to 100 feet long.
Most residential pole barns are used as garages or even workshops. If this is what you have in mind, a single-car garage starts at 12 feet wide by 20 feet long. On the other hand, large workshops can go up to 30 feet wide by 40 feet long.
Barn House Dimensions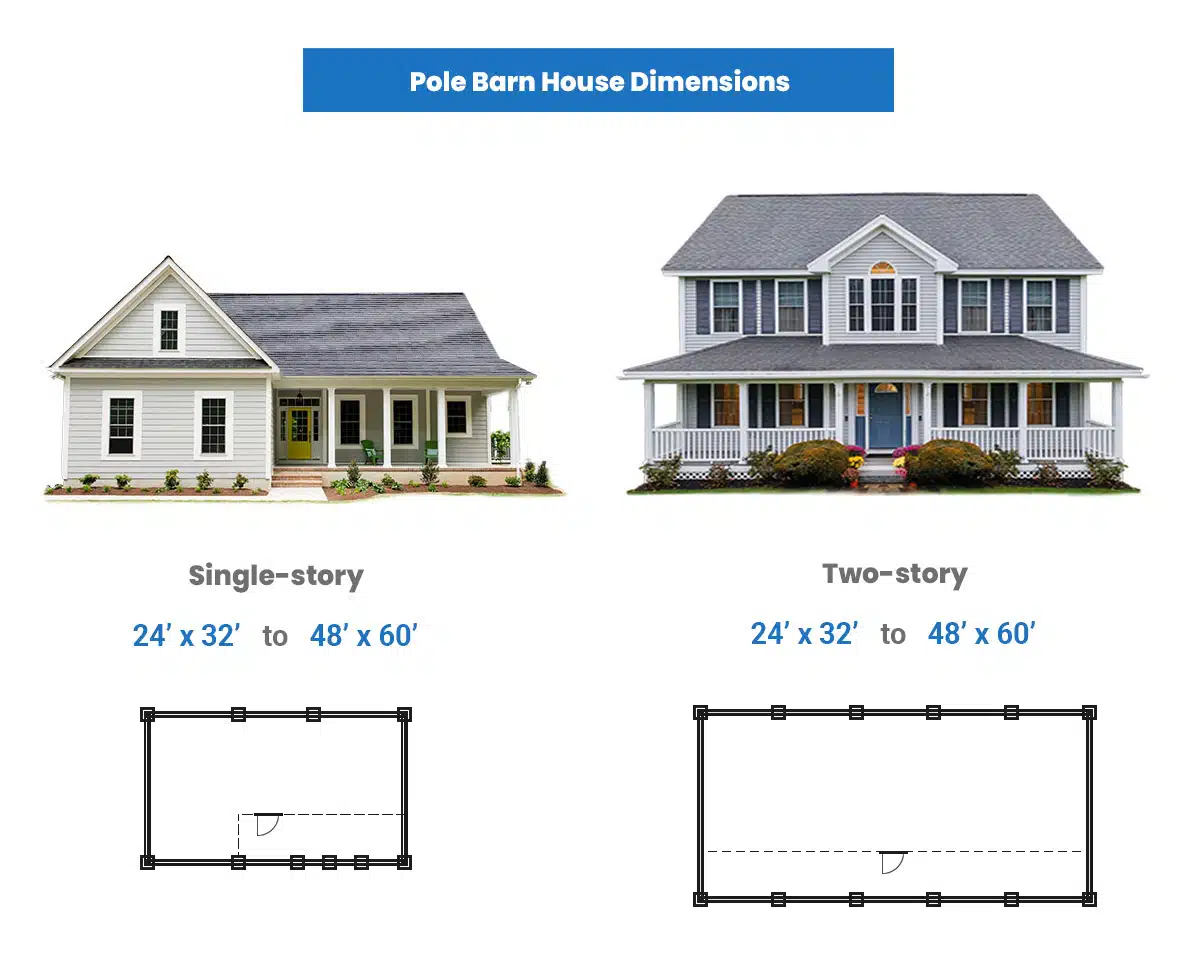 Contrary to popular belief, pole barns can be livable as long as they are designed to be that way, and they are becoming more popular than ever. These pole barn houses are also known as barndominium, and they allow for a unique livable space.
For a single-story pole barn house, sizes can range from a smaller 24 by 32 feet home to a larger 48 by 60 feet home. Many pole barn kits for houses feature a surrounding overhang of a few inches to a foot or more.
For a two-story pole barn house, a small barn property with 2 to 3 bedrooms starts at 24 by 40 feet, while bigger pole barn homes with four and up rooms start at 48 by 80 feet.
Although some of these dimensions are based on the average size of a regular home, their options can still be tweaked and added according to a homeowner's specific need. Some other average sizes are 75 by 50 feet, 100 by 80 feet, and 60 by 40 feet pole barn house.
Barn Garage Dimensions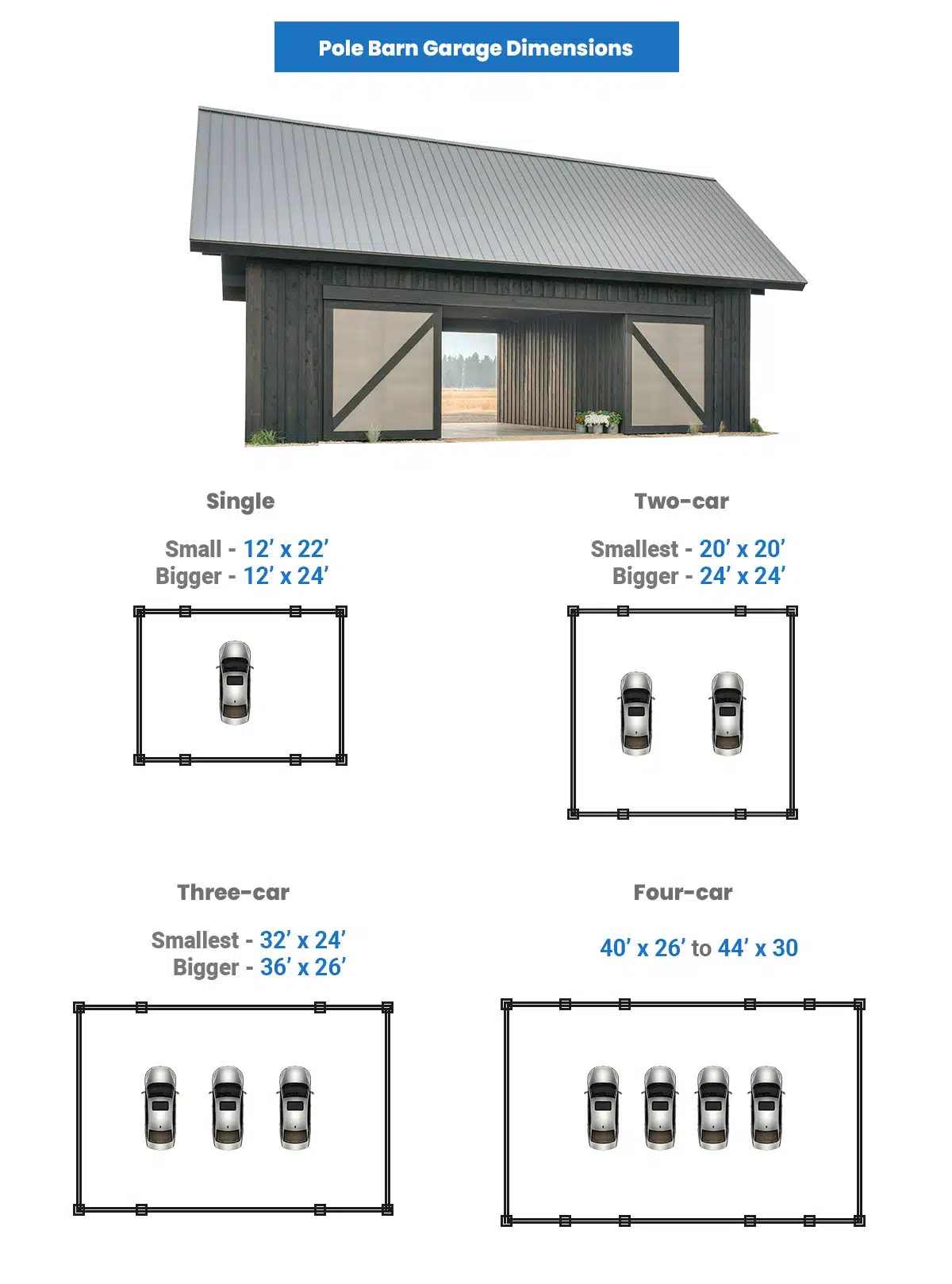 One famous use of a pole barn is for the garage, and you are probably here to know the standard sizes. One car pole barn starts with a smaller 12 by 22 or 12 by 24 feet, while bigger sizes can range from 14 by 22 feet to 16 by 24 feet. This will allow easy car parking and will allow a small work area.
Two-car garage sizes range from the smallest 20 by 20 feet to the larger 24 by 24 feet pole barn. On the other hand, a three-car pole barn garage is 32 by 24 feet at the smallest and can be as large as 36 by 26 feet.
Some homeowners have four cars, and the pole barn size for this purpose ranges from 40 by 26 to 44 by 30 feet.
What Size Barn Do I Need?
The pole barn design will depend on the required usage and capacity, and these needs can stem from many factors. The most obvious is the purpose. What is the intended use of the pole barn? Is it for livestock storage or an artist workshop?
The purpose often dictates the size of the pole barn, whether it's for storing a woodworking shop, tools, building materials, horses or vehicles.
If you plan to build a pole barn for a garage, the cars you have will dictate the size. If you intend for the pole barn to be a workshop, questions such as the number or size of workbenches or machinery need to be considered. For pole barns intended for commercial use, you might want to consider the size in anticipation of future growth or expanding your operations.
The zoning rules and site constraints, as mandated by law, are another factor to consider. Sometimes, there are limits to how big a pole barn could be. Budget is also a thing since a bigger pole barn will require more funds, so finding the balance between budget and need is necessary.
Once the purpose is intact, the dimensions will flow through. It is also better to consult a builder for specific numbers.
What is The Best Width for a Pole Building?
Like the size you need, the perfect width for a pole barn will also depend on many factors. Say the purpose is for livestock storage; a wider width is needed, but for a garage with one car, the width should also be enough not to swallow the whole space.
As soon as you know the purpose, a foolproof way to determine width is to base it on the measure of the largest items you will have on the pole barn. Make sure that the pole barn will be wide enough for the biggest thing to fit.
What Size And Spacing for Barn Posts?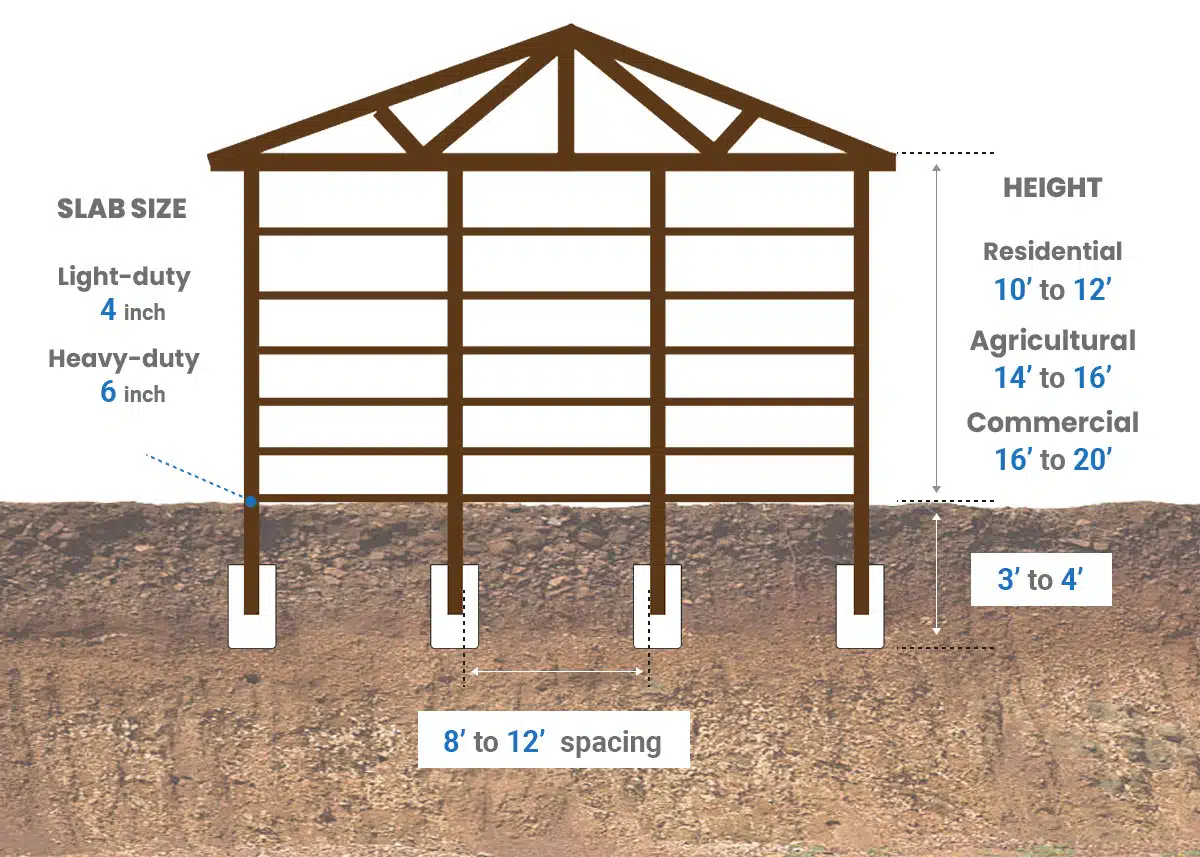 The poles or columns are a critical part of a pole barn since they ensure overall structural integrity for the framing and internal trusses. This makes spacing another essential thing to get right.
Spacing in pole barns is the space or distance between poles in a pole barn construction. Spacing can vary, but the most common ones are 8 to 12 feet. This number will depend on the design and the purpose of the pole barn.
The closer the space is, the more support and stability it will offer the pole barn. However, this comes with the caveat of more overall cost.
What is a Good Height for this Type of Barn?
When determining the barn's height, the intended use and the equipment inside should be considered. The foolproof way of having the right height is ensuring that easy entry and exit of the tallest machinery is guaranteed.
For pole barn houses, aesthetic appeal is a factor since a taller or higher ceiling gives off the feeling of spaciousness and creates a more modern feel.
For residential pole barns intended for workshops and garages, a common height is 10 to 12 feet. Up to 14 to 16 feet for agricultural purposes to ensure machinery is maneuvered easily. Commercial pole barns tend to be taller at 16 to 20 feet, but it can also depend on the needs of the business.
When considering the height, the eave height is the height we are estimating here. There is another dimension, which is the peak or ridge height, which is higher than the eave height since it is the roof's pitch. It is important to consider both dimensions.
Is a 4 inch Slab Enough for this Barn Style?
A 4-inch concrete slab will provide sufficient support for light-duty applications like storage sheds or garages for residential. This concrete slab can sustain the weight of lighter vehicles and equipment.
On the other hand, a 6-inch slab is best for heavy-duty applications, especially for agriculture or commercial use. This will ensure the pole barn's longevity since it is more effective when dealing with higher loads of machinery.
Soil conditions are also another thing when deciding on the slab thickness. Poorer soil conditions will benefit from a thicker slab. This will also prevent future cracking.
How Deep Should a Pole Hole Be?
Post holes ensure the pole barn's stability and prevent it from setting, making it another factor to consider. So how deep should it be?
The first thing to consider is the frost line, and the barn holes should extend below it. By going beyond the frost line, it ensures that the posts can prevent future shifting or heaving due to frost.
A standard when it comes to post holes is digging to the depth of at least 3 to 4 feet below the frost line. In colder climates, it is safer to dig deeper. Soil type is also a factor. For pole barns installed in sandy areas, it also calls for digging deeper post holes. Digging shallow post holes can be done for spaces with compact soil conditions.
It is also essential to check building codes in your area. Post hole depths may be specified with a minimum depth requirement you must meet.
What Direction Should a Barn Face?
The orientation or the ideal direction a pole barn should face will depend on climate and location. For pole barn use in agriculture, sunlight exposure should be considered. Building it to face the south side can ensure that sunlight is maximized during the daytime.
Wind direction is also another factor. This will vary in many places. Maximizing this factor to ensure that windows face this area can improve ventilation inside the pole barn.
If the pole barn is built in an area with a view, maximizing this benefit by building the long end to face, this picture is always an added factor. This layout is incredibly pleasing for residential pole barn houses.
For pole barns utilized as garages, building the pole barn to face the road for easy access will be beneficial. If you plan to add solar panels, maximizing energy production by ensuring that the roof slope faces south is critical.
See more related content in our article about the types of barns on this page.