Below we discuss how to modernize a split-level home exterior including the best remodel ideas, how to make the exterior more modern, and effective tips.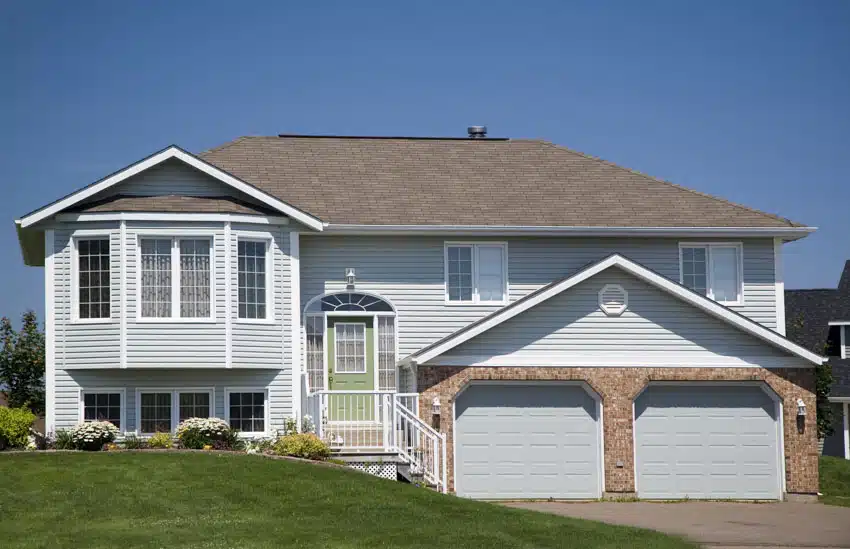 Split-level homes are sometimes called raised ranches and have anywhere from three to five staggered floor levels. The split-level home layout differs from a straight two-story home with evenly stacked levels by having overlapping floors. The entryway opens to a double stairway in the center, with yet another stairway heading up to the third level.
The split-level home is a typical design going back many years, and homeowners who buy a split-level are often eager to change up their home's exterior design to bring their house up-to-date.
Learning how to modernize a split-level home exterior includes updated colors, textures, and materials to create a fun, fresh look with great curb appeal. Read this article to learn how to modernize a split-level exterior, including the foyer, and discover tips to give your home a modern look and fresh curb appeal.
Quick look – how to modernize a split level house:
Replacing only one side of siding
Change up the lower façade
New garage doors
Add accents
Paint
Window trim
Install a new roof
Add or replace windows
Put in some landscaping
Split-Level Remodel Ideas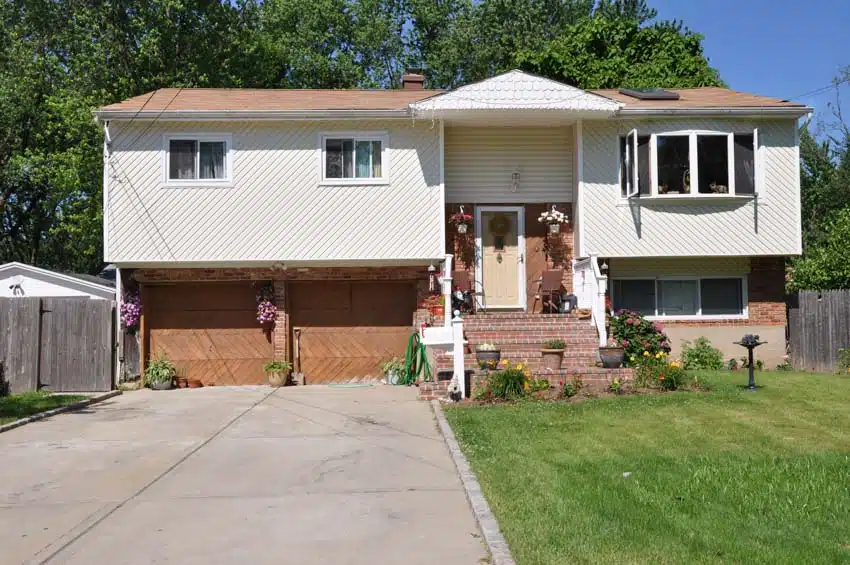 Many split levels tend to show their age by their exterior. Finishes such as faux brick or a partial façade date the home and often show wear and tear.
Although paint is always a simple way to remodel the exterior of a split-level home, it can have a significant impact for the worst if not done correctly.
A great way to modernize the exterior of a split-level home is to mix materials when refinishing the siding, creating architectural interest at an affordable cost.

Replacing only one side of siding
Split-level homes typically have a taller side that can be resided with different materials. Swap your horizontal siding with vertical lapboard and paint it a color several hues lighter or darker than the rest of the home. Using thinner siding made from architectural panels adds interest and dimension to the exterior.
Change up the lower façade
Many homes from the 80s and 90s had lower façades made from stucco, brick, or tile, and it was usually faux material. Changing the lower façade to cedar clapboard siding, stone, or stucco will provide a luxuriant change that can also be highlighted by landscaping and lighting.
New garage doors
Garage doors occupy a large area of the front of a split-level home. Depending on the quality, older doors are sure to be worn and may even show cracks and warping.
Shop for a unique or classy option that matches your home's exterior design but includes a fresh look, such as a frosted glass garage door, barn door hardware, or an arched frame.
Add accents
Materials or decorative art pieces made from corrugated metal, rusted metal, or colorful metal art placed strategically can bring attention to upper stories, towers, eaves, or alcoves. Shutters can be painted or replaced for more modern or updated window frames that match the home's style.
Paint
Even if your home shows no signs of paint that are peeling or lifting, time will cause the finish to become dull or dingy. Painting will freshen the surface, and choosing new colors can enhance the look and feel of the entire home.
Window trim
Most homes are built with vinyl windows unless the homeowner requests a custom frame. If your older split level has white vinyl windows, you may want to paint the trim a color that matches your remodel.
However, there are risks to painting vinyl window frames according to Portland Glass. Ordinary paint does not stick well to vinyl and will warp and peel rather quickly.

The good news, companies such as Sherwin-Williams and Benjamin Moore make specific paints for vinyl surfaces. Even though they say a primer is unnecessary, it's safer to use a primer made for vinyl, such as an alkyd-based primer or a bonding primer.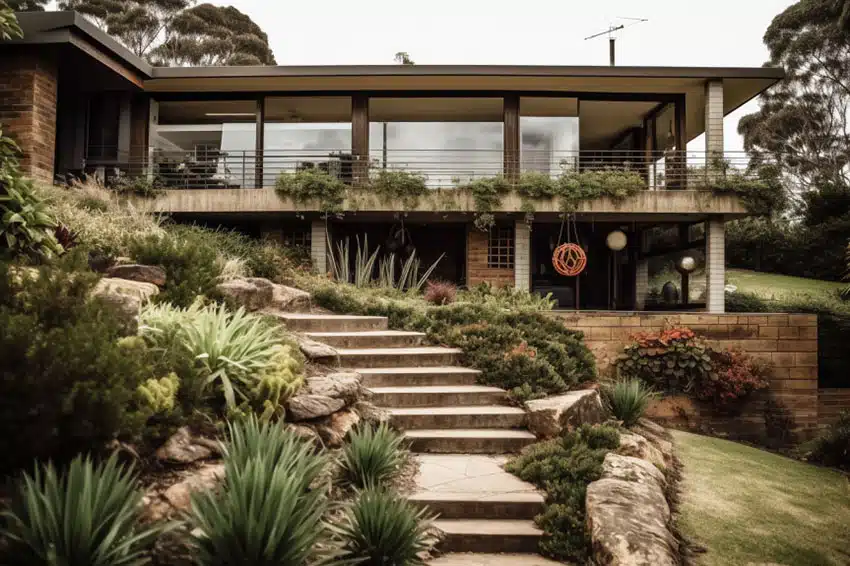 Install a new roof
If your budget dictates, a new roof is a huge boost for your split-level home. Older roofs are often made from three-tab shingles that wear faster than architectural shingles or metal roofs. If a roof is 15 to 20 years old, letting it go longer is dangerous.
Unseen leaks aren't found until water has made its way to the attic and ceilings, causing significant, expensive problems. Read more about the dangers of delaying a roof replacement per SheegogContracting.

Newer architectural shingles have more dimensions, reflect UV rays, and provide a rich look. A ceramic tile roof can also be a booster with much more durability than shingles and a host of color choices.
Metal roofs will likely outlast your home and also come in various colors and formats. Whichever roof updates you choose, be sure to plan on a color that will match your existing or new paint.
Add or replace windows
Renovations such as changing out small windows for larger ones can provide a brighter and larger feel to your split-level home. Some older homes or even newer ones with poor designs have windows in awkward spots.
Think about the visual symmetry of your home's windows and change or add new windows. The sides of your home without windows can be dead zones. Add some windows, even if they don't open and are decorative only.
Put in some landscaping
If you want to beautify your property lot without hiring expensive contractors, you can use plants to transform the look. However, many of these homes have slopes that are in need of retaining walls and other landscaping elements to add curb appeal.
Fixing slopes with a retaining wall with modern stone finishes and terraced planter boxes can create visual interest that can enhance the look of the property. Additionally, a new walkway approach to the front door by installing stone stairs and a landing can have a drastic impact on the look.
How To Make A Bi-Level Exterior Remodel More Modern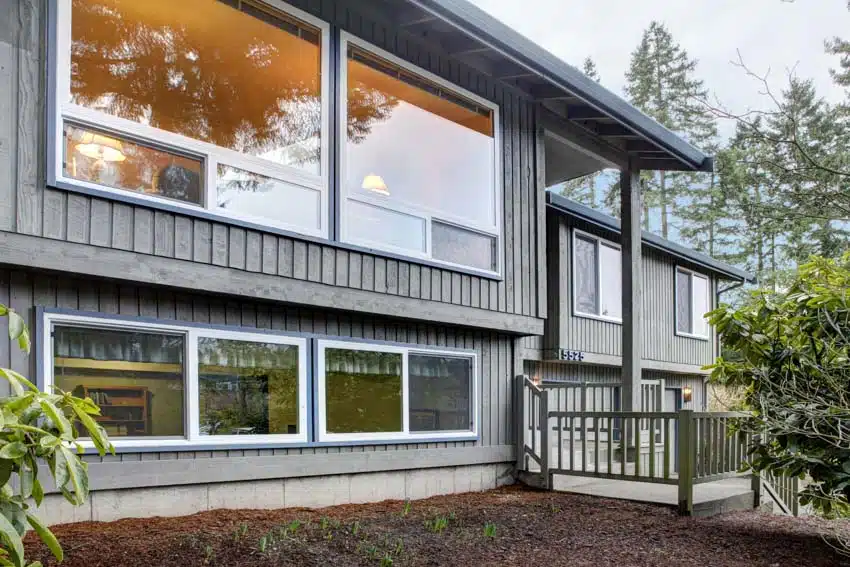 Painting is a perfect time to add a more modern look to your split-level home. Check out your neighbor's paint colors or drive through new developments nearby.
See what exterior colors seem to be used more often and which ones you like. Consider the paint colors you choose and how they will work with textures or new siding you've installed.
Add some accent texture and color for a stunning look. Those corrugated metal panels and alternative materials for different sections of your home will bring interest and a contemporary edge.
Remember to make use of trim and accent options for contrasting colors. And don't forget about lighting. Exterior lighting offers countless choices to highlight areas of your home's exterior at night.
Accents lights from the ground shine upward and create beautiful shadows that highlight contours, while exterior recessed lighting can illuminate a new porch or garage door, contributing to a more modern house design.
Use lighting in your landscaping to create silhouettes of trees and plants, and place lighting under rooflines and overhangs.
Split Foyer Exterior Remodel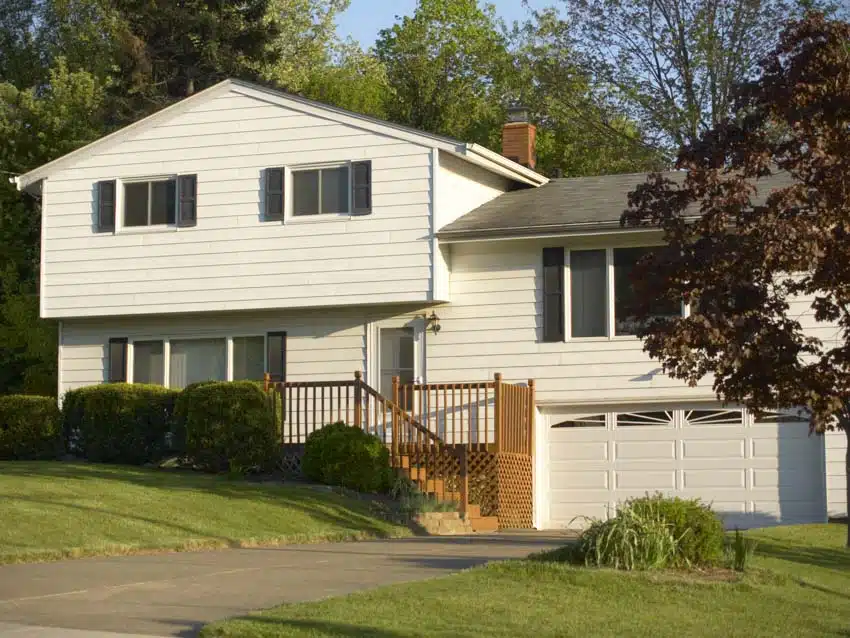 Split-level entry foyer designs outside and inside are a great way to make a memorable first impression for guests. Many split-level plans include a front door that opens to an upper and lower staircase.
Unfortunately, this design tends to create a small entryway, too cramped to allow guests a place to come in out of the weather. While there are ways to help the foyer appearance, most homeowners prefer to update it with a larger floor plan for greeting friends and family.
Bump out the second story

Split levels typically have a front bump out for the upper story. This means the upper floor extends past the ground level by 18 inches or more.
The foyer walls and door can be extended forward to the upper bump out, creating a bit more square footage.

The walls could be extended beyond the upper floor if there's enough room in the front of the house and a small patio. This would require a redesign and more construction but may be well worth the effort and cost.
Central tower addition
Colonial-style homes often have a tower that starts at the ground level and reaches the roofline. Creating a central tower addition where your split foyer is can add 20 square feet or more.
The tower is built onto the front of the house, the width of your foyer, and adds space on the ground level. The tower's top level can be designed with windows or glass features to provide extra light and air.
With a height that matches the roof line, a central tower also opens up your home, making the foyer practical and beautiful.
Exterior Remodel Tips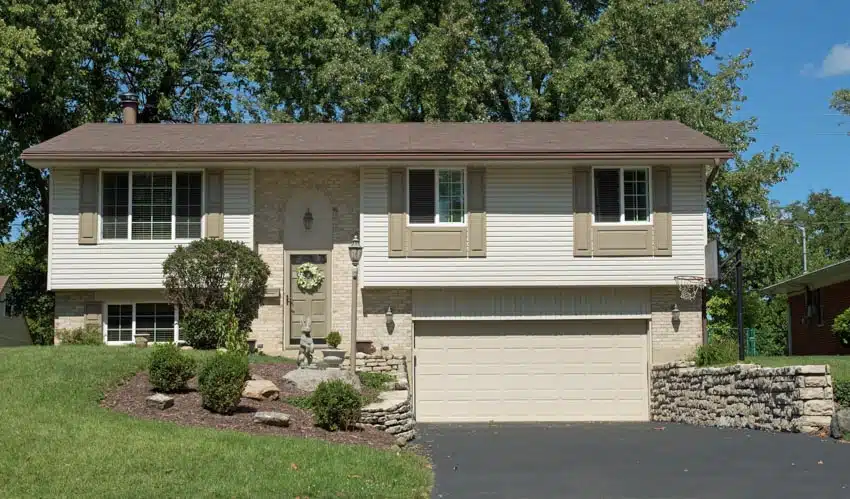 • Plan ahead
• Know your budget
• Spend plenty of time visualizing colors and materials for inspiration

• Create a timeline to coordinate workers and interruptions to your daily routine
• Get several bids for each project
• Have a place for pets while work is being done
• While landscaping play close attention to potential water flow and drainage to avoid runoff issues
See more related content in our article about bungalow style house design on this page.