In this gallery of modern wood kitchen cabinets you'll find a variety of design options, types of wood to use, color combinations, and modern wood cabinet styles to match your preferences.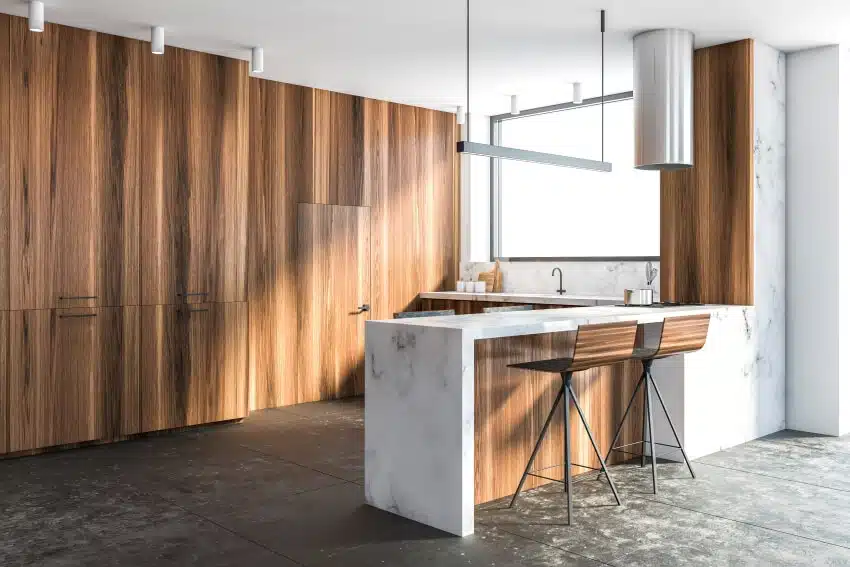 Kitchen cabinets still serve as one of the vital components a productive and efficient kitchen should have. But more than just its function as an excellent storage space, it can also act as an additional element to your kitchen's aesthetics.
And depending on the style you're going for, you can match it respectively with the style of the cabinets. One of the safest styles to go to is modern style and exploring the different elements that can help you build a modern kitchen will be a good first step.
Modern kitchens come in a variety of designs and one of the classic materials that can help you build one is wood. When it comes to modern kitchens, a simple wooden cabinet can work perfectly well to bring warmth to a usually cold area.
The best thing about modern style is its simplicity and the high availability of materials you can use in the mix. With wooden cabinets, there are many types to choose from and the simpler the cabinets, the better they are for modern kitchens.
Modern Wood Kitchen Cabinet Design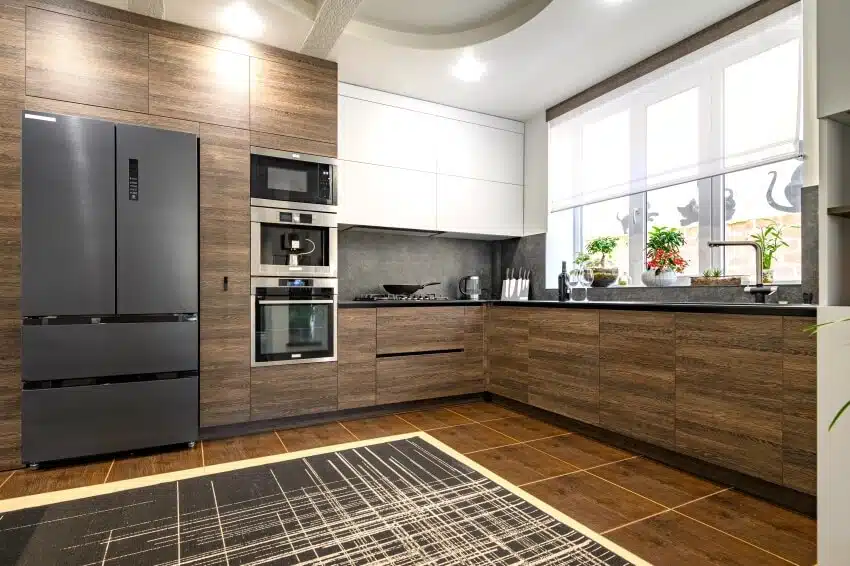 Modern wood kitchen cabinet designs are also known as contemporary designs, with their aesthetics rooted in European-style cabinets. While many modern-style cabinets are made from synthetic materials like plastic or glass, you can still integrate natural materials like wood by being smart about them.
The most important factor is the clean and sleek feel that the kitchen cabinet's surface showcases. With the incorporation of natural wood tone, a modern kitchen cabinet can easily warm the kitchen up.
Wooden kitchen cabinets traditionally have milled and rounded edges in their framed doors. You can turn them more modern by sprucing up the door frame to look cleaner and sharper with seamless lines. This is also known as the transitional doors.
If you're going for more modern construction, one thing you can consider is having floating cabinets. This cabinet style can easily contribute a modern atmosphere to your kitchen just with how it's built.
Why Choose A Modern Kitchen With Wood Cabinets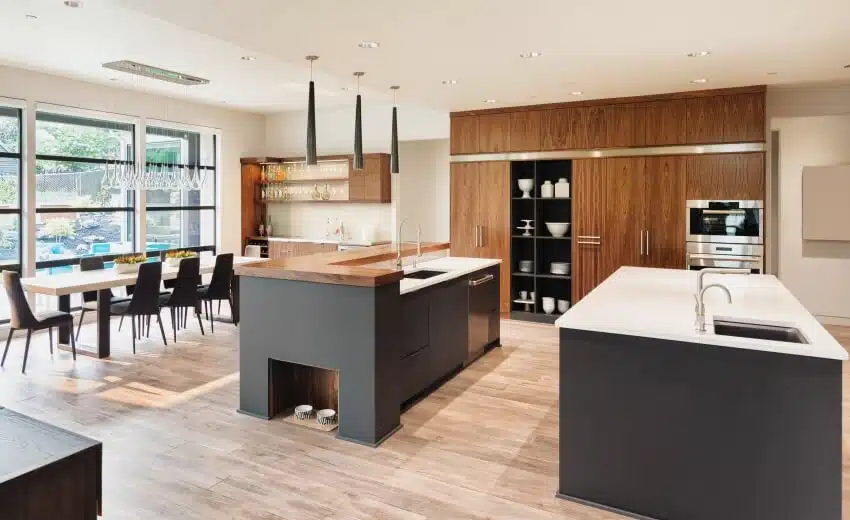 Modern kitchens are popular for their clean and sharp lines that can sometimes be misconstrued as too cold or sterile. While hygiene is an important element in the kitchen, it has no business in its aesthetics. And choosing a modern-style kitchen cabinet can also pose a problem.
The major downside with modern kitchen cabinet styles are they tend to be too sleek that it sometimes feels sterile and cold. This is where wood can come in handy to aid in its aesthetics. With a wooden component in your kitchen cabinets, there will be an added warmth to the mix.
This warmth is why wood kitchen cabinets are popular for many homeowners, offering a timeless or classic look and at the same time a softer modern edge. And they are the perfect element to add to an area to give it a softer and more welcoming vibe to contribute.
What Wood To Use For Modern Kitchen Cabinets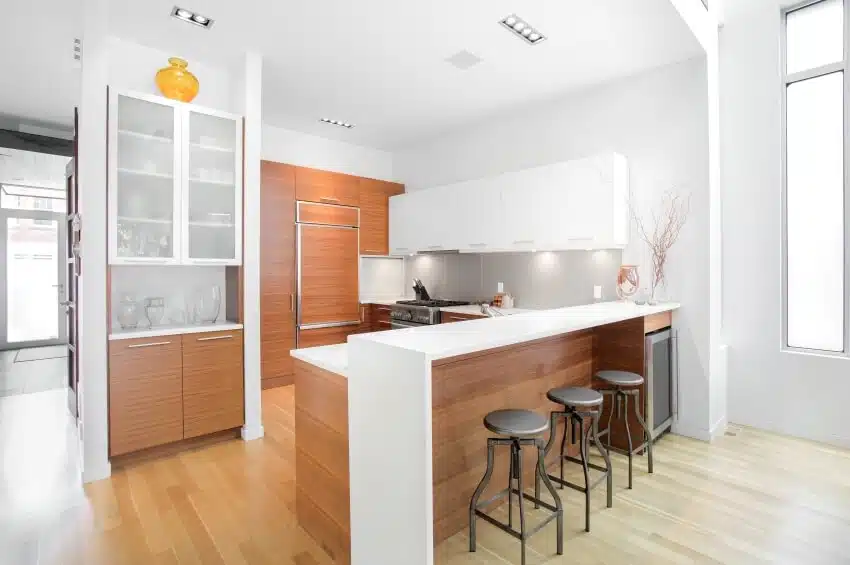 In building your cabinets for your modern kitchen, it is important to still consider its function and the benefits of the wood, along with the modern aesthetics that come with the choice.
The ideal choice remains to be the wood that can cater to your needs and personal style while still within your budget. And while that may be unclear, there are specific types of wood that you might want to try out. If you don't want to go all natural in your wood kitchen cabinet, you can try out the following:
Birch Plywoods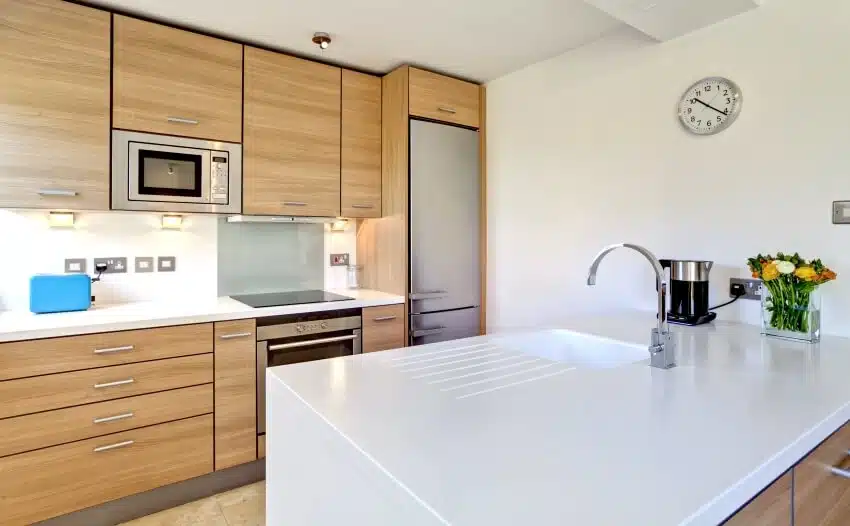 High-quality birch plywood cabinets make perfect interiors for your modern kitchen. They usually come with lacquered birch veneer or a white melamine finish. With its fine grain pattern, this durable wood is simple in design though has a darker color than maple.
Melamine (Particle Board) Cabinets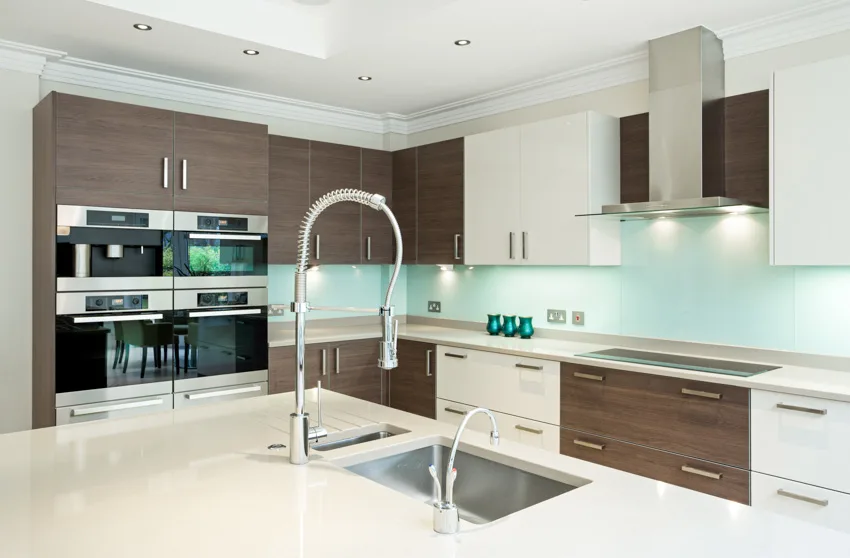 This material is the standard for drawer boxes and some cabinets because it is affordable and easy to clean and maintain. But melamine cabinets often have lower quality and so are much more short-lived, especially when installed in a heavy traffic area like the kitchen.
For authentic and natural wood kitchen cabinets, make sure that you are ready to pay for them. If you are, here are some of the wood you can use for your modern kitchen cabinets.
Oak Wood Cabinets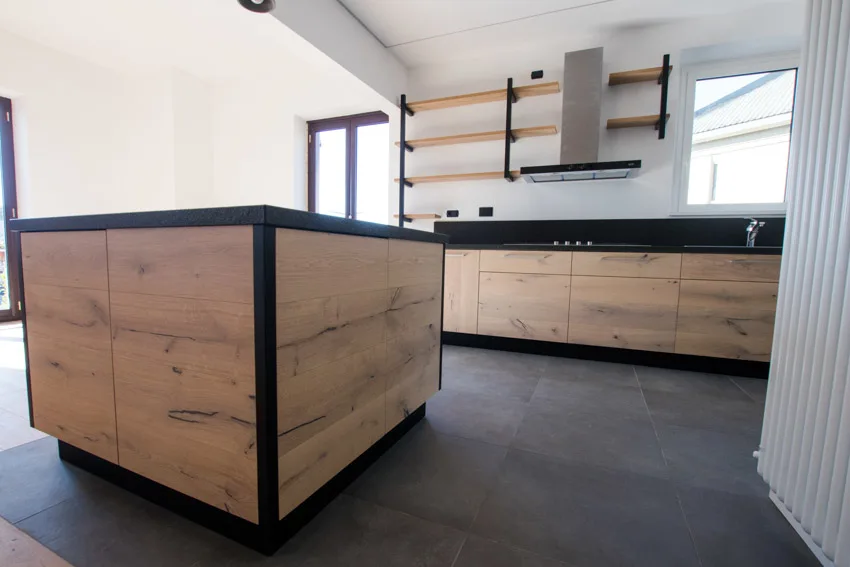 While you have the option of choosing either red or white, the former is more popular for traditional cabinet styles while the latter is the ideal option for modern cabinet styles.
With its golden tone, white oak has a subtle grain pattern that looks clean and seamless. See more examples of honey oak and red oak cabinets here.

Hickory Wood Cabinets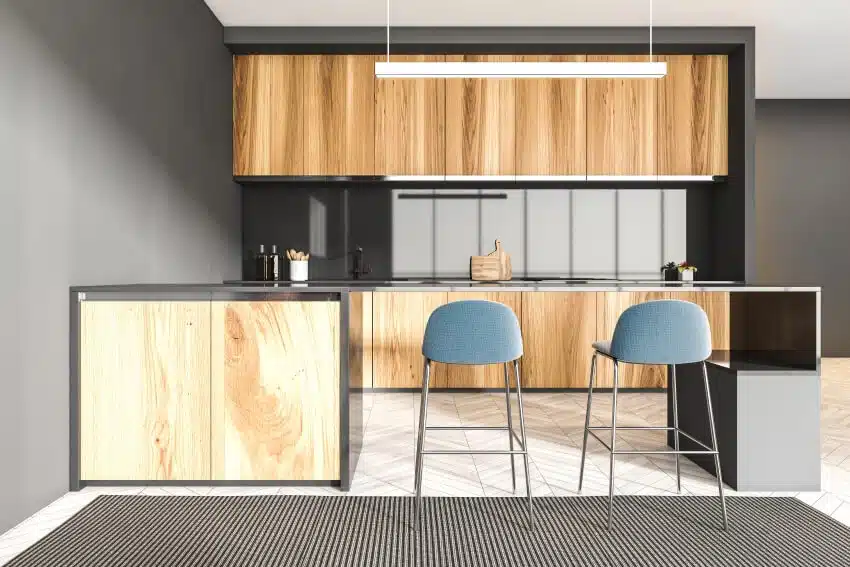 This wood has the same grain pattern as oak wood and is also lighter in color, making it a good option for a minimalist modern style piece of furniture. Hickory cabinets are widely available and durable making it a good choice overall.

Ash Wood Cabinets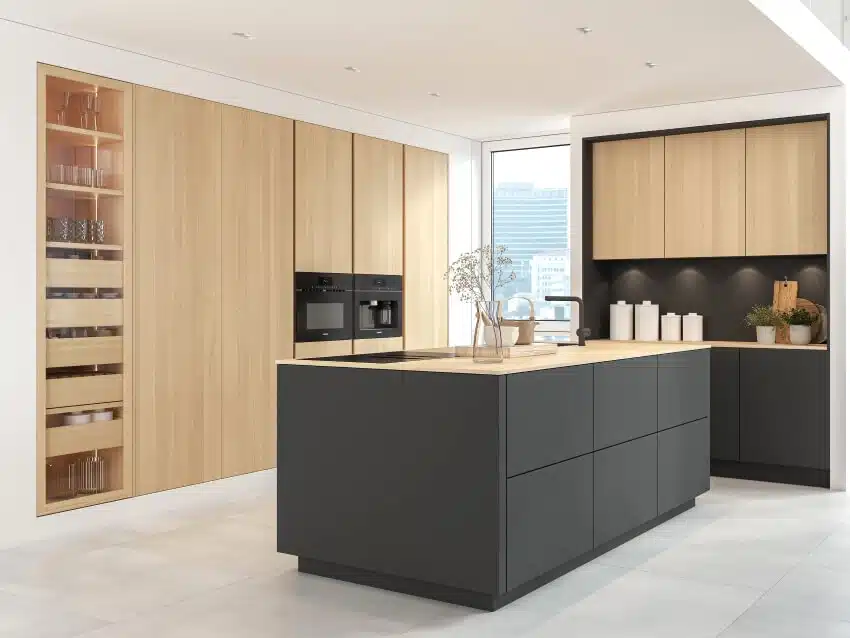 Light-colored and with similar durability as oak wood, this type showcases a straight grain pattern that makes it excellent for modern-style kitchen cabinets. Ash wood is a good option especially when applied with a natural or clear finish for a bit of a shine.
Hard Maple Wood Cabinets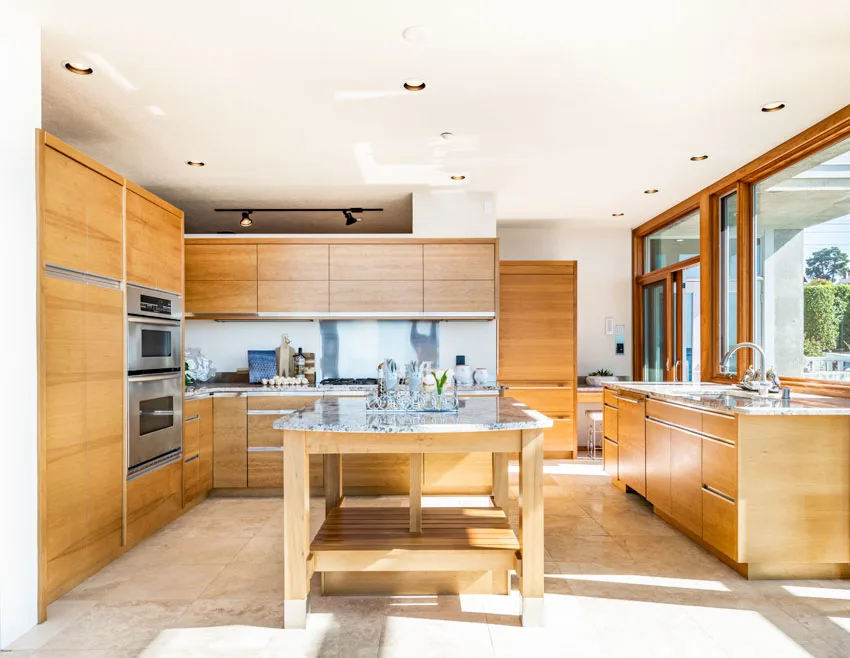 While less dense than oak, maple wood cabinets are light-colored and feature a fine-grain pattern that won't be too distracting when added to your modern kitchen. This option might take a toll on your pocket though since it might be a bit more expensive compared to the others.
Cherry Wood Cabinets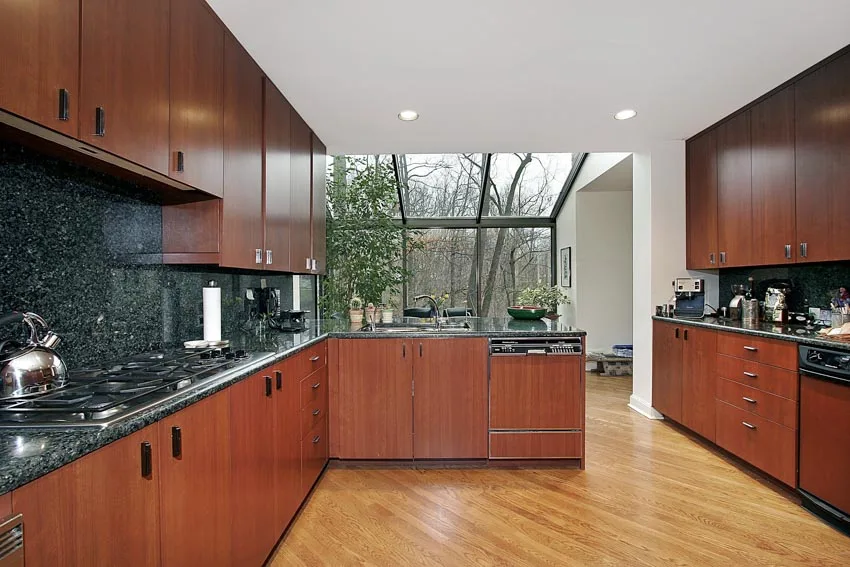 This type of wood is incredibly durable and versatile in aesthetics since the wood can be used both for traditional and modern styles. While cherry wood cabinets feature a fine grain pattern, its reddish-brown hue simply stands out.
Pinewood Cabinets

Commonly used for building cabinets, this type of wood is softwood and so may be less durable compared to the hardwoods in this list. Pine wood has a pale yellow color and subtle knots though can contribute to the modern look of your kitchen.
Modern Wood Cabinet Colors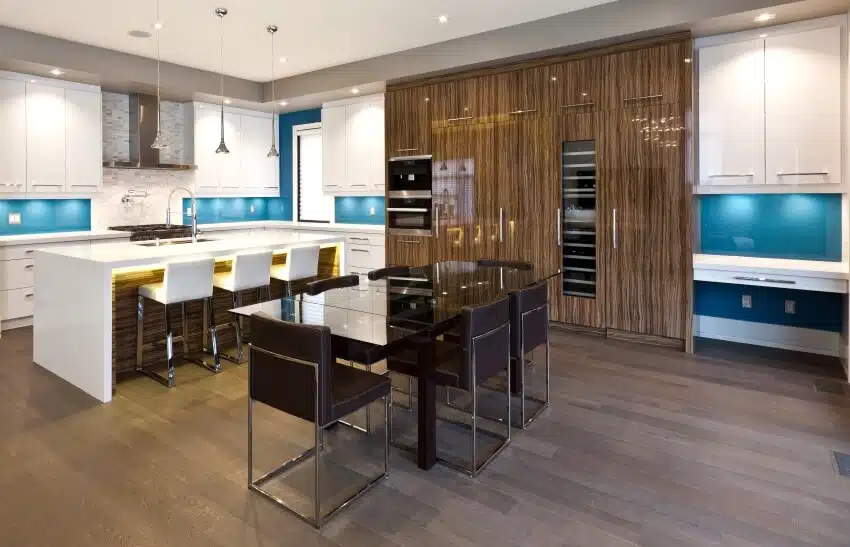 With many types of wood to consider for your modern wood kitchen cabinet, ideas will definitely be endless. The modern style is all about clean lines and seamless aesthetics. Given that modern style also delivers a sleek and sophisticated look, there are many ways you can achieve this appearance and vibe.
When considering a wooden kitchen cabinet, there are two elements that can contribute to the modern style you're planning on.
Color variations and grain patterns on the wood will be influential in identifying if a particular wood can be turned into a great modern wood kitchen cabinet or not. The color variations can either be light, dark, or warm, depending on the natural color and the wood.
Modern Cabinets in Light Wood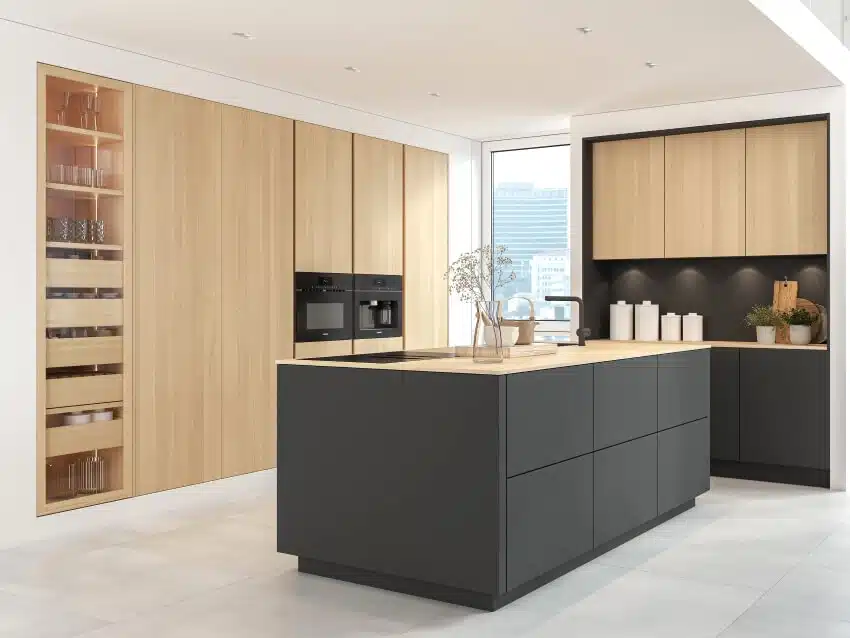 Going for light-colored wood is the safe choice if you will be working on a modern wood kitchen cabinet. Since the cabinet needs to be simple with a touch of minimalism, you won't go wrong in choosing a light-colored wood. Their colors can range from nearly white to yellow.
White oak is an example of a light-colored wood you can turn into a modern wood kitchen cabinet. Commonly available quarter sawn, this type of wood is an all-time favorite because of its straight grain pattern that transforms into a stunning ray flak pattern when quarter sawn. This is the reason why white oak is a popular material usually made into modern wood kitchen cabinets.
Other than white oak, white ash wood also makes an excellent material for a modern wood kitchen cabinet. This light-colored wood has smooth and typically straight grain patterns that make it an attractive choice for a modern kitchen cabinet and a piece of furniture in general. They grow well in some parts of Canada and the east coast of the United States.
Cabinets in the Kitchen with Dark Finish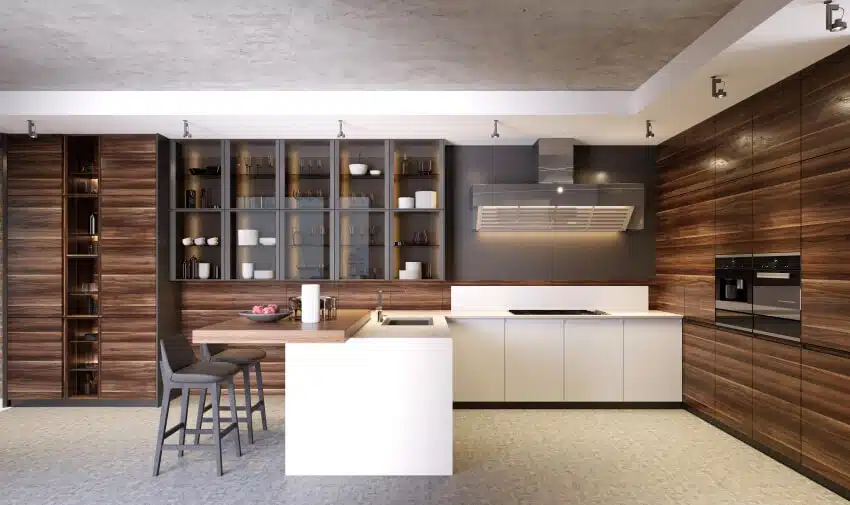 While light-colored wood modern kitchen cabinets are more common, dark-colored wood choices are still available for your picking. Maple and cherry woods are two excellent choices for your kitchen cabinets.
Maple wood is light-colored and has fine grains, which will look wonderful on a piece of furniture despite being less dense and expensive. Cherry wood, on the other hand, is durable and also has smooth and fine grains.
Besides the type of wood per species, you can try out a fumed wood. This type of wood got its stunning dark color from being exposed to ammonia gas and bringing out the natural tannins in the wood. The higher the tannin content, the darker it would be.
Modern Wood Cabinets in Natural Wood Finish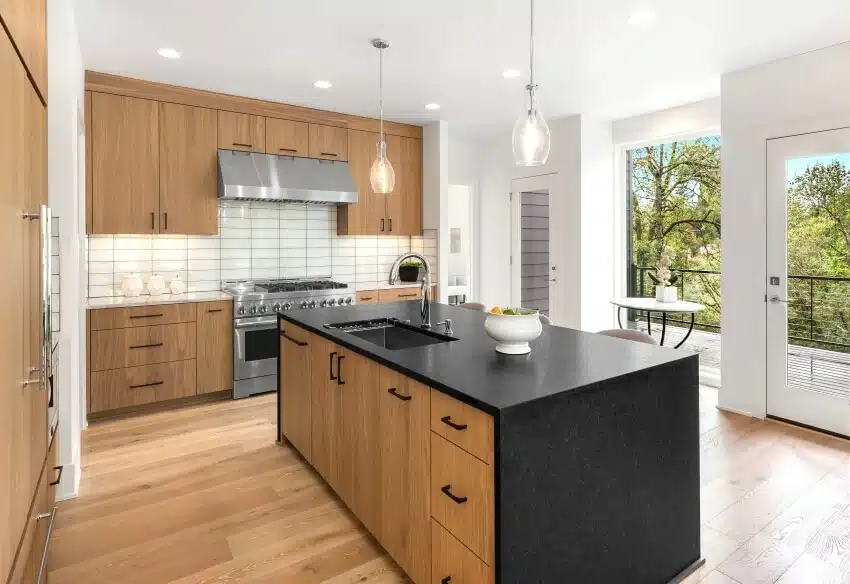 Besides light and dark-colored wood, you also have the option of just going straight natural for your kitchen cabinets. This does not mean that the light and dark-colored modern wood kitchen cabinets are not natural in any way. With a wide range of color variations in natural woods though, they can vary widely.
In between light-colored and dark-colored wood, there are different warm woods to explore and they have colors that range from golden tones and orange to browns and reds. Two examples of these are teak and walnut kitchen cabinets.
Teak kitchen cabinets come in yellow to golden brown shades (the shade varying depending on the part of the tree used) and darken with age. Despite being expensive, it is one of the most popular wood options in the world because of its sleek straight wood grains.
Walnut kitchen cabinets are also popular and well-known, especially because of their mellow and warm vibe that makes them popular in modern style. This wood also comes in two tones in its simplicity, making solid walnut kitchen cabinets a good addition to your home.
Design Ideas for Kitchens with Wood Elements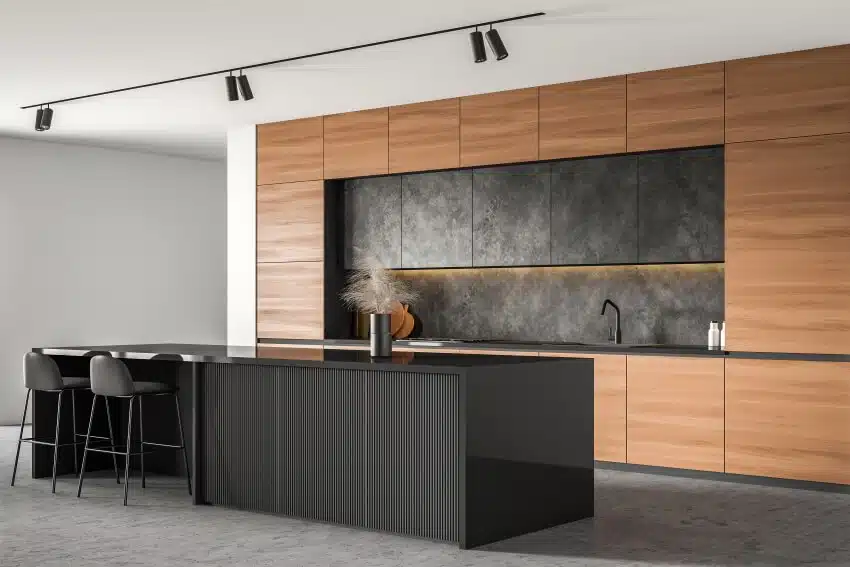 If you are thinking about the designs you can apply to your modern wooden kitchen, there are many to explore. One of the things you need to remember is that you have the option of not using the wood's natural color.
You can either apply stain on the wood or paint on them if you prefer a different color. Sometimes, painting over the wood will help hide the flaws on the surface and can even strengthen the material and lengthen its lifespan.
In exploring modern wood kitchen designs, neutrals and classic colors are the safe way to go. Neutral colors keep the look simple and easy to match while adding visual value at the same time.
Two of the most popular and common colors used are white and black. The colors can stand alone or they can go together and because of their solid clean colors, they can easily be used for modern wood kitchen cabinets.
White and Wood Combination for the Kitchen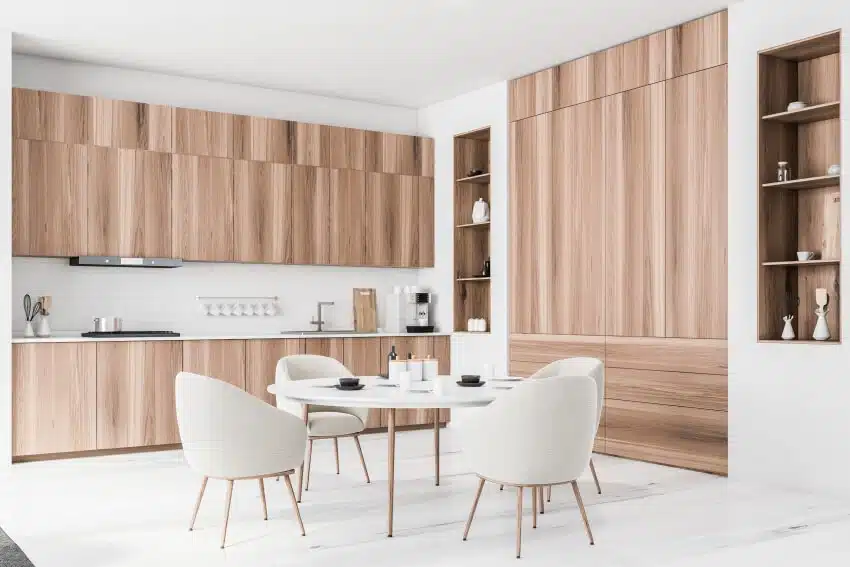 If you want to go for a look that's effortlessly clean and seamless, you can choose a modern white kitchen integrated with wooden elements. To start with a modern kitchen, using simple colors like white is a safe place to start, especially if you tend to change your mind every now and then.
And adding natural materials to the mix softens the entire look without losing the modern impression to it. This is a good combination of minimalism, which is a style that fits well with modern style.
If you're going for a modern white and wood kitchen, there are different ways you can go for it. You can choose white countertops and match them with wooden kitchen cabinets. You can also match white kitchen cabinets and countertops with wooden flooring and ceiling.
White Painted Kitchen with Wood Island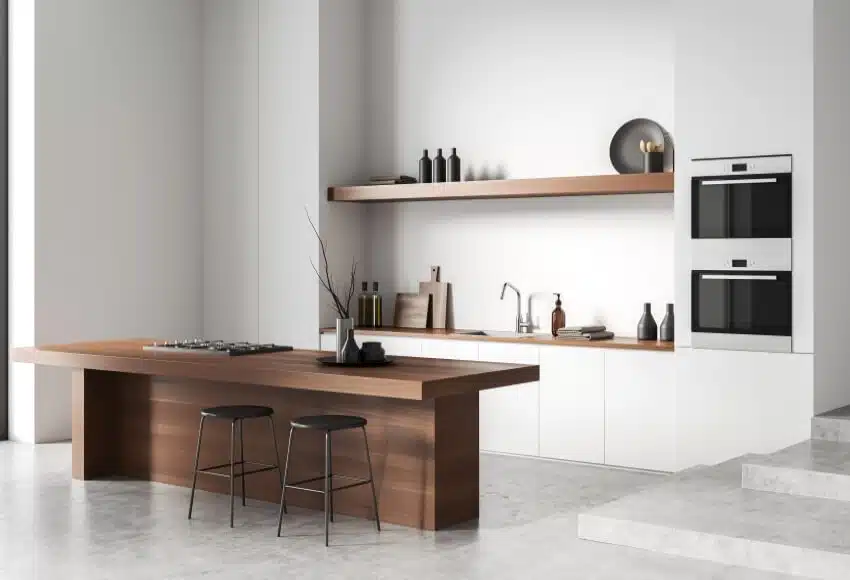 Another option you can choose is a modern white kitchen with a wood island. You can't go wrong with this combo especially since they balance each other out. The white part in the kitchen brightens the entire space and the wooden island balances the brightness by adding warmth to the mix.
The wooden kitchen island provides both durability and aesthetic element to the kitchen. The downside with a wooden island though is that its durability is not on par with a stone kitchen island. So this wooden island, while may stand up with daily wear and tear, can end up with scuffs and scratches in the process.
Having white kitchen cabinets and a wooden island base offer a stunning combination. This combination provides a solid visual anchor to the space, keeping the kitchen airy and lengthy yet at the same time warm and welcoming.
Some of the wooden islands you can consider are the following:
• Beechwood island
• White oak island
• Walnut island
Modern Style White Kitchen with Wood Accents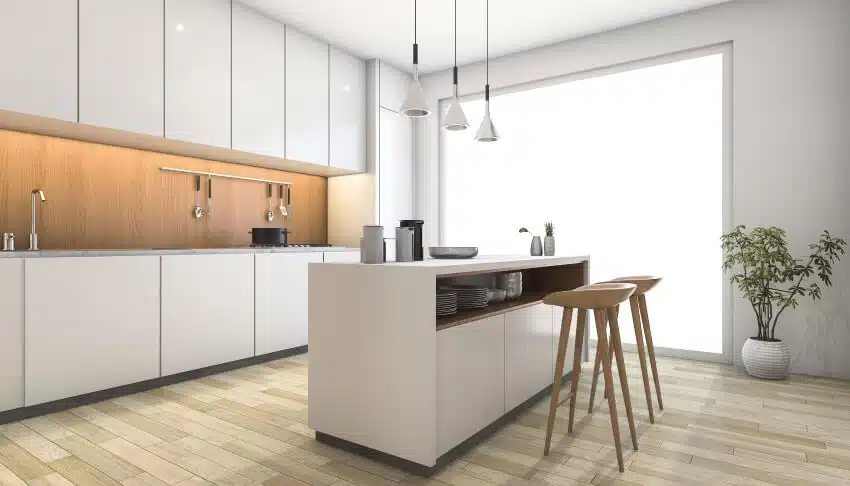 When combining white and wooden elements, you can also do it in a way where your kitchen is dominated by white and just speckled with wood accents.
Considering white and wood in the kitchen are a classic combination, this will remain timeless and will never go out of style in the process. This means that you will get both a functional and a trendy combination at the same time.
A white kitchen with flattering wooden accents will be aesthetically pleasing and ideal for modern spaces. It is important how you integrate the wooden accents into your kitchen, whether it's a warm wooden oven hood or frames, adding coziness and extra warmth in the process.
Combining Wood and Modern Black Kitchen Elements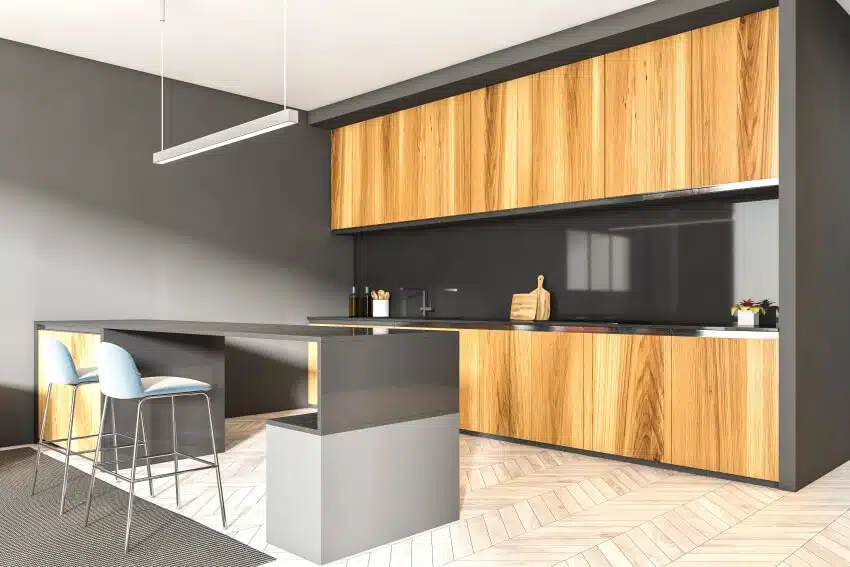 If you're not that fond of the color white and tend to prefer something bolder and more dramatic, then black is a safe color to choose for a modern-style kitchen. And to give it a softer ambiance, you can add wooden elements to the mix.
Black is undeniably a neutral color that is often regarded as the opposite of white. And just like all neutral colors, black works well when applied to any space and when matched with other colors. The same thing could be said about wood.
Wherever you think of installing wood, it can work well with what you already have going in the kitchen. And matching colors also won't be a problem as long as you take into account the shade or color dominant in the type of wood you've chosen.
If you're thinking about ideas for your modern black and wooden kitchen, here are some ideas you can explore so that you won't have to search anywhere else anymore.
• Sleek black countertops and pieces of appliance matched with wooden kitchen cabinets
• Almost all-black kitchen with wood-paneled walls
• Wooden flooring, black matte table, and black hardware on wooden kitchen cabinets
You can go on and on when it comes to matching black and wooden elements in your kitchen but the most important thing is to balance everything so that your kitchen won't be too bold and dramatic or too rustic with many wooden components that you can barely call it a modern style kitchen.
Visit our gallery of modern kitchen island ideas for more related content.