Here we share our limestone flooring design guide including their types, floor patterns, installation, costs, comparison to travertine, and tips on how to clean limestone floors.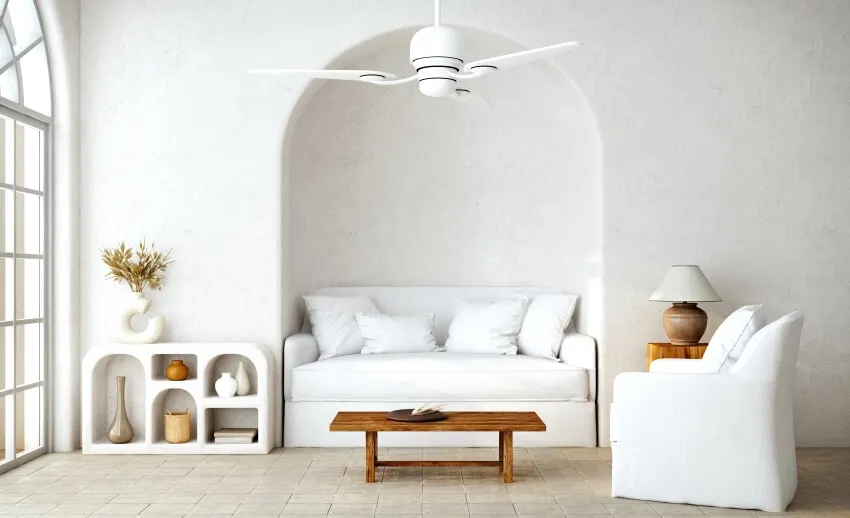 Nothing compares to the beauty and durability that natural stone brings. You'll need both qualities if you want to enjoy your flooring material for an extended period, and that's worth your investment. When it comes to natural stone, limestone is a popular flooring choice that's both timeless and aesthetically pleasing.
Limestone has been lending its beauty since the old-world gracing historical monuments across decades, such as the Great Sphinx, Empire State Building, and the White House. Limestone products are projected to grow both in commercial and residential use significantly.
Types Of Limestone Flooring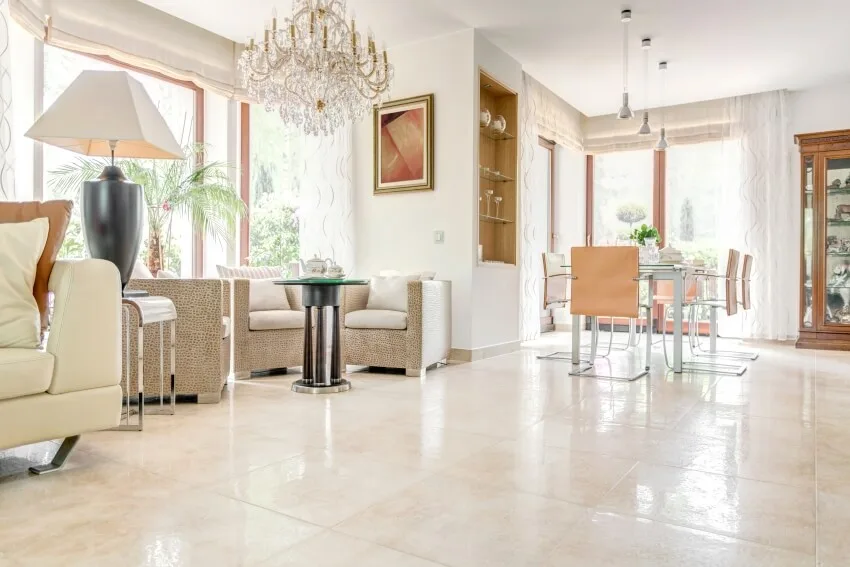 The versatile stone flooring can be used for indoor and outdoor applications that offer an earthy tone mostly of beige, white, gray, or beige colors. Limestone floors will look good in any design style, whether you're opting for a traditional theme or want a more contemporary feel in your home.
Limestone Floor Tile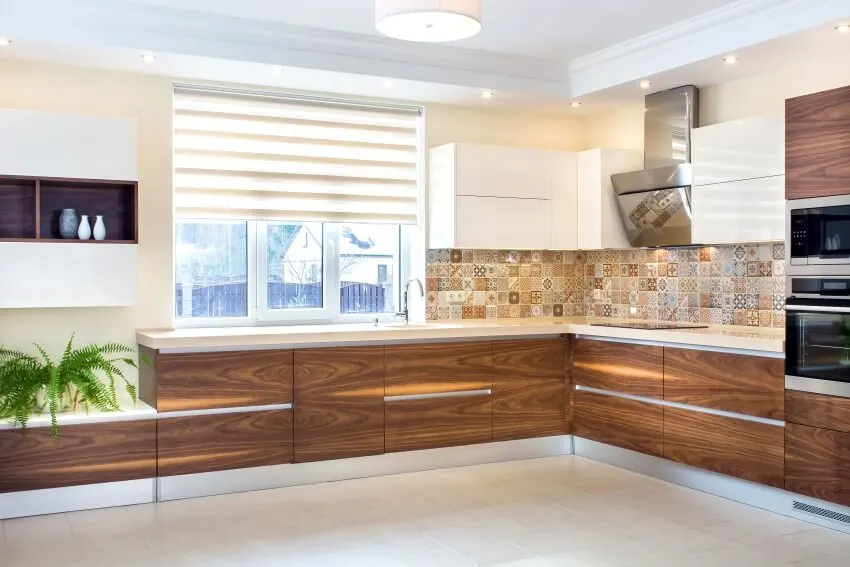 Tiles made from limestone will look exquisite in either practical or decorative applications. Limestone tile floors are recommended for medium to low traffic areas but can work in high-traffic areas if you have a thick, gauged limestone tile and a stable substrate.
In addition, tiles, in general, are practical since you can easily replace the damaged tile/s without the need to replace your whole flooring.
There are dozens of possible tile patterns, with limestone tiles such as the square-set, herringbone, hexagon, or chevron tiles. Limestone tile floors, despite their durability, will eventually show signs of wear and tear. Still, the natural stone ages gracefully, giving it a rustic look while adding more character to your floors.
Limestone Field Tile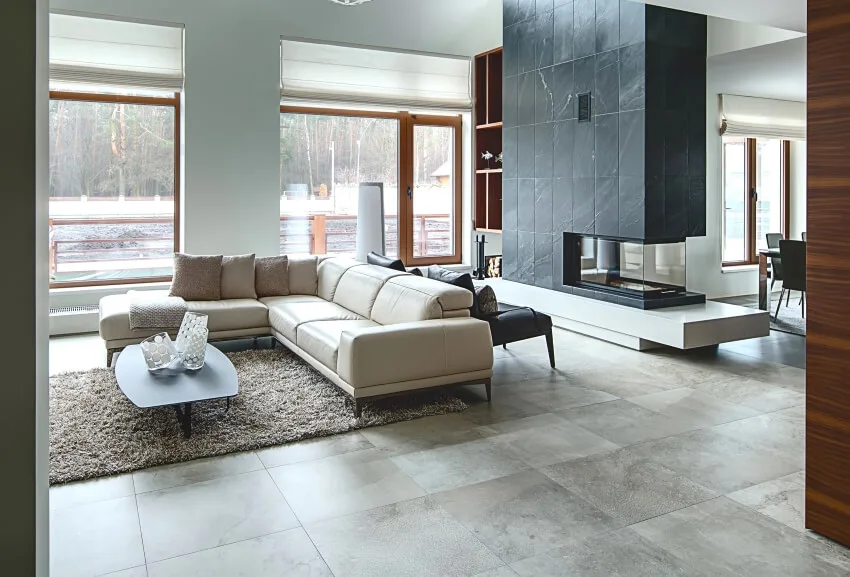 When it comes to surround applications such as a backsplash or wall tiling, limestone field tile is an excellent choice if you want an impactful design that costs less than marble or porcelain.
In addition, the colors of limestone tiles are typically neutral and with earthy tones that won't overwhelm a space while versatile to mix and match with other materials.
Field tile is the tile that covers the most surface area in any room. It's not the border or accent tile (such as mosaics) but the tile with the largest surface area. Field tile typically comes in sizes ranging from 2″ x 4″ to 24″ x 24″.
Tumbled Limestone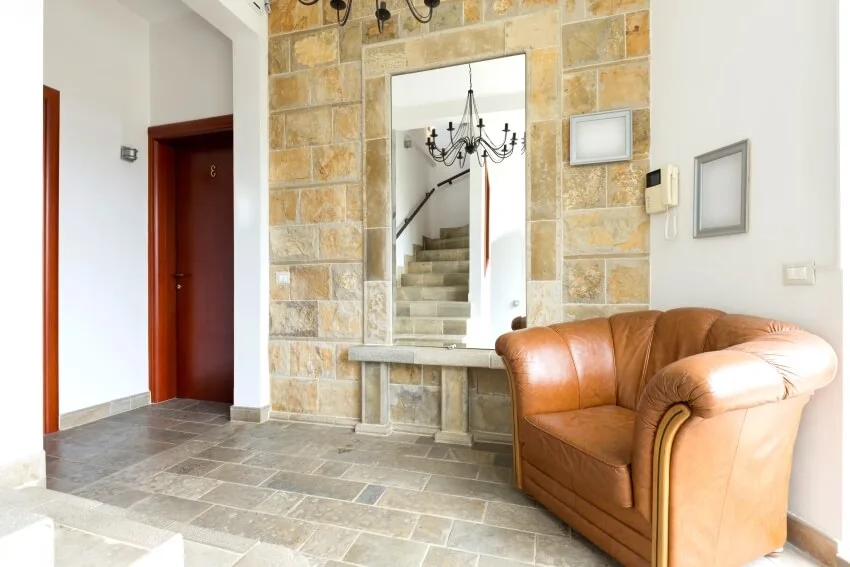 For a vintage look, the tumbled tiles are the perfect finish for your limestone flooring. Period homes are great for tumbled limestone flooring giving that rustic feel due to the rough texture near the grout, which simulates the aged look and feel of an antiqued floor tiling.
However, tumbled limestone can work with modern homes as well as it gives a juxtaposed look showing more visual interest.
To achieve the look of a tumbled finish, the limestone tiles literally undergo the method of tumbling, where the stones are tumbled repeatedly inside a rubber drum with rocks, sand, and water. This process softens the edges creating that rough aged look.
Brushed Limestone
Second, to honed, brushed limestone is the more popular finish as it's an excellent alternative for the honed finish if you want a little more texture while retaining and enhancing the limestone tiles' original color.
The brushed finish is achieved by using a steel comb that brushes the stone surface, thus bringing out the natural texture and color of the limestone tile. This finish creates a stone tiling that is smoother than tumbled but still has a more rustic feel than honed.
Honed Limestone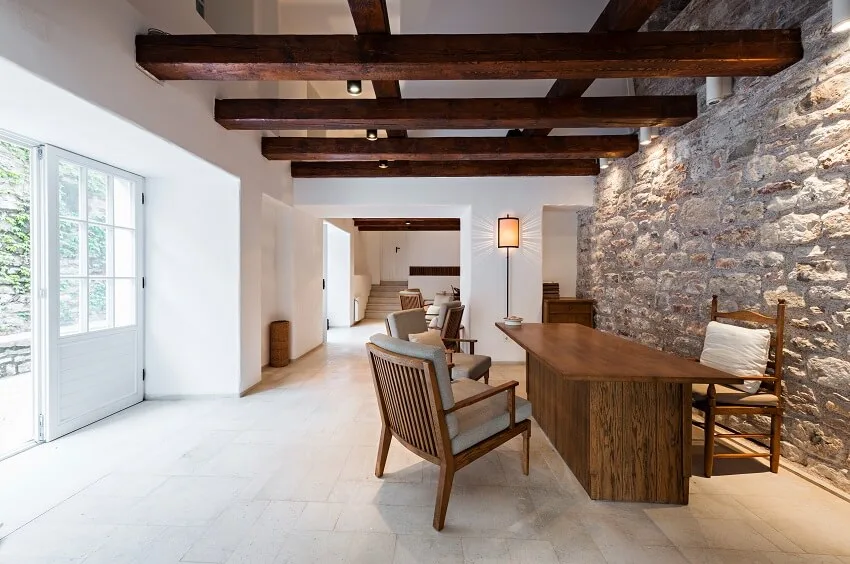 One of the most famous limestone finishes, the honed flooring can either be a matte or satin finish with a smooth surface. It does give off a slightly polished look which can be used in modern themed projects.
A honed finish is a great option for indoor spaces because of its satin feel and is slightly easier to clean than more textured finishes. A honed finish is popular because it is elegantly simple, contemporary, and functional in any home.
Polished Limestone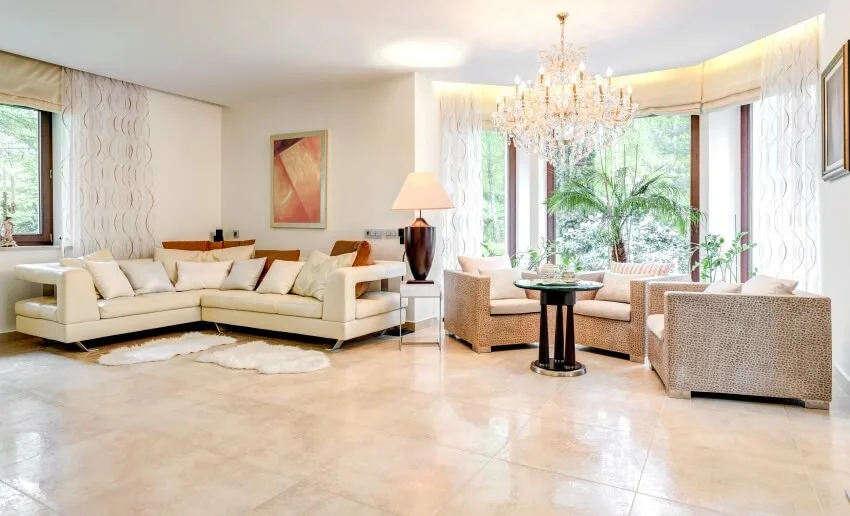 Polished is one of the most well-known finishes. Marble is frequently described as having a glossy finish. If marble isn't your style, polished porcelain is a great substitute.
A polished finish can give any home a modern twist, which is one of the best things about it. If you want to achieve a luxe-modern look, polished flooring may be the way to go. If you love all things retro, a glossy finish might be the perfect addition to an art-deco-inspired home.
A polished finish is an effective way to give a luxurious feel to a space. Because of their timeless appeal, polished floor finishes have been popular for decades. Polished flooring is popular because it can be used as a focal point or complement the rest of your living space.
Pillowed Limestone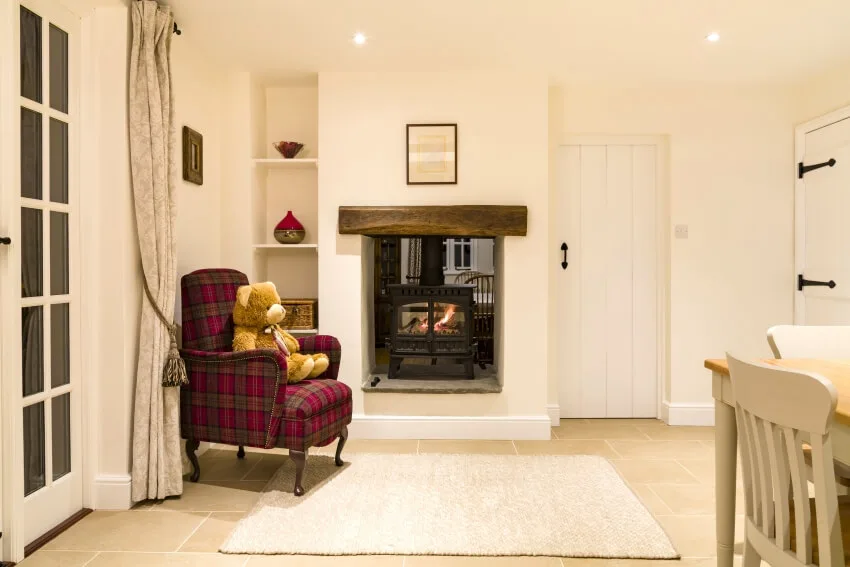 The size of non-rectified tiles varies slightly from batch to batch (lot or batch). The top surface of these pieces may have a visible "pillowed-edge." Unlike rectified tile, there is no additional mechanical machining step to ensure size precision.
There may be minor size/shape differences between tiles. Wider grout joints are required to accommodate the size variations and to align the tile during installation. On pillowed edges and ends, the bevel is more rounded. Antiqued floors are the most popular choice for this look.
French Limestone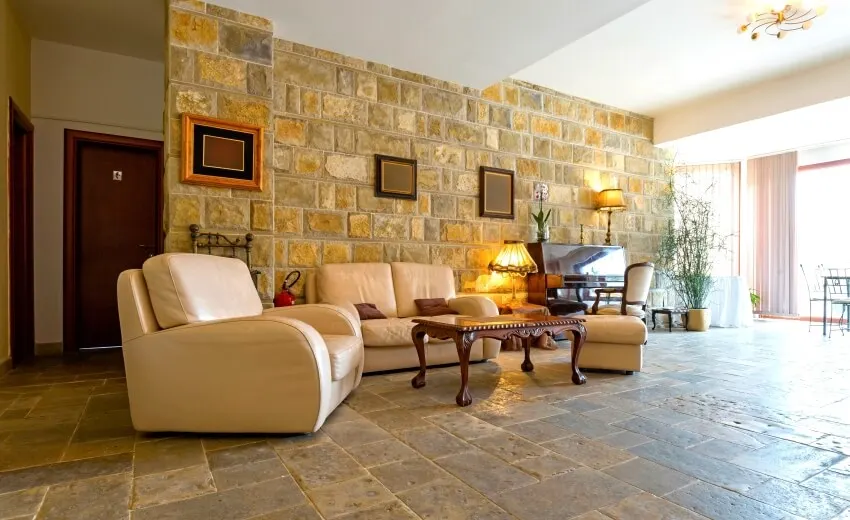 The aged and distressed French Limestone has a naturally worn patina. The width of the tiles is consistent, with lengths of 400-500mm and a thickness of 30mm.
We also import reclaimed materials from France, Spain, and the United Kingdom and unique architectural stone elements. The materials come from old buildings, farmhouses, and historical sites that are being renovated or repaired.
Outdoor Tiles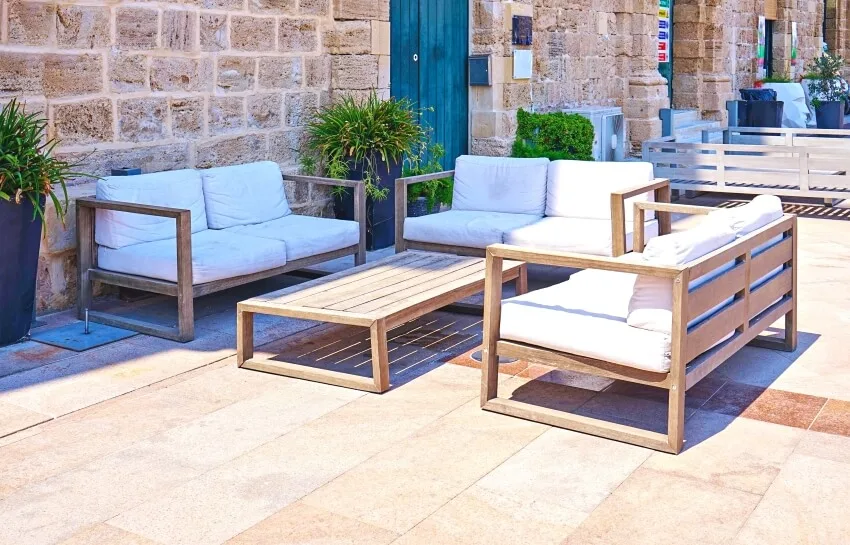 An outdoor flooring material will need to be durable enough to withstand the weathering elements. Limestone outdoor tiles are ideal for outdoor use since it's a hard-wearing stones that may not be as hard as marble or be is as dense. Limestone has a high crushing strength of 180 MPa (concrete has a crushing strength of 40 MPa).
It is also ideal to choose an outdoor limestone tile that is textured to prevent slippage when walked on and frost-proof so it won't break or get damaged when freeze and thaw action occurs.
Another massive advantage of limestone for outdoor flooring is its excellent insulating properties, which means they are comfortable walking on bare feet during summer or winter.
Reclaimed Limestone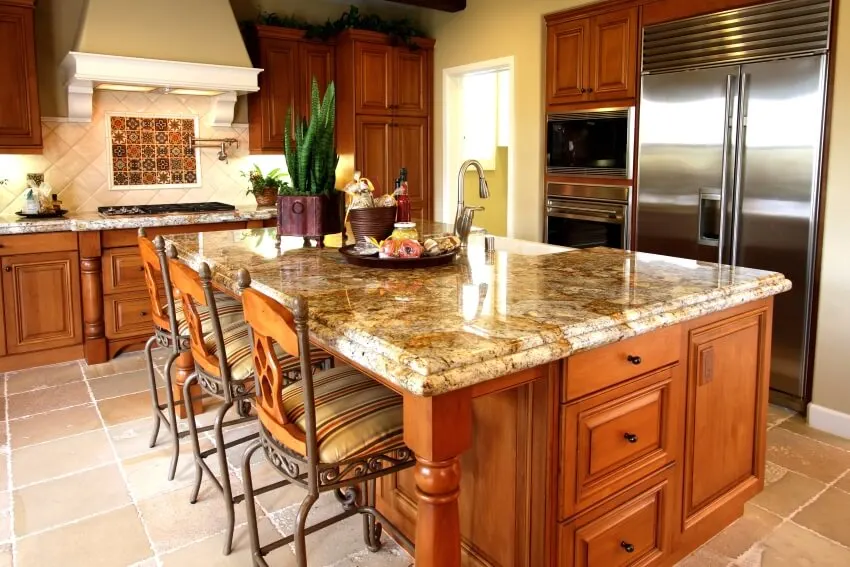 Reclaimed stone flooring bears the marks of time, with nuance and patina in limestone from Bourgogne, Caen, Provence. Some of France's best stocks of reclaimed stone flooring for paving, and tiling, blue-stone, terra cotta tiles, come from the Pierre de Bourgogne region.

Pros and Cons Limestone Floors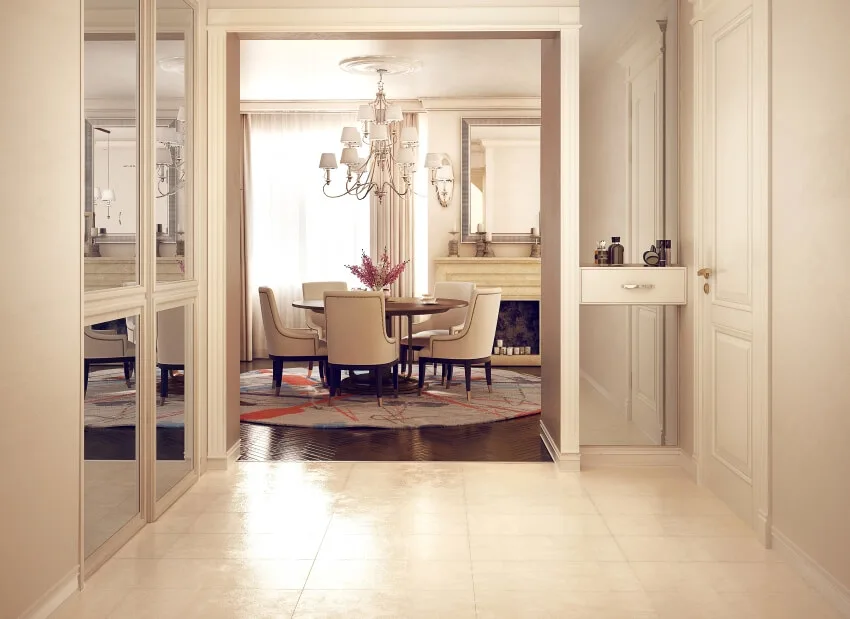 Though extremely popular, you'll want to know if limestone flooring is the perfect natural stone for you, and just like any other material, there are pros and cons to weigh in before going for a limestone floor.
Pros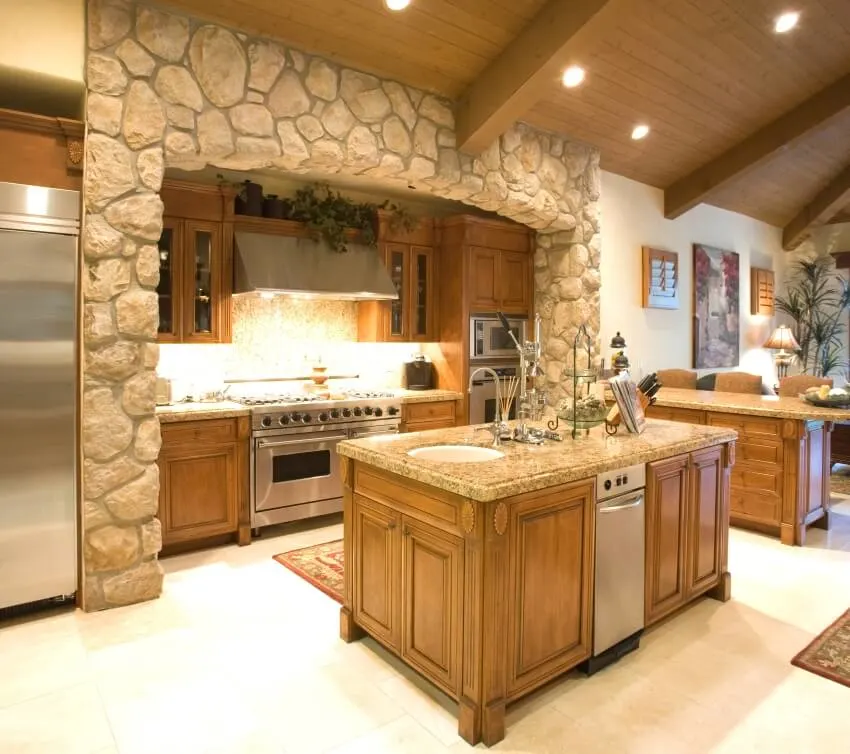 It costs less than most natural stone tiles. The costs of installing limestone tiles are significantly lower than those of other natural stones such as marble and granite. As a result, limestone flooring is a cost-effective choice for those who cannot afford granite or marble but still want natural stone's natural, rustic look.
Hard, dense limestones are suitable for most applications, while soft porous chalks are generally not sufficiently strong or durable for use as aggregate. – Lime and Limestone Chemistry and Technology, Production and Uses, A. H. Oates
Durable. While limestone has a Mohs hardness of 2 to 4, it has a crushing strength of up to 180 MPa, four times that of concrete, which has a crushing strength of 40 MPA. Limestone has a high mineral content, making it ideal for floor tiles. This natural stone has proven to be long-lasting. Limestone tiles can last a lifetime if properly sealed and cared for, which is why it's becoming more popular as bathroom tiles.
Organic Beauty. Limestone tiles can give your home a welcoming and spotless appearance. Since ancient times, they've been used in monuments with their beautiful rustic ambiance, which is unmatched by any other old stone. Furthermore, its wide range of colors distinguishes it from other rocks and products, such as pastel shades ranging from blues and grays to tans.
Jet black limestone pavers are also available. This is formed when a high concentration of organic material in the rock is deposited in various patterns. Iron oxides are found in greater abundance when yellows and browns are visible.
Versatility and Workability. Another advantage of limestone is that it is a very versatile material. Limestone is a soft stone compared to other natural stones, which means it can be cut to any size you want.
Whether you want small floor tiles or a mosaic design made of tiny chunks of limestone, you can do it. And since it's not as heavy as granite or marble, it is easier to work on and transport.
Friendly to the Environment. With growing awareness of the importance of preserving our planet's natural environment, there has been a heated debate over the use of natural versus synthetic materials. Limestone meets the requirements for environmentally friendly materials.
When compared to synthetic tiles, the manufacturing process is quick and straightforward. Synthetic tiles also use more energy and produce more waste, whereas limestone does not require a lengthy factory finishing process. This saves energy and reduces pollution in the environment.
Non-flammable: Limestone tiles do not catch fire because they are made of non-flammable material. As a result, safety is another crucial factor that makes limestone a popular choice. This is a significant benefit, particularly in kitchens where the risk of fire is always present. After absorbing heat, the synthetic tiles may break.
Cons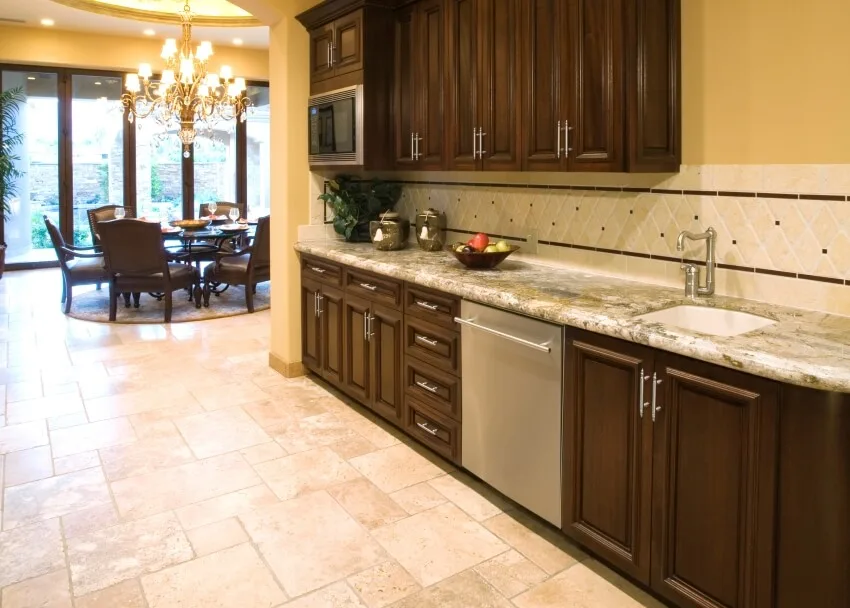 Regular Maintenance: Limestone requires regular maintenance to avoid the risk of being damaged. Since limestone is porous, it must be sealed to help protect it from stains. Soft types of limestone will need additional maintenance which may end up being more costlier over time.

Soft: As previously stated, limestone is quite soft in comparison to other natural stones, which means it can easily be damaged or chipped in areas with a lot of foot traffic, such as commercial kitchens. Tiles should be sealed regularly to prevent damage and scratches. This is a porous stone that can chip easily in high-traffic areas when compared to other natural stones.
Heavy: A limestone tile can be heavy due to its dense but porous composition. The tiles are made of limestone, which is a rich natural stone. They require special handling and installation due to their extra weight.
Transportation becomes a little more difficult as a result of the same reason. On the other hand, this weight has no bearing on its usefulness.
Limestone Tile Floor Patterns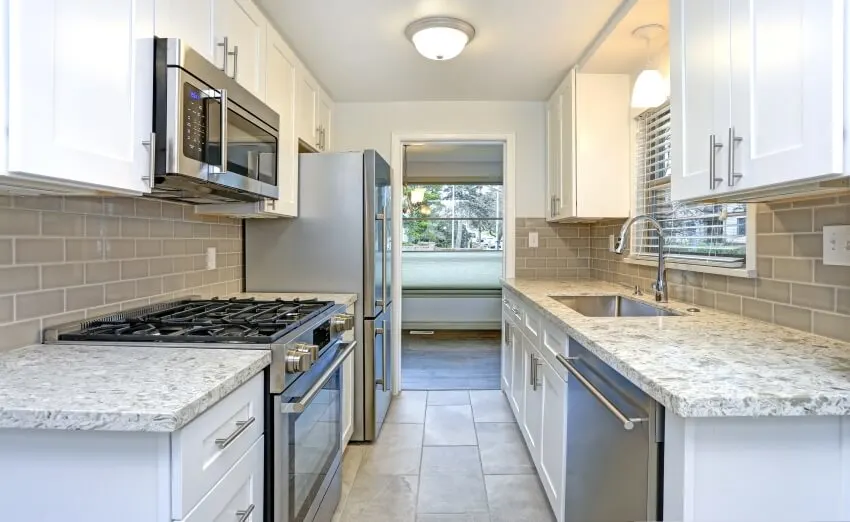 Limestone tiles come in a variety of sizes, including 30 x 30, 60 x 30, 60 x 60, and 60 x 90 cm, as well as thicknesses of 1 cm, 1.2 cm, 1.5 cm, 2 cm, and 3 cm. This gives much versatility in designing with limestone tiles.
The following are some of the most popular limestone tile patterns.
Regular – Clean and Simple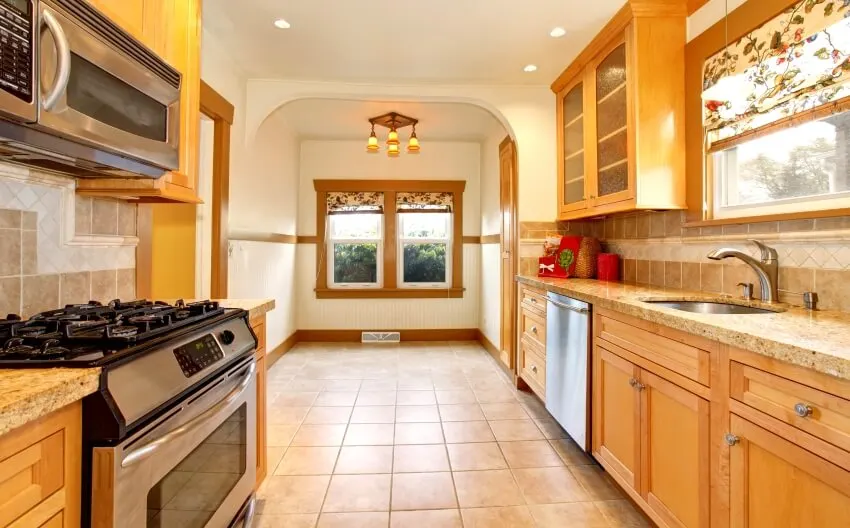 A regular rectangular or square tile pattern is suitable if you want a uniform look for a contemporary interior. Honed or brushed finishes are great for a typical design that can be installed in a brick or stack bond placement. A regular pattern, also called fixed tiling, has tight grout joints, which makes a clean and sleek look.
Herringbone – Minimalist with an Edge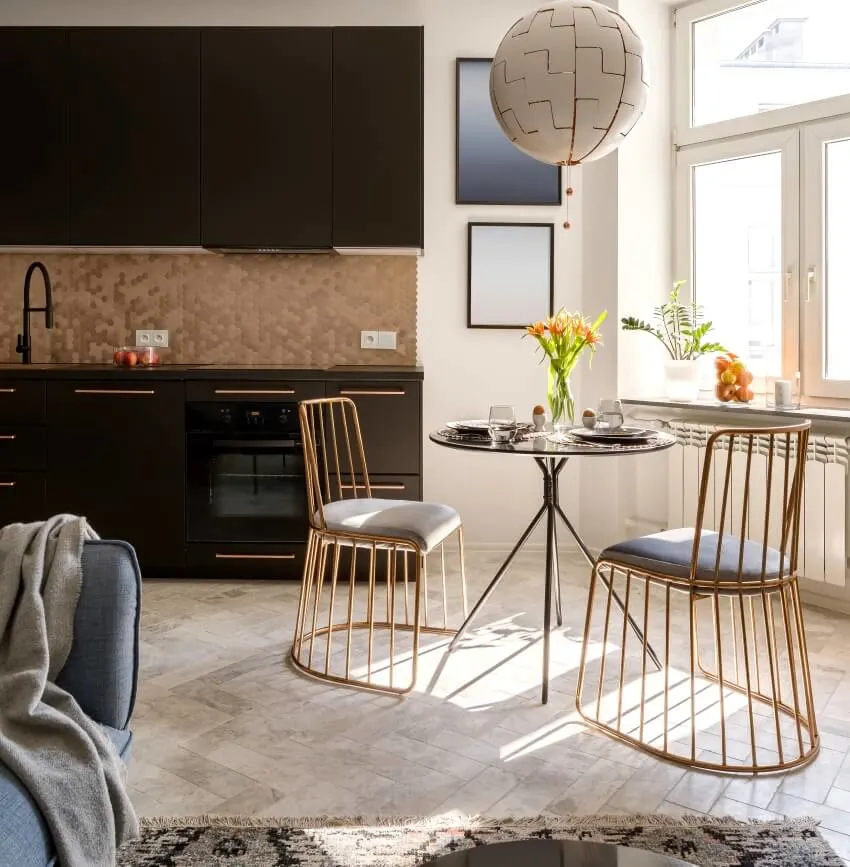 Modern homes need not be constrained with perpendicular lines. The herringbone pattern allows you to add dimensionality where the tiles are laid at alternating 45 degrees angles with repeating V-shapes. The look provides visual intrigue with your limestone flooring that you can juxtapose with straight-edged elements.
Opus – Varied Beauty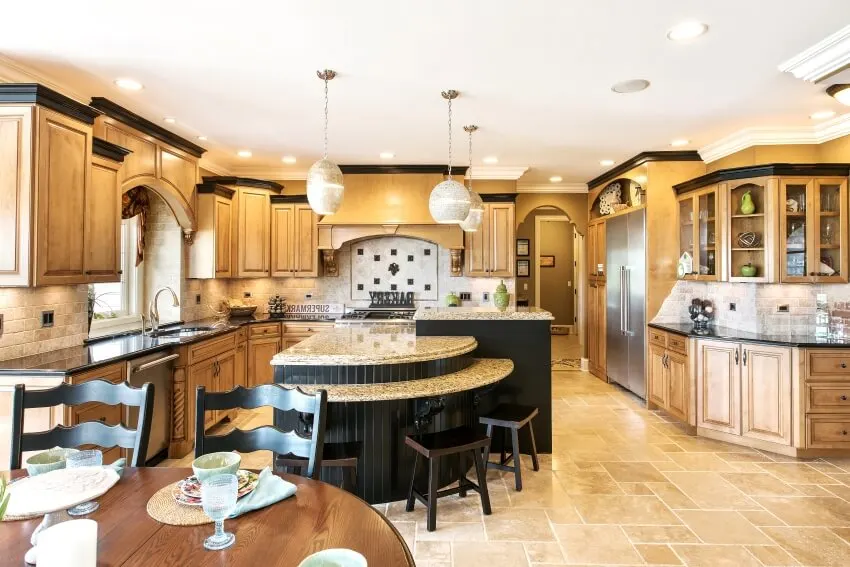 The opus pattern is a set of several tiles (4-8) in various sizes that can be used to repeat a layout for as many tiles as you have on hand. The great thing about opus patterned limestone is that you place it in any room size.
The randomness of the limestone design on the pattern layout provides visual interest and makes it easier to replace any damaged tile without finding the exact tile pattern.
A great tip would be laying out an opus patterned limestone tiling using eye rather than spacers as there are different sizes involved, and spacers will not guarantee uniform grout lines.
Free Length or Mixed Lengths
Visually lengthen a room size with a free-length limestone pattern. Many people choose to lay limestone tiles in a free-length format throughout ground floors and open kitchen areas because the mixed lengths create a lovely random brick bond. The larger size maximizes the tile surface and minimizes grout lines.
Geometrical – Dynamic and Modern
Unique shapes are a simple way to create a one-of-a-kind space. Hexagons and diamonds are unusual shapes that can be used to create a unique look that can't be achieved with straight angles and rectangular tiles.
French Octagonal – French Elegance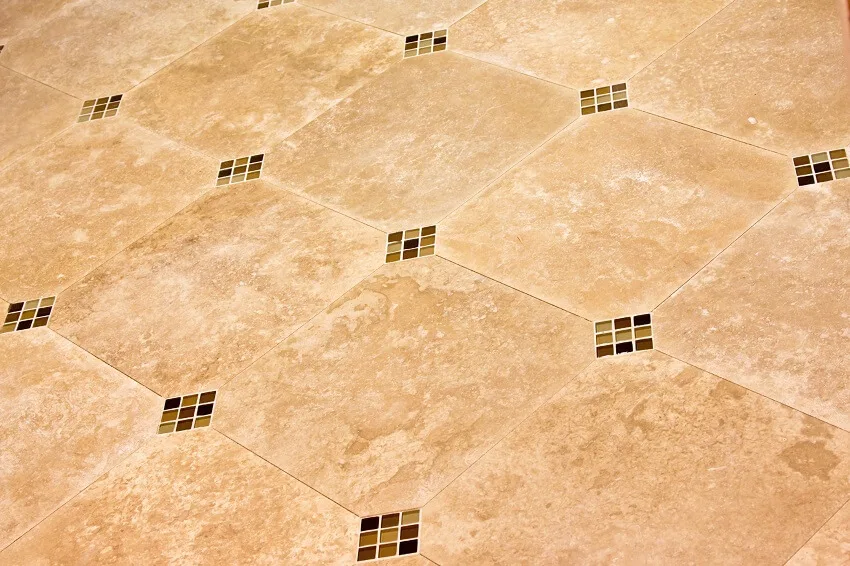 This classically old French limestone floor is a warm creamy white octagon prized for its more consistent color range, with its perfectly cut Ardoise Noire Cabochon for a beautifully tight grout line is seen as the epitome of elegance throughout France.
These beautifully aged French limestone floors are cherished for their historical, geometric pattern in entryways, kitchens, and halls with vaulted ceilings. They look great with French oak floors, offsetting the horizontal wood planks against the octagon floor, which is all about contrast.
Flooring Cost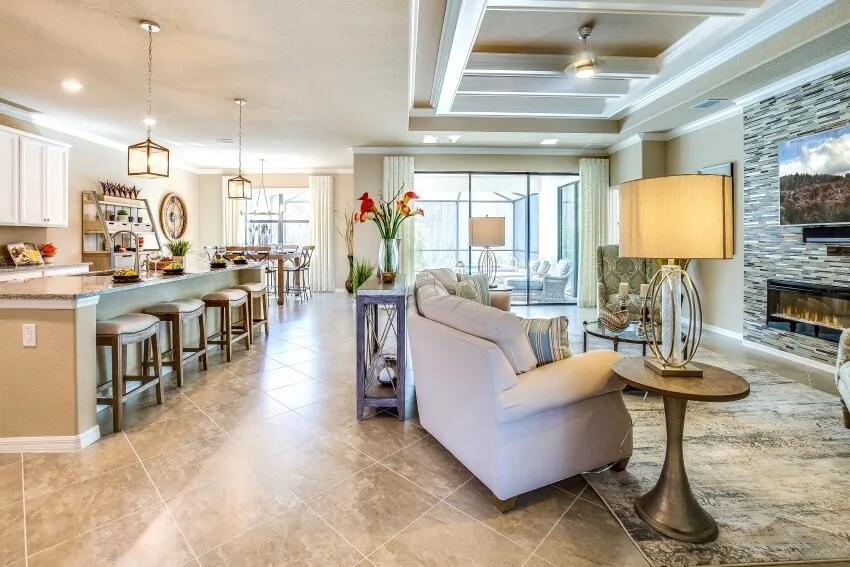 Standard limestone flooring costs range between $3 and $10 per square foot. Limestone accent and mosaic tiles can cost upwards of $30 per square foot. Accent and mosaic limestone tiles are typically only used for inlays or borders, and adding specialty tiles can increase your material and installation costs.
Furthermore, some contractors charge equipment allowance fees ranging from $50 to $100 for the duration of the project. This is primarily responsible for the wear and tear on costly tile-cutting saws.
Limestone Installation Cost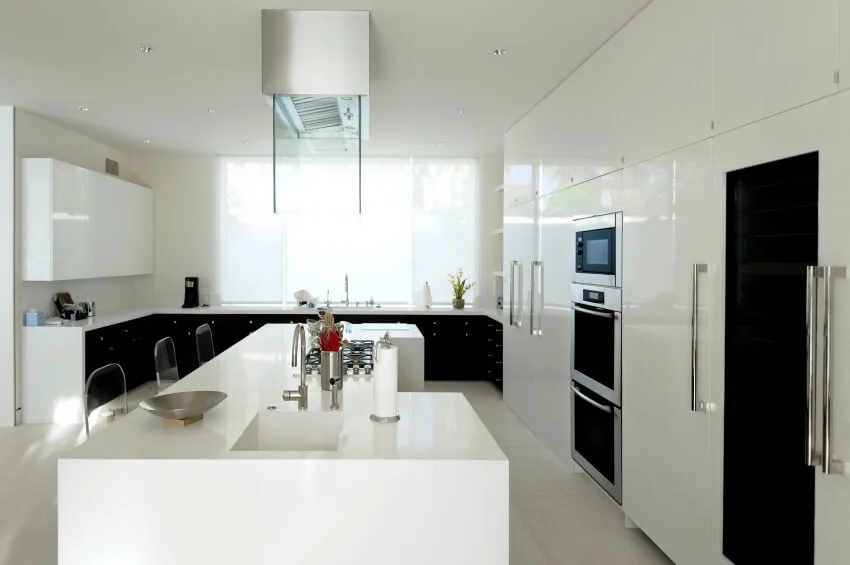 Most local flooring contractors charge between $40 and $75 per hour for installation. Many people include a $100 to $150 balance for a two-hour minimum to cover the cost of project-related preparation, cleanup, or other tasks.
Labor costs, equipment costs, and the time it takes to lay down the number of tiles needed to cover a room are all factored into flat quotes based on square footage. Some contractors may charge a premium of $1 to $2 per square foot for extra-large rooms.
How Do You Clean Limestone Floors?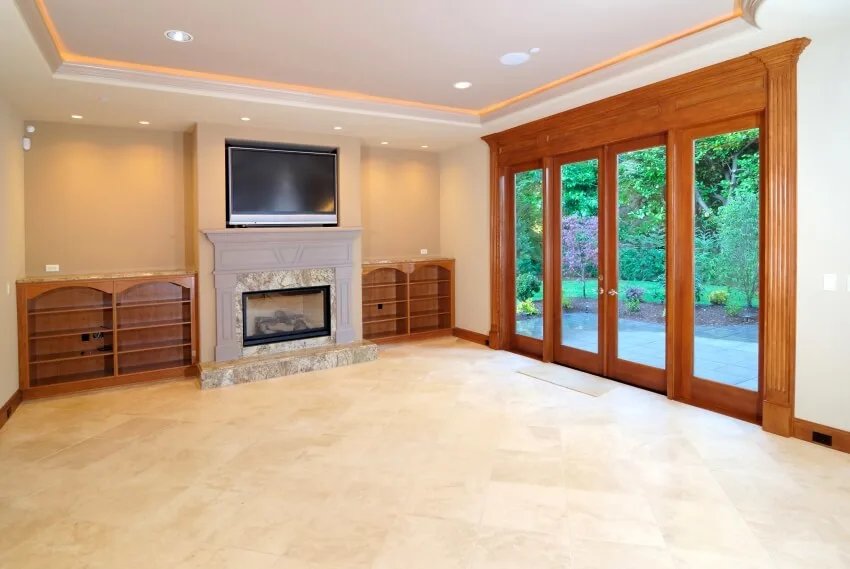 It's critical to use a pH-balanced cleanser formulated specifically for marble and limestone floors to remove faded and etched surfaces.
Chemical abrasives and acidic cleaning agents can prompt etching, which is a phenomenon that occurs when a calcium-based stone, such as limestone, travertine, or marble, comes into contact with anything acidic and produces a cloudy white watermark.
Using a pH-balanced cleanser explicitly formulated for limestone floors is critical to remove faded and etched surfaces.
Getting Rid of Stains
A poultice can usually be used to remove stains that leave dark spots on natural stone. Without discoloring the stone, an application of poultice safely absorbs stains from the surface. You can either purchase a ready-to-use poultice or make your own.
Is limestone Durable?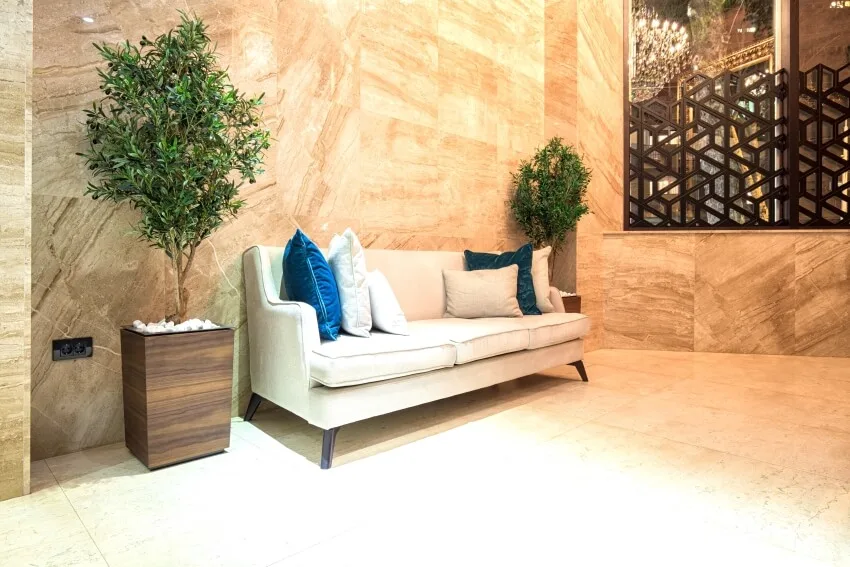 Limestone has medium durability when compared to other stones such as marble. Although it isn't as hard as other stones, it is still an excellent choice for flooring and even exterior tiles.
When compared to wood, porcelain, and vinyl, it is highly durable. If you take care of your limestone, it will last a long time and provide you with the rich appearance you desire in or around your home.
How To Seal A Limestone Floor?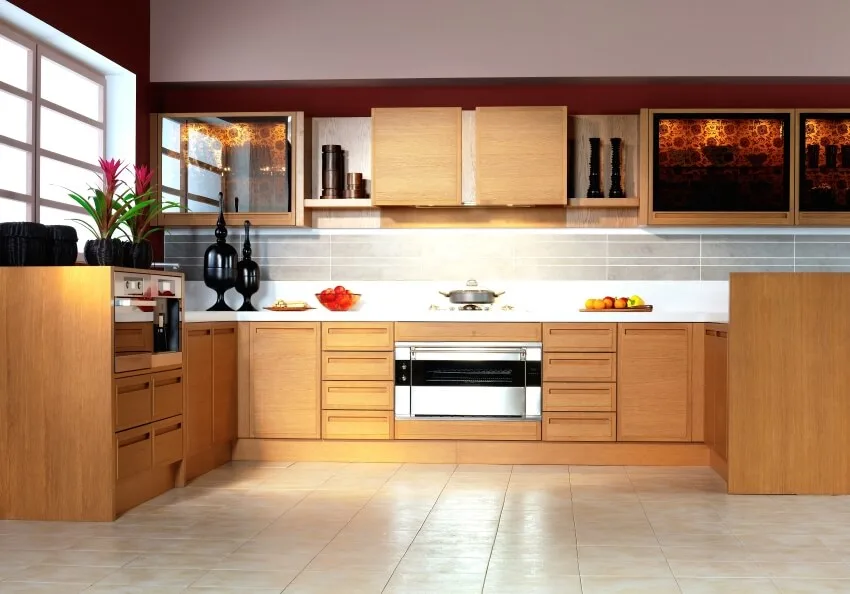 Safety First. Before you begin sealing your limestone flooring tiles, make sure you have protective eyewear, gloves, and a dust mask. The sealant will give off a lot of fumes. Ascertain that the space is well ventilated. To improve air circulation, open all of the windows.
After using alkaline-based cleaners to clean your limestone floors, speak with a professional at your local hardware or home improvement store about your plans for sealing your limestone floor. You should buy a penetrating sealer explicitly made for limestone tiles.
Soft limestone tiles are best protected with a silicone-based penetrating sealer. Before you start using the sealer, make sure you read the instructions provided by the manufacturer.
Pour the liquid from the sealer bottle into a small container. Dip your foam paintbrush into the sealer and use it to apply it. Shake off any excess liquid with care. Apply the sealer to the limestone tiles with the brush. Use broad strokes to apply the sealer.
Allow the limestone sealer to sit on the tiles for about five minutes. Wipe any excess moisture from the limestone with a soft, lint-free cloth. Polish the tiles with a soft cloth once more. Rub the tiles with the fabric in circular motions until they shine.
Apply a second coat of sealer after waiting about three hours. Allow the sealer to sit again and then remove any excess moisture. Polish the tiles with your lint-free cloth until the floor
Can You Steam Clean Limestone Floors?
Steam cleaning is not recommended. Water-based cleaning is an appealing choice for cleaning your limestone; however, repeated use of too much-superheated water can create residual staining, corrosion, and salt crystals. The iron particles that are hidden within the limestone tiles can also resurface.
How To Restore Limestone Floor Tiles?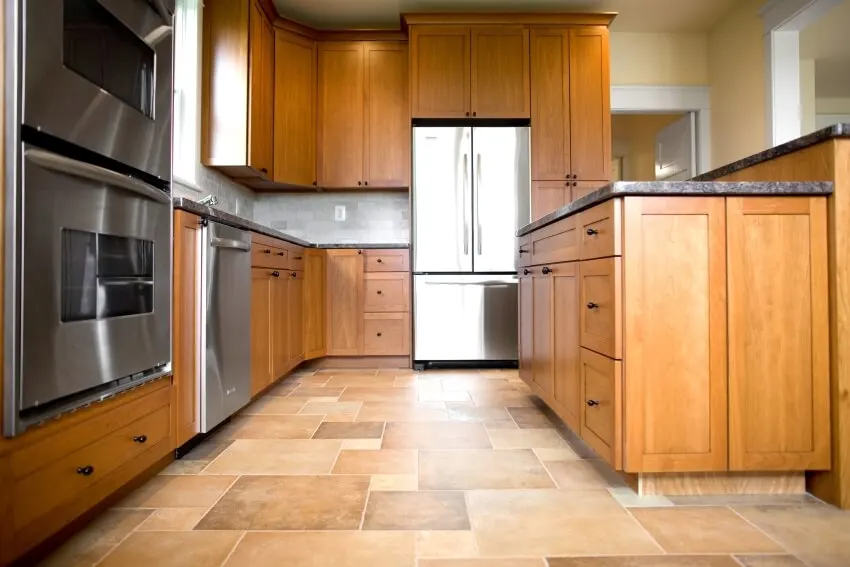 You must carefully assess the damage before beginning the task of restoring limestone. Chips, scratches, crumbling mortar, missing stones, and discoloration are all things to look for. Specialist repointing, cleaning, and patching techniques can address many of these issues.
You can use a hammer test to mark the hollows in your limestone flooring as you go. We drilled a hole in the grout joint where two tiles meet, as this was the largest gap once the voids were identified.
The openings were then filled with a specially designed product injected into the holes. Because this product is fluid, it can find its own level using this method. The void is then filled, and the pressure is applied, stiffening your limestone floor.
Allow the product to dry overnight before re-hammering the floor to ensure it is completely tightened and solid.
Repair cracks and chips in the limestone using resin and dust shaved off from the limestone. Grout lines, an often-overlooked but crucial component of your limestone floor or wall construction, must be in good working order before we can work with your stone. Whether the grout on your floor is sanded or not. All of the loose grout was raked out, replaced, and repointed with new grout.
Grout lines, an often-overlooked but crucial component of your limestone floor or wall construction, must be in good working order before we can work with your stone. Whether your floor's grout is sanded or not,
If there is extensive deterioration, such as large chunks of missing stones or large amounts of loose mortar, it's a good idea to consult a professional restorer. This will ensure that you don't end up causing further damage to the structure and that you can determine whether the damage is due to underlying structural or water drainage issues.
Limestone Vs. Travertine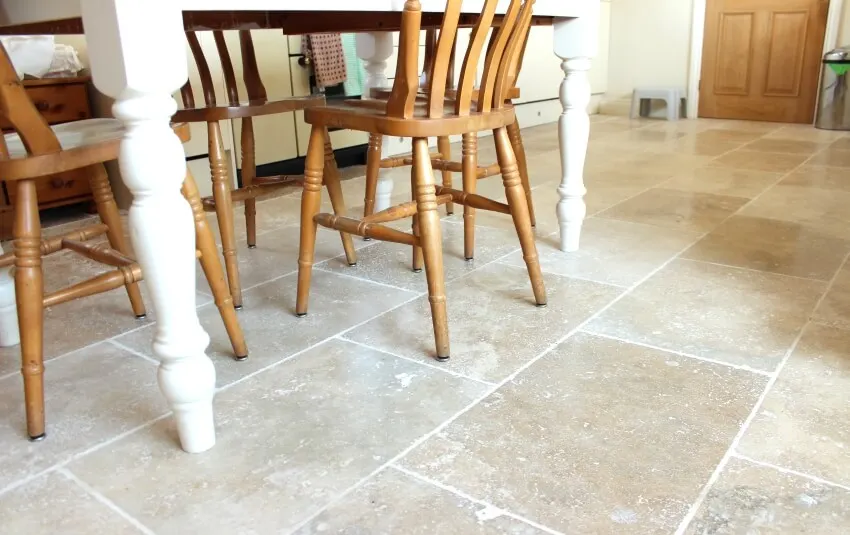 Both limestone and travertine offer unique features and benefits when used as a building materials, including flooring. The main difference between travertine and limestone block flooring in terms of use as flooring is that travertine tiles are frequently filled with resin.
Travertine stone is a kind of limestone that is slightly different in color and nature than other limestone options due to the uniqueness of its formation.
Travertine tile is often a less expensive option than limestone flooring at first, but as with anything, you get what you pay for. While others may argue that it is more durable than other types of limestone flooring, there is no type of limestone flooring that will not withstand years of use.
With that in mind, the only real distinction between types of travertine and limestone flooring is that limestone requires less maintenance and lasts longer. Limestone also works as a better long-term investment and has a more popular aesthetic appearance.
The aforementioned resin, which is often included in travertine, is why limestone flooring is lower maintenance and lasts longer than travertine. The resin has a tendency to separate from the tile, which is especially true if underfloor heating is installed.
This separation of the resin from the tile can result in a slew of long-term issues, as the flooring will need to be maintained and replaced, which takes time, effort, and money. With this in mind, it's easy to see why limestone flooring is a much better long-term investment as part of a project and adds more value to a home.
Finally, it's worth noting that limestone flooring has the advantage of having a better and more popular aesthetic appearance than travertine. Because travertine is naturally darker in color, it lacks the signature combination of lightness and warmth that makes limestone flooring so appealing.
Is Limestone Good For The Kitchen Floor?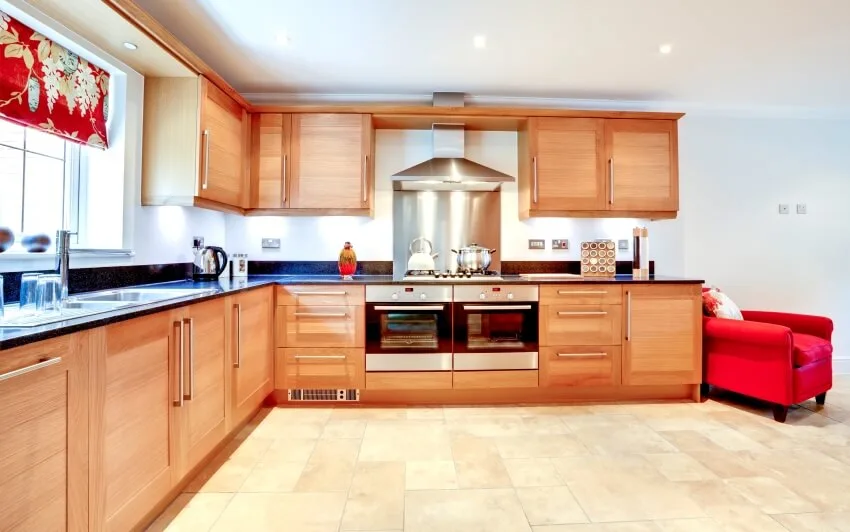 Limestone is a classic stone that has been used for centuries as kitchen flooring. Its ability to withstand the test of time demonstrates how tough and long-lasting a stone floor can be.
Some limestones are naturally denser than others, and our collection was curated with this in mind, resulting in a functional yet distinctive kitchen floor. See our guide on kitchen floor ideas on a budget here.
The beauty of limestone changes over time as it is used, and there is something very special about having a historic piece of stone installed in your home. It is recommended to seal after installation, with a re-seal every 3-5 years, as with any natural stone floor.
Limestone Manufacturers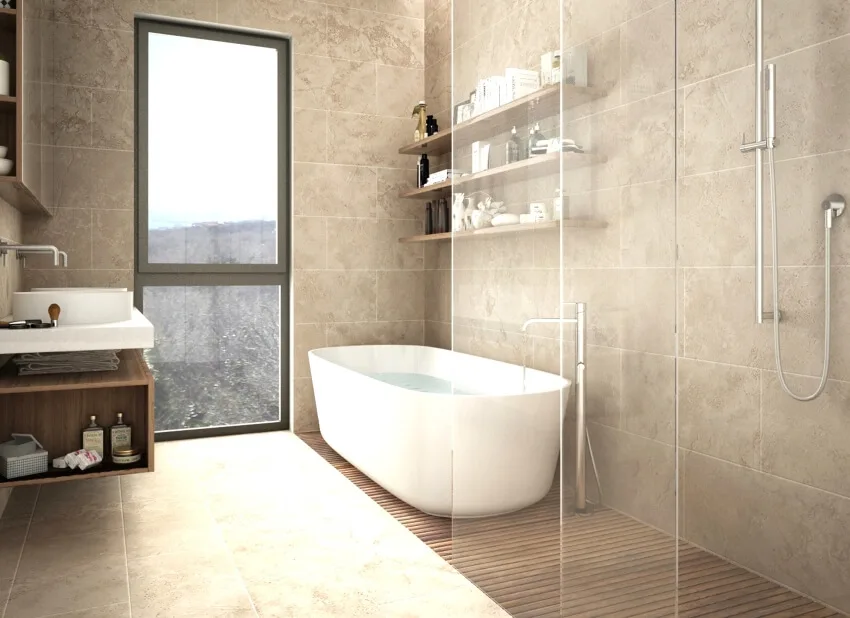 Haifa – Address: United States, West Palm Beach, 1891 Old Okeechobee RoadWest Palm Beach, FL 33409
Coldspring – Address: 17482 Granite West Road Cold Spring, MN 56320
Capital Stoneworks – Address: Southeast Michigan Location 2505 Dixie Hwy Waterford Twp, MI 48328
Salado – Address: 3500 FM 2843, Florence, Texas 76527
Limestone Look Tile Materials
Limestone-effect Porcelain. Limestone effect porcelain is the way to go if you like the look of limestone but are concerned about it sucking up wine, sauce, or coffee pills. Natural limestone is a beautiful combination of neutral tones and natural, linear veins.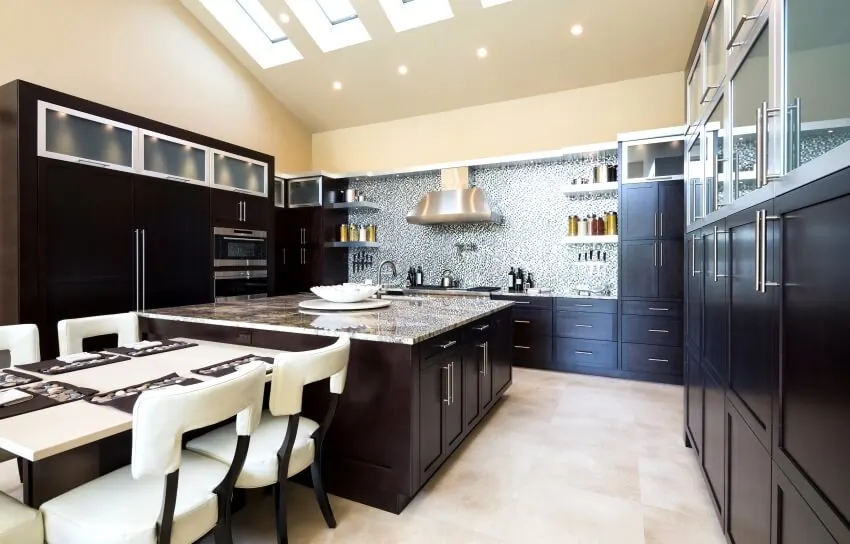 However, it is easily stained and chipped because the stone is porous. It also needs to be sealed on a regular basis to keep moisture out. Porcelain tiles that looks like limestone has the same design appeal as natural limestone, but it's more durable and can withstand everyday use.
Limestone-look Concrete (Limestone Overlay). Crushed limestone coatings can be used to coat the concrete surface you want to look like real limestone for a fraction of the cost of real limestone.
Limestone- look vinyl. Stone look vinyl flooring is a type of vinyl flooring that is designed to look like natural stones such as granite, terrazzo, or even concrete, with artisan dappling and striations.
These vinyl tiles bring the beauty of nature indoors at a fraction of the cost of natural stone, adding beauty to any home or commercial space.
Visit our sandstone flooring guide for more related content.