Here we share our marble shower design guide including the pros and cons, and how to care for this beautiful material.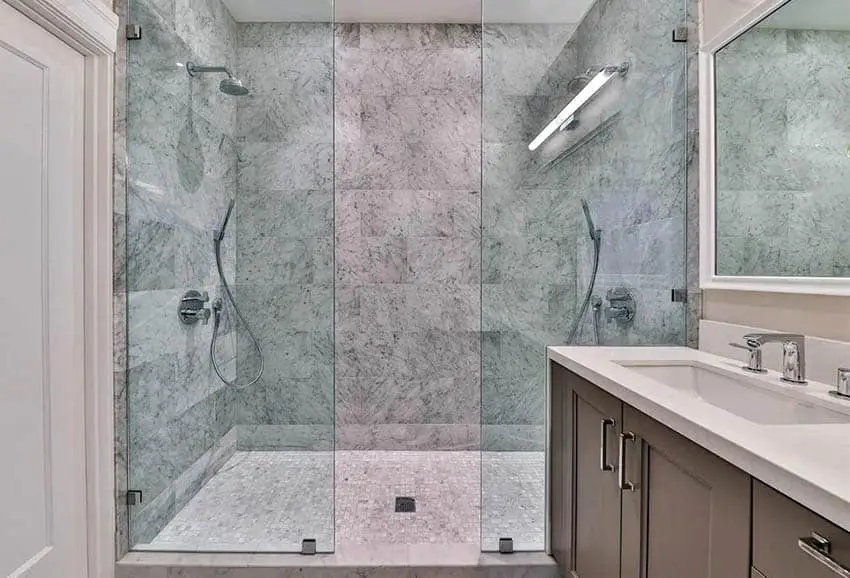 Marble is a natural stone that has been bringing beauty into our homes for ages. It offers variety in the form of different colors such as grays, white, and even beige, yellow, or green! Whichever color you choose, marble is sure to bring a level of luxury to your home.
When considering marble, there are a variety of uses for it around the home. One elegant use could be to transform your shower into a beautiful marble centerpiece and here, we are going to tell share everything you need to know about that decision.
Marble Shower Pros and Cons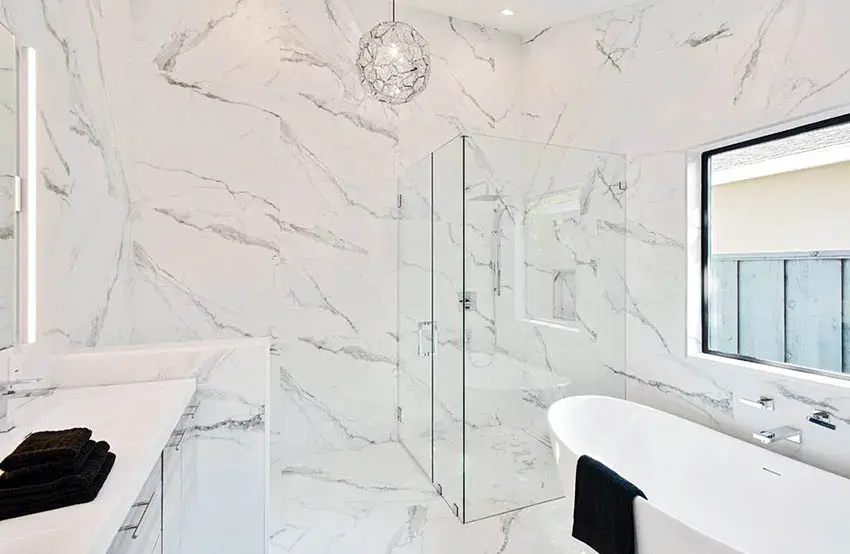 Just like other design options, a marble shower comes with some considerations. The first thing you need to know is what the pros and cons of installing a marble shower in your bathroom.
The first pro of a marble shower is rather obvious. Visually, marble is absolutely gorgeous. It can elevate your bathroom to an elegant level. At the same time, it isn't a singular design. Thanks to a range of naturally formed patterns, you can have a bathroom shower that is rather unique.
Another aspect to consider is that there is a misconception that marble is better suited to traditional interior design. While marble is a luxurious touch to traditional design, it isn't limited to traditional design. For example, lighter colored gray or white marble tile can be a beautiful complement to modern design.
However, if you want to keep the beautiful look of marble, you have to make sure to work to keep it in its best condition. For instance, if you drop a dollop of shampoo or conditioner on the marble, you need to wipe it up immediately to avoid staining. You also need to be careful of what you use to clean your marble shower but we'll take a closer look into how to keep your marble shower clean a little later.
There is also the necessary maintenance with a marble shower. Namely, marble has to be resealed once a year. Luckily, you can get the sealing products you need at just about any hardware store to complete the job yourself for a cost-friendly association.
Finally, there is the dual pro and con of the cost of marble. On one hand, it's a rather large cost upfront when compared to other materials. On the other hand, while it is a large investment at first, it pays off in the long run since it is one of the most lasting materials you can use for your shower.
Marble Shower Wall Panels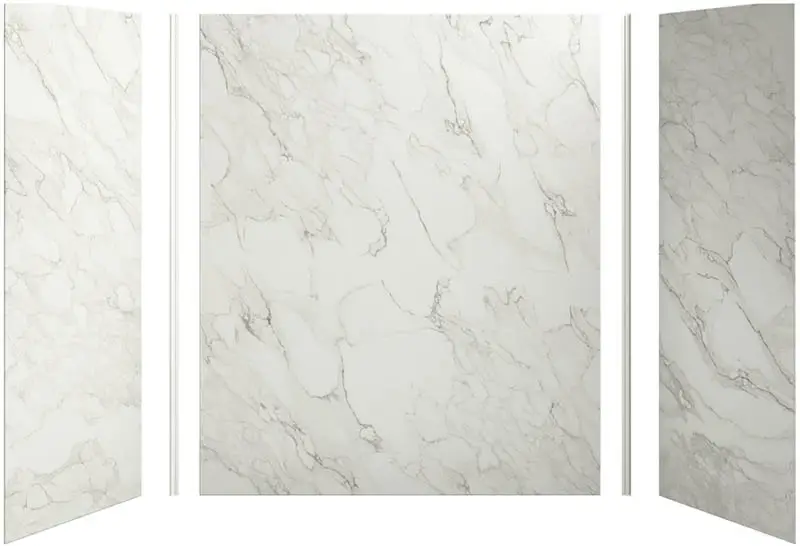 When you are installing marble in your shower, you have a few different options on how you do so. Namely, many people narrow the choice down to using marble shower wall panels or using marble tiles.
Marble panels are chosen by many for a variety of reasons. For one, there is no grout when you use marble wall panels unlike when you use tiles. This makes regular cleaning and maintenance much easier on the homeowner.
Marble wall panels also make it easy to choose exactly how much marble you use in your shower. For instance, do you want these panels to cover all the walls of your shower or just one? Not only does this selective choice allow you to create a design that suits you, but it also allows you to create a design that suits your budget as well.
It also allows you to choose unique marble patterns such as mosaic designs or English bond patterns for an original touch to your bathroom. Of course, you can also use marble wall panels that play off of the natural beauty of marble as well.
Marble Shower Floor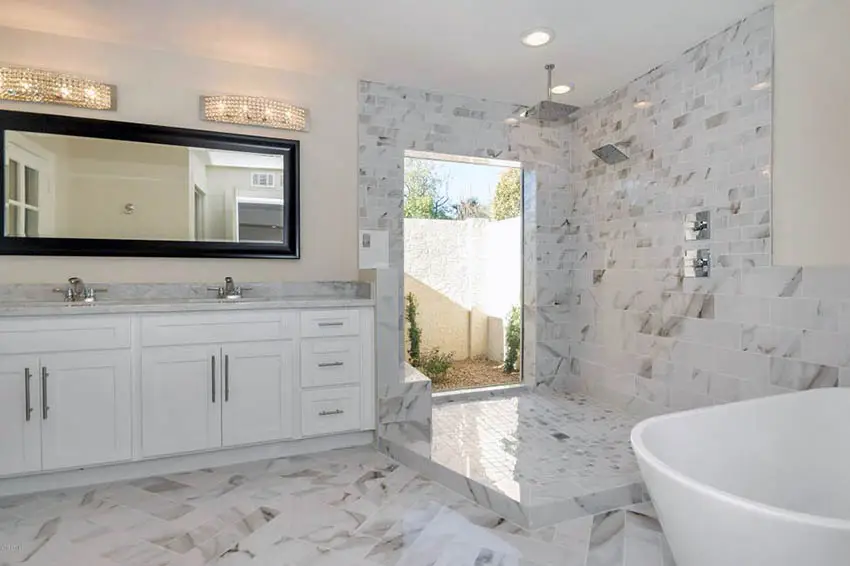 Marble tile is often used to create an attractive looking marble shower floor. However, there are some considerations before using marble on your shower floor. Mainly, it's important to note that marble floors can get rather slick when wet. This can make for some dangerous situations, especially since if the marble is on your shower floor, you are probably only going to be on it when it is wet. The good news is that there are a few ways you can make sure your marble shower floor is less slick.
First and foremost, make sure you keep your marble clean. As noted before, if something spills on your marble shower floor, wipe it up immediately. Not only will it stain, just like any other surface, spills such as conditioner or body wash can make the marble floor even slicker.
You can also use anti-slip products to help make your marble shower floor safer. Some of these are ones that you apply directly to the marble with a cloth while others are in the form of rubber mats that you suction onto your shower floor. If you are using an anti-slip application or anti-slip cleaner rather than a rubber mat, be sure to check that it is safe to use on marble before you apply it.
Water-based varnish is another product that is often used to reduce how slippery a marble shower floor is. Make sure to apply this in thin, even coats if you use it as to make sure it doesn't affect the color of the marble. When using more than one coat, make sure to let the initial coat dry completely before adding any more.
Cultured Marble Shower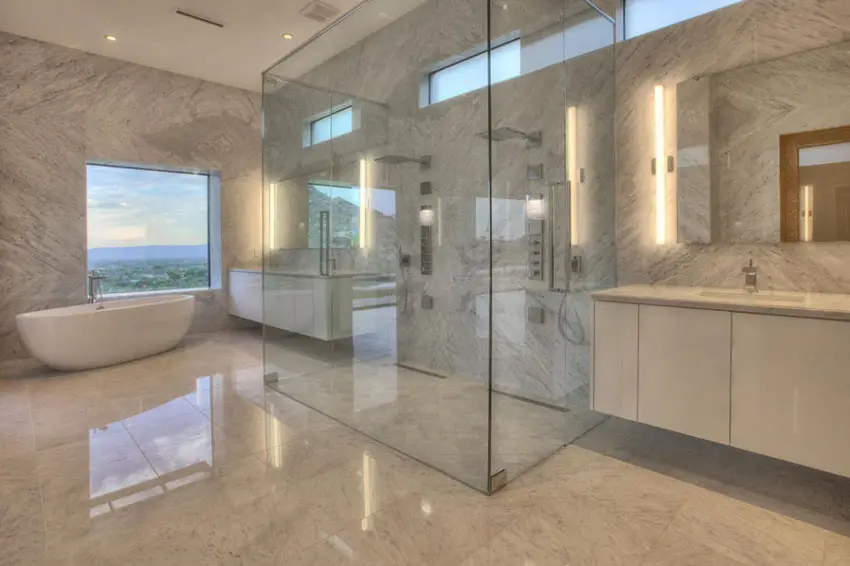 As we stated before, marble showers pay back the investment you make initially over time since you don't have to worry about the cost of replacing them. However, this doesn't mean that you don't have to worry about the initial cost at all.
Cultured marble is what is often used in showers. This is a man-made marble that utilizes a blend of resins and particles and is made to be both durable and attractive. Once the cultured marble is formed, it is placed into molds to create the shapes needed. The cultured marble is then covered with a bonding gel and polished so it looks it's best.
Cultured marble has a cost range of between $8 per square foot and $24 per square foot, depending on factors such as what type of cultured marble you are buying. It's important to note that all marble can be cultured, so if you have a preference of, for example, Calacatta over Emperador, you can find cultured marble to suit your needs.
Additional costs factors you will have to consider include installation costs. Luckily, cultured marble is rather easy to install. This makes installation costs lower without forcing you to cut down on how much material you are using. For those that aren't afraid of a DIY or are handy around the house, you can even try installing the shower wall yourself.
Unfortunately, some might be disappointed that cultured marble is man-made rather than natural. If you want a natural marble shower, you have to be willing to pay an extra cost. With installation fees, estimates for these showers range from $100 per square foot to $300 per square foot. For those looking to have the appearance of natural marble without the price tag, cultured marble is your best bet.
Problems with Cultured Marble Showers
The biggest problem with cultured marble is the fact that since it can often have a wide range of variation in its appearance. The type of crushed stone used, chemical resins and manufacturing conditions can lend to a very different product from time to time. Another common complaint is that cultured marble requires a lot of care while cleaning. Abrasive chemicals and scrubbing surfaces can score, scratch and damage these surfaces if not careful. In addition not all cultured marble product are created equal. Carefully compare manufacturers and if possible see the material in person to check its quality before purchasing for best results.
No matter what type of marble you are buying for your bathroom, it's a wise idea to do some research on who you're buying from and who you're having install the marble. Checking online reviews can help to ensure previous customers are happy with the quality of the materials being offered. Quality is crucial if you want a beautiful bathroom.
Cultured Marble Shower Walls
The cost of cultured marble shower walls is a little different than the average cost of cultured marble for your shower as a whole. This is because shower walls are typically made in a large size and cut to match a shower's needs while standard cultured marble showered pans are initially made to match specific sizes.
The previous cost we looked at was for the cost of slabs which is less costly than a shower pan. Once again, the estimated price for these cultured shower slabs is between $8 per square foot to $24 per square foot. We will take a look at what a shower pan is and how much it costs in just a moment.
Alternatively, you can use marble tiles rather than slabs to get an interesting and more controlled design. Tiles for a shower usually cost between $180 and $250 per 50 square feet. Since marble is rather valuable, it will lean towards the higher end of this estimate compared to acrylic or ceramic tile.
It's important to note that this cost can rise if you want extras in your shower. How much these extras raise your cost will depend on what they are and how much extra marble they call for. For instance, a soap holder will incur an additional cost but it won't be as costly as installing a cultured marble seat in your shower.
Cultured Marble Shower Kit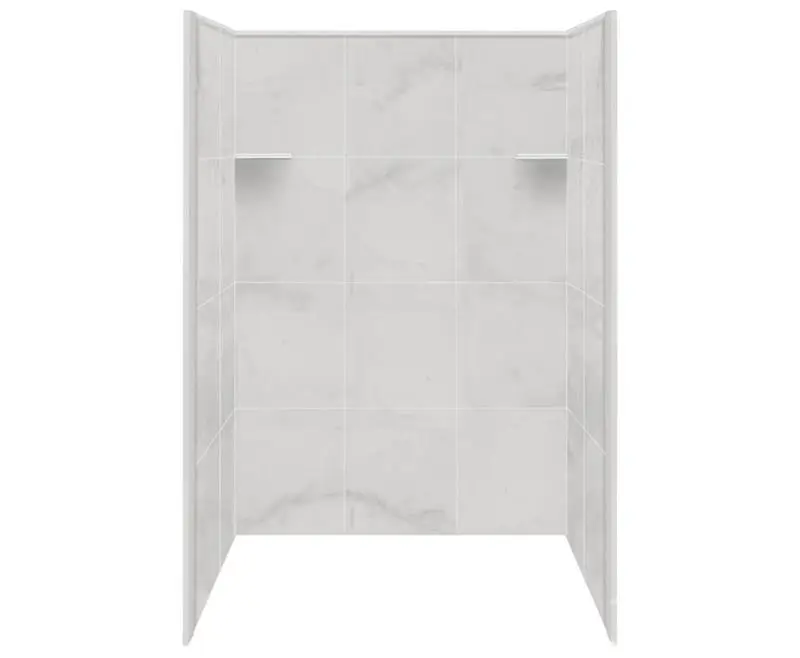 Cultured marble shower kit – See at Amazon
If you want something a little easier, you could always go with a cultured marble shower kit. These kits sell exactly what you need to redo your shower in cultured marble. It's important to note that the equipment and supplies you need aside from the cultured marble aren't typically included.
Cultured Marble Shower Pan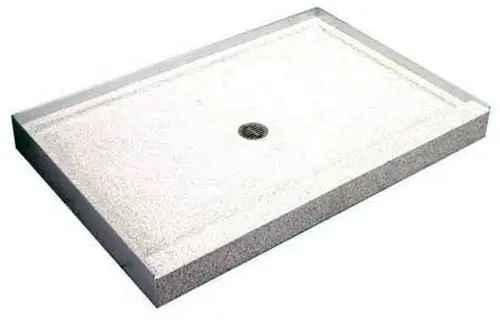 We mentioned earlier that cultured marble shower walls are less expensive than a cultured marble shower pan due to the fact that cultured marble shower pans are made to fit specific measurements.
A shower pan is essentially the floor of your shower. Shower pans are necessary not only for aesthetic purposes but they are also made to handle frequent moisture and your choice in shower pan can even draw heat from your shower.
Once again, since marble is rather valuable, a cultured marble shower pan falls on the more expensive end of the spectrum. In addition, you will need to take into consideration how large your shower is. The larger the shower, the more marble needed; the more marble needed, the higher your cost. All in all, the estimate for a cultured marble shower pan ranges from $300 to $600.
Another consideration that we haven't looked at up to this point is if you are buying these cultured marble pieces online or in person. Buying in-store holds its advantages because you get to see the marble in person before you make a purchase. Buying online, though, is often easier to find what you need. When it comes to cost, you need to factor in additional costs of buying online such as shipping. Since marble is rather heavy compared to what you might normally purchase and you are buying enough to redo your shower, it's important to antcipate a potentially heavy shipping fee.
Marble Tile Shower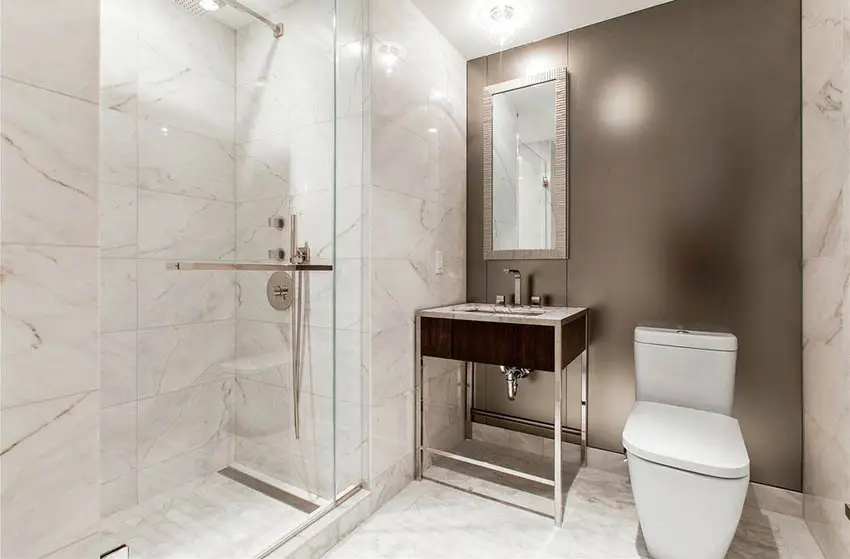 As we noted earlier, there are a number of benefits from using marble tile rather than marble sheets or slabs in your walk-in shower. For one, they are rather cost efficient but they also give you the chance to add an extra layer of design to your shower.
One such design choice is subway tile. Subway tile is named after the tile design that is often used in subway stations. It looks much like the pattern of a brick wall with the use of tile in the place of bricks. You can see more pictures of bathroom tile ideas here.
When creating a subway tile design, you need to make sure you utilize symmetry and plan ahead. Namely, it's a good idea to plan ahead to minimize the amount of tile "slivers" you need to use. This is when you're tile design starts to get too close to an edge or corner of the shower and you are forced to sue an inch or two of tile to fill in the blank space.
Instead of starting your subway tile design at the bottom corner of a part of your shower, try a central tile on the bottom of one of the walls. This will give your design a cleaner look. Remember, you aren't lining these tiles up perfectly with one another, so a little touch like this is a noticeable one.
It's also a good idea to leave about a ⅛-inch gap between the first row of tiles and shower floor or shower pan. This will help account for any movement such as expansion in the tiles over time.
How to Clean a Marble Shower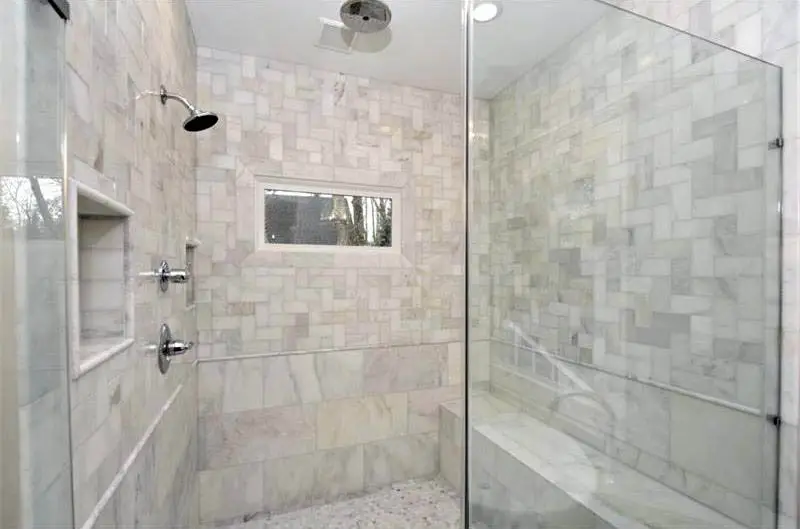 We took note earlier that you have to be careful what you use to clean a marble shower. This is mainly thanks to how porous marble is. The first thing you will want to do before you do anything to your new marble shower, make sure to check the warranty. Some treatments will void the warranty of the marble.
There are a few things to remember when you are cleaning your marble shower. To start, only utilize pH neutral cleaners. Using harsh, acidic cleaners such as vinegar or citrus-based soaps will damage the marble. Marble is also easy to scratch, so be sure to avoid coarse brushes and sponges to clean.
While it might be hard to remember to do at first, make sure to wipe down the marble shower each time you use it. The residue from shower products will otherwise stain the marble. The best choice is to use a microfiber towel to wipe down the shower after each use.
Then, there is the regular cleaning of the shower. How often you need to do this will depend on how often you use it but once a week or once every other week is standard. The best thing to use to clean your shower is a mixture of 1 tablespoon of a mild dish soap in a spray bottle with the rest of the bottle filled with water. Once again, you'll want to use a microfiber cleaning cloth.
If you have marble tiles, you'll need to clean the grout in between them. The good news is that there are ways to clean the grout that don't take hours of effort. The main things you need are warm water, a stiff-bristled brush, and some baking soda.
The first step you will want to follow is to dip your brush in the warm water and then a little bit of baking soda. Scrub this in the grout with gentle motions and then rinse the grout with warm water before wiping it off. Be sure not to scrub or get any baking soda on the marble itself.
To get your grout extra clean, the next step is to mix the water and baking soda into a paste. Brush this paste into the grout, again, making sure to not get anything into the tile. Let it dry and use a damp cloth to rinse it until the mixture is off the tile.
To prevent soap scum from accruing in the future you can try wiping down the shower with a squeegee after each use.
Marble Shower Maintenance
There is some maintenance to keep up with a marble shower but it isn't overwhelming. Mainly, you will need to reseal the marble annually to keep it in top condition. You can buy marble sealant online and at most hardware stores.
From there, just follow the instructions on the sealant to seal your shower. It's an easy DIY that you only have to do once a year, so it isn't a major deterrent from choosing a marble shower.
Visit this gallery page to see more luxury shower designs for more ideas and remodeling inspiration.