Here's our guide to bathroom paint colors with dark cabinets including the best paint color recommendations for your bathroom design upgrade or remodel.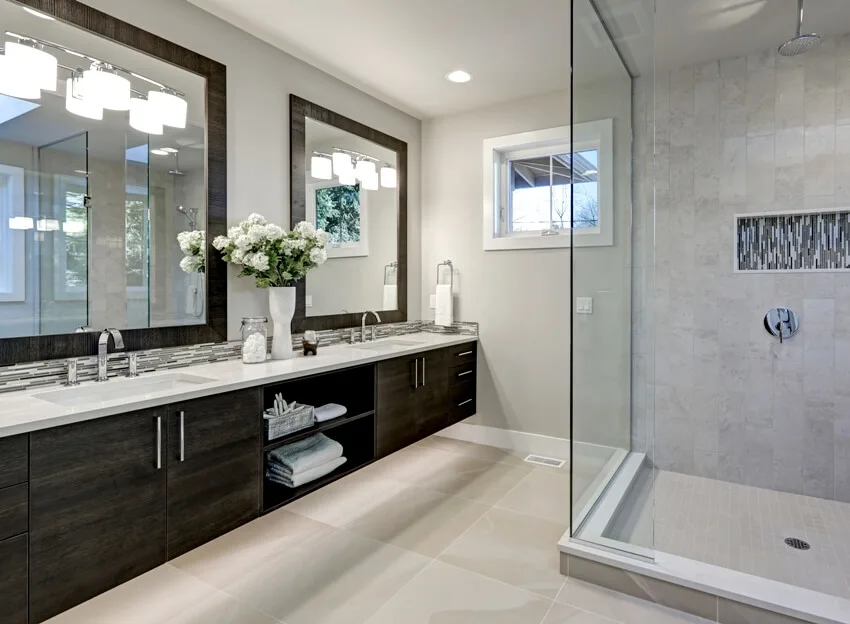 Whether you're remodeling your master bath or painting a small powder room next to your kitchen, the bathroom paint color should create an inviting and fresh feel. If the bathroom has dark cabinets, several options work well depending on the size of the bathroom and the color of the cabinets.
Floor-type and color along with accessories also influence the paint color for the bathroom's walls but can be changed easily. Bathroom rugs can cover the floor and accessories can be changed out.
Before embarking on painting your bathroom, it's essential to obtain samples of the paint colors you're considering and paint a small area of the walls. Take notice of the lighting throughout the day, and nighttime lighting from light fixtures to determine if the color works or not.
This informative guide contains the information and paint color suggestions for updating or renovating your bathroom that has dark cabinets.
Bathroom Paint Color Ideas With Dark Cabinets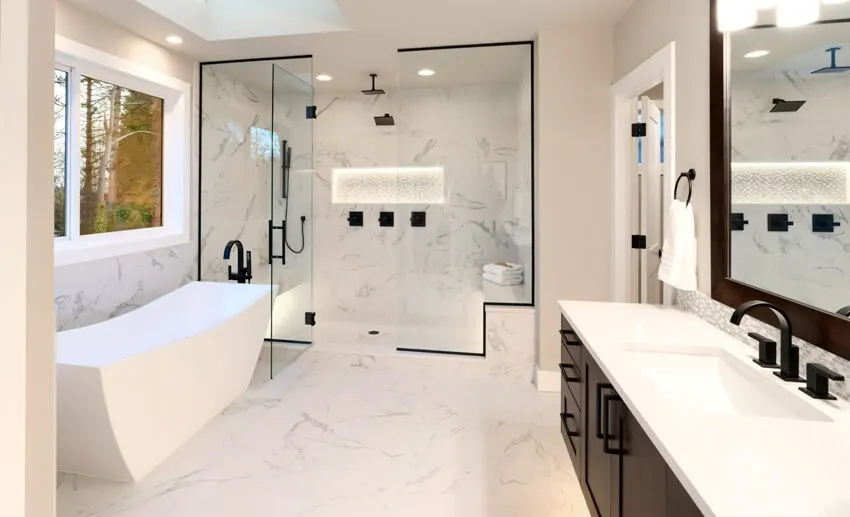 Start with the type of dark cabinet you have in your bathroom. Are the cabinets made from dark mahogany wood or painted with a deep, nautical blue finish?
Walnut is one of the darkest woods used for making cabinets and at times, bathroom cabinets may be finished in an espresso color. Often, cabinets and furniture are cold as being black but are actually espresso. Espresso is a very dark brown. See our guide to the best paint finish for bathrooms.
If you're painting a small bathroom, neutral and bright colors help to create the illusion of more space. The walls of a small powder room appear to go on further than they actually are when the paint is a bright color. Read more about the best paint color for small bathrooms here.
A master bathroom with lots of windows creates a cheerful retreat when neutral color paints are set against dark cabinets. Dark cabinets allow you to choose either warm paint colors or cold colors. Neutral bathroom paint colors that go well with dark cabinets include the following:
Neutrals from Behr Paint

Cappuccino Froth #N210-2, a warm-toned gray will compliment dark cabinets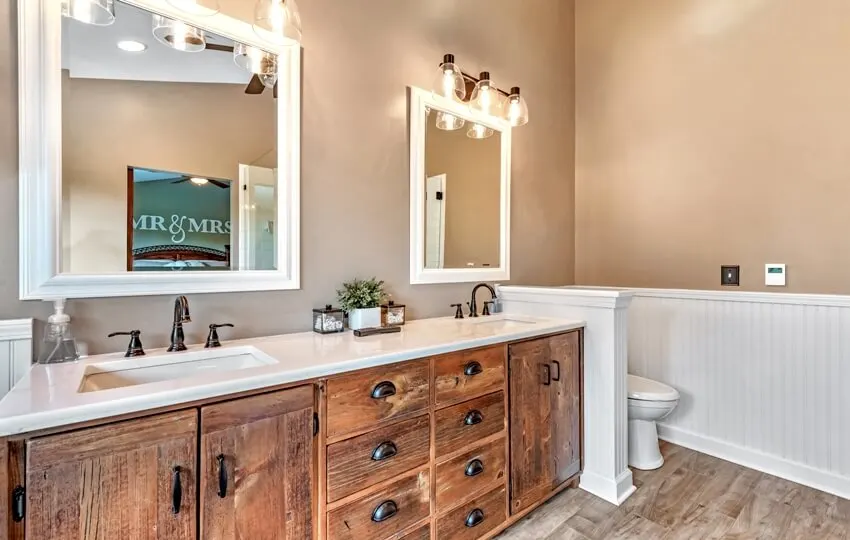 Plateau #PPU4-08, a soft, rose-colored beige goes well with dark wood cabinets

Dove #HDC-MD-21, a smoky light gray expands a small bathroom
Neutrals from Glidden Paint

Solitary State #PPG1009-3, a blue-tinted cool gray adds an understated background

Warmstone #PPG1015-3, unlike its name, this gray has a hint of pink accent dark cabinets made from mahogany

Moonlit Snow #PPG1041-1, gray with a hint of powder blue adds a nautical touch to dark blue cabinets
Neutrals from Sherwin-Williams Paint

Drift of Mist #SW 9166, a flat gray that creates a blank canvas for dark cabinets

Rivers Edge #SW 7517, a classy beige that goes well with any dark cabinets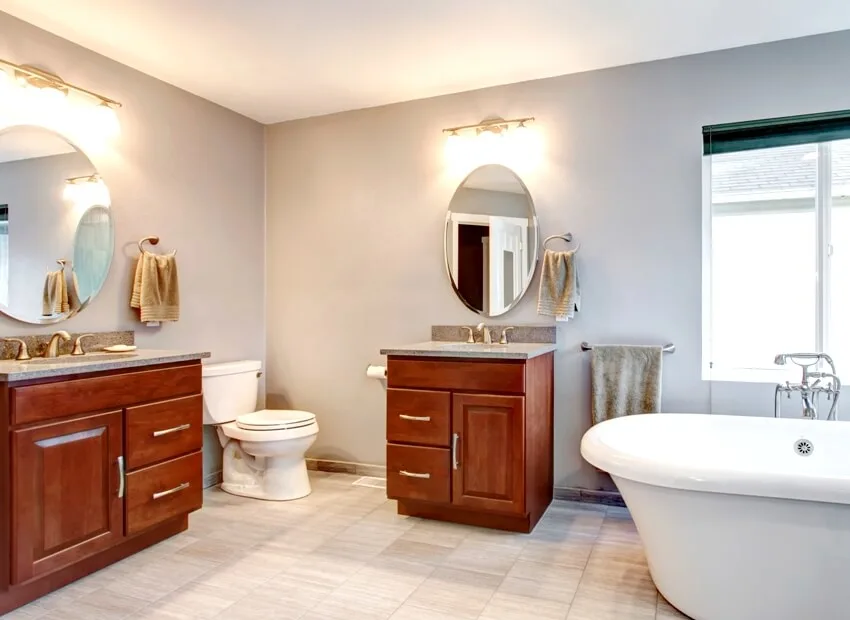 Evening Shadow #SW 7662, just a hint of fog at dusk looks stunning against black bathroom cabinets
Bright Colors from Behr Paint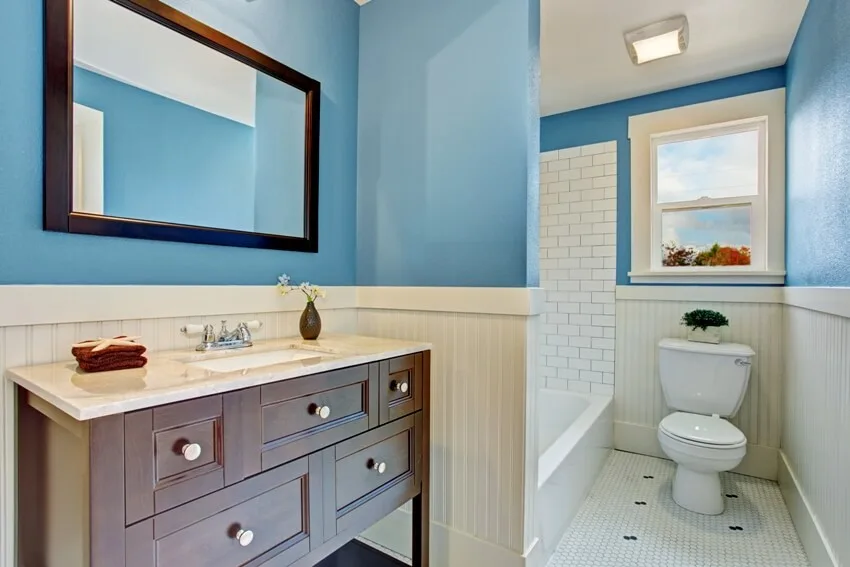 Charismatic Sky #M520-3, this bright cerulean blue goes well with dark blue cabinets

Fanciful #M560-2, a pastel purple creates a soothing contrast against dark or black cabinets

Pearly White #M270-1, is a rosy white sure to complement dark cabinets with a hint of red
Bright Colors from Glidden Paint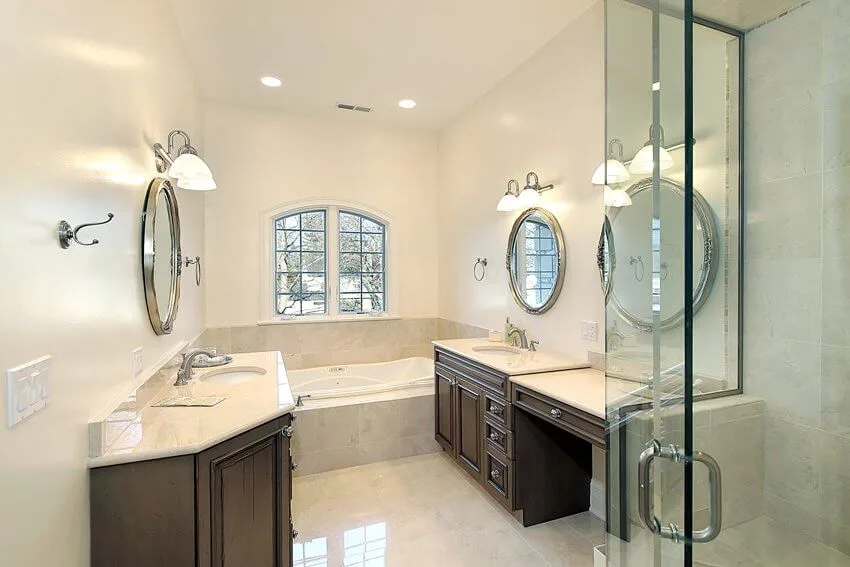 Magnolia Blossom #PPG1090-1, is a soft yet cheerful yellow with pink undertones matching well with dark wood cabinets

Texas Rose #PPG1064-3, a subdued peach, goes well with dark brown cabinets

Sailor Boy #PPG1164-4, is a soft periwinkle that goes well in a small powder room with a dark cabinet
Bright Colors from Sherwin-Williams Paint

Tangerine #SW 6640, this muted orange still provides bright walls against dark walnut furniture, perfect for a master bath

Spa #SW 6765, gives a tropical feel to any bathroom with dark cabinets

Fun Yellow #SW 6908, this bright yet understated yellow provides a great contrast to dark cabinets
Although dark bathroom cabinets give way to lighter colored wall paint, you may want to keep a bathroom warm, cozy, and even sublime by using deep paint color.
Choose a shade of paint only one or two shades lighter than the color of the dark cabinets. See our guide to white bathroom design ideas here.
Dark brown cabinets blend and create a cohesive feel when painting walls a sage green two shades lighter than the intensity of the cabinet color.
Deep Colors from Behr Paint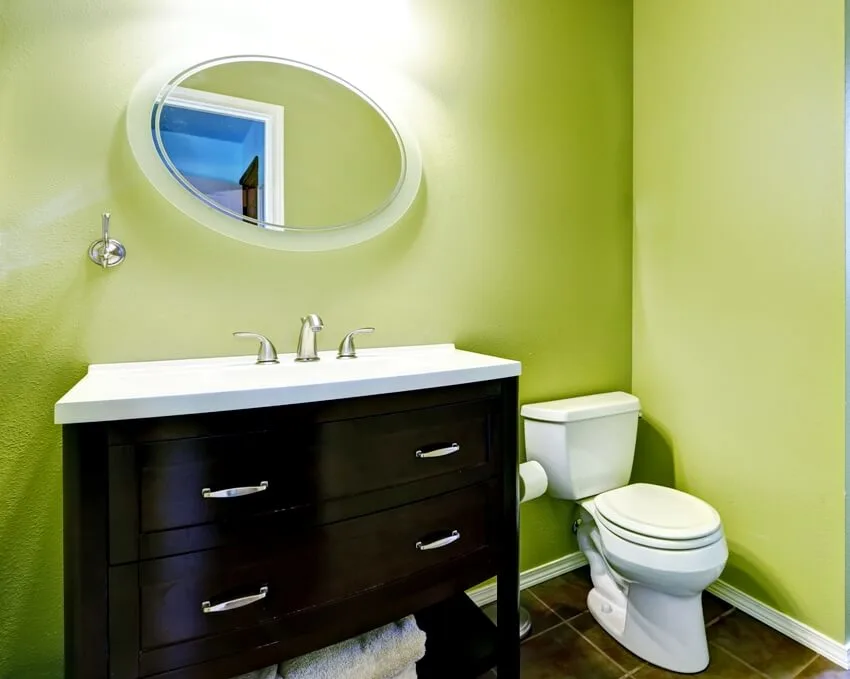 Tuscany Hillside #PPU10-02, is a darker sage green that compliments dark wood cabinets made from Brazilian Rosewood

Lucky Bamboo #PPU9-02, a brown paint colored like dry leaves from an oak tree to complement dark brown cabinets

Sun Baked Earth #HDC-CL-08, is a pueblo color creating an adobe match for southwestern-styled dark cabinets
Deep Colors from Glidden Paint

Mysterious #PPG1037-6, a deep gray with hints of blue when paired with dark or black cabinets creates a calming and peaceful alcove for your bathroom

Spiced Cider #PPG1068-7, and mahogany wood cabinets make a bathroom retreat reminiscent of a stroll through the forest

Oakmoss #PPG1122-7, paired with cabinets made from Poplar wood, Oakmoss paint provides almost a secret garden feel to any bathroom
Deep Colors from Sherwin-Williams Paint

Bold Brick #SW 6327, a red brick provides a rich color against dark cabinets

Loch Blue #SW 6502, looks great paired with blue cabinets in several shades darker

Rocky River #SW 6215, a dark gray with a hint of green to blend well with espresso cabinets
Best Paint Color For Bathroom With Dark Cabinets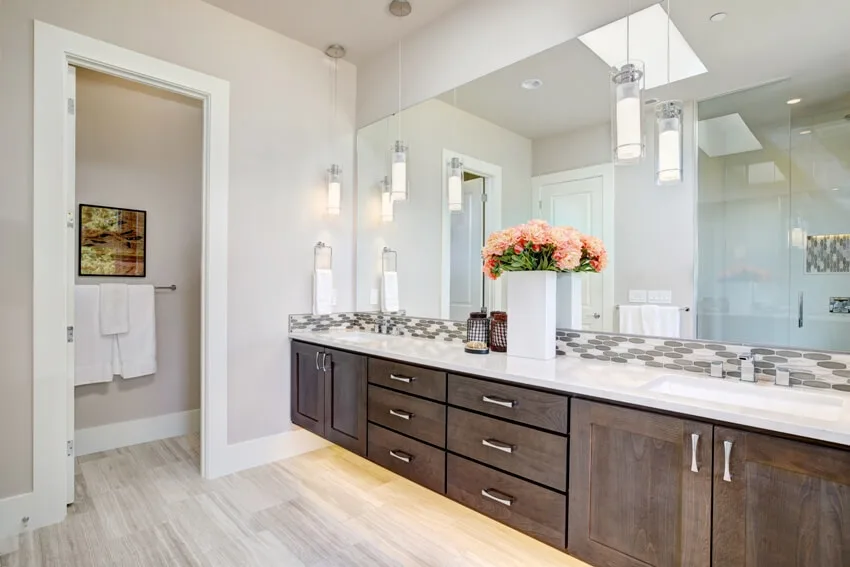 The best paint color for a bathroom with dark cabinets depends on your style and design preferences. We've discussed using neutral and light colors to add light to a bathroom, especially if it's small. Deep colors can create a magical, relaxing bathroom for a long soak in the bathtub or Jacuzzi.
Painting the walls of a bathroom with dark cabinets is an inexpensive solution to a bathroom makeover and allows you to completely change the feel of the room or accent it with a new color. Decide what you want to do with the wall color; contrasting colors add interest and accents for dark cabinets.
Similar colors add ambiance to dark cabinets and create a calming palette. Whichever effect you choose, the color suggestions provided will start you off on choosing the best paint color for your bathroom with dark cabinets.
To get more bathroom paint colors with dark cabinets ideas, check our guide to the best bathroom paint colors.