Here we share steps on how to convert half bath to full bath including cost, remodel designs and whether it is worth converting half bath to full bath.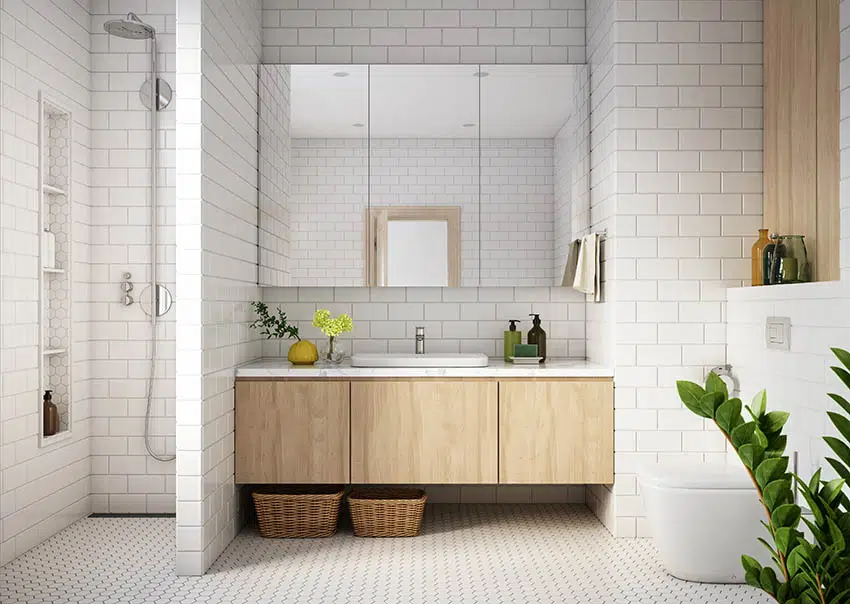 Half baths are essential rooms to any modern home. These living spaces offer comfort and convenience to the occupants in a limited space.
While half baths can add value to any property, converting it into a full bath can further increase the home's overall value.
Moreover, it makes perfect sense to increase the number of bathrooms in a household that accepts visitors frequently.
Homeowners who decide to convert half bath to full bath will find the home improvement project more cost-effective than building a new one. Converting an existing space into a full bath is a practical way of doubling the value of one's home.
Turning a Half Bath into a Full Bath
The most effective way to convert a half bath into a full bath is by hiring a professional contractor who specializes in such projects.
It may cost homeowners more, but the benefits outweigh budget considerations. Nevertheless, homeowners who seek to convert half bath to full bath can adhere to the following steps.
Draft a plan for converting a half bath to a full bath.
Most half baths are near the main living area, the living room, or the kitchen, giving the occupants access to a quick touch-up or relief.
It would be best to consider adjoining spaces in determining the full bath's size and the positioning of its elements. You can use one of the many bathroom remodel software programs to create your bathroom layout design.
It's important to note that a full bath must have a minimum floor area of 36 to 40 square feet, usually in a 5×8-feet dimension. See bathroom sizes dimensions guide here.
Secure the necessary permits.
Half bath conversions to a full bath are a complex project that requires taking down and installing new walls and partitions, fitting additional plumbing, laying down waterproof and resilient flooring, and adding electrical components.
That is why experts consider it a major home improvement project that requires specific permits before one can initiate the activity.
Prepare the materials.
It is best to buy and prepare all materials and tools needed for the conversion before homeowners start taking down walls, partitions, and other bathroom elements.
The materials can include new bathroom fixtures, vanities, tiling, electrical products, construction devices, and other items necessary to complete the half bath conversion.
Remove the half bath's elements.
Demolish the half bath's wall and closet door wall. Ensure to leave enough space for the shower opening. Do not demolish the sink-side wall. It would be best to use a circular saw to cut clean lines and a reciprocating saw for cutting the edges.
Turn off the water supply to the sink. If there is no shutoff valve, homeowners can turn off the main water supply shutoff valve. Loosen and remove all plumbing fixtures and uninstall the base cabinet and countertop.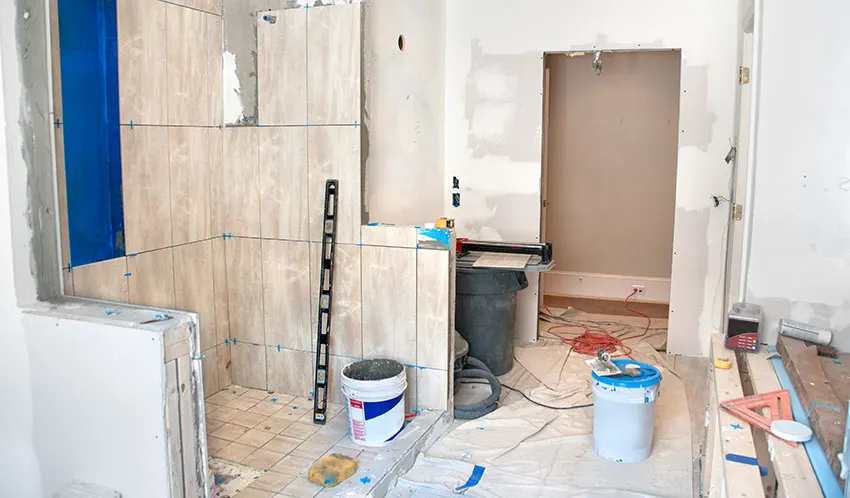 Frame the new wall for the full bath.
Looking at the planned layout, install frames for the full bath. It would be best to check the shower manufacturer's instructions on control valve placement.
Mount stubs to accommodate the control device and the water lines that supply the shower. Install the new wall for the bath by securing it on the ceiling joists and the floor. Rebuild the closet door wall to serve as the shower entrance.
Install the shower.
Study the instructions for shower installation to determine the correct shower drain placement, including its height from the finished floor.
Prepare and assemble all tubing and fittings for the drain before checking the instructions for the shower valve. It would be wise to pay attention to the control valve's copper fittings and location.
Drill a hole in the shower wall for inserting the showerhead arm and wrap Teflon tape on the threads before connecting it to the wing elbow.
Place a rubber caulking gasket over the drain pipe and compress it with a threaded nut. Place and secure the trim ring in place before installing the knob and escutcheon to the control valve.
Open the water shutoff valve and turn on the shower to check for leaks in the plumbing. This step is crucial before one installs the drywall.
Install the drywall.
Water-resistant drywall is a must for any shower. Install and secure the drywall before priming and painting. Homeowners must also ensure to caulk joints with clear or white silicone.
Install the pedestal sink.
Set the pedestal and basin and mark the location for mounting the fasteners. Drill holes through the marks. Once completed, DIYers can install the faucet and sink drain assembly. Reposition the pedestal and basin, securing the basin in its place. Install the water lines and sink drain before testing for leaks.
If no leaks are present, one can reposition the pedestal and secure it with hardware. Finish the installation by caulking the wall-sink joint.
Complete the conversion.
Add other bathroom elements, such as flooring, lighting fixtures, towel racks, and other fixtures.
One may also want to add a splash of color to the new bathroom by painting it or using other decorative elements. See our bathroom paint ideas here.

Adding a Shower to a Half Bath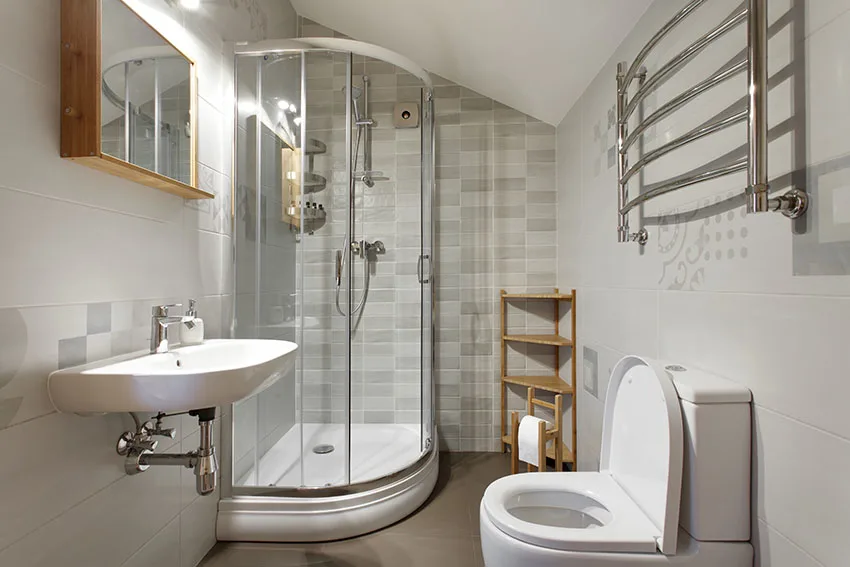 Homeowners have many shower options in converting their half baths into full baths, each with corresponding installation requirements.
For example, fiberglass showers require additional floor support to prevent the bath floor from bending. Homeowners can address this by filling the subfloor with sand, ensuring it does not impede the drain opening.
Some families may want to install a dome over their showers. This type of shower requires caulking the joint surfaces with silicone before securing the canopy to the bath with screws. Homeowners can then add a soffit to conceal the space above the shower.
Cost to Convert Half Bath to Full
Converting a half bath into a full bath can cost families anywhere between $5,000 and $25,000, depending on several factors. The typical breakdown is as follows.
Plumbing. Installing the full bath's plumbing can cost families $1,000 to $10,000, depending on work complexity and distance of the bath to existing plumbing.
Electrical. Switches, lighting, and outlets can add at least $400 more to the cost of converting a half bath to full bath. It would be best for homeowners to convert a half bath with existing electrical connections to minimize cost.

Shower/Bathtub Installation. The cost of adding a conventional shower or bathtub is $500 to $10,000. Families who want a whirlpool can expect to spend an extra $10,000. A luxury master suite can cost homeowners up to $25,000.
There is also the labor cost, which typically runs between $50 and $200 per hour. Finishing materials can also add at least $50 to the overall project cost.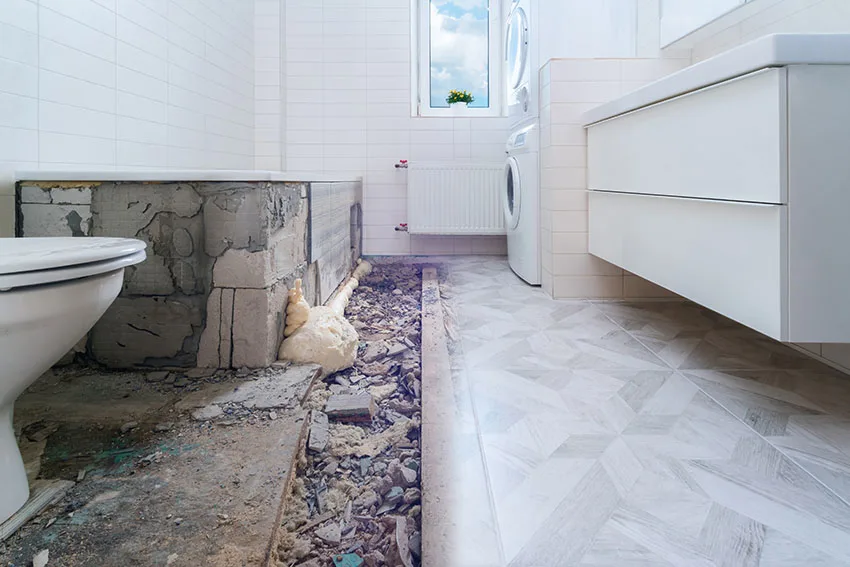 Other Bathroom Fixtures. Adding a toilet, sink, faucet, exhaust fan, cabinets, towel racks, and lighting fixtures to the full bath can add an extra $1,700 to $7,500 to the project cost. One can always choose inexpensive fixtures or make them in a DIY fashion.
Tiling and Backsplash. Installing a backsplash can cost anywhere between $600 and $2,000, depending on the chosen materials, backsplash coverage, and size.

Flooring. Waterproof and resilient flooring is essential in converting a half bath into a full bath. Bamboo planks, ceramic tiles, vinyl, and engineered hardwood make excellent choices.
Homeowners can expect to pay $1,500 to $4,500 for this part of the conversion. See the best material for bathroom flooring here.
Permits. Converting a half bath to a full bath requires the correct building permits, including plumbing, drywall, framing, and electrical considerations. Authorizations can add $50 to $2,000 to the project cost.
Average Cost to Convert Half Bath to Full Bath
Homeowners can spend at least $5,000 to convert their half baths into full baths. However, the cost can jump to $25,000 if the home improvement project requires extensive plumbing preparation and installation. The good news is that the conversion more than doubles the property's value once completed.
Putting this into perspective, the average cost of adding a full bath to an existing space can run from $5,000 to $50,000.
For example, converting a bedroom into a full bath can cost families anywhere between $15,000 and $50,000. On the other hand, transforming a laundry room into a full bath can cost a household $5,000 to $12,000.
Is It Worth Converting Half Bath to Full Bath?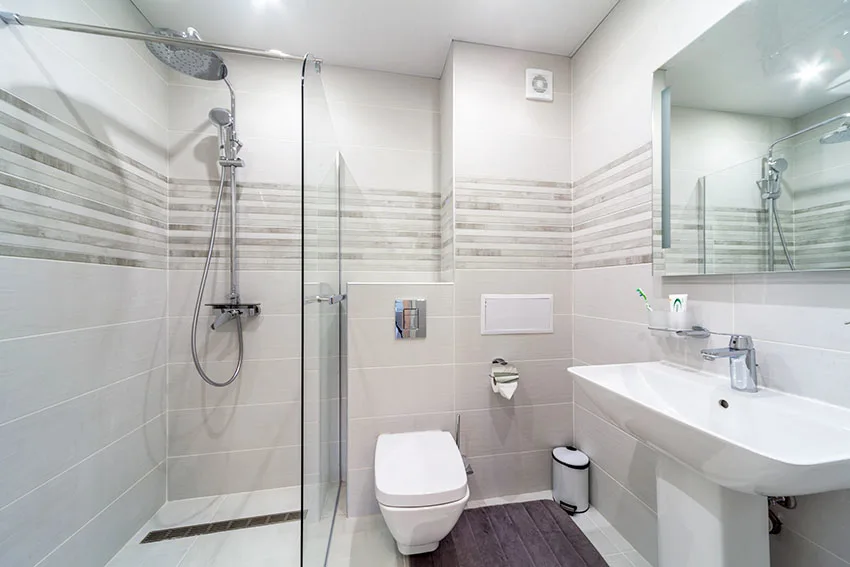 According to the National Association of Home Builders, having a half bath in the home can increase its value by an average of 12.5%.
However, converting the half bath into a full bath can add another nine percent to 10.5% to the property's overall value, bringing the total to 17.5% to 23%.
The overall increase in property value depends on the existing number of bedrooms and bathrooms and the house's location.
A home with at least three bathrooms may have a more modest increase in value if the homeowner decides to extend a half bath into a full bath.
Converting a half bath into a full bath is not only beneficial in increasing property value. It can also make it more pleasant for the family who receives many guests during the weekend, special occasions, or any day.
Having a full-sized bath allows visitors to enjoy a warm shower and feel more at home in the company of their hosts.
Converting Half Bath to Full Bath Video
Part 2:
Conclusion
A half bath only includes no more than two fixtures, typically a sink and a toilet. It does not have a shower, bathtub, or other fixtures essential to bathing and cleaning up.
Converting a half bath into a full-sized bathroom allows occupants to perform bath-related activities without depriving others of their need to use the bathroom.
It also increases the property's overall value, something homeowners will want to consider when deciding to convert half bath to full bath.
For more related content visit best bathroom layout on this page.