Welcome to our guide to heated towel warmer & rack ideas, including popular design types and the best reviewed models for your bathroom.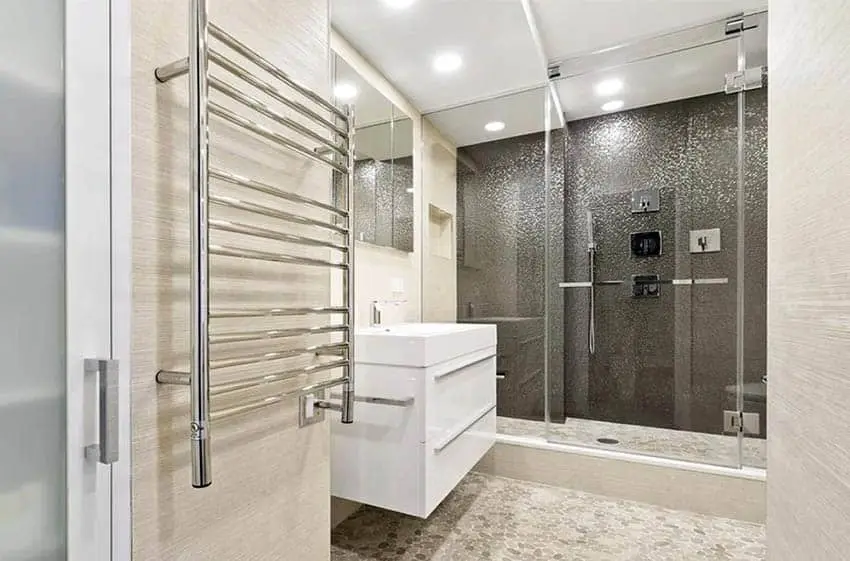 A heated towel warmer is and a heated towel rack is a railing system that is meant to warm towels before you use them. They can also dry towels a bit while it warms the towels. This can be done in a few ways. One way is to have a heated wire in through the tube used to create the rail. Another way can be done by having heated oil or water flowing through the rail.
These are great additions to any areas where you may be hanging towels up, but is most practical in areas such as a bathroom where you have access to plumbing or wiring and would desire a warm and dry towel from the bath or shower.
Using a Heated Towel Warmer
When using a heated towel rack there are two desired outcomes. First it is hoped that it heats up the towel that is placed on the rack. Second, it also wants to dry the towel if it happens to be wet. The best way to accomplish these tasks in the most effective manner is to get as much of the surface of the towel to be touching or close to the rack. This is best done by folding a towel in halves, third or fourths and draping it over the rack. Once you switch the towel warming rack on it will work its magic on the towel place on it.
Something to be aware of when having these is that the rack is going to be hot when in use. This means it needs to be turned off when not in use and could be dangerous if you grab it when it is still on. This is most likely not an ideal choice for a family or kids bathroom, or in public space such as the kitchen.
Will a Towel Warmer Heat the Bathroom?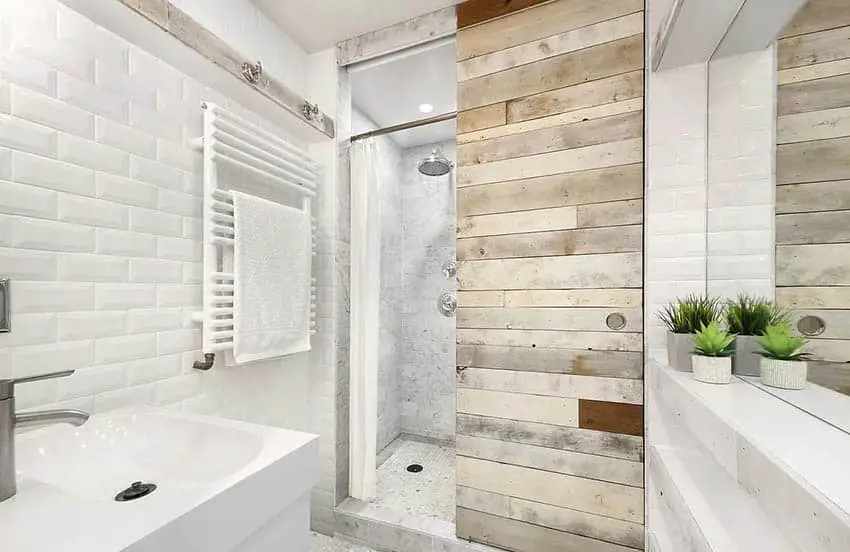 A great pro that comes with owning a towel warming rack is that he heat radiating from that towel warming rack can help warm up the bathroom that it is placed in as well. This being said, it should not be the only source of heat in a bathroom, especially in a larger bathroom since the towel rack couldn't possibly meet the needs of a full heating system. The towel rack should be mainly used for the heating of the towels.
How to Install a Heated Towel Rack
As mentioned previously there are two ways that a heated towel rack can work: with heating wires (electric), or heated pipes(hyrdronic). Based on which type of heated towel rack you intend on installing greatly effects how it is to be installed.
For a hard wired towel warmer rack you need to make sure there is proper electrical in the area you wish to place the rack. This is a good project to hire an electrician if you are inexperienced in electrical work. If you are skilled in electrical it is best to run a cable from the wall where you wish to place the rack to a GFCI-protected circuit, if this can be done right behind the rack so it can be strung through the rack, it gives the cleanest look. After installing the rack over the cables it should be as easy as on and off from there. If there are instructions on the item you have purchased be sure to follow those.
For pipe heated towel warmer racks there is quite a bit more work. There needs to be pipes that run through the rack, and the pipes need to connect with the existing so that the hot water can run through them. This can require the need to get into contact with a plumber if you are not an experienced plumber already. In the simplest of terms to install the rack you need to reroute the hot water pipeline through the rack, and then as you turn it on or off the pipes heat up with the flowing water.
Choosing a Heated Towel Rack for Bathrooms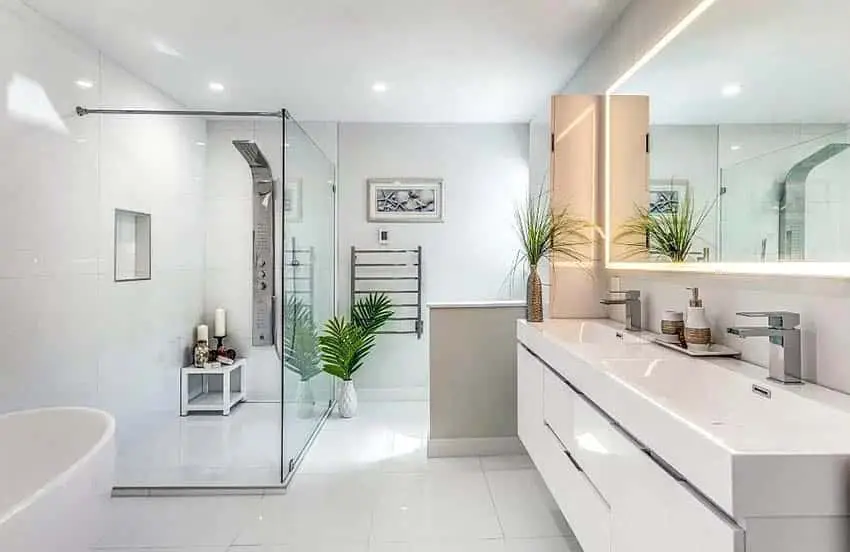 This modern bathroom design features a hot towel rack within reach of the walk-in shower. Adding one of these racks can be a great DIY bathroom remodel project that can add extra utility and value to your home.
While a heated towel rack is a unique item, there are still plenty of different selections that need to be considered to get the perfect towel rack for your style and needs.
What to Look for in a Towel Warmer
There are a ton of things to look for when purchasing a towel warmer, but the three most important things to keep in mind are as follows:
Style: With style selection comes the color selections based on the theme and inspirations of the home. A great deal of towel warmers come in a standard stainless steel or chrome color, but for more luxurious projects there are other color options to be selected from. Even the shapes of the bars can switch to fit a certain theme or style you are trying to match, feel free to get creative with it and truly get what is right for you.
Safety: The location that the towel warmer is placed and how hot it gets should be a precaution. Since these are to be towel warmers that metal on the rods of the racks need to warm up so they can properly dry and warm the towels, this can cause a danger if you accidentally touch the rack. Some styles can be selected to avoid this in places that you think this could be a problem for the user. In addition, since these units run on electricity it's important that they are properly fastened to the wall so they don't pose an electrical hazard.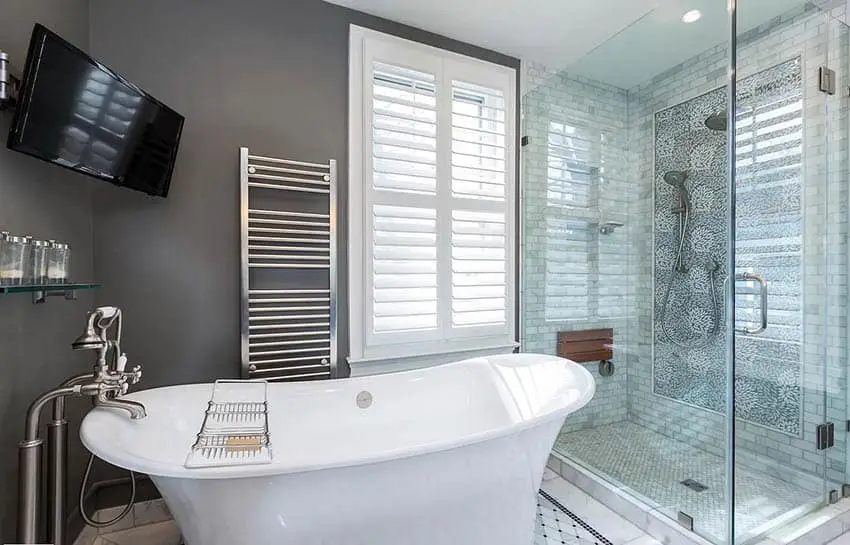 Storage capacity: storage capacity is another huge thing to consider when picking what type towel warmer you want, knowing the size of the items you want to warm and dry. Getting a towel rack can be good for smaller spaces and quantities of items. There are even larger racks that you can get depending on your specific needs. If those still aren't large enough there are warming cabinets and warming buckets that can help with larger quantities or bigger items that need to be dried or warmed.
UV sterilization: UV sterilization is a disinfectant method that uses UV light (the short wave length ultraviolet rays) to destroy microoganisms in whatever object you are disinfecting. This method is used in a lot of towel warming device to add an extra level of sanitation to the towel. This is something you should look for in a towel warming device before you buy it, they are common in commercial type warmers, but not as common with typical household products. Having an enclosed area is important to this process.
Different types of towel warming devices are described below: (Some can even be combined versions of the following types)
Heated Towel Rack
A heated towel rack that is wall mounted is good in areas where there is limited space, as it gives the rack a space on the wall and out of the way. These types of towel racks are typically smaller and lighter in weight to properly stay wall mounted. Anything too heavy can require intense backing needs or could fall off the wall if not installed correctly.
Ladder Heated Towel Rack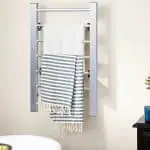 A Ladder towel rack can be either freestanding or wall mounted. The ladder function is the style, resembling a ladder with rungs one above another as if you could climb it. This is a good selection for hanging multiple towels or even weaving a towel in and out so more of the surface areas gets warmed and dried.
Freestanding Heated Towel Rack
A freestanding heated towel rack is the opposite of a mounted heated towel rack. This type typically had feet to stand on and is placed on the floor to stand on its own with no further support. These are typically used in places or rooms that the rack is better used mobile so it can be removed when not in use. These often take up more space than something wall mounted and they required a cord that must be plugged into an outlet to be able to use the item.
Hot Towel Cabinet
A hot towel cabinet is something that you typically see in spas or a nail salon, sort of looking like a small fridge, except it warms versus cools the items inside (in this case towels). A hot towel cabinet can typically hold and warm more towels at a time than a rack would, being a little more used on the commercial side of things.
A bucket design heated towel warmer is another more industrial and commercial option, bringing a more even temperature to the entire towel as well as being able to heat a great deal of large objects at once.
Best Heated Towel Racks & Warmers
Here we've narrowed down the best heated towel warmer & rack ideas to help you choose the one that's right for you. In this list we have included the best reviewed racks, and cabinets.
Homeleader Ladder Style Hot Towel Warmer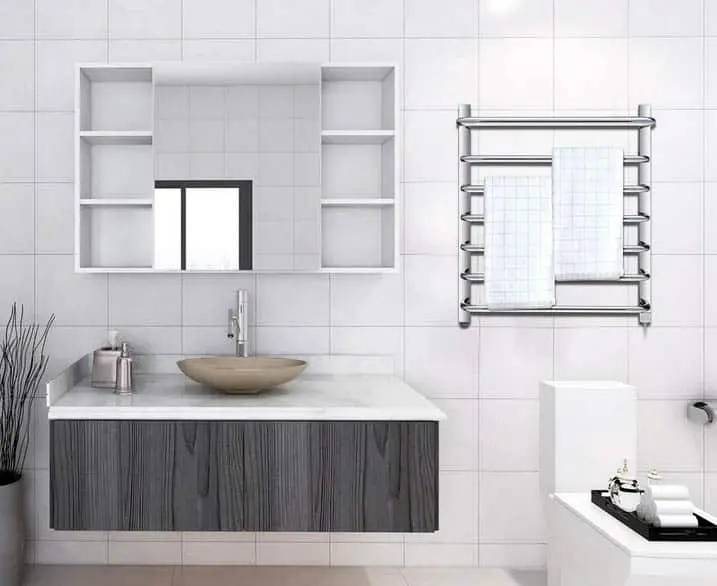 The Homeleader L34-002 Towel Warmer and Drying Rack has 9 stainless steel bars that plug in and have a built in thermostat. This model reached 122 degrees Fahrenheit to 131 degrees Fahrenheit within 15 minutes that is monitored by the internal thermostat. This design saves space as it is built into the wall and has a compact design to allow it to be used in smaller locations.
The Homeleader Towel warmer and drying rack can be found by following this link : https://amzn.to/2LjdoOq
Spa Luxe Hot Towel Cabinet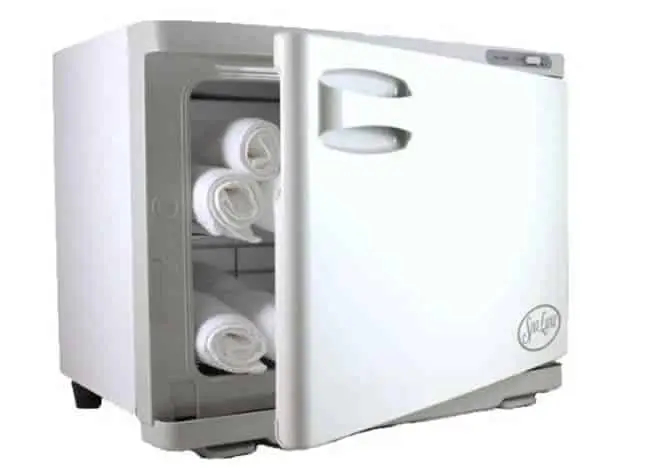 The Spa Luxe Hot Towel Cabinet Towel CABI is a new design used to keep towels warm and moist. These are most frequently used in spas and salons, but can make a great addition to personal bathrooms as well. This particular model can hold about 24 hand towels. The cabinet had a closing door to give a clean look. The interior has two shelves to place the towels and stays at a consistent 160 degrees Fahrenheit.
The Spa Luxe Hot Towel Cabinet can be found by following this link : https://amzn.to/2Rhwgko
Homeleader Freestanding Hot Towel Rack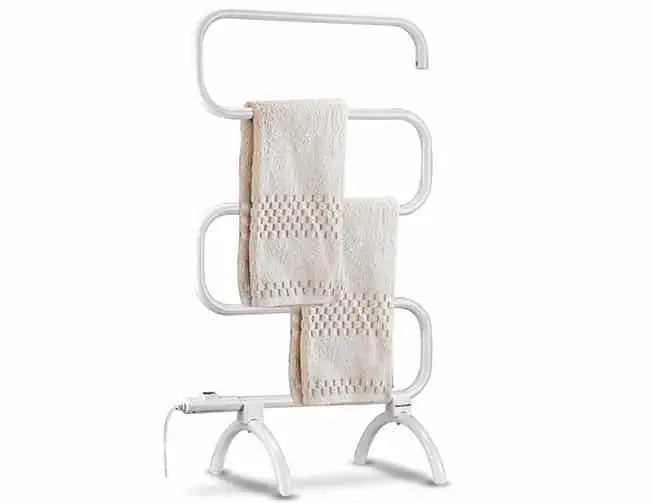 The Homeleader TW-05S Towel Warmer and Drying Rack can be either a freestanding or wall mounted rack. This rack puts out a temperature of about 131 degrees Fahrenheit to 141 degrees Fahrenheit in about 30 minutes to warm towels and has a built in thermostat to keep the temperatures safe and stable. This model is made of white steel to give a modern design and color.
The Homeleader TW-05S Towel warmer and drying rack can be found by following this link : https://amzn.to/2qlQvCE
Amba Curved Wall Mount Towel Warmer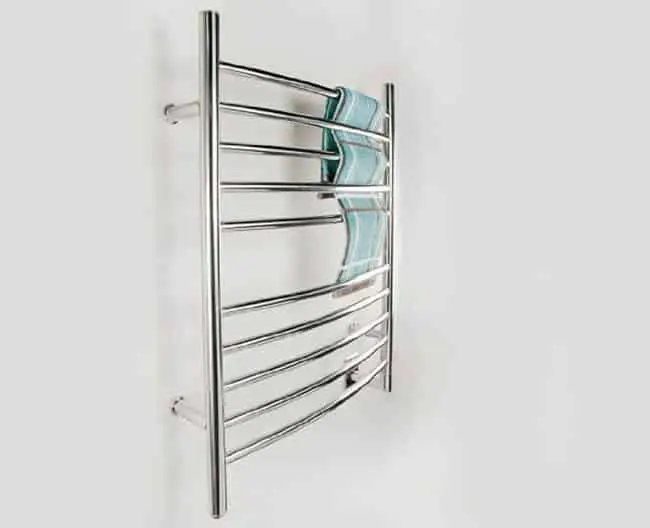 The Amba RWH-CP Radiant Hardwired Curved Towel Warmer has 10 bars to warm and dry towels. This model is made from stainless steel. The Amba is a compact size of about 24 inches by 32 inches by 6 inches, to make it easy to place in any size bathroom or other desired location. Both the horizontal and vertical bars on the rack are heated.
The Amba RWG-CP Radiant Towel Warmer can be found by following this link : https://amzn.to/37Vc2Ts
Innoka 2-in-1 Towel Warmer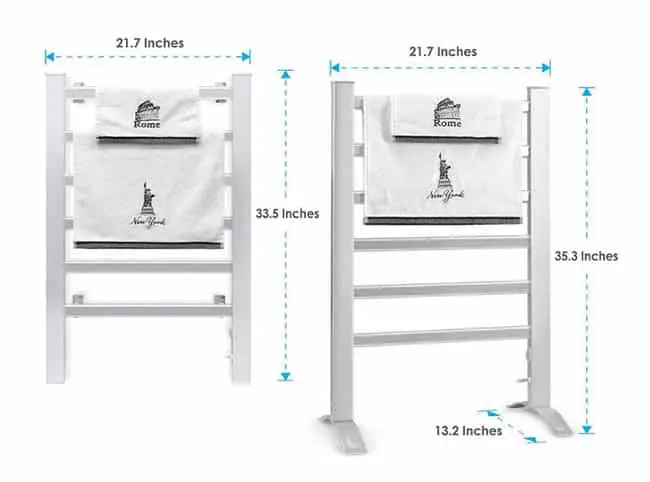 The Innoka 2 in 1 towel warmer is a 6-Bar aluminum rack that can be wall mounted or left alone as a freestanding rack. The aluminum frame has a brushed chrome plated finish. This model can be freestanding, meaning it requires very little for the install process, just add the feet and it should be ready to go. This item needs to be plugged in and can reach about 110 to 122 degrees Fahrenheit within a 30-40 minute time frame.
The Innoka 2 in 1 Towel warmer and drying rack can be found by following this link : https://amzn.to/2FCRG4J
Zadro Towel Warmer Bucket
The Zadro Ultra Large Towel Warmer Bucket differs from the above mentioned warming racks. This model, as the name suggests, is shaped like a bucket where there is room for two oversized bath towels, robes, blankets or even pajamas. This model includes a timer with multiple lengths to get the optimal heat levels for the desired materials. With the entire item being inside the bucket, it is evenly warmed, unlike the racks where only the items touching the metal are warmed by it. This item needs to be plugged it to use, but has storage to keep it contained when not in use.
The Zadro Towel warmer bucket can be found by following this link : https://amzn.to/34HCjme
For more related bathroom ideas check out our walk-in shower designs gallery here.