Find out the best alternatives to glass shower doors, including shower curtains, framed enclosures, roller shades, screen panels, and glass blocks.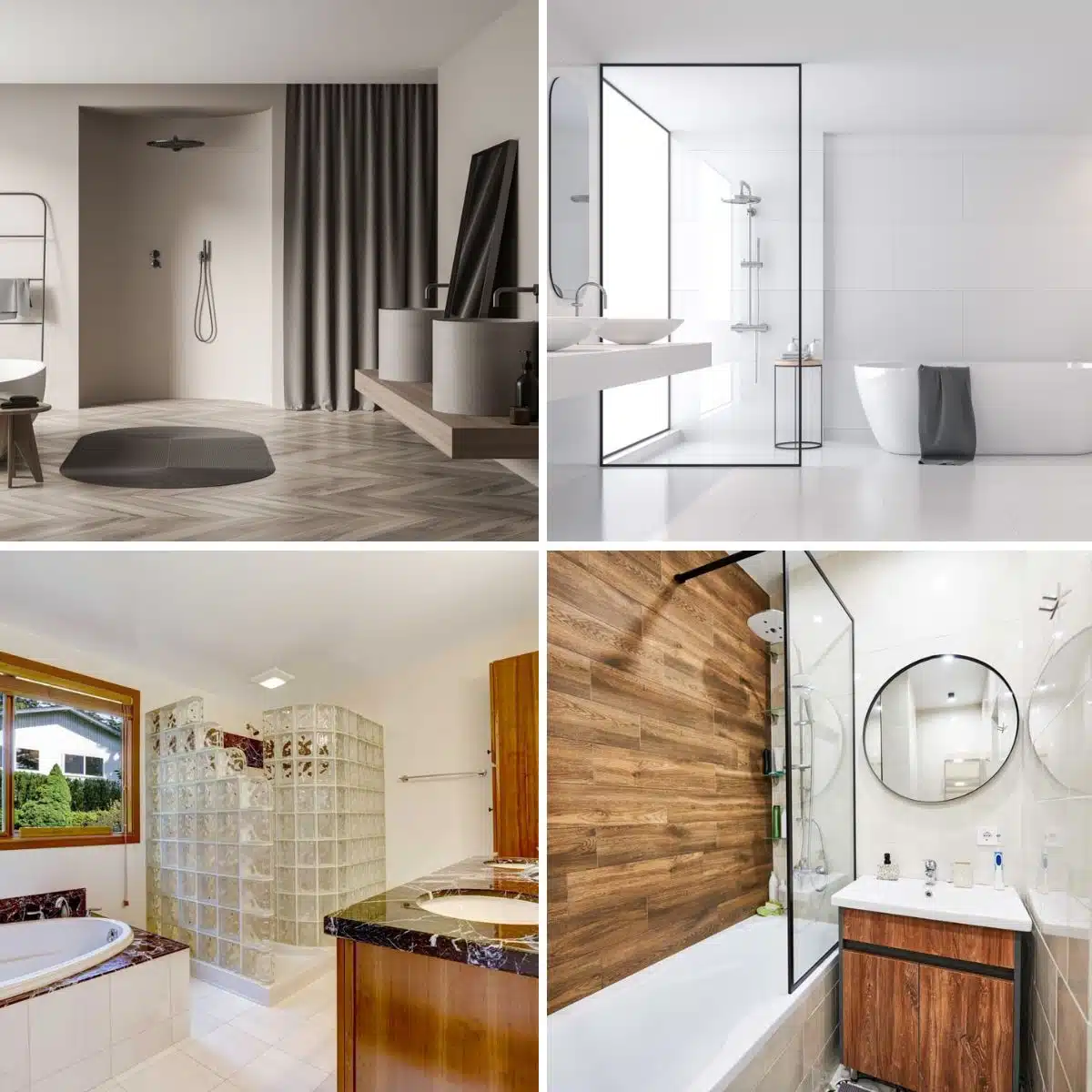 Glass shower doors are quite stylish and eye-pleasing, hence they are often used in the vast majority of bathrooms. Talking about the aesthetics and ease of maintenance, glass shower doors are indeed exceptional. However, lots of homeowners are trying to stay away from glass shower doors for various reasons – relatively low durability and sometimes significant cost.
Glass shower doors are often prone to shattering, particularly if they are installed improperly or accidentally bumped hard by the shower occupant. Due to these reasons, many homeowners have been looking for alternatives to glass shower doors. Let us take a closer look at each glass shower door alternative.
Quicklook: Alternatives to Glass Shower Doors
• Shower Curtains
• Sliding Doors
• Moisture-Resistant Wooden Panels
• Framed Enclosures
• Glass Blocks
• Beaded Shower Curtains
• Partially Installed Shower Doors
• Steel and Aluminum
• Water-Resistant Room Divider
• Screen Panels
• Doorless/Open Shower Room
• Metal Shower Panels
• Roller Shades
• Bamboo Panels
• Hanging Plants
Glass Door Alternatives for the Shower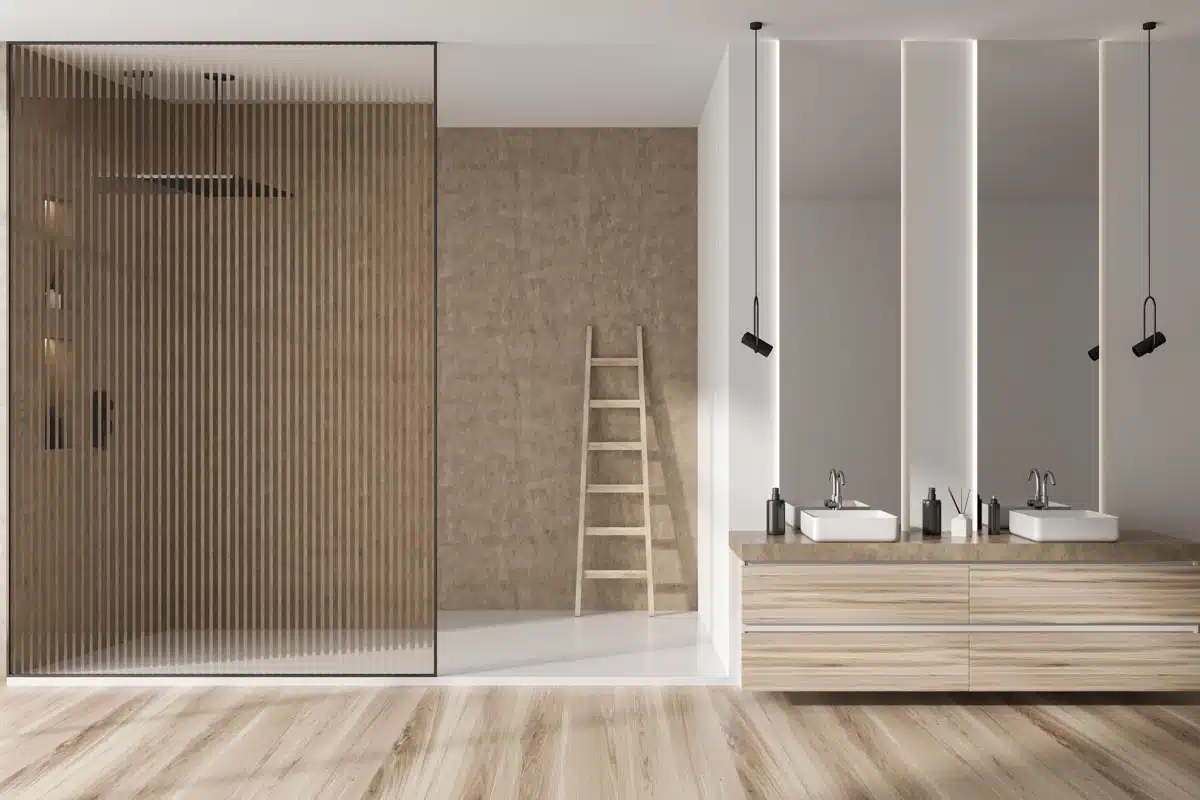 If you are aiming to construct or revamp your shower room, you have to be informed of a diversity of shower door options. And in this case, since you are one of those users or homeowners who are not a fan of glass shower doors, you have to be knowledgeable about their alternatives.
Shower Curtains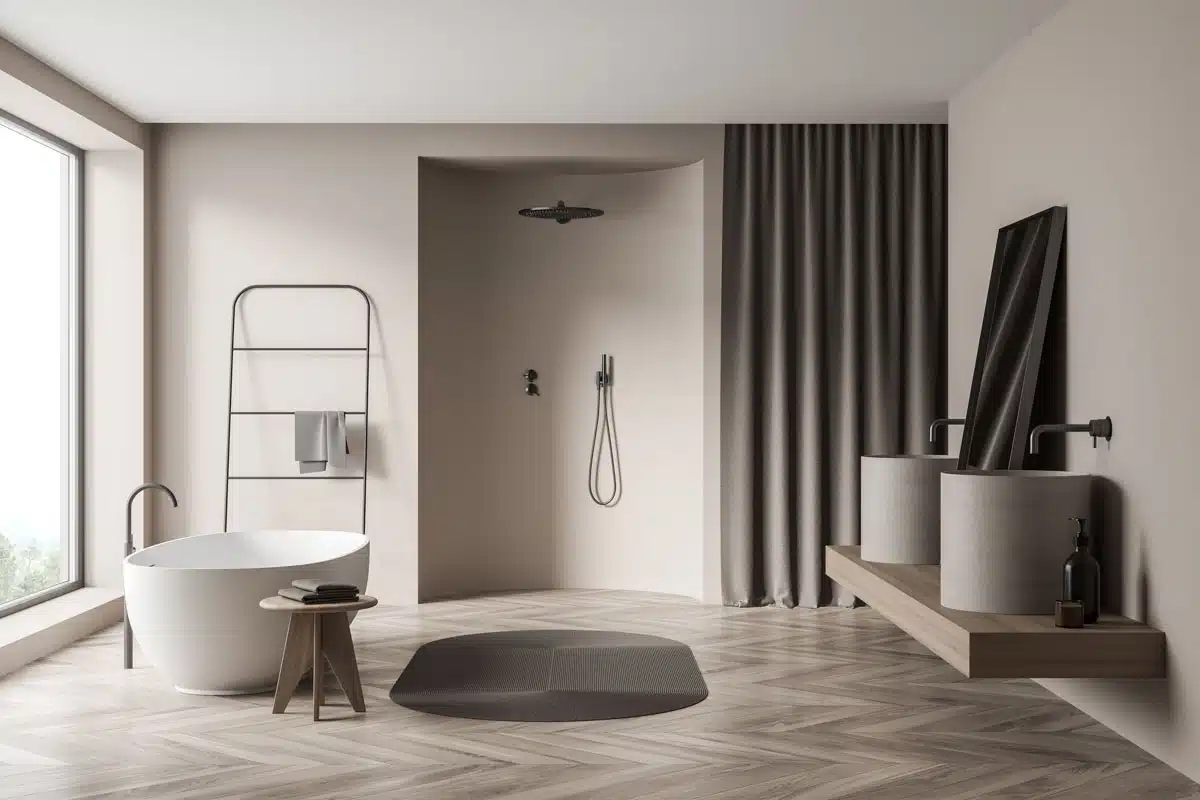 Without question, shower curtains are the go-to glass shower door alternative. You will find them in plenty of bathrooms around because they are far more budget-friendly than their pricier counterparts – definitely a bonus for homeowners hunting for some cost savings.
Not just about looks, shower curtains are incredibly versatile when it comes to function. Single- or double-layered – the choice is up to you for that perfect balance of creativity and practicality. Rock a charming fabric on the outside while keeping the plastic sealed in tight, giving your bathroom an instantly personalized touch.
Without breaking the bank, shower curtains are a cinch to install. All you need is a straight-forward rod and rings made of vinyl or polyester. You can always try to check out the various styles and patterns – there is something sure to look amazing in your shower area.
Framed Enclosures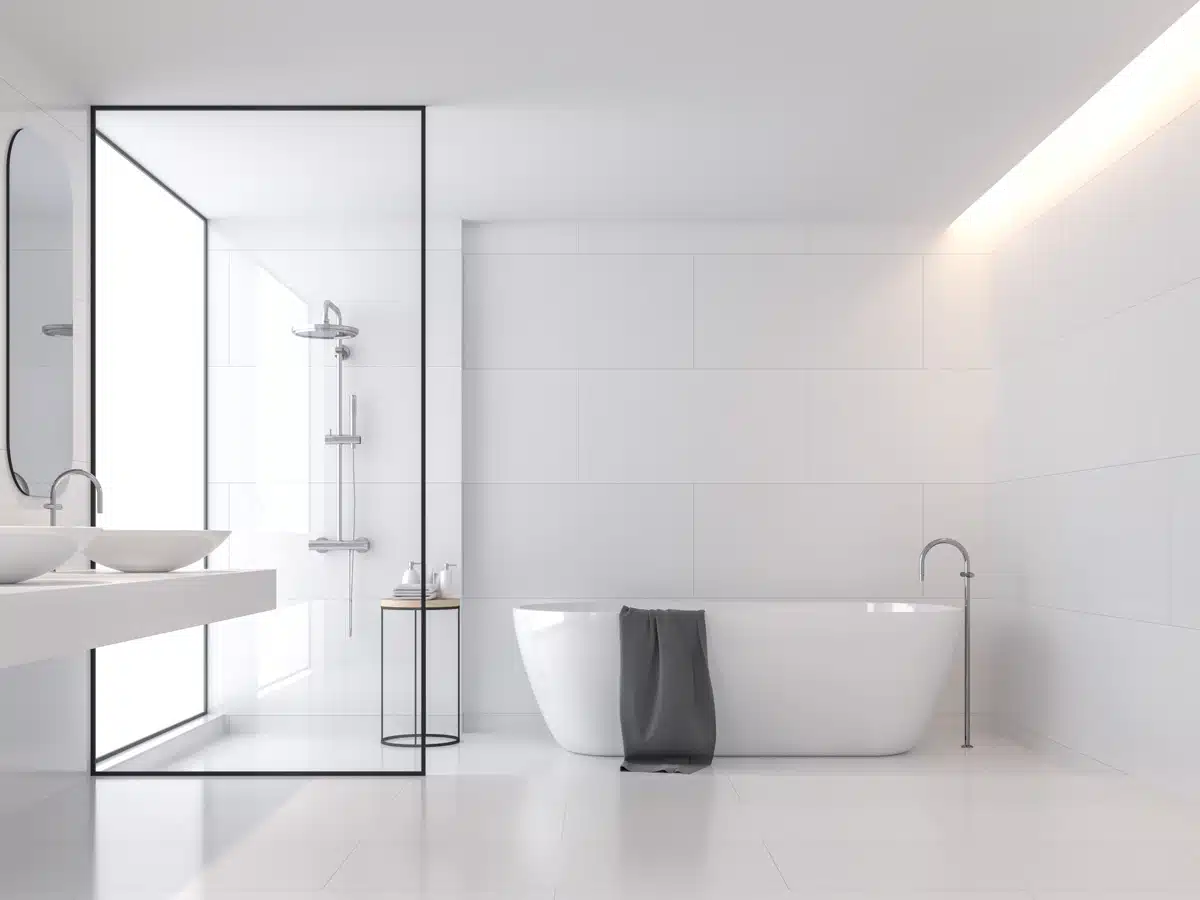 Framed enclosures offer a truly fabulous way to jazz up your bathroom without breaking the bank. Whether you prefer something classic and polished like brass, ultra-chic like chrome, or even rustically stylish such as oil-rubbed bronze – there's sure to be one that fits your taste.
You also have the option of using different glass styles that can include frosted, clear, stained or etched, depending on the level of privacy desired. So never settle for boring glass shower doors again – make a statement with framed enclosures today.
Apart from that, framed shower enclosures shimmer with sophistication but won't break the bank – giving you a chic, totally stress-free bathing vibe. Just think about it: all that lavishness for little maintenance effort – sounds too good to be true.
Furthermore, these framed fixtures are perfect if your shower has an entrance, as they serve up style and nothing else. They will keep the water from accumulating on your floor and some even allow for hanging a towel or other accessories. Visit Home Depot to see their selection of framed enclosures. (sponsored link)

Roller Shades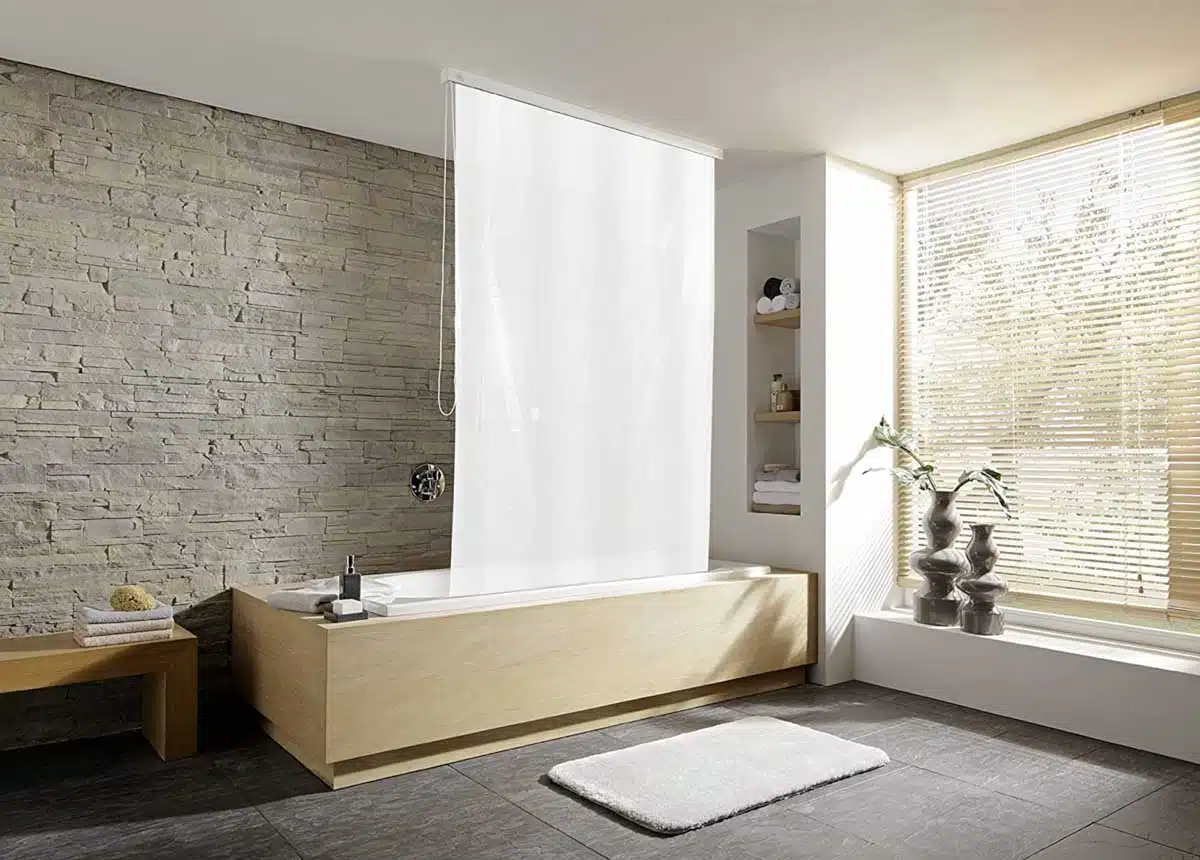 See this roller shade set at Amazon [sponsored link]
Roller shades offer the same levels of versatility as shower curtains, with the added advantage of easier upkeep and greater discretion. Using a roller shade may be a good idea if you have tile or stone floors and want to avoid installing a costly enclosure.
You have a few choices available to you, such as traditional roller blinds, cellular eyeshades, or even blackout shades – all at varying price points. Standard roller screens are an affordable option that comes in an array of colors and patterns so there is bound to be one for everyone.
Cellular window shades are the ultimate way to play with temperature control. The small, insulating cells create plenty of insulation, but for those ultimate dark vibes, blackout shades in the shower might be your go-to; however, if seeing what's going on outside is important, you might want to stay away from dark fabrics and go with a clear or frosted option in a private bathroom.

Whatever style you decide upon that best fits your needs and satisfies your eye – consider a roller shade instead of glass shower doors as an alternative – both stylish and practical.
Partially Installed Shower Doors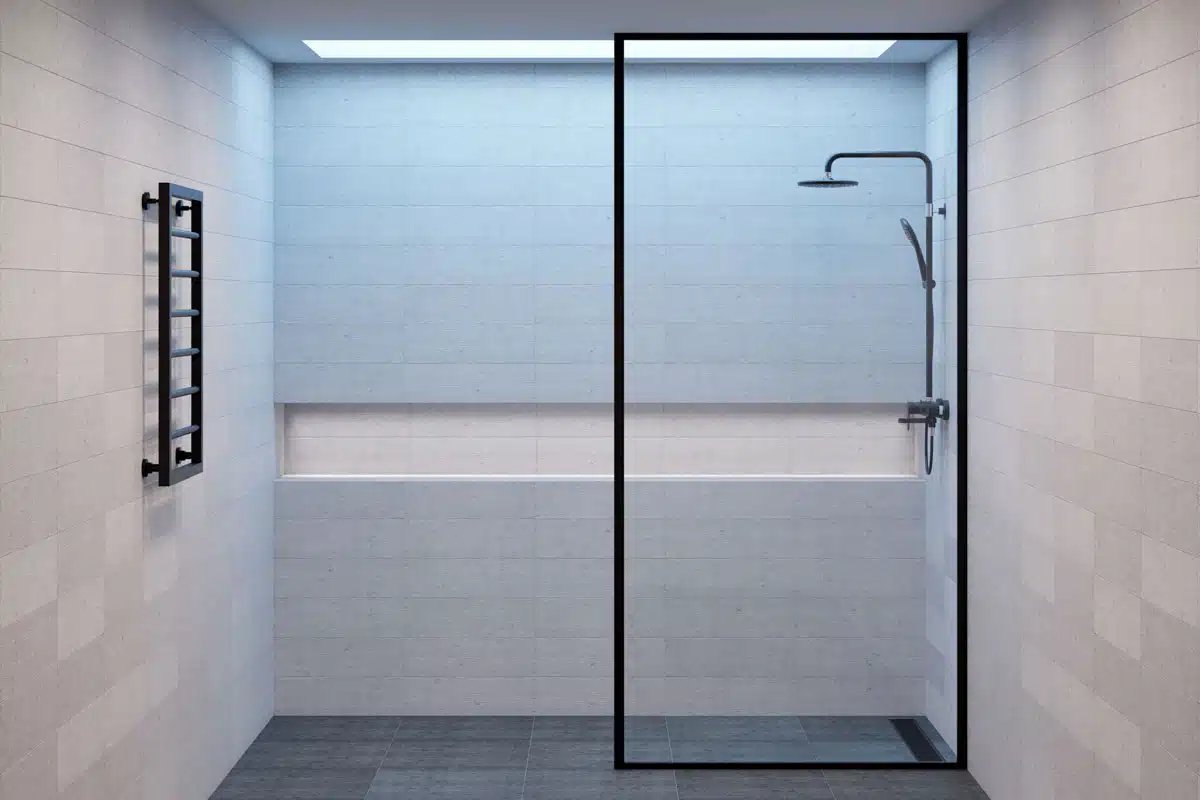 Partial enclosures are the way to go when you want to give your bathroom a modern, budget-friendly makeover. Perfect for tubs and shower stalls, they keep the area separated while still keeping that airy feeling. You'll never look at your bathroom in the same way again.
If you desire the sumptuous beauty of glass shower doors without feeling confined, a partial glass wall might be your perfect solution. But don't limit yourself to just regular ol' glass for your enclosure – explore other creative options such as aluminum, steel, or luscious laminated/varnished wood.
Partial shower doors, or what's usually called 'shower screens' and 'half-height doors', don't fully cover the opening – they just give you that beautiful blend between an open shower and a well-enclosed one.
Their coverage stretches from your toes to right around waist level. Going for a screen door? You've got lots of options: a hinged door, sliding door, or a pivot door – you can take your pick.
Screen Panels
Screen panels yield a more stylish alternative to the classic glass shower door, and they offer you both functionality and flair. From wood or metal designs to a variety of sizes and shapes – that includes options with one side left open for effortless entry – these are an ideal choice if you are aiming for some extra panache in your shower.
If you would like a bit more privacy and a touch of elegance in your bathroom, consider going with an opaque wooden screen panel. They are uber popular amongst folks who dig that rustic style, especially when coupled with pallet projects. This route works best if your bathroom has ample natural illumination and is looking for a modern upgrade.
Glass Blocks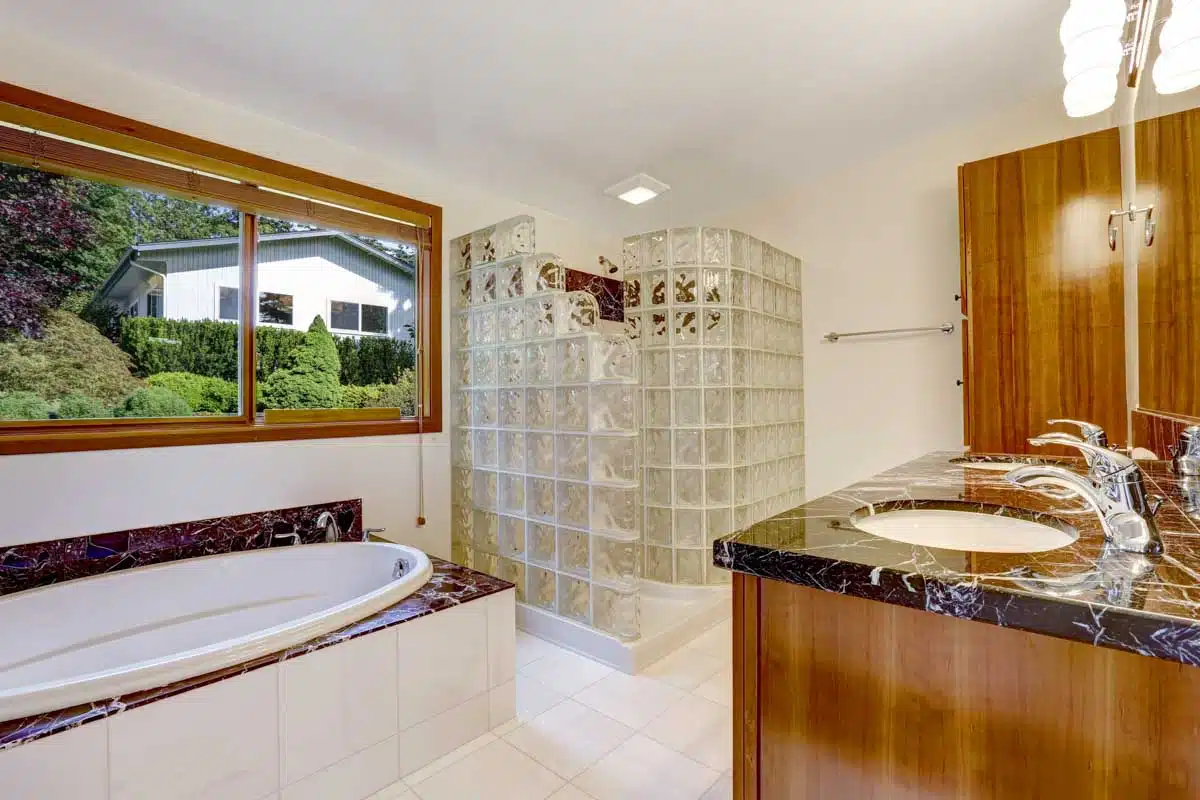 Do you feel like you need some extra privacy and natural light in the bathroom? Glass blocks are no doubt a great option. There are all kinds of wonderful things they can do that other glass doors just don't offer. Not only will you still get lots of sunshine, but the transparent or translucent glass gives you more shelter from prying eyes.
A glass block comes in all sorts of styles – square, rectangular, circular – you name it! Additionally, they can be used to create some stunning patterns. Just bear in mind that these babies are heavy and need a solid foundation to stay put during installation.
So, you can secure them with mortar or adhesive or install them into a pre-made frame or panel. It's totally up to you. Whether your style is for something more traditional, like small glass blocks tiled together in an eye-catching pattern – or if it is sleek and modern with larger blocks used to form a minimal divider – either way, this unique solution adds some seriously tasteful flair to any shower space.
Sliding Doors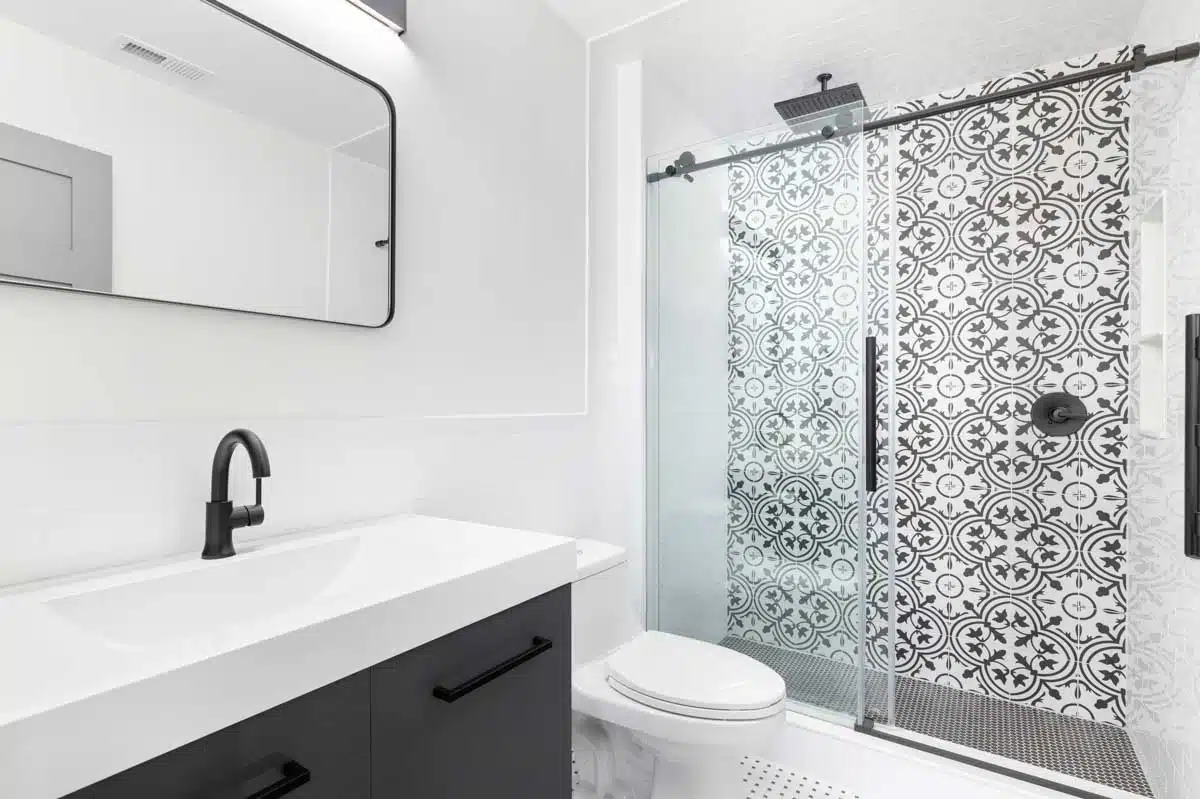 Sliding doors are an awesome choice for showers; they are super efficient and easy to use. Not unlike similar patio sliding doors, these alternatives come with faux glass that moves effortlessly along a track to open or close. Talk about convenience at its finest.
Additionally, these sliders are just the ticket for all sorts of bathrooms, from showers that stand alone to tubs with one mounted on the side. Also, they work well in tight places where you don't have enough room for hinged doors.
Gliding smoothly on their mechanical rollers, sliding doors guarantee effortless operation and convenience. Whether you are looking for a tasteful classic or modern design, these stylish sliding doors are perfect for opening up your shower area and provide the ultimate space-saving solution.
Steel and Aluminum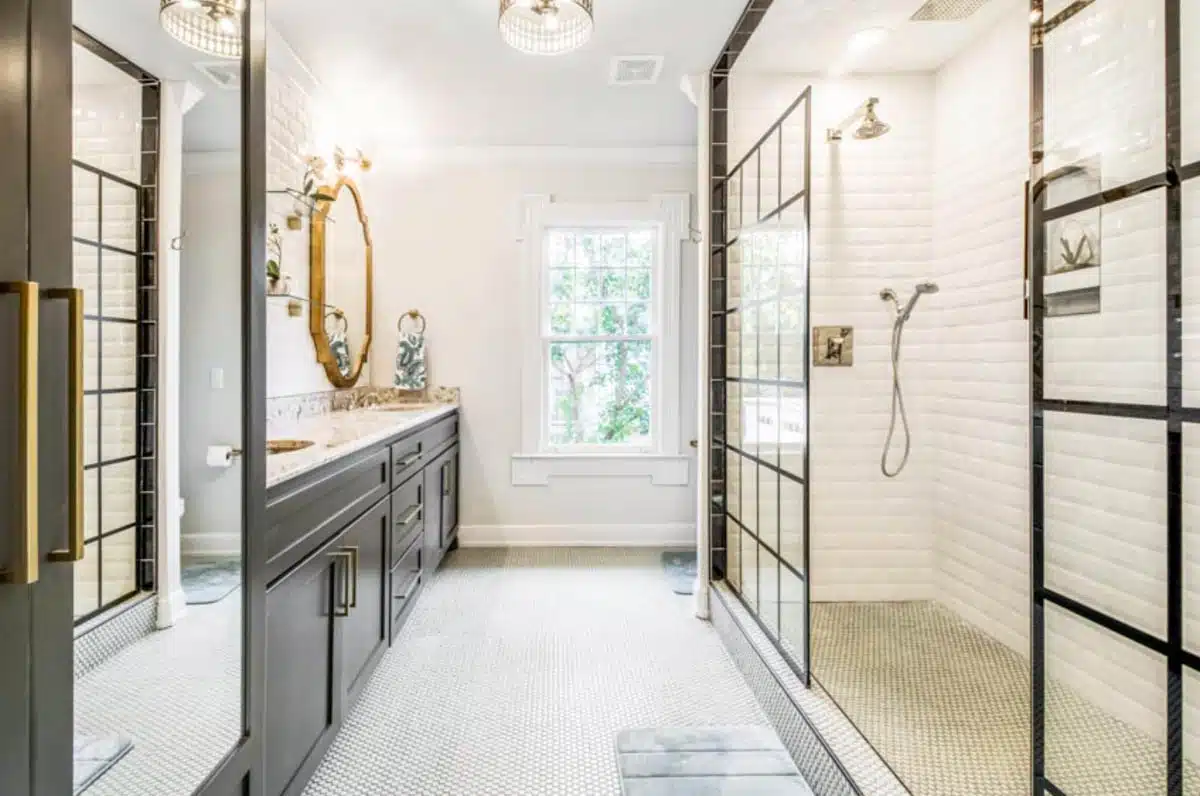 To make your shower a smidge more chic, why not throw some steel or aluminum into the mix? Grids and frames crafted from these metals can really bring those modern vibes while giving it an air of classiness.
With glass or not, these metal frameworks offer plenty of creative possibilities with their chic squares to intricate filigree patterns. Perfect for tubs and showers, you can even add a touch of Japan with shoji-esque sliding frames if that's your thing. Whether it be luxurious squares or lacy designs, the options are almost endless – so there is sure to be something to satisfy any taste.
It is an absolute must to personalize your order, and you have to take the necessary measurements to get it right. It also requires regular maintenance, too – otherwise, your screen will be at risk from any water damage and all sorts of marks that may ruin its looks. Just remember the principle: prevention is better than cure.
Doorless/Open Shower Room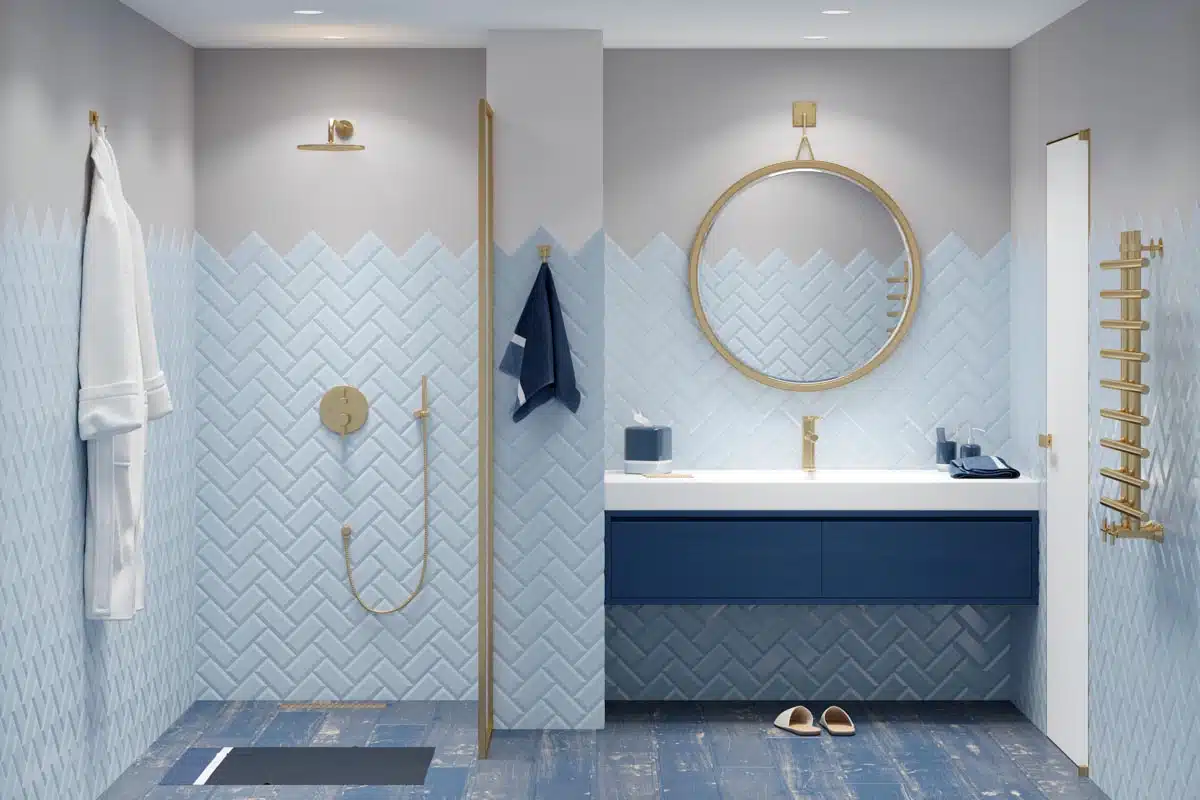 The minimalist, open concept shower experience boasts a contemporary spin on the classic bathroom – and that's where doorless showers come in. Particularly popular in Asian bathrooms, this fuss-free option makes it super easy to maneuver around your shower space while scrubbing down, meaning you will be squeaky clean quicker than ever. Plus, the doorless design definitely amps up the sleekness level of any given bathroom.
Well, it's crucial to factor in the extent and setup of your shower. Open showers are the bomb for giant, walk-in kinds that have the means for water collection – partial barriers and such.
Before you go doorless, think about what your bathroom needs. If it's a smaller space—beyond just another tub-adjacent wet area—thinking twice can save on accidents. And don't forget privacy: a doorless shower may let others get just a little too close for comfort. Think ahead and check out all the angles before opting for this design.
Bamboo Panels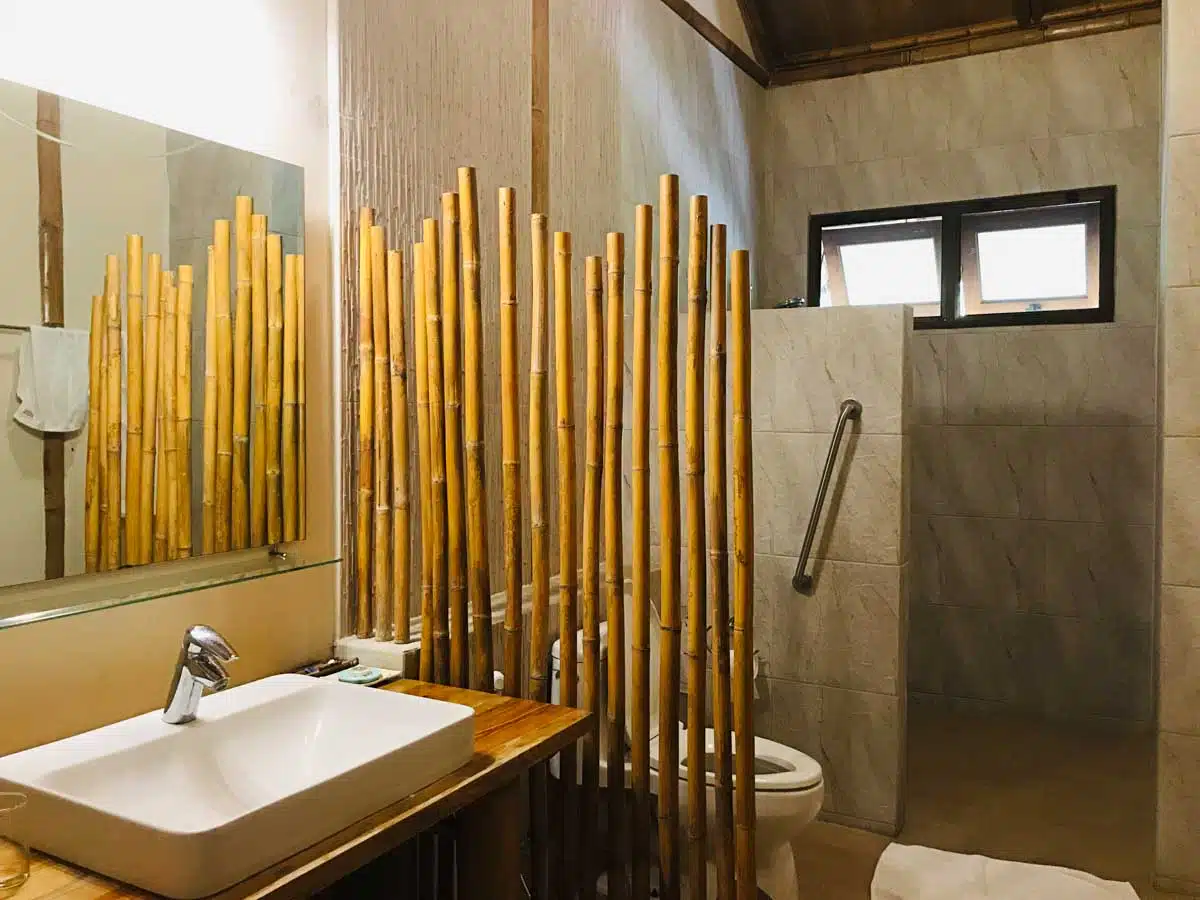 If you're looking for an earth-friendly shower door, bamboo panels are a great option. Simple to assemble and surprisingly sturdy, they are sure to withstand all the moisture from your showers without a problem. Aside from that, being eco-conscious is incredibly easy with bamboo since it's sustainable and super durable – perfect if you want to keep things natural in your bathroom.
Thinking about going green? Pre-assembled bamboo panels or DIY packs of bamboo shoots can give your entrance an eco-friendly update. Sleek and modern, these panels are kinda like shower curtains that keep rolling up – only way cuter. Plus, they've got a great glass effect reminiscent of chic shower doors.
Bamboo panels are not just wallet-friendly, but they're also water-resistant and make cleaning a breeze – a simple swipe with a moist cloth is all it takes to keep them looking their best. In other words, there is no need to worry about your bamboo being plagued by water damage.
Moisture-Resistant Wooden Panels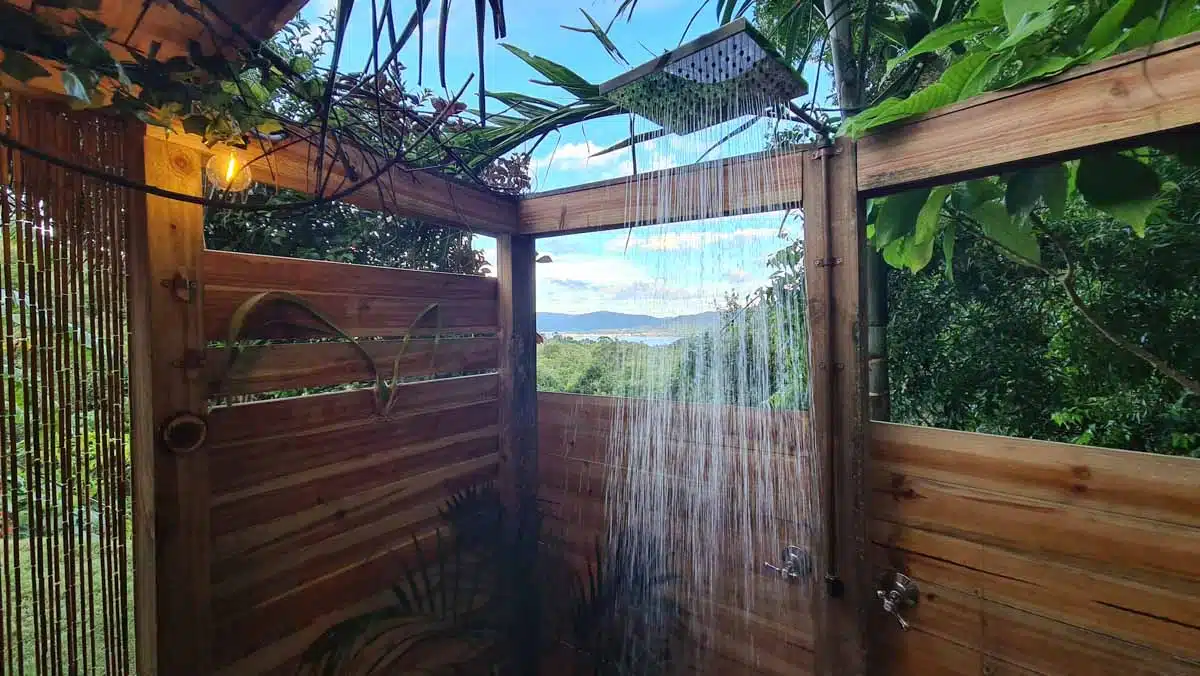 Are you hoping to add a touch of rustic sophistication to your bathroom? Well then, wood panels are the way to go. Nothing oozes warmth and charm like adding wooden elements to your shower space. Not only will they turn heads but also provide some welcome moisture resistance you won't find with glass doors. You can always jazz up your shower a bit with these wooden wonders.
Because of its resistance to moisture, teak is frequently used for kitchens and bathroom fittings. – Present and Potential Commercial Timbers of the Caribbean With Special Reference to the West Indies, the Guianas, and British Honduras, Franklin R. Longwood
When deciding on wooden panels for the shower, picking one that can withstand a steamy environment is key. Teak, cedar, and ipe are all solid choices you should consider. To guarantee that your wood lasts through the years, make sure to apply some proper sealing treatments.
Giving your walls a good waterproofing layer with polyurethane or epoxy is the ultimate way to preserve wood's condition for years to come. Therefore, moisture-resistant wooden panels are an ideal option if you're looking for a timelessly elegant feature in your shower space.
Beaded Shower Curtains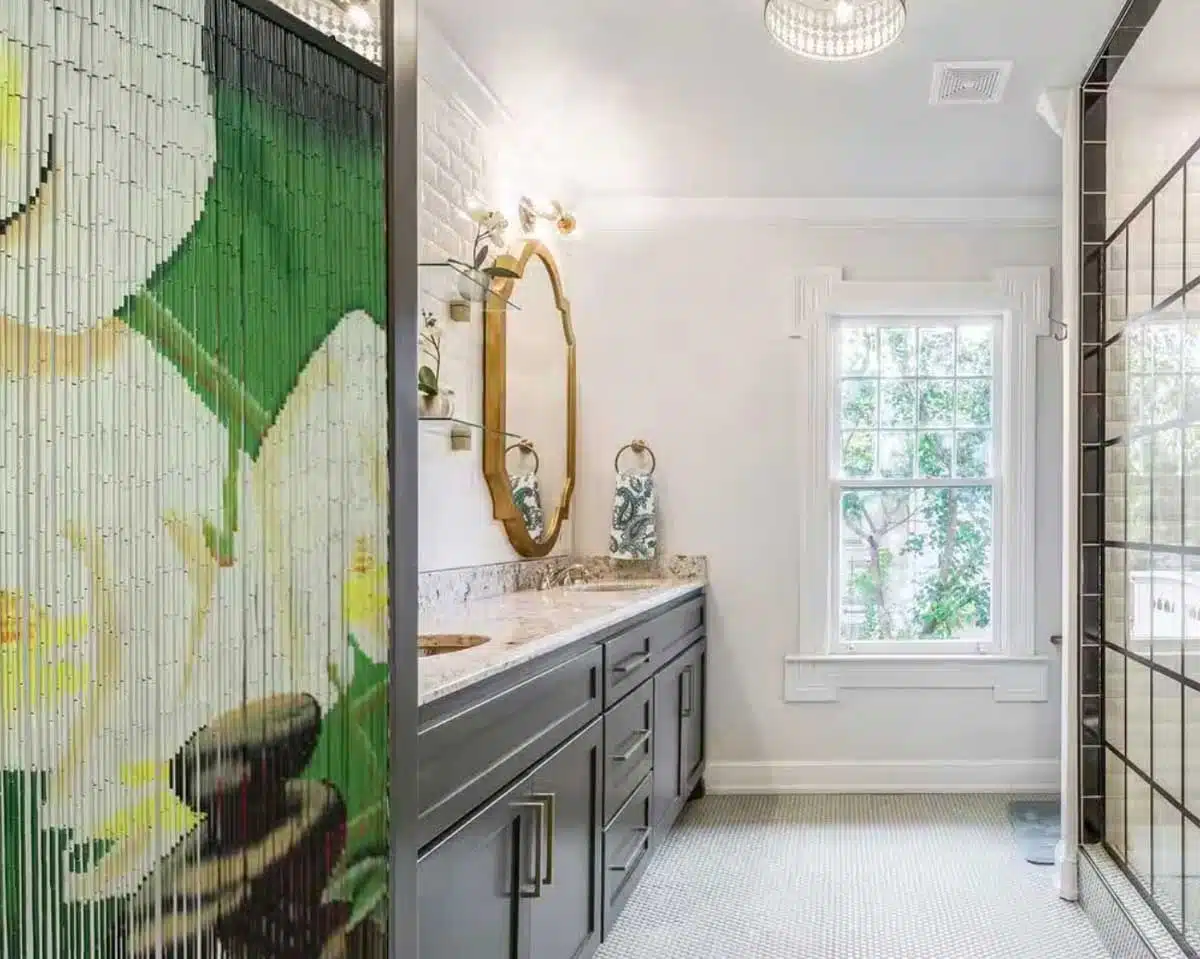 See this beaded shower curtain at Home Depot [sponsored link]
Beaded shower curtains provide a stunning and hassle-free alternative to standard shower doors. Strung with tiny beads or tasteful decorations, these curtains come in pretty much any color and style you can imagine, so it's easy to integrate them into the look of your bathroom.
You should be mindful of the dimensions and where you position your bead curtain; it should always completely drape over the shower head entrance and be set at an easy height for everyone. Think practically, but don't forget to take aesthetics into consideration.
Beaded curtains may not be the most secure or waterproof choice, but they add that memorable 'je ne sais quoi' to your shower area. They can bring a carefree personality and exquisite charm, setting them apart from plainer bathrooms. There is something truly unique about them – definitely worth considering if you're looking for personalization.
Water-Resistant Room Divider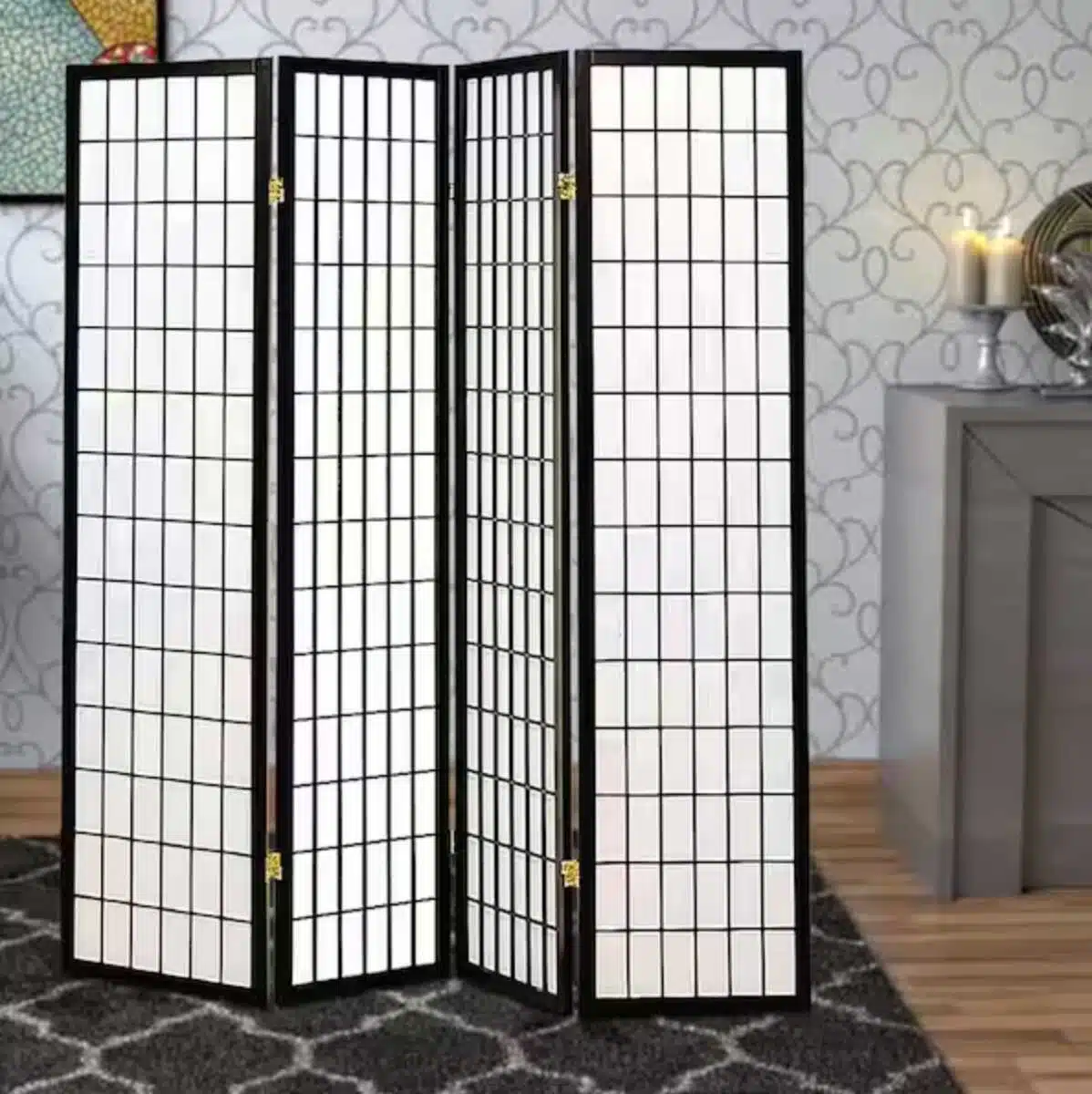 See this room divider at at Home Depot [sponsored link]
A sleekly designed room divider, its panels shimmering with water resistance upon the slightest of touches. With this invulnerable wall, you can choose to partition spaces or simply enjoy breathtaking visual elegance. Whether it's a cozy reading corner or a sunny workspace that needs separating – nothing can dull its spirit.
Who needs a costly, boring showered door when you can just add stylish and inexpensive room dividers to your bathroom? Whether you want something modern or rustic, there's sure to be one that fits the bill. You'll finally have a way to keep your shower area off-limits while adding oodles of visual interest.
You have to make sure the room divider is sufficient – tall enough for a shield and wide enough to conceal that shower entrance. Now, you certainly need to secure it into place firmly with brackets or screws.
For an everlasting fix, adding your room divider to the shower framework or tiles using adhesive is a fine option. In this way, you can individualize your shower zone for both stylishness and handiness. It puts up a sensible barrier between the washroom and the spa-like space of your shower.
Metal Shower Panels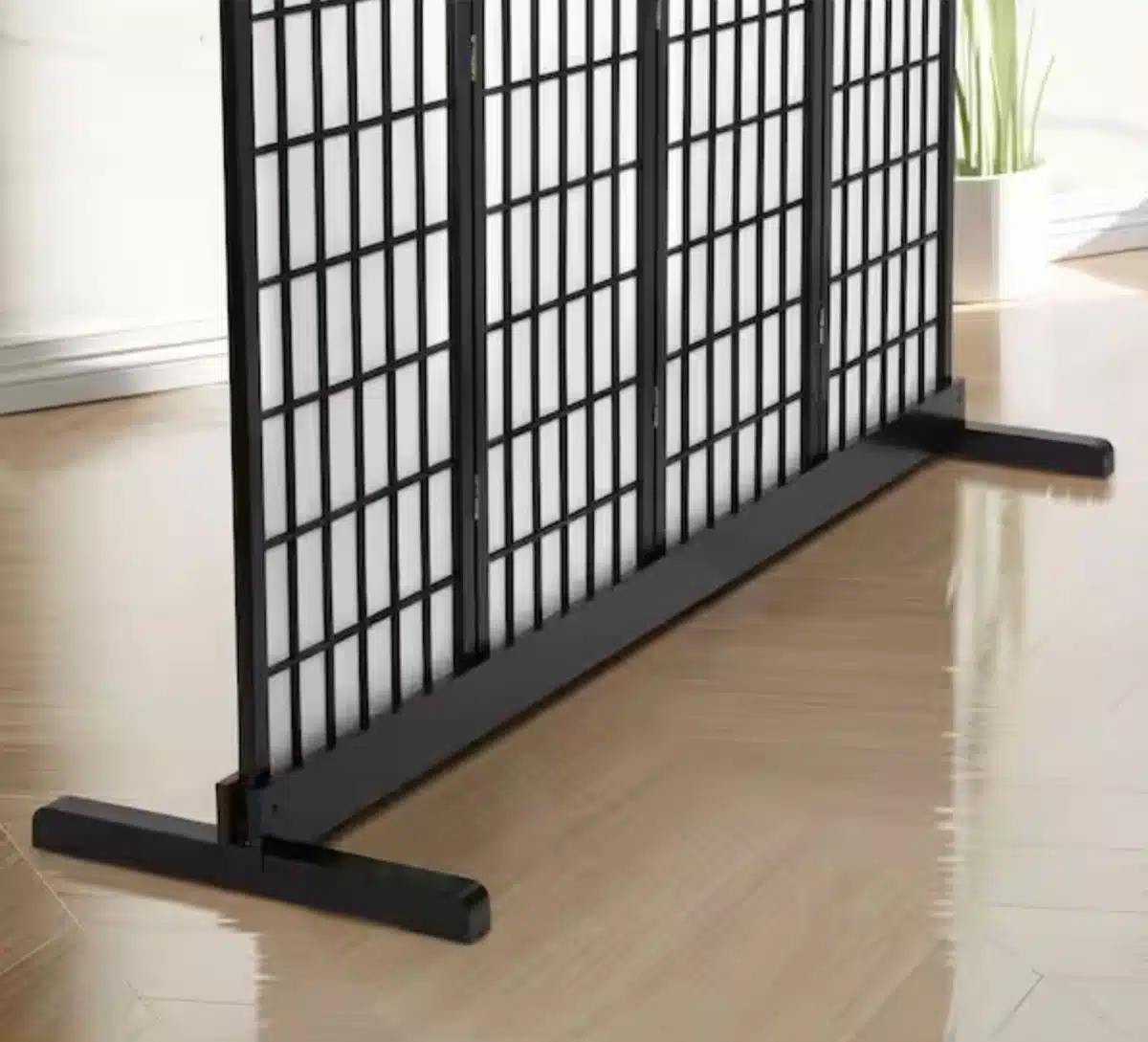 See this metal panel at Home Depot [sponsored link]
Metal shower panels are all the rage these days – whether you buy new stuff tailored to fit or use recycled materials. Moreover, it's an awesome way to add a modern touch without going beyond your original budget.
Reusing metal is great for those who have an eye for custom designs- no surprises as to why so many DIYers love it. For showers, modern panels crafted just for that space come in such a dazzling array of styles, sizes, and colors; really something special.
To help it last, sealing the metal is a must to avoid rusting – fortunately, maintenance is not that hard. Just clean it with a damp cloth every so often, and that'll take care of any soap scum build-up. Metal panels give durability and an eye-catching alternative to conventional shower doors for sure.
Hanging Plants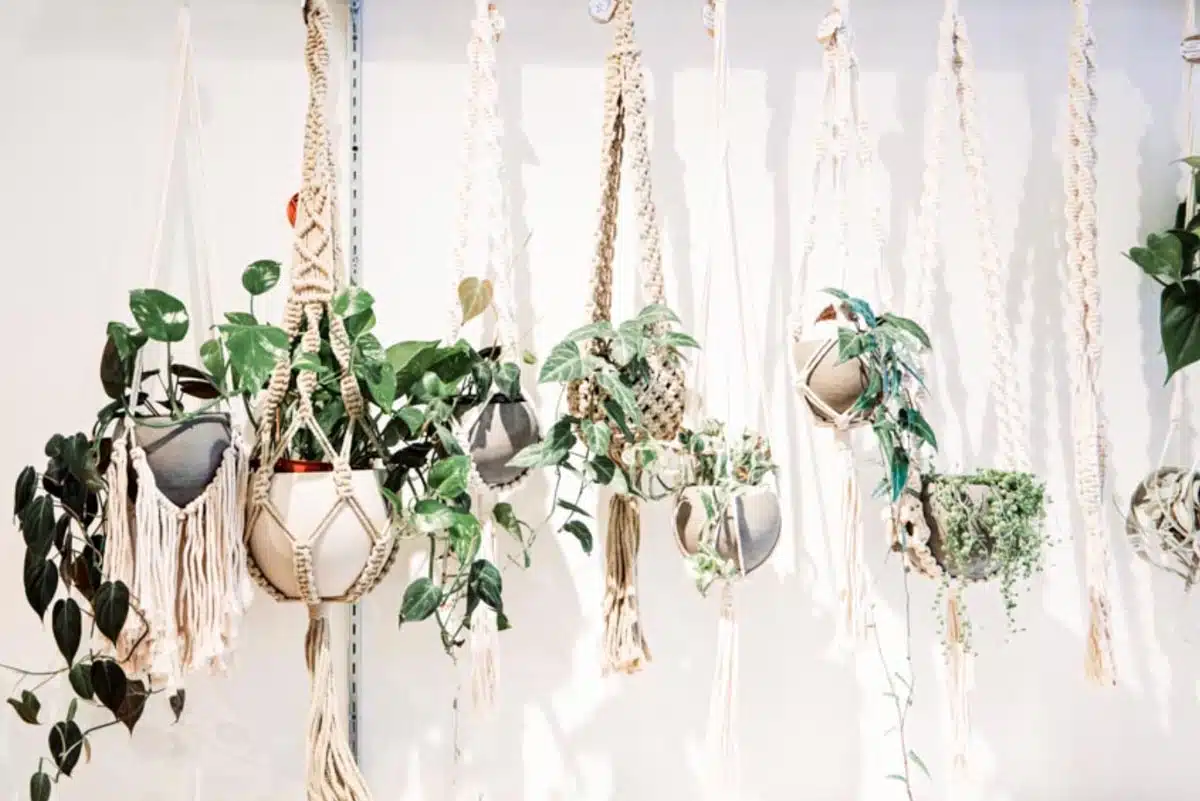 With stylish hanging plants, you can transform your bathroom into a lush and invigorating oasis. Not only do they add visual flair, but they bring life to the room – creating an atmosphere more akin to a spa than anywhere else in your home. Keep things looking evergreen with this modern-meets-natural option instead of glass shower doors.
These breathtaking green gems truly eat up all the toxins, creating a blissful atmosphere in the bath. Before picking out your hanging plants, really study up on what kind of conditions would make them happy bunnies – some plants love to soak up the sunshine and humidity, while some gladden when they're chilling in a bit of shade.
Truly, you may embrace hanging plants to transform your shower area into a stunning paradise – one bursting with life. Not only will it bring spring into any season, but it will also keep your family safe. Make sure you pick non-toxic ones, though; their beauty shouldn't come at the cost of anyone's health, after all.
See more related content in our article about the pros and cons of frameless shower doors on this page.