These floor to ceiling tile bathroom ideas include details about what it is, different types, and designs for subway tiles, showers, and small bathrooms layouts.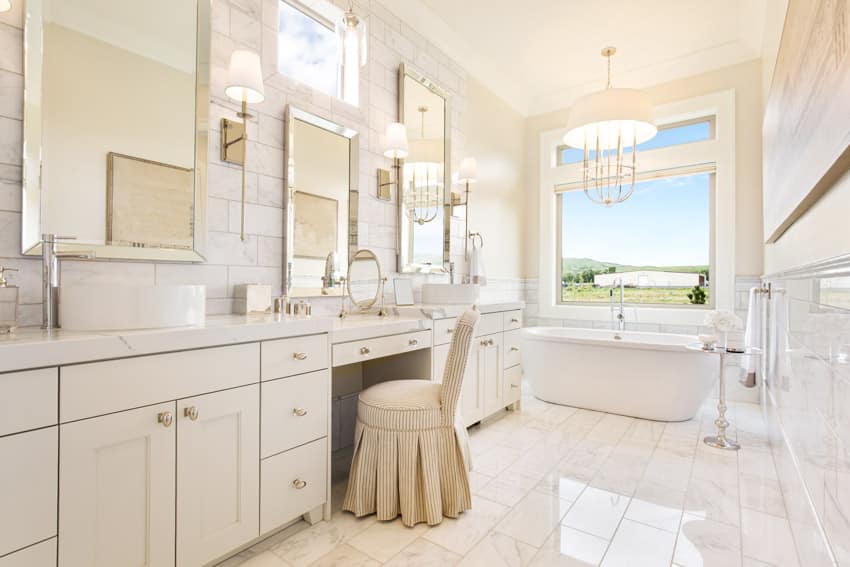 Floor-to-ceiling tiles that dish out a vibrant mix of flair have recently proven to be increasingly prominent in the world of bathroom design ideas, and we are up for accepting it. Presently, a significant point of differentiation is that the appearance is taken in a unified manner—there is no place for mixing and matching anymore.
Tiles meet all the requirements of a bathroom building material. They are well-known for their durability, convenience, and waterproof properties, but they are also highly adaptable.
Indeed, there is a tile for just about any bathroom type you can envision. It comes with a myriad of shapes, colors, textures, designs, patterns, and dimensions to pick from. No wonder many homeowners covet the aesthetic of floor-to-ceiling bathroom tiles.
In this article, we are going to show all of the necessary details about floor-to-ceiling bathroom tiles.
What Is Floor To Ceiling Bathroom Tile?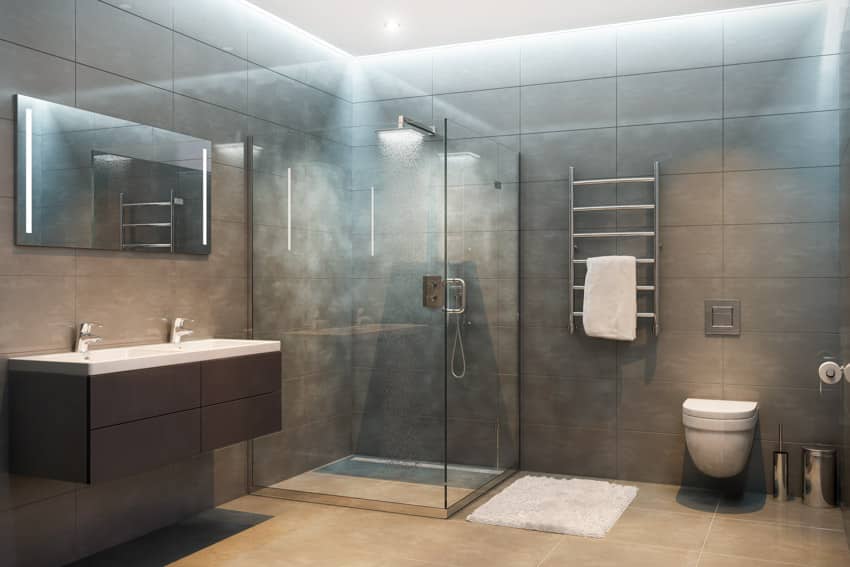 The principle of bathroom floor-to-ceiling tiles is seemingly self-explanatory – the whole bathroom is built with tiles, starting from the floor up to the ceiling. It is indeed traditionally considered a luxury option for homeowners, and it can do amazing things by making a small bathroom appear larger.
When natural light is scarce, the visual constancy of floor-to-ceiling tiles can assist in opening up a gloomy or confined bathroom. Furthermore, installing bathroom floor-to-ceiling tiles is very much an investment.
Because tiles are known for their durability, if treated properly, the appearance of floor-to-ceiling tiles can last for years without necessitating major improvements and repairs.
Types Of Bathroom Floor To Ceiling Tiles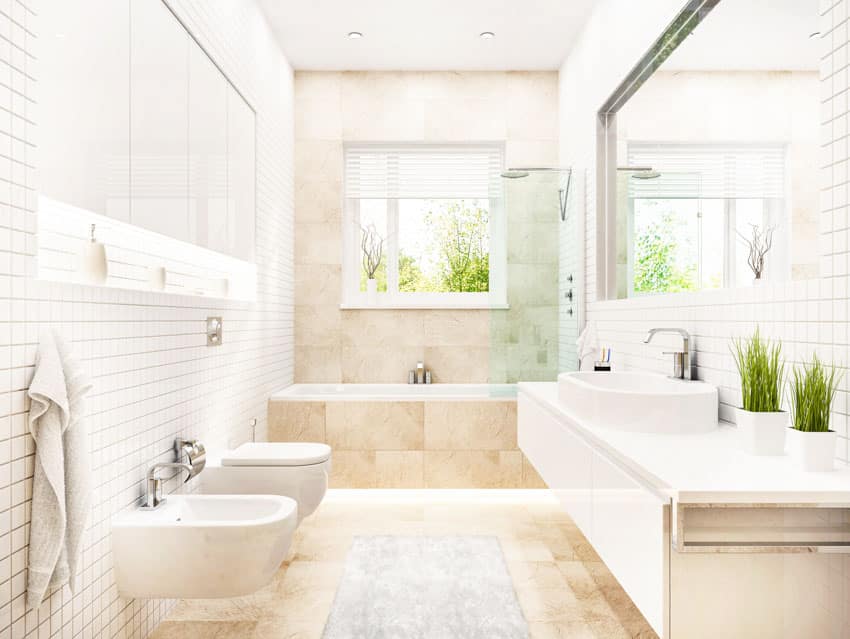 Here are the most common types of bathroom tiles that are widely used for floor-to-ceiling :
Textured Ceramic Floor To Ceiling Tiles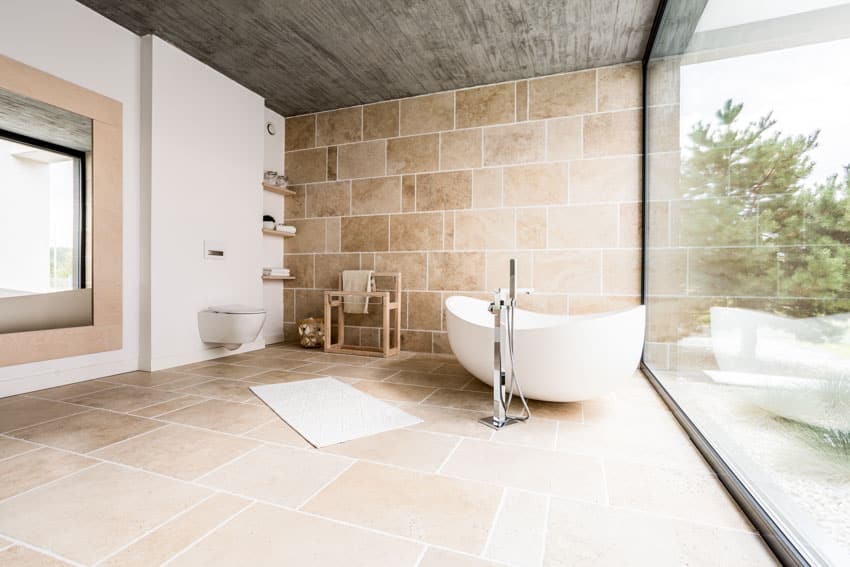 A ceramic tile is a popular form of tile that comes in a variety of colors, sizes, shapes, finishes, and textures. This type of tile is the most well-known choice for floor-to-ceiling tiles for bathrooms.
You can choose a rock-and-wood texture that is ideal for a homey-themed bathroom. Some may prefer genuine wood texture tiles for their bathroom to generate a nature motif, which will appear as if the same wall tiles were used on the floor. These tiles for floor-to-ceiling designs are relatively durable, need little care, and are inexpensive.
Textured ceramic floor-to-ceiling tiles offer flair without being overpowering. When selecting the right pattern, textured ceramic tiles can contribute to making your bathroom appear larger.
The texture of the ripples or linear-patterned tile will help to expand your bathroom by bringing the eye horizontally. Furthermore, the moderately rough surface of these tiles renders them anti-slip, making them ideal for bathrooms. Lastly, such tiles are impervious to moisture and stains.
Stone Floor To Ceiling Tiles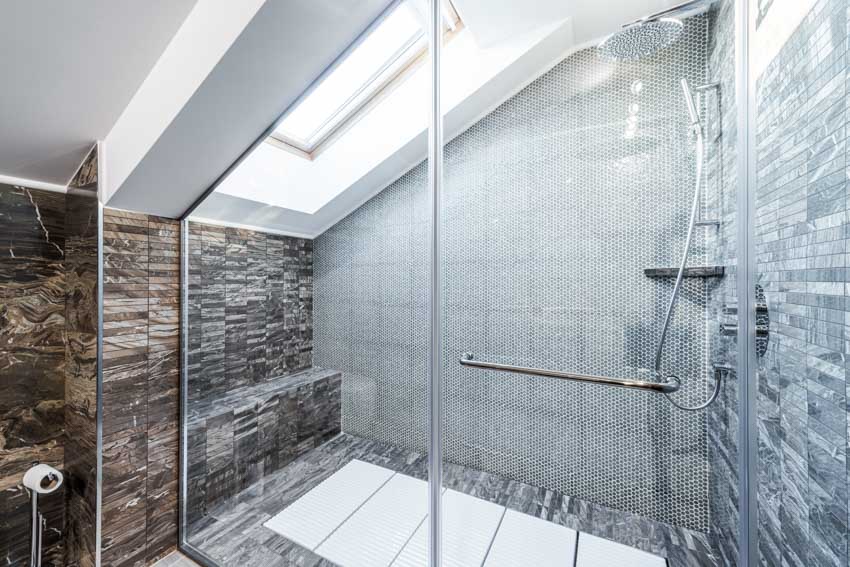 Stone tiles, which are frequently constructed from marble, granite, limestone, and slate, are getting increasingly prevalent for floor-to-ceiling configurations. Textures such as sandblasted, engraved, and worn are also commercially available.
The color palette ranges from whites to greens, reds, and blues. Stone tiles, on the other hand, demand more upkeep in terms of daily upkeep and are henceforth more pricey than other types of tiles for floor-to-ceiling designs.
Glass Floor To Ceiling Tiles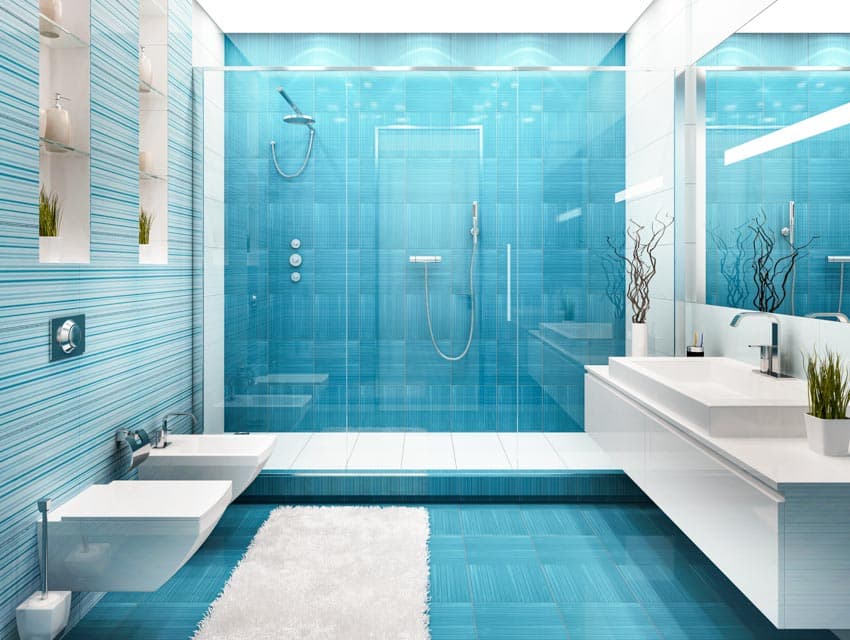 Glass tiles are generally used in luxury bathrooms due to the growing variety of possibilities that may be personalized based on your preferences and needs.
The numerous styles, hues, and tints of the glasses connected to the wall will reflect brilliantly on the types of lighting fixtures you're using in your bathroom. This can be a very exquisite tiling option for your floor-to-ceiling-tiled bathroom, particularly if you want your bathroom to be very bright and beautiful.
Contingent on the styles and themes you wish to apply, glass offers a number of patterns to pick from. Multi-colored glasses are now obtainable for application in mosaic arts, making them ideal for enhancing the appearance of bathrooms. When correctly installed, this style of floor-to-ceiling tile holds up efficiently and, if textured, can inhibit slippage.
Glass floor-to-ceiling tiles are stain- and mold-resistant. Because they reveal dirt readily, you will always recognize it whenever it is time for a cleanup. Maintenance is simple, requiring only warm water as well as a mop.
This type of tile requires special attention during installation and is prone to scratching. Sure, it is extremely resilient; however, dropping something big from a considerable height will cause the tile to break or shatter.
Porcelain Floor To Ceiling Tiles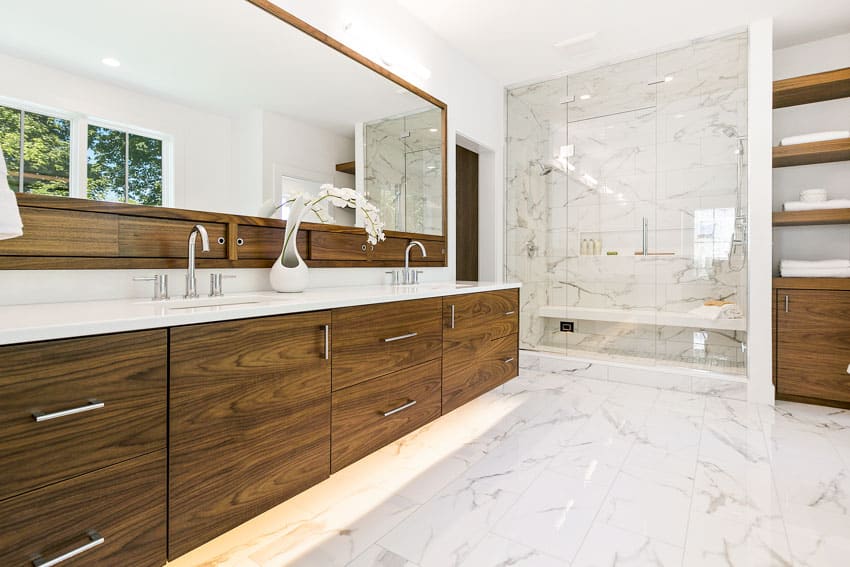 Porcelain is a wonderful choice for bathroom floor-to-ceiling tiles. It is stronger, more robust, scratch- and water-resistant, and more hard-wearing than typical ceramic. Although porcelain tile is part of the ceramic tile category, it is not the same as the standard ceramic tile.
In terms of possibilities, porcelain floor-to-ceiling tiles are available in a variety of hues and can be made to look like other natural materials including wood and stone.
Slate Floor To Ceiling Tiles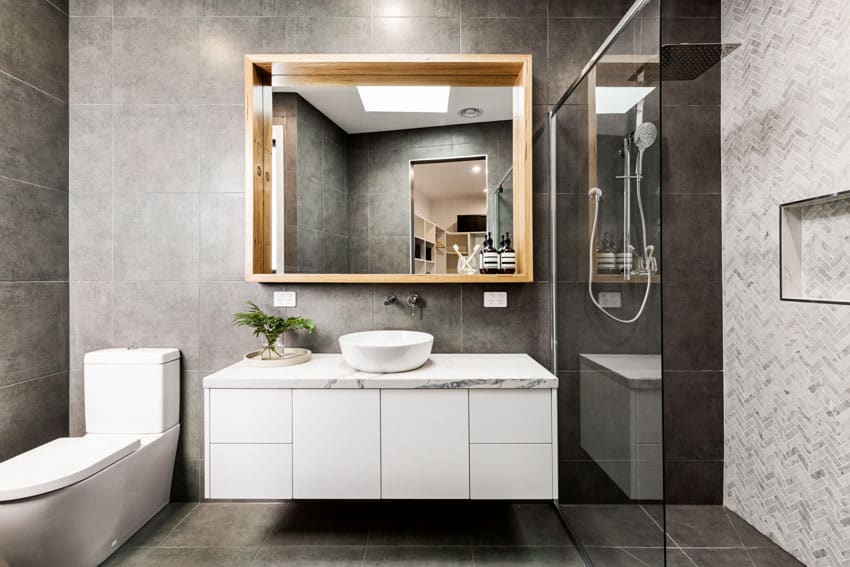 Slate is one of the most durable natural stone floor-to-tile finish materials available. It is sturdy by design, making it impervious to scratches, dents, fractures, and cracks.
It does need to be stain-proofed periodically depending on the area in which it is put, but if carefully managed, these materials can survive for decades and look wonderful without needing to be dismantled or changed.
Moreover, slate, a metamorphic type of rock, turned out to be a widely known floor-to-ceiling tile alternative in numerous homes. It has a beautiful texture and a rich color spectrum that will complement any design. Slate tile's varied color palette makes it an ideal accent for rural, modern, futuristic, or vintage bathrooms.
Floor To Ceiling Subway Tile Bathroom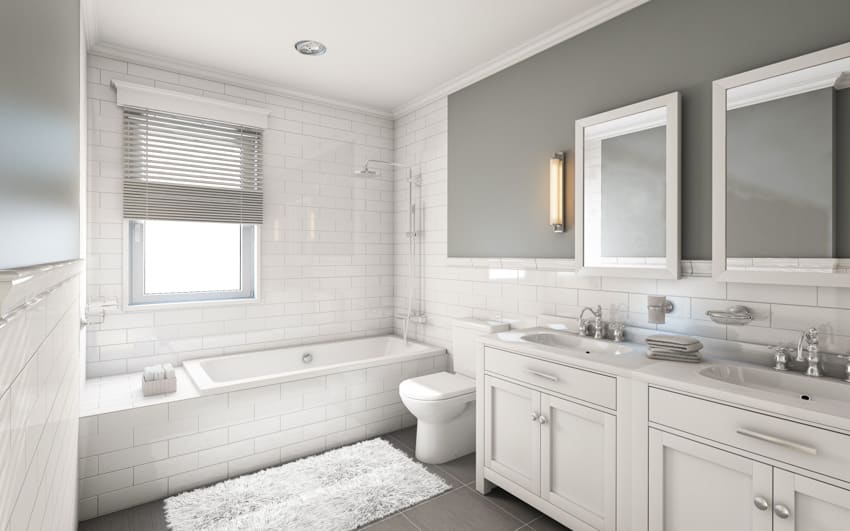 Subway tiles are often rectangular and have a resemblance to bricks. They are often made of glossy ceramic tile that resembles subway stations. It adorns bathrooms in a variety of hues and styles ranging from classical to modern.
With a subway tile bathroom's sleek appearance and modern vibe, you can never have enough of this design inside this space. So, it is always a smart idea to install subway tiles on your bathroom floors up to your ceiling.
Subway tile may make a small place appear larger by making it appear larger. Subway floor to ceiling tile bathroom ideas can be used with the remainder of the color scheme, resulting in a smooth transition.
Floor To Ceiling Tile Shower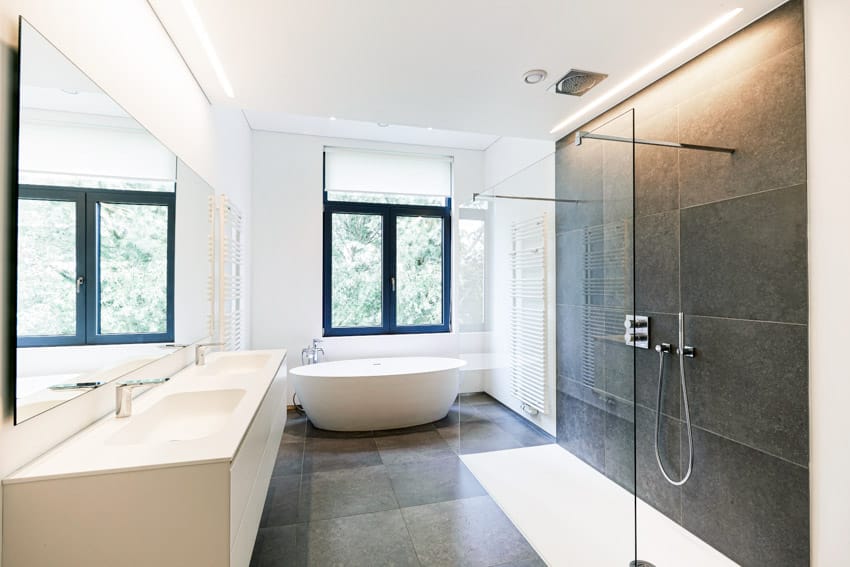 Tiling that extends all the way to the ceiling maintains the surroundings around the shower neat and dry. It also has certain aesthetic advantages, such as making the bathroom space more contemporary.
Showers can certainly benefit from floor-to-ceiling tiling. If you use these tiles with a floor-to-ceiling configuration in your shower, you can simply surround the whole area, including the floor, walls, and nooks.
The style offers bathrooms a unified design, but it can also be overpowering. Some even say that this can make the shower area feel closed-in and restrictive.
Yes, floor to ceiling tiling eliminates the need to paint walls or coordinate painting colors to grout colors within your shower area, but it also entails more tiles to scrub—or additional grouting to clean, unless you want to go with a continuous marble design. Whether you like it or not, this appearance has a strong impact on your bathing area.
The process of tiling a shower area starting from the floor up to the ceiling creates an illusion of space by drawing attention to it. This effect can be enhanced by going for larger floor to ceiling tile bathroom ideas.
This results in a larger design impact. You may consider selecting a light tile color to brighten your shower space, but this is not always the case; you can also get the same impact with a deeper shade.
Floor To Ceiling Tile In Small Bathroom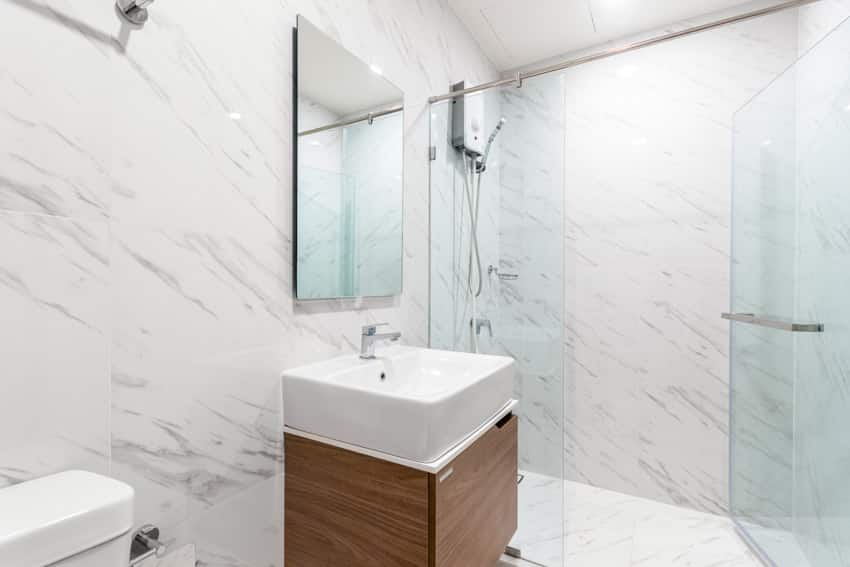 Installing floor to ceiling tiles in small bathroom sizes does not truly and literally expand the space, but the visual impression of the long straight lines serves to optically stretch the ceiling and walls to end up making it appear larger.
Stretching the tile to the ceiling is essential for a sophisticated effect. The shower area in trendy, premium bathrooms is frequently tiled from floor to ceiling. Floor to ceiling tile bathroom ideas like this improve the appearance of your small bathroom while also protecting your investment by keeping the walls dry.
Floor To Ceiling Tiles In Bathroom Cost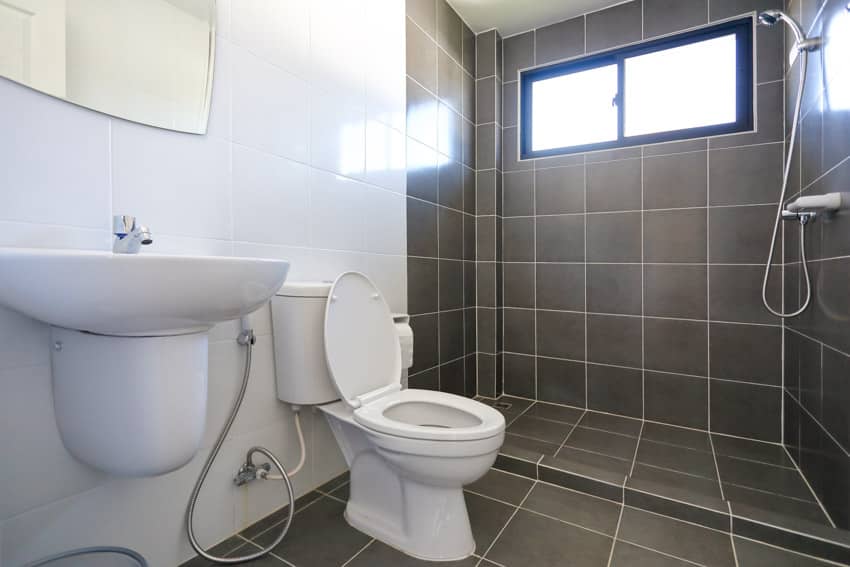 Tilers normally charge clients per hour or per project, but in any case, their prices are calculated using their hourly wage.
You can expect to pay between $40 and $50 per square meter to $120 per square meter in general for tiling and $50 to $70 per square meter in general for placing bathroom tiles on your floor up to your ceiling.
The tiling is one of the most important aspects of remodeling a bathroom. In actuality, if you like the arrangement of your current bathroom and its fixtures, fresh tiles may be all you need to give it a transformation.
Tilers compute their rates based on several variables, including the size of the project and the complexity of the job. They will charge you more when placing patterned, asymmetrical, complementary, or accent tiles. If your task is very complicated, with many cutouts and embellishments, you should expect to pay more.
The cost of your tiles is an important consideration for your bathroom remodeling project. Tiles are available at various pricing rates.
Here are the usual costs of different types of tiles you can install on your floors, walls, or ceilings:
For floors:
• Ceramic or porcelain tiles cost between $35 and $50 per square meter
• High-quality porcelain costs around $50 to $100 per square meter
• High-quality natural stone tiles cost around $80 to $130 per square meter
For walls and ceilings:
• Standard ceramic tiles cost between $20 and $30 per square meter (23.6 x 11.8 inches)
• Polished porcelain tiles cost $60 to $80 per square meter (5.9 x 23.6 inches)
• Manufactured ceramic subway tiles cost between $80 and $90 per square meter (5.9 x 2.9 inches)
• Ceramic tiles made by artisans cost $150 or more per square meter (7.9 x 7.9 inches)
To sum it up, installing tiles from floor to ceiling is very costly. Read more about fully tiled bathroom walls here.

Should I Tile Floor To Ceiling In The Bathroom?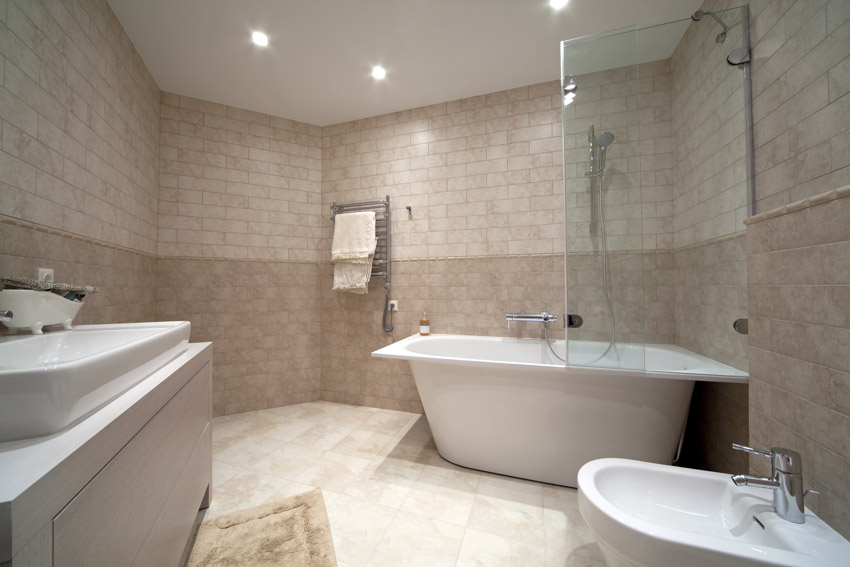 Because your bathroom redesign is purely customizable, you can choose whether or not the bathroom tiles must extend all the way to the ceiling. The final decision would be yours to make.
Drywall, plasterboard, or paint can become discolored, moldy, and have a variety of other issues as a result of bath water interaction over a period.
The majority of bathroom design professionals suggest that shower tiles should extend all the way to the ceiling. Tiling that extends to the ceiling keeps the regions around the shower clean and dry. It also offers certain aesthetic advantages, such as making the shower space look bigger and more stylish.
Should Bathroom Wall And Floor Tiles Be The Same?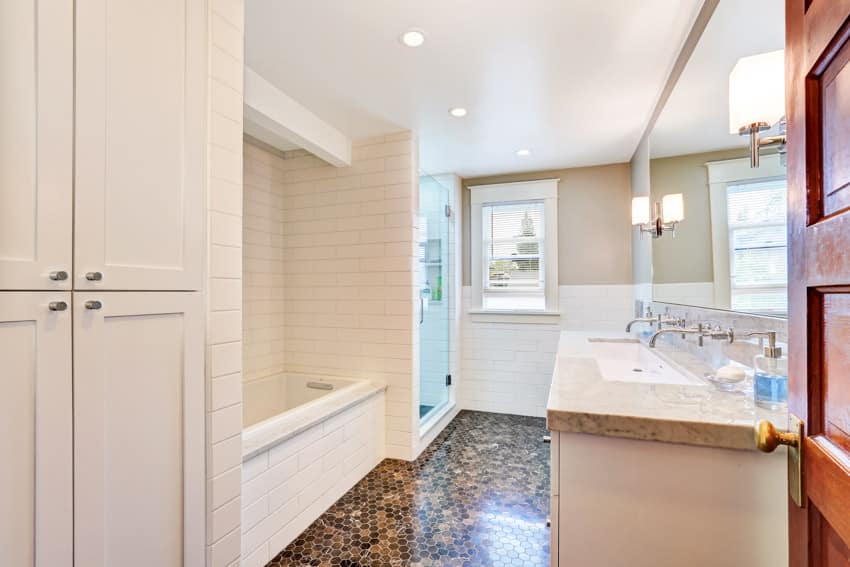 The application of the same tile on the wall as well as the floor is very frequent in newer bathrooms since it gives a flawless finish and generally makes a room appear larger.
Nevertheless, it all comes down to your preferences and taste. You are probably going to choose a different tile on the bathroom floor because they provide skid resistance, which is not necessary for walls.
For example, if you enjoy the aesthetic of polished natural stone, even though it appears beautiful on the floor, it is not recommended for a bathroom since it can be slippery when wet, thus applying it only to the bathroom walls would be more ideal.
If you're considering pristine white floor to ceiling tile bathroom ideas, you should limit them to your shower surround because they will soon expose debris on the floor. If you choose a lighter tile for the floor, consider using darker grout lines as an easy-to-clean choice.
On the other hand, having matching wall and floor tiles can limit your options if you are on a tight budget. Read more about bathroom floor tile ideas here.

Shower Tile To Ceiling Or Not?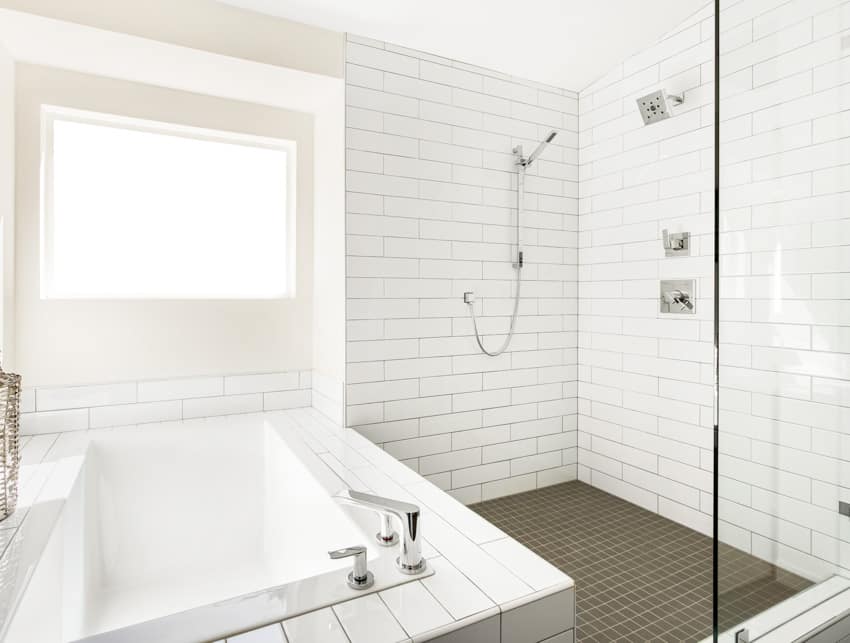 Installing shower tile up to your ceiling can both have advantages and disadvantages. Shower tiles should reach the ceiling if you want to achieve a modern, elegant-looking bathroom. Tiles are also designed for wet locations and are impervious to water impact and mold growth.
You can stretch the tiles to the ceiling if you want to further protect the bathroom walls from the ravages of moisture and mildew. Pushing the tiles to the ceiling aesthetically expands and modernizes the bathroom. However, you must take note that this would be an expensive construction project.
See more related content in our article about bathroom half-wall tile designs on this page.