Find out what size wreath for front door is the best. See wreath sizes for standard, small, large, double doors, windows & garages, and how to choose the right wreath size.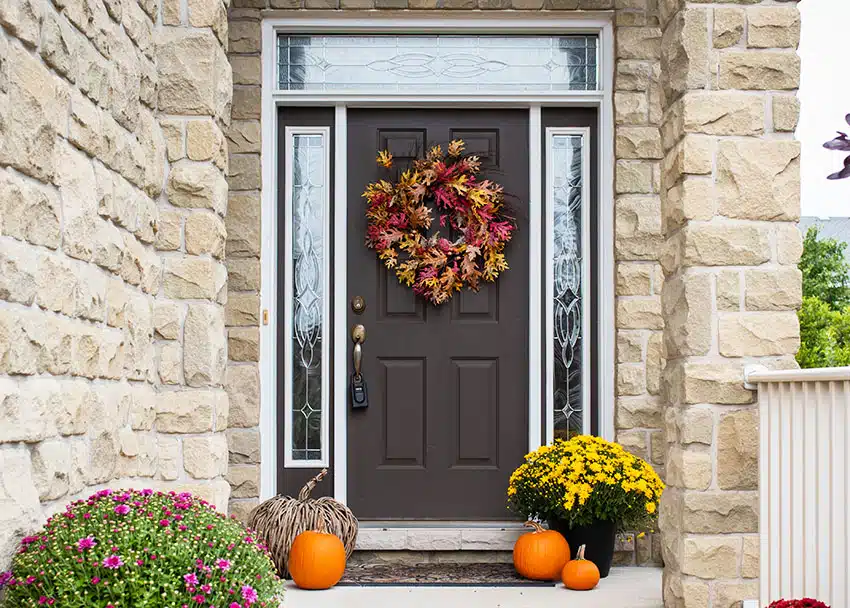 The advent season is upon us, and one of the staples that will add a homey curb appeal to a home is hanging a wreath around the house from the front door to the windows. Wreaths for the outside front door are available in a variety of styles, designs, and sizes to choose from, making selecting the perfect one proportionate to the fixture size a little bit of a daunting task.
Aside from being proportionate, the perfect wreath should match the home's color scheme; there is also a choice of whether to go for artificial or fresh wreaths. So consider some factors first before pulling the trigger on the perfect one for a home.
Standard Wreath Size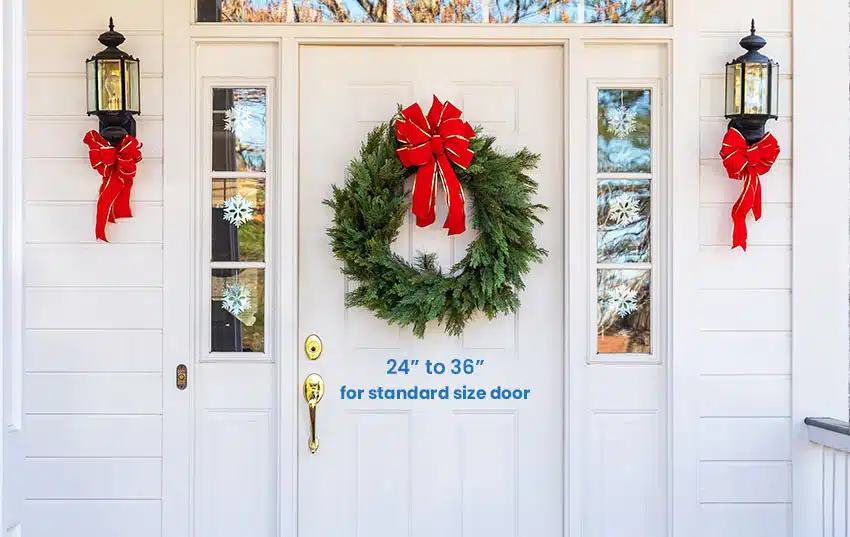 Aside from the many design options to choose from and the decision to go for an artificial or a fresh wreath, considering the size of the wreath itself will help decide the overall look of the front door design.

There are many wreath sizes available, from mini and candle size wreaths to the standard wreaths available with a diameter of 24 to 36 inches or 61 to 91 centimeters. Each wreath has its appeal, but the standard 24 and 36 inch wreaths are some of the most common options as the perfect ones for front doors.
The 24 inches or 61 centimeters wreath is perfect for a door with a standard width of 36 inches or 91 centimeters. This wreath is best hung around 14 inches or 36 centimeters from the top of the door to ensure it is centered.
The second wreath, which is 36 inches or 91 centimeters, will fit flush on a standard door width of 36 inches. This is an excellent choice for people who want the dramatic flair of a larger size to decorate with a door they are not using often. This is also a fabulous wreath size for oversized doors.
What Wreath Diameter For a Large Door?
The most common place to hang a wreath is the front door, and aside from the standard 24 inches or 61 centimeters for doors with a width of 36 inches or 91 centimeters, there are other sizes to consider.
If a homeowner is looking for the perfect wreath for their larger and more oversized doors, it is best to choose between the sizes 28 to 42 inches wreaths.
Wreaths sized between 28 to 34 inches or 71 to 86 centimeters are best for homes with larger entryways. Wreaths of this size are also perfect for hanging on top of a mantel from 6 feet.
Another wreath size range for larger entryways is the ones ranging from 36 to 42 inches or 91 to 107 centimeters. A wreath of 36 inches in diameter will fit flush on a standard front door, but this size range will also be perfect for larger mantels over 6 feet.
What Size For a Double Front Door?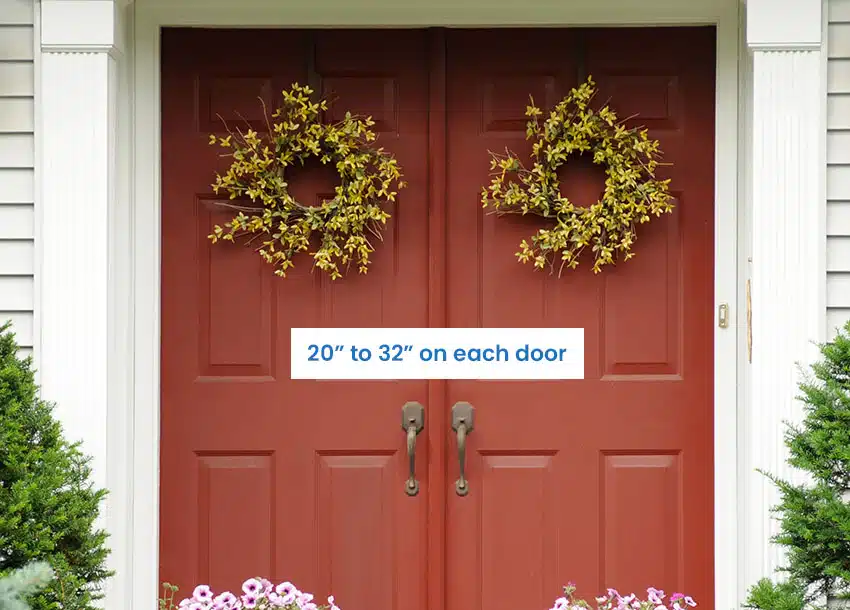 A foolproof way to decide and add a wreath to a double door is going double on the same wreath size. This will call for choosing a smaller wreath for a double door to ensure that both are not touching each other and to provide easy access to both front doors.
A perfect wreath size for this is wreaths anywhere between the size of 20 to 32 inches or about 51 to 81 centimeters. Choosing smaller ones will add a simpler and more straightforward look which is ideal for homeowners looking to stay minimal in their holiday decor.
Aside from being the perfect size for a double door, wreaths between these sizes are also ideal for mantels less than 5 feet in width. When choosing this size, be sure to measure from the top to make sure that the wreaths are proportionately in the middle.
The Best Wreath Width For A Small Door?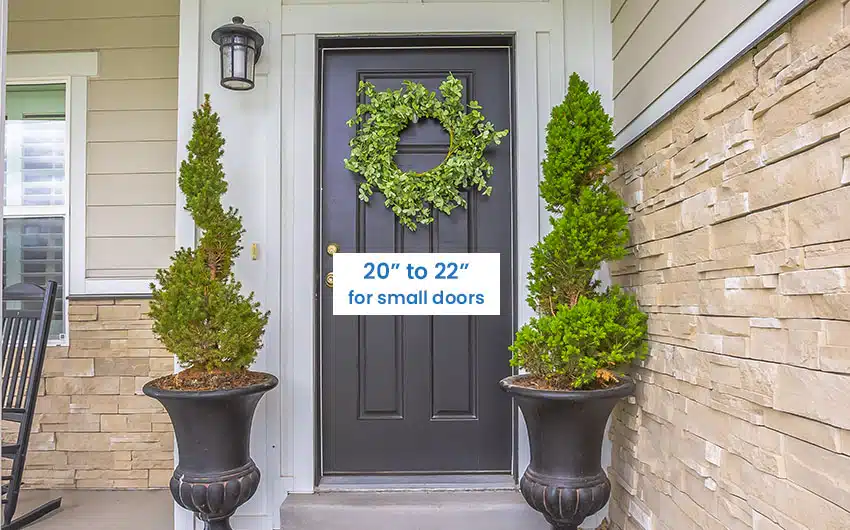 Wreaths for smaller doors, like apartment doors, should also be proportionally smaller than the door itself to ensure symmetry and function. A perfect wreath solution for these doors is wreaths with a size ranging from 20 to 22 inches.
These wreaths are considerably smaller than average, but they serve the same function and are small enough to ensure an uncluttered look to a smaller door.
If this size is a little larger for their taste, there are also mini and candle-size wreaths with a diameter of 15 inches or 38 centimeters. A homeowner can choose to hang multiple of them on a door, and these sizes are perfect for framing a candle.
Aside from that wreath size, there are also smaller wreaths at 16 to 23 inches or 41 to 58 centimeters in diameter. Aside from being perfect for hanging on a smaller door, these wreath sizes are also ideal for use in smaller windows and cabinet doors in the kitchen.
What Wreath Frame Size For A Front Door?
One of the perfect wreath sizes that will fit a standard door width of 36 inches or 91 centimeters ideally is a wreath with a diameter of 24 inches or about 61 centimeters or the classic sized wreath.
With a diameter of 24 inches, this wreath will leave at least 6 inches or 15 centimeters on each side of the door frame. Easily framing it to keep it looking symmetrical.
One way to ensure that the wreath is hung in the middle is to make sure that the homeowner measures a space of 14 inches or 58 centimeters from the top of the door (not starting at the door frame) down in the middle to where they might hang a nail for the wreath. From there, the six inch allowance on each side of the wreath can easily be calculated and adjusted.
What Wreath Dimensions For Windows?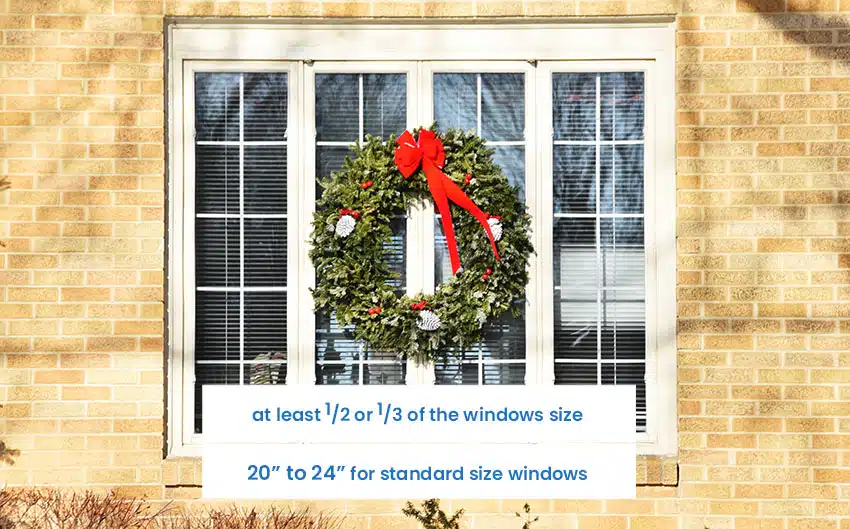 Wreaths are used to decorate anything, not just the front door or the advent mantle but also the windows as well. If homeowners can imagine wreaths on their windows for the holidays, they can easily select one that will look proportionate and perfect for their window with a few considerations.
The rule of thumb for window wreaths is to choose a wreath with a diameter of at least 1/2 or 1/3 of a specific window size, making the ideal wreath size for each window different for all homes. That is the rule for the width, but for the height, it is integral to choose a wreath not more than half the size of the window from top to bottom.
For standard windows, the wreath size that will generally work all around is a wreath that is 20 to 24 inches or 51 to 61 centimeters. Anything more extensive than that for a standard window will require added reinforcement to keep it hanging on the window.
Choosing The Size Of Wreath For The Garage Door?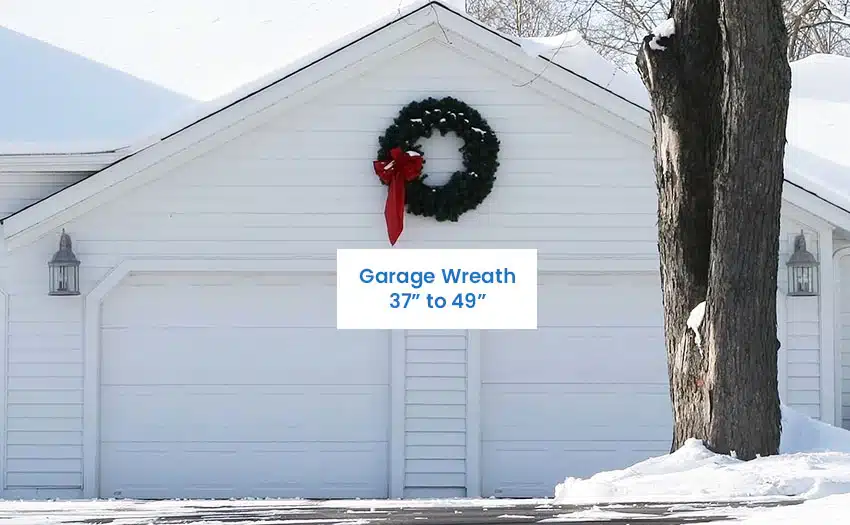 The perfect width for a garage will depend on the size of the garage itself and how big or small it is. A good place for any homeowner to start looking for a perfect garage wreath is looking at larger sizes.
Large wreaths for bigger doors and windows or people looking for a full look at their doors and windows will start at 37 inches to 49 inches or around 94 to 124 centimeters. This is also a great size range for wreaths that will be hung on fireplaces.
Another size range to consider is going for extra-large wreaths for a truly statement-making piece for the holidays. Extra large wreaths start at 50 inches or 127 centimeters in diameter, and any wreath size over that. An extra-large wreath will work perfectly for homeowners looking for a focal point for their outdoor home decor.
How To Choose The Right Size Wreath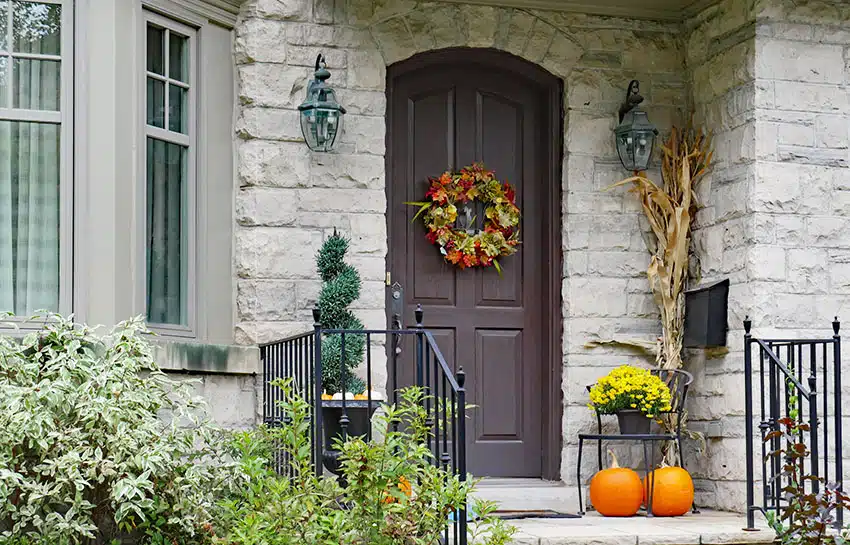 Choosing the perfect wreath size for any door size and solution will ultimately depend on what a specific homeowner wants to achieve on their holiday decorations. The key, in the end, is ensuring that the door is still functional when a bigger wreath is chosen to adorn it.
Although this can be the case sometimes, a rule of thumb is often needed to make things easy to measure and calculate, and a good rule is making sure that there are at least 6 inches or 15 centimeters on both sides of the wreath to the door.
The second is also choosing a wreath with a diameter the same as the door width to ensure that it is flushed to the door for an over-the-top decor effect.
How To Measure A Wreath
Knowing how to measure the wreath itself is essential to selecting the perfect wreath size, and at the same time, it is also helpful to know if the homeowner is looking to fully customize a wreath by DIY-ing it for their doors and windows.
They first need to measure the wreath's diameter or width. They can do this by measuring from side to side on the front of the wreath. In doing so, it is important to keep in mind to measure from the widest point to the other.
The last thing is taking note of the height, which can be done by measuring from the front to the back of the wreath. If the wreath already comes with decorations, measuring from the tallest decoration to the rear is essential for storage.
For more related content see our article about fireplace mantel ideas on this page.