Here we share our how to brighten a dark kitchen design guide including the effective solutions, the best color you can use, the different ways to illuminate this part of your house.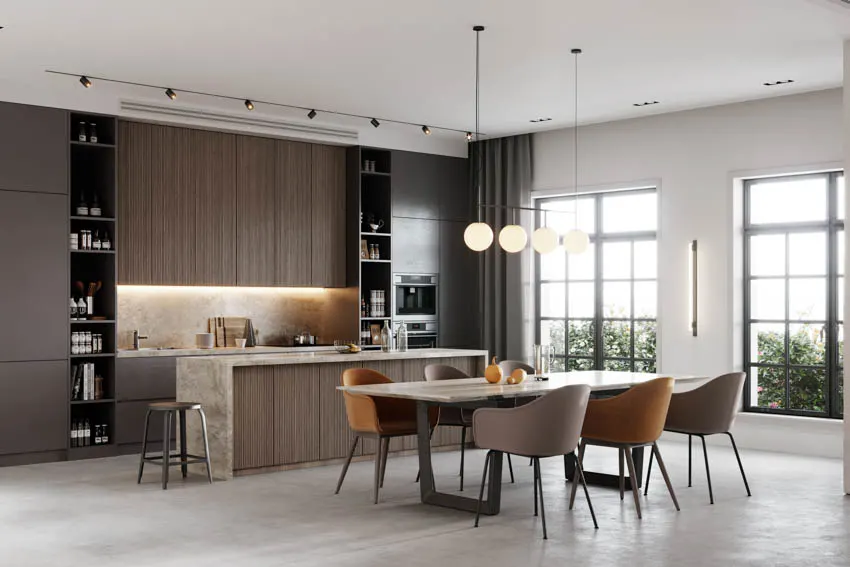 A dark kitchen can feel cramped and dirty so many are looking for opportunities to brighten up their space. There are plenty of options for everyone whether you are on a low budget or have a large remodeling budget.
Some of the ways to brighten a kitchen space are limited to the layout and overall design of the kitchen, but who is to say that you cannot change that too! A few of the best ways to brighten your kitchen are described below.
Lighting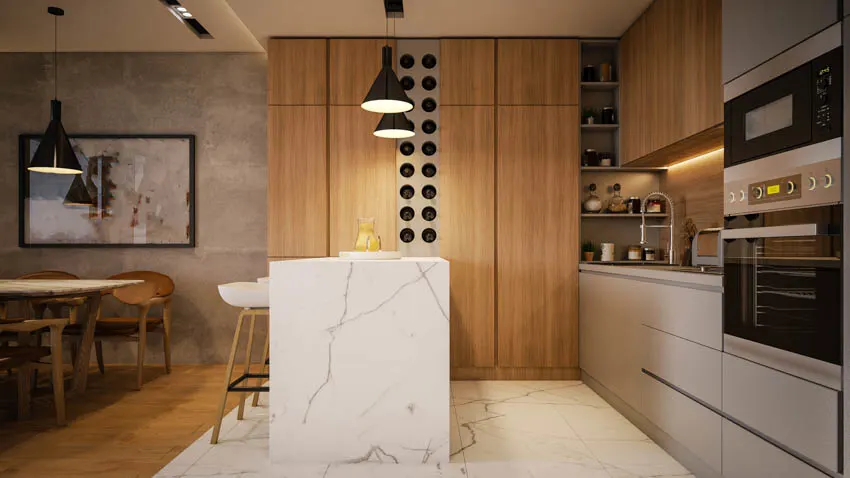 Lighting is one of the key components to brightening a space, especially a kitchen. There are a few ways that this can be done.
First off, adding additional light fixtures closer together can give an even amount of brightness throughout the space. Second, you can change out the bulbs in the existing fixtures to a higher wattage, giving the space a brighter, refreshed look.
Changing out the bulbs is a quick and inexpensive fix compared to adding light fixtures in the space, and can often have a greater overall effect depending on the space.
Under Cabinet Lighting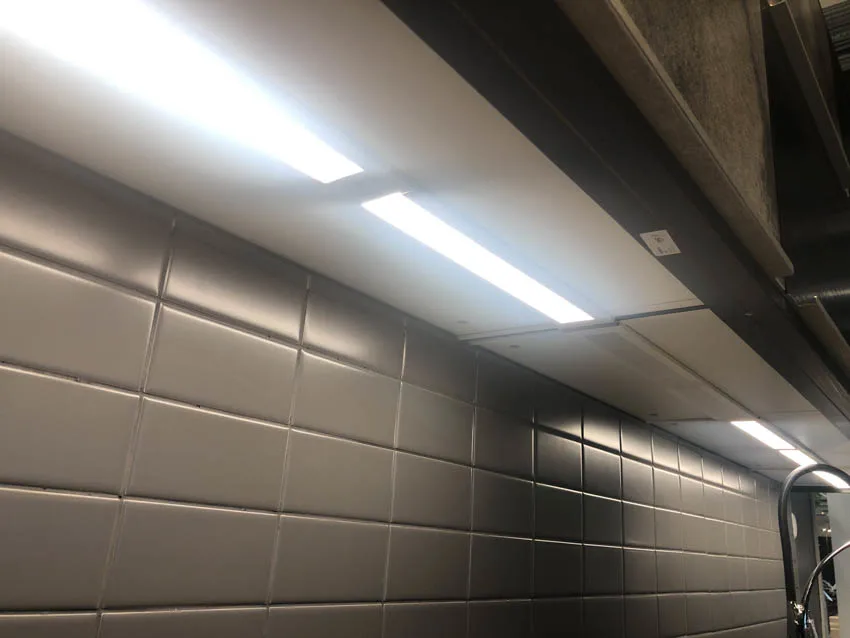 Another category of lighting is the option of adding under cabinet lighting. Often, the upper cabinets that are needed in the space block the lighting from the countertop below.
No matter how many ceiling lights you add or bulbs you change you still cannot get light underneath the cabinet. The best solution is adding an under cabinet light, these could be light bars, circular lights, or even a unique shape.
There are a few options when it comes to installing under cabinet lighting. Some under cabinet lighting can be installed with the build of the cabinets and can be hardwired and turned on with a light switch.
After the fact lights can be installed as battery-powered or plug-in, depending on the layout and desires for the space.
Paint (Lighter Colors)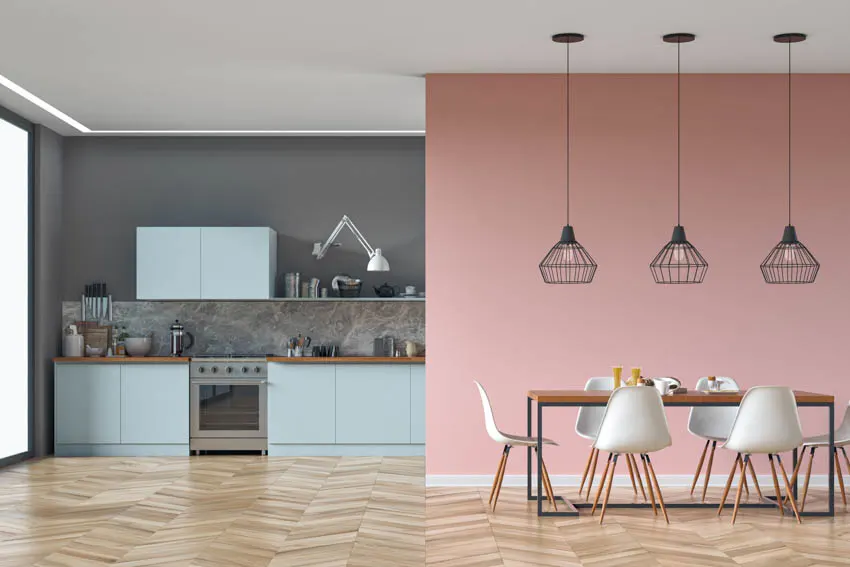 Moving away from the physical light, another great way of brightening up the space is by adding lighter paint colors. This will be handy when solving how to brighten a dark kitchen.
One of the outgoing trends for kitchens is the deep reds and dark browns being used in kitchens. This concept brightens the kitchen to give a more inviting appearance.
What Is The Best Color For A Dark Kitchen?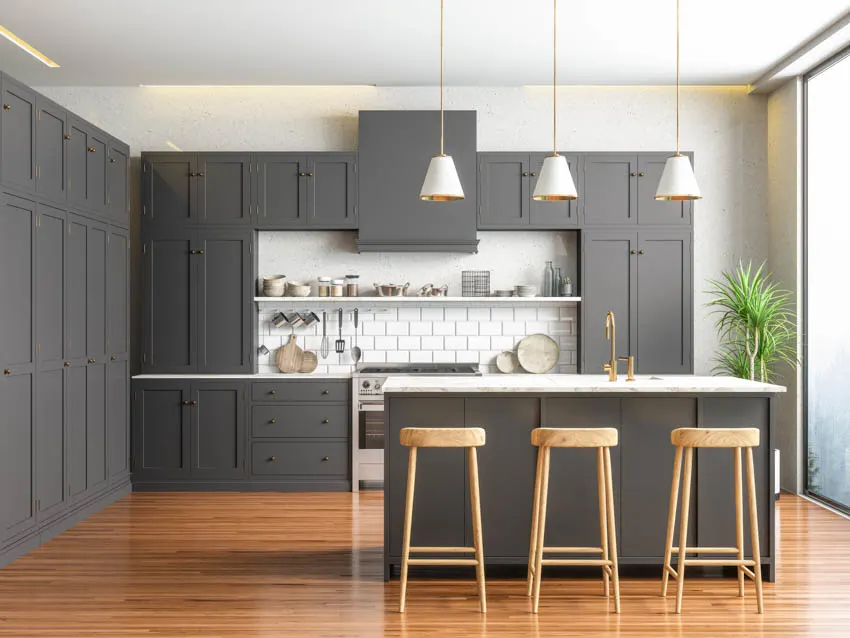 The best colors for a dark kitchen are light beige or gray. It is best not to go too overwhelming when it comes to the paint colors, as there is a great deal of elements in the kitchen that need to be paired with. Too many colors or patterns can clutter the space.

Sherwin Williams Popular Gray 6071 is a great balance between pale gray and pale beige. This color offers the opportunity to brighten the space, as well as get creative with the cabinet, countertops, or even the accessories.
If you would like to incorporate an accent color, bright blues or yellows are a great addition to the space. This can be used with an accent wall, or even with accessories and wall art.


A common bright theme incorporating yellow is lemons, which are bright and fresh. The best accents colors to use for that are Sherwin Williams Lemon Twist 6909 (when used in moderation), or Sherwin Williams Icy Lemonade 1667 (when covering a larger space).
Ways To Brighten Up A Dark Kitchen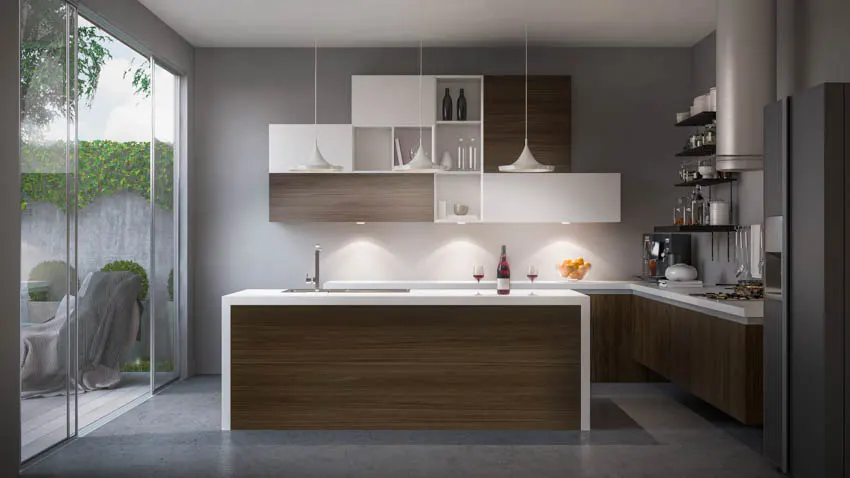 Stain cabinets: refinishing cabinets with a new stain can give an entirely different look to a space. To brighten up the space one can get a light stain for the cabinets to give an overall lighter and brighter appearance.
This lighter cabinetry paired with accent colors on the walls and bright countertops and backsplashes can create a cohesive and open kitchen space.
Reflective surfaces: Adding reflective surfaces helps diffuse the light that is already in the kitchen. Instead of the light hitting the surface and staying there, the light bounces in all directions lighting up the entire space. This can be done by using stainless steel appliances or even metallic décor and cookware.
Mirrors: Mirrors are a great way to give the illusion of more space. Mirrors counteract the walls cutting a space off, instead can make it look boundless.
In addition to the appearance of more space, it also reflects light all around the room, not just giving the illusion of more light, but actually spreading the light to more areas, instead of absorbing it all. This added light gives a lighter and more welcoming appearance to the kitchen.
Reflective backsplash: to coordinate with the reflective surfaces you can also incorporate a reflective backsplash. This is also similar to the appeal of adding mirrors to the space in the sense that it works to spread the light throughout the space instead of absorbing it.
This is extremely helpful with reflective backsplashes since they are typically under cabinetry, which is a place that often needs the extra light as it does not have much direct light, since it is blocked by the casework. See kitchen mirror backsplash designs here.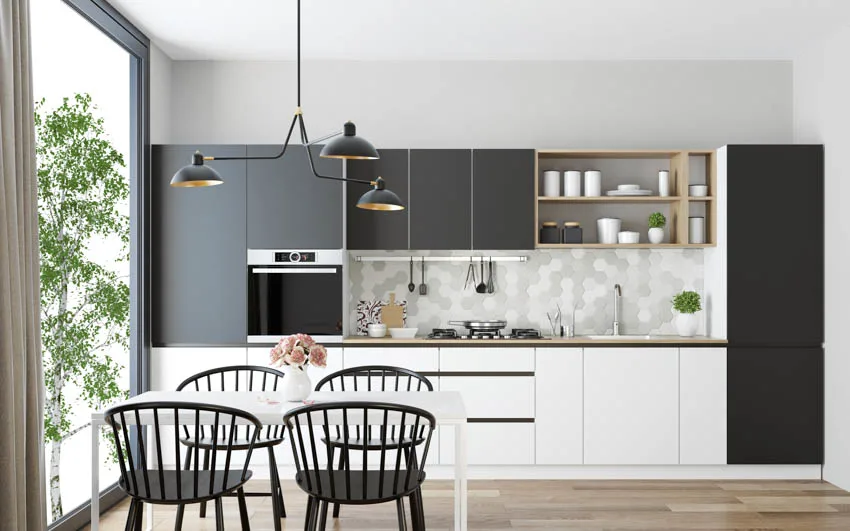 Natural light: Natural lighting is an important aspect when creating a bright kitchen. Often cabinetry, plumbing, and appliances hinder window placements in a kitchen. Opening up the windows that are available will give the ultimate amount of natural light in the space.
If you are worried about others being able to see in, there are films that can be placed over windows to optimize natural light, but avoid transparency.
Avoid heavy curtains: Heavy curtains can block any natural light from entering the space. Additionally heavy or dark curtains can close in the space from the outside, causing it to feel darker and smaller.
Using sheer curtains instead of blackout curtains can keep out direct sun and keep anyone from looking in while still allowing the space to receive natural light and avoid closing in the space.
Avoid busy patterns: Avoiding the overwhelming wallpaper and the plethora of food patterned border is a huge part when it comes to keeping a kitchen bright.
If the need for contrast or a focal point is needed, it is best to incorporate one accent wall or a more interesting countertop instead of busy patterns on the walls. See more related content at our article about accent wall colors on this page.