This gallery of marble slab backsplash ideas shares the best options for Calacatta & Carrara marble slabs for kitchens, and the pros and cons of marble slabs.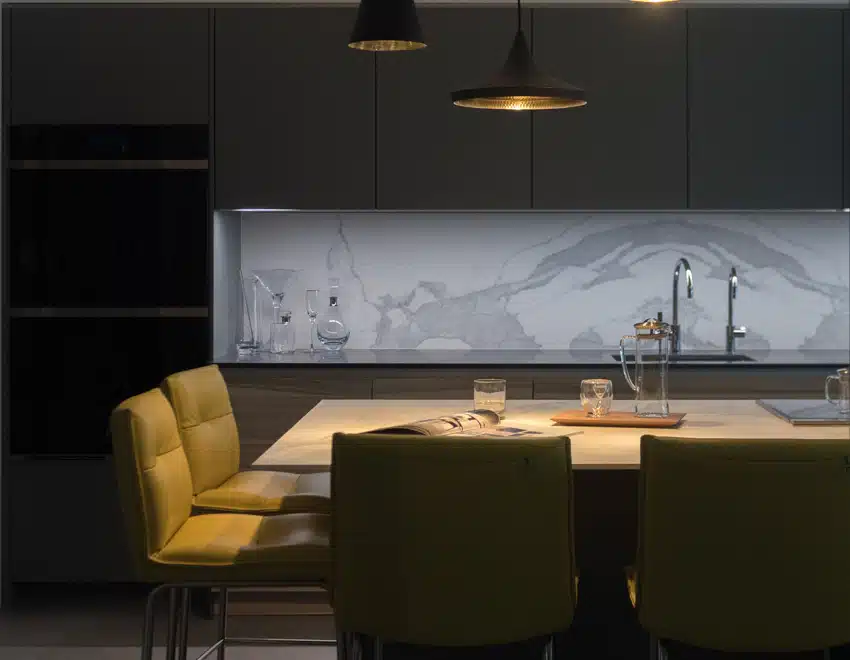 Marble is a classic material for kitchens, used not only as countertops, but also as backsplash. Marble adds a certain elegant appeal to any space you apply it on and gives it an 'upgraded' look.
Because it's a classic material, it has withstood the test of time and has proven to be popular then and now. While marble continues to be a popular material, as it is a natural stone, it does come with its pros and cons.
Marble Stone Slab Kitchen Backsplash Designs
For most types of kitchen backsplash applications, you'll encounter less problems and limitations in using marble compared to using it as a countertop. First, a backsplash isn't subject to as much wear-and-tear as a countertop; it doesn't experience too much weight or impact, and only gets wet occasionally. You won't have too much problems with keeping marble backsplash in tip-top shape.
The two most popular marble materials are:
1. Calacatta marble: a high-end marble known for its distinctive veining. It has fewer but bolder veins, and it always creates a unique look. Usually, the whiter the background is, the more expensive it gets
2.Carrarra marble: this marble has a creamy color and has more veins compared to Calacatta.The veins are also fine/thinner and are usually gray in color.
Depending on your budget you can use marble as slab or as tiles. Slab is the most expensive option, and does have size limitations, but it's the best option if you want to highlight the pattern of your marble.
This is the most common choice for Calacatta marble. If you have a more limited budget, you can also buy them in tile sizes. Choose an option that matches your budget and aesthetic goals.
As for maintenance, the regular cleaning of marble is just as important as the resealing. Although backsplash generally doesn't get damaged as quickly as countertops, make sure you clean them well.
You can use a stone cleaner that is appropriate for marble, but you can also use mild soap or dishwashing liquid and use soft cotton rags to wipe any dirt or stain away.
Calacatta Marble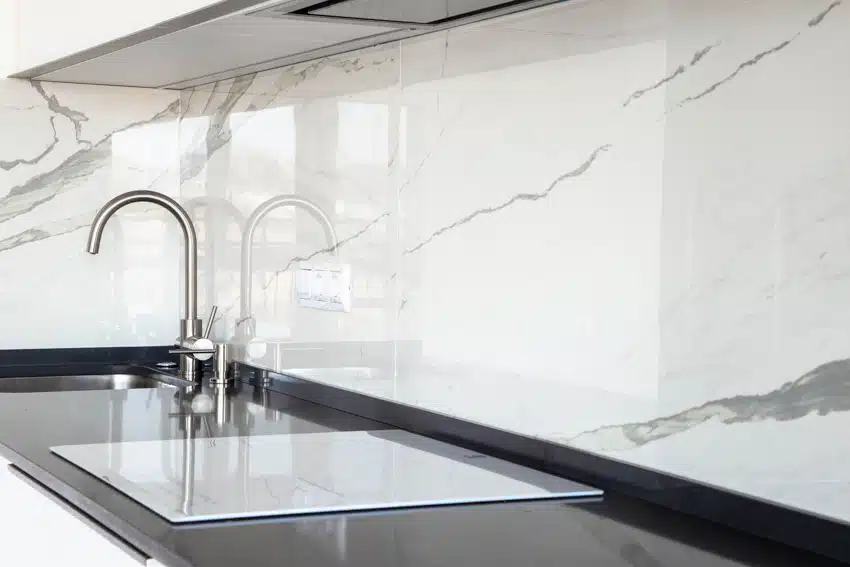 Calacatta marble, when paired with plain black countertops, stands out so much more. This is a good combination that you can consider if you have a modern style kitchen.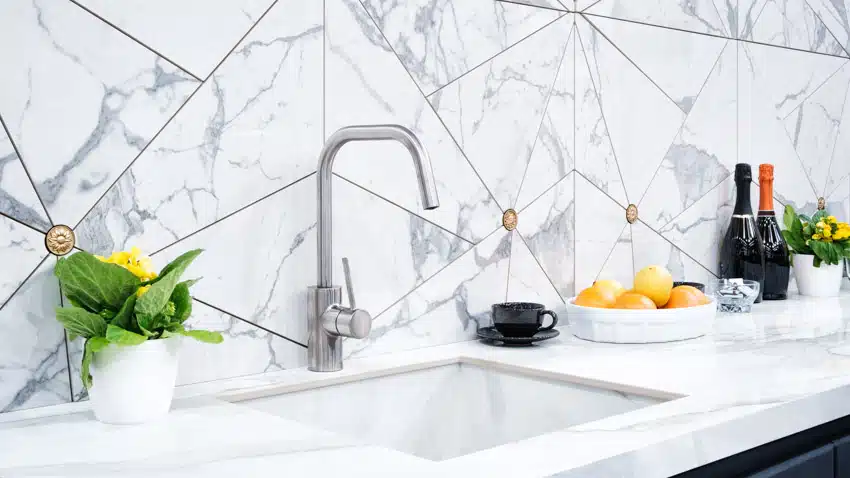 If you're a bit apprehensive because of costs, you can explore using large mosaic tiles instead of considering these marble slab backsplash ideas. This backsplash has unique geometric tile patterns that adds even more visual depth to your backsplash.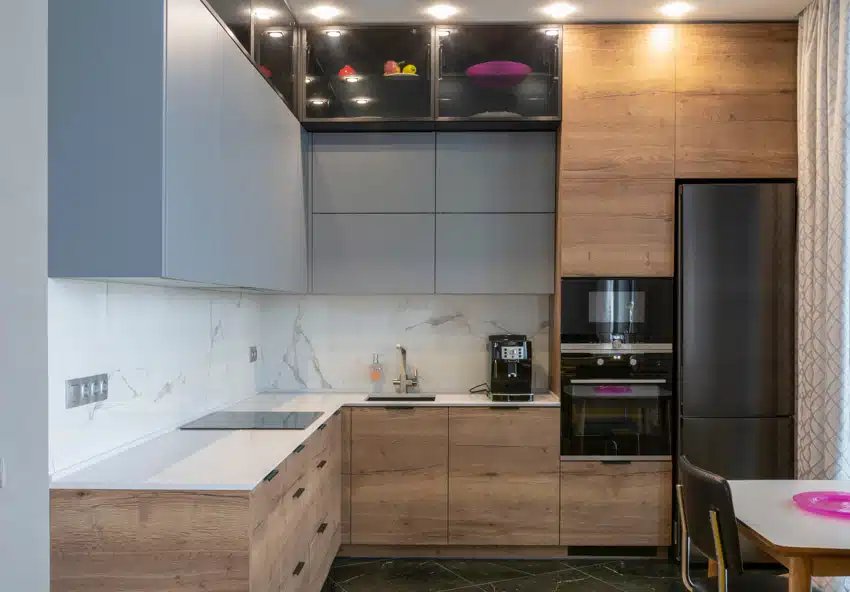 A combination of various tones and patterns gives a unique look for this modern kitchen. The Calacatta marble backsplash combined with plain white solid surface countertops provides a neutral transition between the wooden base cabinets and the cool gray overhead cabinets.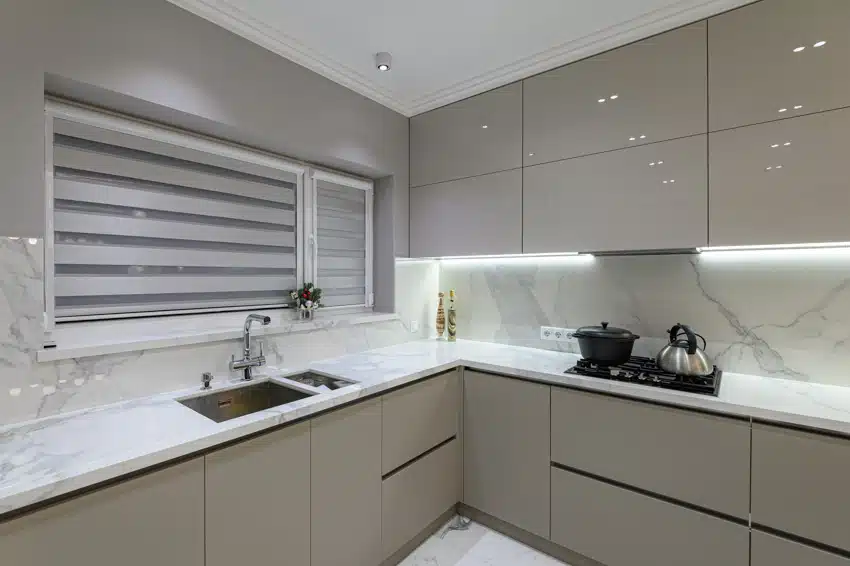 Matching your countertop with these marble slab backsplash ideas is also a great option, especially for a more minimalist look. It gives a really clean and seamless aesthetic.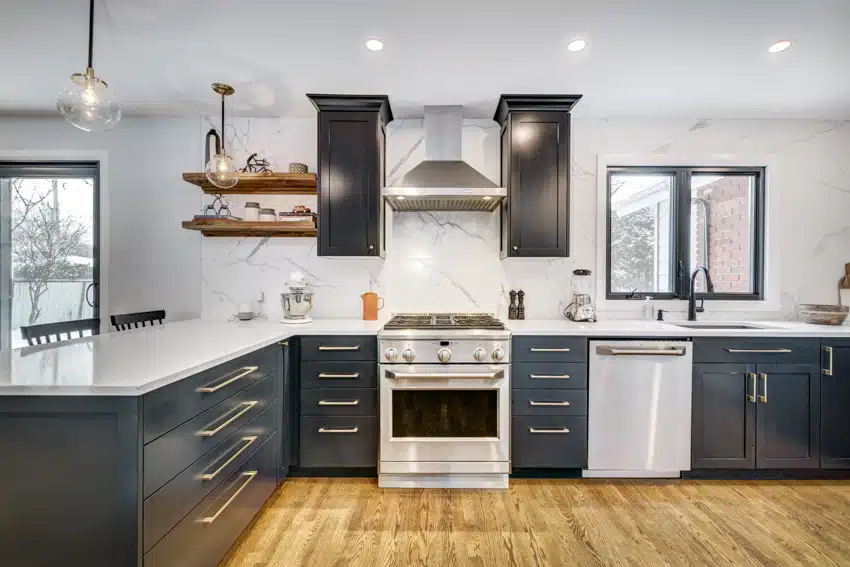 If your kitchen has few overhead cabinets, you might have more blank wall space for your marble slab backsplash. In this classic kitchen, the whole wall from counter to ceiling was installed with marble backsplash. It definitely elevates the look of the space and adds a luxurious appeal.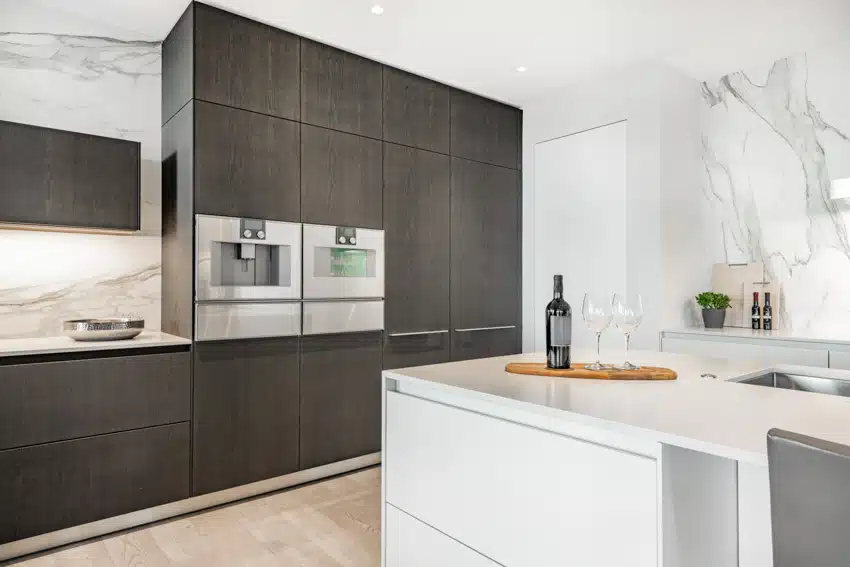 Play around with the grain direction of your Calacatta marble during backsplash installation to see which provides you with the best effect.
In this modern kitchen design the marble was laid out horizontally on the counter wall to counteract the vertical grains of the cabinet laminates. Meanwhile, on the other wall, the marble pattern is vertical, giving an illusion of height to the area.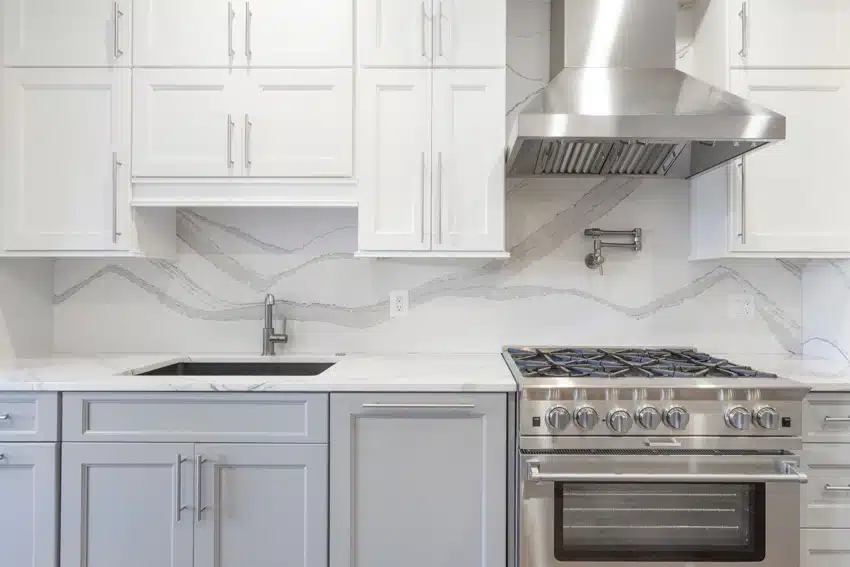 Using the same material for both the countertop and the backsplash will give your kitchen a very elegant, clean and seamless look.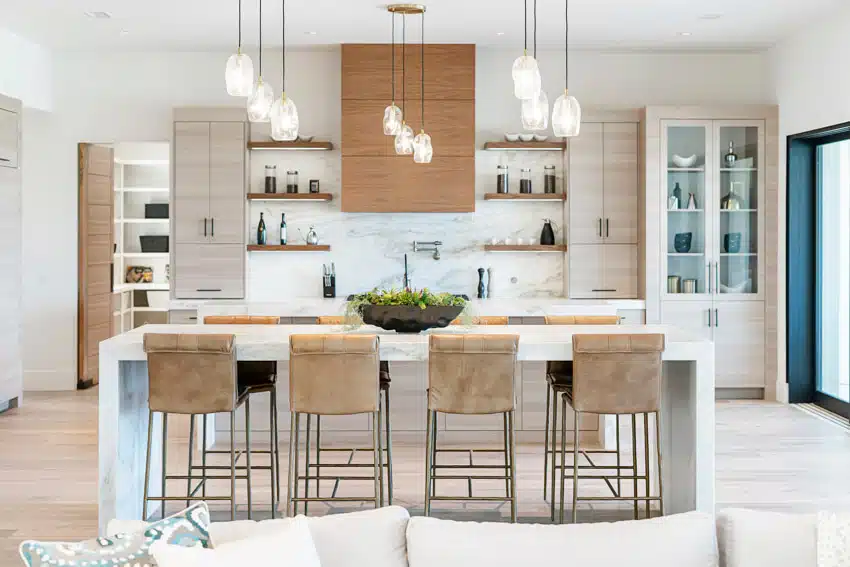 This modern kitchen features a unique Calacatta marble backsplash that has green-tinted veins. The cool tone of the backsplash adds a nice contrast to the warm color palette of the kitchen.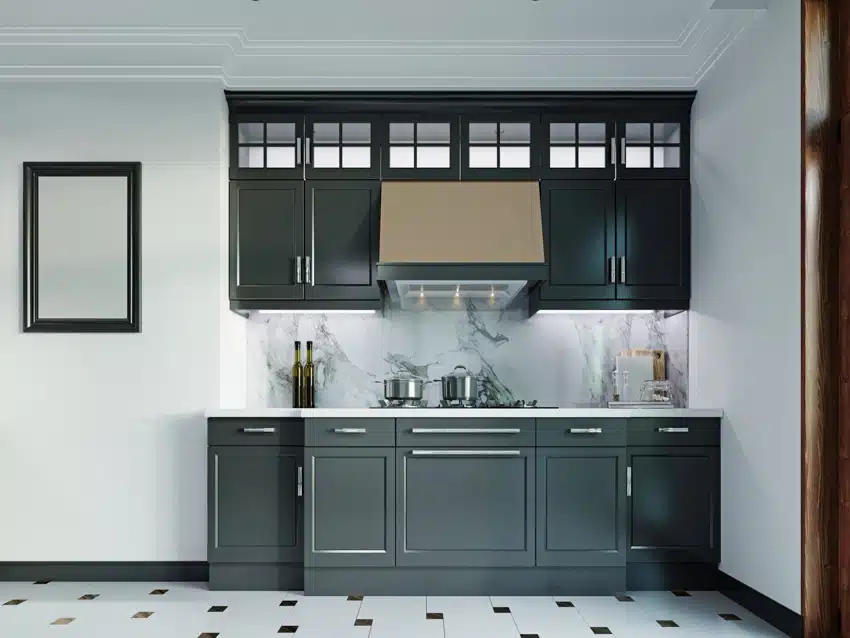 Dark kitchen cabinets will always look good when combined with Calacatta. For this small kitchen, the color tone of the cabinets were matched to the tone of the dark marble veins, making the combination a perfect set.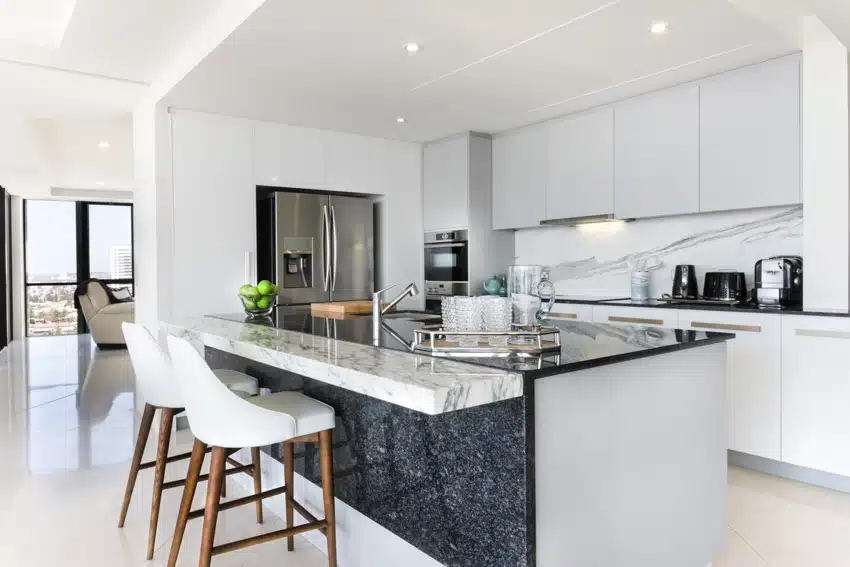 Break the monotony of your modern white kitchen cabinets with the bold yet subtle veins of Calacatta marble backsplash. This material will help you stay on-concept with your color scheme but at the same time, provide a subtle contrast.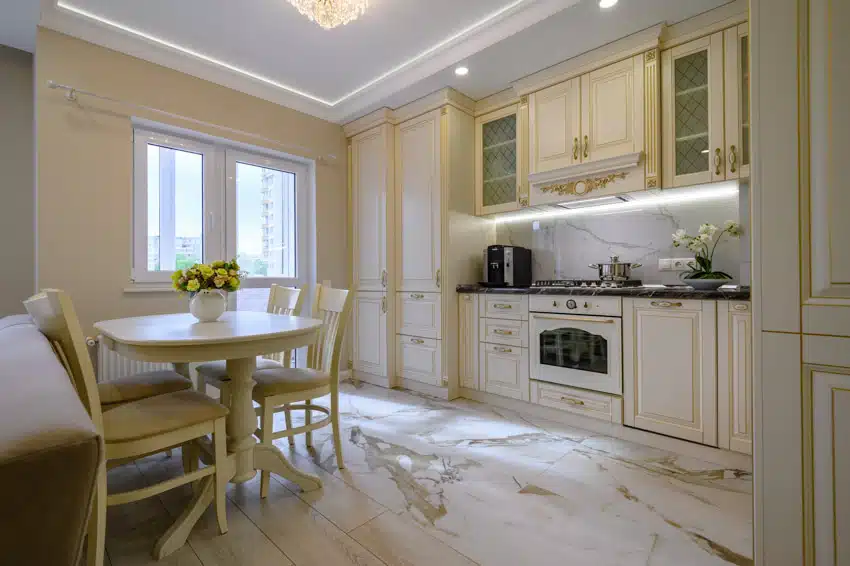 If you have Calacatta marble flooring in your kitchen, why not use the material for your backsplash? This material will always look good regardless if your kitchen is modern or classic, like this example.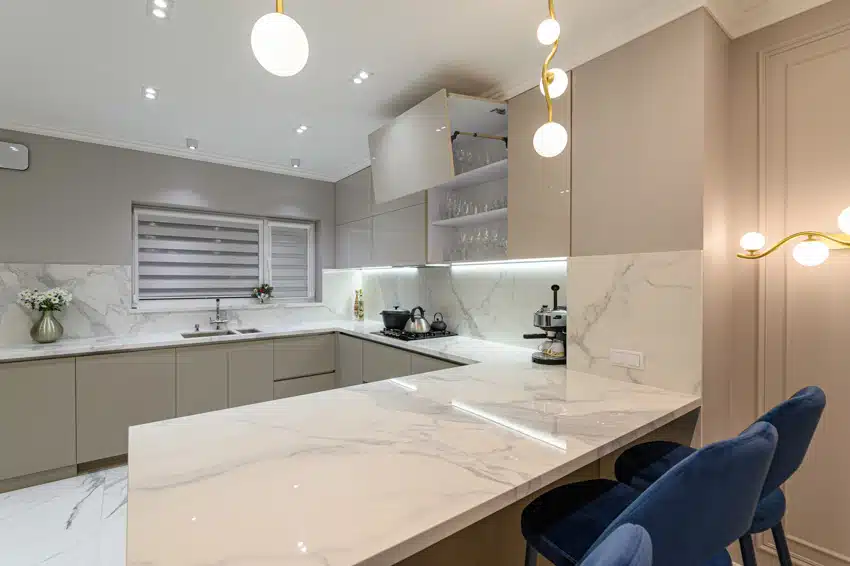 Although all Calacatta marble comes from the same quarry, as it is a natural material, there would still be variations in colors and patterns. For this kitchen, the marble used has cool, blue-toned gray veins that nicely complement the blue barstools.
Carrara Marble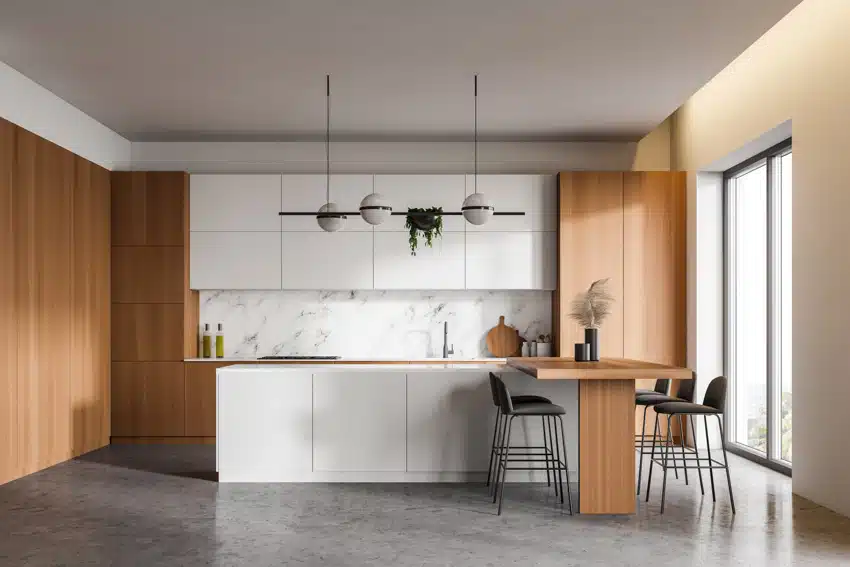 Since Carrara has a "busier" pattern/veining, it really works well when paired with plain cabinet colors. The soft gray veins of this slab complement the white and light oak laminates of this contemporary kitchen.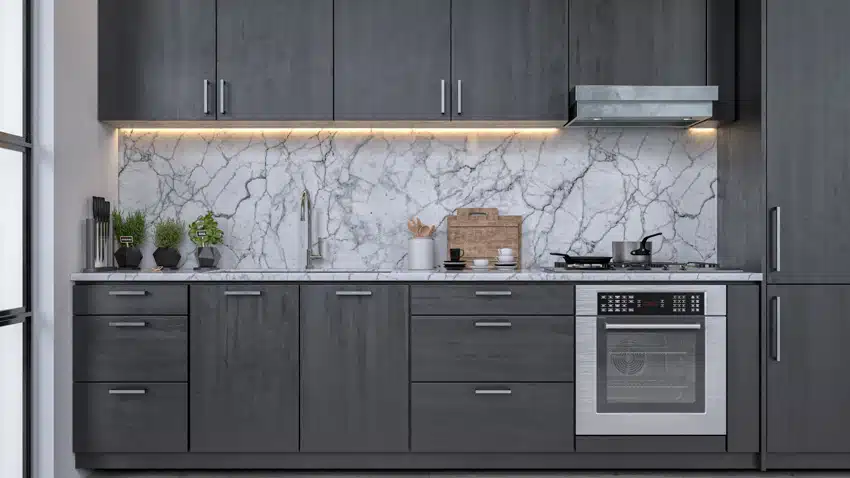 The vein patterns of Carrara marble backsplash also go well with ash stained wood kitchen cabinets. The dark color combination gives it a bolder, more masculine appeal.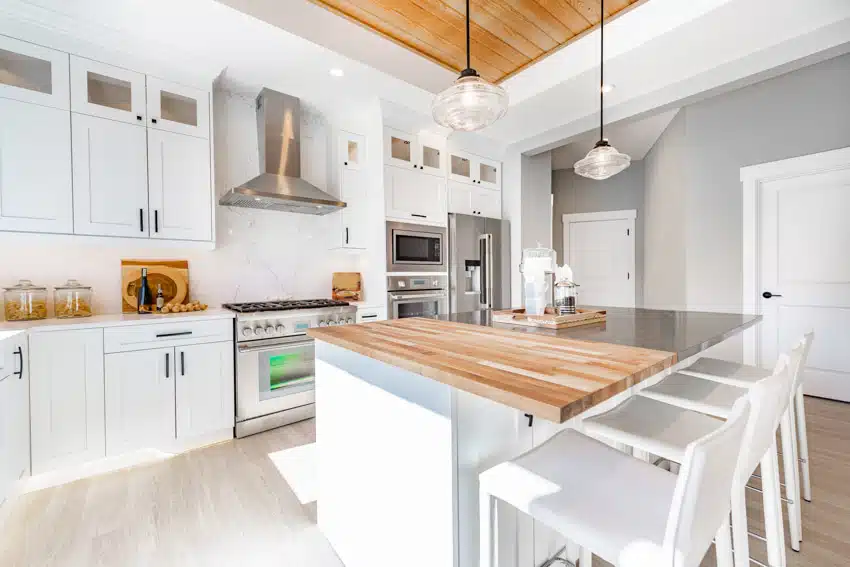 You can also find Carrara marble slabs with very light-colored veins. If you want to keep a clean white theme but still want that subtle pattern that only marble can give, consider getting something similar.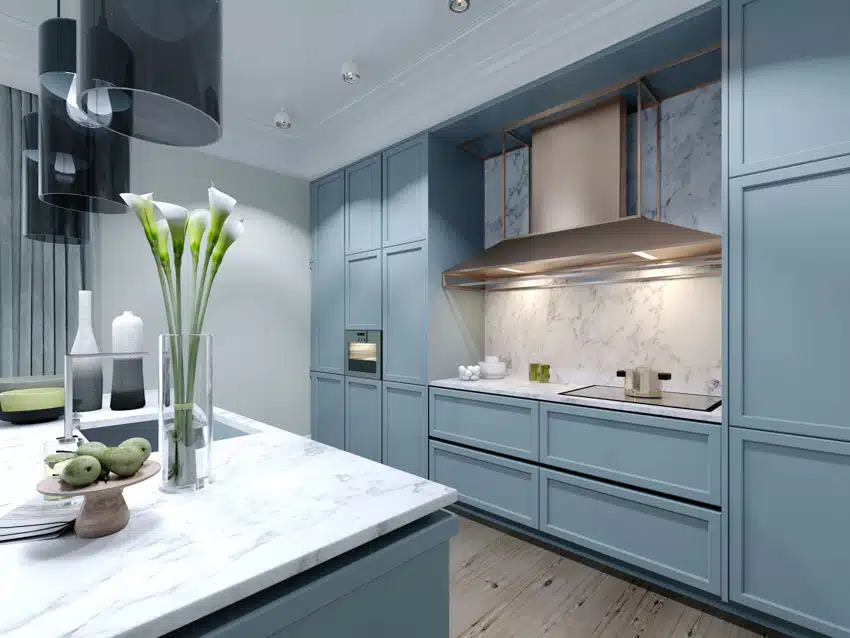 The soft color of Carrara makes it easy to pair with any color. Even more unique colors like these powdery blue cabinets look great with the soft gray and white Carrara marble.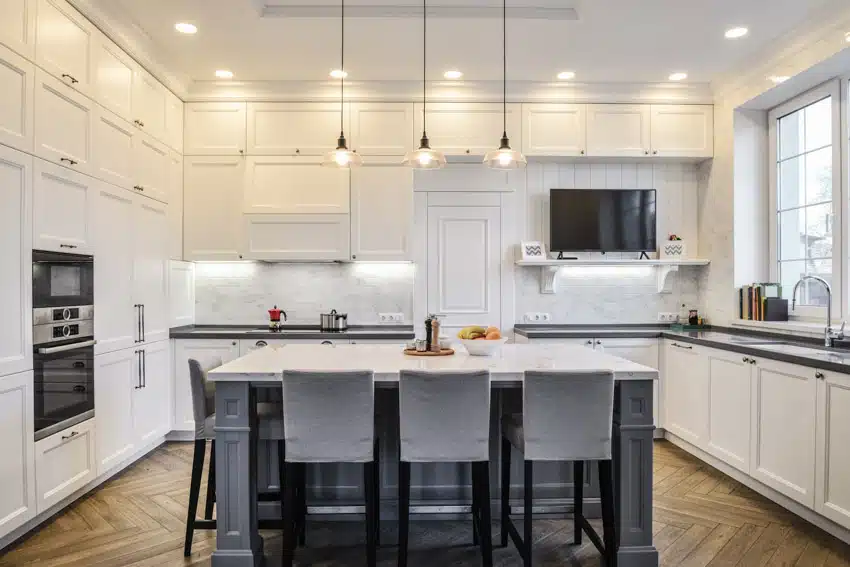 Carrara subway tiles are a good option to explore if you have a limited budget but want to cover a large surface area with marble. Installation is also much simpler, as you don't need to fabricate cuts before installation, and allows you to cut and trim the tiles only as needed.
Alternatives to Solid Slabs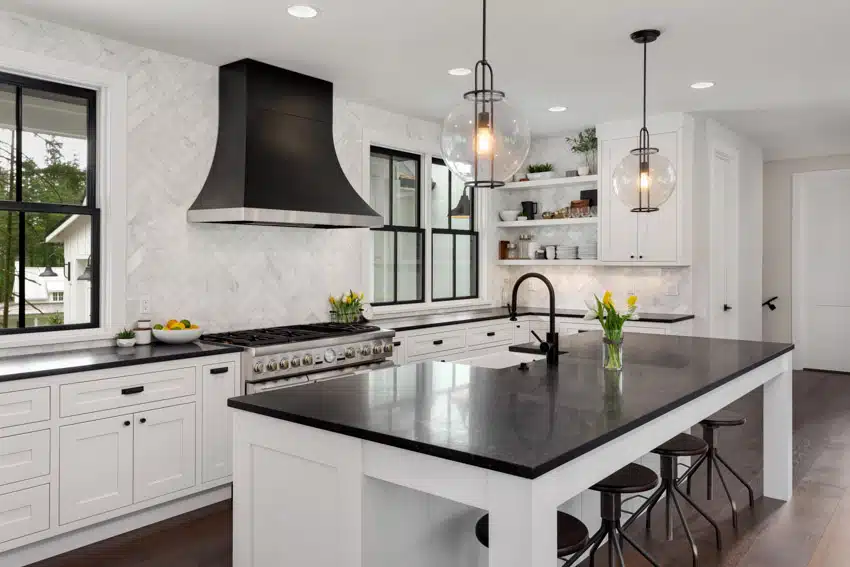 Aside from subway tile installation, you can also apply a herringbone pattern installation to your Carrara tiles. This is especially great for those who want to add more texture and pattern to their walls. Using a muted color can keep the design from appearing to busy and offer an excellent look and vibe.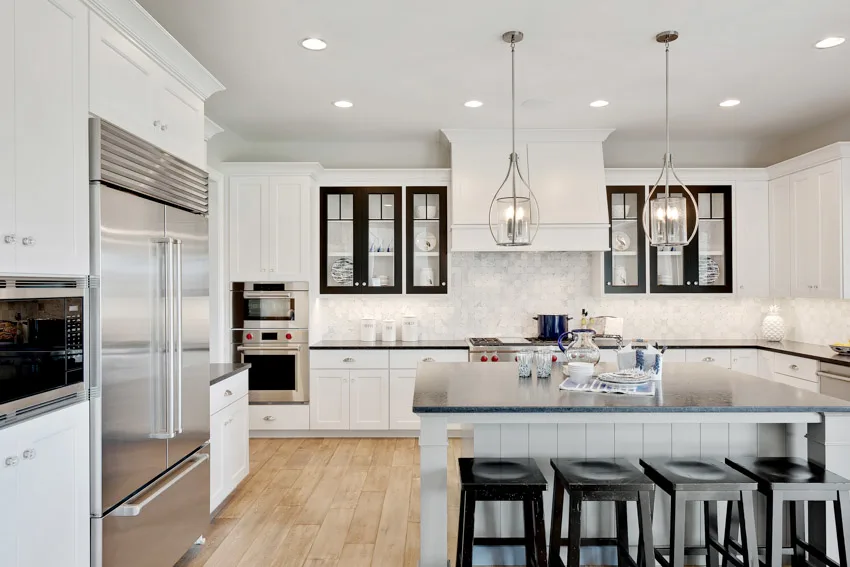 Small gray Carrara marble tiles are also trendy these days. The small tiles allow you to create various unique patterns and add a fun texture to your backsplash. The color goes well with black or stainless steel appliances, different accessories, as well as different color hardware finishes.
Experiment with various patterns and installation techniques to see which suits your kitchen the best.
Marble Solid Slab Backsplash Pros and Cons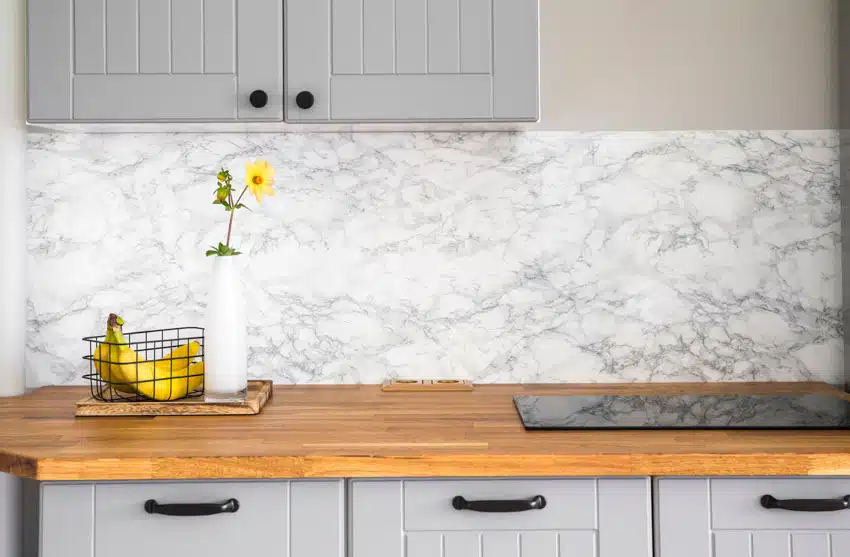 Pros of marble slab backsplash
• Beauty: The natural patterns and veins of marble are its most sought-after feature; no one slab is 100% with another, so it adds uniqueness to any space.
• Variety: Depending on where you source your marble, you have a variety of veins/patterns and hues that you can choose from. When buying, make sure you see the slab in person rather than relying on images from a website as the shades, veining, and details can change from stone to stone.
•Timeless: Whether you place a marble in a classic style kitchen or a modern one is no problem as marble matches any design styles. If you invest in marble, as long as you maintain it well, it can last you for many years.
Cons of marble slab backsplash

• Cost: As marble is usually imported, it can get very expensive depending on the type of marble you get.
• Maintenance: Marble is a porous material so it needs constant resealing to maintain its quality. There's also a possibility of staining, if you don't seal it properly. This constant resealing cost can incur over time.
• Cracks: Marble can be more prone to cracking the older it gets, so you need to be cautious about small cracks and fix them as soon as you see one.
Marble Wall Slab for Backsplash Cost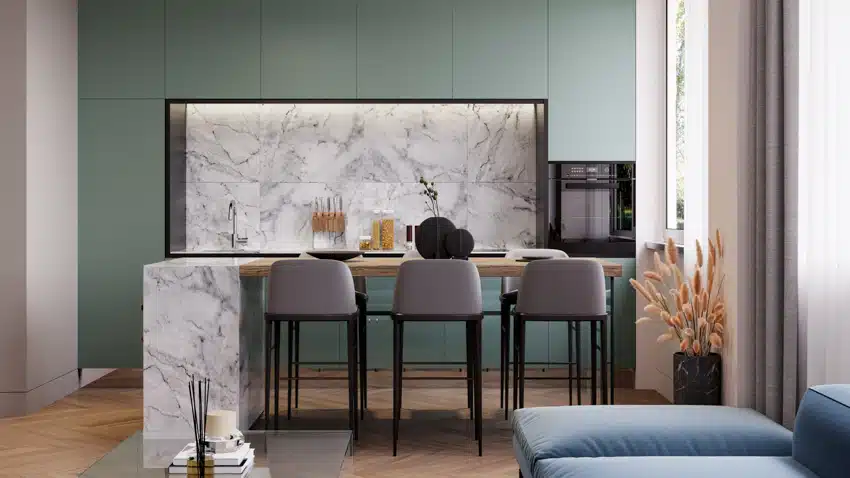 Overall, while marble is undeniably gorgeous, it does come with upkeep costs. Depending on your lifestyle, marble may or may not be the right material for your kitchen.
But if you are able to commit to its upkeep and maintenance, a marble countertop is a really good investment that can raise the resale value of your property.
However, marble costs around $100 to $200 per square foot. So keep those numbers, along with potential upkeep costs in mind when considering these marble slab backsplash ideas.
As an alternative one may consider using granite, porcelain tile or quartz that resembles marble and is often available at a lower cost.

See more related content in our article about Carrara marble shower on this page.