Find out what size sheets fits a futon including sheets for different futon sizes such as single, twin, full, queen & king futon, and how to know your futon size.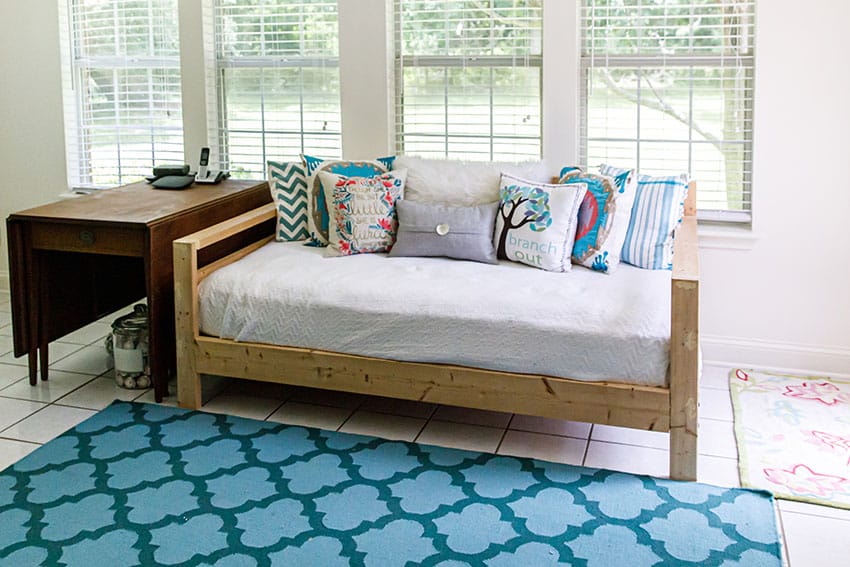 Many homes today lack space calling the need for convenient two in one furniture that is space savers, cost-efficient, and, most importantly, does the work. One of those furniture staples is a futon which is a sofa and a bed rolled into one convenient thing.
Futons usually are an item of dorm furniture utilized by many college students but gone are the days where that is the case. Many futons in the market mix innovation with modern design; any homeowners would gladly want to be in their homes.
Fitting a sheet for a futon is easy once the measurement and size are known, both for the futon and the sheets.
Single Futon Sheet Size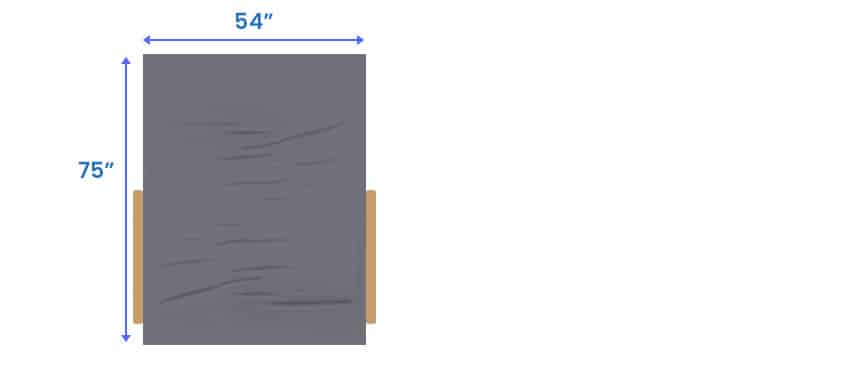 There are a broad scope of futon sizes due to their popularity. Futons are used almost everywhere, from college dorms to home apartments and even hotels and other businesses. They are highly versatile since they can easily be folded up into chairs once it is daytime.
If homeowners are looking for specific types of futons that serves both sofa and bed functions, they are probably thinking of a full-size futon.
This single-size futon has the same size as a standard mattress, with 54 inches or 137 centimeters for width and a length of 75 inches or around 191 centimeters. In order to fit a sheet for this futon size, keep it close to the mattress size when spread, and it will do the job perfectly.
Twin Futon Sheet Size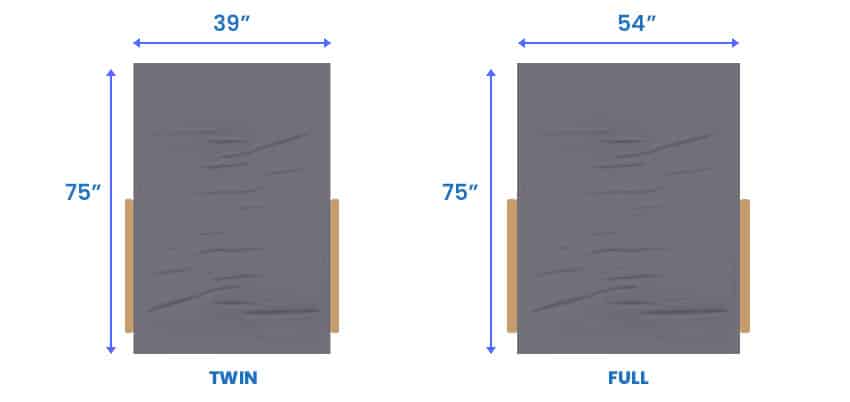 A great futon to have for people who have limited space in their homes or they want a standby futon for emergency visitors. An excellent futon size to have is to go for a twin futon. A twin futon is also a superb futon size for children, making them ideal for kids' bedrooms.
The dimensions of a twin futon are 39 inches or 99 centimeters in width, with a length from top to bottom of 75 inches or 191 centimeters. People comparing futon sizes might see the similarities between a twin futon with a full-sized one, with only the twin futon being slightly narrow.
One con of a twin futon is sofa and bed combination is a little rarer since most twin futons will come as a loveseat or ottoman and bed combination. Choosing a sheet for this futon size is going as close to 39 by 75 inches as possible.
Full Futon Sheet Size
The standard size that is readily and widely available for a futon is a full-size futon. This is what all of us are probably thinking about when thinking of a futon. A full-size futon is a standard for a reason since this futon is big enough to both serve as a bed and a sofa, and a couple of people could easily fit in it.
The dimensions of a full-size futon are 54 inches or 137 centimeters in width and 75 inches or around 191 centimeters in length from top to bottom. This is the same as the dimensions of a regular bed. For sheets to fit this futon size, go as close to 54 by 75 inches or 137 by 191 centimeters as possible.
Queen Futon Sheet Size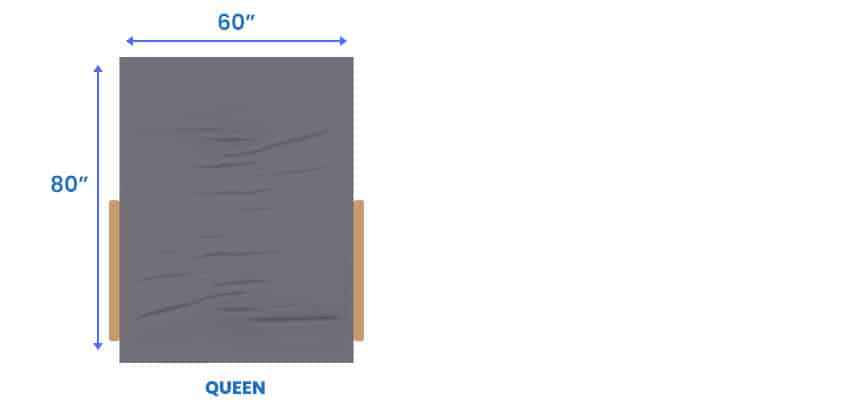 Aside from the twin and the full-size futons, there is also the queen-size futon that is the perfect choice for many platform beds. A queen size futon has a dimension of 60 inches or 152 centimeters for width with a length from top to bottom of 80 inches or 203 centimeters.
It is broader and longer than the two before it, making it one of the most famous sizes for futons and beds. Each person using a queen size will have a space of 30 inches. In picking a bed sheet for this futon size, going as close to 60 by 80 inches or 152 by 203 centimeters as close as possible is the best option.
King Futon Sheet Size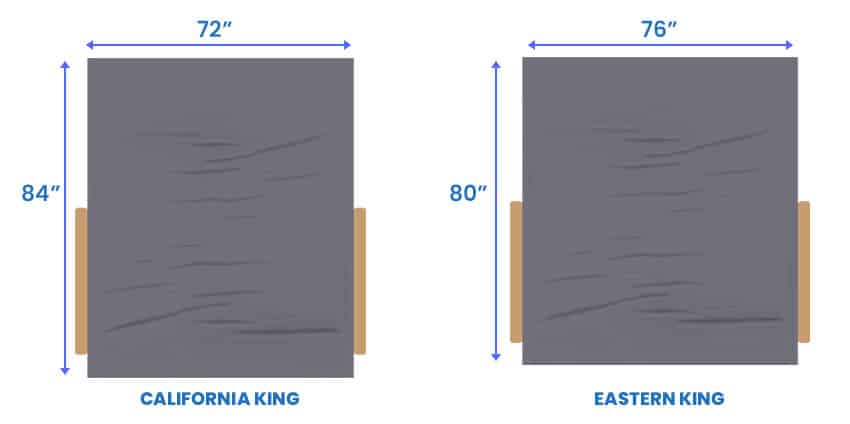 If anyone looking for a futon needs a bigger space and has the budget for a futon bigger than a full size or a queen, one of the best options is a king futon. The area is vital in this scene since a king futon is more extensive, and a small room with it in the middle will take up all the space and will make the room feel much smaller and overwhelming.
A king futon can come in two sizes: the California king futon size with a width of 72 inches or about 183 centimeters and a length of 84 inches or 213 centimeters. The other is an Eastern king futon size with a broader width of 76 inches or 193 centimeters and a length of 80 inches or 203 centimeters. Sheets for this futon size should be as close to the futon size itself as possible.
Do Regular Sheets Fit A Futon?
It is only normal to wonder if regular bed sheets will fit a particular futon size seeing as their dimensions are essentially the same. For the most part, the answer to this query is yes, and regular sheets can fit futon sizes.
However, today, the demand for a futon is more urgent than ever, making manufacturers scramble for innovations here and there that futons are now available in a wide variety from sofa to bed combo to the loveseat and ottoman or the regular in-the-floor futons.
As long as the futons can be laid out for homeowners to use as regular beds, they will require the same sheet sizes.
What Size Fitted Sheet Fits A Futon?
Once length and width are considered to fit a sheet to a futon; it will be easy to look for what will work for the futon. A 43 by 72 inches bed sheet will work great for a twin futon, while going up to 63 by 83 inches for a queen is the better option.
The rule of thumb is to ensure that you know the right length and width of a futon for sheets close to that size.
How Do I Know What Size My Futon Is?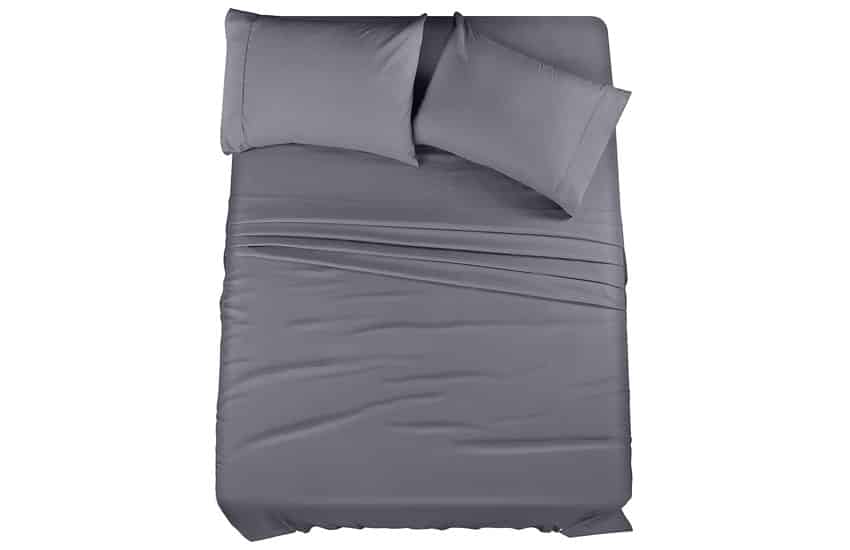 See this bed sheet at Amazon [sponsored link]
The best course of action is to measure the futon for sheets to figure out what sheet will fit one particular futon. So, knowing how to measure is important.
The first thing is to knowing the depth of the futon. Aside from length and width, knowing the depth is essential when buying sheets. For futons, depths are usually indicated by the "loft" measurement in most packaging.
Simply measure the futon from the bottom to the futon to the front or the bed space itself. Once that measurement is known, leave at least 2 inches to ensure that the sheets will fit into place, especially for sheets with garterized edges.
Calculate the distance from the top of the futon down to the bottom to measure the length. In contrast, measuring from side to side is needed to measure the width of a futon.
What Size Are Most Futons?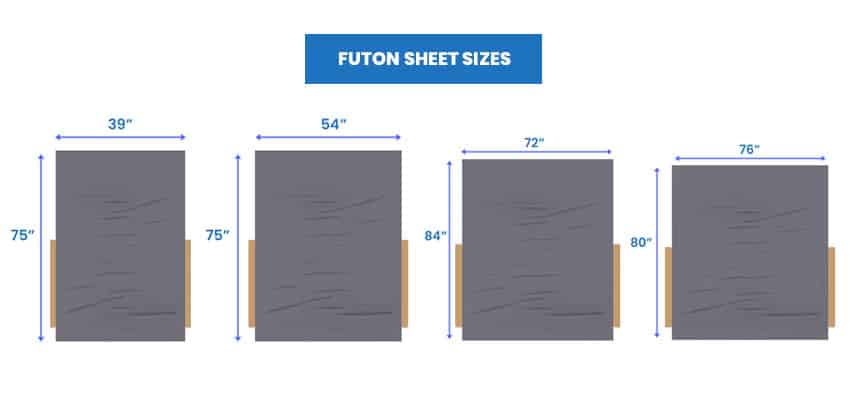 With a width from side to side of 54 inches or 137 centimeters and a length from up to the bottom of 75 inches or 191 centimeters, most futons from one store and manufacturer to the other are full-size futons. This is because the full-size is an excellent choice for a single sleeper with enough space to utilize and roll around at night.
At the same time, a full-size is also called a double for a reason since two people can easily sleep in the space although they have limited space versus other bigger futon sizes.
See more related content in our article about the types of bed sheets on this page.