Here's our futon dimensions guide including different covers and futon mattress sizes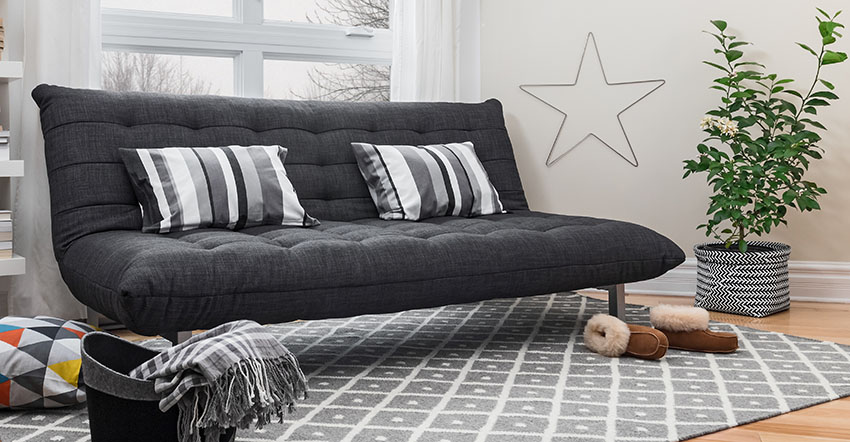 An increasing number of families are discovering the joys and benefits of the Japanese futon sleep system. This Oriental sleep essential ensures a more comfortable sleep, improves circulation, and minimizes muscle and back pain. It is sufficiently versatile to serve as a sofa during the day.
People also love using a futon because they get to reclaim their living space for special occasions. They can lay down their futons on the floor after the tiring yet memorable festivities for a much-needed sleep and rest.
However, one must know the correct futon dimensions if the family desires optimum comfort and unmatched versatility.
Standard Futon Size
The traditional Japanese futon consists of three crucial elements or parts,
• Shikibuton – the mattress,
• Kakebuton – the duvet, and
• Makura – the pillow.
Traditional Japanese houses are not as spacious as their Western counterparts. That is why the futon is the perfect solution. People can lay it on the tatami floor at night, allowing them to enjoy a restful sleep. They can fold the futon and stow it away in the wardrobe.
Unfortunately, Western futon interpretation is quite different. Many Westerners use the futon primarily as a chair, replacing a conventional sofa. Hence, Western futons often have a chair or futon frame (mostly wood) where people can place the Shikibuton and serve as a sofa-like cushion.
In ancient Japan, futon sizes came in shaku units, equivalent to 36 to 38 centimeters or about 14 to 15 inches. However, Western influence prompted the Japanese to adopt international measurement standards.
Today, the standard Japanese futon size is 39×78 inches. One must know that the sizing only reflects the fabric size without the stuffing. Filling the futon with cushioning materials can reduce the width and length by as much as four inches.
The standard futon size in Western markets is 32×75 inches, suitable for standard platform beds.
Average Futon Length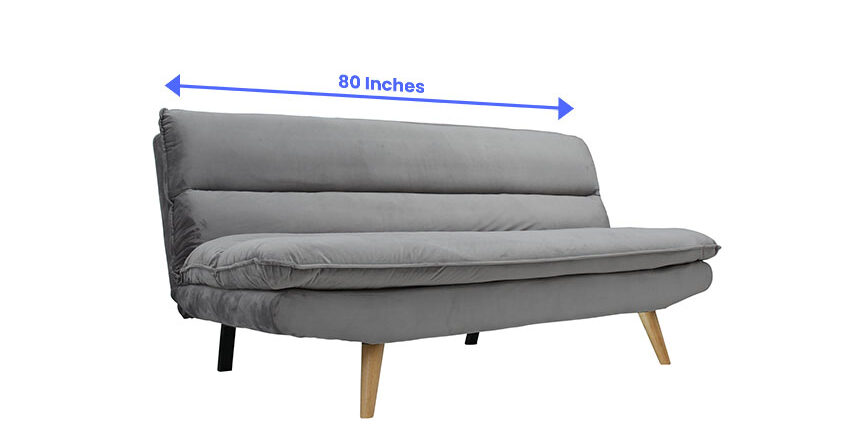 The Japanese futon's length can range from 78 inches to 82 inches, although the Super Long can extend up to 86 inches.
On the other hand, Western or American futons can be as short as 75 inches or as long as 84 inches, putting the average at 80 inches.
One must realize that many futon manufacturers can customize their offerings to suit customers' needs.
Futon Dimensions Folded
A futon's folded dimensions depend on its size and number of folds. For example, a bi-fold Twin futon with an unfolded dimension of 39×75 inches can only be 39×37.5 inches when folded. On the other hand, the same futon with a tri-fold design is only 39×25 inches when folded.
One must also consider the futon's thickness or height. Unfortunately, there are no standard futon thickness measurements because everything depends on the user's preferred comfort levels.
The Japanese often find thinner futons more comfortable to sleep on, while Westerners prefer a thicker mattress. Hence, one only needs to double or triple the futon's unfolded thickness measurement to determine its bi-fold or tri-fold thickness.
For example, a four-inch-high futon can be eight inches when bi-folded or 12 inches when tri-folded.
Futon Mattress Dimensions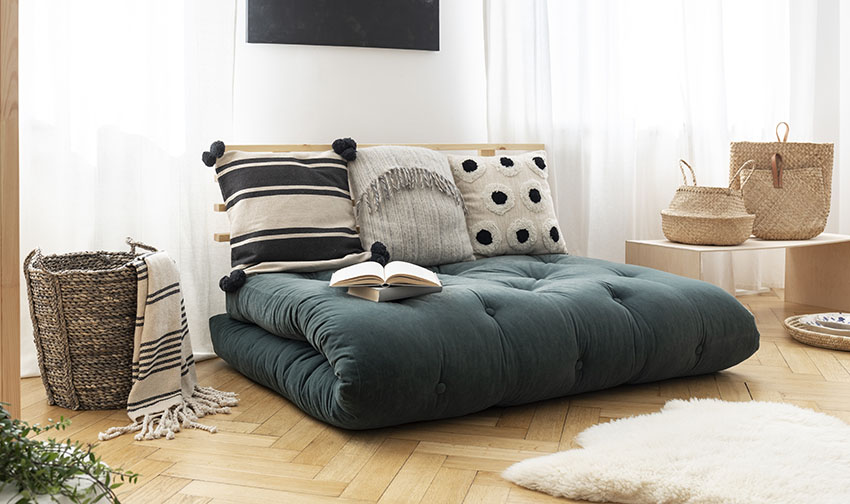 The Shikibuton (futon mattress) can be as small as 33×51 inches for babies and young children or as large as 62×82 inches for adults.
On the other hand, American (Western) futon mattresses range in size from 39×75 inches (Twin) to 72×84 inches (California King). As mentioned, families can order a custom-size futon for their needs.
For example, a seven-foot-tall person might feel the California King futon mattress is barely sufficient for his comfort. That is why it would be best to order a longer futon mattress (i.e., 96 inches). Check out our article about the types of mattresses here.
Twin Futon Sizes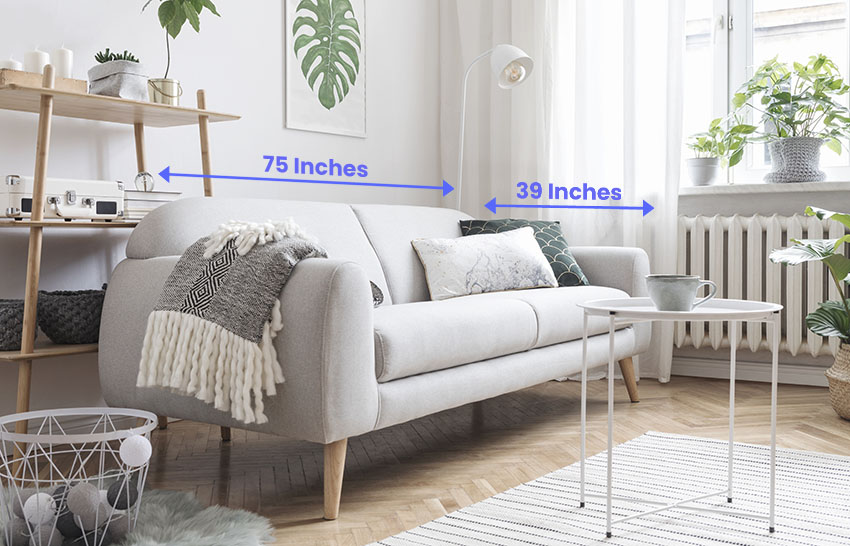 American Twin futons have a standard size of 39×75 inches, although it is not uncommon to find a longer version (Twin XL at 35×79 inches).
The Japanese call their Twin-size futons Single and closely resemble the American Twin XL dimensions at 39×78 inches. They also have a Single Long (39×82 inches) and a Single Super Long (39×86 inches).
The Super Long is excellent for converting into a couch or sofa, allowing the person to have a higher and more comfortable seat.
Full Size Futon Dimensions
Also called Double-size, a Full-size futon is 54 inches wide and 75 inches long. A Full XL version has the same width but is longer by four inches than the Full-size futon.
In Japan, the Double futon is narrower wider by an inch and longer by seven inches than its Western equivalent. They also have a Semi-Double, which closely resembles the American measurements (49×82 inches).
Queen Size Futon Dimensions
The Shikibuton measures 62 inches wide and 82 inches long. It is similar in length to the Double, but is twice as wide as the Baby-size futon.
Westerner's design and manufacture their Queen-size futon about two inches smaller than the Shikibuton, measuring only 60×80 inches.
King Size Futon Dimensions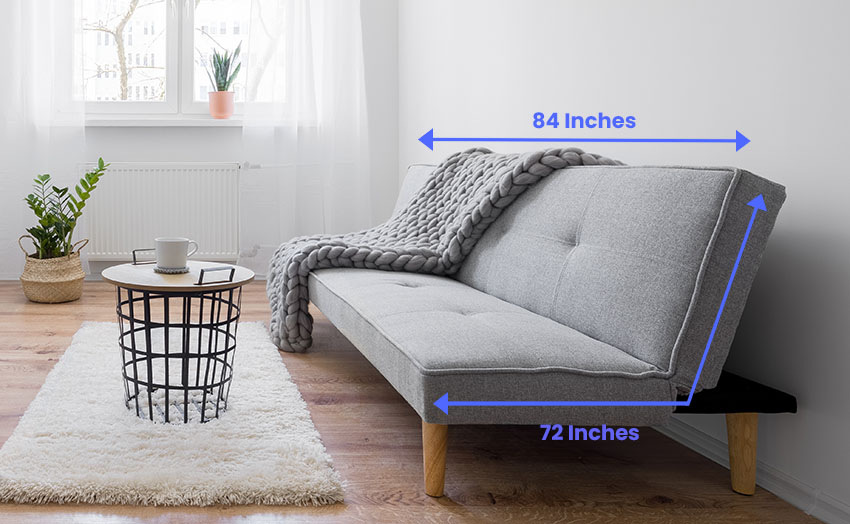 The Japanese Queen-size futon is sufficiently large for most people. That is why they no longer feel the need for another size.
Meanwhile, Western futons have California King-size and Eastern King-size versions. The former measures 72 inches wide and 84 inches long, while the latter is wider but shorter by four inches.
Futon Cover Dimensions
Traditionally, futons do not require any cover because people fold and store them in wardrobes or cupboards when not in use. However, Western futons are an essential piece of seating furniture for accommodating guests or relaxing during the day.
That is why many Western manufacturers always add a wooden frame with their futons. Making a cover for these futons requires considering the frame's outside dimensions with the futon folded or in a couch mode.
It would be best to measure the futon as a whole by placing the mattress on the frame and measuring its outside dimensions. For example, one can fold the futon and rest it on the futon frame. Next, measure the seat height from the floor. Additionally, measure the armrest and backrest dimensions.
Generally, futon mattress slipcovers sizes are:
• Twin 39" by 75"
• Full 54" by 75"
• Queen 60" by 80"
• Loveseat 54" by 54"
Futon cover fabricators can use the measurements to create a cover with a perfect fit. The good news is that people who buy a complete futon (mattress with frame) can also expect the manufacturer to have a ready-to-use cover.
A futon is one of the most versatile furnishings one can ever have. Traditionally, it is a foldable bed people can stow during the day and unfold at night. However, Western ingenuity transformed the Japanese futon into sofa-like furniture, ready to accommodate a tired body.
Knowing the different futon dimensions makes it easy for anyone to buy the best futon for the family. For more related topics, visit our futon vs sleeper sofa comparison here.