Here's our porta potty dimensions guide including standard and ADA portable toilet dimensions, its weight, tank capacity and how many toilets are needed for events.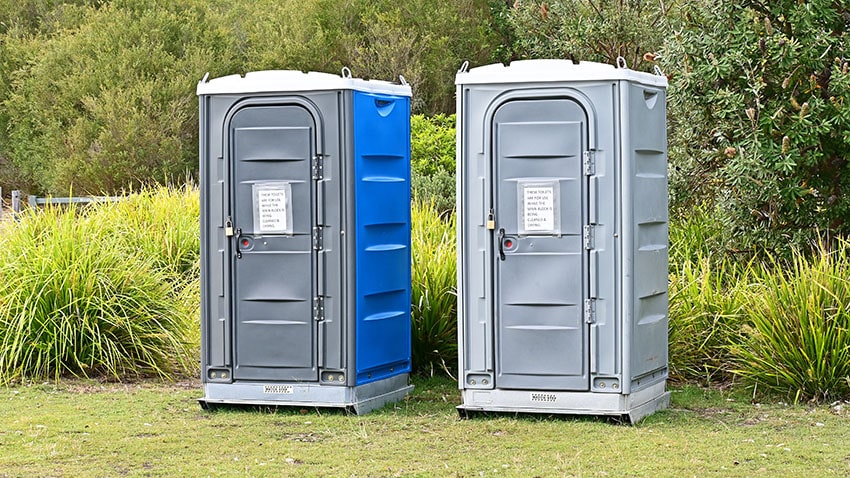 Porta potties, port-a-potties, or portable toilets, or whatever you might call them are here to provide everyone with a utilitarian structure so that everyone can go no matter where they are.
There have been many options throughout the years, from chamber pots to composting toilets to the standard portable toilets now commonly seen on most construction sites, music festivals, and other large gatherings.
The modern porta potty may be what you think of when you hear the term. Many can include urinals, mirrors, shelving units for tissue papers, and even hand sanitizer dispensers, especially helpful for hygienic purposes.
Standard Porta Potty Dimensions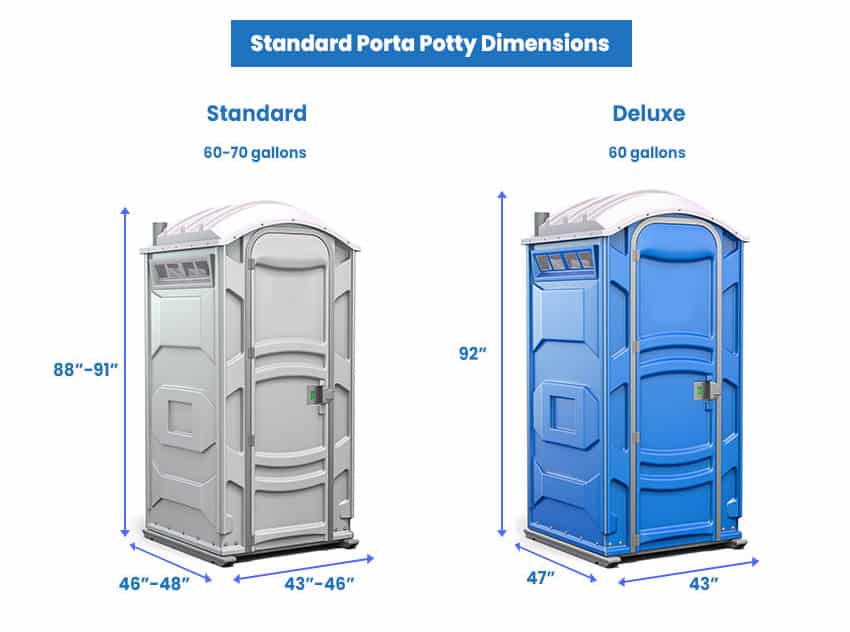 A standard porta potty restroom is a regular single-unit bathroom stall that does not have a flushing toilet, and also usually does not have a sink. This type is common in many construction sites and home renovations and is best for short-term use because it will usually have smaller holding tanks.
The standard porta potties are also some of the cheapest options available, and they are the ones rented in clusters for many special events holding larger crowds. You can often add hand sanitizer dispensers for added hygiene, too.
For standard porta potties, the widths will range from 43 to 46 inches or 109 to 117 centimeters. The depths will usually be between 46 to 48 inches or 117 to 122 centimeters, and the height from top to bottom will range from 88 to 91 inches or 224 to 231 centimeters.
The holding tank capacity for a standard porta potty will usually be 60 to 70 gallons.
If you are looking for a choice that would allow for hand washing, which is essential, especially since we are still living with the Covid-19 virus, a deluxe porta potty is your best option. This porta potty will sometimes even include a urinal to go with the toilet.
For this porta potty, the width from side to side will be 43 inches or 109 centimeters, with a depth of 47 inches or 119 centimeters. The height will usually be 92 inches or 234 centimeters, with a holding tank capacity of 60 gallons.
How Tall Is A Porta Potty?
You might think that the height of a porta potty would be the taller it is, the better, but that is not the case. The total height of a porta potty unit should be enough so that the average person could fit without bumping their head on the porta potty's ceiling, but it should not be so short that it would not fit on the truck when it is time to move it.
With those considerations, porta potties should not have to be higher than the average height of 88 inches to 89 inches or 224 to 226 centimeters. The Ergonomics Team of Cornell University suggests that portable toilets should have collapsible netting for maximum height accommodation.
How Much Does A Porta Potty Weigh?
Aside from the height and outside dimensions of any type of porta potties, weight is also an essential factor to consider. Since many porta potties are made of thin and light-weight sheet plastic, most of them can be pretty light and run the risk of flying off in windier places.
Many kinds of a porta potty will have a weight of around 230 to 300 pounds or 104 to 136 kilograms. Weight will differ across types, whether you are looking to get a towable porta potty for your trailer or a deluxe porta potty with a sink for any of your outdoor events.
ADA Porta Potty Dimensions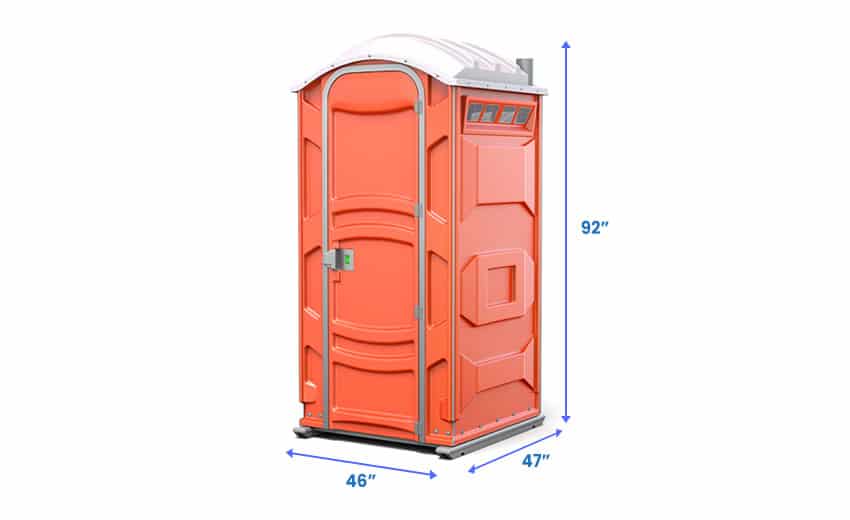 The Americans with Disabilities Act requires provisions for public accommodations, and this will include the need for a wheelchair-friendly portable potty. For more significant events, especially public events, you will be required to have a number of ADA-compliant porta potties on those events.
They should be spacious for everyone, especially persons with disabilities, to use the restroom comfortably. Instead of a ramp, porta potties should have a flat entrance so that entering and leaving the unit will be easy and accessible. They will also need to include safety handrails, anti-slip materials, and lowered types of toilet seats.
These porta potties will usually carry these dimensions: a width that ranges from 60 to 70 inches or 152 to 178 centimeters. They will vary in depths from 75 to 85 inches or approximately 191 to 216 centimeters, with a height of 90 to 95 inches or 229 to 241 centimeters.
Portable Toilet Tank Capacity
Many porta potties have a limited holding capacity to accommodate 20 people or even less in one gathering, and the standard holding capacity will usually be 60 gallons. In contrast, wheelchair accessible porta potty will have a holding capacity of 70 gallons.
If you are planning for a bigger and more extravagant gathering, a holding capacity of 500 gallons and even more might be your best choice. This capacity is usually found on bigger portable potties like portable restroom trailers. You can use these for more formal events like weddings.
How Many Outhouses Are Needed Per Person?
When deciding how many porta potties you will need for your event, there are many factors to evaluate. The rule of thumb will usually be 2 porta potties in significant events like weddings and birthdays per one hundred persons. However, if you will be serving alcohol on occasion, it will be safer to add another one or even two so no lines would form on the porta potties.
This is the same number for construction and job sites. For everyone, one hundred people, 2 porta potties should be designated. Add another porta potty if the number of people will also increase.
Portable Toilet Dimensions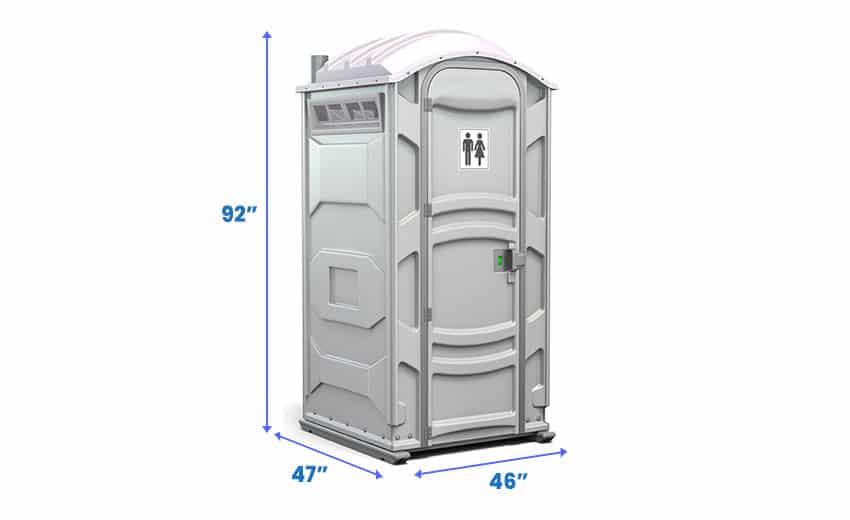 A part of the well-planned outdoor event is the inclusion of restrooms and the correct number of porta potties you will be needing.
The average portable toilet will usually have a height of 92 inches or 234 centimeters, a width of 46 inches or 117 centimeters, and a depth of 47 or 120 centimeters. It will usually weigh at least 207 pounds or 94 kilograms.
VIsit our portable garages for more related content.