In this guide to soapstone bathroom countertops you'll see the pros and cons, cost, differences compared to granite countertops, and if soapstone is good for the bathroom.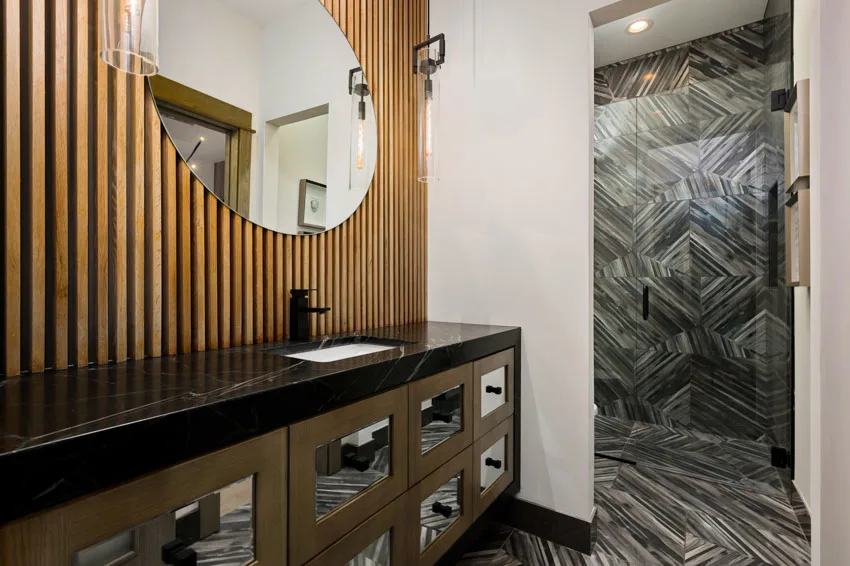 When you're designing your bathroom, the right countertops go a long way. After all, they need to do a lot. While they should look gorgeous, they also need to handle everything you'll throw at them from water to heat and anything else that could test their durability.
Stone countertops are a popular option for homeowners – including soapstone. While soapstone is one of the softer stone materials for countertops, it can be a beautiful design choice.
Can Soapstone Be Used in a Bathroom?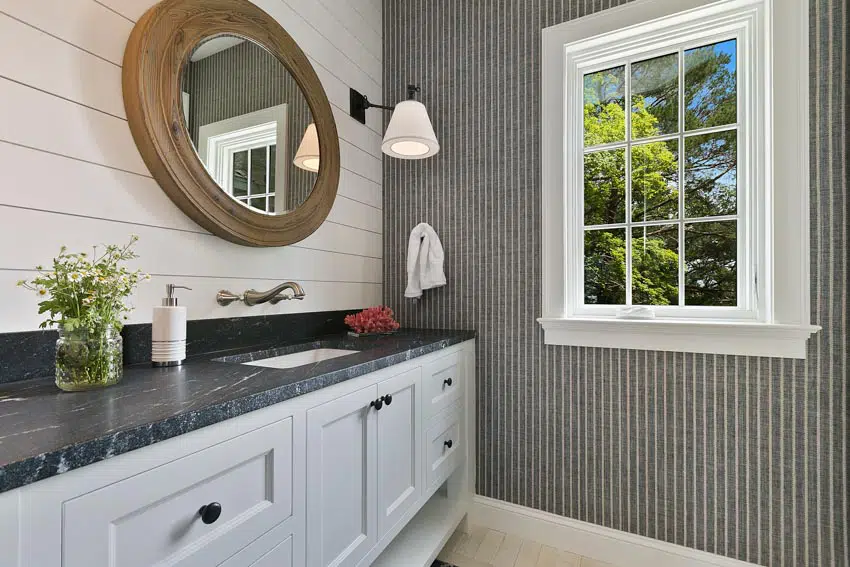 When it comes to designing your bathroom, there are a few ways that you can bring stone elements into the design. Not to mention, stones like soapstone are rather versatile because you can fit their natural appearances into a variety of uses in your bathroom.
For example, some people turn to soapstone backsplash above their vanity, or use it for their shower walls. In other cases, the use of soapstone floor tiles can be a good idea to consider for bathrooms.
However, using soapstone for countertops is becoming more popular due to its many advantages such as its high density properties. Soapstone is primarily made of mineral talc which is effective in preventing moisture and chemicals from entering the surface.
Soapstone Bathroom Countertops Pros and Cons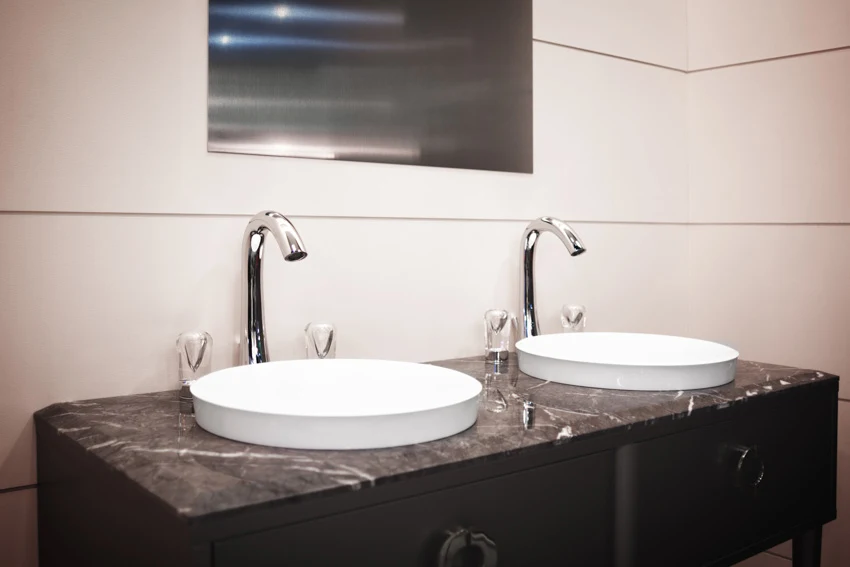 Just like anything else, soapstone countertops come with their own pros and cons when you use them in the bathroom. Here, we'll break down the major points you need to know.
Soapstone Pros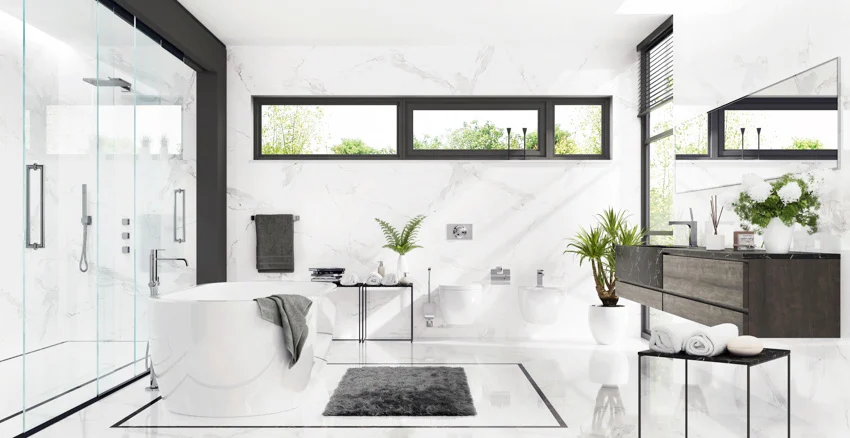 Beautiful appearance: To start, the most obvious benefit of soapstone is its appearance. Soapstone is widely regarded as beautiful and stone countertops, in general, are often noted for their aesthetic benefits. You can find soapstone in a variety of colors including gray, brown, blue, and even green broken up with distinct veining.
Durability: Soapstone is a durable countertop choice as well. They aren't prone to cracking from stress. As a non-porous material, you won't have to worry about resealing your soapstone countertops down the line either.
Stain & Chemical Resistant: Since it's such a non-porous material, its resistance to staining makes it ideal for bathroom areas.
Easy to Maintain: Soapstone is fairly easy to take care of, clean, and it's likely to help add value to your home, offering a return on investment. They're heat-resistant too, so your hot curling iron isn't going to singe it in the morning.
Environmentally Friendly: Soapstone material is made from natural steatite stone (mineral talc) that is naturally occurring. It can be recycled and contains no synthetic chemicals, unlike some other types of countertops.
Soapstone Cons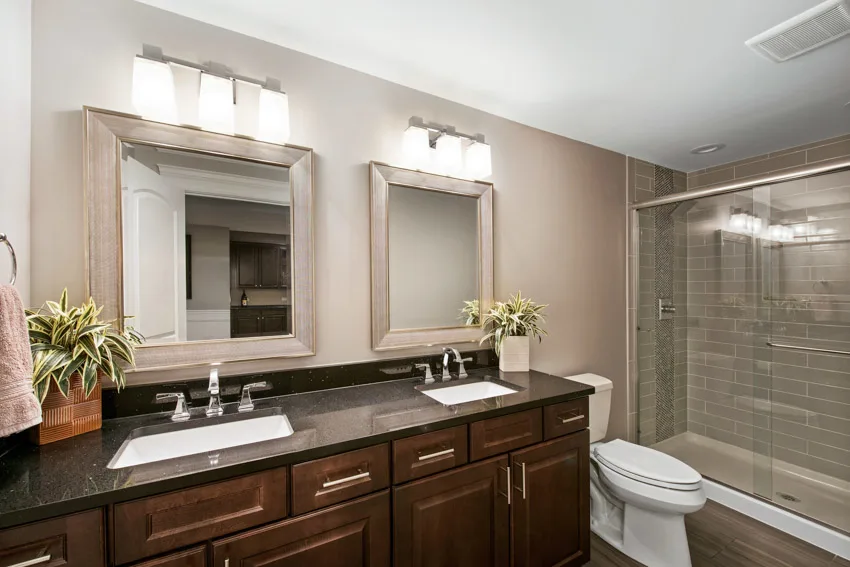 Can Scratch Easily: On the other hand, soapstone is soft. This means that you'll want to be careful when it comes to scratching the material.
Cost: Soapstone countertops are expensive and professional installation can raise that amount even higher.
Color Choices: There are limited amounts of colors of natural soapstone available.
Cost Of Soapstone Bathroom Countertops
The cost of soapstone bathroom countertops can change quite a bit based on a few factors. For example, where you live, where you buy the soapstone from, and the quality of the soapstone you choose can all play into the cost of your new bathroom countertops.
Focusing on the cost of the soapstone material alone, you can expect to spend between $70 and $120 per square foot. This puts most soapstone bathroom countertops in a range between $2,100 and $3,600.
This price doesn't include the cost of installation either. Since a professional installation is usually necessary for stone countertops, you'll want to budget for the hourly rate your installation team charges. Most can offer an estimate before they get started.
Are Soapstone Countertops More Expensive Than Granite?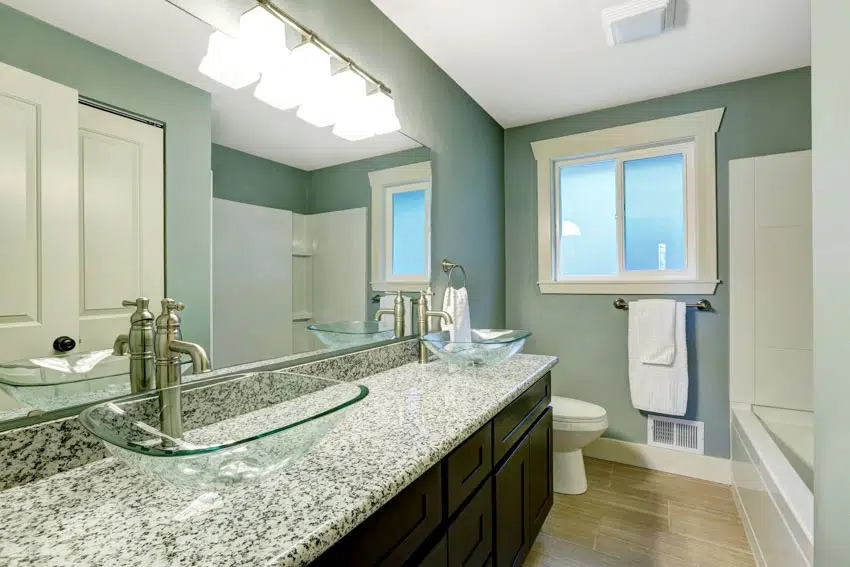 As far as comparison to other stone countertops, soapstone is frequently compared to granite. When you're choosing between the two, which one will offer you the better upfront deal?

First, let's take a look at the cost of granite bathroom countertops. Since we looked at the cost of soapstone countertops before installation costs, we'll do the same for granite to create a direct comparison. In this case, you can expect to pay an average of $40 to $60 for granite.
When you compare that to the $70 to $120 that soapstone typically runs per square foot, it's easy to see the price comparison. Between these two, granite is going to save you money on materials compared to soapstone.
Should Soapstone Be Sealed?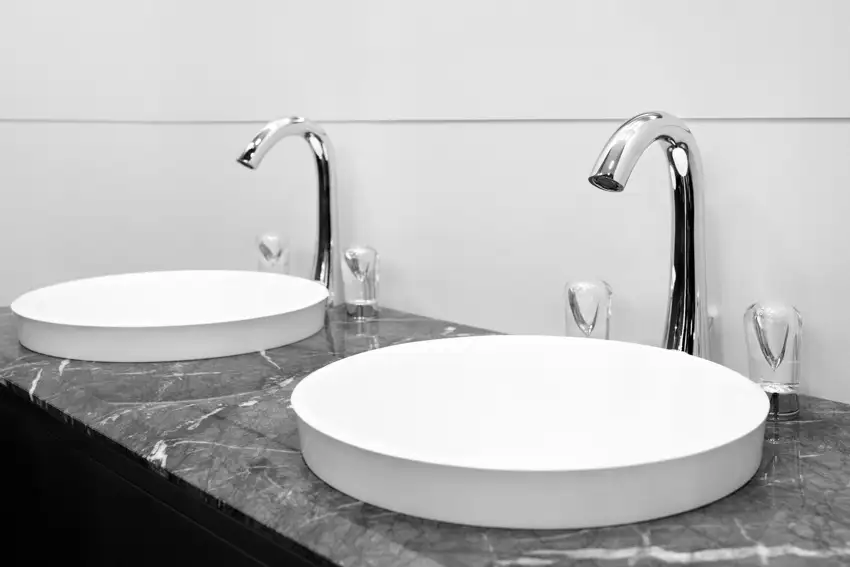 Some counters must be sealed to help them remain in top shape. Otherwise, you're at an increased risk for stains and water damage.
This is because sealing a material stops liquid from seeping into the pores of the material. As such, sealing is only necessary if you're working with a countertop made of a porous material that's apt to absorb spills and messes.
The good news is that soapstone is already non-porous. This means that you don't even have to worry about sealing it because it isn't prone to absorbing liquids spilled or splashed on it. In fact, trying to seal a soapstone countertop probably won't work because it won't absorb the sealant properly.
Can Soapstone Get Wet?
When you're talking about a bathroom countertop, you need something that can get wet. After all, you're probably going to splash water on it at some point.
On top of that, you need to make sure that your countertop can put up with the humidity in a bathroom. That's why you don't see many wooden bathroom countertops – they simply aren't as well-suited to the humid environment that activities like showers generate.
The good news is that since soapstone is porous, it isn't going to absorb a lot of water quickly. This means that it's generally going to be able to stand up to moisture better than an unsealed, porous countertop. This, plus soapstone's heat resistance, make it well-suited to stand up to most of the challenges it'll come across in a bathroom.
Is Soapstone Good For Bathroom Countertops?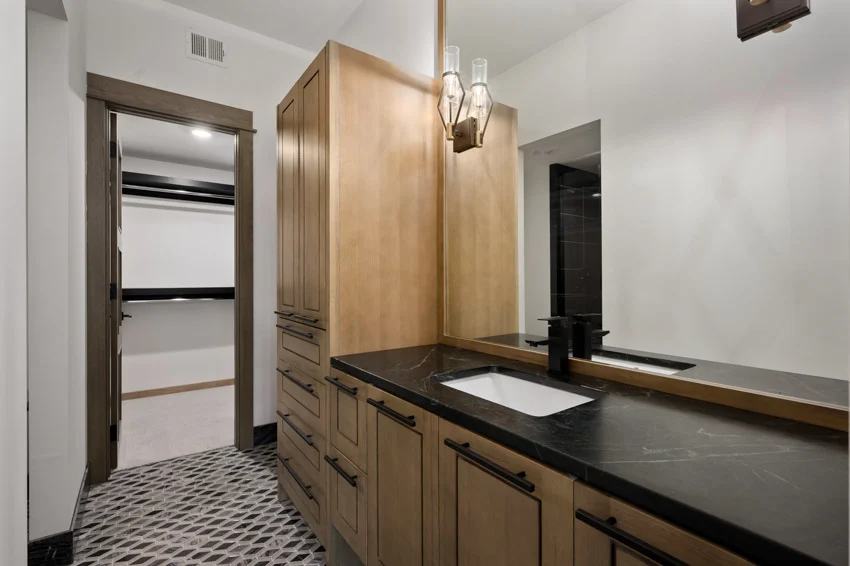 All in all, you can't really go wrong with using soapstone in your bathroom. It offers plenty of benefits and a lot of them lend themselves directly to use in the bathroom.
For one, the fact that soapstone is non-porous makes it suitable for a humid environment and exposure to splashes of water. In addition, it's resistant to damage from heat as well, meaning that you won't have to worry if it comes into contact with a hot styling tool, for example.
Another handy feature of soapstone is that it's easy to clean and disinfect. This is particularly handy in an environment that can easily get messy like a bathroom.
Finally, soapstone obviously offers a lot of aesthetic appeal as well. You have a few options when it comes to exactly how your soapstone countertops look too. This way, you can make sure they match your decor scheme as well as functionally keep up with what you need them to.
See more related content in our article about marble bathroom countertops on this page.