The bathroom is one of the most visited areas in a residence. As such, every detail, such as curtain rods, that are best to complete a newly built or remodeled bathroom can make a huge difference. There is improved functionality, cleanliness, and safety. Below, you'll get ideas for curved vs straight shower rods including the pros and cons, when to use these rod types, and which option is better for bathrooms.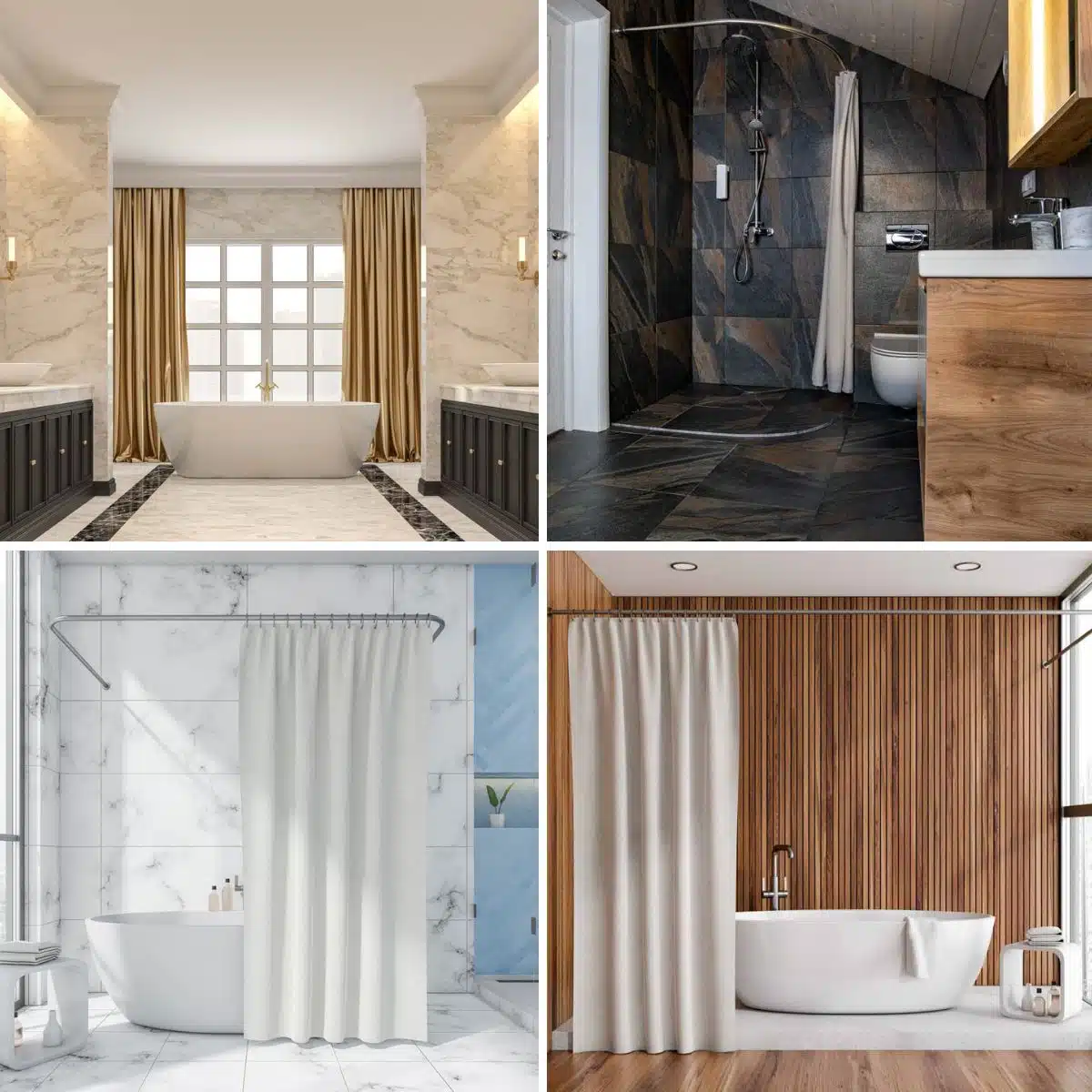 An even more desirable feature is an efficient space that showcases tasteful elements, elevating the experience of your daily ritual that ultimately contributes to well-being and enhanced lifestyle.
A curved shower rod is a relatively new variation of the conventional straight shower rod but has been getting many raves since it appeared in luxury hotels and spas. But is installing a curved shower rod the best solution to your bathroom? In this article, we'll know the pros and cons of straight shower rods and curved shower rods to help you decide which type of shower rod works best for your needs.
Straight Curtain Rod Pros and Cons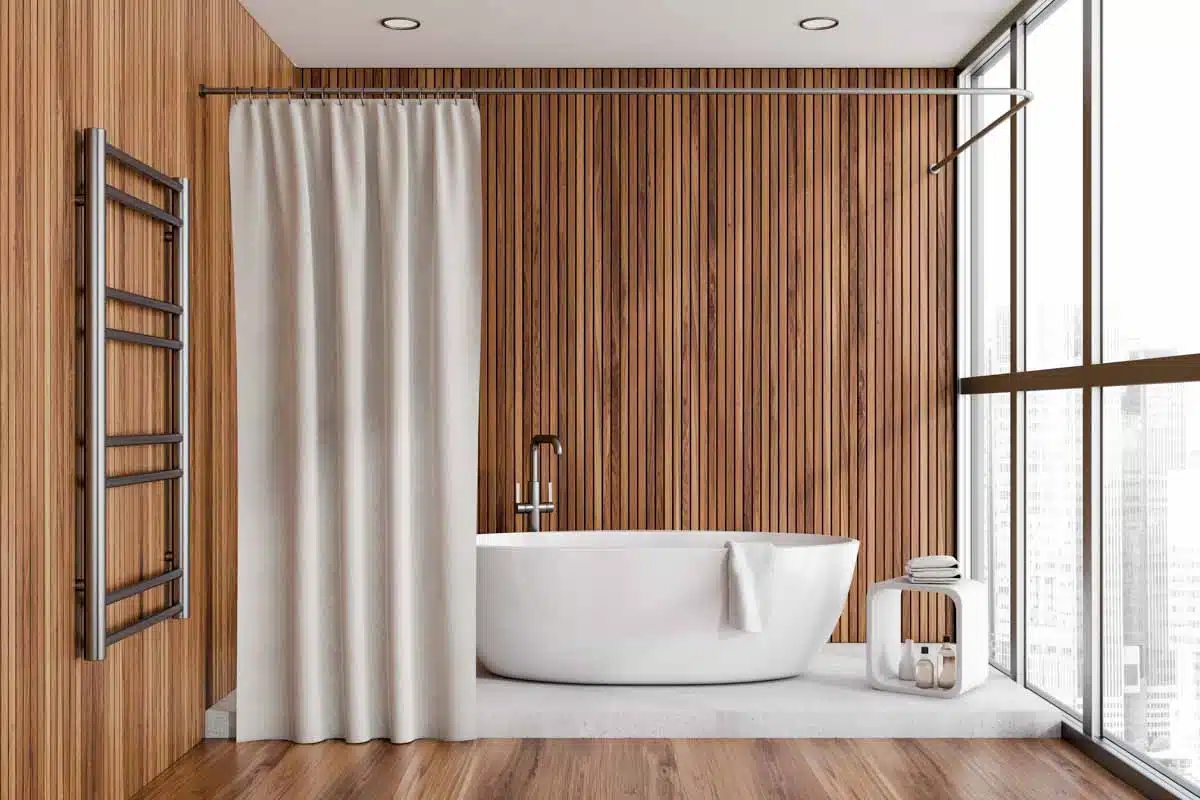 Pros of a Straight Curtain Rod
Many Designs to Choose From: Since straight shower rods have been longer in the market, there's a plethora of variations to choose from that can fit your desired features. The material alone ranges from affordable PVC to rust-proof stainless steel and down to the luxurious-looking brass straight shower rod. The wide range of materials and finishes can easily match your existing hardware.
Widely Available: With so many designs available, it follows that the straight shower rod can be found in small to big home improvement stores. You can easily install or update your shower curtain rod instantly and conveniently.
Simple and Straightforward: Only some people have the innate talent to put together an interior, and because of a straight curtain rod's simplicity, it's easy to mix and match with other elements in your bathroom. A curved shower rod may look out of place in a certain bathroom interior. The straight and clean horizontal shower rod matches most contemporary-styled bathrooms.
Well-Defined Shower Area: Because a straight shower rod is installed parallel to the shower ledge or shower edging, the user is able to perceive the space available even when standing from outside the shower. It also means that the space allocated for the shower doesn't encroach on other areas of the bathroom.
Wide Range of Prices: Straight shower rods are generally more affordable compared to straight shower rods due to their competitive pricing and simplistic profile. Since there are more selections of materials, finishes, and extra features such as different designs of capping, the broader the price range available, this makes it easier for you to match your allotted budget and, at the same time, match your existing bathroom elements.
Cons of a Straight Curtain Rod

Less Elbow Room: Showering involves extending your hands or elbows on the sides when shampooing or soaping an area of your body that can get caught easily with the shower curtain, especially for smaller bathrooms.
Can Feel Claustrophobic: Claustrophobic people may feel uncomfortable in a narrow shower with straight curtains hanging on the sides, especially for a small shower.
Accident Prone: The chances of getting caught up with a shower curtain are much higher with a straight shower rod, as opposed to having an offset from shower edging. This can lead to you accidentally pulling down the entire shower curtain and rod and eventually slipping.
Can Make a Bathroom Look Tacky: Shower curtains can easily look tacky with a poor choice of shower curtain and rod.
Mold and Mildew Growth: While double-straight shower rods are available, shower curtains hanging at the shower edge are more prone to grime buildup. Moreover, constant exposure to water encourages the growth of mold and mildew, especially when a bathroom is poorly ventilated and has less exposure to natural light.
Curved Curtain Rod Pros and Cons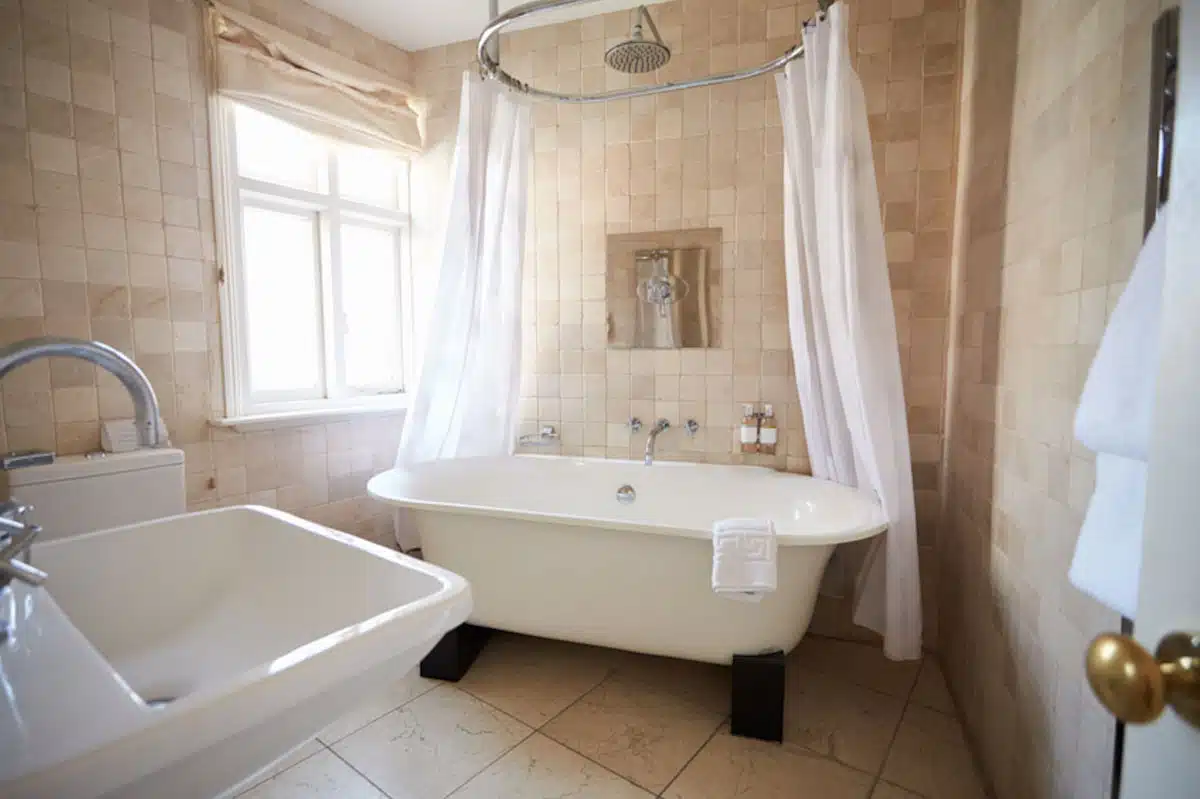 Pros of a Curved Curtain Rod

More Shower Space: The curved curtain rod lends 6 to 12 inches or 33% more of showering space with its outward curve, depending on the product features.
Safe and Comfortable Experience: The extended space provides a more comfortable showering experience without worrying about being caught against the shower curtain. Wet curtain flicking or clinging to your body can be annoying and cause accidents.
Curved rods don't cost much more than straight shower curtain rods, but from a design perspective, they look fresh and new. – From Renos to Riches The Canadian Real Estate Investor's Guide to Practical and Profitable Renovations, Ian Szabo
Add a Modern and Updated Look: Curved shower rods have a smooth curve that can be visually appealing. The arched profile's contrast juxtaposes straight lines typical in many interiors. A metal with a curved line can also inspire adding décor with the same arched profile so you can tie together the elements in the bathroom.
They can also add visual appeal and elegance to a freestanding or clawfoot bathtub and help prevent water from splashing onto walls and other fixtures. These products can be mounted directly to the ceiling or wall, depending on your needs and bathroom space.
Faster Drying of Shower Curtain: Because of the extra inches provided by the curved shower rod, some parts of the curtain are farther away, reducing the water splash from showering. The curved surface area also allows ventilation to pass through more effectively than a shower curtain against a shower edging.
Safer Curtain Shower Rod: The additional distance of the curved shower rod also means it is further away from hitting a person showering in the event that the shower rod suddenly detaches and falls from the shower walls.
Cons of a Curved Curtain Rod

Lesser Design Options: Compared to straight shower rods, the design options are fewer. However, as time passes, manufacturers will eventually make more materials, finishes, and added features available.
Also, future customization may allow consumers to choose the exact curvature and length that suits their specific shower configuration. This could also extend to selecting the type of brackets or mounts that best fit their bathroom decor.
Not Compatible to All Styles: Not all bathroom themes look good with a curved curtain rod. There are certain online software or built-in simulation programs from some manufacturers of curved shower curtain rods that produce a 3D look of their product when installed in your bathroom.
Can Take Up Other Areas: Since a curved shower rod arches over the opposite side, it can take a few inches from the other areas, such as the lavatory or water closet. This can be a problem for small bathrooms or if the said bathroom fixtures are near the shower area.
There are curved shower rods that can be flicked or switched to the other side when no one is using the shower, so the arch bends inward into the shower instead of bending outward.
More Expensive: Curved shower rods are generally more expensive due to the curved profile, which is more difficult to manufacture compared to a straight shape. Specialized hardware and design are also needed to mount the curved rod and attach it to the walls with either tension or permanent attachment.
When To Use a Curved or Straight Rod?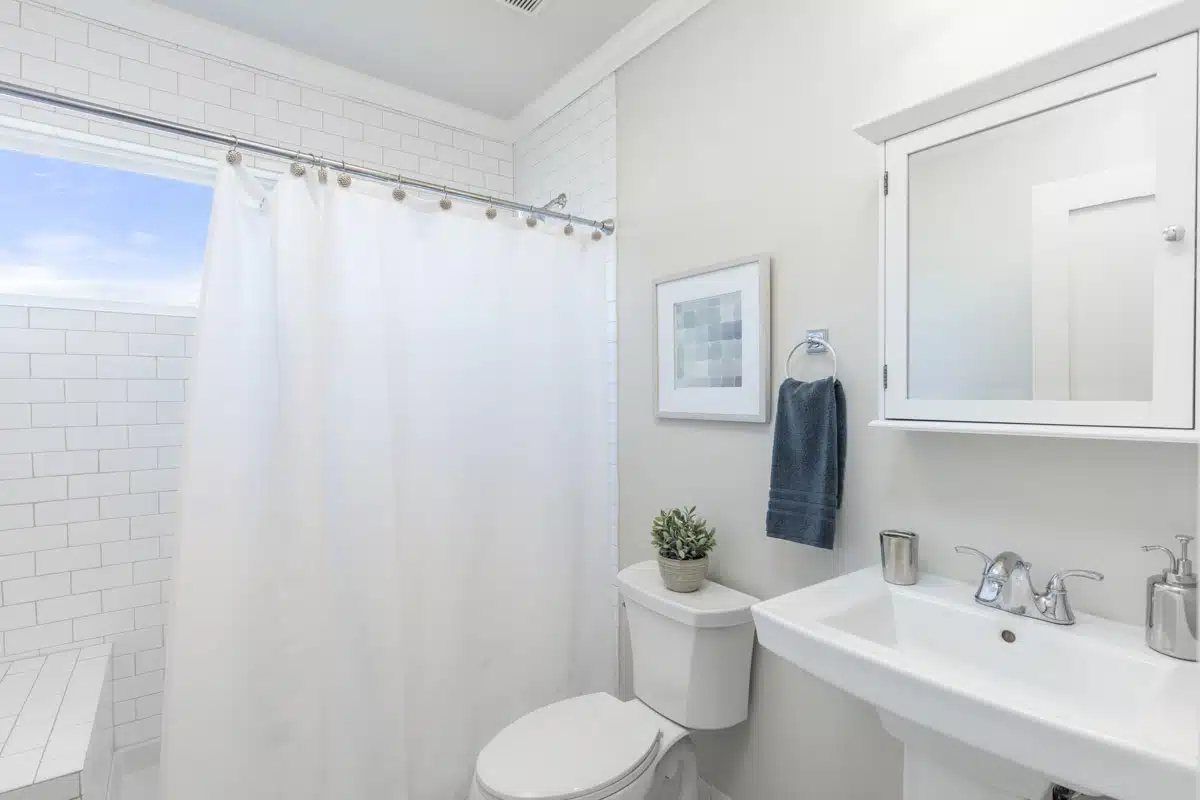 A straight shower rod is ideal for bathrooms with showers near a water closet or lavatory, as a protruding shower curtain can encroach on these other functional spaces. A straight shower rod is also practical if you are unsure how a curved profile would look in your present bathroom theme.
A curved shower rod is best for tight shower areas because of the extra elbow space. Other fixtures also should not be too near the shower edging as it may take up the space intended for the said areas.
There's the option of finding a double curved rod that allows you to open the outer curtain when the shower is not in use and leave the inner layer closed. The bendable or adjustable curved shower curtain is also available that can switch its curve by simply tapping the rod to the intended direction.
What Is Better, Straight or Curved Rods?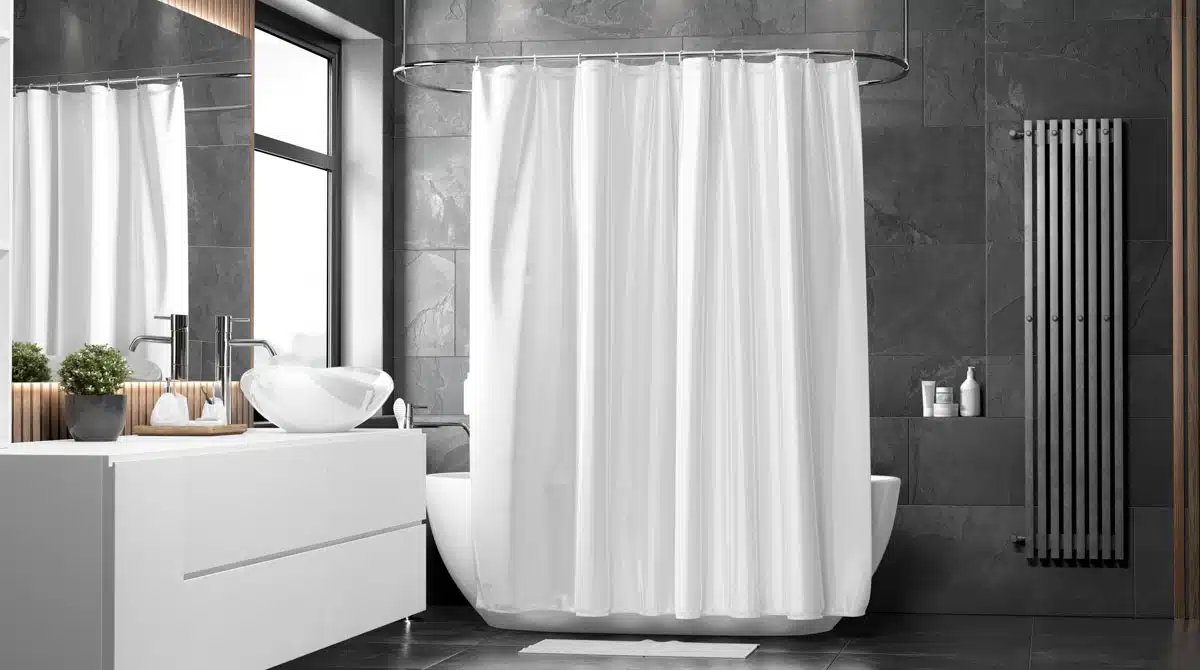 Discussing which to pick when it comes to curved vs straight shower rods will largely depend on your preferences, bathroom design, and budget. Both have a level of versatility in matching certain bathroom themes.
Installation-wise, they are both extremely easy to install and can have similar added features such as double rods and adjustable lengths. To determine whether a straight or curved rod is better for your shower, weigh the pros and cons of these shower rods to determine which is best for your bathroom update.
In general, straight rods are best for basic small bathroom layouts, while a curved rod is ideal for adding more space to the shower area.
What do you prefer when it comes to curved vs straight shower rods? Please share your experience using these bathroom accessories below. See more related content in our article about the best shower curtain alternatives on this page.