Here we share our kitchen ceiling beams guide including what they are called, different types, ceiling designs, how much they cost, and tips on adding beams to a kitchen.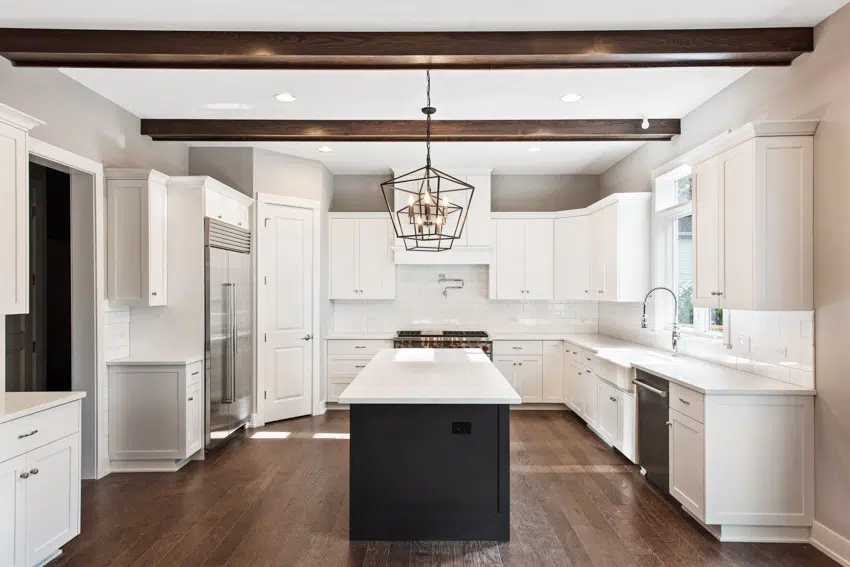 If you're looking to revamp your kitchen, ceiling beams can change the space more than you think. They're a great way to make your kitchen look bigger even if you can't actually make your kitchen bigger. The ways you can use the various types and styles of ceiling beams in your kitchen make them a versatile decor tool.
What Are Beams on Ceilings Called?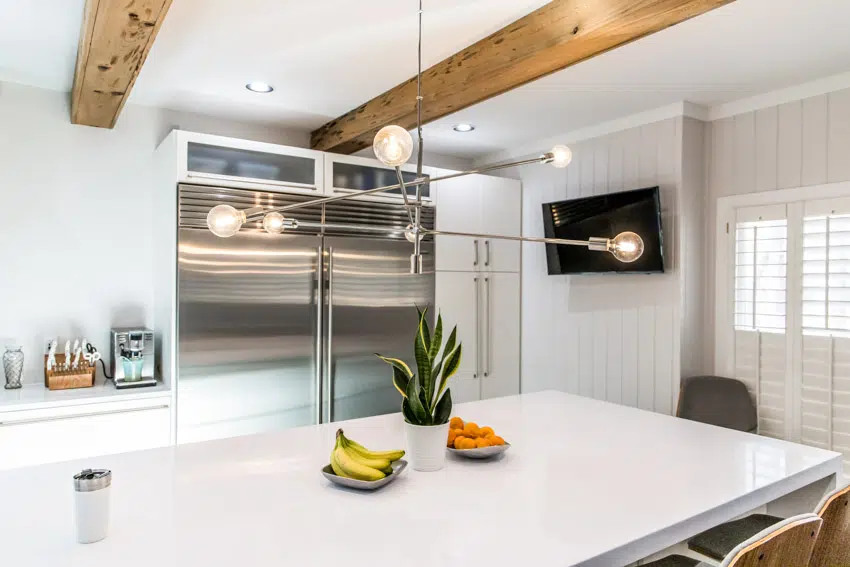 The wooden beams crossing over ceilings can add a lot of character to a kitchen but what do you call them when you're talking about them or researching them? Luckily, you can just call a ceiling with these beams an exposed beam ceiling.
There are a few other names you might hear these ceilings go by either, including exposed trusses, exposed timber beams, or exposed rafters. The key word here is "exposed." Even if they aren't decorative, your house is full of beams that you may not always be able to see right away.
These ceiling design types often serve a structural rather than decorative purpose although an exposed beam can be either structural or decorative or even both at once.
Types Of Ceiling Beams In The Kitchen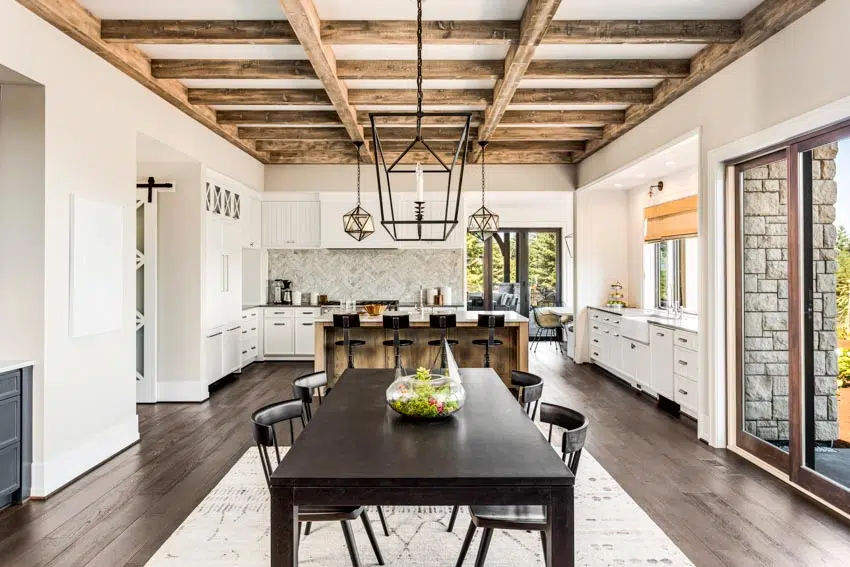 You have a few options when it comes to the type of ceiling beams you include in your kitchen. The four primary options here include;
1. Solid Wood Beams: Solid wood beams are the most traditional choice but also the most expensive and the heaviest. As the name suggests, these use real, solid wood beams to create a pattern on your ceiling. Exposed solid wood is especially useful if you're interested in a rustic or farmhouse design in your kitchen.
2. Box Wood Beams: Box wood is made to look like solid wood but differs in a few important ways. Namely, they offer the appearance of solid wood without the weight because they're hollow inside.
Another benefit to this is a lowered cost. Similar to a box beam ceiling, U-beams are often three-sided rather than entirely closed, it's a great place to install speakers or disguise wires running across the room.
3. Faux Beams: Faux beams aren't wood at all. Made to be another lightweight option, they're usually made with a material like fiberboard or vinyl. Inexpensive and sometimes deceptively well-designed, faux wood beams can offer a great alternative to real wood although some lower-quality options work better mounted on higher ceilings.
4. Painted Beams: Painting wood beams is an effective way to help brighten the space if the room is too dark or modernize it. Wood beams can be painted to add visual interest and help them stand out and give the room personality.
Painted beams aren't necessarily beams at all. Rather, these are often flat paint designed to look like three-dimensional beams. These save you on the cost of wood but take a talented hand to create convincingly.
5. Post and Wood Beam: This interesting architectural design utilizes a horizontal wood beam with a vertical post to define the kitchen space. A post and beam kitchen is often delineated by the beams to act as a transition between the kitchen and dining area or living space.
Wood Beams In Kitchen Designs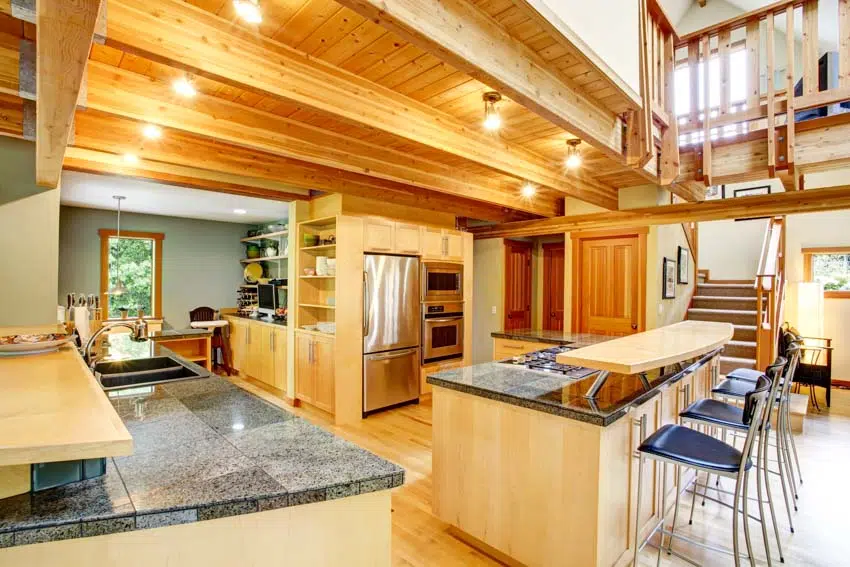 As we've covered, you have a lot of options when you want to include wood beams in your kitchen. For example, bare or exposed wood beams are a great way to add a bit of a rustic touch to your home.
On the other hand, darker wood and clean-cut lines rather than natural edges can create a more modern appearance as well. Decorative ceiling beams can also vary in their placement. Of course, this refers to the pattern on the ceiling but it also includes where they are relative to the ceiling.
On one hand, you can put the design flush against the ceiling. This works well in homes with shorter ceilings when you still want the appearance of beams. However, dropping the beams down from the actual ceiling slightly can help you create the illusion of a higher ceiling as well as make the beams more eye-catching.
How Much Does A Ceiling Beam Cost?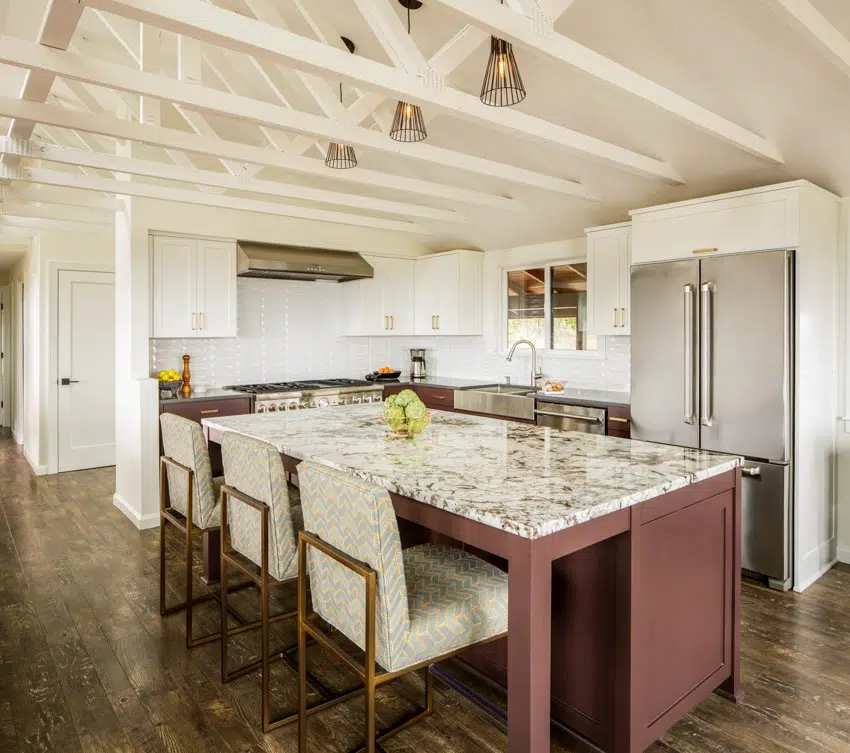 The type of ceiling beam you use will heavily influence its cost. For now, we'll focus on beam types of wood ceilings rather than faux beam materials. It's worth noting that wood can vary in price greatly.
So, the average cost can change depending on the type of wood you choose for your beams. Some types of wood may come at a cost like $12 per linear foot for solid wood beams while some higher-end woods can cost up to $20 per linear foot.
Since solid wood beams often involve working with heavy lumber, you may need to invest in a professional installation to make safely installing them on the ceiling easier.
How Much Are Faux Beams?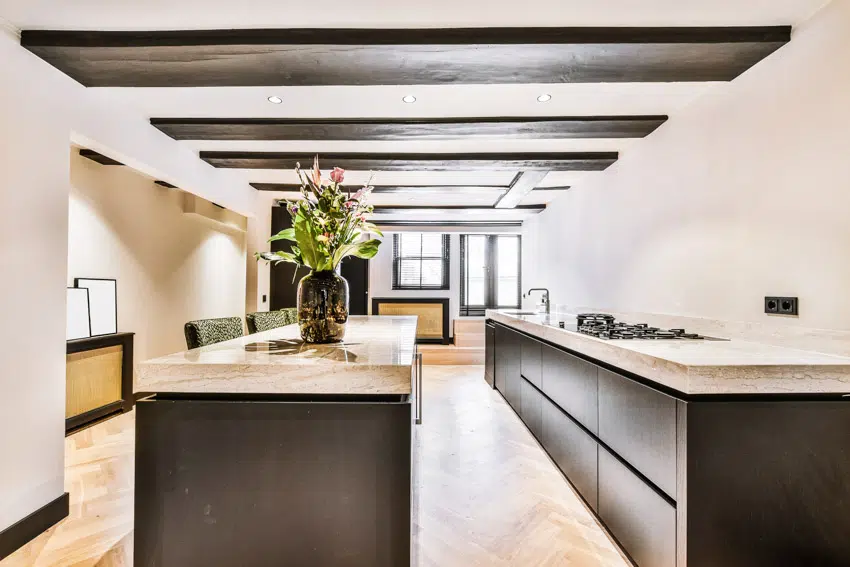 As we mentioned earlier, one of the benefits of adding faux beams to your kitchen is cost. These aren't actually made with wood and manufacturers often opt for more lightweight and inexpensive materials.
The exact price can vary depending on the material your faux beams are made out of. One popular choice is polyurethane. If you opt for this material, you'll spend an average of about $7.50 per linear foot of material.
This is for materials alone, though. If you want to pay for installation, you can expect an average cost of $10.50 per linear foot, bringing your project up to about $18 per square foot.
Adding Beams to Kitchen Ceiling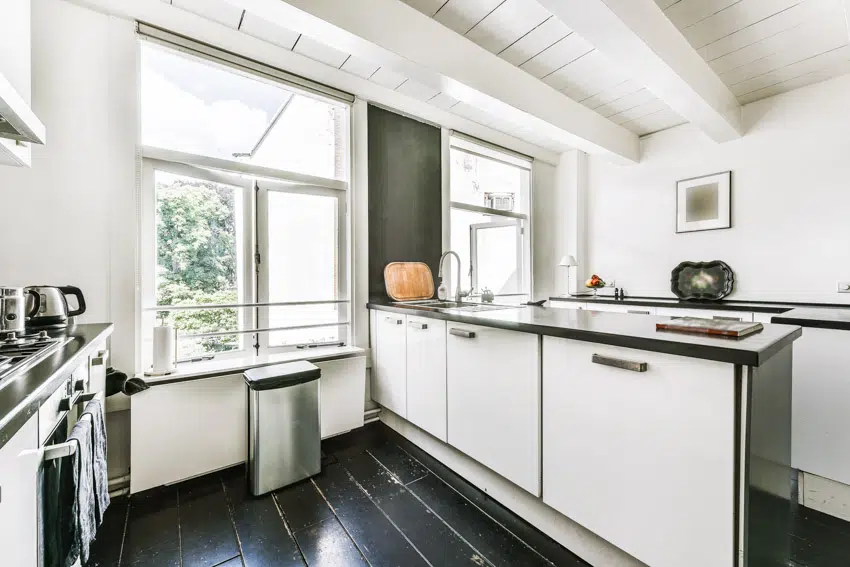 How you add beams to your ceiling depends on the beams you choose. If you opt for painted beams, for example, the process requires a lot of planning and painting. For solid wood, box, or faux beams, there's an installation process to follow.
To start, you'll want to make sure conditions are right for the material you're using. This isn't as much of a problem with faux beams but you'll need to make sure your ceiling can support wood beams. All beams, of course, need to be carefully measured against the space you have on your kitchen ceiling.
Then, you can go ahead and cut any pieces that need to be adjusted for the size of your ceiling. It can help to label your pieces at this time too. If you're gluing together box beams, make sure they're dry before installing them.
Once you get to the ceiling, measure, and mark where you need your beams to go. Tools like chalk lines can help you keep things even. Now, you're ready to start nailing your beams to the ceiling.
If you're using faux beams, it can help to install nailers first. This will help give the beams something they'll fasten to easier without the use of bolts.
See more related content in our article about wood kitchen ceiling on this page.