See what color to paint ceiling beams including the various ideas, ideal shades, suggested finish, and if painted ceilings should match the floor design.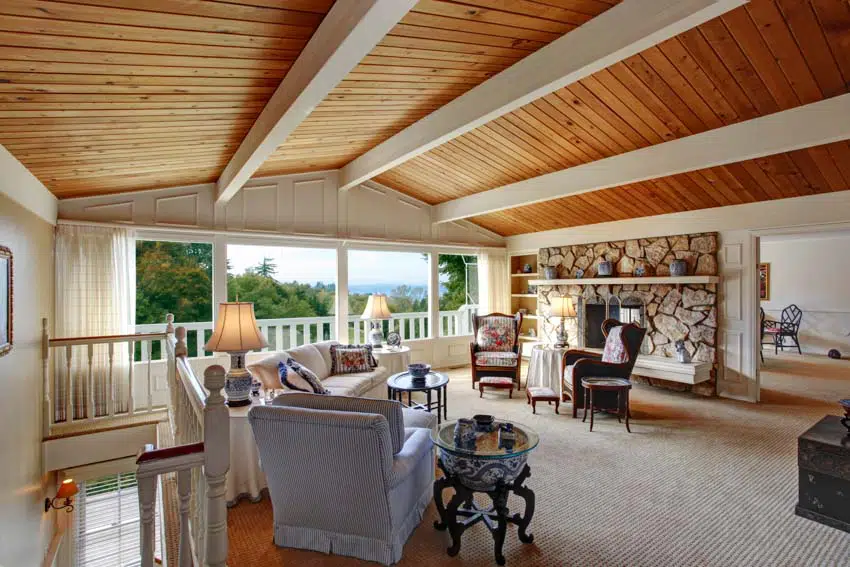 Applying ceiling beams is indeed a wise idea since they provide a striking yet inviting element in any room. They're just joists that have been uncovered on purpose.
Allowing guests to view the roof's support frame might be a fascinating idea, but finding the proper color can be difficult. Ceiling beams may be painted in almost any color on the market.
However, there are some fundamental guidelines and concepts that would get you started. Thus, we've done extensive research to determine which colors are ideal for your ceiling beams.
The perfect color for your ceiling beams should be changed to match the room's present design. Vibrant colors, on the other hand, are usually better for any ceiling. Nonetheless, here we will share with you some ideas so you will know what color you can use to paint your ceiling beams.
Painted Ceiling Beam Ideas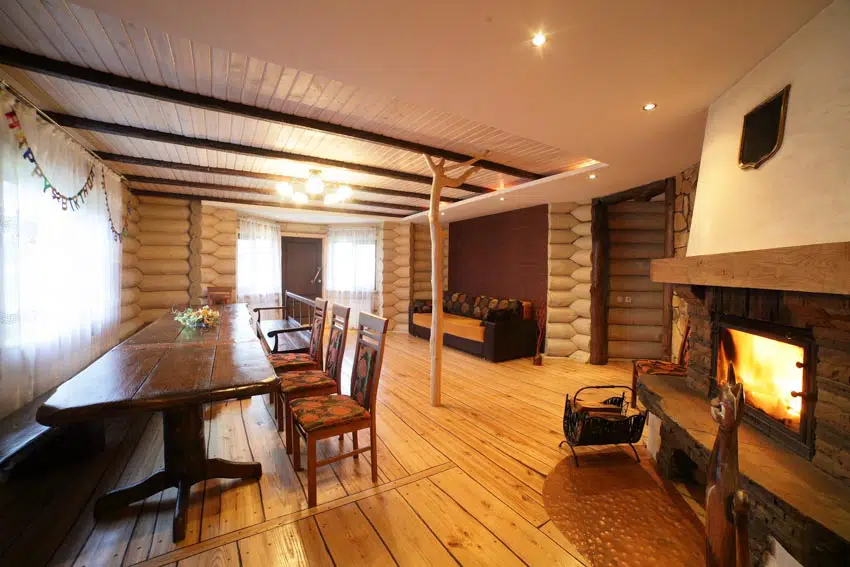 Painting over every uncovered ceiling beam will consume a lot of labor and time. You'll need to have a lot of paint, and you'll definitely need a ladder to complete the project. Alternatively, you might want to consider paying someone to do it for you.
It takes a lot of time and effort in any case. The color you'll pick for your ceiling feature will also have a big influence on the overall look of the space. That is why you must carefully design the ceiling beams so they coordinate with the paint on the walls and other finishes.
The color should be determined by the style of the space. A nursery, for instance, would feel very different from a dining room with uncovered joists. Nevertheless, here are some color ideas you might consider using to paint your ceiling beams:
Painting Beams White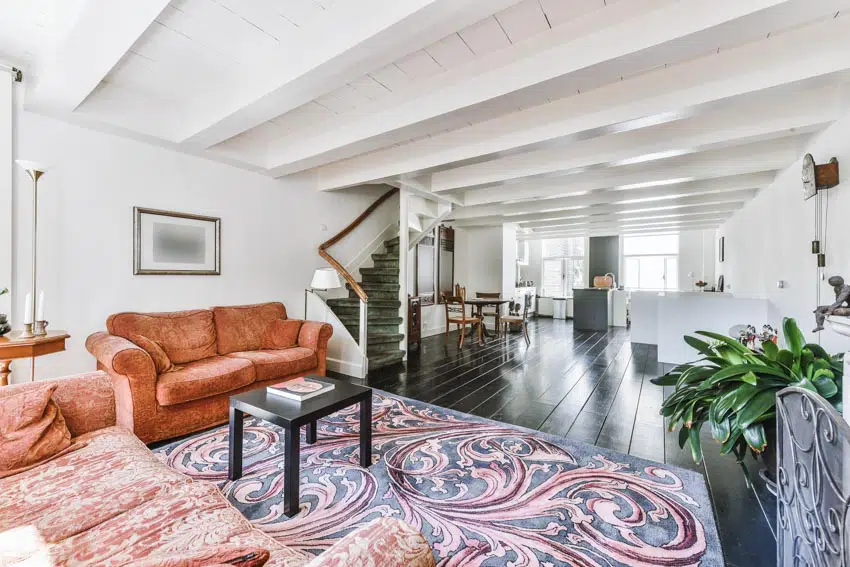 Due to the fact that it is the brightest neutral color, white turns out to be the most well-known color for interior design.
Because white merely reflects all shades, it could be used with almost everything. Indeed, white is an excellent choice for low or high vaulted ceiling beams.
White can illuminate the ceiling without drawing attention to the beams. Certainly, with darker ceiling design types, the high temperature of white can create too much contrast. However, most ceilings aren't always dark in the first place.
| Advantages of Painting Ceiling Beams White | |
| --- | --- |
| Brightens the room | Easier to match with other decor |
| Creates a cohesive look | Adds a subtle accent |
| Highlights architectural details | Makes the room feel more modern |
Painted Wooden Beams
Painted wooden ceiling beams can enhance the overall design of a room by adding color, visual appeal, structure, and stability. Paint can be utilized to alter the wood beam's color or tone, as well as to make distinctive patterns or focal point that gives the space more personality.
A layer of paint is also added to protect the wood from dust, conceal imperfections, as well as protect against moisture damage. Moreover, painted wooden ceiling boards can aid in quieting a room down because of its reflecting surface's ability to deflect sound waves.
| Advantages of Painted Wooden Ceiling Beams | |
| --- | --- |
| Protects the wood | Makes the room feel cozier |
| Adds color | Creates a focal point |
| Conceals flaws | Enhances architectural features |
Colors to Paint Wood Ceiling Beams
Blue or Green: The colors blue and green are ideal for any type of wood. That's because blue and green may be found everywhere in nature, from rainstorms to woods. Hence, they're both perfect candidates for wood beams.
Blue and green are also noted for their wide spectrum of tones, which vary from the deepest seas to the most vibrant mint. In actuality, sky blue is an excellent choice for a ceiling color.
Blue and green, on the other hand, are versatile enough for contemporary, abstract environments.

Porter Paints Muted Yellow (13185)
Yellow: Yellow creates an energizing ambiance. In outdoor spaces and in nurseries, kitchens, and dining areas, yellow is indeed fashionable. It gives your interior space a pleasant, breezy, and enjoyable vibe.
However, the type of color yellow you will choose should be in a more muted tone as well.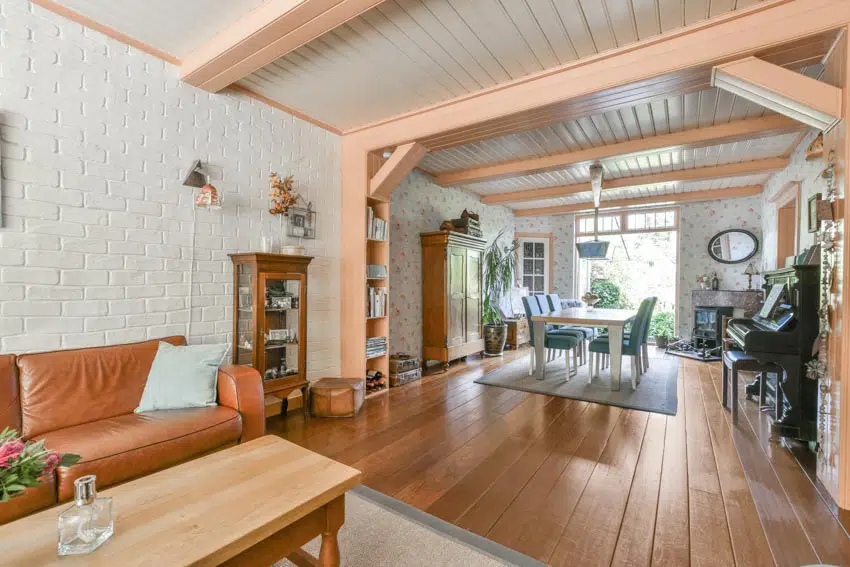 Rose: Rose is an excellent way to use pink without the harshness that it is known for. Wooden ceiling beams will complement that garden vibe as it boasts a flowery atmosphere.
Black Painted Beams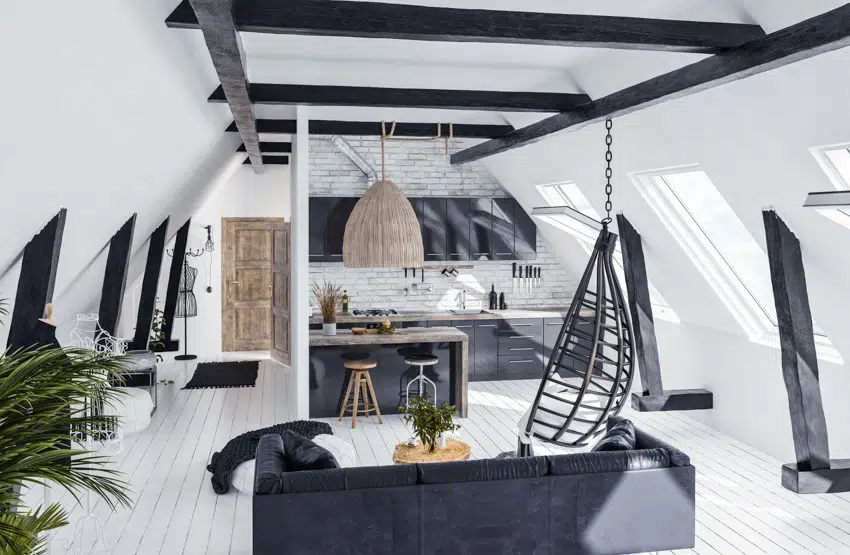 The deepest of the neutral colors is black. Black can be used with a vast array of other colors while also significantly lowering the room's temperature.
Darker ceilings can give the impression of being lower than bright ceilings. Since most floors are dark, to begin with, this will eventually result in a constricting effect.
The added volume of shadows might upset the balance of the scene if there is darkness both above and below. This can also give the illusion that the various types of furniture and fittings in between are floating in their respective area.
In contemporary and minimalist interiors, black is always a must-have. However, the purpose of these styles is to create rooms that are clean, seamless, and spacious with minimal adornment. An exposed timber joist, even so, will always have a natural look.
The ceiling texture of the beam, even if painted deep black, might clash with a modern aesthetic. You could paint the posts black for an industrial or sophisticated look if they aren't made of wood.
A black wooden ceiling beam looks great against a natural hardwood brown ceiling. Black can also be used to generate contrast against a somewhat darker ceiling.
| Advantages of Black Painted Ceiling Beams | |
| --- | --- |
| Adds contrast, depth and dimension | Provides a modern touch |
| Creates drama | Conceals imperfections |
| Complements other colors | Highlights design elements |
Gray Beams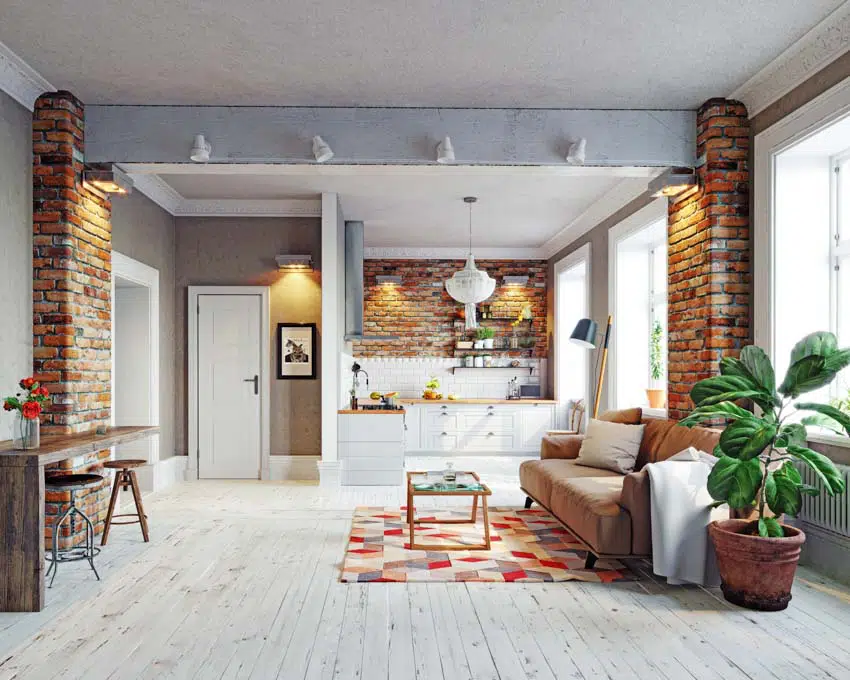 Gray is a cold neutral that is less contrasting than black, and that's why it is an incredible color for ceiling beams. It will also complement a wooden beam's natural appearance.
Natural gray undertones could be found in a plethora of wood types, including walnut. You may use gray to make the feature resemble beech wood, for instance.
In addition to painting beams there are different color faux beam products available that can be painted or are prepainted and give the appearance of real exposed rafters. These can be installed as a DIY project and will need to be cut to size and hung with fasteners to your joists or studs.
Should Ceiling Beams Be Painted Flat or Semi-Gloss?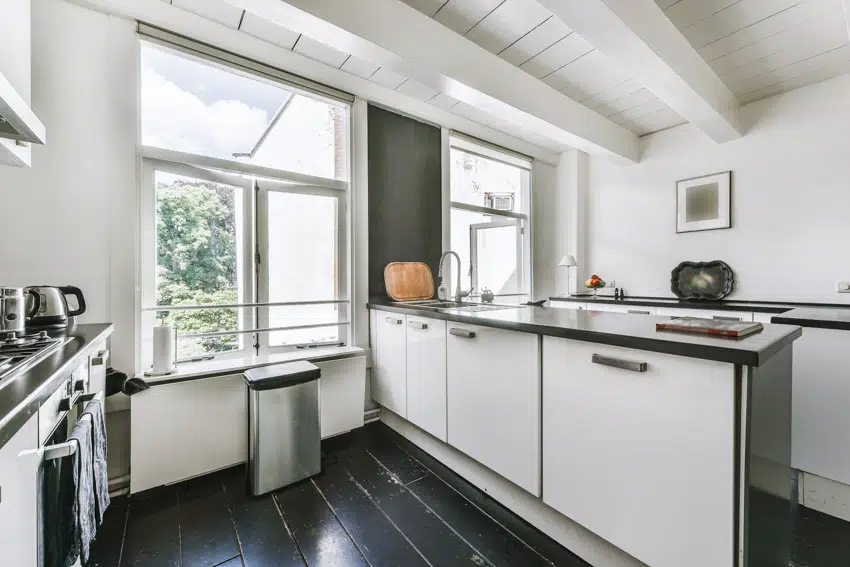 A high-gloss or semi-gloss finish will doubtlessly add interest and elegance to the ceiling beams. The best paint finish for ceilings mostly comes in matte or flat.
Meaning, if you will paint the ceiling beams with a matte finish as well, this won't make a pleasing effect. Indeed, it would look very dull.
That's why it is highly recommended to give your ceiling beams a high-gloss or semi-gloss finish so they can neutralize your ceiling with a matte finish.
On the other hand, if your ceiling has a glossy finish, (which is very rare), then it would be a better idea to give your ceiling beams a matte finish.
Do Beams Have to Match the Floor?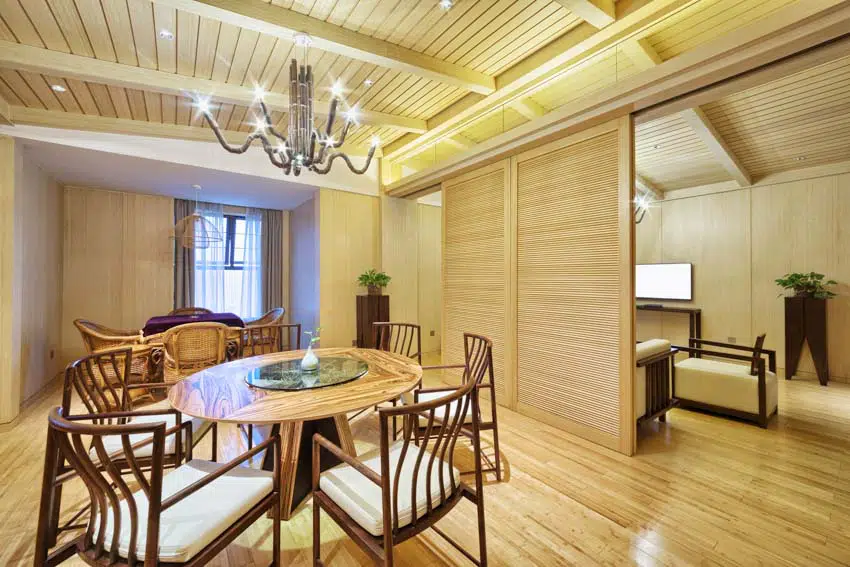 The connection between the ceiling beams and the remainder of the interior space should first be determined. The ceiling boards do not have to be the same color as the floor.
In reality, the floor is perhaps the room's darkest color. This anchors the area and serves as a visible platform for everything else to stand on.
The roof will appear considerably lower if the ceiling beams are painted the same color as the darkened floor. Using lighter colors will provide for a better overall experience and sense of a larger height.

Furthermore, in any home design, using two same colors is not always a smart idea. This gives the impression of duplication, which is unappealing to look at.
As a result, the majority of interior design styles stick to colors from the same family. They'll be slightly brighter or darker, with only a shade or two separating them.
Painted Ceiling Beam Ideas Infographic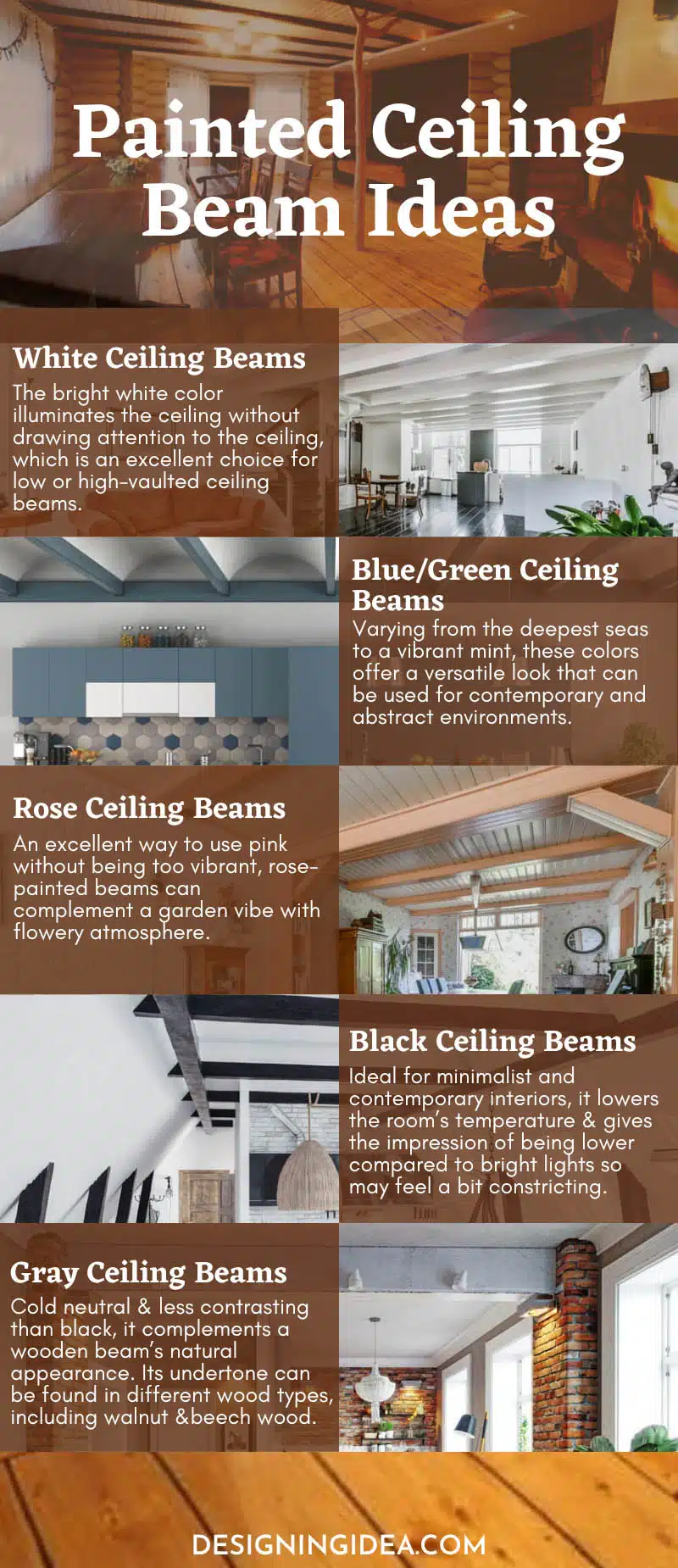 To use this infographic on your website please copy and paste it to your computer, upload it to your server and provide a link from your webpage to this page.
See more related content in our article about the different coffered ceiling ideas on this page.