Here's our guide to the best carpet colors for bedrooms including the most popular ones like neutral carpet colors and some tips on how to choose the perfect carpet for your bedroom.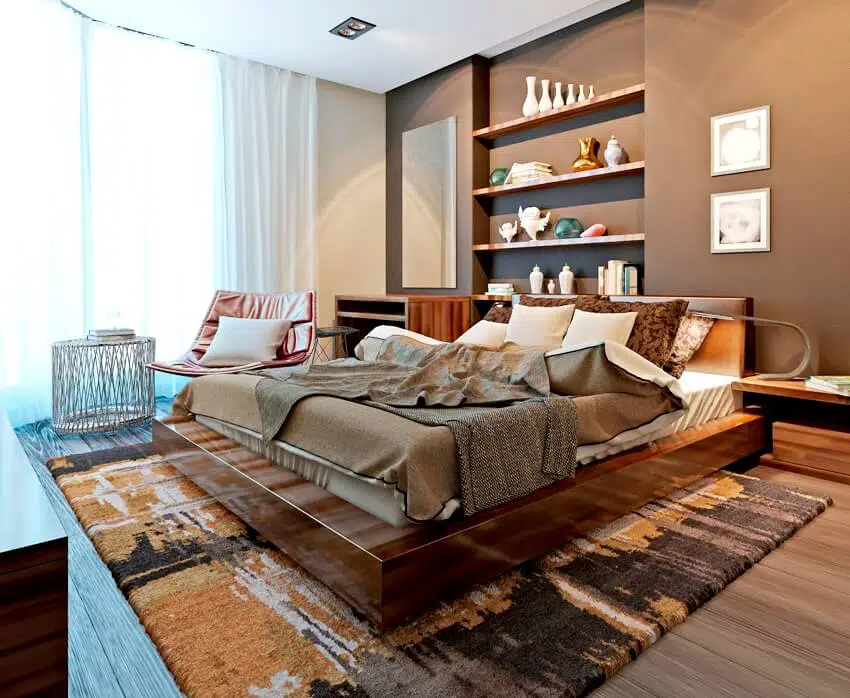 What part of the house must be the most relaxing and comforting space? If your answer is "bedroom", you're 100% correct. Your bedroom must have a calming and soothing ambiance.
That's why in terms of furnishing your bedroom, you need to make sure that you're choosing the best decor that promotes calmness and coziness.
One of the most important things to focus on is your carpet flooring. With the correct carpet color, you'll enhance the design and comfort level of your bedroom.
In this article, we will discuss some of the most popular bedroom carpet colors. You will also be informed about some of the best neutral carpet colors you can try and how you can choose the best carpet for your bedroom.
Most Popular Bedroom Carpet Colors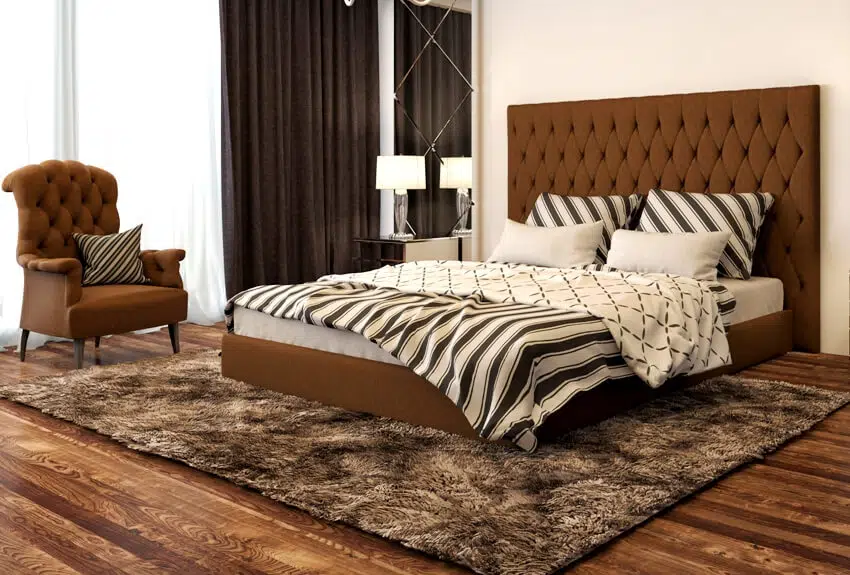 Most homeowners go with neutral colors such as tan, beige, gray, ivory and brown for the bedroom. These neutral colors are the top choices for bedrooms as these carpet colors are much easier to clean and maintain.
They can also match most of the bedroom wall colors since they are flexible colors. Tan, brown, gray, and beige are very popular carpet choices for they add so much warmth to a bedroom. They make the bedroom look more relaxing.
Also, using these colors gives you the freedom to modify the overall design and furniture selection inside your bedroom.
Neutral colors such as these four colors that we have mentioned are the best selections in terms of producing a very inviting and welcoming space. These colors can even make your bedroom look bigger while keeping the whole ambiance cozy and warm.
Furthermore, you won't have to worry about changing your bedroom wall color and decorations with neutral-colored carpets. Versatility and timelessness are what neutral colors offer. They do not look old even after a few years. This is why neutral colors are the most popular carpet colors.
Best Neutral Carpet Colors For Bedrooms
Below is our list of the best carpet for your bedroom.
Tan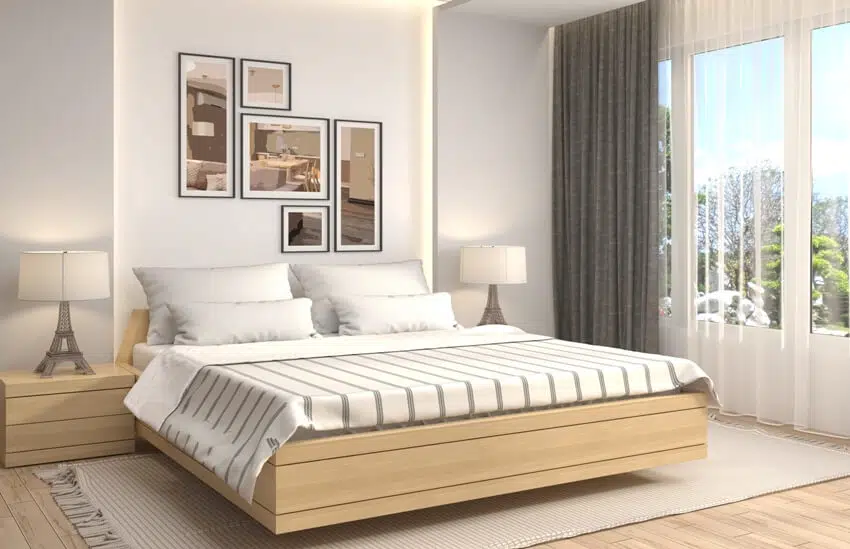 This color matches very well with bedrooms that use wooden furniture and walls. Along with brown, tan colors give a huge amount of warmth to a bedroom.
Brown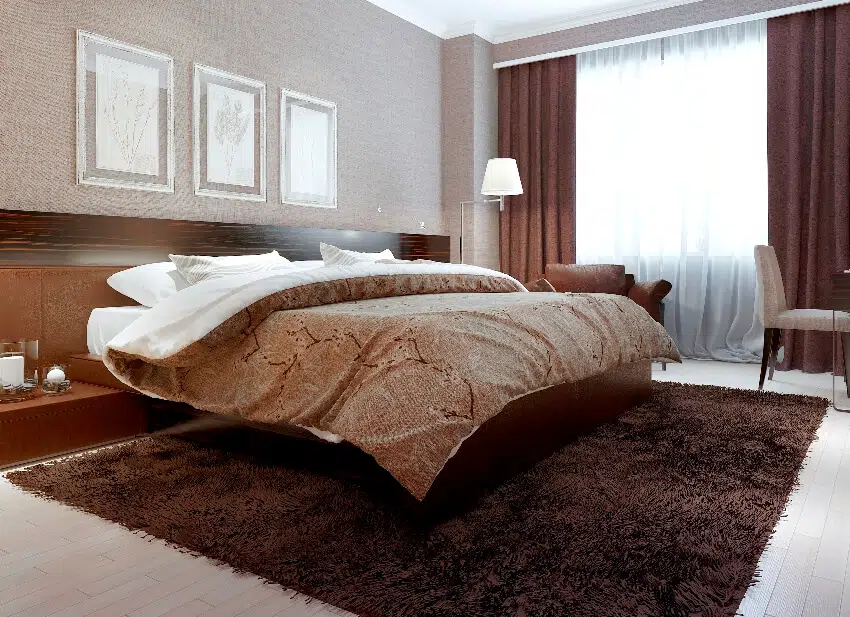 This carpet color makes the room look more earthy. Among the 4 popular neutral colors, brown can be the most resistant against stains and dirt. Read more about our guide to carpet colors that don't show dirt.

Beige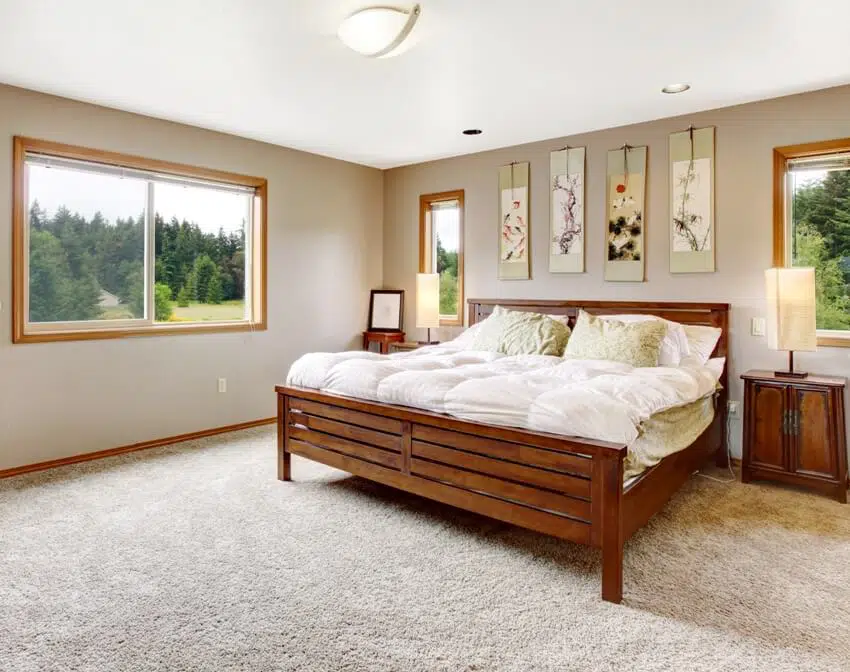 This carpet color can virtually match all of the paint colors. It can also be used for bedrooms that are too white as it evens the ambiance by adding enough warmth. In fact, beige can be the most versatile neutral color; it can work in any space.
Gray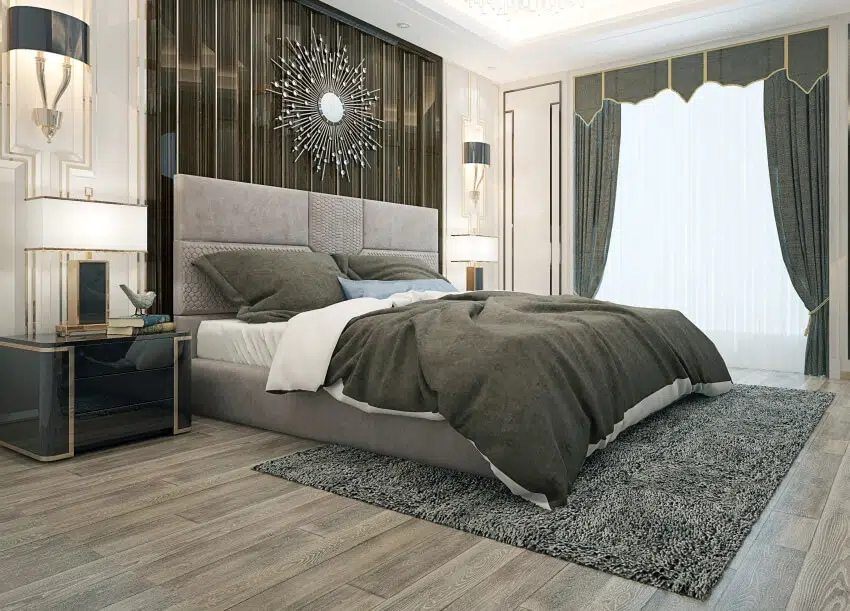 Among the 4 neutral colors, this might be the most ideal for high-traffic bedrooms. Gray can be very easy to clean and maintain.
Although all of these neutral colors are excellent in terms of timelessness, gray could be the most timeless color.
Colorful Carpet Colors for the Bedroom
Some people may think that neutral colors look bland. So if you are into more colorful options, you're so free to incorporate a bold-colored carpet in your bedroom. To those who are not into neutral colors, you might want to try these other popular colorful carpet colors:
Dark Green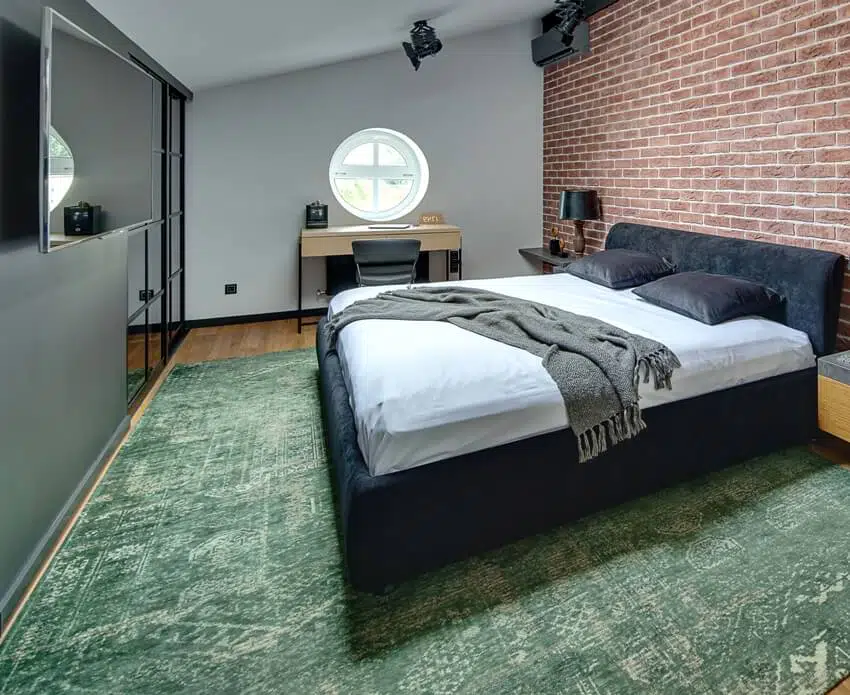 This carpet color is perfect if your bedroom has light-colored walls. It makes the whole bedroom look more earthy and natural. However, you need to make sure that the colors of your furniture and decorations match well with green.
Dark Red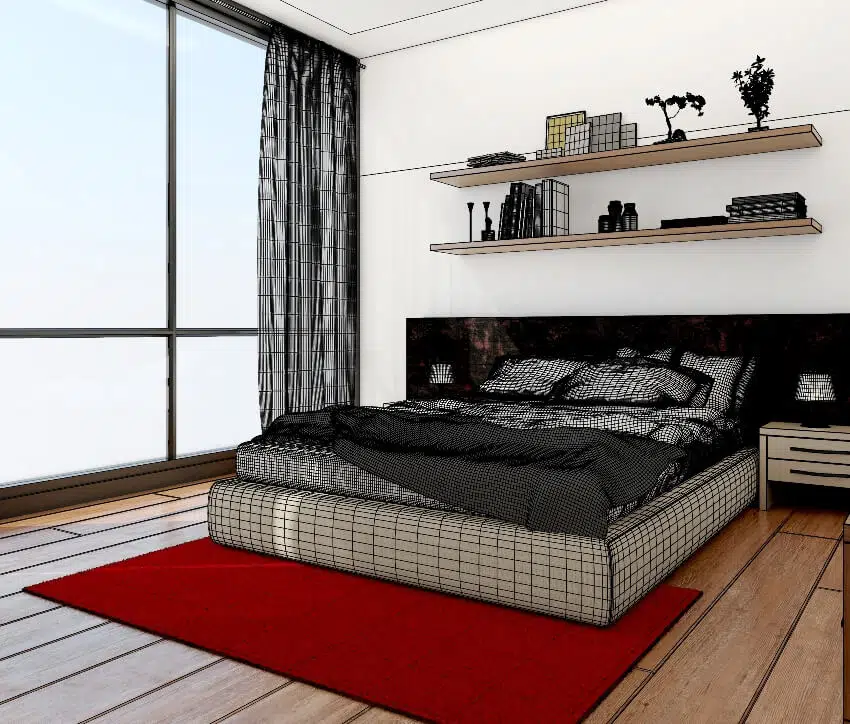 This sophisticated carpet color is ideal for master bedrooms. It helps in making bedrooms look more romantic and eye-pleasing.
Sky Blue
This carpet color matches very well with bedrooms with huge windows. It also pairs excellently with beach-style houses. Sky blue carpets can enhance the overall appearance of your bedroom by giving a more refreshing ambiance.
Navy Blue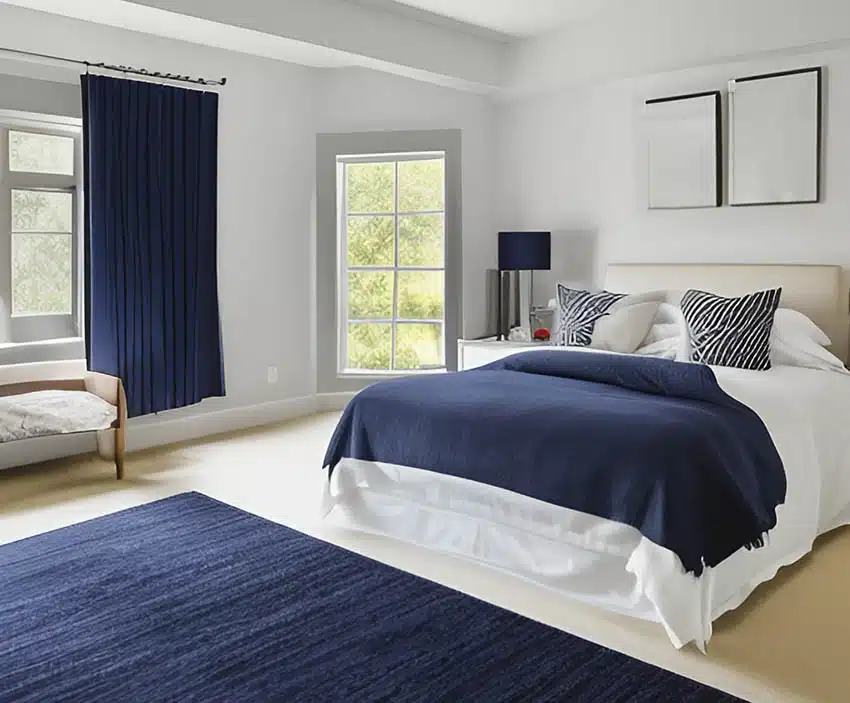 Navy blue is a great color choice for a bedroom rug as it adds depth and richness to the space. It's a versatile shade that pairs well with a variety of decor styles, from modern to traditional. Navy blue also has a calming effect, making it an ideal choice for the bedroom where relaxation is key.
Additionally, navy blue hides dirt and stains better than lighter colors, making it easier to maintain and keep looking fresh. Overall, incorporating a navy blue rug into your bedroom can add both style and practicality to the space.
---
How To Choose Carpet For Bedrooms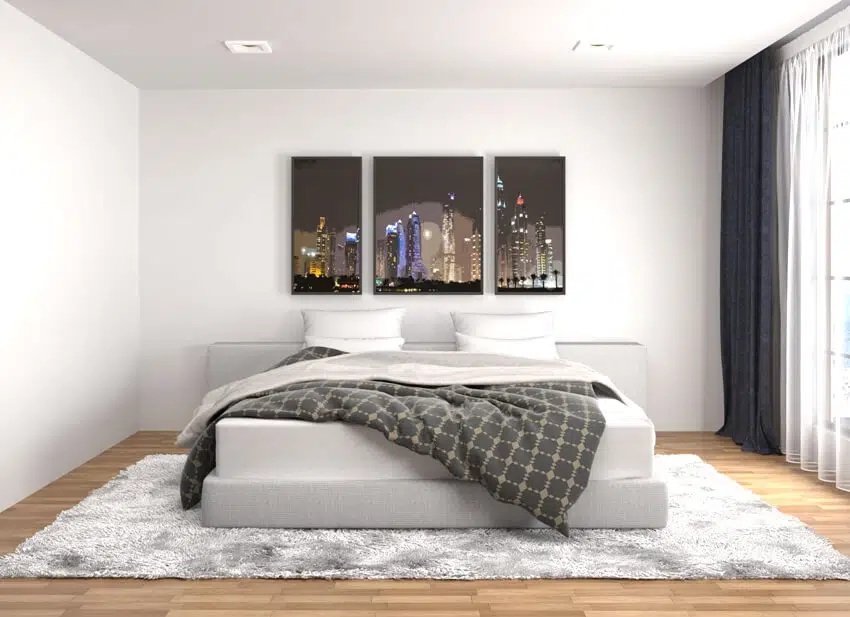 Ask the expert – For this segment we asked interior designer Jennifer Eldridge her best tips for how to choose a carpet or area rug for a bedroom design:
Whether you are painting the bedroom first and then deciding on the carpet or area rug color, or vice versa, it is pertinent to determine the color of the walls. The carpet should complement the wall color and add a lovely accent to the room.
The best color combination is light walls with a statement color, whether it's darker or has a bold print or texture.
If you opt for using an area rug, an effective way to add a special touch to the bedroom is to incorporate a textural difference in the materials. Such as using a fluffy shag rug in a texturally neutral space.
Another option is a handwoven or natural fiber rug that complements quilted or stitched bedding and adds a coastal touch to a minimal bed frame. A patterned rug may be just the accent that your bedroom needs, whether it be a bold oriental, a subtle geometric, or a feminine floral.
Choose a carpet or rug that contains at least a few colors that coordinate with the wall colors and bedding to tie the color scheme together.
Even patterned bedspreads or throw pillows can be coordinated with a patterned rug as long as the patterns do not clash, follow the same color scheme, manipulate neutral colors like black or white, or use the rug's complimentary colors.
Another critical aspect of choosing a carpeting or area rugs for the bedroom is the fiber of the carpet. Since the bedroom will not get as much traffic as other rooms, you can opt for a more luxurious material.
Options include wool, silk, cotton, sisal, jute, sea grass, or synthetic fibers. Wool rugs are durable and repel water and dirt, yet are still very soft and comfortable. They can also come in various colors and patterns, most commonly oriental, and are often mixed with other fibers to reduce the cost.
Wool rugs come in flat weaves to high piles, based on your preference. I like flat weave rugs for the bedroom as they still provide softness but are easier to place furniture on top of and move around the room.
Furthermore, I like how flat weaves do not add as much bulkiness to the bedroom as a high pile rug and therefore don't detract from the furniture or decor. Natural fiber rugs such as Jute add a natural, beachy style to the bedroom and are usually inexpensive.
The only downside of these rugs is that they can be scratchy or tough to walk on because of the stiff natural fibers and can also be difficult to clean. Cotton rugs are not as popular for the bedroom because they are typically used for high-traffic areas where they are switched out or washed frequently.
However, cotton is still a comfortable, inexpensive option that comes in a low pile or flat weave. Synthetic fiber rugs are usually made from a blend of polyester and nylon; they are cheap and easy to clean but still come in various colors, patterns, and pile heights.
Silk rugs are very luxurious and can be a bit pricey. However they are very durable and will last a long time as long as they are treated well. A bedroom is perfect for this type of rug since there is minimal foot traffic and it is less likely to incur many spills. Silk rugs come in various colors, patterns, and pile heights to satisfy any decor or color scheme.
---
Choosing a Carpet for the Bedroom Checklist
When selecting a carpet there are several factors to consider. Here's a breakdown of a few things that can help you decide.
Determine your budget
Before deciding on what color or texture of carpet you will purchase for your bedroom, you need to identify first your budget. It is the most vital part of the process. The price of every carpet normally depends on your bedroom's square footage.
Before purchasing a carpet and going to the home supply store, ensure that you have measured your space first. Large bedrooms mean higher size or more carpets will be used.
That's why it's more recommended to go for less expensive carpet options if your bedroom is large.
However, if you have a small-sized bedroom, you might want to invest in more luxurious carpet options since small bedrooms will only require fewer carpets.
But then, the final decision will still be up to you. You just have to make sure that you have enough budget for purchasing the best carpet for your bedroom.
Also, it's recommended to invest in high-quality carpets that are sure to last for many years.
Choose the Carpet Fiber that Best Suits Your Needs
Normally, wool is the most preferred option by homeowners because it's very soft and luxurious. But since it's a natural fiber, it might be the most expensive carpet fiber. Find out more about wool carpet pros & cons here.
If you're not into natural fibers, then you can go with synthetic fibers. Carpets with synthetic fibers are generally cheaper than natural fibers. These carpets can be the most ideal option for large-sized bedrooms.
The most expensive synthetic fiber is Nylon. Nylon is also soft but not as soft as wool. Even so, carpets that are made out of nylon can be the most durable ones. Nylon-made carpet floors are usually the best choice for master bedrooms.
If you want a less expensive synthetic carpet, you can go for polyester-made carpets. They are cheaper than nylon. See our guide to nylon carpet pros and cons here.
What's good about polyester is that it is non-allergenic. If the person who uses your bedroom suffers from asthma or other breathing problems, polyester might be the most recommended carpet choice.
Decide What Pile You'll Select
Low-pile carpets are an excellent choice for bedrooms as they're easy to maintain. They're very ideal for high-traffic bedrooms.
But if you want to make your bedroom floors become more comfortable, go for high-pile carpets. High-pile carpets are much softer, warmer, more comfortable than low-pile carpets.
For more related ideas visit the types of carpet page.