These are the best free barndominium design software programs available to guide and help you visualize and plan your unique barn style home projects.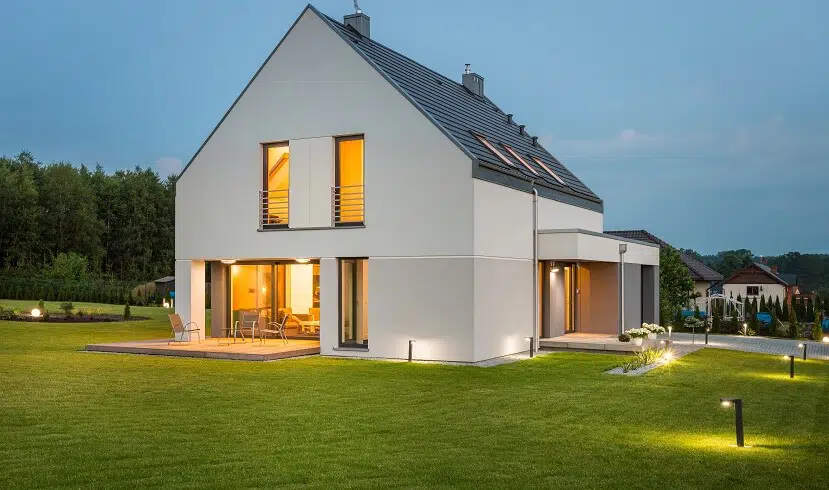 The term "barndominium" is a new design lexicon making waves in the real estate and architectural scene. With over a hundred million views on Tiktok and hundreds of searches on google, barndominium is dubbed as a new kind of dream house that a lot of Millennials are now diving into.
Along with the rise of your so-called "barndos" are barndominium design software that helps realize your vision of modern living that is fun, affordable, low maintenance, and efficient metal building.
What Is A Barndominium?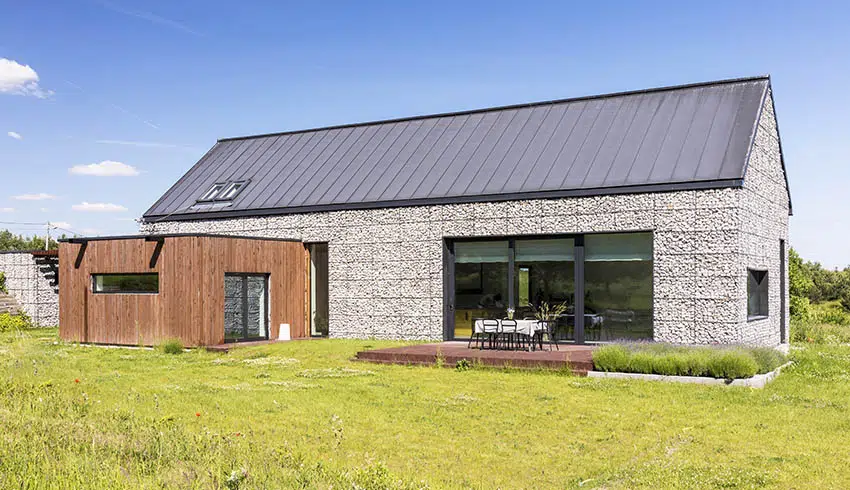 A barndominium is a steel structure that was initially designed as a barn for horses and their owners. The style has changed over the years and has been used as regular homes, usually with a large great room and an open floor concept, due to the aesthetic appeal of this barn-like structure. See our guide on barndominium homes here.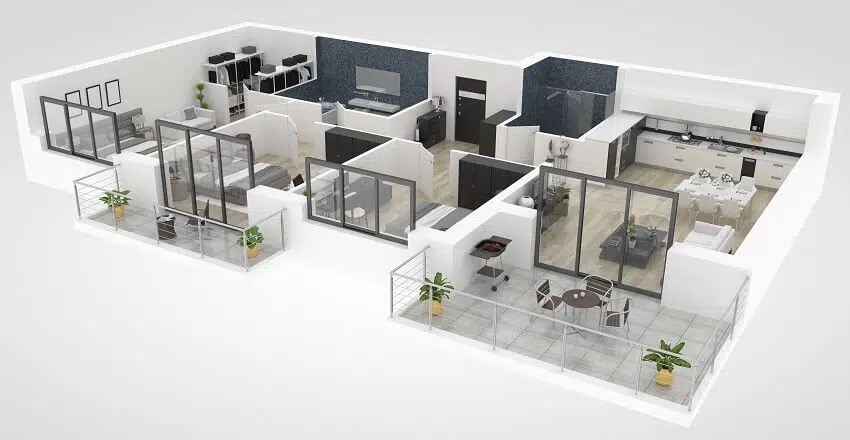 The term Barndominium was first coined by Connecticut developer Karl Nilsen in 1989. The concept didn't catch on in the real estate world until 2016 when Chip and Joanna Gaines transformed a 1980s horse barn with a no-frills attic apartment into a neighborhood 2,700-square-foot marvel of modern country living for an episode of Fixer Upper. Chip coined the term "barndominium," and a whole new category of dream home was born.
What Is Barndominium Design Software?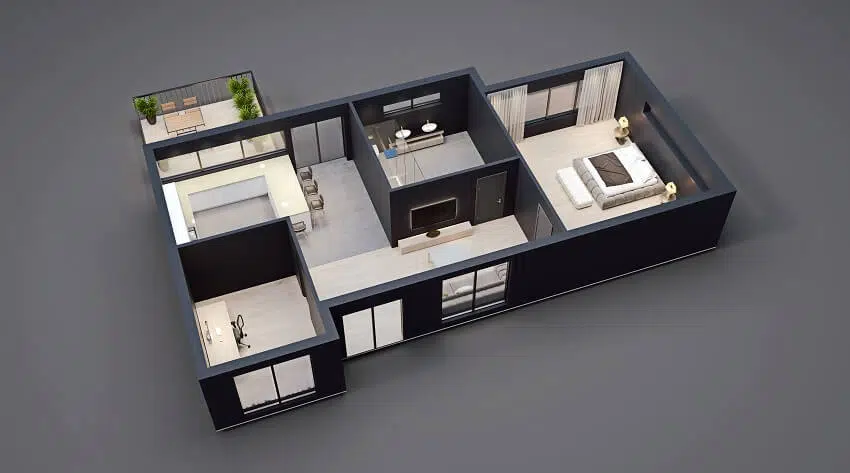 So, where do you begin when it comes to creating your barndominium? Barndominium floor plans can be found online for inspiration or to build directly from.
Barndominium Design Software is also available, allowing you to create your own barndominium design. These simple floor plan creator tools let you visualize, plan, and experiment with different spaces and layouts, as well as how they'll be used.
Free Barndominium Design Software

Worldwide Steel Buildings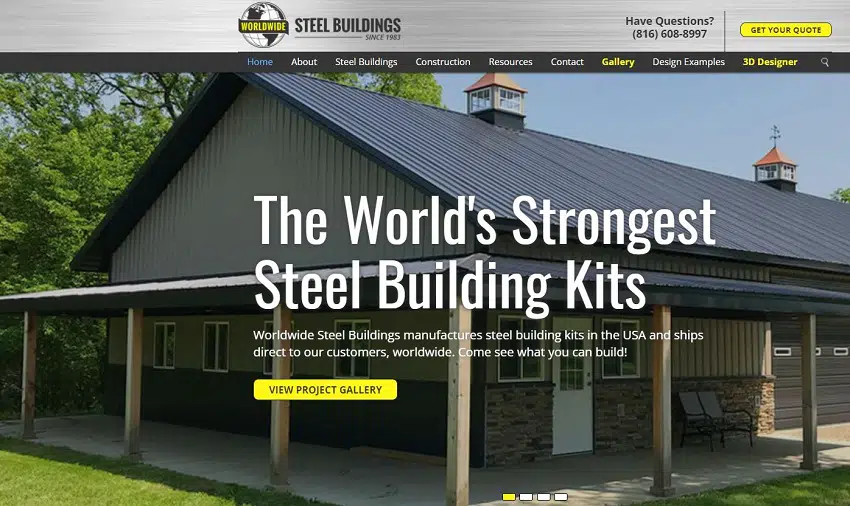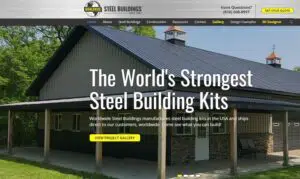 This is a free online 3D designer program that's easy to navigate, and no need to sign up for an account when editing. Simply enter the building dimension, colors, wainscot walls, and building extension options. You can also add porches and overhangs, windows and doors, and a mezzanine.

The changes are seen in real-time, and if you've come up with the final look, you can download, share or print the image with the basic specifications. You will need to signup for your email in order to access the final output.
Site: https://www.worldwidesteelbuildings.com/
Planner5D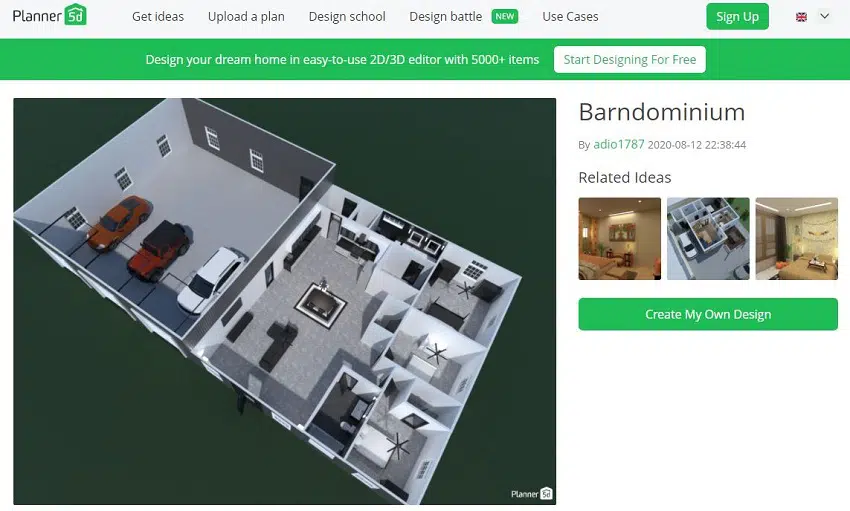 Although not solely for barndominium designs, the Planner 5D is an excellent, easy-to-use online 3D software for creating barndominium ideas.
Without signing your email, you can tweak the floorplan, but you'll need to signup to use the 3D and other features.
You can choose between a blank project or premade design. Read more on interior design by visiting our lists on some of the free interior design software here.
One of the great features of Planner5D is that you can upload a sketched plan. The interactive 3D/2D Blueprint instantly digitizes your floor plan using an intelligent neural network. This is a useful tool when configuring your barndominium's interior.
Site: Planner5d
pCon.Planner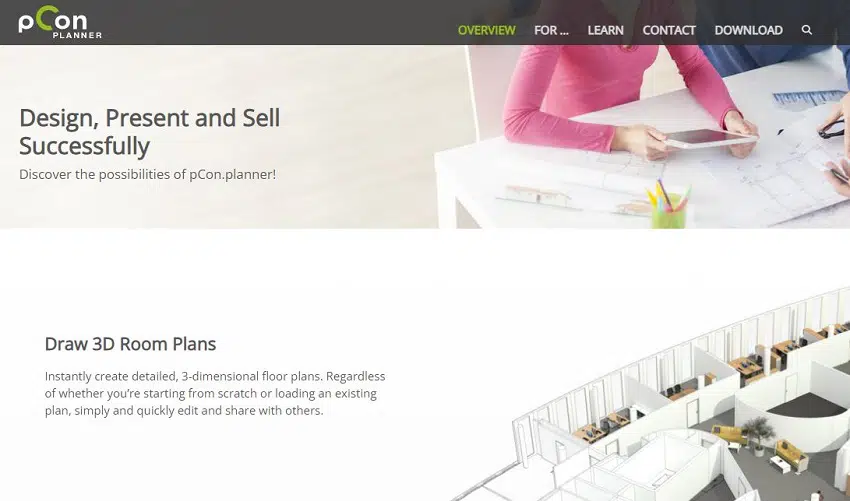 If you're looking for a downloadable Barndominium Design Software that has a lot of features even with its free version, the pCon.Planner is a frontrunner. The application can also be used for various sectors such as industry, retail, and service.
You can load CAD models in a variety of formats (DWG, DXF, SKP, and 3DS). Another great advantage of this app is that you can print true-to-scale designs.
Site: https://pcon-planner.com/en/
RoomSketcher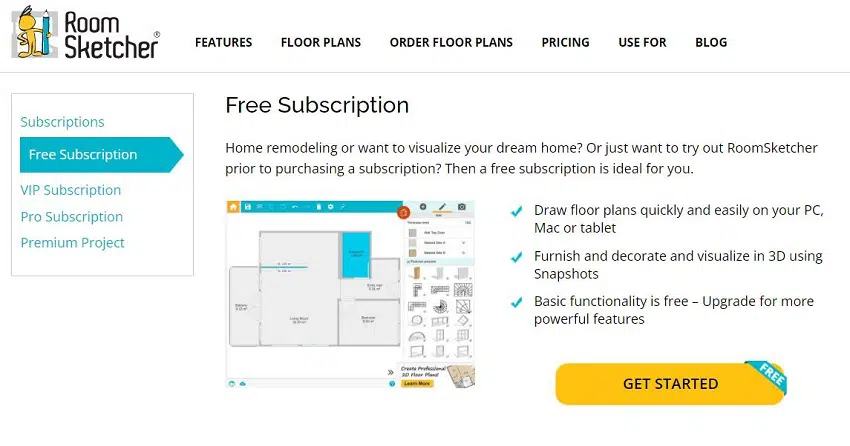 The RoomSketcher App is a floor plan and home design app that is both powerful and simple to use that's perfect for creating your Barndominium ideas. It offers a free subscription where you can upgrade to create floorplans, 3D Photos, and view live. On your PC, Mac, or tablet, create floor plans and 3D home designs. If you order floor plans through our Floor Plan Services, you can edit them online using the RoomSketcher App.
Site: https://www.roomsketcher.com/
Sweet Home 3D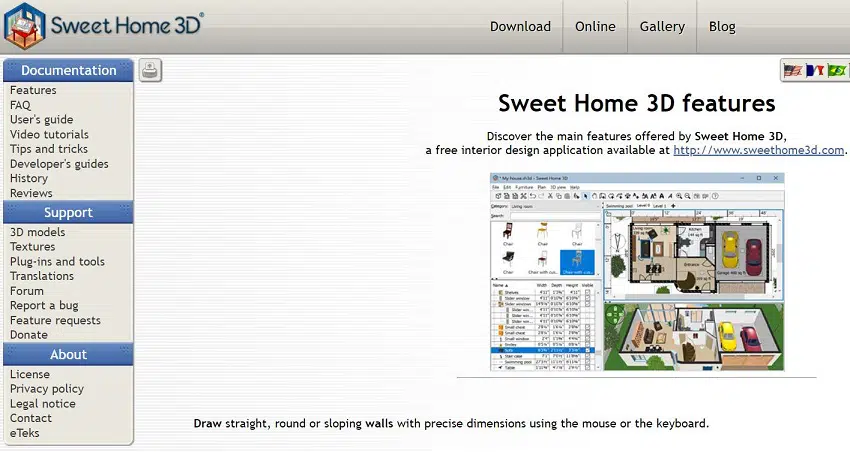 Create your ideal interior design for your Barndominium with Sweet Home 3D. It's open-source software that can run on Windows, macOS, Linux, and Solaris.
Download the program to your computer or use it online and start drawing, decorating, and creating realistic photos of your barndominium. Best of all, it's available in English and 28 other languages, including French, Spanish, Greek, and Japanese.

Site: http://www.sweethome3d.com/
Homestyler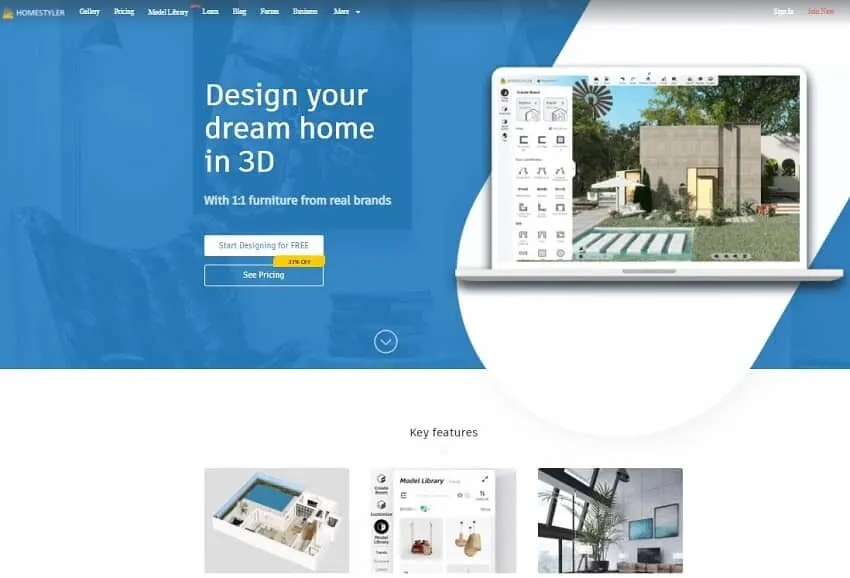 With Homestyler, you can easily create 2D and 3D floor plans. It's a web-based design tool that displays 1:1 furniture from well-known brands.
It also has precise measurements and allows you to view your work from different perspectives.
This barndominium design software has a completely free version that supports rendering in standard, HD, and ultra HD resolutions.
Site: https://www.homestyler.com/
Microsoft Paint
For Windows users, here's something quick and easy and free. Both the standard and Paint 3D options are available in the most recent version of Windows 10.
You can use the latter to create a customized barndominium floor plan using 2D and 3D tools. Brushes, 2D and 3D shapes, stickers, a 3D view mode, and a set of unique effects are all included in Paint 3D to help you bring your designs to life.

Site: Microsoft Paint
PlanningWiz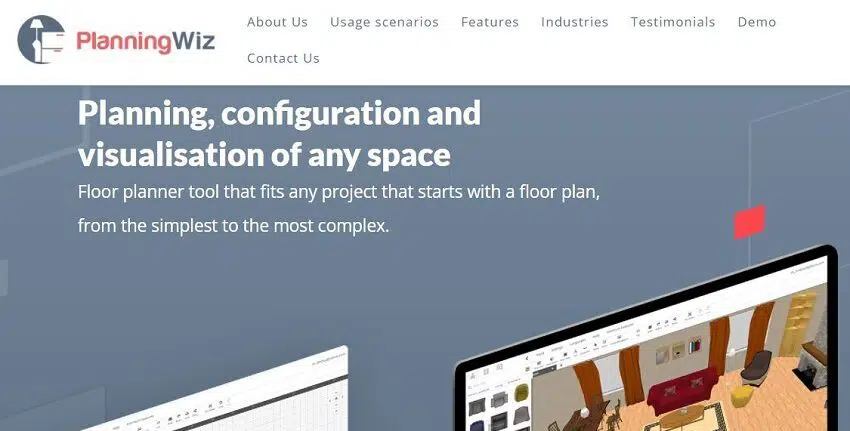 PlanningWiz is an online floor plan design tool that can be used to design both indoor and outdoor spaces. It appeals to a variety of people, from individuals to interior designers to property developers and managers.
PlanningWiz can handle multiple users and has data visualization capabilities for your barndominium ideas.
Site: https://planningwiz.com/
SketchUp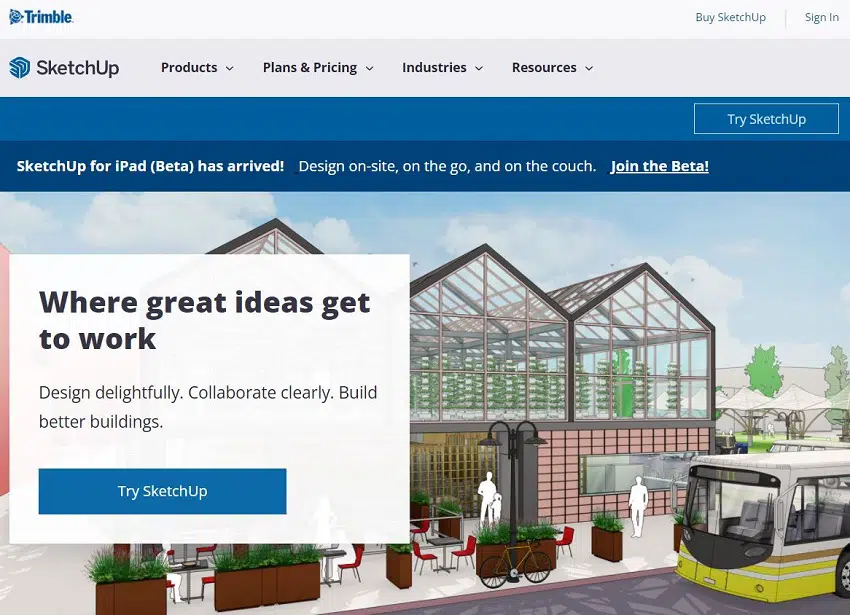 SketchUp is a popular smart 3D modeling software used for 3D modeling projects. It allows you to make architectural models, landscapes, and even video game designs, making it an excellent barndominium design software option.
It has a 3D Warehouse feature that allows users to choose from a variety of barn models, ranging from furniture to game pieces, to use in their designs.
There are two versions of SketchUp, which include a free version and a paid version, as well as other features like SketchUp Shop and SketchUp Studio.
Site: https://www.sketchup.com/
Paid Barndominium Software
While many of the software have free versions to test out their functions most of the advanced features are in the paid editions. Here's our top pick for an advanced software to create home designs.
CAD Pro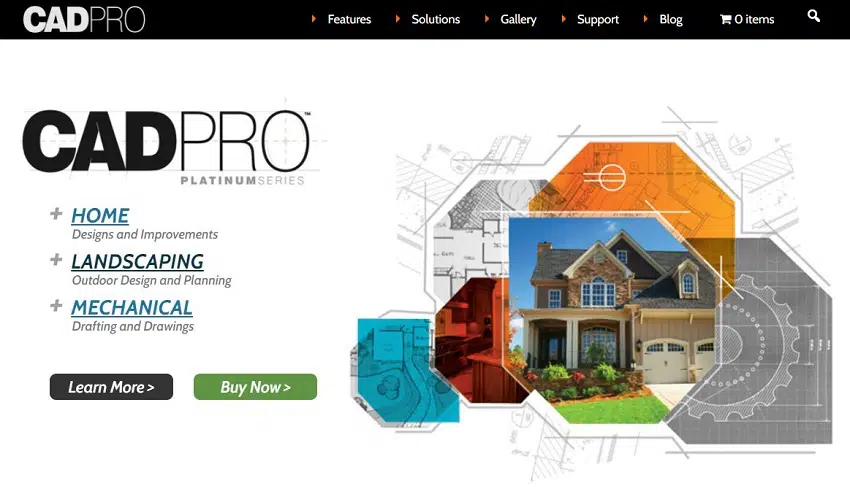 CAD Pro is a multi-functional design software tool that can be used for a variety of projects, including home design, landscaping, mechanical drafting, and design.
Cad Pro is a powerful tool with an easy-to-use interface that saves you time and money.
Using cloud-based storage programs like Dropbox and Google Drive, you can share your plans with clients, family members, or colleagues using CAD Pro. It also provides access to a variety of free plans and projects, such as home plans, deck plans, and outdoor kitchens.

Site: https://www.cadpro.com/
Visit more related content like our pole barn house design guide here.