Here's our guide to epoxy patios including what it is, different types of epoxy flooring and cost.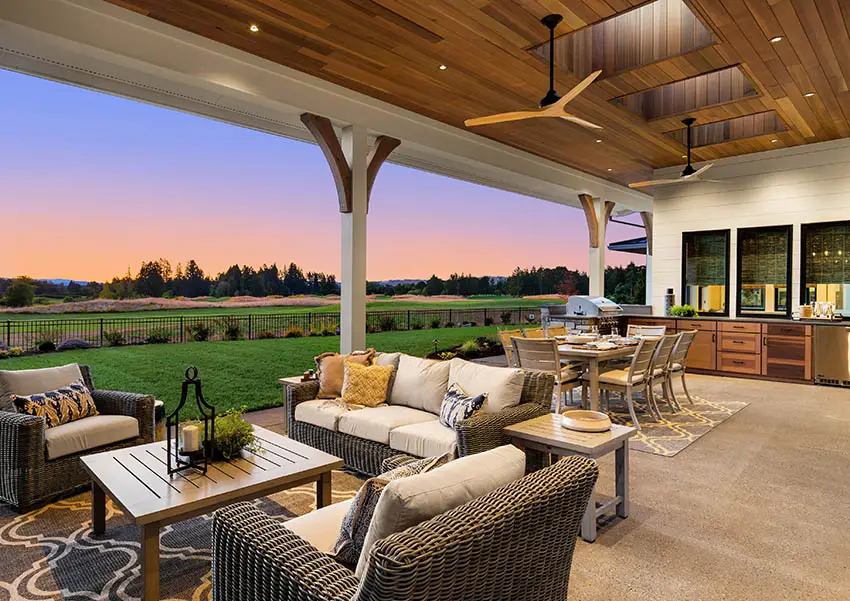 When it comes to designing your dream patio, you need to consider everything: right down to the flooring. One type of flooring that offers a lot of advantages to patios is epoxy flooring.
Not only are epoxy floors an affordable option but they guarantee a high level of durability, longevity, and plenty of design options to choose from. Here, we'll take a look at everything you need to know about having an epoxy patio of your very own!
What is an Epoxy Floor?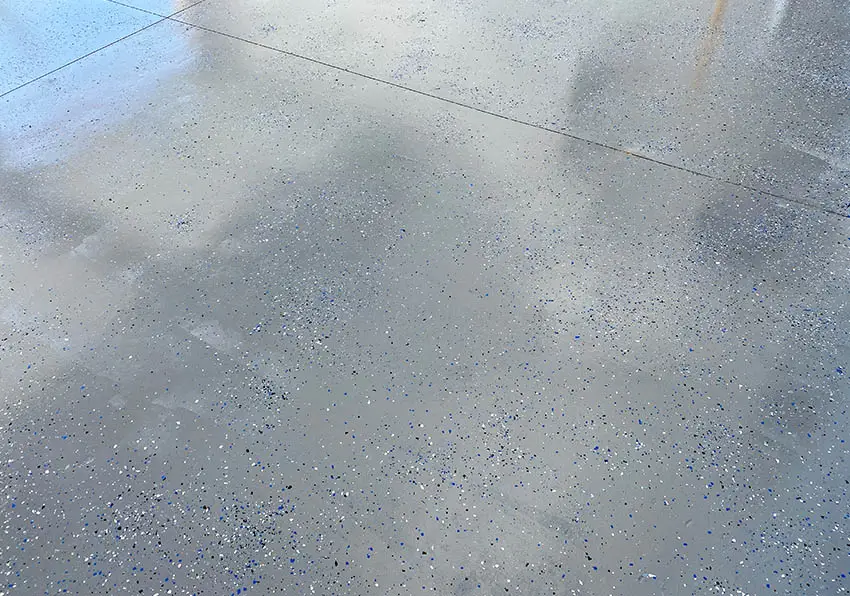 Epoxy patio floors are typically created using a two part coating combining a resin part and a hardener part. This liquid mixture is then applied within a limited time as an epoxy coating before it begins to harden.
A primer and finisher are often applied before and after the epoxy coating to ensure adhesion and durability. The finished product is a durable flooring that can withstand heavy traffic and is easy to clean and maintain.
Epoxy flooring is a strong type of flooring that has plenty of pros and few cons to speak of. This means that you can rest easy knowing that you have a reliable surface beneath your feet.
Before we get started on the specifics, though, here are some of the basic things you need to know about epoxy patio floors.
First, epoxy is incredibly durable and resistant to damage caused by heavy traffic. So, even if you spend a lot of time on your patio and frequently have guests, you aren't likely to see the floor wear down as long as it's properly installed.
It'll last a long time too. You can expect 10 years or more of use. Once again, this is so long as it's properly installed and cared for. It's even waterproof but be careful not to slip when it's wet as epoxy flooring can get pretty slick.
Finally, epoxy is great because it offers a lot of value. This is boosted by how inexpensive epoxy flooring can be. We'll take a closer look at a price breakdown later on.
Epoxy Backyard Patio Ideas
When it comes to epoxy patio coatings, you have a lot of choices. This is partly because epoxy offers a lot of design choices to homeowners. You can manipulate everything about epoxy ranging from the color of the material to mixing other materials in to create a unique texture.
It can seem a little overwhelming to choose a design out of so many options at first. That's why we're going to break down some of the ideas you can try out with epoxy. This will help you learn what designs you like and what could fit your patio.
Epoxy Concrete Patio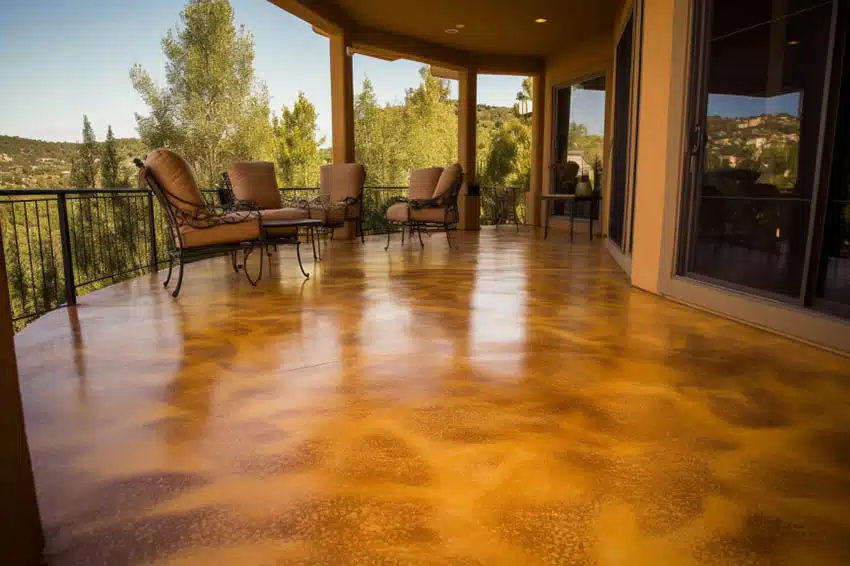 Epoxy has to be applied to a flat, durable surface. Ideally, this would also be a surface that is porous but dry enough that water won't get trapped when the epoxy is installed.
Because of these criteria, many people install epoxy on top of an existing concrete floor. If there's nothing in the area beforehand, installing a layer of concrete may even be the first step!
The trick here is to make sure that the concrete is both dry and was never sealed. Once the concrete is sealed, it loses the benefit of being a porous material.
Epoxy Paint for Outdoor Concrete Patio
Epoxy paint was originally made for industrial environments but it's a great choice for home patios too. Unlike a standard epoxy floor, this material is a latex acrylic paint that features epoxy as one of its ingredients.
This is an easy way to give your concrete patio a top layer of epoxy flooring to increase its durability. Even better, the paint also lasts a while and requires little care while being easy to clean. Since it's resistant to chemicals, corrosion, and heat, you aren't likely to do lasting damage easily.
Epoxy Pebble Patio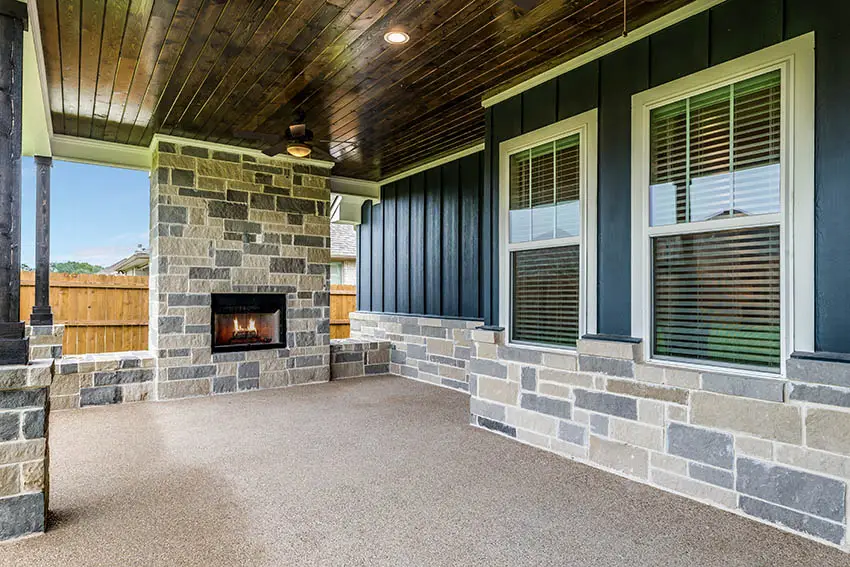 As we've mentioned, you can mix a variety of materials into your epoxy flooring. This often comes with the benefit of varying the texture of the patio floor aesthetically. On the contrary, the epoxy smooths the surface out of the material mixed in, making it more stable and comfortable to walk on.
One option to accomplish this is to use pebbles in the epoxy mix. This will give your epoxy patio a natural touch rather than the often industrial one associated with epoxy flooring.
Another alternative is to use a terrazzo epoxy product and have it ground and polished to the sheen desired and sealed with a clear coat of urethane glaze.
Pea Gravel Epoxy
Pea gravel aggregate is similar to pebbles and are smooth rather than rough or jagged as driveway gravel often is.
This type of gravel also comes in a variety of sizes, allowing you to customize the finer details of your patio floor. These sizes range from ⅛ inch to ⅜ inch.
Pea gravel epoxy patio flooring is even available in multiple colors including the most common options of a rusty brown shade, various gray tones, plain white, and even translucent gravel. Mixed into the epoxy, they'll make for a sturdy surface. See more gravel patio ideas here.
Epoxy Resin Patio
As we've said, there are a lot of benefits to using these ideas to create an epoxy resin patio. The materials involved in creating an epoxy resin patio give you plenty of room to get creative and renovate your patio to look truly one of a kind.
Additionally, the choice of an epoxy resin patio is a flooring option that you rely on. On a patio, specifically, you'll have the opportunity to depend on epoxy resin serving as a waterproof surface.
Aside from getting a bit slippery when it's wet, you won't have to worry about the negative effects of rainy weather on your epoxy resin patio.
Patio Epoxy Coating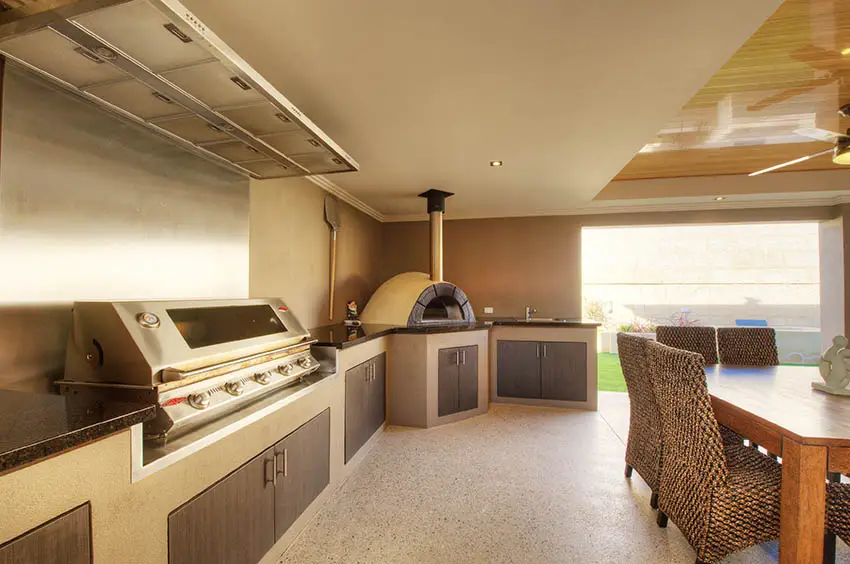 Earlier, we discussed epoxy paint as well as layering an epoxy coating over concrete. Because you can coat an existing floor in epoxy, provided that the base material is appropriate for it, like concrete.
This can cut down on the cost and any difficulty that relates to installing an epoxy floor. All in all, an epoxy coating is an excellent choice for a patio.
Epoxy Resurfacing for the Patio
When talking about installing epoxy patios, there's a lot of talk about resurfacing the concrete below it. This will help ensure that you have a durable base to install the epoxy flooring on. Plus, this will help repair any damage to the concrete such as chips or cracks that could interfere with the epoxy installation.
Yet, resurfacing concrete flooring does come with a cost. Luckily, it's a relatively low one! You can expect to pay within a general range of $3 to $15 per square foot.
For a smooth concrete surface rather than an intricate design, though, you can estimate closer to the lower end of that spectrum.
Epoxy FAQs

Is Epoxy Good for Outdoor Patio?
Epoxy flooring is well-suited to a range of outdoor uses, including your patio! This is true for a few reasons.
The durability of epoxy flooring makes it a valuable option when it comes to high-traffic areas of your home where people spend a lot of time. On top of that, you can design your patio as you please. Epoxy flooring is available in a variety of colors, textures, and design choices, some of which we looked at above.
The only thing to be careful about is epoxy flooring when it's damp. A stormy evening won't hurt your patio floors but it can make them pretty slippery!
Can You Epoxy Over Concrete?
Not only can you epoxy over concrete but epoxy flooring is often installed over concrete. This is because it provides a sturdy, smooth base to install the epoxy flooring on. This can also help the high-performance expectations of epoxy flooring since concrete can also handle heavy traffic and has a generally long lifespan.
This also works because epoxy needs a slightly porous surface to adhere to. Still, anyone installing an epoxy floor should make sure the concrete that will be beneath it is fully cured and any cracks or chips are repaired.
The concrete must also be completely dry and shouldn't have been previously sealed. You can check this by putting a small amount of water on the floor. If it beads up rather than soaking down into the concrete, the floor has likely been sealed.
How Much Does It Cost to Have Someone Epoxy Garage Floors?
Earlier we mentioned that epoxy flooring is typically rather inexpensive compared to some of your other options. However, when it comes to any home renovation, knowing a specific budget is crucial.
In general, you can expect an epoxy floor to cost you between $3 and $12 per square foot. The cost of your project will depend on a variety of factors including how large your garage floor is and where you source materials and labor.
Like anything else, certain business you work with may have varying prices. Breaking this down further, the materials and the equipment you'll need averages between $2 and $5 per square foot while professional installation will add about $1 to $7 per square foot to the cost. Read more about garage makeover ideas here.
Are Epoxy Floors Worth It?
In the end, epoxy floors definitely are worth it. Even though they're generally very affordable, they offer you a variety of design choices to choose from including texture and color.
In addition, there are a variety of practical benefits to epoxy flooring including a long lifespan, being durable enough to withstand traffic and even impact damage, and they're generally waterproof.
To ensure that your epoxy floors are prepared to deliver all that they can, make sure they're correctly installed and they'll last you for a decade to come or more!
What do you think of epoxy patios? Let us know below. For more related designs visit our page about enclosed patio ideas.