Here's our brick paver dimensions guide including patio & driveway brick paver sizes and how to calculate how many pavers you need for your outdoor designs.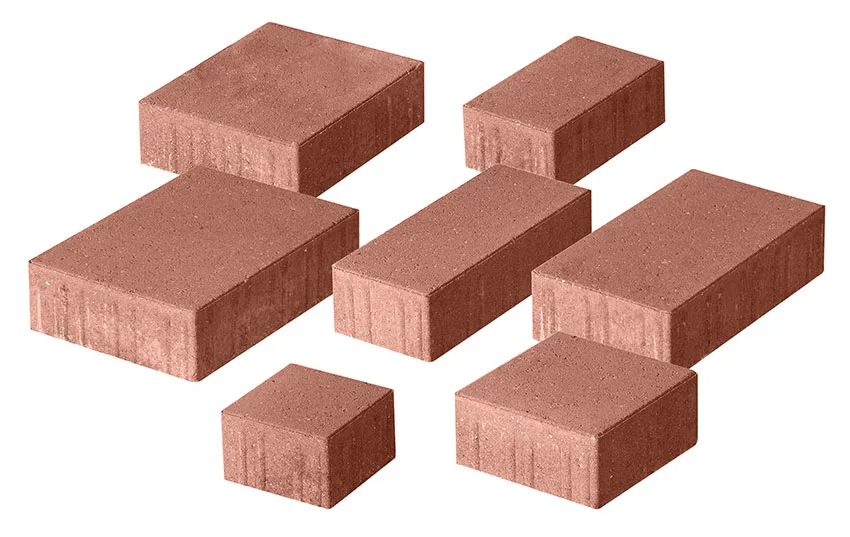 If you are considering flooring for your home's outdoor areas like your patio or driveway and looking for something more creative than concrete or gravel, then brick pavers might be the right choice for you.
Brick pavers are available in a wide assortment of colors, finishes, and shape to achieve whatever laying patterns you have in mind. They may be more expensive than concrete, but brick pavers are the best in value in the long run because of their innate durability and the ease of repairing them. Other than the looks of your brick pavers, size is another important deciding factor.
Standard Paver Size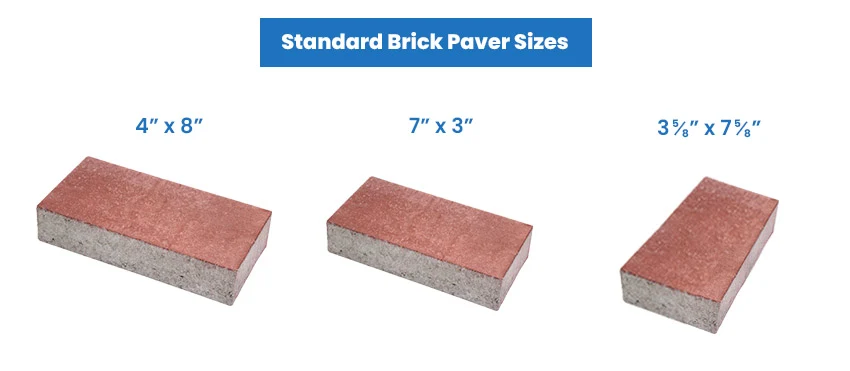 Many of us might think that there is only one available size of brick for every design of brick paver, but you will be surprised at how many brick paver size options are there in the market for your consideration.
Each size of brick paver you will need for your space will depend on specific uses and areas. Essentially, a brick paver for your patio will differ in size from brick pavers that will be used on driveways or crossroads.
The most common clay pairing brick is usually sized at 4 by 8 inches or 10 by 20 centimeters. There is also the brick face at 3 by 7 inches or 8 by 18 centimeters and 3 ⅝ by 7 ⅝ inches or 9 by 19 centimeters.
Brick Paver Thickness
Aside from the actual size of a brick paver, how thick it is will be essential to prevent cracking and many other damages. Although bricks are relatively easier to restore and repair, it would help if they would not crack as easily, and knowing the brick paver thickness for each occasion and use will help with that.
Thinner brick pavers are available at 1 inch or 3 centimeters and 1 ¼ inch or 3.18 centimeters. To ensure that they will not break with wear easily, you will need a concrete base first before laying thin brick pavers out. However, if you are planning to install them on already existing concrete pavement, a thinner brick paver is the better choice.
For thicker brick pavers for driveways and gardens without a concrete base, a brick thickness of 2 ⅜ inches or 6 centimeters is your best choice. This thickness can withstand the weight of garage doors for driveways and won't crack as easily when laid out on open soil.
What Size Paver For The Patio?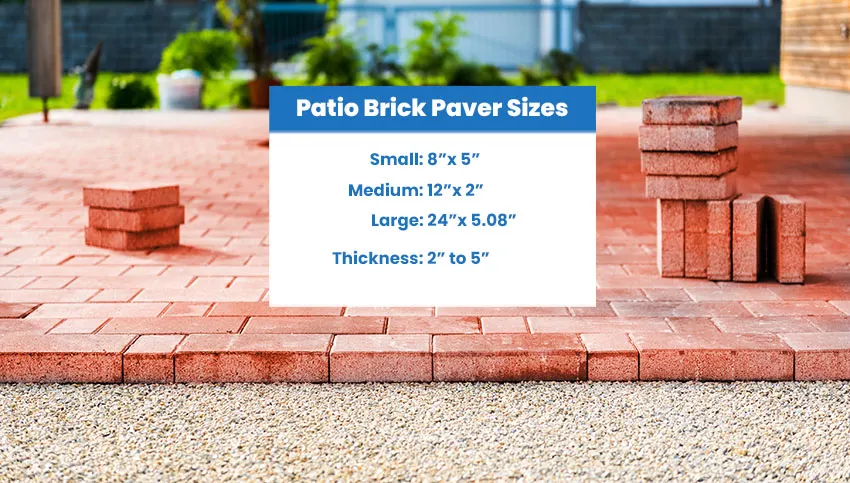 Paving laid in alfresco areas like patios or backyard brick garden paths do not need to take a large amount of wear like crossroad pavers would do. This is because light amounts of foot traffic and lightweight machinery like electric wheelchairs, or more often than not, lawnmowers are what they are designed for.
Brick sizes for these areas will have dimensions of 8 by 5 inches or 20 by 13 centimeters. There are also medium patio bricks at 12 by 2 inches or 51 by 5 centimeters and larger brick pavers at 24 by 5.08 inches or 61 by 13 centimeters.
Although any size of brick paver can be used to be laid out in garden paths and other alfresco areas, choosing one for your home will require assessing the space and considering the pattern you want to be done.
Also, it is essential to consider the size so you are sure that you are not paying for extra strength that road paving will require. Visit our gallery of brick patio design ideas for design inspirations.
Paver Thickness For Patio
There are particular times and places to use every specific thickness of brick pavers, as mentioned above. One used for the road would need much more weight-bearing than one used for patios or garden patches, and vice versa.
Many variables decide the strength of each brick paver. Oftentimes, it is the depth or thickness of a brick paver over its length and width, but as the lengths and widths of each patio paver increase, its thickness should also follow in order for the paver to withstand wear.
Most of the brick pavers used in patios will range from 2 inches or 5 centimeters to 5 inches or 13 centimeters.
What Size Pavers For The Driveway?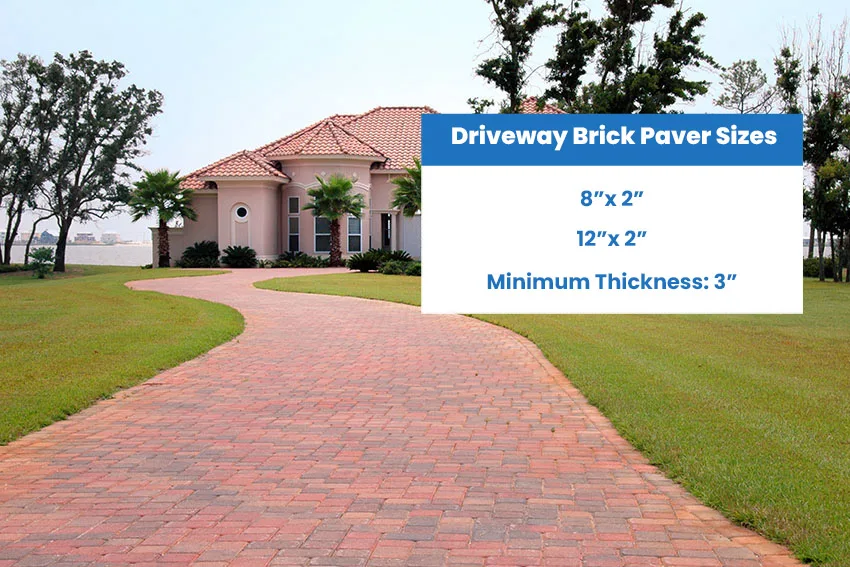 Brick pavers for residential driveways, unlike alfresco areas, will require a brick paver with more strength because they will not just bear the weight of foot traffic but also many vehicles like motorbikes, cars, and sport utility vehicles or SUVs.
For that use, here are a few recommended brick paver dimensions. The first is 8 by 2 inches or 20 by 5 centimeters. There are also the 12 by 2 inches or 30 by 5-centimeter ones.
If you are looking for irregularly shaped bricks to fit your pattern, there are 9 by 6 by 2 inches or 23 by 15 by 5 centimeters of a brick paver.
Driveway Paver Thickness
As with brick pavers used in alfresco areas, the more extended you are thinking of when choosing the length and width, the thicker your brick paver selected should be.
For brick pavers utilized in driveways, the minimum recommended is anything with a thickness of 2 inches or 5 centimeters. For crossroads, the minimum thickness required will go up to 3 inches or 8 centimeters. However, if you are thinking of using a brick broader and longer, the depth should also increase.
These areas will require a little more thought for maximum longevity so that you can get the full benefit of choosing brick pavers for your outdoor spaces.
How Do I Calculate How Many Pavers I Need?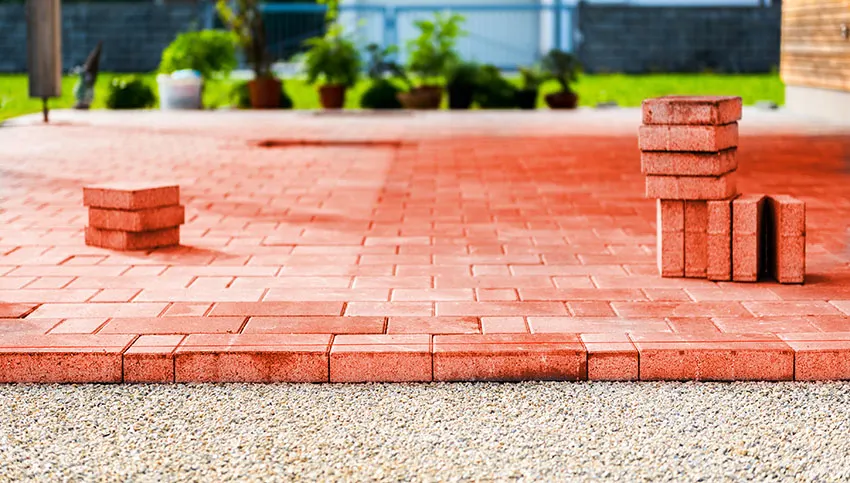 There is no proper way of calculating how many brick pavers you will need for an area, and your best bet is to calculate for an estimate and get lucky with one or two extra bricks. So, how do you measure the estimated number of brick pavers for a specific area?
The initial thing is you need to determine your total space measurements. You do that by finding the square footage of an area by following this formula.
Patio (square feet) = length of the area x width of the area
The second thing is looking for your brick paver size, which is usually decided based on what you have in mind and how the area extended is. For a standard patio, a brick paver size of 4 by 8 inches with a thickness of 1 inch is all you need.
Paver (square feet) = 144/length x width
Once you have found and calculated the space size and brick pavers, you simply need to use this formula to get the number of brick pavers you will need.
Pavers needed = patio square feet / paver square feet
You can manually follow this formula if you want, but luckily, there are hundreds of brick paver calculators available on the internet for your perusal. All you need to do is to input the data to estimate how much brick you will need to inlay a specific area.
How Many Pavers Do I Need For A 12×12 Patio?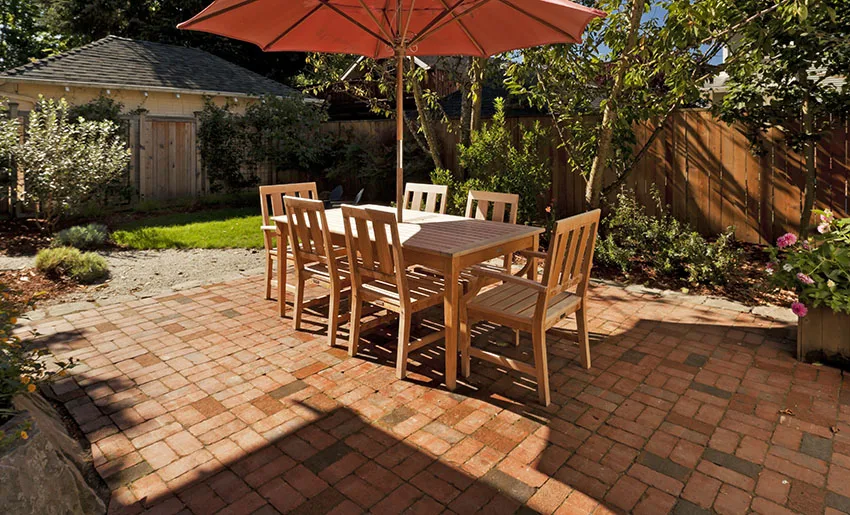 To fully inlay a 12 by 12 feet of patio space with a brick of 3.93 by 7.87 inches, you will need at least 669 brick pavers.
How Many Sq. Ft. Is A Pallet Of Pavers?
The total square feet on a pallet of pavers are 319 square feet or roughly 30 square meters.
How Heavy Are Pavers?
Brick paver weight will differ on many factors like thickness, materials used, formats, and what have you.
Typically, a concrete paver that is 1 inch or 2.54 centimeters thick will weigh at least 11 pounds. If we double the thickness at 2 inches or 5.08 centimeters, it will weigh twice at 22 pounds.
Visit our guide on brick flooring for more related content.