Here's our brick flooring design and buying guide including the different types for your home.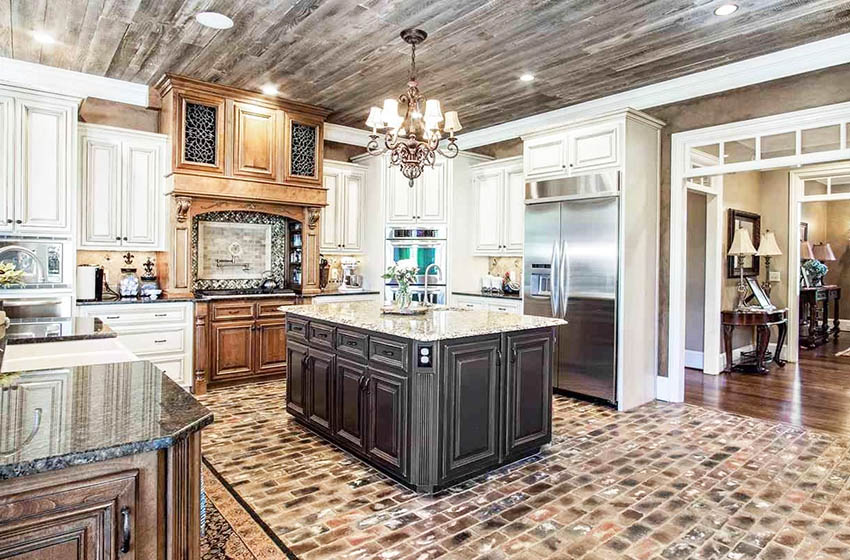 Brick is an ancient material that dates back to the beginning of the civilization. Yet, brick is used as many facets in terms of design and construction. Brick flooring is one particular way of utilizing brick in the construction process. Using bricks inherits a special effect of texture and color resembling a pure rustic interior design. Overtime even though this type of flooring tends to wear, it only adds to the unique feel of the ambience.
Nowadays, brick flooring tends not to be limited to the classic interiors but in contemporary spaces as well. Since no two bricks are completely the same, bricks can give a design a lot of character. There are a variety of styles and colors to choose from allowing one to match the color palette they want.
A combination of steel, glass, wood with brick flooring with precise and clean geometry recreates a modern atmosphere. Brick flooring can be polished or sealed to give an interesting look over. This type of flooring carries many options of arrangements such as herringbone, basket weave allowing the freedom to play around with mosaic tiles or custom created motifs as you wish.
If you ever doubt the prices of brick flooring, note that it is not a high end material that will clean your pocket at the end of the construction process. Regular brick flooring per square foot costs about $5-$10, which is pretty affordable.
Types of Brick Flooring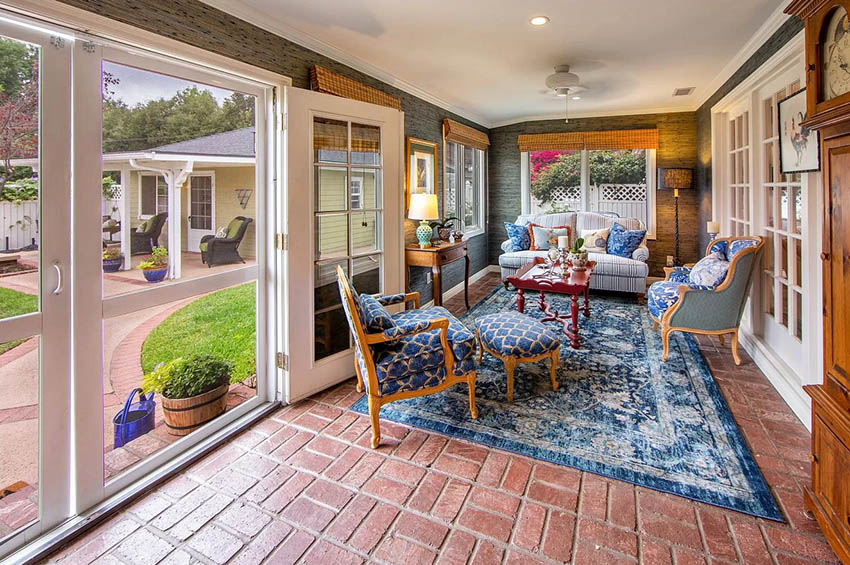 The type of brick used to build a wall in the home is constructed differently than a brick used in flooring. Masonry bricks commonly used in the construction of walls in the home are called an extruded brick. These wall bricks have holes running through them to bond better when used in conjunction with mortar and cement. Extruded bricks are not used in flooring applications.
On the other hand, bricks used in flooring are completely solid without any holes making them much more durable and able to withstand the pressure of foot traffic. The heavier the load the thicker the brick will need to be.
For instance interior bricks are generally 1 1/4″ to 1 3/4″ in thickness since they will only need to withstand normal foot traffic. For a driveway or exterior path a brick will need to be thicker to withstand additional pressure. An exterior brick flooring used for a residential driveway should be about 2 1/4″ to 2 3/8″ thick, while a more industrial heavy use setting should be 3 1/8″ thick.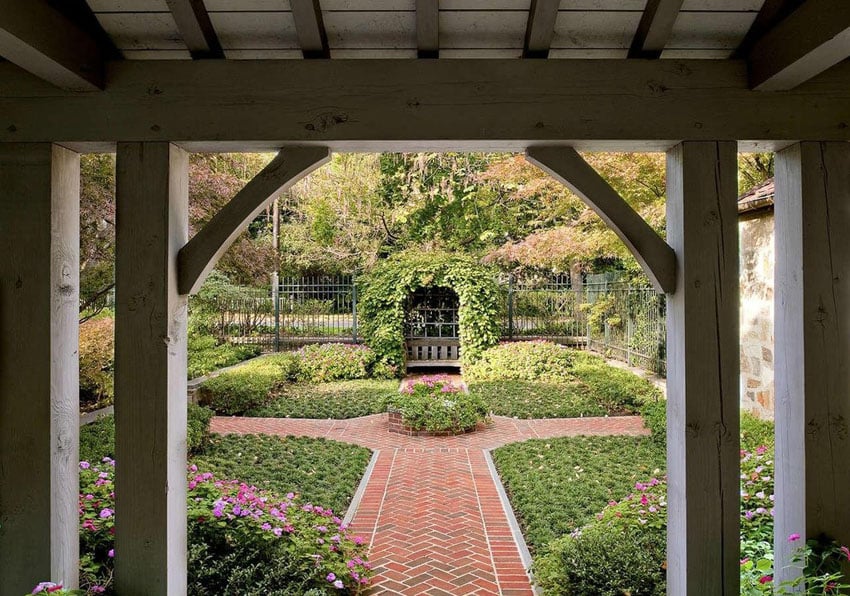 There are two primary types of brick used for flooring which are brick veneer floors or brick pavers.
Brick Veneer Flooring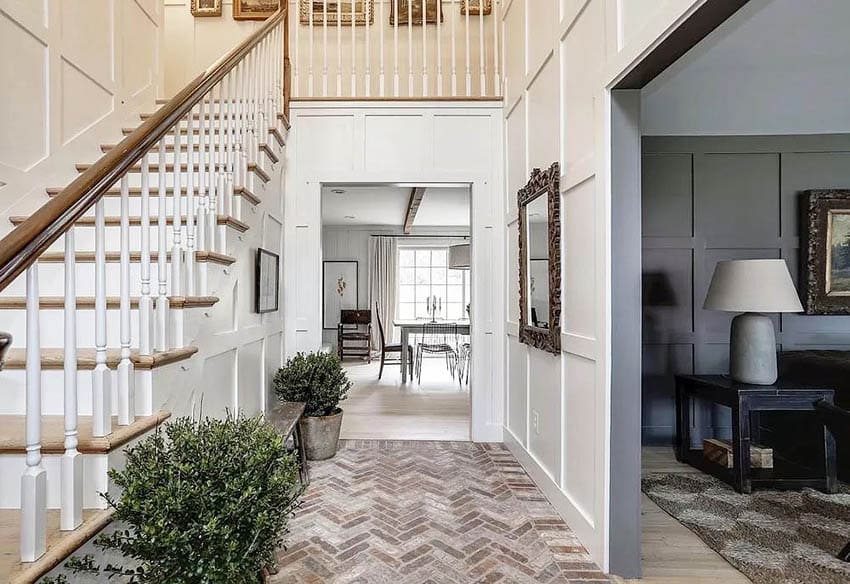 The standard natural brick look is distinct in appearance and feel. Although, brick veneer is capable of recreating the homely atmosphere that natural brick is capable of.
Brick veneer is much thinner than the standard brick size, capable of adding texture and warmth just as the natural brick stone does. Brick veneer is light weight and could fit on floor levels that the natural brick stones cannot be installed on.
Brick veneer attempts to mimic the genuine feel of using natural brick stone. Quite durable brick veneer could also be replaced easily. Enhancing the floor, brick veneer is even capable of recreating perfect a variety of style atmospheres, be it contemporary, rustic or an eclectic interior design.
Brick Pavers for Interior Floors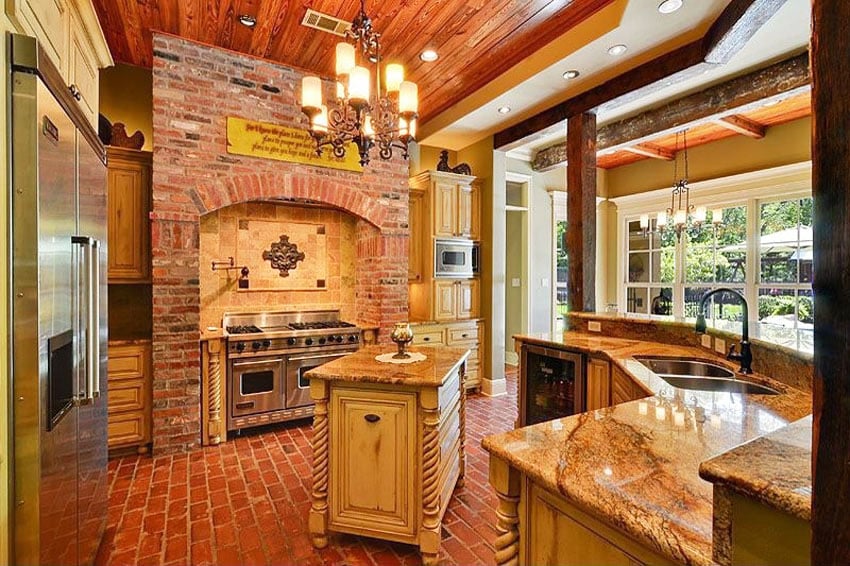 Brick pavers mimic real brick floors without having to install a full sized block. Brick pavers come in a standard size which is about 0.5" of thickness with the uppermost layer.
Brick pavers are available in the market of a variety of colors to mix and match, as appropriate. Guaranteed to last long, low maintenance and the added realistic feel are few of the advantages that is included in the package.
One of the major con is that brick pavers might be a little too rough for the bare feet in the interior considering the characteristics of the material.
Indoor Brick Flooring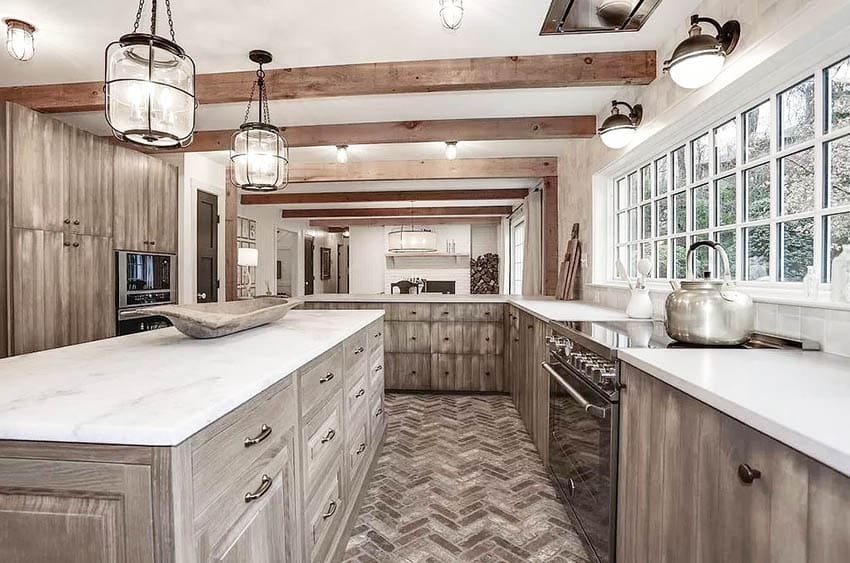 Be it brick veneer flooring, brick pavers, brick laminate flooring or clay brick flooring; a multitude of options are available aesthetic wise, in terms of colors and shades to best fit for various places in your home.
Brick floors are a sustainable material, created from mostly natural elements. To some a worn brick flooring even looks better with time. Adding pure elegance and warmth the effort put into maintenance is very low.
Brick flooring installed in interiors create a sense of movement by the repetitive patterns that are installed orderly. The aesthetic purpose of having to installing it works the same for functional purposes as well. For instance, if an interior brick tile is damaged it is not necessary to replace the whole flooring but instead just the damaged tile. Interior brick flooring has the ability of bearing pressure and can take a load that is quite high.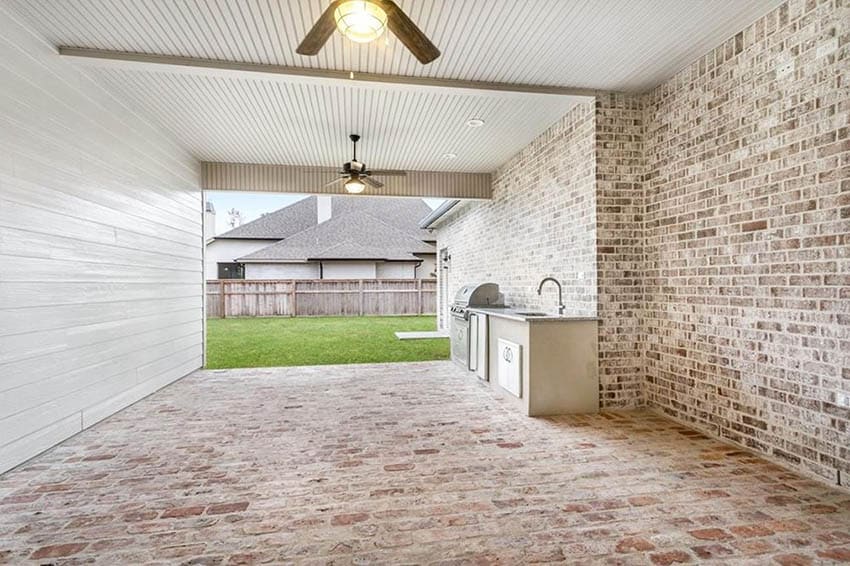 This covered patio with outdoor kitchen features a brick floor and brick walls to match the home's design.
Brick Tile Flooring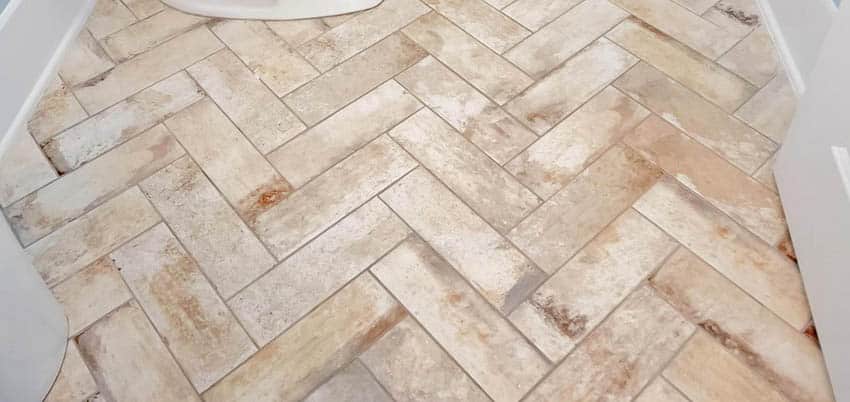 Among the many facets of brick flooring is it comes in different sizes and shapes that are readily available in the market. The design patterns tend to differ offering various ways of joints and fixtures.
Brick floor tiles can be installed in different places, be it indoor or outdoor. For an example, brick floor tiles can be installed in outdoor walkways for an authentic feel or to achieve a particular look over. What is more interesting is that the different patterns of brick tiles can be merged together for a balanced yet interesting makeup on the flooring.
Brick floor tiles differ in the way of construction, process, and types of patterns that leave the clientele with a variety of choices preferably for indoor and outdoor flooring requirements.
Faux Brick Tile Flooring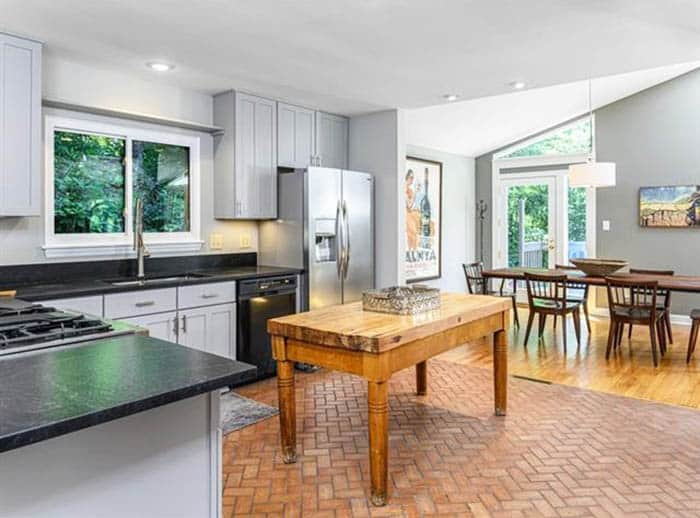 Faux brick tile flooring ideally mimics the authentic natural brick tile flooring. It is regarded as accentuating the natural brick tile other than having to use the natural brick tile flooring.
Guaranteed for a long term use, faux brick tile flooring is either made of porcelain. The faux brick tiles are utilized for many purposes in architecture and design offering the ease of installation in terms of construction.
Perfect alignment of brick tiles and the cost reduction for labor are few reasons faux brick tile flooring is at the forefront. With a variety of options of colors, textures, sizes faux brick comes in handy for customized areas that need extra attention in detail.
The ideal brick look tile or a faux floor tile in particular serves its best in any place in your house. Faux brick tile flooring is no more different to the authentic brick floor tiles bringing a luxurious vibe of elegance and warmth to your house.
Brick Laminate Flooring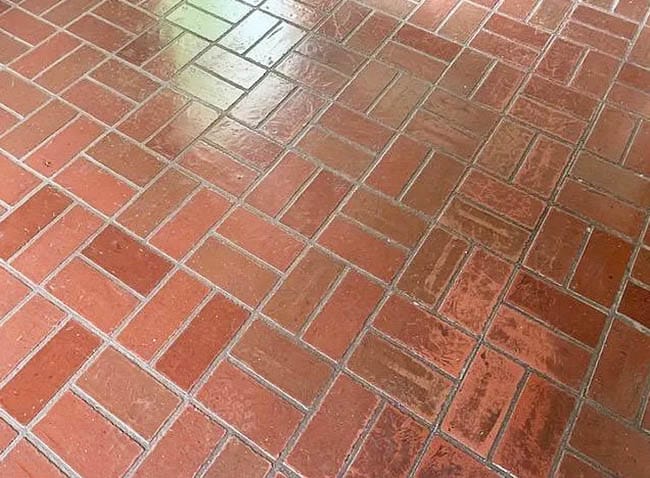 Laminate flooring is constructed from pressed wood and is more comfortable on the feet than brick. Brick laminate gives you the appearance of real brick flooring without the cost and difficulty keeping clean. Excluding the fact that it's laminate, brick laminate flooring has advanced enough to achieve the overall feel and atmosphere or brick at a cheaper cost.
Available in various colors and shades, brick laminate flooring can be a mix and match with other interior elements in your house. It's ideal for commercial purposes or places where heavy foot traffic is present, brick laminate flooring comes handy in many of the functional aspects that one would expect from high traffic flooring.
Laid accordingly to blend with the shades of the interior design, brick laminate floor tiles can be organized to fit the patterns desired. With a low maintenance than regular brick floors, sweeping or mopping often will do enough to provide a thorough cleaning. It is important to be aware of the types of brick laminate floor in order to balance the needs with the best product. Laminate flooring typically lasts from 15 to 25 years from the time of installation.
Herringbone Brick Floor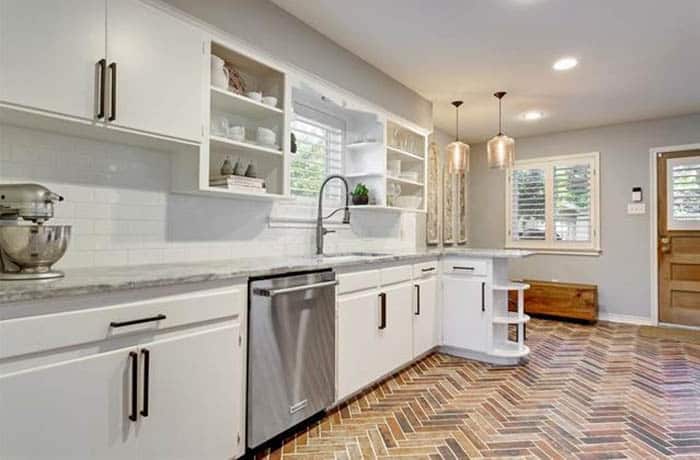 Herringbone is the mere pattern of a fish skeleton. Brick floor tiles can be laid out accordingly with the pattern in mind to infuse a more stylish vibe that would fit for a contemporary interior floor.
The pattern can be achieved by using a variety of bricks, either veneer brick to natural clay brick. The pattern conveys a sense of dynamism and energy unlike its counterparts. The distinctive brick pattern creates a timeless feeling in the interior.
The herringbone pattern gives the user to play with the pattern which creates an artful vibe within the interior. Ideal for washroom floors or even main entrances, or the lobby area to entertain visitors, herringbone pattern is all about the woven structure.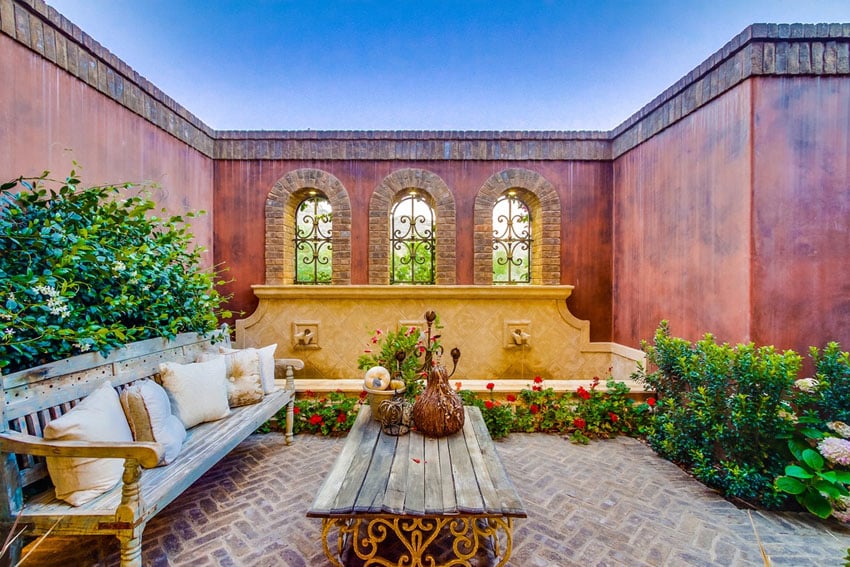 This inviting backyard patio with brick flooring in a herringbone pattern.
Brick Flooring In Kitchen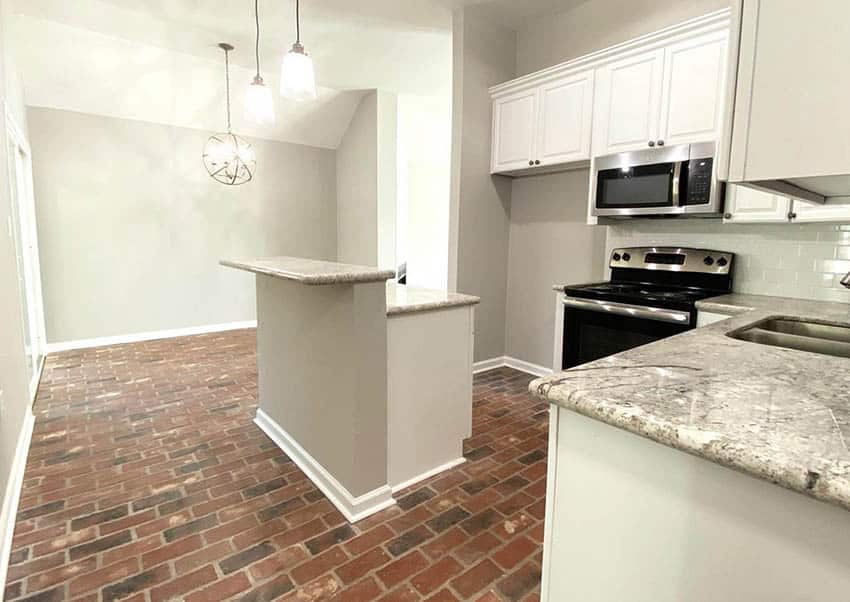 Brick is a warm, durable material that adds up to the unique elegance in any interior surrounding. Brick flooring is equipped with a pretty hard surface that needs extra pressure to break or damage.
Even though installing brick flooring in the kitchen may seem like a smart idea, it is highly recommended to be concerned about the cons that it carries. For an instance, the porous surface penetrates liquid that ends up damaging the underneath sub floor which may eventually lead to the growth of mold.
It is advisable to use a sealing agent to cover the surface of the flooring as a solution. Another alternative is to use a brick waxing agent as a sealant for the brick tile flooring. There are also types of tile for the kitchen that mimic the look of real brick that may be a great alternative.
Brick is capable of recreating a warm, hearty feeling being ideal for a kitchen. This is ideally a lovely statement for a kitchen design when properly treated and cared for. See more pictures of brick kitchen designs here.
Brick Pavers Installation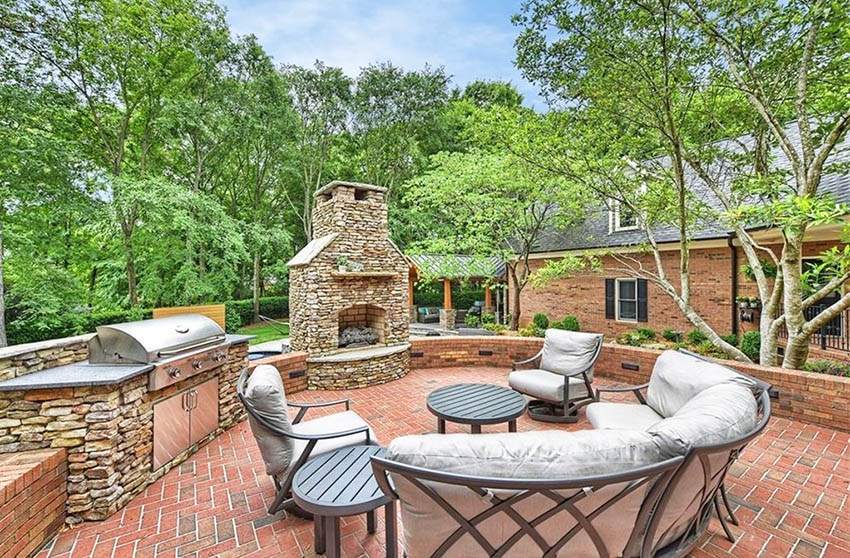 Video on Brick Paver Installation
Brick pavers' installation is more or less similar to the average tile installation which is a great DIY weekend project. Brick pavers can be installed on concrete or on a concrete board instead. To join the tile pavers, grout is used. Grout will join the brick pavers and lay it in an orderly manner on the indoor floor.
It is important to seal the brick pavers after the installation process. Once installed, a good sealer will protect the indoor flooring from any liquid and mitigate the damages once applied.
For another related gallery visit our page about brick wall living rooms.