This beautiful gallery of basement rug ideas include what type is best, different materials, options for unfinished spaces, and what looks best on concrete flooring.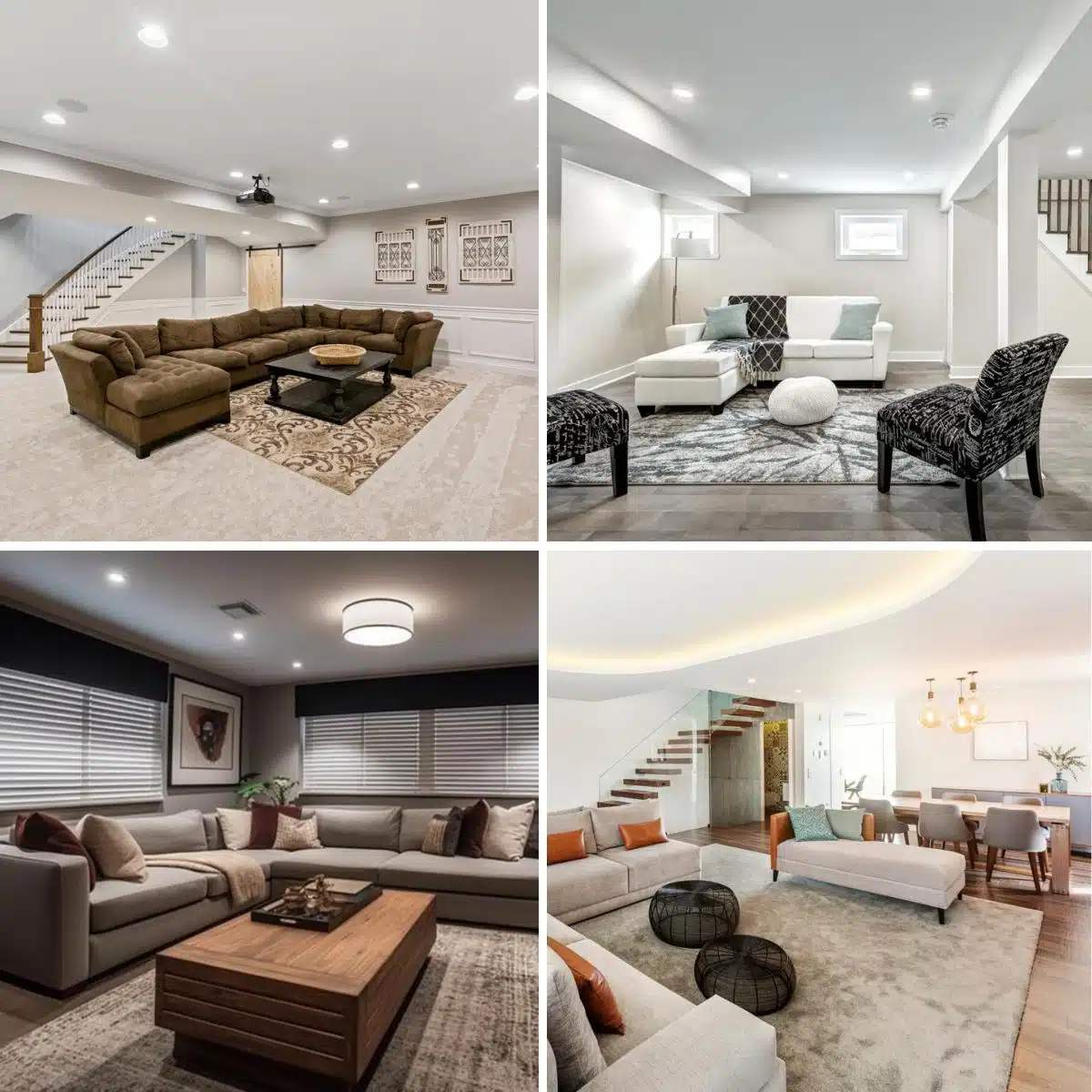 A rug is a decorative woven fabric that is used to cover a specific area of the floor which can be rolled up and moved from one place to another, unlike carpets that extend wall-to-wall or are fixed to the floor. Rugs are also called "throw rugs" since they are smaller, much lighter than carpets, and lack the ability to keep their shape.
Incorporating rugs into a room's interior design scheme can easily transform the look and mood of a room. Rugs can also reduce noise and offer a warm and welcoming feel to the space.
What Type Of Rug Is Best For The Basement?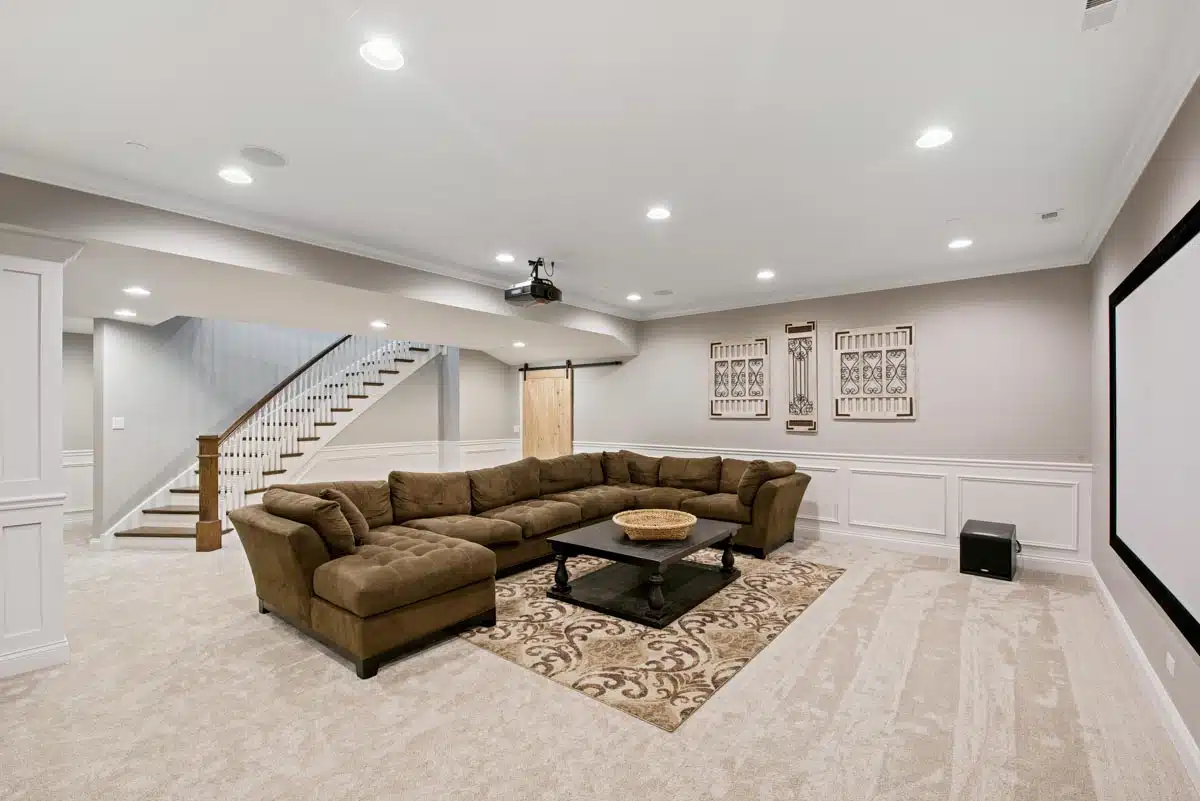 Nowadays, homeowners are turning their basements into fully functional, usable spaces. This transformation is made possible by choosing the right colors, textures, lights, furniture, and decorations to make the space feel cozy and welcoming.
The basement is a perfect space to express creativity when it comes to decorating and one of the best ways to add colors and patterns is by using an area rug.
If you want to add character and a bit of nostalgia to your basement's design scheme, try incorporating vintage rugs or retro area types of rugs having artistic design styles which are defined by a pop-art element such as surrealism or minimalism.
If you have darker basement rooms and you want to add more splash of vibrant color, consider a bohemian-style design or a colorful abstract area rug.
For a classier look, the lines and shapes found in the design of modern rugs such as arches, curves, triangles, and slanted lines give a distinct style statement.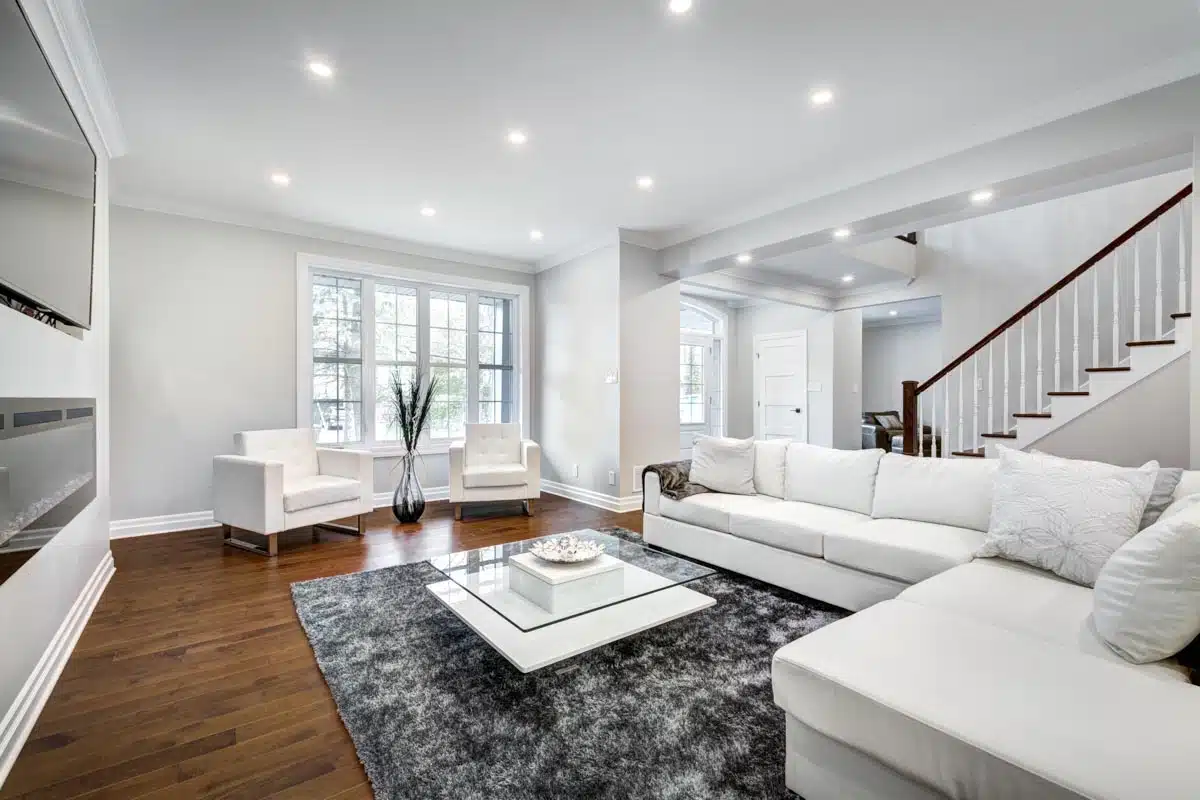 Modern rugs combine new materials and innovation in blending different materials making them suitable for the conditions in the basement.
An all-natural stylish braided fiber area rug is an ideal alternative choice for homeowners who prefers a water-resistant, pet-friendly rug for their basement. This type of rug works well with nature or bohemian-inspired interior design concepts.
The basement with hardwood flooring requires a rug that won't slip and slide on the wooden surface. A rug with a softer surface would work perfectly well. For carpeted basement flooring, a lightweight, flatweave rug is an ideal choice.
Rug Styles
As far as basement designs go, the rug design you choose to run with can be a real game-changer. A well-chosen rug will not only add comfort and warmth, but it also can completely elevate your basement aesthetics.
As we delve into the various rug designs suitable for your basement setup, you'll have a wide range of choices, from contemporary motifs to classic patterns and so much more.
You will get to explore the benefits of each style and the transformative impact they can have on your basement space.
Here are some rug styles you can use for your basement design:
Abstract Rugs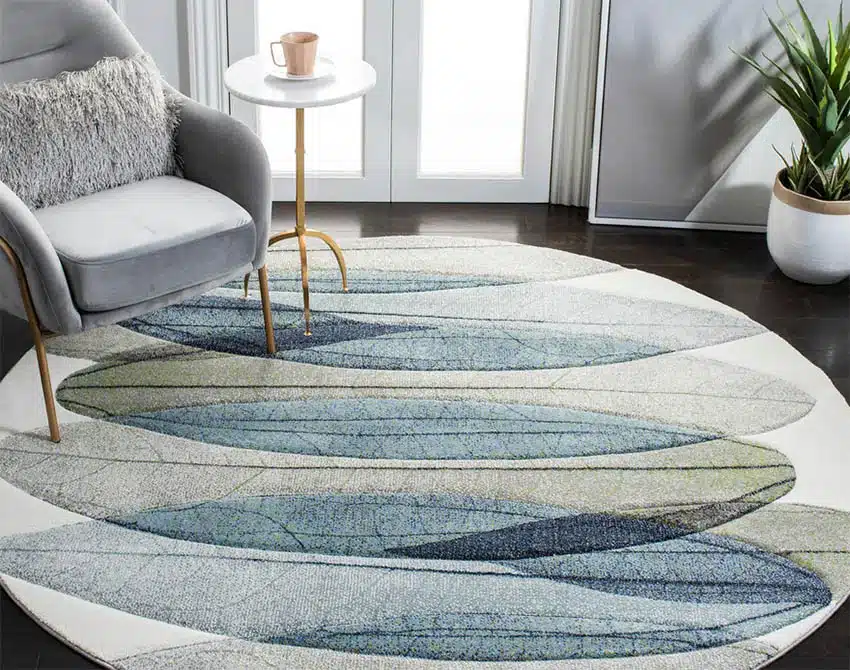 See this abstract rug at Overstock [sponsored link]
Suppose you're looking for something with a touch of individuality and artistry. In that case, you can go for basement rugs with abstract designs. They contribute a more artistic and contemporary touch to your overall basement layout.
These rugs typically showcase unique patterns that are out of the ordinary. They often take their inspiration from modern art. They can also serve as focal points in the basement area.
If you plan to go for something a little more eclectic, abstract rugs are definitely the way to go, mainly because of the personality and burst of colors they bring to the space. These rugs can transform your basement into something purely and uniquely you.
Geometric Rugs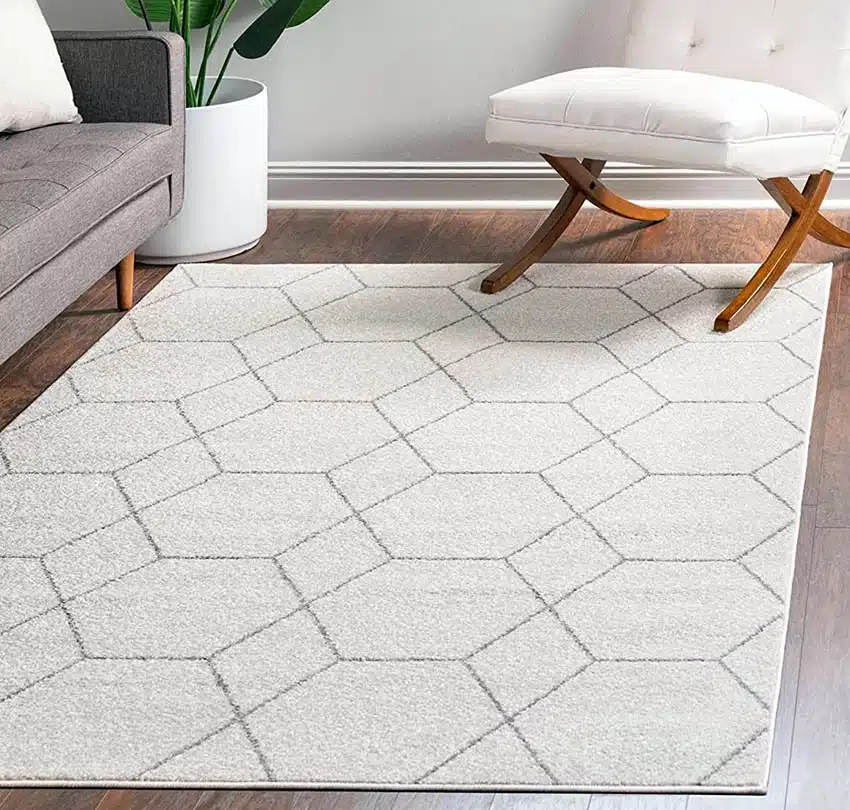 See this geometric rug at Amazon [sponsored link]
If you're going after something a little more sophisticated and something that abides by the rules of symmetry, geometric basement rugs may be more your style.
Nothing says more modern sophistication in a basement area than a well-chosen geometric basement rug. These rugs are well noted for their clean lines, intricate patterns, and shape symmetry.
It's a great design choice for people who prefer a touch of balance and order in the space that they inhabit. Geometric rugs are particularly smart to have in the basement because they're visually interesting without necessarily being overwhelming.
Floral Rugs
See this floral rug at Home Depot [sponsored link]
Floral rugs are all about bringing nature's beauty indoors, and that's what you get when you add them to your basement. These rugs are charming and can be excellent options to consider if you want a slightly more feminine vibe added to your basement space.
They can come in a wide range of colors, and the patterns can be as subtle or bold as you would like them. At the end of the day, it all depends on what your personal preferences will turn out to be. Basements don't have to be dank and austere places all the time.
You can create an oasis of serenity if you prefer, and floral rugs can help you turn that vision into a reality. Also, since basements are normally dark and masculine looking, floral basement rugs are a nice touch to make them appear more inviting.
They can help open the space up and make it appear brighter. These floral rugs will go well with shabby chic or cottage-style interior décor.
Oriental Rugs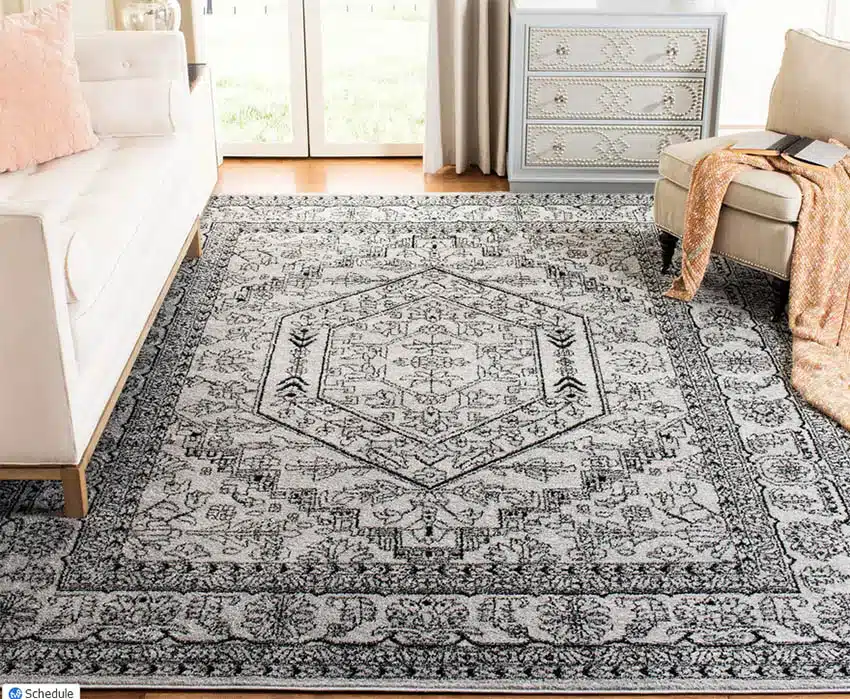 See this Oriental rug at Overstock [sponsored link]
There isn't anything out there that's as timeless and cultured as an oriental rug. We would always say that an oriental rug is a great piece to invest in any time of the day or year.
These rugs are a classic choice, and they evolve with the times, so if you want something that you can use over the years, oriental rugs really are great investments to consider.
The intricate patterns and bold prints on these rugs usually add texture and depth to your basement. It can make the space appear more cozy and more inviting. If you are looking for an easy way to instantly amp up the ambiance in your basement space, throw an oriental rug or two into the mix.
These basement rugs are also typically imported from China, Persia, or Turkey, so they come at a premium. However, the craftsmanship being showcased and the kind of luxury they exude is something that's unmatched by any other type of rug out there.
Oriental rugs also have a lot of warm tones. This can make an otherwise cold or austere-looking basement more comfortable and intimate.
Striped Rugs
See this striped rug at Amazon [sponsored link]
Of course, striped rugs will always be in every interior designer's arsenal when designing the basement space. It speaks volumes in terms of versatility and visual impact.
A striped rug is versatile enough to complement different styles and aesthetics in the basement area. Depending on the type of stripes you go for, you can be as subtle or bold as you want.
These rugs can make a significant impact on your overall design. You can make an otherwise expensive space appear more intimate and compact or bring in the illusion of space to a cramped basement.
On top of that, stripes are dynamic enough to simulate a touch of movement to the aesthetics. They're great for basements that you would like to convert into an activity areas such as a family room, a children's playroom, or a man cave.
Berber Rugs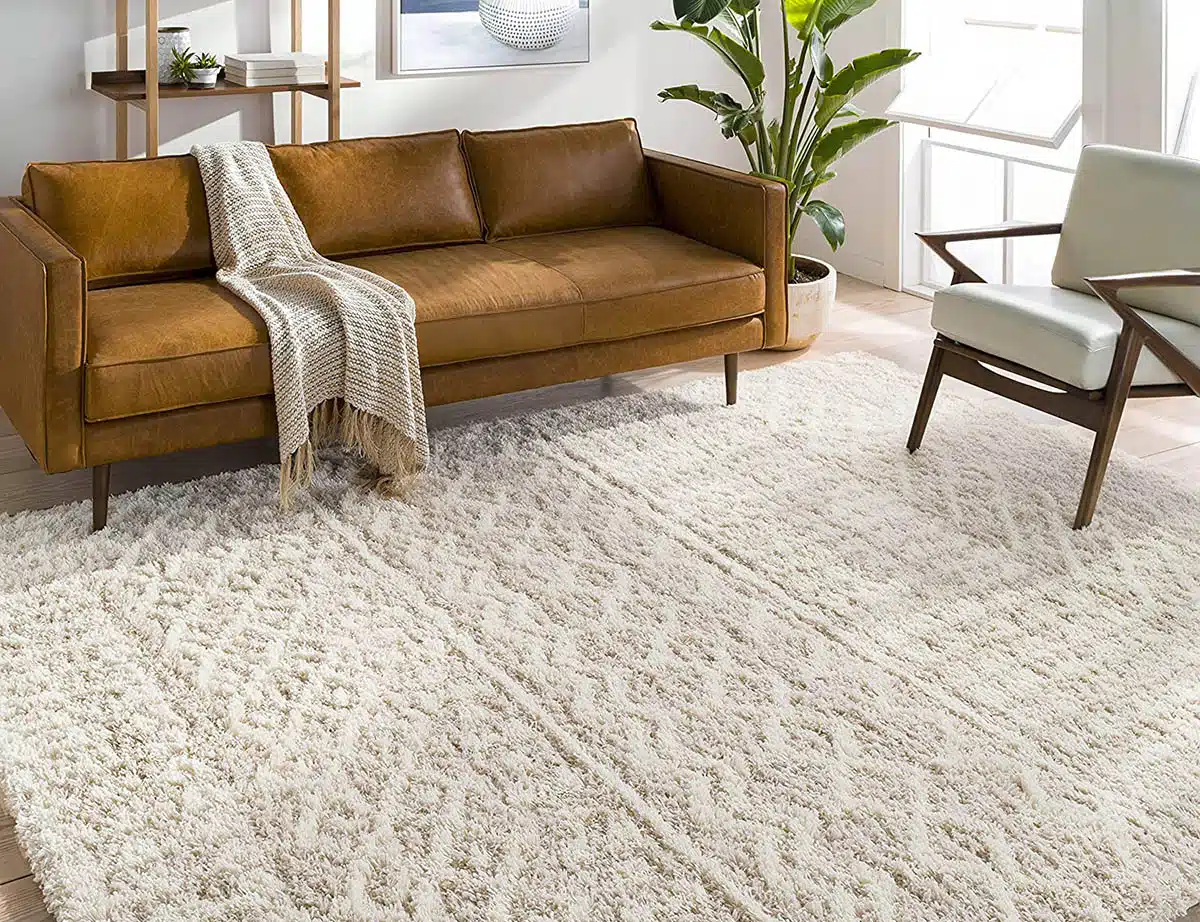 See this Berber style rug at Amazon [sponsored link]
A Berber basement area rug is extremely durable and has a unique, timeless style to it. It can be great for your basement because of its speckled or flecked appearance. It's great if you're after adding some sort of visual interest to the space.
They often come in a lot of beige colors. This means they can seamlessly blend in with the rest of your existing aesthetics for the basement.
They are crafted from a loop-type construction, making them extremely durable and recommended for high-traffic areas such as the basement. They're also great at managing dirt accumulation in the basement.
Moroccan Rugs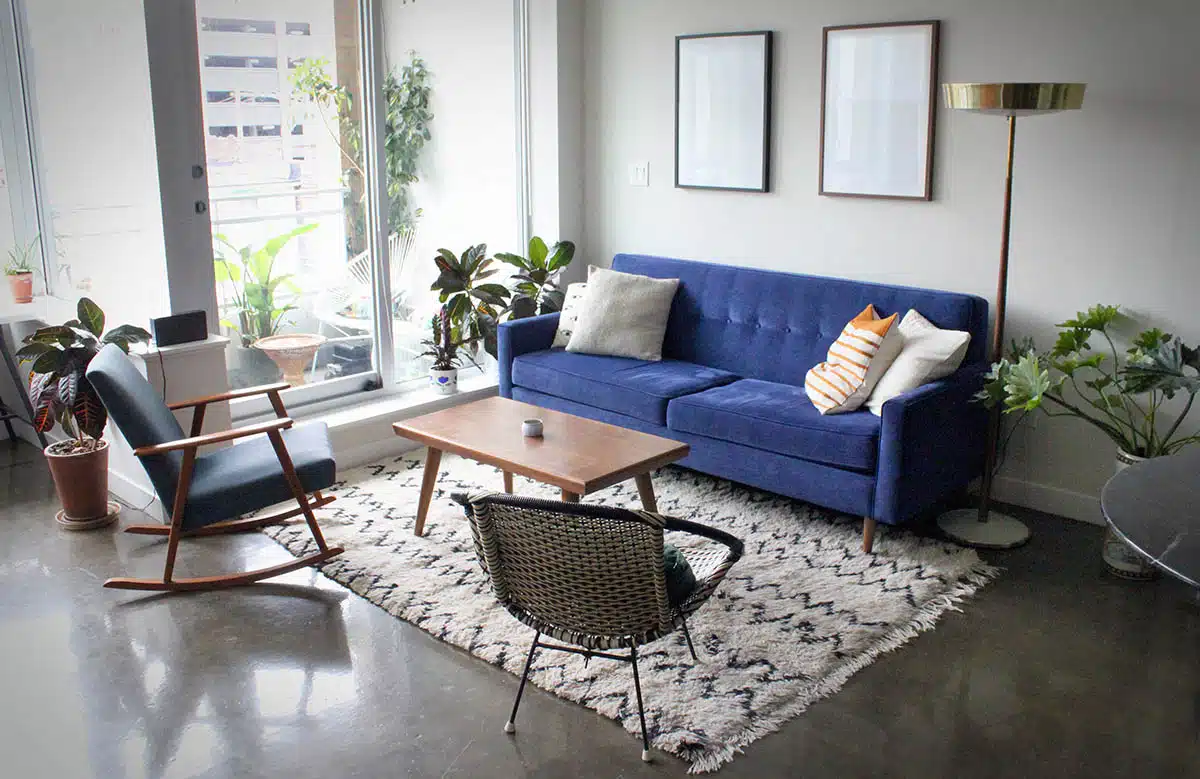 These basement area rugs are quite exotic, and they can make your basement design and layout stand out because of their vibrant colors and unique and intricate patterns. They are also quite cultured, and they can bring a touch of elegance to an otherwise bland interior design.
Moroccan rugs are painstakingly constructed by artisans and master craftsmen using traditional techniques that have barely changed over the centuries. They can offer anything from tribal to geometric designs, and they usually come in deep colors that can add a touch of richness to the space.
Shag Rugs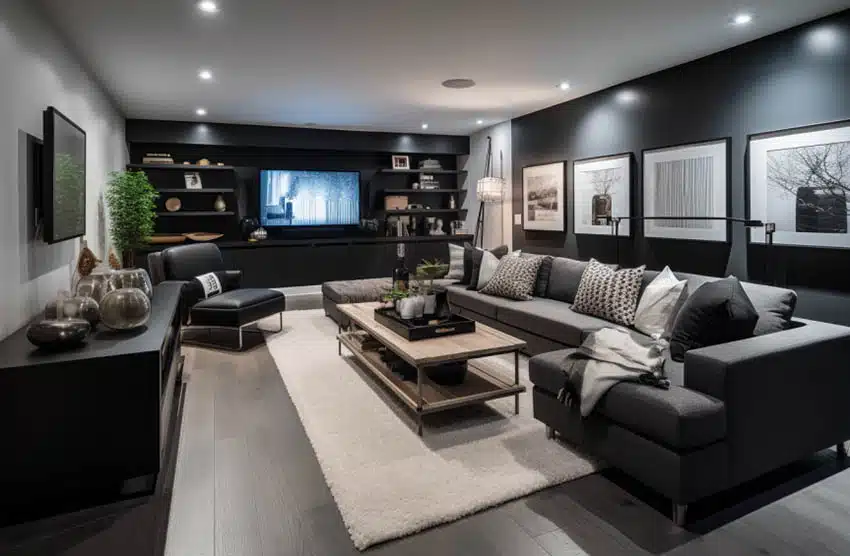 A shag rug is quite popular for basement use because of the immense amount of coziness and comfort it brings along with it. These rugs have very soft textures and are well-prized because they are thick and soft.
Most of the shag basement area rugs in the market today boast long pile heights. This can result in delivering a very plush underfoot feel that many of the other types of rugs out there don't offer. If your basement is particularly chilly, a shag rug can be a great addition to add warmth to the place.
They also come in all sorts of colors, patterns, and designs, so the sky's the limit to the aesthetics you would like to achieve. This is great if you want to convert your basement into a lounge room, a media room, or something similarly cozy.
Nautical Rugs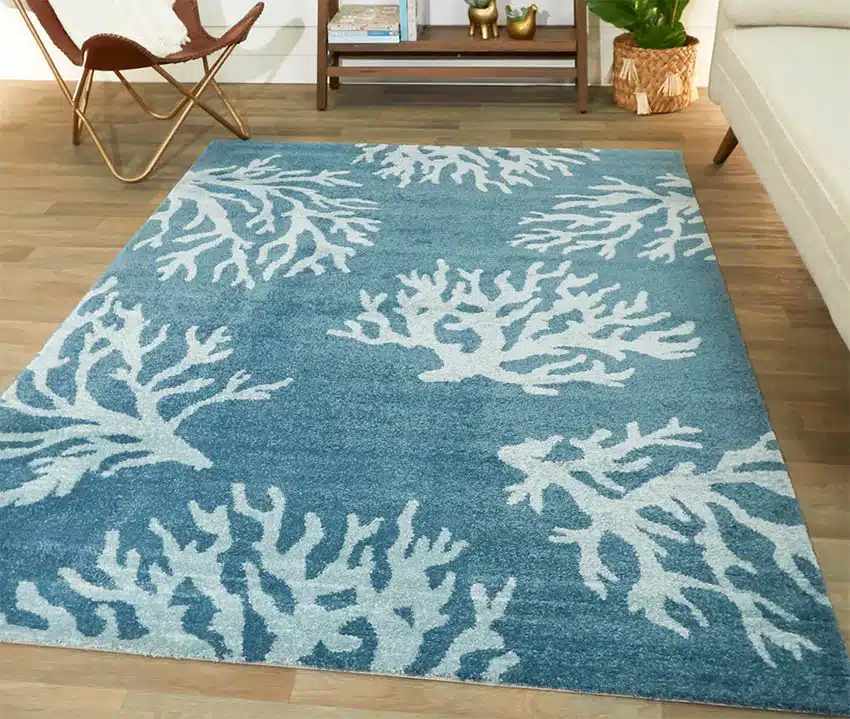 See this coastal style rug at Overstock [sponsored link]
Some people prefer something a bit lighter and more vacation-like for their basements. If you would like to introduce coastal vibes to the space, you can opt for a nautical rug design.
These types of rugs usually offer maritime designs such as seashells, anchors, and sailboats, and they are usually focal to the beach theme.
The colors are also centered around that, from beachy sand colors to ocean blues, stark whites, and basic beiges. A nautical rug can bring in a soothing and serene ambiance. You can create your own relaxation space in the basement with a nautical rug.
Leather Rugs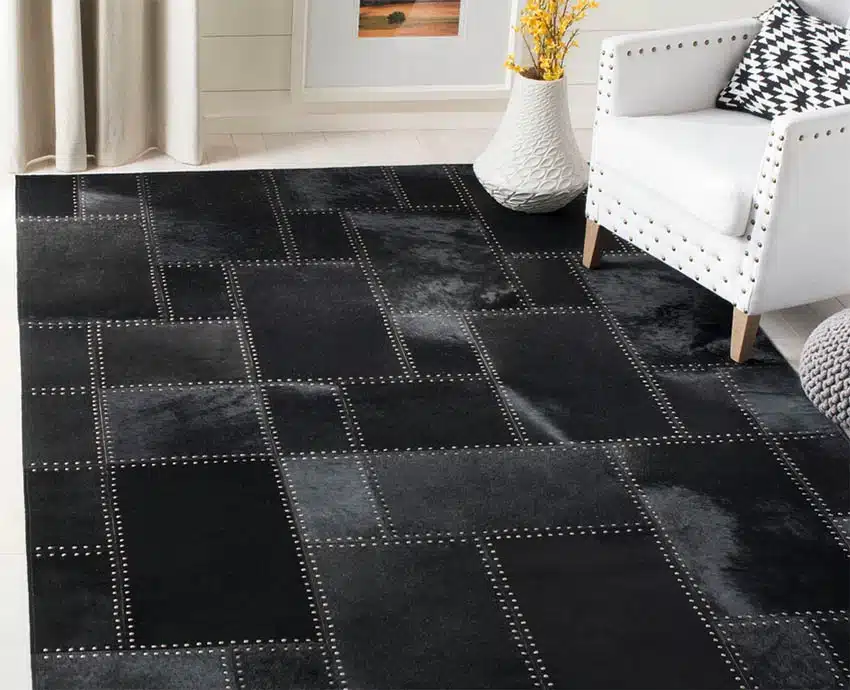 See this leather rug at Overstock [sponsored link]
Nothing says textural depth and timeless appeal like a leather rug in the basement. Leather is considered a high-grade material, and it also embodies uniqueness and sophistication.
Genuine leather rugs provide a look that's very distinctive and sophisticated. They work well when it comes to adding depth and texture.
This results in a very inviting and warm atmosphere. A leather rug is particularly well suited in the basement area because of its ruggedness and the luxury that it provides to the aesthetics.
Jute Rugs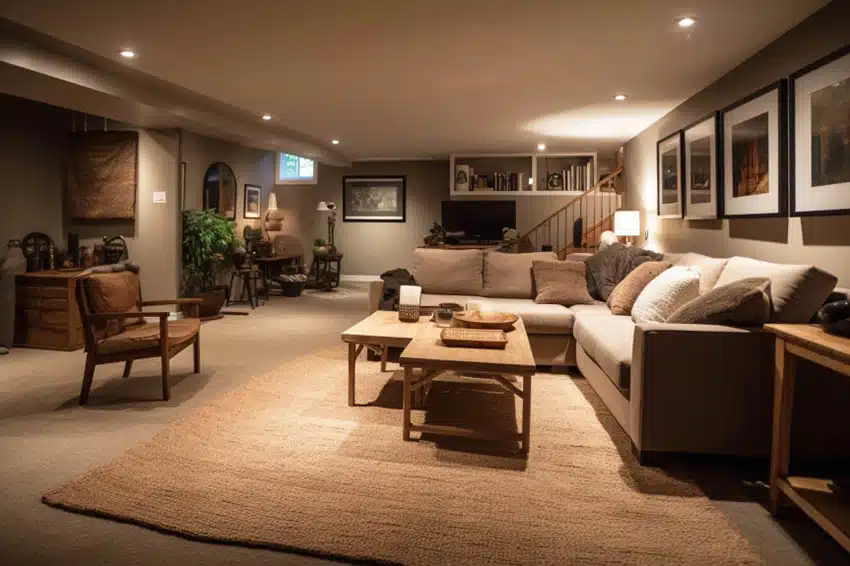 A jute rug is a more environmentally aware option in the basement. It is derived from the natural plant fibers of the jute plant. Suppose you want something more environmentally sustainable and eco-friendly for your basement. In that case, this is a great choice to consider.
There's a certain touch of earthiness and rustic to the aesthetics when a jute rug is introduced to a space. They can come in different weaves, from chunky braids to intricate, tightly woven patterns. But the best part for us is the extra texture and dimensionality they can bring to your basement space.
They can work with earthier aesthetics such as shabby chic or bohemian designs. A jute rug is another great rug to fight against dirt in the basement because said dirt doesn't stick to its fibers since they're so coarse and textured.
Rug Materials for the Basement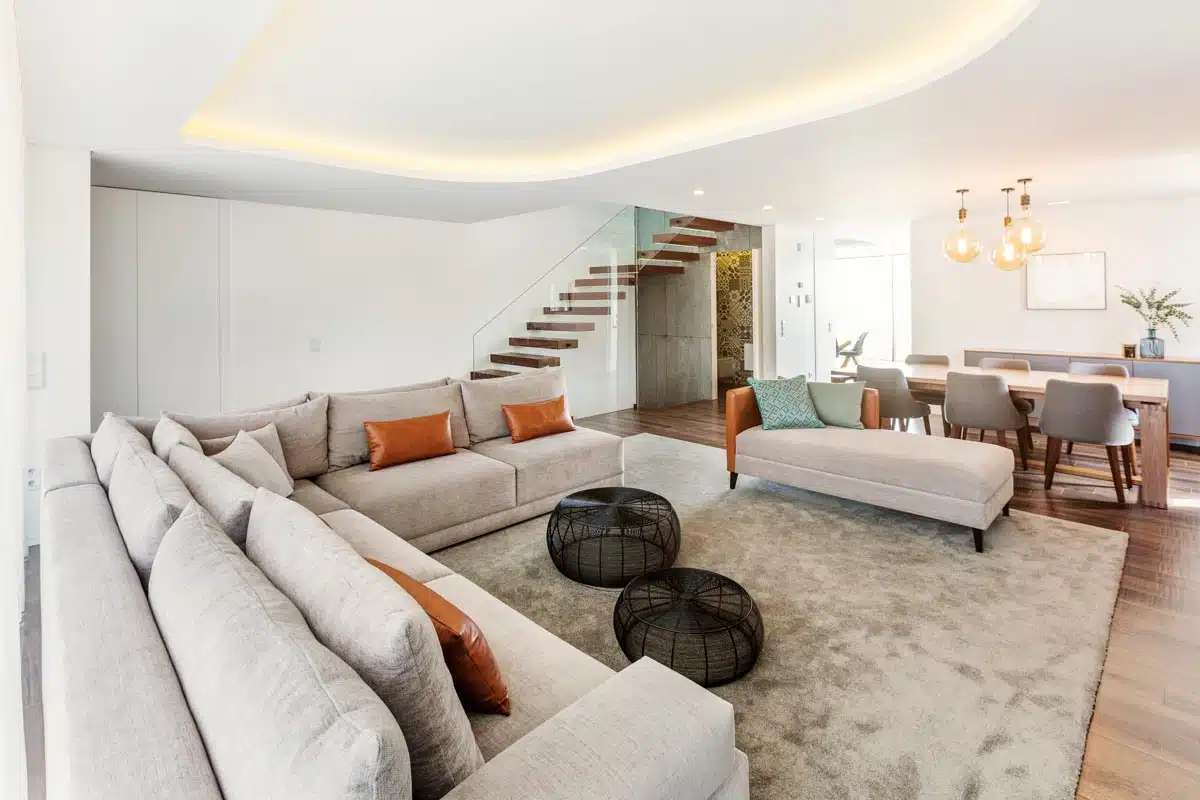 Since basements are located underground, they have the tendency to take in moisture and are therefore prone to dampness. A common concern is what type of rug can hold up to a basement's higher humidity level or withstand changes in temperature.
Synthetic fibers rank among the best choice for basements because they are able to withstand high moisture levels, and since they are resistant to dampness, it keeps away the risk of mold and mildew growth.
Synthetic fibers are also breathable which means air can circulate well through and around the rug providing a quicker drying time.
Here's a few of the popular types of synthetic fiber for rugs:
• Nylon is a durable and water-resistant fiber; however, it is also the most expensive synthetic option for a rug. This material can hold up to heavy use, maintain its color, hold its fiber height and resist staining.
However, like most other rugs nylon will absorb water, which can lead to mold or mildew, especially in a wet environment.

• Triexta is a synthetic fiber that is as durable as nylon as well as offering excellent stain resistance. It is more affordable than nylon and environmentally sustainable material.
• Polyester is the least expensive choice for a basement rug plus it has the best stain-resistant characteristic. Solution-dyed polyester is less absorbent and you can wipe off stains easily.
• Polypropylene has waterproof manufactured characteristics that are designed to look and feel like sisal while poly-silk rugs are designed to look and feel like wool.
There are also natural fiber rugs that are advisable for a basement floor. Rugs made of wool are also best for the basement because of their lanolin-coated fibers.
Here's a few popular natural fiber rugs:
• Wool is usually sourced from sheep, goats, and camels and is considered as one of the softest natural fiber rugs. It can help retain heat and offers a warm underfoot feel.
Wool rugs help add warmth and coziness to your basement as well as ensure strength that can stand up to wear and tear.
• Cotton is a natural material that is strong, and durable while also being soft. Rugs made from cotton can be cleaned easily and are affordable, therefore making them a great choice for basement flooring products.
While cotton has many advantages they have a few disadvantages. They tend to fade quickly, aren't resistant to staining and need special care to avoid shrinking.
• Seagrass is a natural fiber that is made from organic materials from the ocean. This material is highly resistant to moisture, however they have a rough texture that is not gentle on the feet. This rug is useful for moisture prone low-traffic areas and coastal or nautical themed rooms.
• Sisal is another durable natural fiber that is derived from plants native to Mexico. It has stiff fibers that can hold up to heavy wear and tear.
However, it is not advisable for use in high moisture areas as it can develop mold or mildew and it is not resistant to stains.
• Jute is very similar to sisal, but with thinner fibers and is derived from plants native to India. The advantage of jute over sisal is it has softer fibers, but the downside is it can wear out much faster.
Due to the comfort of jute its advisable over sisal for area where you will sit or walk bare footed on the floor.
Area Rug for Unfinished Basement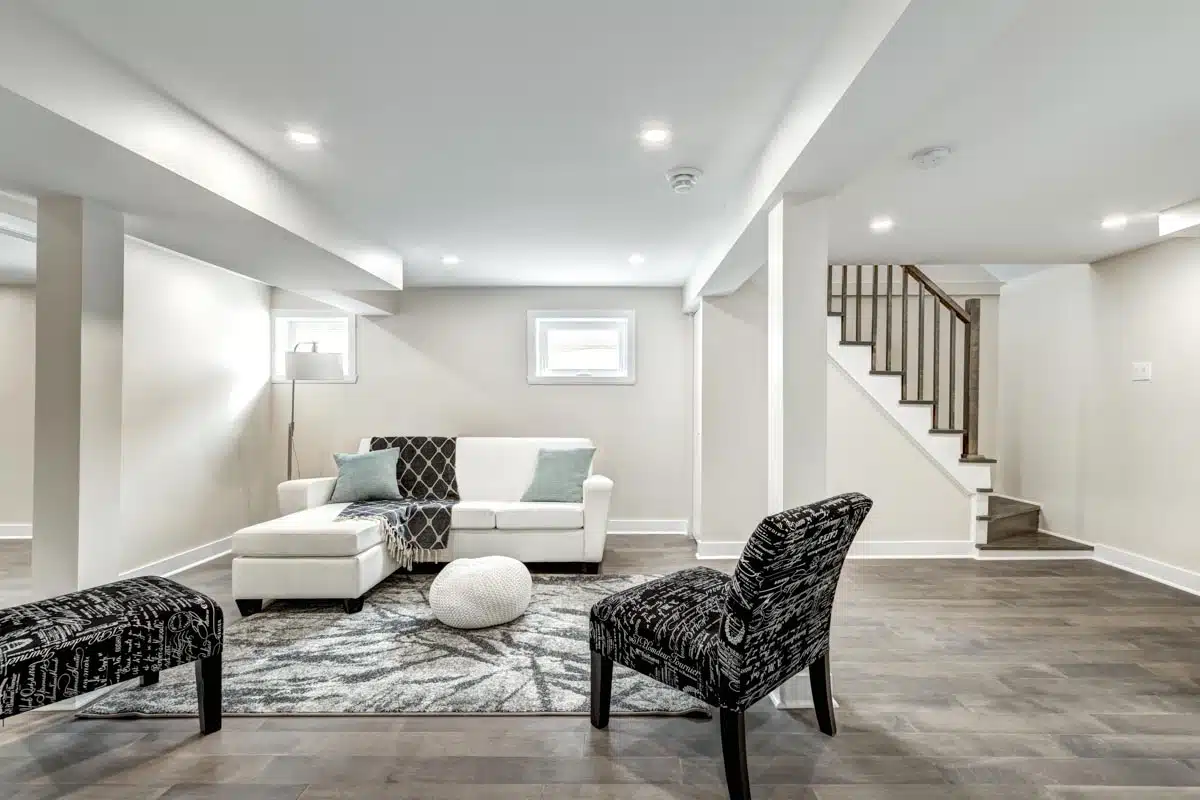 While most homeowners prefer a finished basement, an unfinished basement can still become a functional living space and can add usable square footage to a home. Rugs are flexible elements for unfinished basements and don't need to be placed over a finished surface.
Area rugs add warmth and beauty and are often a needed accessory to complete a room's decor. But they must be used strategically to create the biggest impact while supporting safety in the home. – Knack Universal Design, Barbara Krueger and Nika Stewart
Because basements are colder since the concrete flooring rests directly on the ground, area rugs can help make the floor feel warm, especially during winter and these rugs offer cushions as well as added comfort.
Area rugs with rug open-cell, polyurethane foam pads will make it easier for area rugs to dry out if they get wet and will ensure that moisture doesn't accumulate and will protect area rugs from mold and mildew.
For unfinished basements, opt for area rugs that are made of mold-resistant materials such as acrylic, nylon, or polyester since they are resistant to moisture and stains. Area rugs that are slim or have thinner material are the best choice as well since they have less chance of retaining water.
Synthetic fiber area rugs made with low-pile or cut piles are perfect for unfinished basements since they are able to release moisture easily and have a quicker time to dry.
Waterproof Rugs for Basement Floors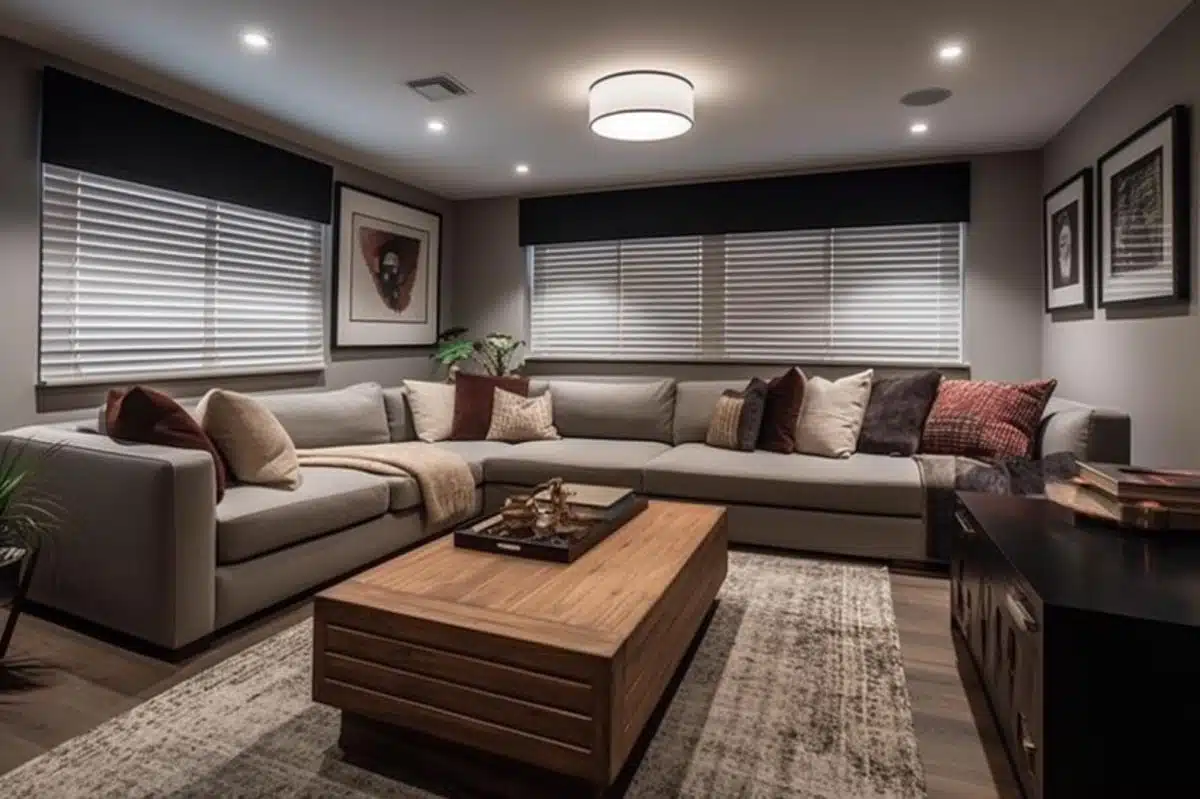 Alternative synthetics such as polypropylene, nylon, and polyester rugs are more flexible than natural fibers since they contain plastic that contributes much to their moisture-resistant, stain-resistant, and breathability characteristics that make them waterproof rugs and ideal to use for basement flooring.
Soft, natural fiber such as seagrass or sisal rugs have the ability to promote airflow and can help with moisture evaporation. These fibers are naturally tough and durable; however, this material will need to be dried and hung out often.
Choose low-pile rugs since they have a faster drying time making them ideal for damp environments like the basement. While cut-pile rugs are easier to extract water from and are durable as well.
Rugs with padding work well in a basement because this special backing can prevent moisture from passing through and trap water within and underneath it. It is important to frequently dry rugs with pads to avoid molds and mildew from growing.
What Rug Looks Best on a Concrete Floor?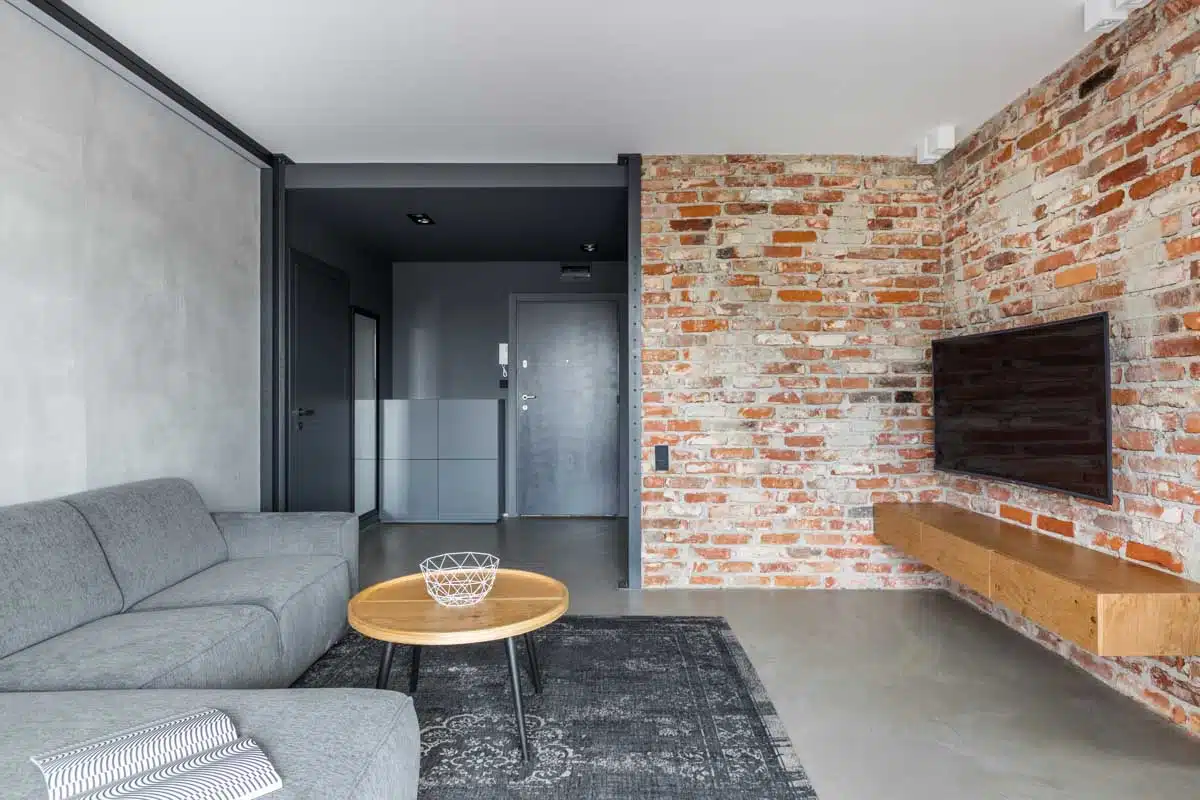 Concrete floors can be cold and damp, especially for basement flooring. Rugs not only protect concrete floors but also add warmth and color to the basement design scheme.
Different textures of rugs soften the concrete's polished surface and brighten the grey concrete color. They offer elegance, comfort, and good vibes to the space.
Fluffy, shag, and long nap plush rugs are great for concrete floors as they offer softness, warmth, and dimension so the concrete doesn't feel so hard and flat. Natural sisal or jute fiber rugs create a warm and welcoming feel in an otherwise cold and uninviting basement.
How Do You Get A Rug To Stay In Place On Concrete?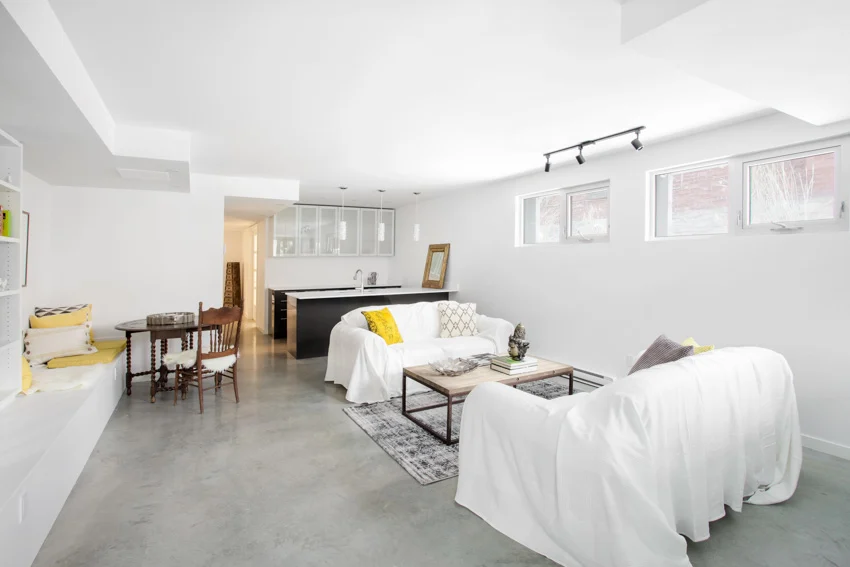 Keeping rugs flat and in place can be challenging, and rugs that are not properly secured on the floor can be a safety hazard. One of the best ways to keep a rug in place is by using thin rubber waffle rug pads which are sold pre-cut in various thicknesses for common area rug sizes.
They keep corners from curling and make the rugs more comfortable to walk on. For thin and flat-weave rugs, using natural rubber pads can provide excellent protection from rug slippage.
Felt pads do not only provide protection from slipping due to the gripping quality, but the rubber backing that is fused with the felt pads provides extra cushion and creates enough friction to keep the rug in place.
Rugs with felt pads are ideal for hardwood flooring and are most effectively used with large-area rugs. Felt rug pads also help soundproof the basement, protect the floor, and add durability to the area rugs.
Using rug gripper tape on the bottom edges of the rug keeps it in place and also helps in preventing corners from curling. Gripper tape has a strong adhesive on one side and a non-slip silicone surface on the other side that comes in contact with the surface of the concrete flooring.
This rug gripper tape does not leave any residue on the floor and can be easily removed from the floor when you need to reposition and clean the rugs.
A double-sided rug tape is similar to gripper tape, it has an acrylic adhesive on both sides. Using this rug tape for small rugs is ideal and works well for rugs made from synthetic materials.
Silicone caulking can also be used to keep rugs in place. They come in a squeezable tube, the caulk comes in a clear or white formula. Simply apply small dots of caulk on the backside of the rug and wait for the silicone to dry before placing the rug on the floor.
Another effective way to keep rugs from sliding is to use Velcro, which works as a hook-and-loop fastener. This hook-and-loop anchor has an adhesive that is attached to the back of a rug and the other piece on the floor, the other two sides fasten together to keep the rugs in place.
These Velcro are designed to be easily removed when the rugs need to be repositioned or cleaned.
See more related content in our article about basement floor colors on this page.