Here we share our picks for the best white paint colors for kitchen cabinets.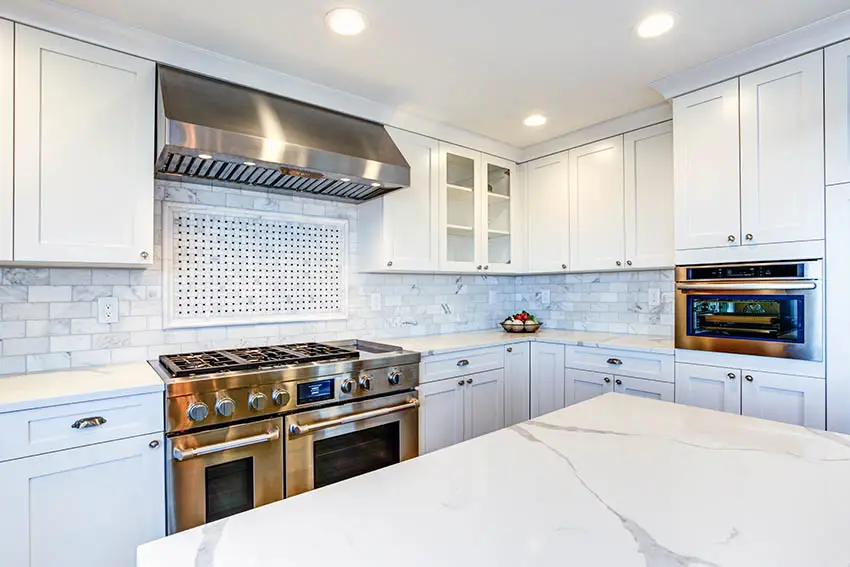 Are your kitchen cabinets looking dingy and need a refresh? Or are you sick of dark and gloomy wood cabinets? It's time to take the plunge and paint those cabinets white.
White paint reflects light, brightening up your kitchen. But isn't it boring? No! It's classic. Your kitchen cabinets shouldn't be the focal point of your kitchen design, rather they support and bolster it. White, associated with cleanliness, is the perfect choice for a food preparation space.
If you're already digging out that half-full gallon of white paint from some project you can't even remember, let me stop you right there. Your kitchen cabinets deserve better than that. Take the time to learn about the different qualities of white paint, and choose the one that's perfect for your space. You'll be glad you did.
How to Choose White Color Paint for Kitchen Cabinets
Every shade of white paint falls somewhere along two spectrums: cool vs warm, and soft vs bright. 'Cool' paint colors have undertones of blue or purple. 'Warm' paint colors have undertones of yellow or red.
Look at the other features and fixtures in your kitchen — are they cool or warm? Buttery yellow walls and a pine kitchen table will be complemented by a warm white. Stainless steel appliances and slate countertops will look better with a a cool white.
So, what about soft vs bright? You may recognize those descriptors from the last time you bought light bulbs.
Bright whites are like freshly fallen snow — crisp, stunning, but blinding in the wrong conditions. Soft whites are gentler and easier on the eyes, like the cream you pour in your coffee.
If your kitchen gets tons of direct sunlight, choose a soft white. If your kitchen is darker, gets indirect light, or has no windows at all, a bright white will help you bounce light around the room without searing your retinas.
That gives us four possible combinations when looking for the perfect white paint for kitchen cabinets. Read on to find the best in every category.
Best Cool and Bright White Paint for Kitchen Cabinets Benjamin Moore Decorator's White (CC-20)
If you've ever walked into a kitchen and been dazzled by the bright white of the cabinets, there's a good chance it was Decorator's White.
This paint is whiter than anything found in nature. Highly reflective, this paint is going to snatch all the light and bounce it around the space, making your kitchen gleam.
It photographs well, so do yourself a favor and take some pictures once the job is complete — they'll come in handy if you ever want to sell your house.
Ideal for people who want a crisp, clean, polished feel in their kitchen. Don't have a Benjamin Moore store near you?

Try Sherwin Williams Ceiling Bright White (SW7007).
Best Cool and Soft White Paint Sherman Williams Alabaster (SW7008) Choose this paint for a creamier, subtler, less harsh white that is still reflective and cool.
Alabaster is just a touch softer, a touch more natural, than Decorator's White, but will still look good next to white trim and appliances. Avoid this color if you have lots of yellow in your kitchen decor.
Best Warm and Bright White Paint Benjamin Moore Simply White (OC-117). Not too stark, not too reflective, not too yellow, not too blue…this color could be called 'Goldilocks White', because it's right in the middle, and just right for almost any kitchen.
If you feel overwhelmed and just need to pick a color and get painting, you couldn't choose a safer color than Simply White.
Best Warm and Soft White Paint Benjamin Moore Cloud White (sold as both CC-40 and OC-130). This soft white is easier to look at, a bit gentler on the eyes. It has subtle yellow undertones, making it look rich and creamy.
Cloud White is outstanding in kitchens that get a lot of natural sunlight — the natural yellow in the light will make your cabinets glow. If you have any yellow, red, or orange in your kitchen design scheme, Cloud White is for you.
Type of Paint Finish to Use For White Kitchen Cabinets
The final choice to make is the finish of the paint. High-gloss paints are easy to clean, but highlight every ding, nick, and imperfection, making them a poor choice for the high-traffic work area that is your kitchen.
Matte paints, on the other hand, will hide damage and imperfections, but they aren't very wipeable, so they're also not appropriate for kitchen cabinets.
That leaves you with three choices of paint finish: eggshell, satin, or glossy. Since eggshell is the most common choice for wall paint, I recommend a satin or glossy finish paint to make your new white cabinets pop.
What are your favorite choice for the best white paint colors for kitchen cabinets? Let us know in the comments section below. For another related guide visit the best paint colors for kitchens page.