Here's the painting a basement floor pros and cons including the different reasons, cost, types of paint to use, and how to paint basement floors.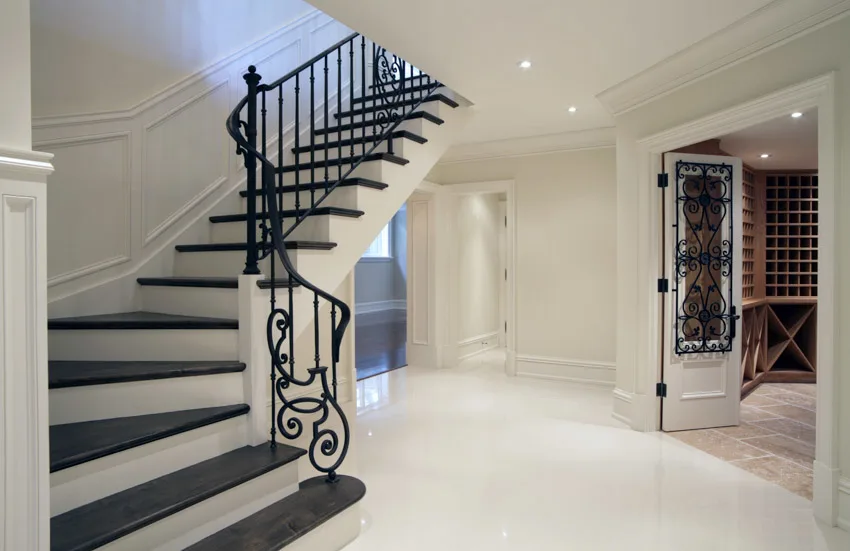 Homeowners use basements for storage and washing in many ways, while others use them as a leisure area. Whatever function your basement serves, it is critical to treat it like any other portion of your home.
You may find a concrete floor in most unfinished basements. This part is frequently unpleasant in its natural form. Many unfinished basements remain unused because owners are unsure what to do with the area.
However, many methods make an unfinished basement more inviting and practical. A fast and cost-effective option to make the atmosphere more ideal for living space—especially for casual purposes such as an entertainment area, workshop, or workout room—is to apply floor paint.
A well-painted basement floor covered with decent area rugs may be valuable for a variety of functions, and make the basement more comfortable, appealing, and easy to maintain.
Reasons To Paint Basement Flooring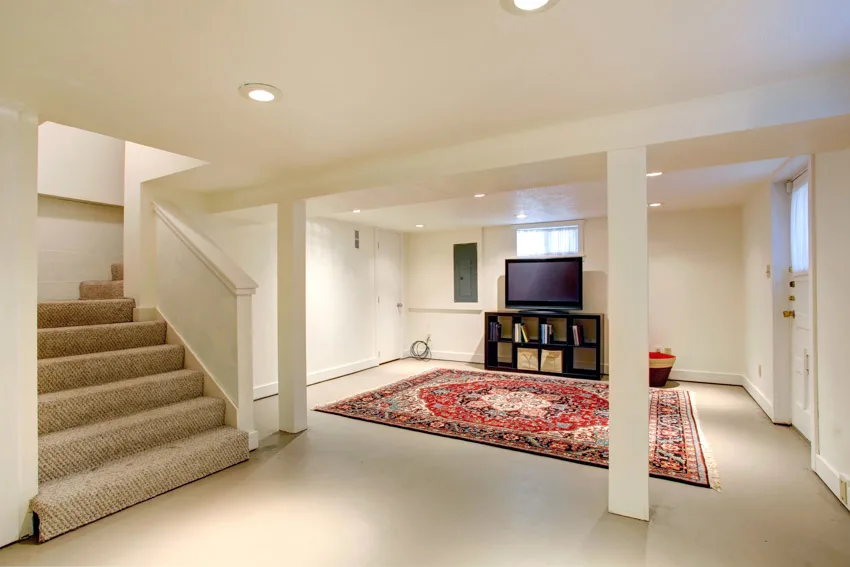 There are several reasons why you need to cover your basement floor. The first and most evident benefit is it will breathe new life into your whole basement. In addition, doing so will raise the value of your property.
Basement floor coverings have another essential purpose besides aesthetics: protecting your flooring from harm.
Moisture, chemicals, stains, dust, and damage are all resistant to properly fitted coatings. Additionally, sealing your flooring prevents germs and vermin from entering your house via your floors.
Changing up the way a floor looks in a room is among the cool finished basement ideas that can completely revamp the look and feel of a room. There are a lot of different ways that you can do this as well.
One way to change up your basement floor is to simply paint it. It offers a lot of different design options and, if you keep reading, we'll teach you everything you need to know about painting a basement floor pros and cons.
Pros Of Painting A Basement Floor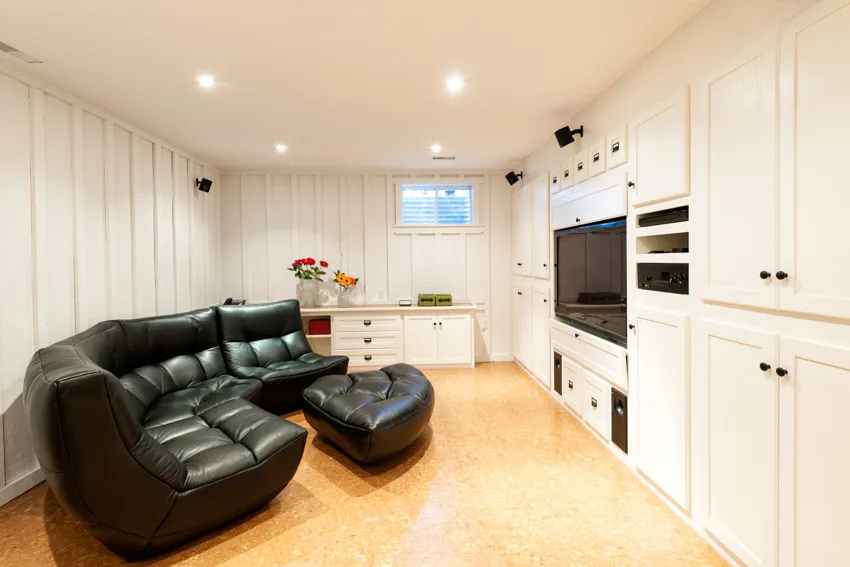 Naturally, every home improvement job comes with its own pros and cons. First, we'll start with the good news and cover what painting your basement floor can offer you.
• Mitigate Moisture: Basements are infamous for allowing moisture in from all sides due to their underground placement. Moisture entry may cause many issues over time, including mold, mildew, decay, and more.
From above, floor sealing prevents moisture from entering the pores and fissures of your floor. Choosing suitable concrete floor finishes for your basement can give numerous layers of protection against moisture incursion in this manner.
• Improves the room design: Although appearances aren't everything, most people want to be proud of their homes and enjoy the ambiance they create.
Basement concrete floor paint, at the least, enhances the aesthetic of your basement by adding color, vitality, texture, and more.
There are a lot of aesthetic benefits to painting your basement floor as well as the simple appeal of paint over bare cement. The most obvious one is variety. Since you're painting the floor, your options are nearly limitless as long as you have the right paint.
• Covers imperfections: With that in mind, it's also a great way to cover any flat imperfections on your floors like stains from a spill if you use a color dark enough to cover the mess.
• Keep Maintenance to A Minimum: Cleaning your basement is essential for maintaining it. Cleaning a bare or damaged concrete floor, on the other hand, is a complex process since dust, grime, oil, and moisture may be difficult to remove from the concrete's holes.
You may quickly seal these pores and gaps by applying basement floor paint carefully, making cleaning and routine upkeep a joy.
• Easier to clean: It's easy to clean too, so it's a great choice for a high-traffic area like a finished basement or even the potential messes in a basement for a stricter purpose like storage.
• Protect the floor: There are also paint options that you can use to add a little more protection to your basement floor than bare concrete offers. A great choice is to opt for waterproof paint that will help make your cement a bit more resistant to damaging moisture.
• Enhance Safety: If you use your basement often, it's essential to keep it secure. Uneven, cracked, and pitted concrete floors are tripping risks, and they're also slick (especially when coated in dust).
• It's critical to reduce these dangers, and polyurea floor coatings or comparable protective basement floor coatings provide precisely that. These coatings provide an even, plainly visible walking surface, enhancing friction, reducing the danger of slips and falls.
• Inexpensive option: Another benefit to basement floors is that when it comes to materials, it's a relatively inexpensive project compared to putting down a new layer of flooring. We'll discuss the cost of painting a basement floor in more detail later on.
• Better resale value: Each of the advantages, as mentioned earlier, is significant in and of itself. They do, however, add to a larger picture, notably the market worth of your property.
Even if you don't intend on selling your property anytime soon, valuation is something to think about. If you're planning to sell your home, renovating the basement walls and flooring might provide a considerable return on investment.
So, don't take your basement for granted; most purchasers are concerned about these hidden rooms, and you should be as well.
Cons Of Painting A Basement Floor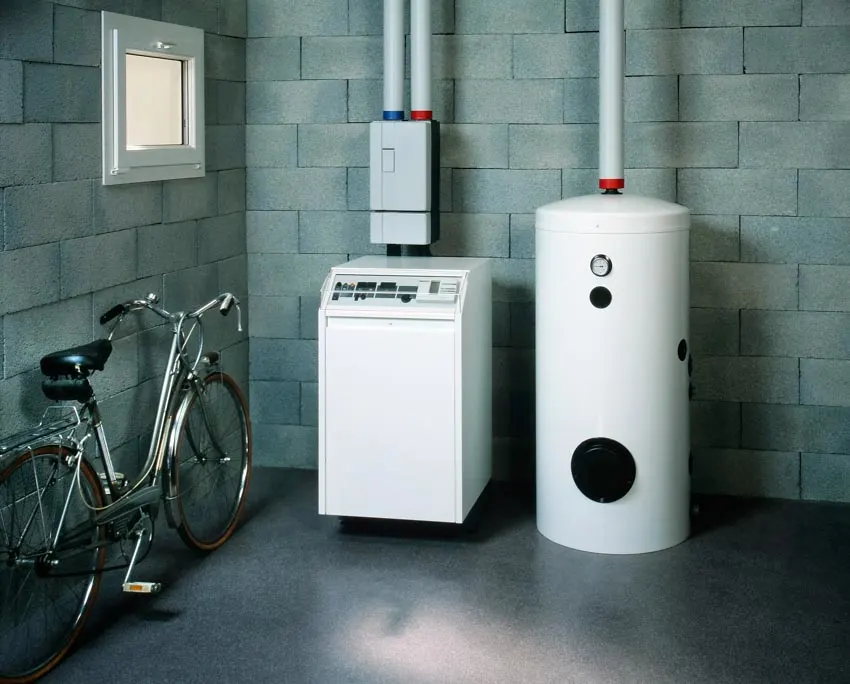 Now that we've covered some of the benefits of painting a basement floor, let's take a look at some of the cons that come with painting your basement floor.
• Can be a time-consuming project: The biggest one to consider is that painting a basement floor isn't quite the same as repainting a bedroom. It can surprise some homeowners by what a big job it is and making mistakes can really show in the long run.
• Difficult as a DIY project: While painting basement floors is usually advantageous, the biggest drawback is that it is usually difficult for the ordinary homeowner to undertake on their own.
Frequently, the floor must be prepped, which means it must be clear of dampness, oil, and bumps. An acid etch is required to prevent paint flaking and chipping in certain situations and should be done by a specialist to minimize the health dangers associated with the operation
As such, many homeowners opt to hire a professional for the job which definitely cuts down on the risks associated with taking on a big DIY project as well as equipment costs but does add to the overall cost of labor for the project.
• Need specialized paint: Painting a concrete floor necessitates the use of specialized paint. If the other conditions are good, most so-called porch-and-floor paints will work, but it's preferable to opt for a particular concrete-floor paint.
• Can create noxious fumes: In addition, since painting a basement floor is often a job done with epoxy paint, you have to consider the fact that this will create a lot of fumes as you work. This can particularly pose a challenge if you have a basement that isn't well-ventilated.
As such, you'll want to make sure you have the proper respiratory protection such as the right masks to make sure you don't experience adverse effects.
• Can be costly: Painting basement floors is a complex process that may take days to accomplish. As a result, many homeowners employ a professional to paint their concrete floor, resulting in a home improvement that costs more than simply the cost of the paint.
As long as you make sure that the paint job turns out well, though, you aren't going to run into many problems maintaining most painted basement floors.
Cost To Paint A Basement Floor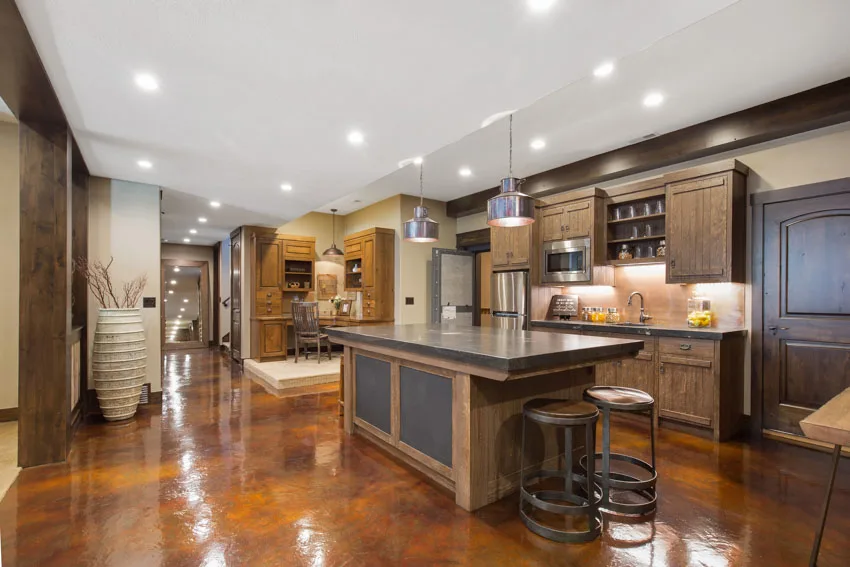 After learning about the painting a basement floor pros and cons, you should know more about how much it can be. The cost of materials and labor will play a significant role in whether you decide to reinforce or leave your basement floor unfinished.
The entire cost of installing a basement floor depends on the kind of coating you choose, the surface area of your floor, the extent of the damage, and the contractor you engage.
In most basements, the floor is made of cement or concrete. For this type of flooring as a DIY project, the average cost to paint a basement floor is about $1.45 to $3 per square foot.
For the total cost, you can multiply this average by the square footage of your own basement. This cost is for the materials themselves and can vary depending on the exact paint you choose.
Water-based paint costs about $30-50 per gallon, whereas solvent-based or 100% solid epoxy paint costs between $60 and $200 per gallon. Contractors may charge by the hour or by the square foot for labor.
Overall, a professional coating of a 1,000 square foot basement floor might cost anywhere from $2,000 to $7,000 (including material prices), or roughly $3-10 per square foot.
To save money, you may consider applying coatings yourself. It might only cost a few hundred dollars if you do it yourself (and several hours of your time, of course).
Using 100% solid epoxy or polyurea coatings, on the other hand, is complicated and should be done by a specialist. You risk messing things and having to undo all of your hard work and start over if you don't.
As we mentioned, though, there are more facets to these painting a basement floor pros and cons than just the cost of the paint itself.
For instance, if you plan to take on the project as a DIY, you'll have to make sure you have all of the equipment you need to complete the job as well as the materials for it.
Conversely, if you decide to have your basement floor professionally painted, you won't have to purchase any equipment yourself but you'll have to pay for the cost of labor which can vary a bit from company to company.
When considering the cost of painting your basement floor, it's worth considering that this can be a great investment for the future as well. Homes with a painted basement floor are likely to have a higher market value than a home with a bare basement floor.
What Type Of Paint Is Best For Basement Floors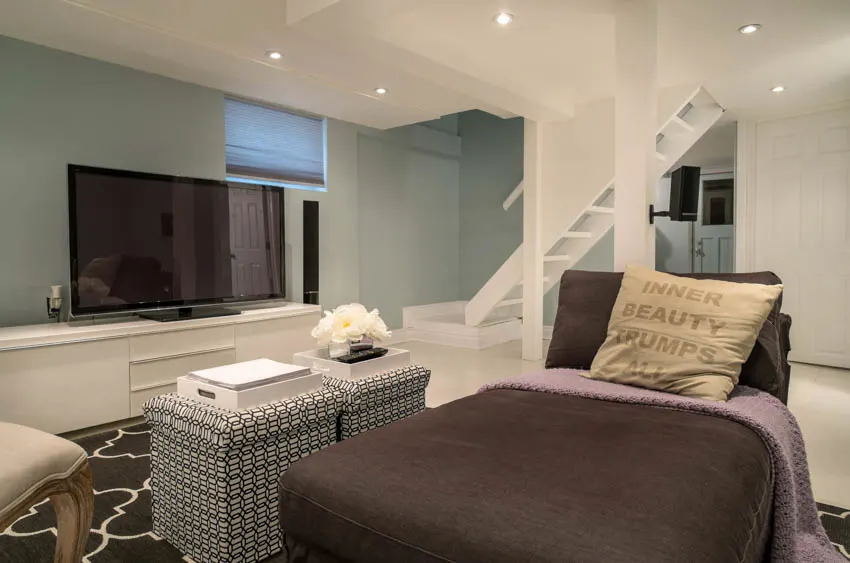 Professionals and homeowners agree that epoxy paint is the best option for protecting and beautifying a concrete basement floor.
What Do You Use To Paint A Basement Floor?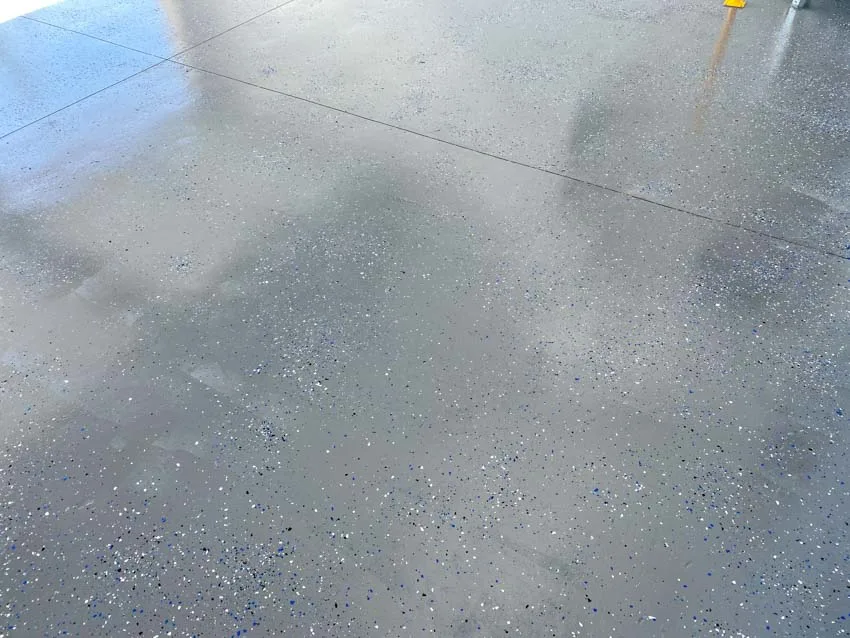 Going for epoxy floor paint is the best option for basement flooring. This paint includes a small quantity of epoxy, which helps to provide an extra layer of protection.
Epoxy paint serves as both a sealant and a paint. Instead of evaporation, a chemical reaction hardens the surface, resulting in a durable and chemical-resistant finish.
Epoxy paint's durable satin surface resists scuffing, fading, cracking, peeling, blistering, and fading, making it great for garage floors, driveways, basements, porches, and shed foundations.
• Best overall: Rust-Oleum Decorative Concrete Coating
• Best for your budget: Kilz Decorative Concrete Coating
• Most weather resistant: In The Swim Patio And Deck
How Do You Paint A Basement Floor?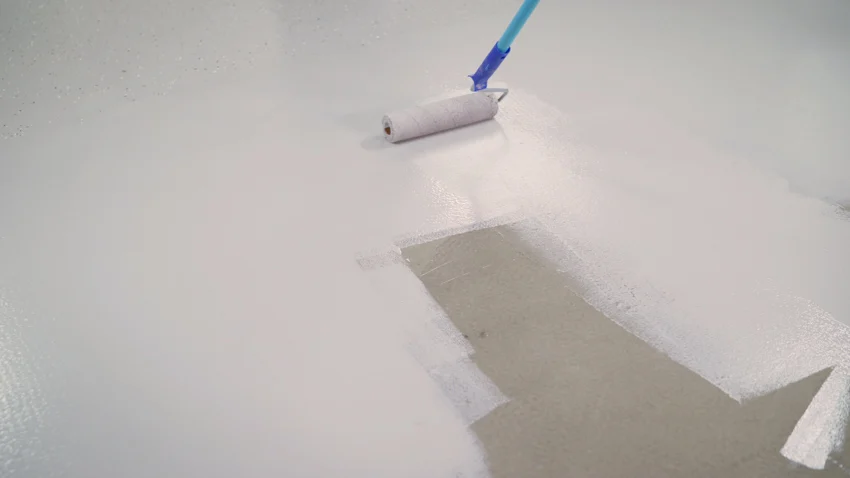 The following are stages to guide you through:
Step 1: Clean and moisture-test the floors. You may want to paint your unfinished basement floor but aren't sure whether you'll need to seal it as well.
During this preparation step, you'll want to make sure you clean the floor thoroughly. Once you've mopped up and cleaned, let the floor dry with a fan running for 24 hours.
Step 2: Repair and fill holes and cracks.
As we said, painting a basement floor correctly is key. So, you'll want to start by using a concrete repair compound to make sure that you have a smooth surface. Then, sand everything down as needed.
Step 3: Seal the surface.
If you need to prime the basement floor for the paint that you're using, now is the time to do it. It's best to just turn to paintbrushes and rollers for this.
A dry roller is handy to have on hand to smooth out anywhere that it's necessary because you'll want to make sure to apply the primer evenly.
A concrete floor sealer is an excellent technique to protect your basement floor before painting it. It ensures that the final paint layer adheres well to the concrete. It may also be a long-lasting, easy-to-clean transparent finish on concrete.
Step 4: Apply the paint.
Before you mix your epoxy paint, make sure you're ready to paint right away as you'll want to apply it right away. So, make sure you've already laid out any plastic or applied painter's tape to anything.
Mixing the paint is the last step before moving forward. Remember – this paint has strong fumes, so use protection and keep things as ventilated as possible.
Now, you can paint, making sure to work so that you move towards the exit. Let the coat dry for a day or two as directed by the manufacturer before adding a second coat and letting that dry.
Can You Paint Concrete Without Primer?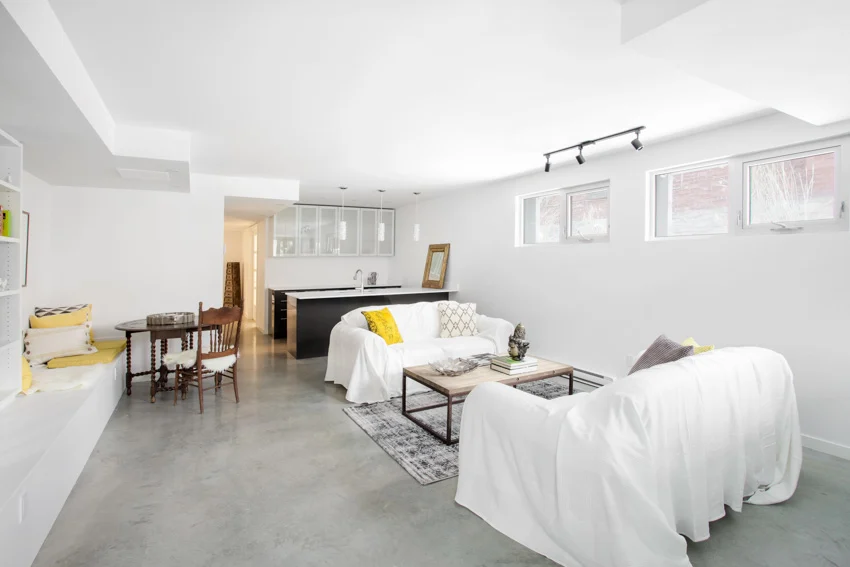 No, there might be some things that you paint in your house that you can get away with by skipping primer, but a basement needs primer. Usually, you only have to worry if you see some sort of damage like chipping or peeling occurs.
However, there are other conditions like always priming a surface that's never been painted. When it comes to concrete, you will always need to make sure to use a primer before painting.
When it comes to primer, though, you have a few different options. This includes acrylic primer, polyurethane primer, acrylic block fill, and acrylic masonry.
When it comes to a primer for your basement floor, you'll likely want to lean towards an acrylic primer since it's great at bonding to concrete flooring and giving the paint something to latch onto when you apply it. A polyurethane primer is also suitable but usually reserved for heavy-duty and industrial uses.
All in all, you'll want to make sure that you not only use primer but that you ensure you use the right primer for concrete.
Should I Seal Or Paint My Basement Floors?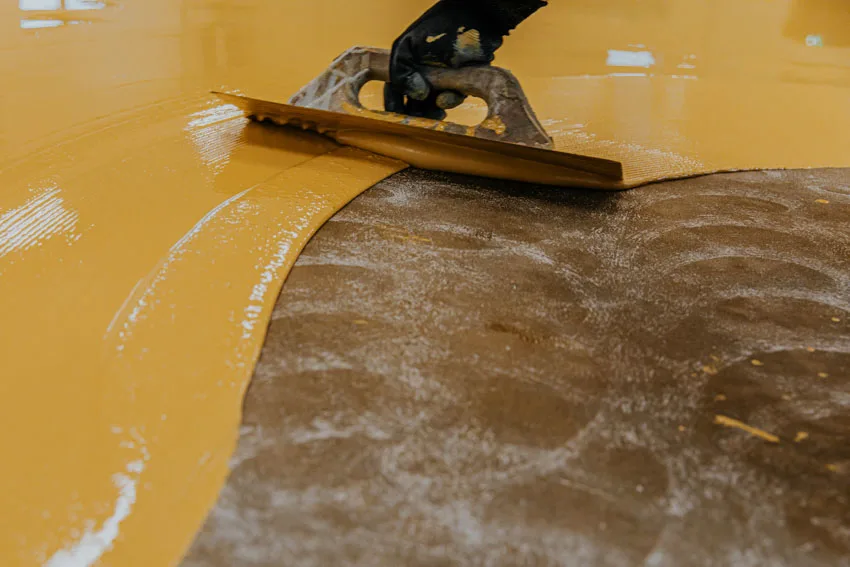 When it comes to sealing and painting basement floors, it isn't actually an either/or situation. Ideally, you'll want to seal your floor before you paint it to avoid any problems moving forward. Typically, this step is done as you prime the floor as well.
There are a few different reasons that you'll want to seal your basement floor. For one, it will help keep moisture out and keep your concrete in its best shape possible.
In a similar vein, it can help you avoid other forms of damage to your concrete such as cracking, increased stain resistance, and a generally longer lifespan.
Sealing your concrete is another step that is crucially important to complete correctly. Otherwise, it won't offer all of the benefits you would normally expect.
Luckily, if you aren't quite sure how to do it or if you just want the extra assurance, it's a step that you can call in professional help to seal your basement floors properly.
After assessing the different painting a basement floor pros and cons, this will ultimately ensure that the outcome looks beautiful and has the practical benefits that a sealed concrete floor offers.
Is It A Good Idea To Paint Basement Floors?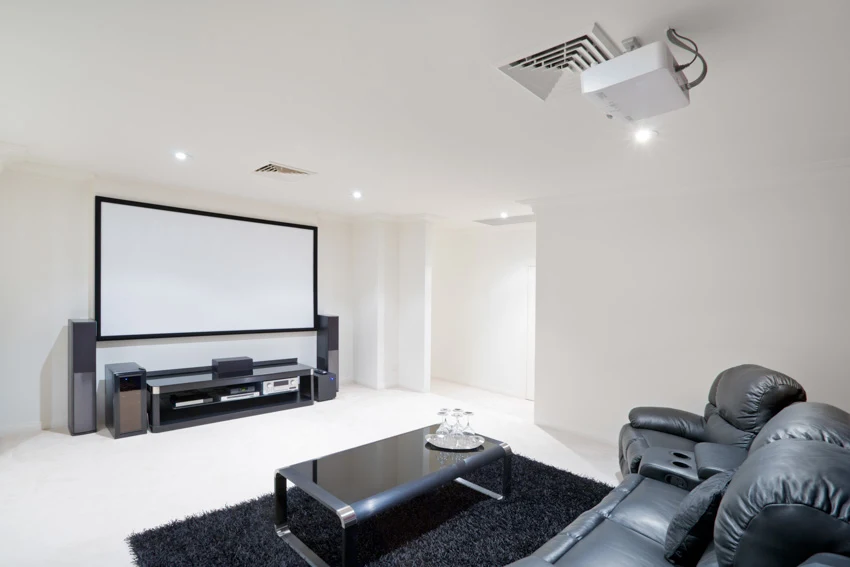 At the end of the day, it all boils down to one question: should you paint your basement floors? Well, there's little reason not to!
As we discussed about these painting a basement floor pros and cons earlier, there's an astonishing level of versatility in what you can do with paint on a basement floor. After all, paint comes in so many different colors, there's no shortage of choices.
If that wasn't enough, there are some practical advantages to painting your concrete floor as well – especially when you add in steps like sealing the concrete. Even further, a painted concrete floor is fairly easy to maintain and it isn't hard to clean when you run into a bit of a mess.
Overall, if you want to get the most out of your basement and impress prospective purchasers soon, investing in basement floor coatings may be worthwhile. Coating your flooring adds to a 70% ROI for a whole basement makeover, so you can wind up recouping a significant portion of your original costs.
All in all, painting your basement floors is a great choice because it'll give you the aesthetic revamp you want as well as plenty of practical benefits as well.
See more related content in our article about painting basement stairs on this page.