The ultimate guide to the various types of garages, including parking configurations, flooring, door, and roofing options, as well as insulation types, and storage ideas.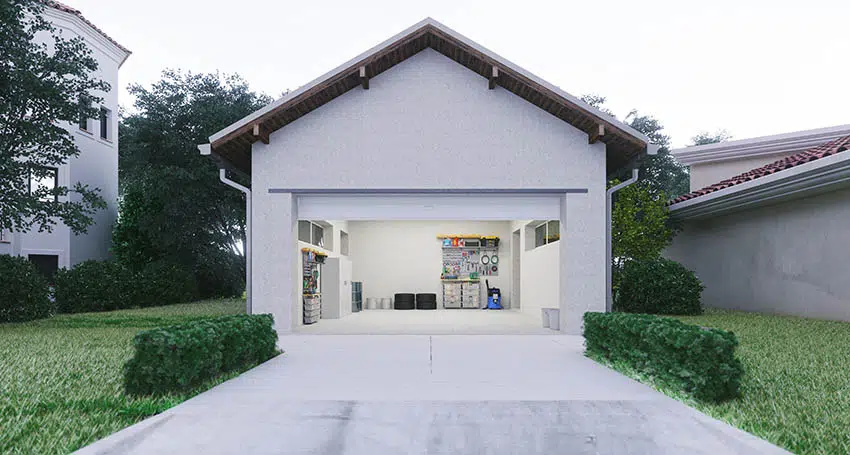 A garage is always a valuable addition to the home. Building a garage is one of the best things a homeowner can do as far as home additions go. Whether it's an attached garage, an underground parking spot in an apartment building, or a separately constructed garage apartment, this would also guarantee to add to the resale value and appeal of the home.

Experts say that a garage adds at least a 64% guaranteed return on investment which isn't a bad deal at all if you're not looking into selling your home right away and plan on using the garage for a period of time first. Source: Homeowner Funding.

In this article, we aim to break down the different types of garages available, including parking and drive-through configurations, flooring, door, and roofing materials, as well as insulation types and storage ideas.
This is the ultimate guide to planning out this practical and wise investment in your home.
Attached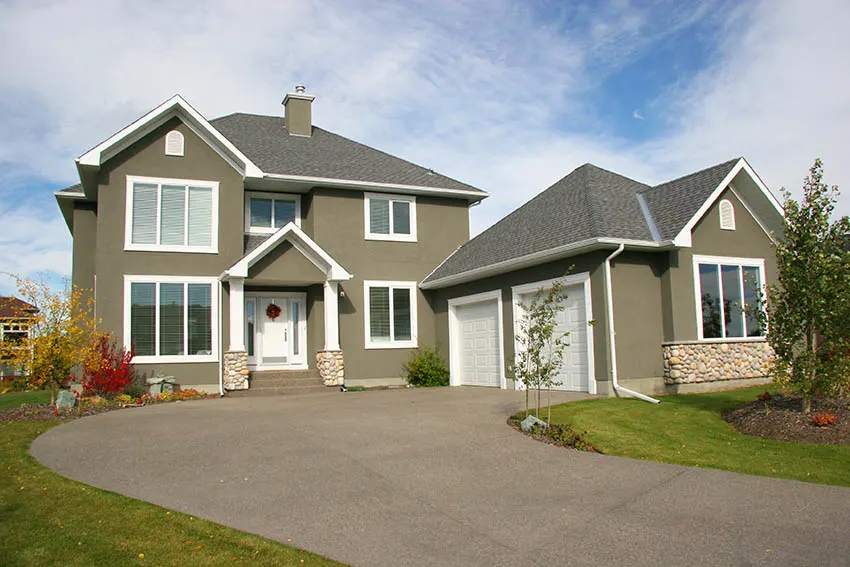 This type of garage is commonly seen in most homes and is actually quite popular among homeowners. An attached garage is usually built at around the same time that the home is constructed and offers a cohesive packaging of the home and the garage as one unit.
An attached garage generally has single or double stalls for cars. But today, more and more homeowners are expanding their garage to accommodate up to three or more cars.
This type of garage is also sometimes used as an extra storage space, a den, or even a workshop of some sort. One of the main reasons why an attached garage is so attractive to homeowners is because it's much easier to exit or enter the home without ever stepping outside, as there's usually a door connecting the garage to the house.
This is especially convenient during extreme weather conditions. Most of the time, these garages can also come insulated to maintain the temperature within the home.
Detached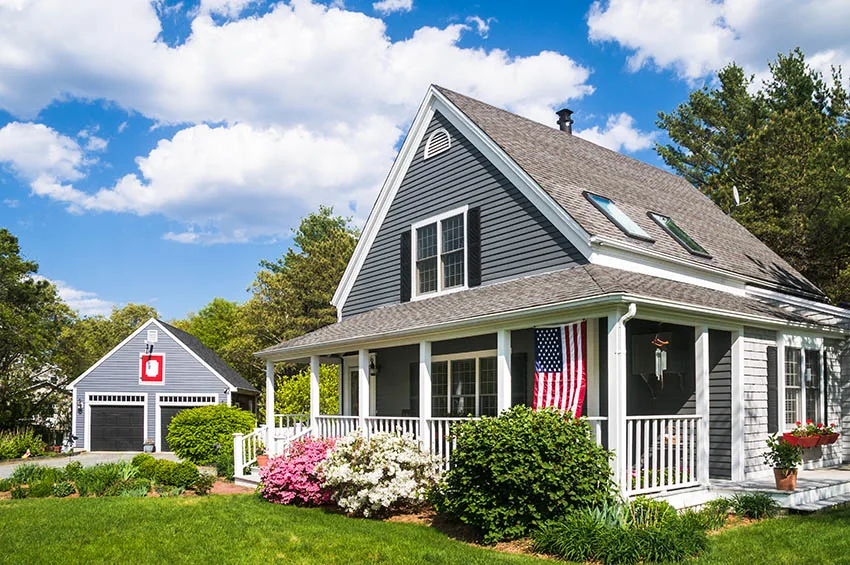 What's great about a detached garage type is that it can be easily built in any location of the homeowner's property. The fact that it is a separate building from the main house makes it easy to match its exterior design to that of the main house too. A detached garage could also include a garage apartment for additional living space.

A detached garage can be a great option in the event that the house lacks a good access point to build an attached garage. Also, it doesn't necessarily have to be built at the same time you're building a new house so this is also an excellent choice if you are on a tight budget.
For a more affordable option, you can also consider prefab garages that are available on the market. You can hire a professional builder to get it installed whenever you prefer.
Breezeway Garage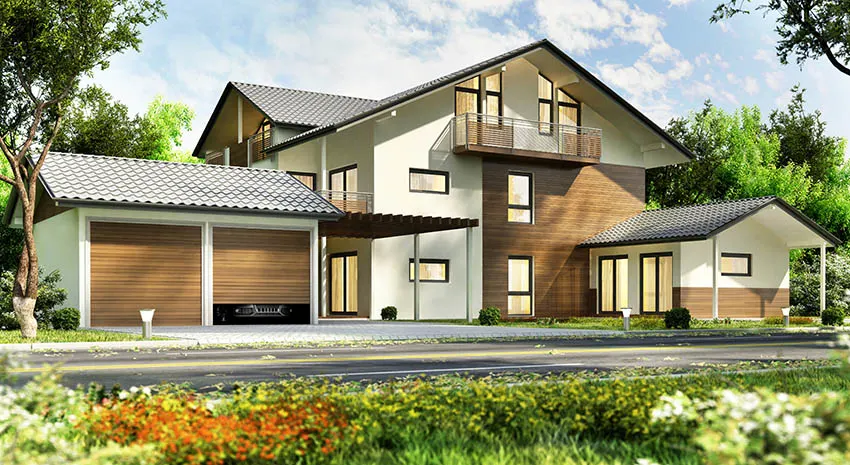 Also known as the portico garage, a breezeway garage is perfect for homes that have a detached garage but would like to enjoy the convenience that comes along with an attached garage.
A breezeway garage is built by connecting your house to the garage. This type of garage is available in a diverse range of styles and designs, some even resembling a high-quality parking garage experience. With the assistance of skilled contractors, your breezeway garage can also include valet services for added convenience.

How Does a Breezeway Work?
Basically, a roof or covering is built in between the garage and the home. You can even choose to enclose the area entirely. Doing this creates a climate-controlled and safe space for you to use, ensuring a comfortable experience. Information about different enclosure options can be easily gathered from professional contractors.
It can also serve as a storage space for muddy boots, umbrellas, and other outdoor apparel and accessories you may not want to store in the house. This actually brings the best of both worlds.
You have a detached garage but at the same time, you have the benefits of an attached one as well.
Portable Garage
A portable garage type is recommended if you need a space to protect and park your car, but don't necessarily have the budget to build a full-fledged garage on your property. But take note that floors and other openings such as doors and windows aren't included with the initial purchase.
There are neighborhoods that require some sort of roof or covering for cars, boats, RVs, and other vehicles to reduce visual clutter, and a portable garage can be an easy solution to this requirement.
They're extremely easy to install and maintain. You can either opt to hose them off or scrub them. They're also quite durable. In fact, they can even withstand harsh weather conditions because of their brackets that have been bolted together.
Although this type of garage is typically made of fabric covers, they're made of triple-layered weather-resistant materials. They don't easily rip or snag so you're guaranteed to not be plagued with expensive replacement or repair costs.
However, it would be safer to first secure a local permit before installing a portable garage on your property.
Carport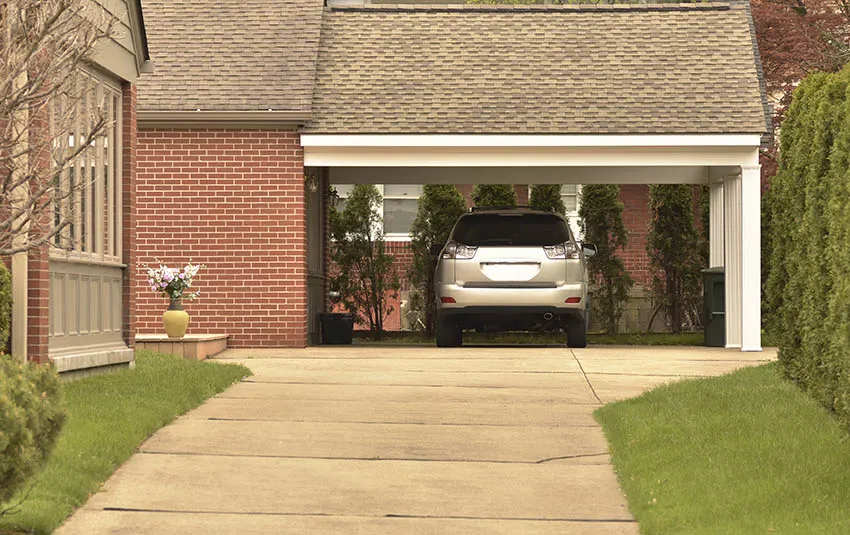 A carport is a garage type that provides a partially covered structure where you can park your car. It has a roof covering but the rest are pretty much open on all sides. Check out our carport vs garage article here.
Carports are favored by a lot of homeowners as they're extremely easy to construct. This is also perfect if you want to provide protection for your car in the home but don't necessarily have enough budget for a garage.
A major downside to a carport though is that it doesn't offer the same level of protection and safety that a regular garage does. For one, it isn't something that you can lock up to keep intruders out.
Consider getting a professional estimate on how the structure will fare in various weather conditions, such as rain, to ensure long-lasting quality.
Barn Garage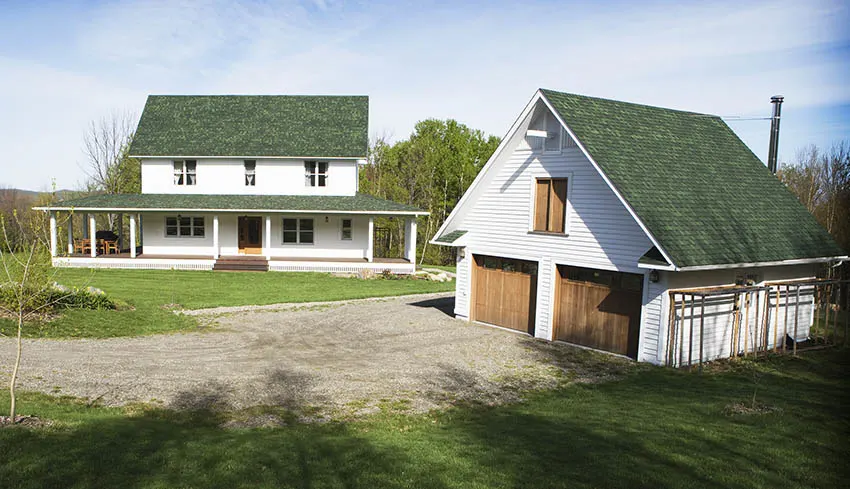 A barn garage is the perfect marriage between a garage and some extra storage space to have in a homeowner's property. Most barn garages come with loft storage options, which means that you have a lot of extra space, effectively freeing up valuable storage space from within the home. It's the perfect location for stowing clutter away from your home.
A major upside to a barn garage is that it looks like it was custom built for the home because it makes it easier to match its design, color, and style to the home's exterior. From selecting the perfect stone accents to providing additional details like driveways, a barn garage can seamlessly blend with your home's appearance.
If you don't have an existing garage yet, you can pick a design that closely resembles the aesthetics of your home to maintain a cohesive, seamless look. In addition, you can opt for a roofing type and paint colors or finishes that blend into the house's exterior style.
One way to make barn garages more accessible to the home would be to install a walk-through door. This allows you to conveniently go in and out of the garage, perhaps to access a workbench or tools, without ever having to lower or raise the main garage door.
Garage With ADU
An ADU stands for Accessory Dwelling Unit, which is typically a much smaller dwelling unit that's located in the same property as your home but is built as a separate type of structure or building. See more ADU designs here.
They usually go by other names such as granny flats, secondary units, or accessory apartments.
A garage with an ADU can be great for your property if you have a need for an extra living space. In most cases, homeowners built it as a rental space or a place where they can entertain friends and guests.
A garage with ADU can either be above-garage, which, as the name implies, is an ADU built directly above a garage. Or it can be a hybrid between a garage and an ADU altogether.
Building one almost always requires a local permit but overall, it still depends on the state that you're in and the local laws governing it.
Depending on the jurisdiction that your property is under, there are also usually minimum lot size requirements and they also sometimes dictate the type, design, and size of the ADU that you're planning to get constructed along with your garage. Look into your city's HOA policy for this.
Garage With Workshop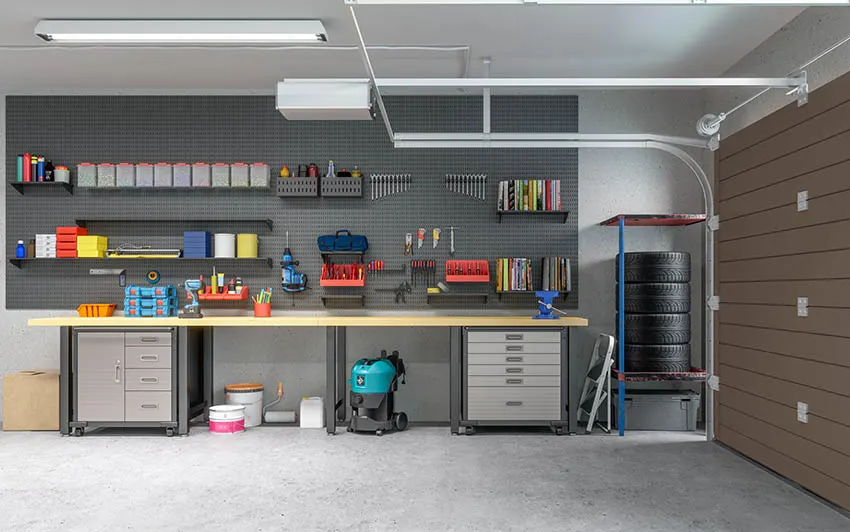 If you or other inhabitants in your home are the types who like to tinker with cars or if you need some sort of workspace in the garage, a garage workshop can be a viable option to go for.
A garage workshop typically has multiple bay doors that can be rolled up or down so that the cars can go in and out with ease on top of having regular access doors.
Because this type of garage offers a lot of extra space, homeowners normally store repair tools, heavy types of machinery, and other outdoor equipment in a garage workshop.
Garage Parking Configurations
It's important to plan ahead regarding your parking configuration before deciding on the type of garage you would like to build for your home. You need to consider the kind of space you're working with along with how the cars are supposed to go in and out.
Here are the different garage parking configurations to familiarize yourself with.
Single Car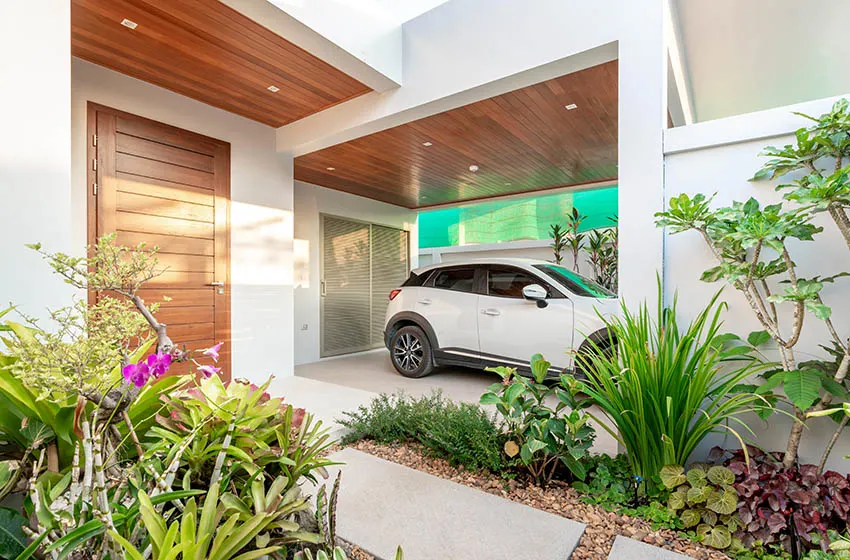 Single car garages are pretty popular. Their main purpose is really just to store and park a single car in the garage, with ample space to spare. The ground floor layout offers a sense of security and protects your car from harsh winds or potential theft. It could even include a loft space above for storing belongings or other items.

If you're working with limited space on your property, this can be a good option. A single car garage doesn't necessarily have a lot of space, but because of that, the space inside it can be quite limited as well. By utilizing a combination of efficient storage solutions, you can make the most of your small bay garage.
If you want some extra storage space or some sort of workshop built into your garage, this is not the way to go. They can, however, be quite suitable for modest homes. The focused design might not offer much in the way of extra space for belongings, but it's practical for daily use.
Double Car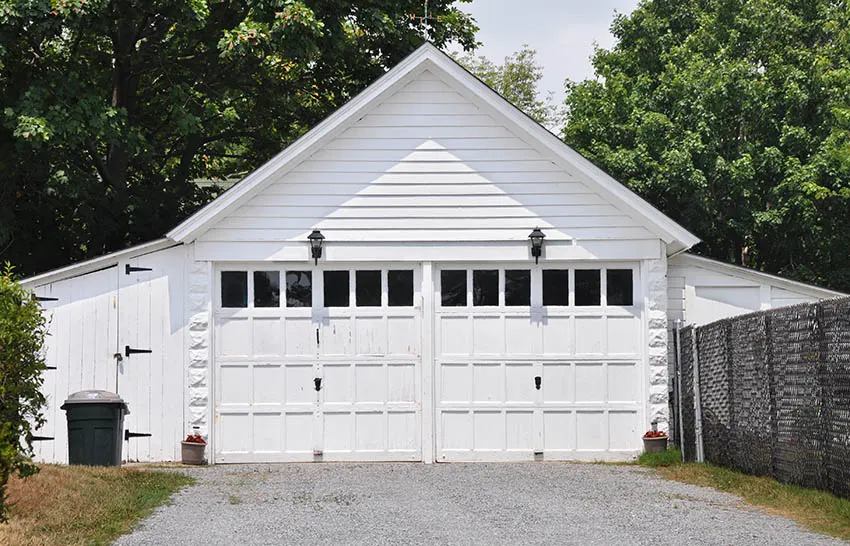 A double car garage is, as the name suggests, a type of garage that has enough space for two cars. It's quite similar to a single car garage in a way wherein the car stalls take up a majority of the space in the garage.
Because of that, this type of garage also doesn't have enough room to spare for other bigger tools or equipment.
Double With 1 Door
A double with one door is probably one of the most common types of parking configuration for garages. It's great because it offers a lot of room for your vehicles and perhaps even some extra storage space on the side or in a loft space above the garage.

If you have a large car or two cars, you ought to seriously consider having a single garage door so they can fit in the garage with ease as there is one main wide entry and exit point.
You can make the most of above-head storage areas to minimize clutter within the home and to have some extra space as well in the event that you want to build a workshop space in there, utilizing the loft space included.
The ideal size for this type of garage should at least be 18 feet wide. This is a convenient configuration for families that have small children as it allows for some extra space to use when you're moving car seats, for instance.
It's also great for the elderly who might need help with wheelchairs and the like. You'll also have less cost upfront as you only have one garage door to install but still get enough space for two cars.
Double With 2 Doors
Normally, a garage with a double door parking layout has doors that are smaller than average. If you have regular-sized or smaller-sized cars, this shouldn't be that much of a problem.
This is a type of parking configuration that's recommended for what's regarded as single nesters or people who don't have children living with them at home.
This type of garage needs to be at least 22 feet wide, which is enough space for you to get in and out of the car comfortably. It has also been a common consensus that a garage with two doors provides remarkable exterior aesthetics.
You also have control over how much the inside of your garage is exposed to the outside when you opt for a double with 2 doors garage. It helps minimize airflow which can be helpful during the cold and hot months and can help in reducing your air conditioning and heating bills as well.
If you happen to have two cars, you can also easily use one car can without ever moving the other. Another benefit to this is that in the event that one of your garage doors malfunctions, you can still have another functional garage to use.
Three Car Garage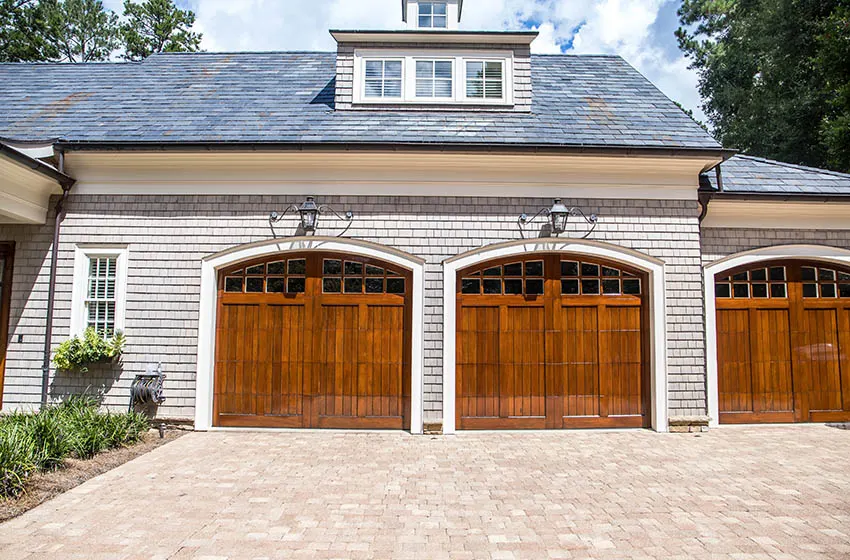 A three-car garage definitely means more space but most homeowners are still hesitant because more space also suggests bigger costs and expenses.
However, a great advantage to getting this type of parking configuration for your garage is that it isn't necessary to outfit this with heating, cooling, or any other expensive add-on features.
Even if you only own two cars, you're still bound to benefit from a three-car garage. You get ample space to move the two cars around comfortably, extra storage space, and perhaps even an extra car slot if you happen to have guests over your home.
1,2, And 3 Door
Here are the key measurements to take note of when you have a three-car garage, depending on the number of doors you plan to get installed: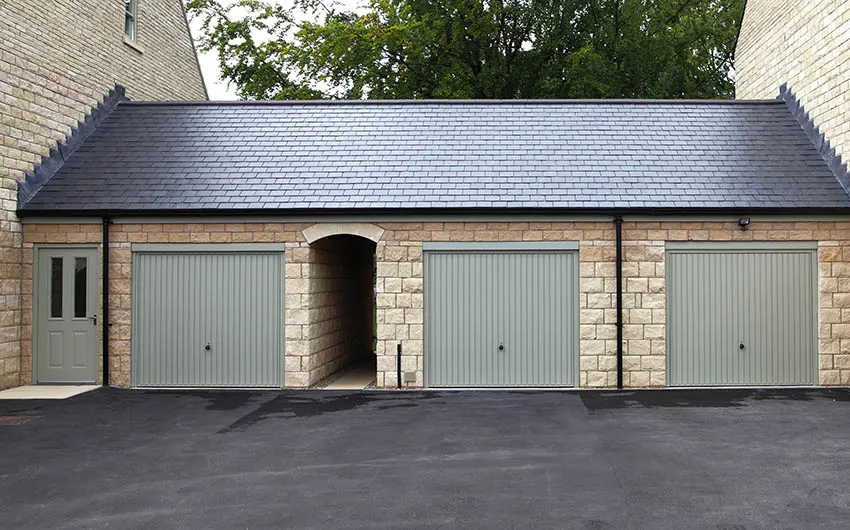 1 door: at least 8 feet wide
2 doors: at least 16 feet wide
3 doors: at least 24 feet wide
As for the bay depth of a three-car garage, it should be at least 20 feet deep.
4 Car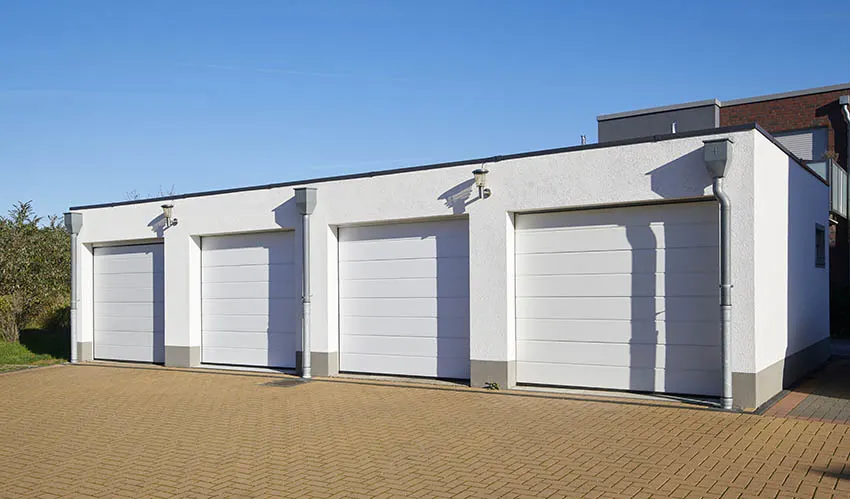 A 4 car garage is generally quite rare as it's only usually found in upscale neighborhoods. Most of these garages are customized but there are still standard measurements to keep in mind should you opt for this type of garage.
It should be at least 34 to 36 feet wide, 20 to 24 feet deep, while the doors should be around 16 feet wide each. Oftentimes, a garage configuration such as this will require two garage doors that are 16 feet wide each which will have a post in between them.
The depth is also large as it allows for a lot of extra storage space that typically isn't present in other garage types.
Tandem Garage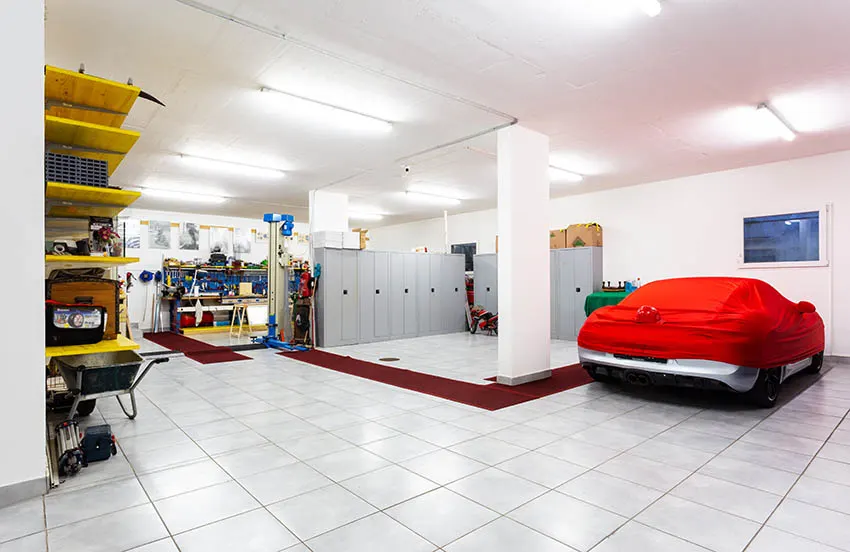 As the name implies, a tandem garage is laid out in such a way wherein one car may be parked in front or behind the other. As opposed to a traditional garage which is lateral, a tandem garage is longitudinal.
The width is pretty much the same as with a single garage but the depth is doubled so that there's enough space for two cars to be parked in it. This can be useful if there isn't enough space for two cars and the space is eaten up deeper instead of laterally.
A tandem garage is great for when you're trying to make a small space work for two or even three cars. The only downside to this is that the layout can be a hassle because you have to move the outer car(s) first before you can get the innermost car out.
RV Garage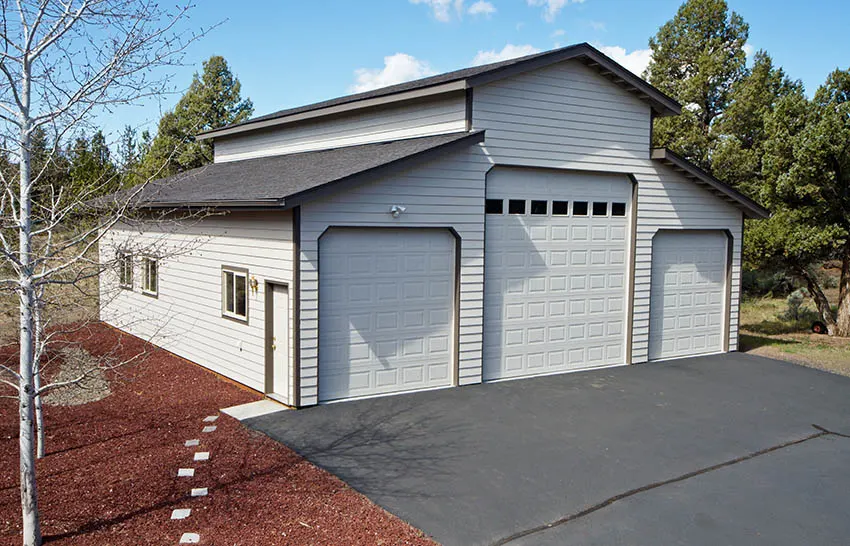 Perhaps the only thing better than owning an RV would be having an RV garage to house it in. if you happen to be fortunate enough to have one, you'll realize that it really is best to store it in a safe and enclosed environment when not in use.
An RV garage is specifically built for protecting your RV and making sure that it's kept in good condition at all times. This type of garage is usually taller, wider, and deeper than a typical garage, allowing the massive size of the RV to go in and out of your premises conveniently.
An RV garage is also suitable for storing boats, monster trucks, as well as other oversized vehicles.
Garage With Car Lifts
A garage with car lifts has a certain futuristic, cyberpunk aesthetic. They're space-efficient and look pretty cool, too.
They can effectively maximize your garage space especially if you have multiple cars and don't have enough space to spare. More and more homeowners are actually taking advantage of this as it's quite practical and convenient.
A car lift basically takes advantage of your garage's vertical space that's more often than not, unused. It elevates a car off of the floor, allowing another car to park right underneath it. It's a great alternative option to expanding your garage.

Garage Door Materials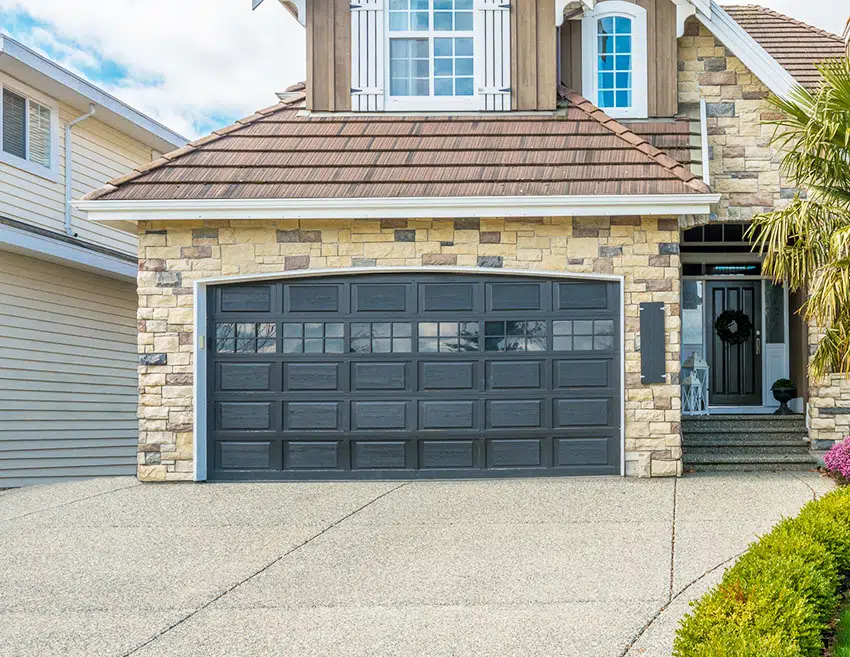 Cars have become an important part of our lives so it's not surprising why they have gained prominence in our living spaces as well.
Garages are central to residences because they're essentially the primary point of entry to the home. This is where garage doors come in.
A great garage door can boost your curb appeal and overall look of your home, increasing its value on the market as a result. Here are the different garage door materials to get acquainted with.
Wood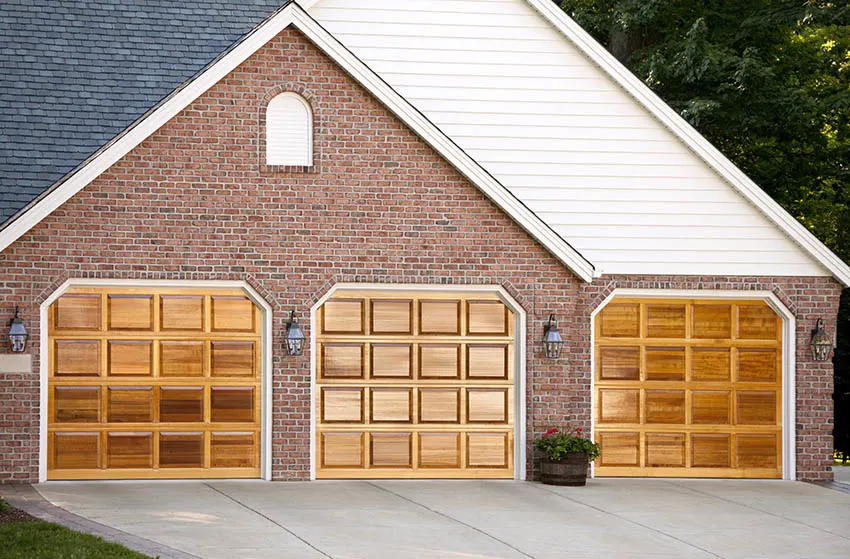 A wood garage door is built with plies or layers. This is designed as such because wood is notorious for warping, and building them in layers helps prevent that.
Garage doors act as barriers, effectively protecting the cars that are housed inside. A wooden garage door needs to be engineered creatively as opposed to a single layer. Typical wood types used for garage doors are fir, redwood, luan, and cedar.
Vinyl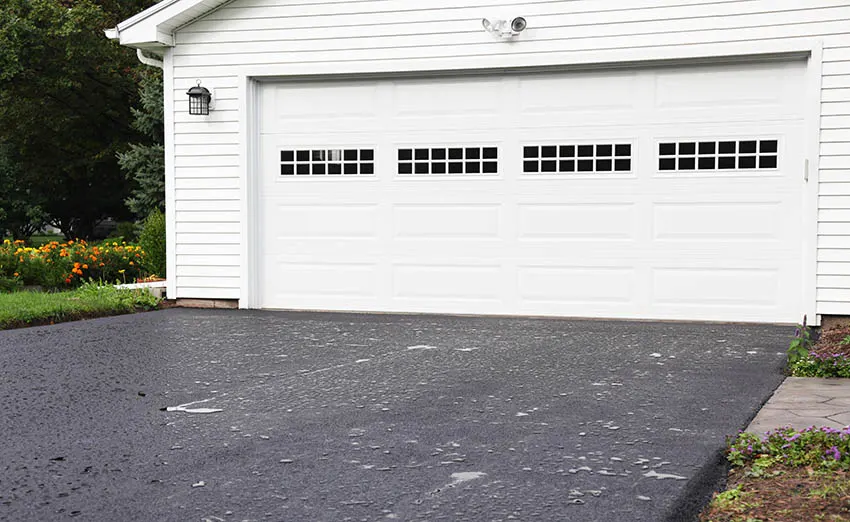 Vinyl garage doors are tagged as "child-proof" doors, making them a popular choice in homes with small children. This is mainly because vinyl is a material that doesn't easily break or dent.
Vinyl garage doors are built onto steel frames and most of them come with polyurethane insulation. They are very low maintenance too; occasionally hosing off the doors is enough to clean and maintain them. They are also available in a wide variety of colors.
Fiberglass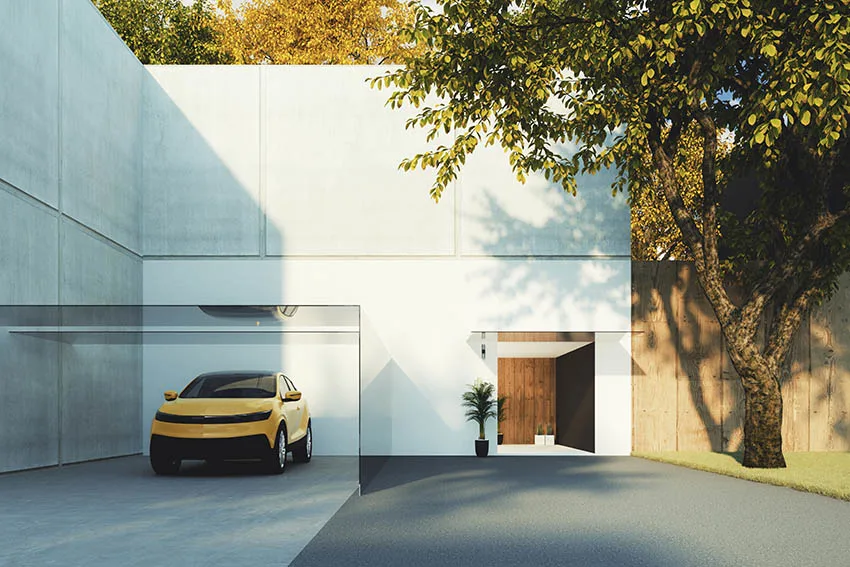 This is a popular garage door material because similar to vinyl, it is also less prone to cracking and denting. It doesn't rust and breaks the moment that it's hit, depending on the amount of impact that it receives.
Similar to how vinyl garage doors are made, a fiberglass garage door is typically comprised of two sheets of fiberglass that has been filled with polyurethane for insulation. They are equipped with steel caps on all ends to improve their rigidity.
Polyethylene Aluminum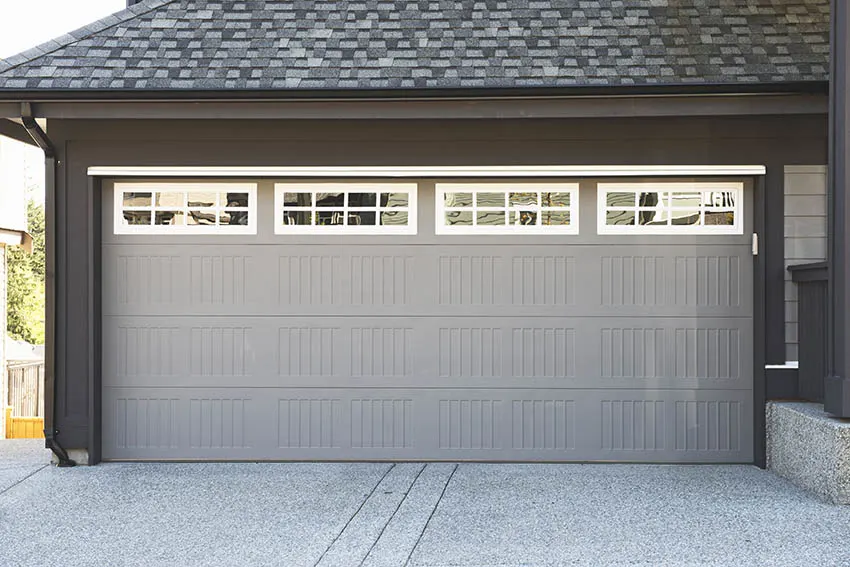 If you don't fancy garage doors that easily rust, aluminum can be quite an attractive material candidate to look into. The only downside to this though is because the material is lightweight, it's also quite prone to denting.
However, they can be remarkably visually attractive as they come in a wide variety of brushed finishes and colors which can appeal to contemporary taste.
Stainless Steel
A stainless steel garage door is smooth and sleek, which can be a great choice if you are into the classic modern vibe. They are quite known for their impressive durability and are quite low maintenance, which is also a plus.
If you're looking for a garage door that looks great and lasts longer compared to other materials, stainless steel is the way to go. They also don't require painting and rarely stain.
A major plus side to getting a stainless steel garage door is that it doesn't rust at all. On top of that, its impressive look and feel definitely enhance curb appeal which can add value to your home.
Garage Roof Materials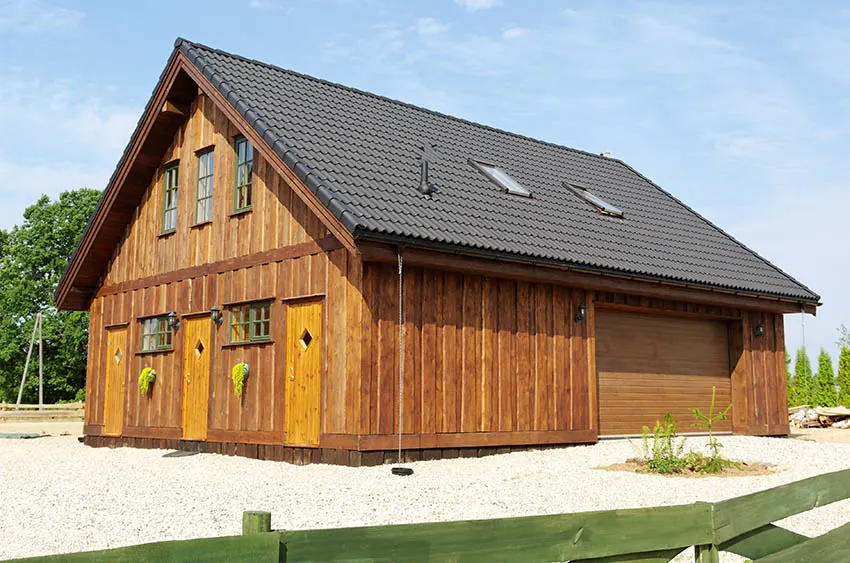 There are plenty of garage roof materials for you to choose from. This section will give you an overview of the different roofing options for your garage, as well as their high and low points.
Shingle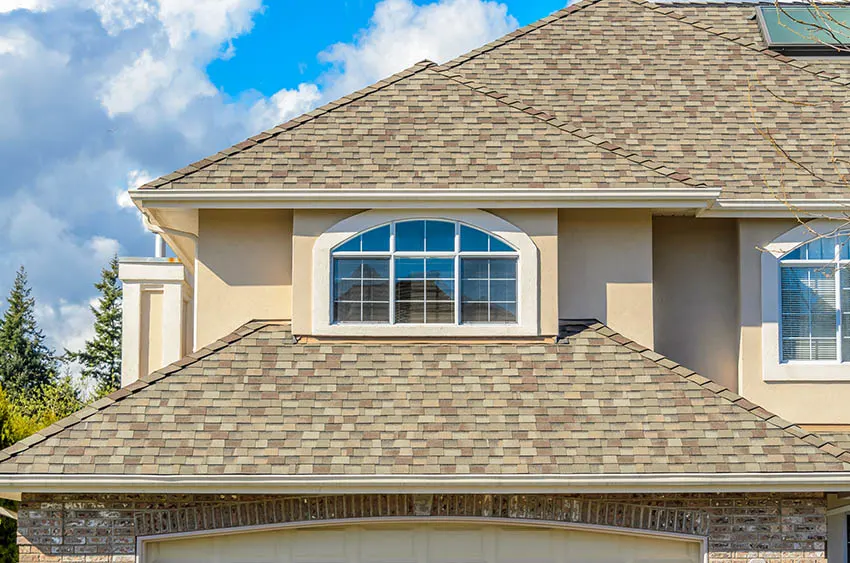 Shingle roofing is available in two types: asphalt shingles and wood shingles.
Asphalt shingles are very cost-effective and durable. Similar to wood shingles, they also offer a finer and more elegant look to your garage.
Since they come in a wide variety of colors and textures, you can easily match these roof types to the style and design of your home exterior.
Meanwhile, wood shingles make for great garage roofs because they're widely used, which means that they're not only readily available, they're also quite reasonably priced. They also look more refined and elegant compared to other roofing options.
On the downside, they require more maintenance especially if you happen to live in a hurricane- and disaster-prone area as they are not resistant to daily wear and tear.
Composition / Composite Shingles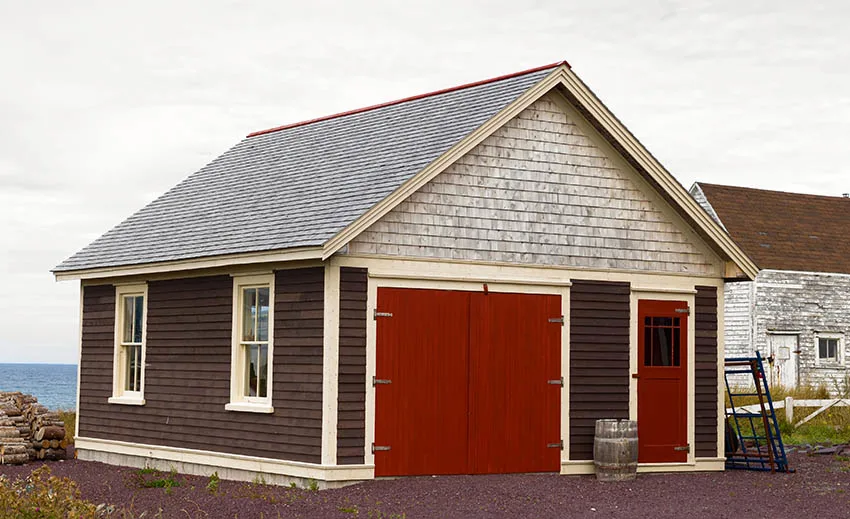 Composite shingles are severely lacking in aesthetic qualities, but what they lack in visual appeal, they make up for their extreme durability. Even though they are usually made of plastic, they to be quite long-lasting.
Composite shingles are said to last you until 50 years or more, on top of being cheaper compared to other roofing options.
Metal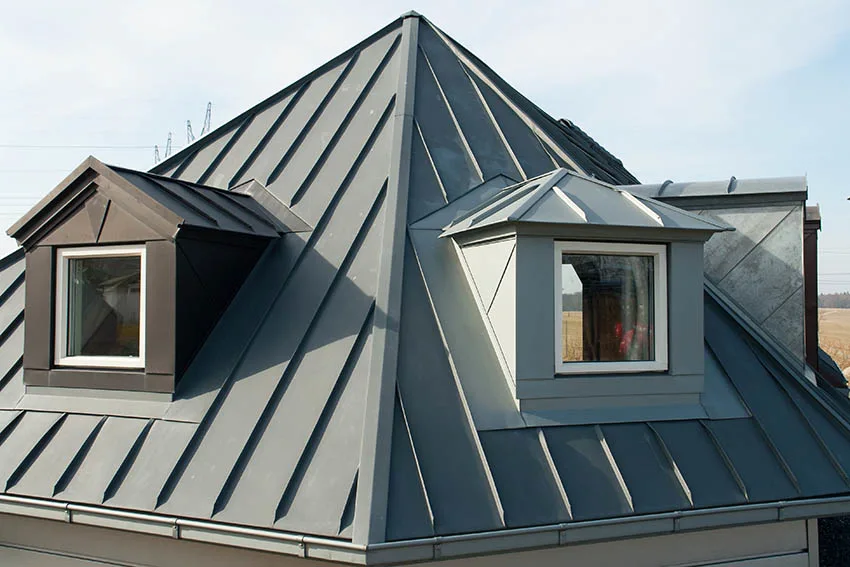 Metal is a highly reliable and durable garage roof material. Although specialized metal roofing, in particular, tends to be quite expensive.
Also, it also tends to make noise especially when it rains, which may be uncomfortable if you plan to use your garage as a living space. Otherwise, this isn't really that much of a concern if you opt for a car garage instead.

Garage Flooring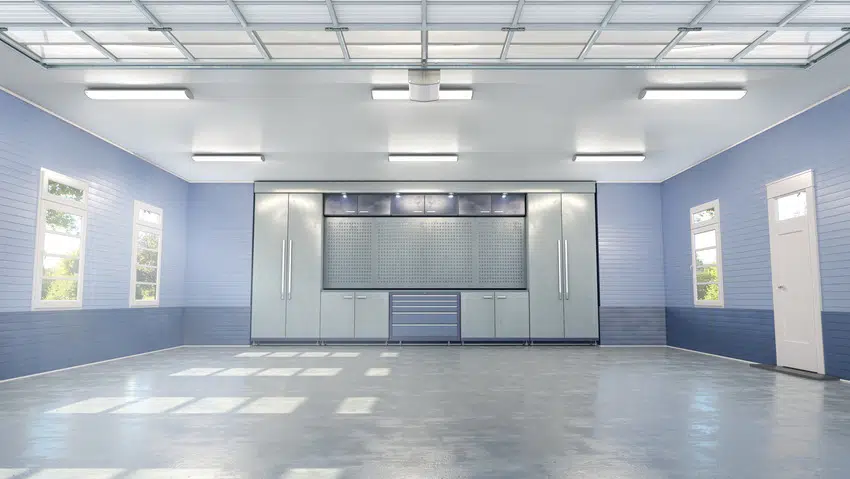 Homeowners hardly pay attention to the flooring that they install for their garages but this should not be the case. Out of all the floors in the home, the garage floors get the most pressure because that's where the vehicles are parked. See more garage floor ideas here.
There is also the issue of staining which can make them look unattractive. You need durable and resilient flooring options for your garage so they can last long. Here are the garage flooring options you can consider:
Concrete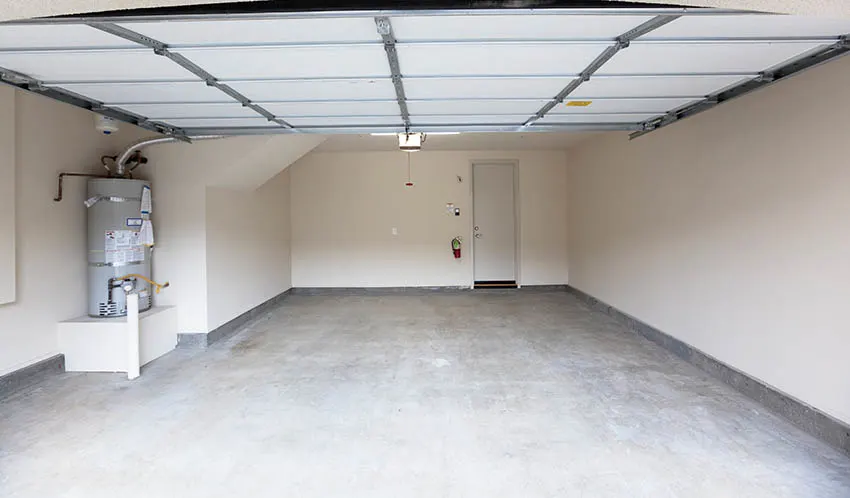 Polished concrete is said to be the best flooring option for garages. They're naturally hard and durable, and they can withstand high pressure and foot traffic.
They're also affordable so if you're on a tight budget, this is an excellent flooring option. They look effortlessly elegant and are also stain-resistant. They're also easy to clean and maintain.
Painted Concrete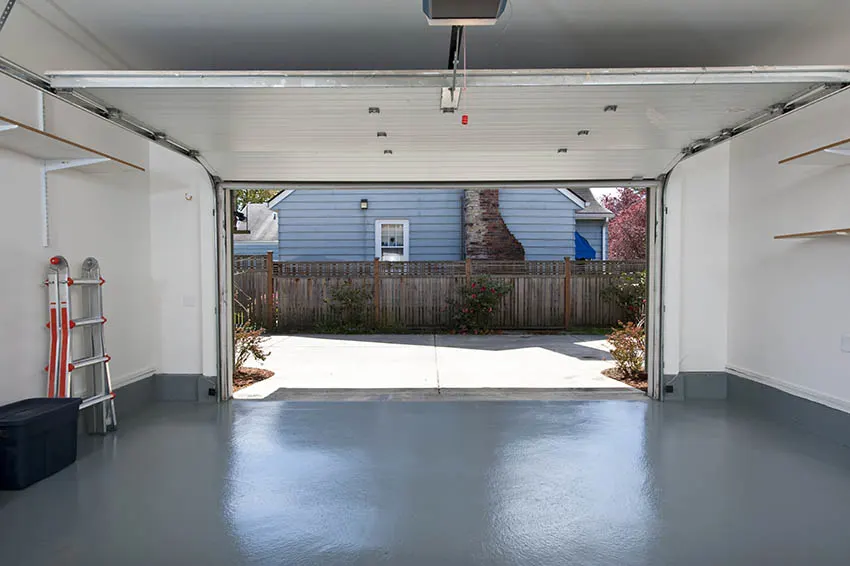 If you want to retain your original concrete flooring but want to breathe new life into it to also effectively hide the stains that have accumulated over the years, you can opt to get it painted. Garage floors are notorious for stains coming from rust, grease, and oil.
Simply use a pressure washer on your current concrete floor, let it dry out, and roll on a fresh coat of paint to give it a quick update.
There are basically two types of paints that you can use for concrete floors: epoxy paint and latex acrylic paint. Latex paint is cheaper but epoxy paint adheres to concrete better, making it more durable and resistant to chips and damage.
Epoxy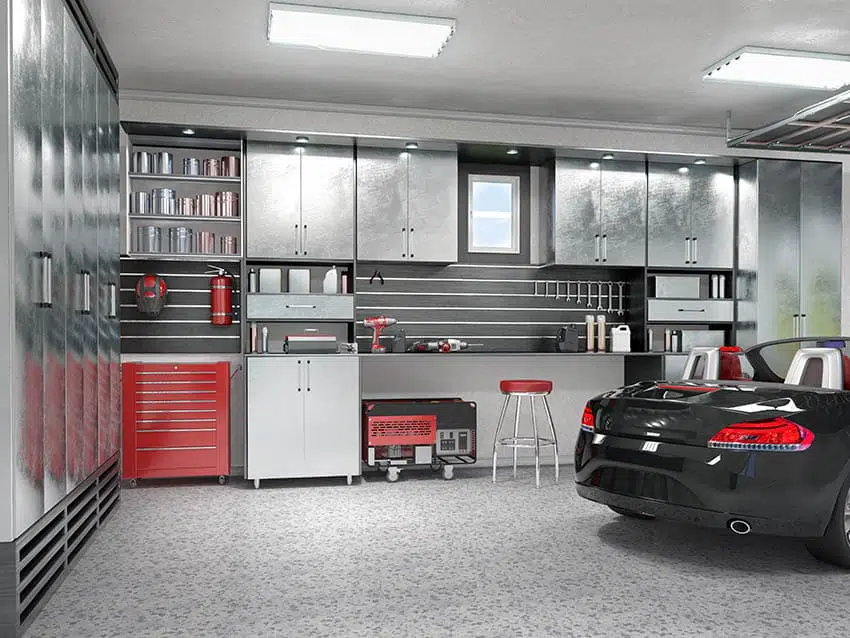 Epoxy flooring is a smart option to go for especially if you want to update or renovate your existing flooring. This material is durable and long-lasting.
Epoxy can increase the performance of your existing concrete floors. It's also easy to maintain and can even come in a lot of different attractive colors. Take note that epoxy flooring doesn't work on moisture-prone subfloors.
Tile
One of the benefits of garage floor tiles is that they're quite easy to install. There are different basic tiles recommended for garage floors: wood composite, plastic, and rigid plastic.
On the downside, they can be a little bit expensive. Price normally starts at $3 per square foot or more, depending on the type of tile you choose.
This type of flooring is typically more expensive than epoxy or floor paint. But on the bright side, they make for a faster and more hassle-free installation.
Rubber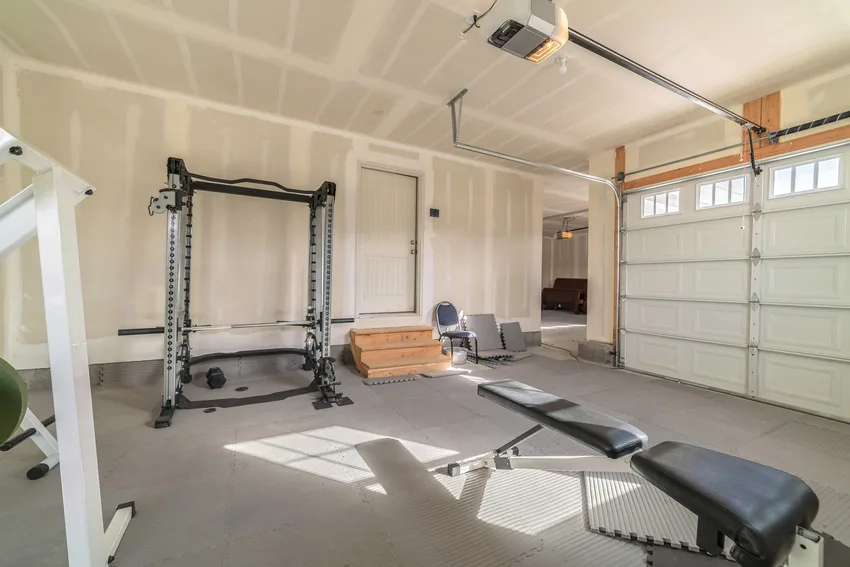 Rubber flooring for your garage can come in mats or tiles. They can be easily installed which makes them an attractive flooring option for homeowners that enjoy DIY home improvement projects.
They usually come in interlocking patterns which provide extra durability to your existing floors. Most rubber mats or tiles come in two dimensions: 24 x 4 inches and 12 x 2 inches.
They are easy to clean and maintain as well. On top of all that, they're considered a relatively cheap option so if you're on a tight budget, rubber flooring is a great option to consider.

Garage Sizes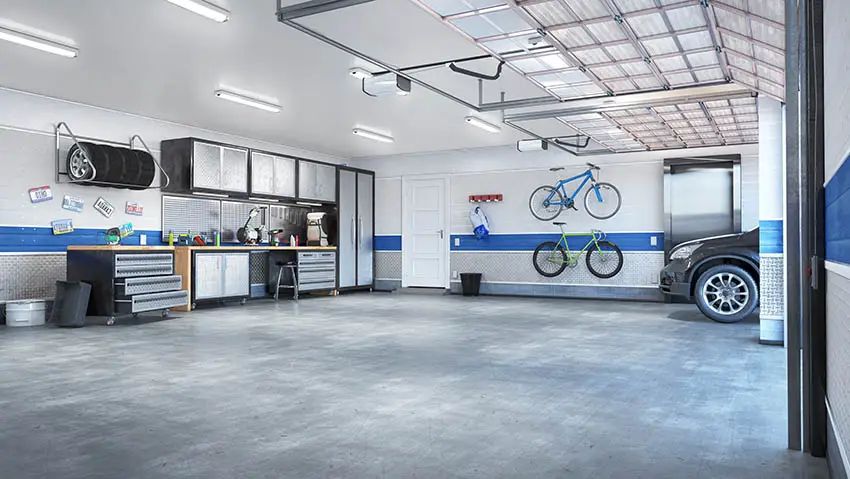 Once you've decided on how big you want your garage to be, it's time to get right down to brass tacks and get their actual dimensions right. Here are some standard garage sizes to keep in mind during your planning process. See more standard garage dimensions here.
Standard Garage Sizes
1 Car Garage: These dimensions are for the average car and do not include bigger cars such as SUVs, trucks, or RVs.
Width: 12 feet
Depth: 20 feet
Garage door width: 9 feet
2 Car Garage: This measurement is for a typical lateral garage and not for a tandem garage where the depth is usually doubled and the width stays the same as with a single car garage.
Width: 18 – 20 feet
Depth: 20 feet
Garage door width: 9 feet each for separate doors or 16 feet for single doors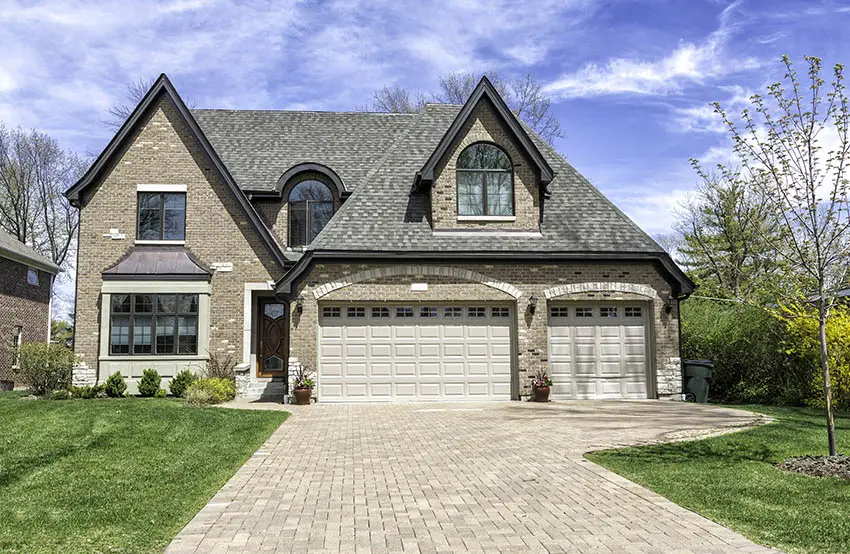 3 Car Garage: It's not recommended for 3-car garages to have one single door so it's usually 1 door per car or 1 door for 2 cars and another one for the last car.
Width: 31 feet
Depth: 20 feet
Garage door width: 9 feet each for separate doors, or 16 feet for one door and 9 feet for the other door for 2-door garages
4 Car Garage: Please note that there needs to be a 1.4-foot wall separator to account for the structural and electrical needs of the garage doors.
Width: 48 feet in total
Depth: 20 feet
Garage door width: Can come in a variation of 9-foot or 16-foot doors
Cost To Build A Garage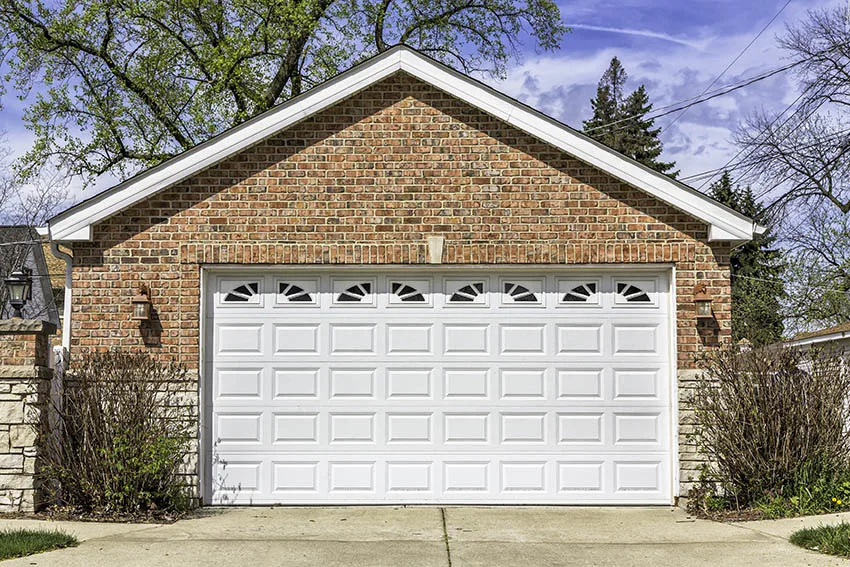 A home garage is definitely a huge investment. Before building one, you need to be aware of the costs so you can better plan ahead. We've detailed the standard costs below for your reference.
Technically speaking, the cost to build a garage is ultimately dependent on its size. In the US, it has been estimated to be around $50 per square foot. This is for a basic garage that has a roof, four walls, and flooring.
If you want a garage with more features, expect the cost to be higher. Read more about our article on the cost to build a garage here.
1 Car Garage Cost
Area measurement: 240 – 384 square feet
Approximate cost: $10,500 – $27,000
2 Car Garage Cost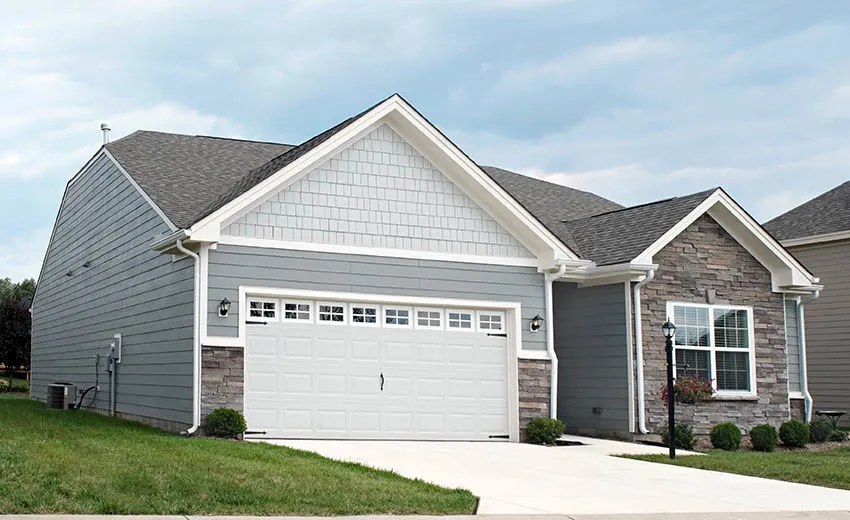 Area measurement: 320 – 528 square feet
Approximate cost: $14,500 – $40,300
3 Car Garage Cost
Area measurement: 900 square feet
Approximate cost: $36,000 – $63,000
4 Car Garage Cost
Area measurement: 800 – 1,056 square feet
Approximate cost: $32,000 – $73,900
Garage Storage Ideas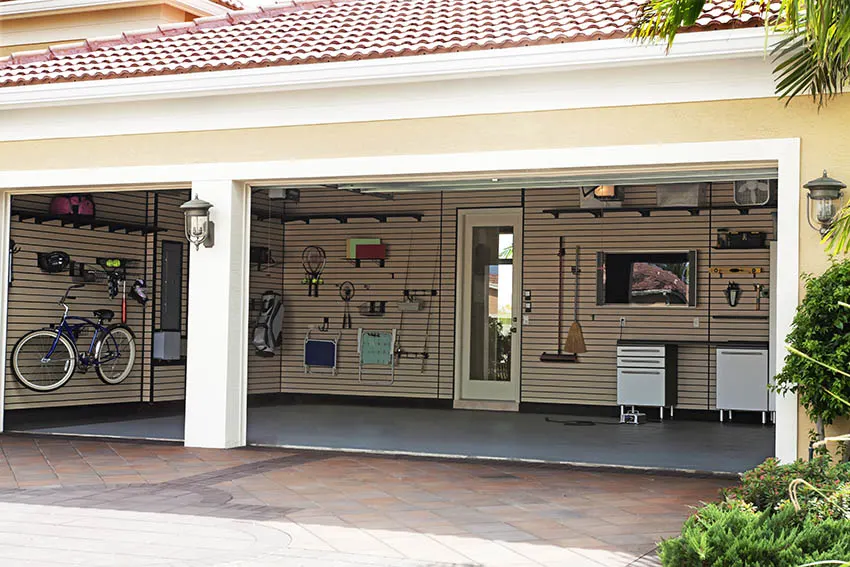 A garage is an attractive place where you can stow stuff away for later use but over the years, it's also quite common for it to be neglected and end up in complete disarray.
Starting to organize it can seem like a daunting task but we've prepared and listed down some ideas for you below to maximize and declutter the space more easily. Check out more garage storage ideas here.
Wall Racks
Consider installing wall racks by adding a layer of 3 ¼ inch plywood on bare studs or directly on the drywall. Mount your brackets, hooks, and other hardware here to maximize the surface area as opposed to just hanging them directly on studs, which is a waste of precious wall space.
Shelving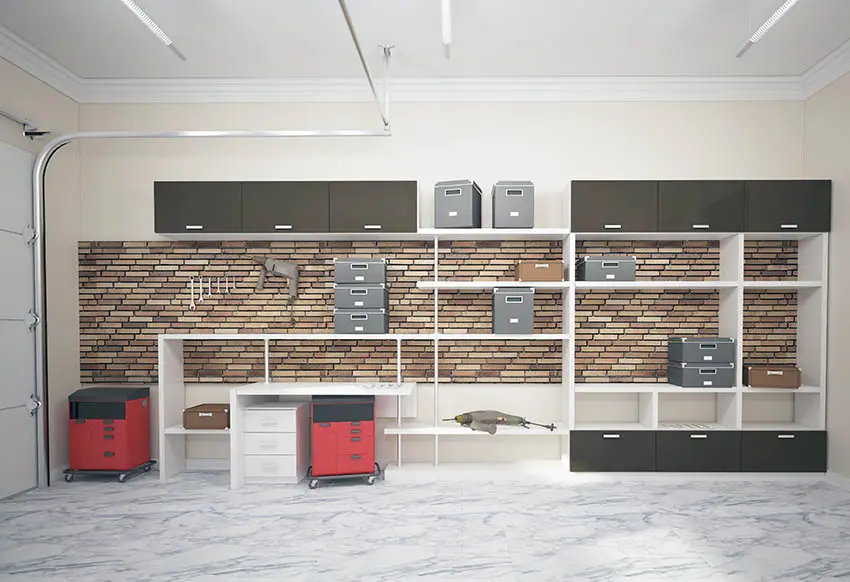 The garage provides enough space that you can maximize by installing built-in or adding shelves. Try to look into rollout shelves, for starters.
They efficiently use up your sidewalls in the garage and can add up to 50% more storage space especially for tools that have long handles, which can end up taking up a lot of space in your garage.
Also, make use of the garage corners by installing some handy corner shelves. They're easy to install and quite affordable. Some extra storage space certainly wouldn't hurt, either.
You can use scrap plywood for them and fit them in with cleats. They're perfect for storing smaller items such as polishing products, glues, and the like.
Ceiling Racks
One space in the garage that often gets overlooked is the vertical space in the ceiling. Garages usually have high ceilings that may be flat or have joists. Consider installing some hanging racks from the ceiling to maximize the space.
Don't forget your joist space as well. There's a lot of negative and empty space in between your joists in the ceiling. You can screw in some wire shelving on the undersides so you can store more stuff in plastic containers that you can put on those wire shelves.
Cabinets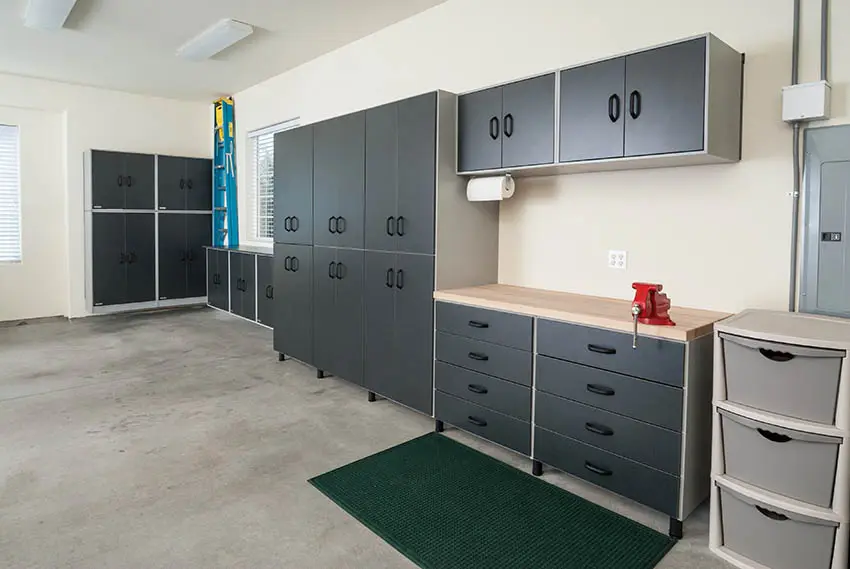 Garage cabinets can be made of a wide variety of materials, including wood, steel, plastic, and aluminum. They're a great way for you to safely store and organize your tools and equipment in your garage workshop.
They are available in various sizes and types but the best ones will ultimately depend on the kind of features you need.
Pegboard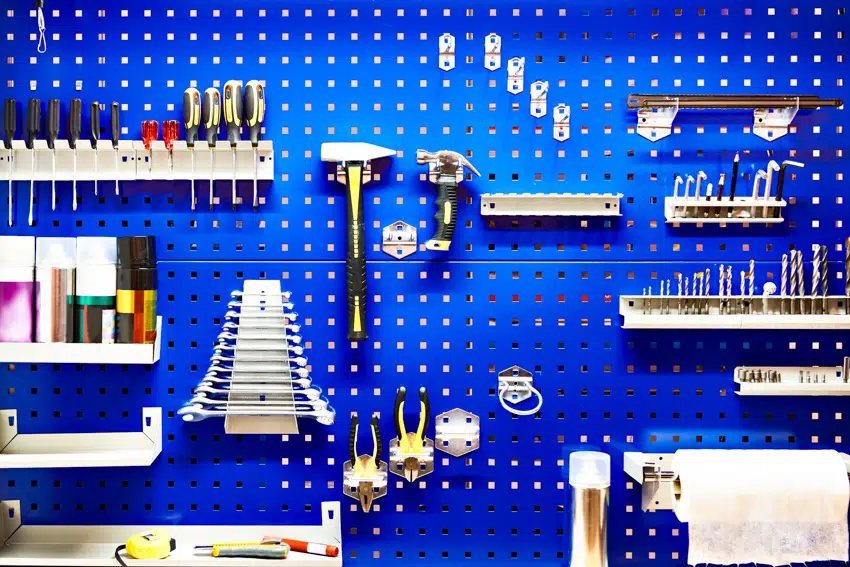 A pegboard is great to organize your tools and keep them handy. You can choose a specific peg for smaller tools such as hammers, screwdrivers, scissors, pliers, and other similar tools and opt for a bigger and longer pegboard for long-handled tools such as rakes, brooms, and so on.

What Type Of Insulation For Garage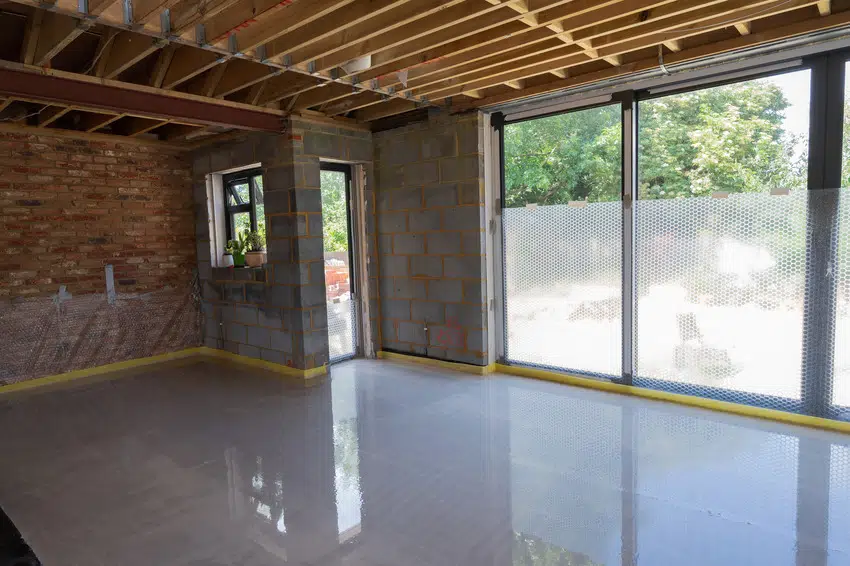 Insulating your garage is great for temperature control and can save you a lot of money on heating or electricity costs. Here are the five types of insulation to consider for your garage.
Fiberglass
This is the most common type of insulation available for garages. They're either sold in long blankets or pre-cut batts.
They're easy to frame and quite inexpensive. This is an insulation project you can take on yourself.
Fiberglass can be an irritant to the skin, lungs, and eyes if mishandled though and it can be vulnerable to moisture as well as a fire hazard so make sure that you get your bases covered installation-wise.
Cellulose
This is another type of loose-fill insulation that's made up of newspaper bits that have been soaked in a fire retardant. It's then blown into the ceilings and walls which fluffs the material up.
It's insect- and fire-resistant and can be environmentally friendly as well. However, some downsides to using cellulose for insulation are they require special equipment, they can be difficult if you have exposed pipes, can settle over time, and can also be quite costly.
Rigid Foam
Rigid foam usually comes in 4×8 foot sheets that are ½ inch thick. It offers a high R-value per inch of its thickness so it's an affordable solution to your garage insulation needs. It's quite affordable and offers great noise reduction as well.
The downside to this is that it runs the risk of pets and other insects tunneling through it and it can be too airtight, which may not meet the local air-venting codes or requirements.
Spray Foam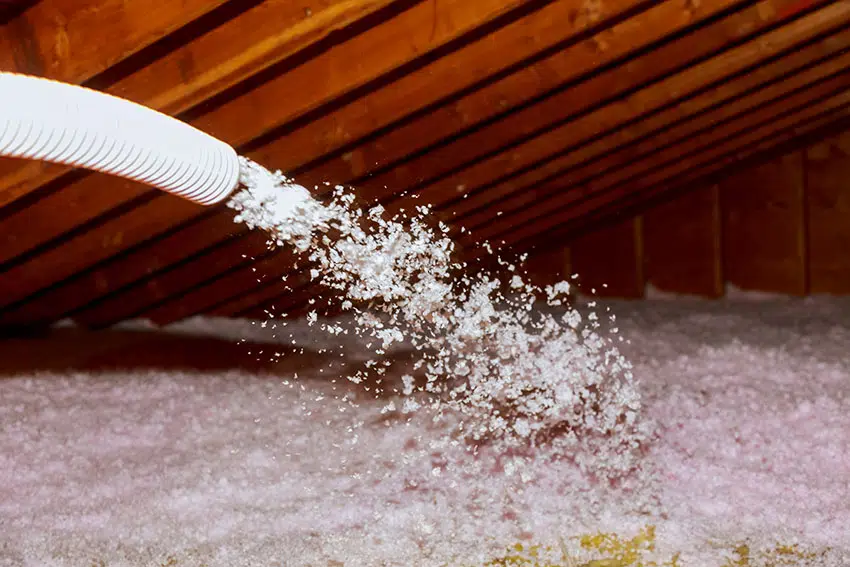 Spray foam offers a great R-value rating and quite effective air sealing as well. It's a premium material though and it isn't common to use as insulation for most garages unless you're planning to turn it into some sort of living space.
It's costly yet runs the risk of shrinking over time. However, it provides a pretty airtight seal, is insect and mold repellant, and works best for tight spaces. All the same, it's best installed by professionals.
What Is The Cheapest Type Of Garage To Build?
The cheapest type of garage to build is obviously a carport as it only requires a thin type of covering for the roof, as well as poles or posts to hold or support the entire structure. It doesn't usually have walls or a door.
It doesn't offer the same kind of benefits as the other types of garages though. But if you're looking for a quick and cheap build that's enough to provide some sort of roof for your car, then a carport is an excellent choice.
Is It Cheaper To Build A Garage Or Buy A Kit?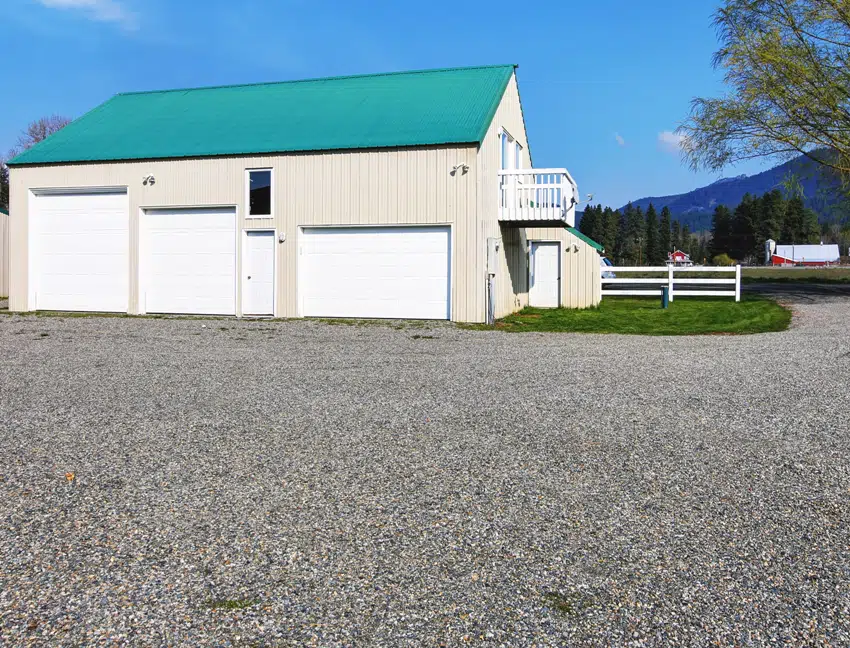 Garage kits definitely cost less compared to building a garage from scratch. There are simple garage kits that only costs around $10,000 which you can easily build in a day or even less if you get a little help from your family and friends.
A basic single-car garage construction can range from $10,500 to $27,000 or even upwards and the construction duration can even take weeks.
Are Prefab Garages Worth It?
Although the concept of a modular or prefab garage seems like an attractive and convenient option, it actually isn't worth all the hype. Sure, they're easy to install and quite cheap but it can't really rival a real constructed garage on aesthetic appeal and durability.
Since a prefab garage is mass-produced, manufacturers are bound to cut corners which means that it won't be durable. So overall, it really isn't worth it.
You'll only end up building another garage in the long run because it won't last as long as you need.
For more related content about the types of garages, check out our guide to creating a minimalist garage.