Here we share our garage door privacy screen guide including what is, its benefits, the different types, sizes, cost, and how to make a DIY garage screen door.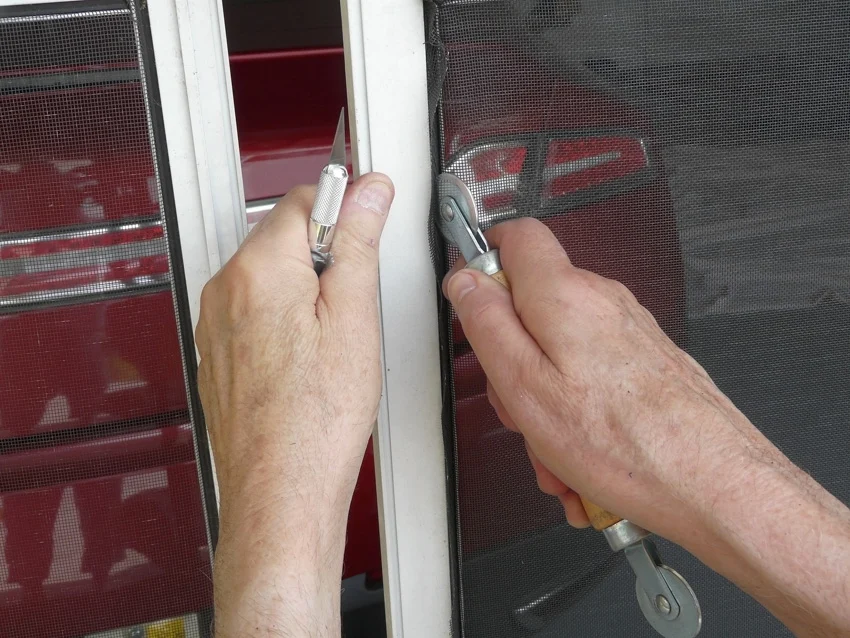 A garage can serve several functions. It is an extremely valuable part of a home, serving as everything from a parking area to a storage area to a workshop.
Opening up the garage door is also an effective and simple way to let fresh air through. But, when summer arrives, and the heat and bugs make it difficult to stay in the garage, that space is underutilized.
With a garage door privacy screen, you can continue to enjoy the benefits of opening up your garage doors while preventing unwanted pests in your home.
What Is A Garage Door Privacy Screen?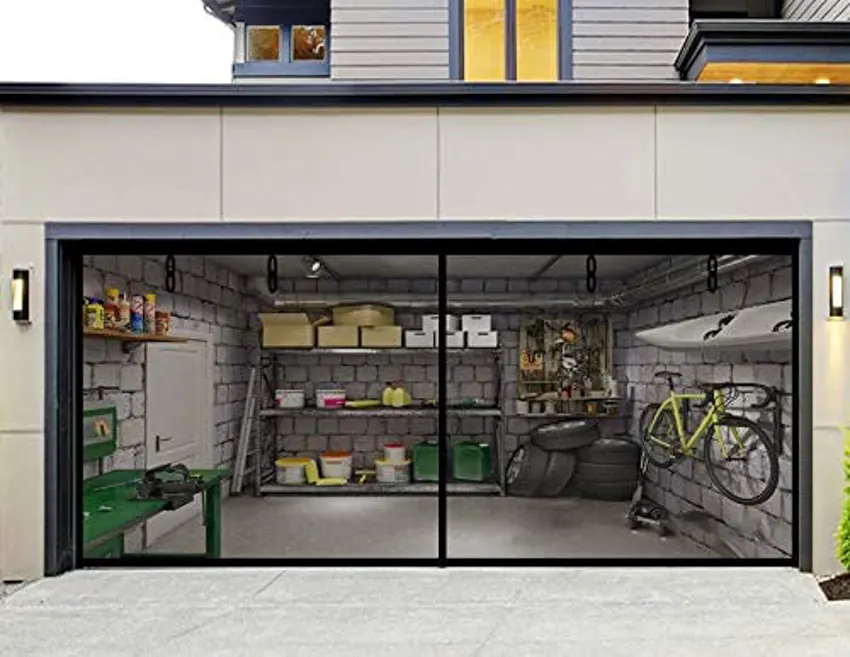 See this fiberglass magnetic garage screen door at Amazon [sponsored link]
A garage door privacy screen is an additional layer of material that completely covers the garage opening. It is typically made of durable fiberglass mesh.
Installing these screens requires no special tools and can be completed in minutes with the assistance of a stepladder.
Magnets are integrated into the seam that keeps the screen's opening tightly closed to keep bugs out while easily opening to allow people and pets to pass through.
Garage screen doors are typically track-mounted and stacked on both sides. A two-car garage still allows you to drive into both bays, but the doors must be moved.
Others function similarly to window shades, with the fabric being drawn down from a cassette mounted at the top of the door opening.
Benefits Of A Garage Door Privacy Screen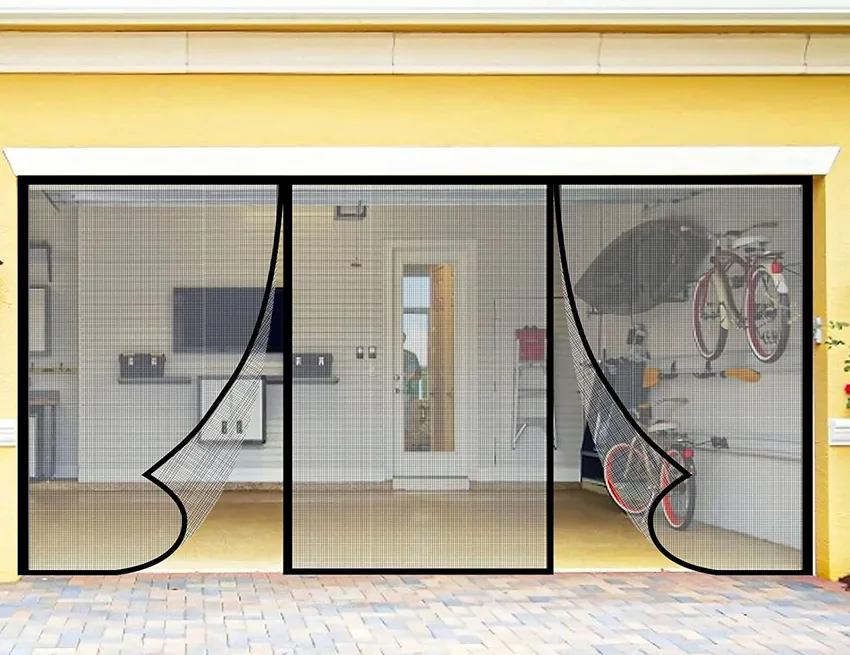 See this magnetic garage door screen at Amazon [sponsored link]
The most common types of garage door privacy screens are roll-up, retractable, and sliding door screens, with each having its own pros and cons. The following are the benefits of installing a garage door privacy screen:
Increase the size of your home: By adding a garage door privacy, you can convert your garage or use a partial area into a living space which adds square footage to your home.
This space will come in handy if you're hosting a party or large gathering with out-of-town guests or if you want to provide extra space for your teens to be 'home' with their friends while still retaining some autonomy.
Cut on energy usage: You can avoid the need for a portable A/C system or electric fans by opening up the garage and protecting the opening with a garage door screen.
You'll benefit from healthier and better air circulation and cooler evening and nighttime temperatures. This saves energy and lowers seasonal cooling costs.
Flying insects and pests are kept at bay: Without the need for an expensive garage remodel, you can still have a stuffy, cave-like atmosphere in the warmer months, and an open, screen-free garage puts you and your guests at the mercy of pests and pets.
Having a screen in place lets you enjoy your garage all day, even at night, without needing a bug zapper or the pungent odor of chemicals.
Maintain a clean garage: When a garage door is left open, even the slightest breeze can blow leaves, dirt, pollen, dust, and debris into the garage.
Aside from creating a cluttered garage, this is everything you want to keep away from your home's interior, such as the garage door track and its greased mechanical parts.
Additional security measure: If you often like to leave your garage door open when you're at home to allow natural ventilation, a screen door is a great way to add an extra layer of protection between its contents and potential thieves looking to make a quick grab.
They understand that opening a screen creates more noise, motion, and attention, so the garage screen serves as a deterrent.
Types of Garage Door Privacy Screens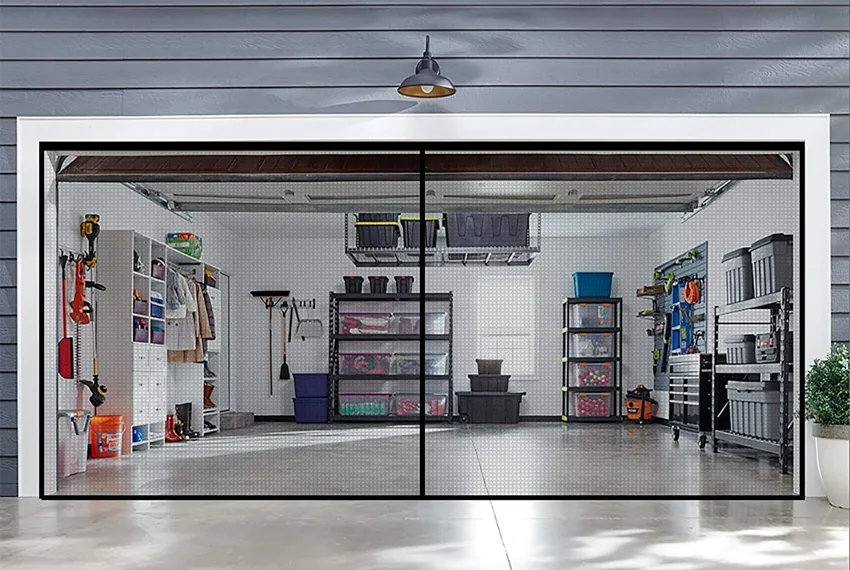 See this garage door screen at Amazon [sponsored link]
Retractable privacy screen for garage doors: These screens are built into a housing system that is attached to the header of your garage door. A remote control is then used to open and close the screen.
Many homeowners prefer this type of garage door screen because it completely seals off your garage from bugs because the screen is anchored into the track and bottom rail, not to mention the ease of use provided by the remote control.
Fresh air garage door screens: It has zippers on both sides of the screen and a center zipper that allows either half or the entire screen to be raised at once, installing it in single or double garage systems.
These screens have a mesh pocket and are made of a sleek, light, and flexible material. Because it is easily raised, it cannot prevent young children or pets from passing through, nor can it keep pests or other animals out of the house.
Garage door screen panels: Unlike other garage screen systems, the garage door screen panels include panels that glide easily on large neoprene wheels before latching securely into place, rather than the overhead opening.
They are typically made of aluminum frames and can be tailored to fit your garage. It also has a kickplate at the bottom, which adds strength and prevents damage to the panels.
Roll-up garage door screen: Because there is no frame or track on a roll-up garage door screen, it is the most affordable option on this list.
Simply attach it to the top of your garage door open and then to the sides to keep it in place with hooks. You'll have to take it down when you're not using it and rehang it when you do.
This makes it more difficult to use than other systems, but it can save you some money if you're on a tight budget.
Garage door shade screen: Garage door shade screens will help minimize the sun's damaging UV rays on what's inside your garage.
These are usually exterior screen fabric that can be free-hanging vinyl that comes in different colors.
Privacy garage door screen kits: These are garage screens that can be installed in minutes that come complete with all the necessary parts, assembly instructions, and usually simple tools that help you install it on your garage door quickly without the aid of a professional.
Garage Door Privacy Screen Sizes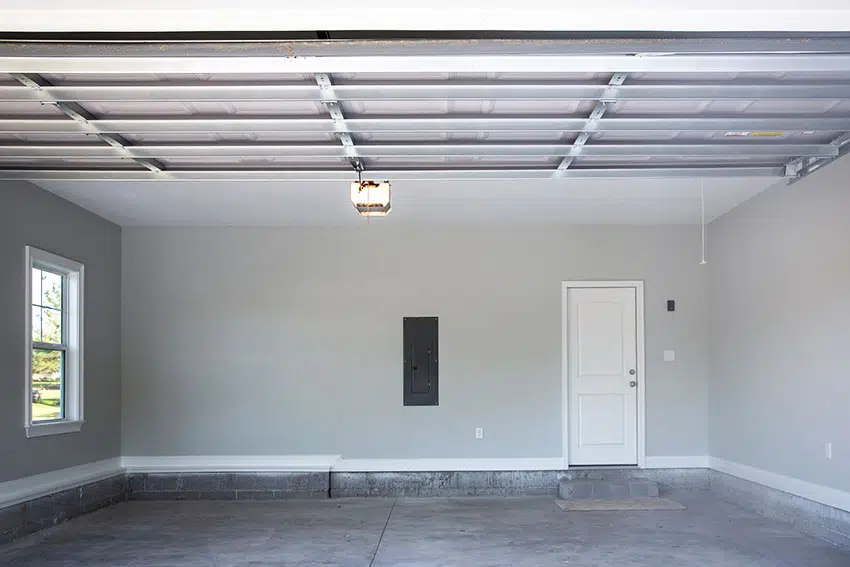 Sizing up your garage door is an important consideration when choosing your privacy screen sizes.
As there are standard door sizes for your garage, the ever-expanding world of custom home building and designing a garage to accommodate large trucks, RVs, and motorcycles provides homeowners with more options.
The standard garage door width and height vary depending on where you live, but are typically:
• A single car garage door should be 8 feet wide by 7 feet tall, 8 feet to 12 feet, or 9 feet wide by 7 feet tall.
• A double garage door measures 16 feet by 7 feet.
On the other hand, custom builds have standard garage door sizes that are slightly taller, with 9-by-8 single doors and 16-by-8 double doors. In fact, 10-foot garage doors are common in custom homes in Florida.
Single garage door privacy screen: The screen for a single garage door, which is typically 8 to 12 feet wide, can be heavy but not so heavy that it is inconvenient to pull up with a chain.
Double garage door privacy screen: The screen is typically 16 to 20 feet wide, and it is quite sizable, making it a bit heavy to draw it back in after use. That is not to say it is not possible.
Some homeowners still prefer pull-down garage screens for double garage doors. Many people, however, prefer motorized garage screens for added flexibility and convenience.
Garage Door Privacy Screen Cost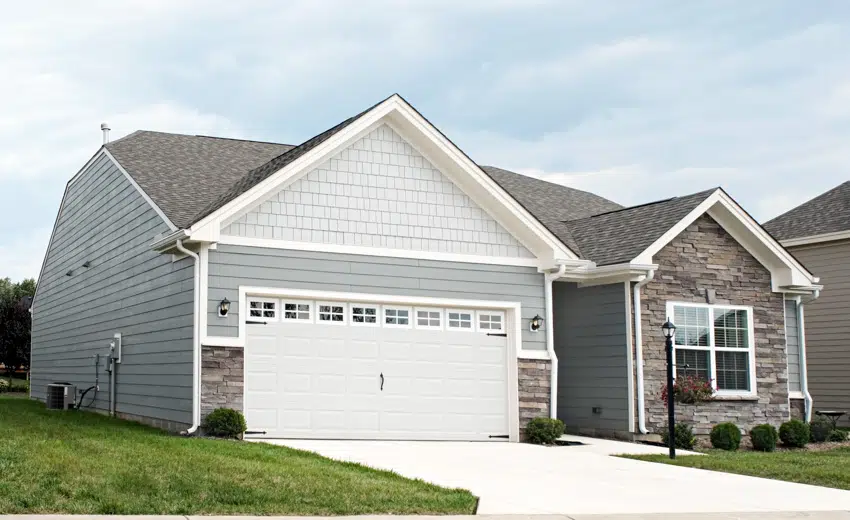 The cost to build a garage is about $49 per square foot on average. A 1-car garage costs between $7,500 and $14,200 to build, a 2-car garage costs between $19,600 and $28,200, and a 3-car garage costs between $28,200 and $42,700. Request free estimates from garage builders in your area.
Labor for a pre-assembled screen replacement should be around $200 to $300. This cost is if the frame is in good condition and you only need new screening installed including cutting and installing. The labor cost of building and installing a new screen will primarily depend on the area you live.

Average costs for screen mesh:
Material: Price per Square Foot
Fiberglass: $0.25
Aluminum: $0.35
Bronze: $1.00
Copper: $1.20
Brass: $2.15
Solar (UV shades) : $7.50
For a swing down garage screen privacy screen one can expect to pay much higher costs. The cost to buy the unit and install yourself can range from $1350 to $2000 depending on size and features. To purchase the materials and have it installed for you may drive the price up to $3000 or more.
Can You Make Your Own DIY Garage Screen?
Yes. For a basic garage door privacy screen without the complex mechanism, any DIYer can make their own garage screen.
Guidelines In Making Your Own DIY Garage Screen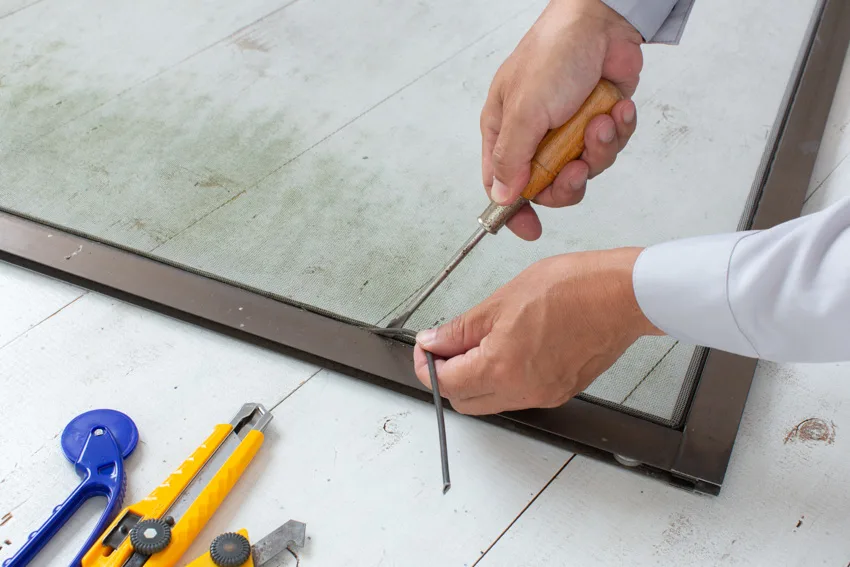 Measure the size of the frame: This one should be self-explanatory. First, you must determine the dimensions of your door frame. The trick is to measure from the outer edge to the outer edge.
You'll need a little more fabric to fold over and make a hem, so add 2-3 inches on both sides. Maintain consistency on both sides.
Your door screen should be cut and hemmed: To avoid snags and rips, precisely measure your screen and cut it with a sharp blade. A box cutter is ideal for this task, and a metal ruler will help you achieve a neater finish.
To make the hem, fold the ends over. If you want to go the extra mile, you can add weights to the hem to improve the hang of your screen door and rods to keep it from billowing in the wind.
You can create your hem with a stapler or even glue, but if you do not fit rods, you can use an iron to create a sharp edge that will look much better than a loose fold.
Depending on the screen material you'll be using, you may want to place a wet towel over the edge before ironing it to prevent it from melting.
Installation on Garage Door. You don't need much more than ceiling hooks; even the attachment point on the floor is optional. When the screen door is rolled up, straps can be installed to keep it in place on the ceiling.
Of course, you can keep the garage door screen safely stored and only use it when necessary. Many people prefer to keep it rolled into the ceiling space for convenience.
See more related content in our article about the different garage door ideas on this page.