Here's our carport sizes guide including how a carport differs from a garage, different carport dimensions and the best carport size for a truck.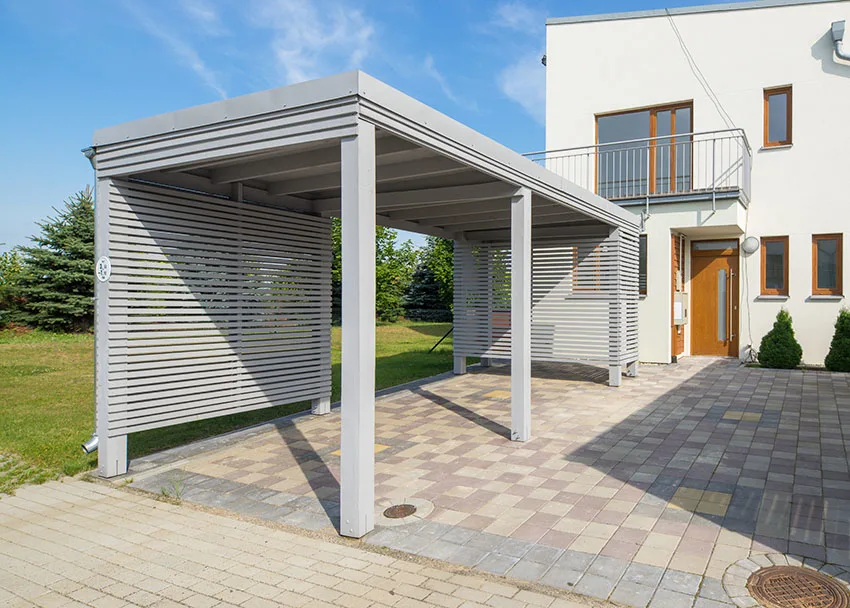 There are many benefits to investing in a carport for your home, and one is that it protects your vehicle from the elements. Other than that, the extra space is a considerable advantage plus the fact that carports are suitable for any car adds to the appeal of carports.
Here, we will be talking about different carport sizes dimensions for you to consider when looking to acquire one for your home.
Standard Carport Size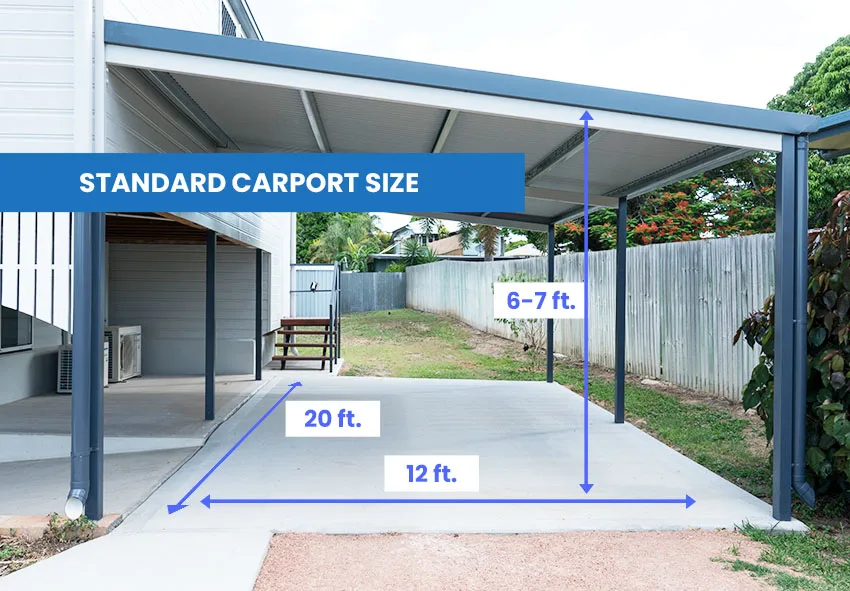 A carport differs from a garage by having its two sides completely open, and a carport can only have one floor. Both a carport and a garage need a permit from your local government before building, but registering to build a carport in your home is pretty easy and far cheaper than a garage. Go to our carport vs garage comparison here.
Just like a garage, a carport is created under your specifications. Requirements like how many cars and what type of car you have, your budget, and the weather condition where you live, among other things.
The standard carport size is the size of a one-car garage. One car garage is standard because a family usually has only one car. The standard carport size has an area of 12 feet by 20 feet and a height of 6 to 7 feet high; this is 3.66 to 6.11 in meters, while a height in meters of 1.83 to 2.13.
How Wide Does a Carport Need to be?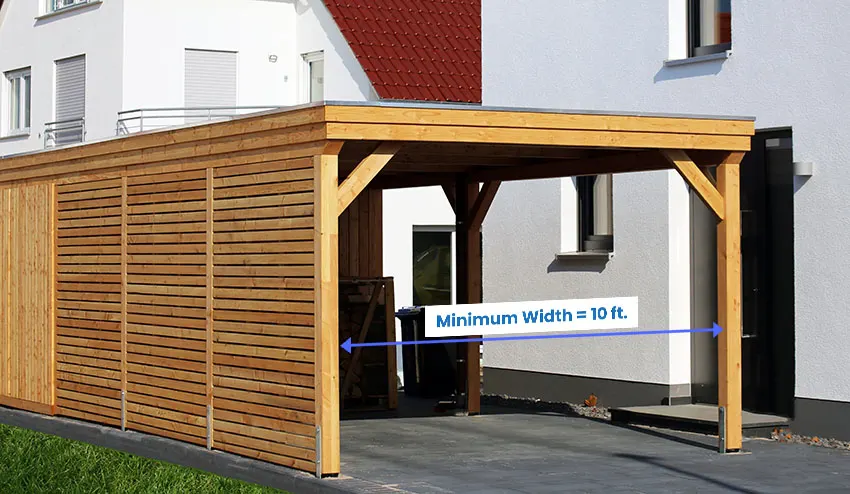 The width or how wide your carport should be is dependent on your specifications, precisely how many cars you have to be accommodated by your carport.
Still, for a standard-sized one car garage, the minimum width is 10 feet or 3 meters. This width is the minimum, so it is better to account for how wide your car is, especially if you drive an SUV or a Hummer since these types of vehicles usually have a broader build.
If you are planning on designing a carport or a garage there are programs that can help. Check out our list of the best garage design software to help you layout your plan and visualize your project.
What is The Minimum Depth of a Carport?
The depth of something is essentially the same as its height. The only distinction between the two is depth is usually measured from the top down, while height is typically measured from the ground up. The minimum depth a carport should have is 9 feet, but you can go up to 10 feet.
1 Car Carport Dimensions
The dimensions for a 1 car carport are the same as that of the standard carport dimensions—an area of 12 feet by 20 feet and a height of 6 to 7 feet high.
But other standard size options are common, like 12 feet by 25 feet and 18 feet by 20 feet. It can be 18 to 20 feet long with a height of 9 to 10 feet.
2 Car Carport Dimensions
A two-car carport can double not just as a carport but also as an added picnic ground for special occasions or even an outdoor workshop for your next DIY project. The versatility is endless, and you need to make sure of is it is built sturdily.
The typical 2 car carport sizes are two smaller sports cars: a length of 22 feet or 6.7 meters, a width of 20 feet and 10 inches or 6.35 meters.
These dimensions would be perfect because they will leave a size of 2.5 feet or .76 meters between the sides of your car and the metal ports. Plus, an open space of 3 feet or .915 meters between the hood of your vehicle and the metal ports in the front.
These dimensions will also allow for a distance of 2.5 feet between the two cars, making it easy for any vehicle to go in out without problems.
3 Car Carport Dimensions
We are now entering the realm of large carports by considering the dimensions of a car carport. They can go somewhere from 26 feet wide or 7.92 meters to 30 feet wide or 9.14 meters. Triple carports are also called triple-wide carports.
A 26 feet wide carport can fit up to three compact or three sports car-sized cars, but this size would not give you much room to move, so it is actually more recommended to go for a 30 feet wide carport size for three cars.
This width will be perfect for accommodating a larger car like an SUV if you have one. They can go for 21 feet long, and you can add 5 feet augmentation as you desire. The depth is customizable, too, but you can go for10 feet or higher according to your needs.
4 Car Carport Dimensions
You can often find a more oversized carport in much bigger homes. They are sometimes seen as an indicator of wealth the more cars you have, but of course, it depends on what cars the carport holds.
A 4 car carport has a width of 36 feet or 10.98 meters. This size will make it easier for all cars to move in and out of the carport since it will leave a space allowance for each vehicle with a size of 2.8 feet or .85 meters in between each car.
A 4 car carport can have a length from front to the back of 22 feet or 6.71 meters. This length will accommodate the size of vehicles from the smaller sports cars to the larger sport utility vehicles. The depth for a 4 car carport size is customizable, but the standard height is 10 feet, and you can add increments of 2 to 5 feet if you need.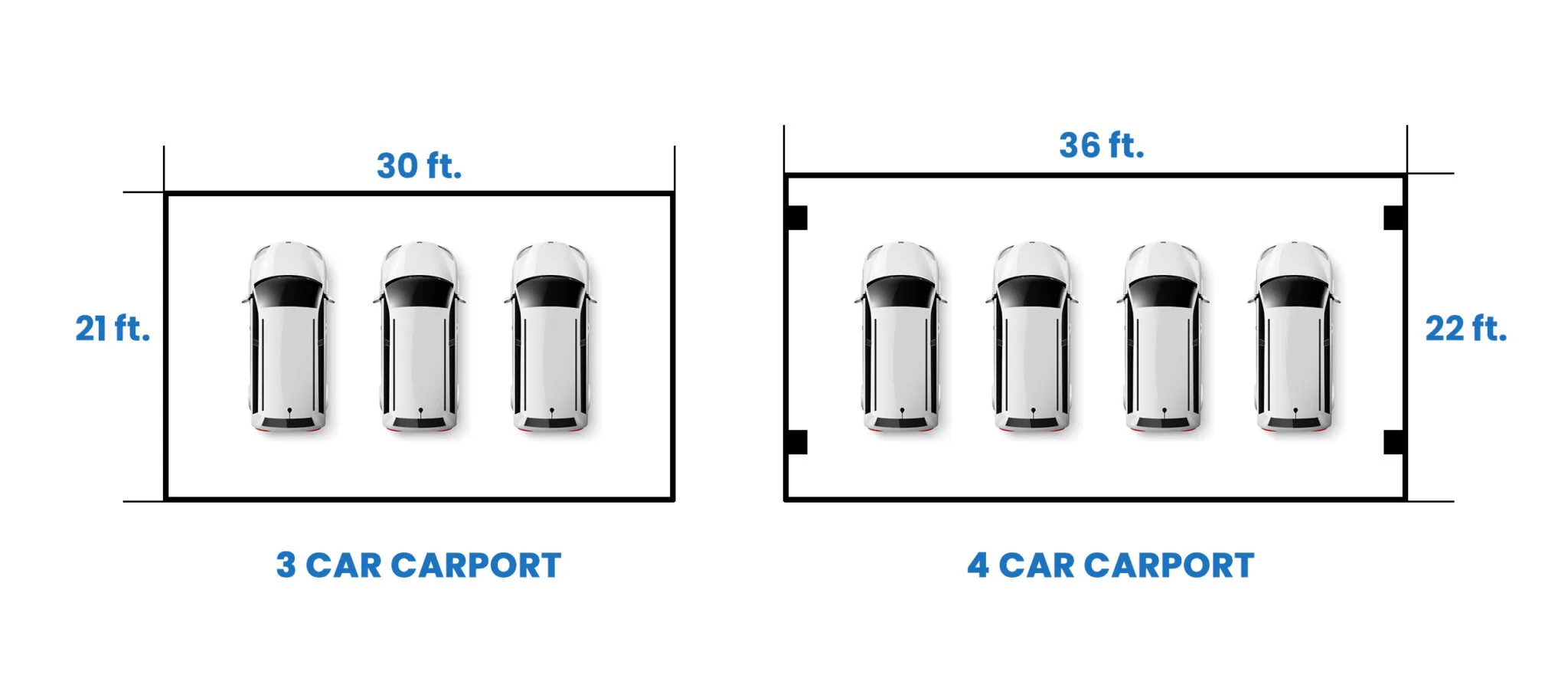 Carport Size for Truck
In order for your home or business to accommodate the size of a truck, an addition to both the length and width is in order. Add a five feet increment to the standard 21 feet length.
The commercial size for an extra-wide carport to accommodate your larger vehicles like an RV or your truck can go from 32 feet or 12.60 meters to 60 feet or 23.62 meters.
Since RVs and trucks are usually elongated, it is wise for your carport to be longer than it is more expansive, especially if we're talking about parking just one truck or RV in your carport.
See more related content in our article about portable garages here.