Here we share our roof deck design gallery featuring popular types including wood, composite, pavers, fiberglass & tile decking materials.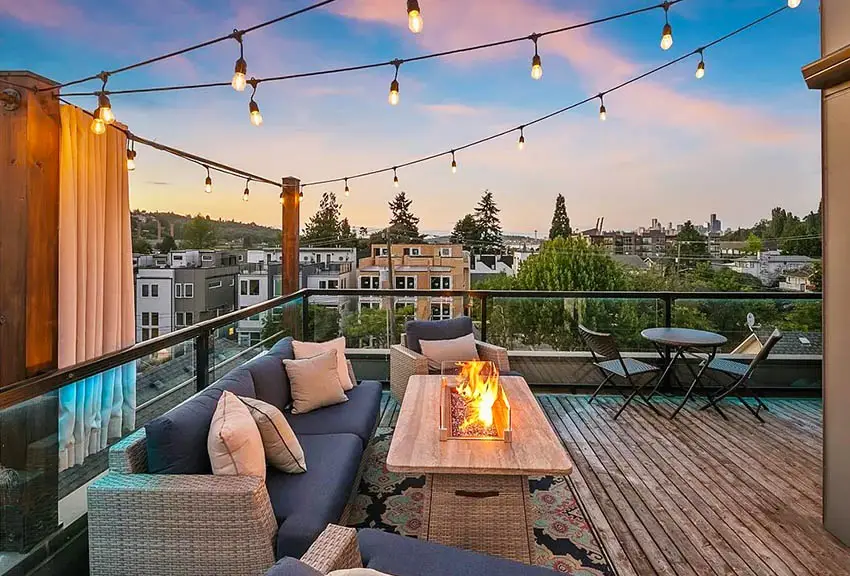 Often we pay for a space in our house and do not use it to its full potential. When reading this sentence, I am sure most of us are thinking of the spare room, but the least used space is definitely the roof.
With views over the surrounding area and square footage similar to one whole floor of the property, there are many ways to convert and use this oasis of peace (or party); after ensuring rooftop decks are allowed in the area and that the roof can support the additional structure, you can move on to the planning and designing phase, for which you can find the guide here.
Flat Roof Deck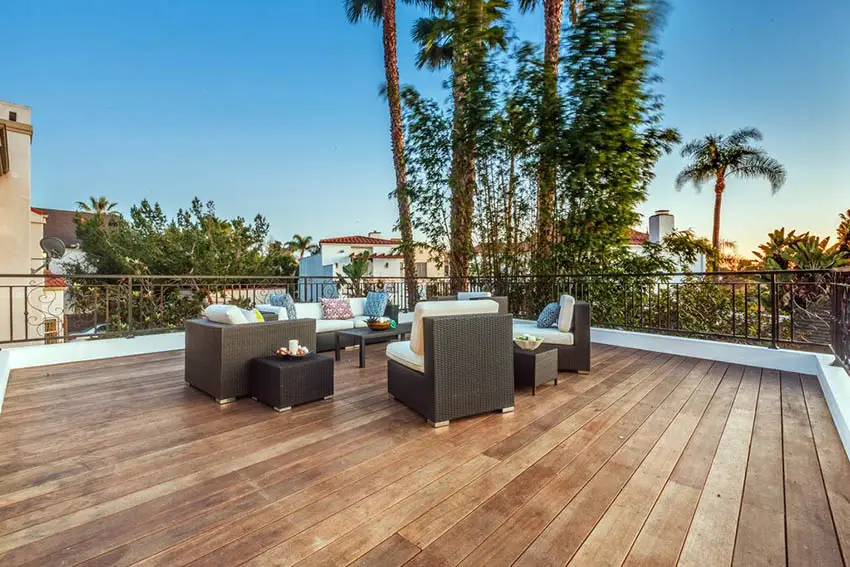 Rooftop decking is an incredible way of adding space and value to a house without creating a whole extension; given this room is the highest and most exposed area of the building, precautions need to be taken for health and safety, as well as for the long-lasting quality of it. Ensure the roof deck design can take the weight of this new installation by contacting a specialist to discuss your waterproofing and supporting structure.
Deck Flooring for Roofs
With today's technology there are many different types of flooring that are suitable for outdoor spaces such as the deck, so do not limit your imagination when designing it!
Composite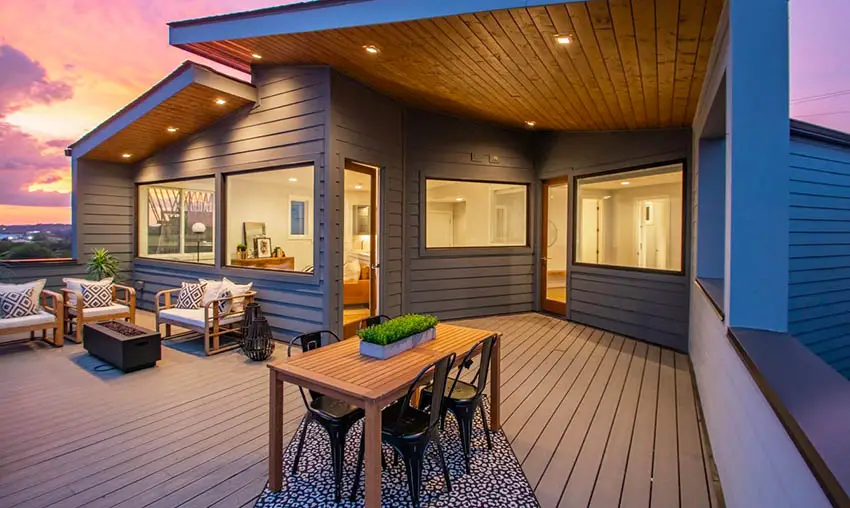 Composite is made from a mixture of plastic and recycled wood, meaning its maintenance needs are very low and the look can be very similar to that of real timber. Composite boards are usually supplied ready to install and with their slip-resistance surface, they are one of the most chosen types of flooring for decks.
Although given they are made of synthetic material they may expand and retract depending on the temperature, so it is best to do some deeper research on the one you like before moving forward. Select composite in carbon grey, walnut, or oak for that extended home feeling.
Wood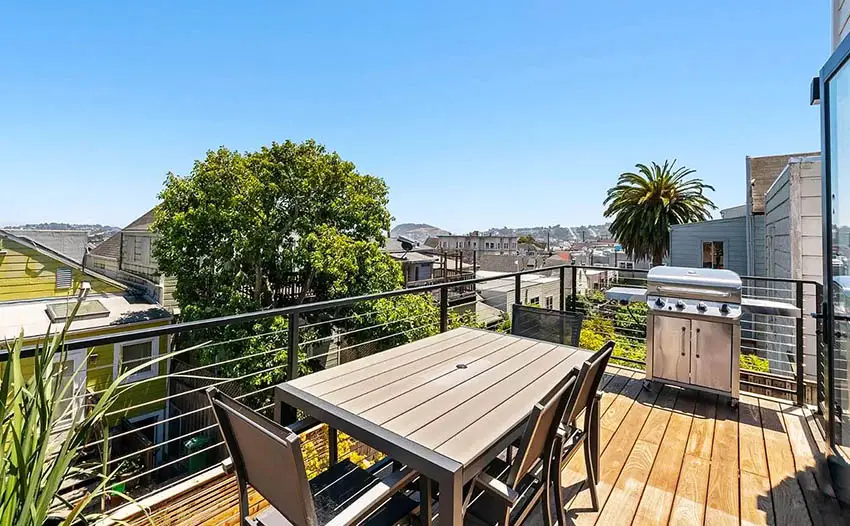 Wood has a special appeal when it comes to flooring, but when choosing one for such an exposed area it is better to be cautious. Softwood should be avoided as it may crack, warp, or split in such a harsh environment, however, hardwood offers many suitable alternatives that can survive such conditions. For lighter tone wood decks select oak, while for a more exotic look opt for iroko or balau.
Tiles for Roof Decks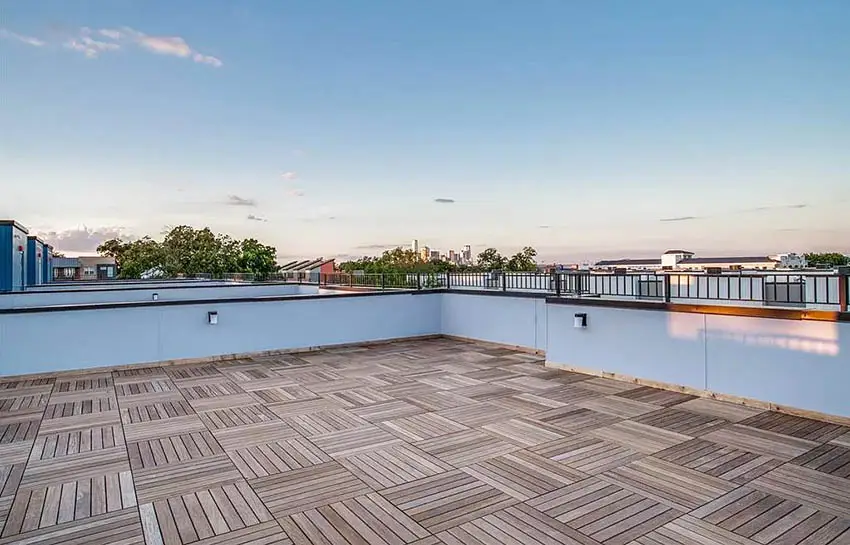 The styles of tiles available for a roof deck design are many and some of the most popular are natural stone, ceramic and artificial grass rubber tiles. They are often offered with a click fixing system, meaning they are quick and easy to install properly. With natural stone and ceramic offering a more elegant ambiance, glass rubber tiles are a great option for small play areas.
Deck Pavers for Roofs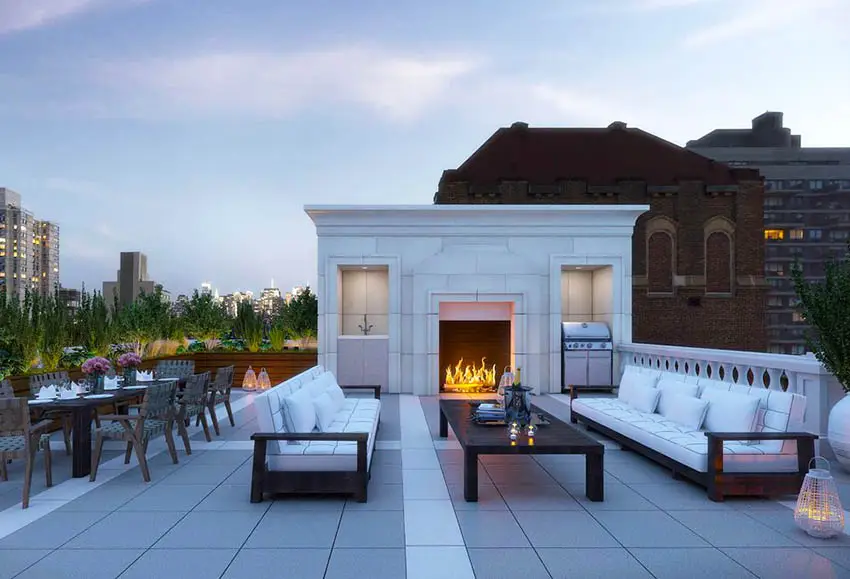 Pavers are easily recognizable as they are frequently used in public venues for their fireproof nature and ease of installation; like some other deck flooring, these can be installed on top of pedestals, which can be adjusted, allowing for any piping and cabling to be hidden yet easily accessible for inspection. Pavers are available in multiple looks and colors, therefore the only limit is your imagination.
Fiberglass Roof Decking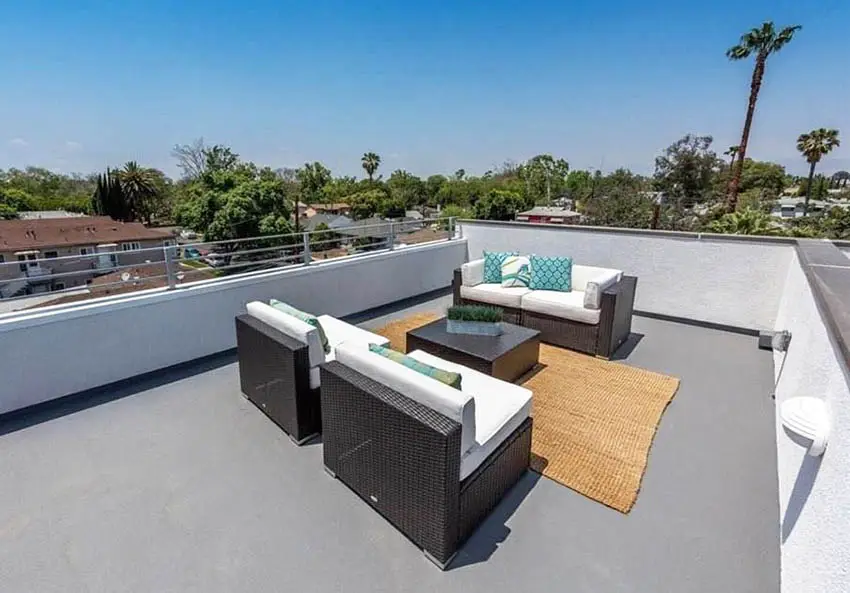 Fiberglass roof decking is one of the most expensive options to choose due to the material cost, but when well looked after can last for decades. This material is extremely resistant to heat, corrosion, and damage and small repairs are very easy to carry out and become most of the times unnoticeable.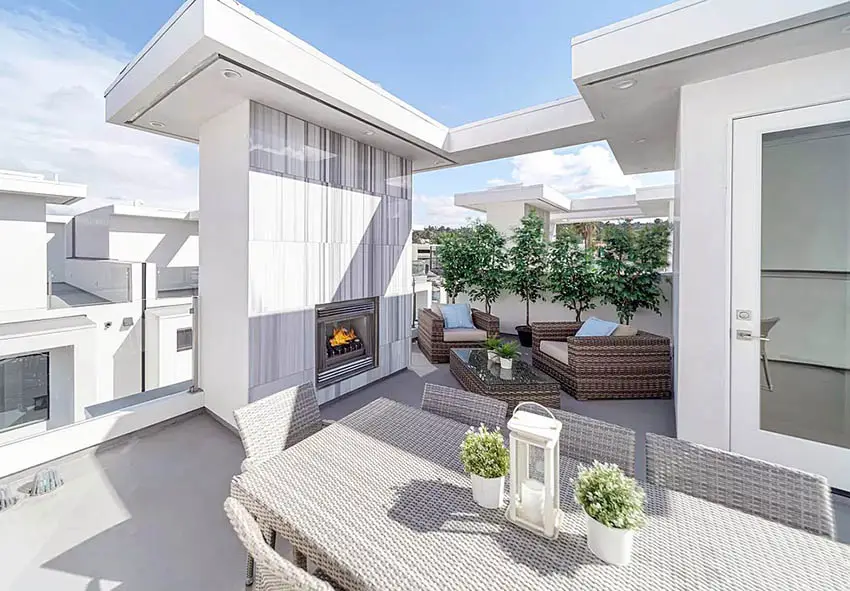 Fiberglass is also known as GPR, which means Glass Reinforced Plastic; in addition to being a very lightweight material, it is also easy to model in more particular shapes.
Concrete Roof Patios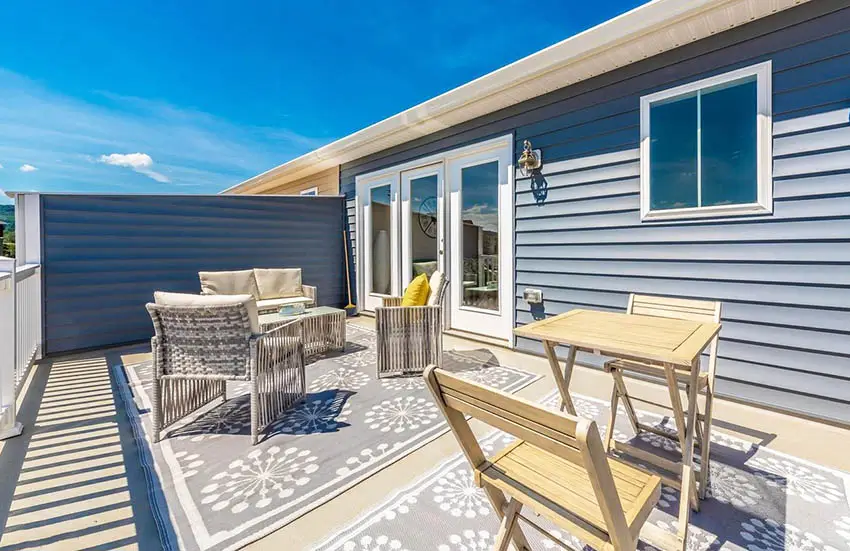 A concrete roof deck design has so many benefits that all of the hard work needed to ensure it is installed properly, on a reliable structure it is fast forgotten. A concrete roof deck reduces the risk of damage from fire, termites, and water, while also having a greater chance of standing strong winds and hurricanes.
As concrete weighs a lot, the outside walls of the house may need to undergo structural adjustments before installation, which requires a framework on top of which the concrete is poured.
Although with deep research this kind of decking can be done within a reasonable budget, more eye-pleasing concrete rooftops can cost up to four times as much as a wooden one, so before going all-in on this option, do your math and weigh your pros and cons.
To make your concrete rooftop more appealing as an outdoor entertainment area, one can add large area rugs under outdoor furniture.
Do You Need to Waterproof Your Roof Terrace?
To ensure your roof is protected from decay and rotting and the structural integrity of it is preserved, an effective waterproofing system in place is important. The cost of repairs or even a whole new roof is very high, but there are multiple ways of selecting the perfect system based on budget, size, structure, and environment.
The three most common methods include reinforced membranes, liquid waterproofing, and single-ply membranes; while the last is very common in public buildings, liquid waterproofing is often used on flat roofs.
Cost of Deck Installation for the Roof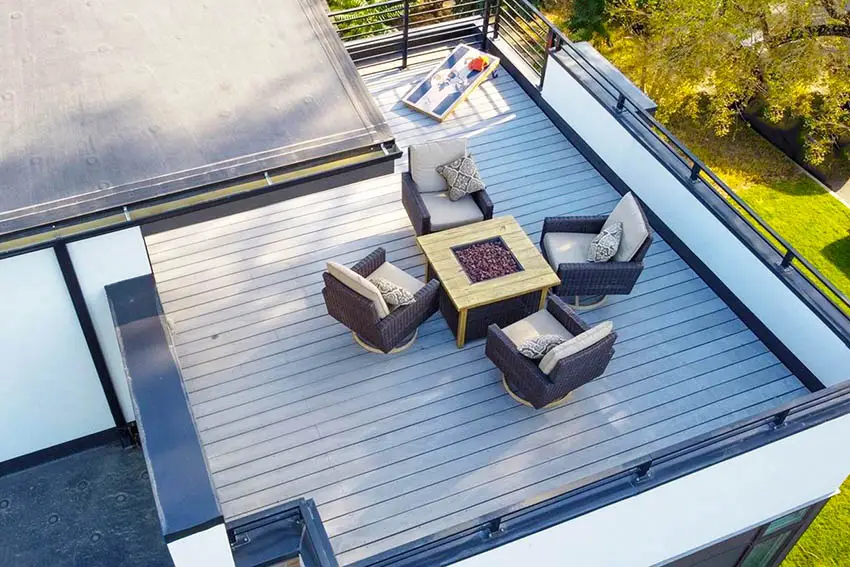 The cost of installing a roof deck can vary a lot, mainly depending on the quality of materials used for the installation; given the high risk of leaks, it is very important that a specialized company is consulted for the job, using the correct materials.
For a 300 square foot roof deck with the structural elements already in place, prices can vary as much as $1000 to $3000. So it is clear that labor is not the only variable in this equation. A basic roof deck can cost around $25,000 total after all the expenses are paid.
The good part of such an expense is that this addition can increase your property's valuation by about 6-8% and can make the house much more appealing to potential buyers.
Balcony Deck Railing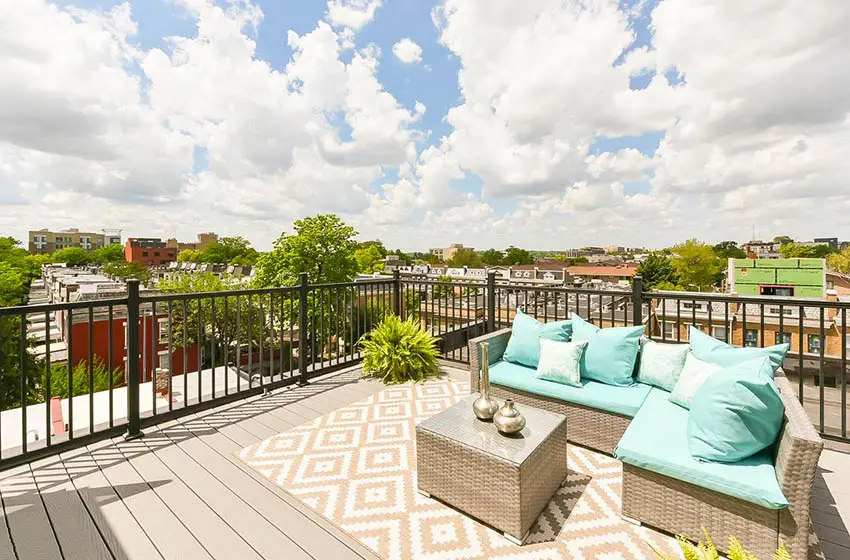 Railing designs are not often thought of as the most aesthetically pleasing part of the deck. Especially considering that they may block part of the view when sitting for a BBQ, however, these are mandatory and most places have very strict regulations that need to be followed in regards to the railings chosen.
The height of the railing, whether they are placed horizontally or vertically and the gaps between them are just some of the rules that may need to be followed; decks placed at different heights may be subject to different guidelines, therefore ensure you have the correct information in place before installing anything!
How Much Do Deck Railing Systems for Roofs Cost?
The installation of the railing system will depend, like the deck, mainly on the materials chosen; while wooden railing tends to be cheaper to purchase and install at a starting cost of about $30 per linear foot, wrought iron can break the bank with prices going up all the way to $900 for the same length. Yes, cheaper wrought iron can be purchased and more expensive wood as well, so most materials are available for different prices.
Pergola Designs for Rooftop Decks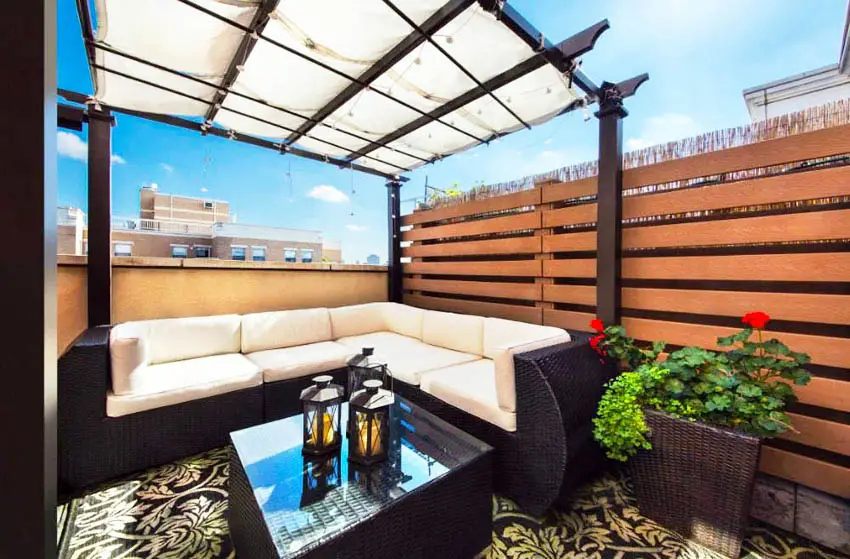 A pergola is a very subtle way of dividing the roof into areas, it is also extremely important so that space can be used to its fullest potential during sunny days. The pergola is a free-standing structure which can be made of many different materials, but is most commonly seen in wood; use this space for outdoor dining and decorate it with potted plants and colorful curtains that can additionally protect from the sun.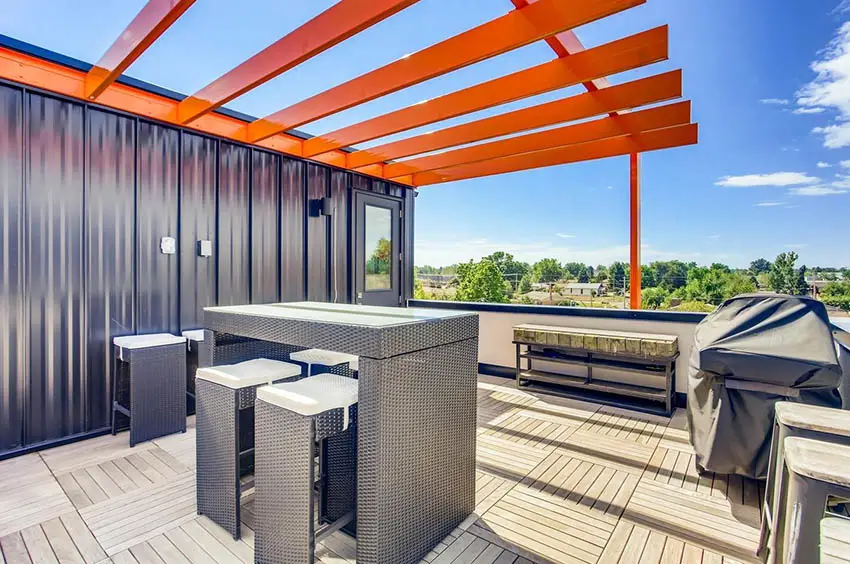 This modern deck design features wood tiles with a metal pergola overhead.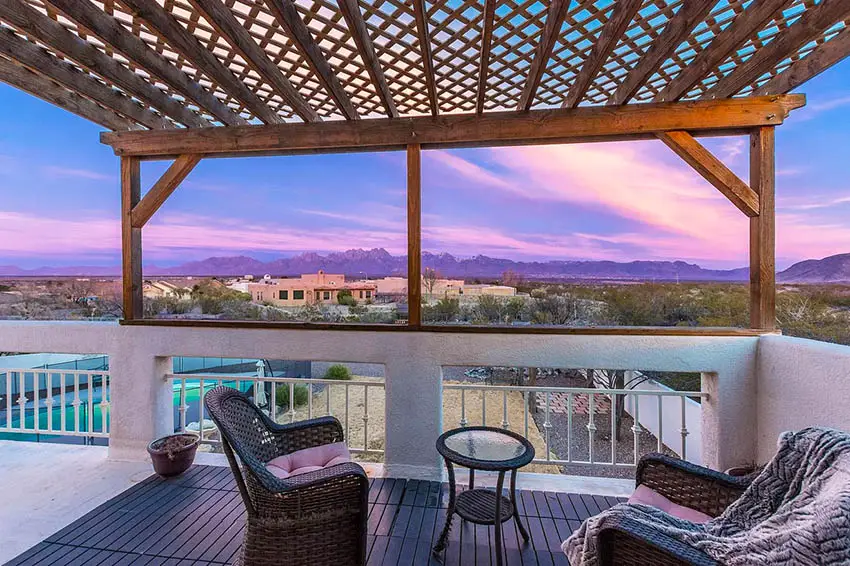 Roof deck pergola with lattice sunshade.
Landscape Designs for Sky Gardens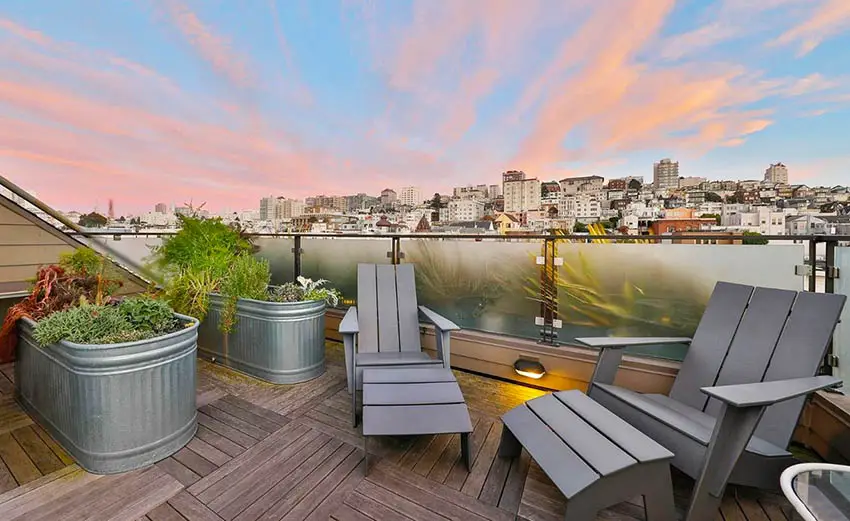 With the right landscaping, a roof deck can feel like a secluded garden, an oasis of peace! The landscaping can create the environment wanted while also bringing non-visual advantages, such as noise reduction from the street, and shade.
Choose plants that can survive the weather in your area, such as hot sunny summers without rain or long snowy winters, as this will help you avoid having to purchase new plants every year, especially when larger ones or bushes are involved.
As a general rule of thumb, succulent plants are often used for rooftop decks as they tend to do well in containers and are drought resistant. Another alternative is to use evergreen trees and shrubs which have similar characteristics.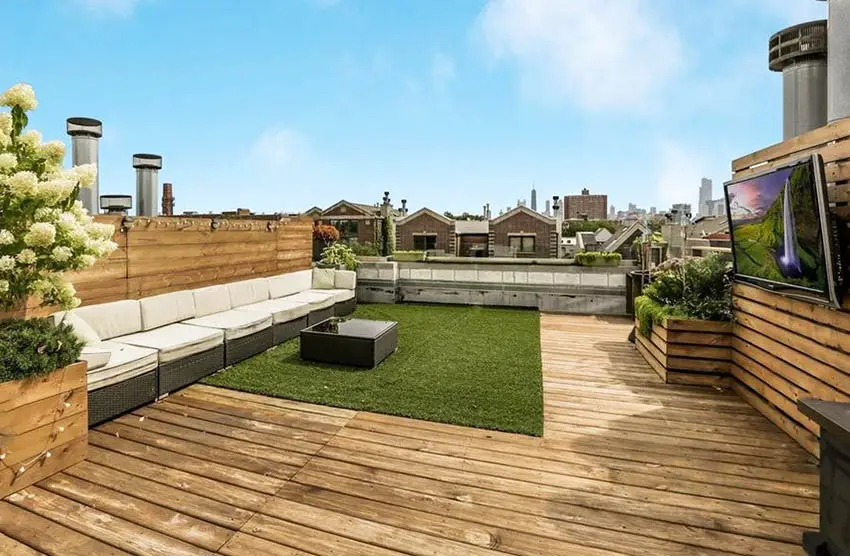 You can use a variety of creative ideas for garden planters such as galvanized wash tubs, wine barrels, wood pallets or even custom planters with built-in benches. The installation of artificial grass can create a better resting spot for bare feet as well a place to lay down towels or blankets to watch a movie.
Rooftop Patio Pool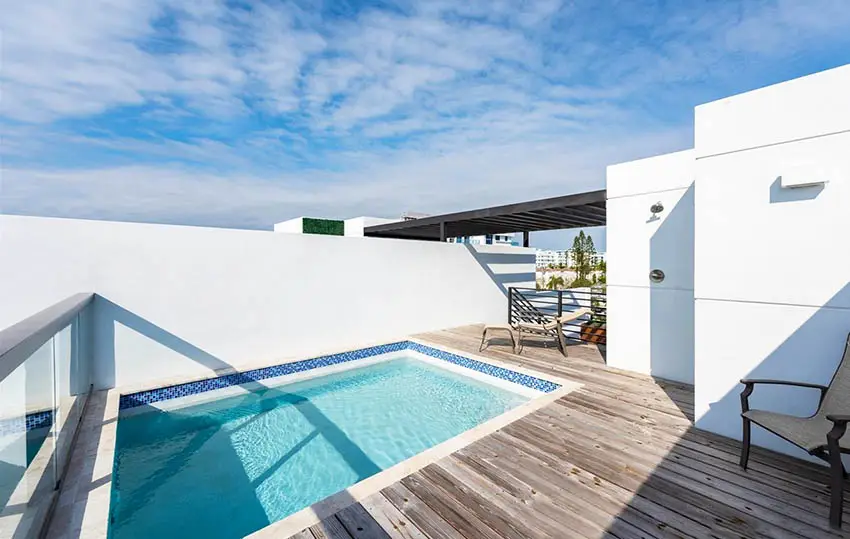 Adding a roof deck pool can be one of the most exciting additions to any property and it is one of the most trending design features with both designers and architects.
The weight of the water and the pool require extremely careful structure strengthening, as well as waterproofing, but with new technologies coming to help, these are becoming not only more popular but also easier to have.
Complete the look of the pool with some wooden decking and a shaded eating area, then you won't need to step indoors for the whole summer.
Rooftop Deck with Outdoor Kitchen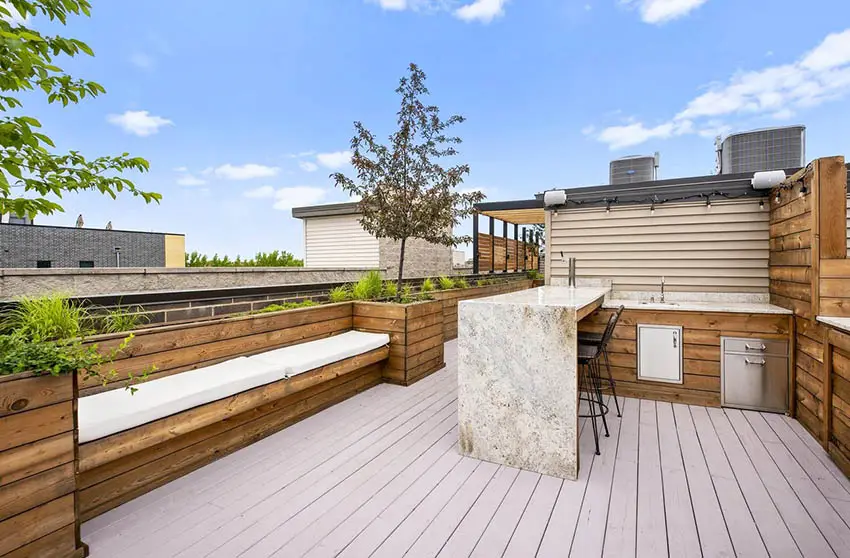 A rooftop terrace makes an excellent place for an outdoor kitchen as it is perfect for entertaining. This outdoor kitchen design features a waterfall quartz peninsula countertop with seating as well as a built-in sink and under counter storage compartments.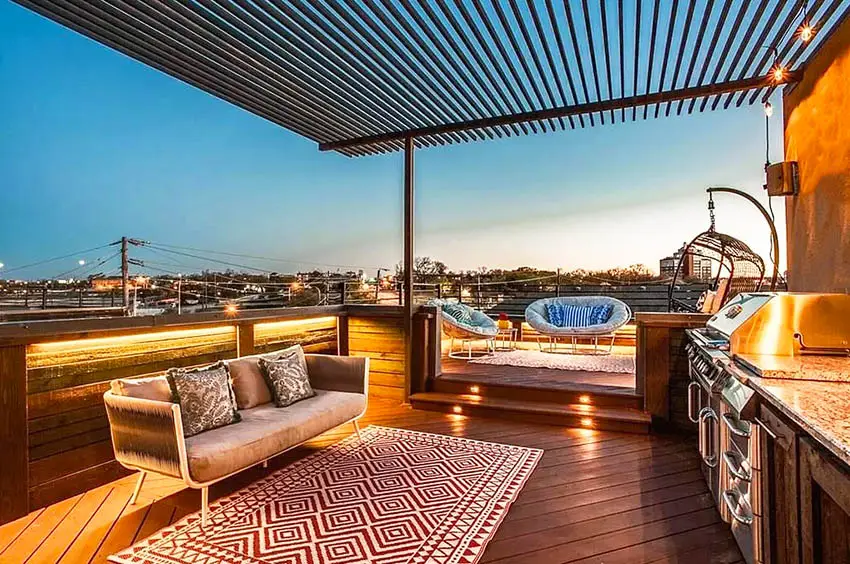 Deck with outdoor kitchen, wood pergola and a variety of seating options.
Rooftop Patio Entertainment Area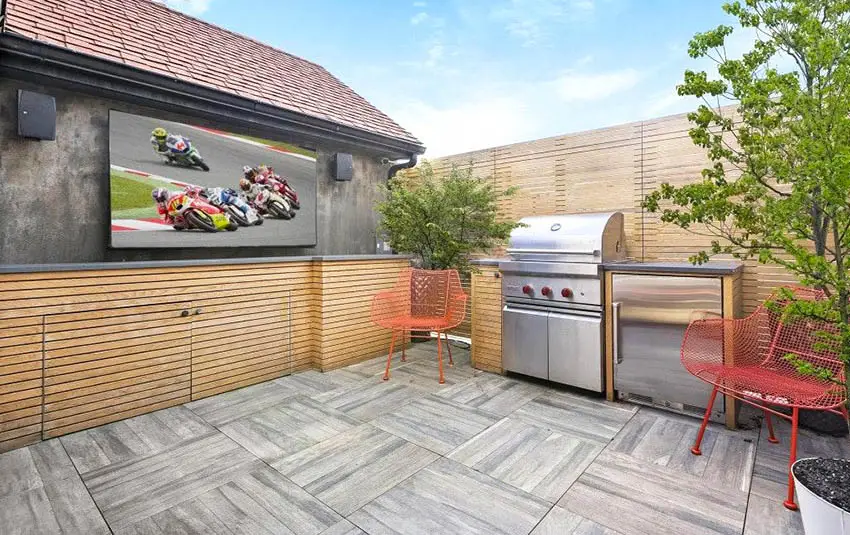 There are many different ways to set up your roof top deck for entertaining. Adding a large outdoor tv or projector screen is one way to maximize your outdoor living area and give your friends and family a place to watch movies outside of the living room.
Adding a privacy wall is another extra feature that can block unwanted lights or just give the area a move private feel. You can experiment creating your own rooftop plans by using one of the available deck design software programs.
Shipping Container Rooftop Terrace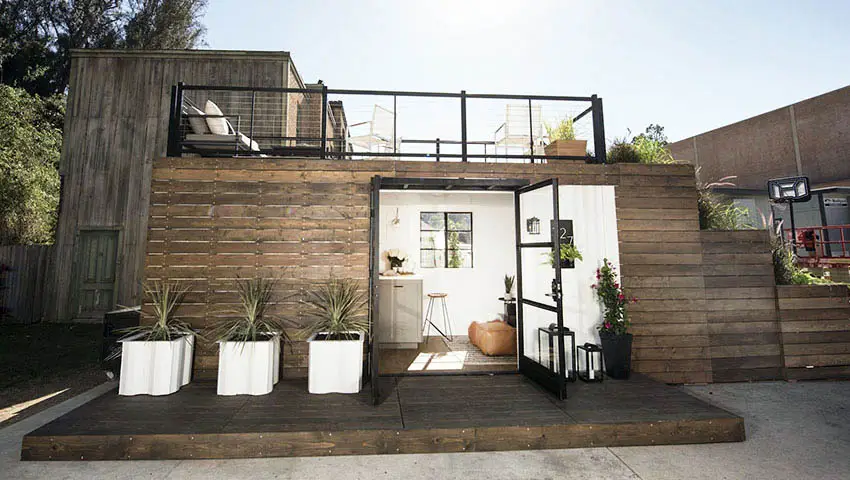 Shipping container roof decks will require careful installation and extra structural support and waterproofing but are becoming more popular now that outdoor space comes at a premium.
These are often built suspended from the room, to avoid putting too much pressure on it, especially when the roof is not even enough; wooden is the material of choice in most cases and can be easily integrated with the whole design if remodeling when the same as the cladding is chosen.
A mix of contemporary and more traditional features can make a shipping container roof deck design the ultimate hangout place, especially when glass railings are used to keep a clear view of the surrounding areas.
---
About Elena Padovan
Elena studied interior design in London and has a big interest in the psychological effect of design, including the relationship between objects, space and people; she believes in design with a purpose beyond beauty and sees it as a way to make life better.