Here's our kitchen sink sizes guide including standard, undermount & drop-in sink dimensions, other types of kitchen sinks, drain pipe size and how to measure a countertop for a kitchen sink.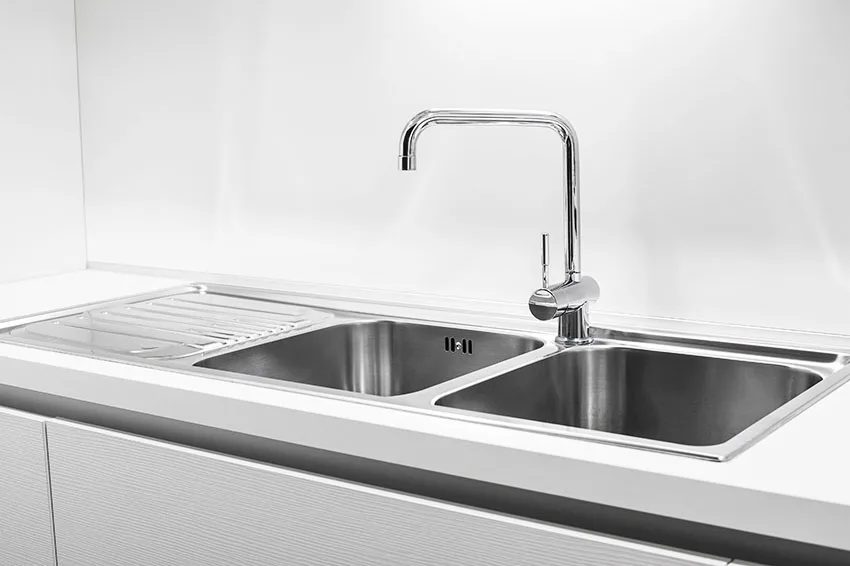 We all know that the heart and the soul of any home is the kitchen, and one of the most critical pieces of it is the kitchen sink. Kitchen sinks are made to survive almost everything from rinsing dishes, food prepping, tooth brushing, and even giving a puppy a bath.
The bottom line is they are utilized for nearly everything, so choosing the perfect size for all functionality is essential to finding the ideal kitchen sink.
There are many types of kitchen sinks that serve specific functions, plus there are also many sizes available to fit any counter or space, so whatever a homeowner might need, they are sure to find it.
Standard Kitchen Sink Size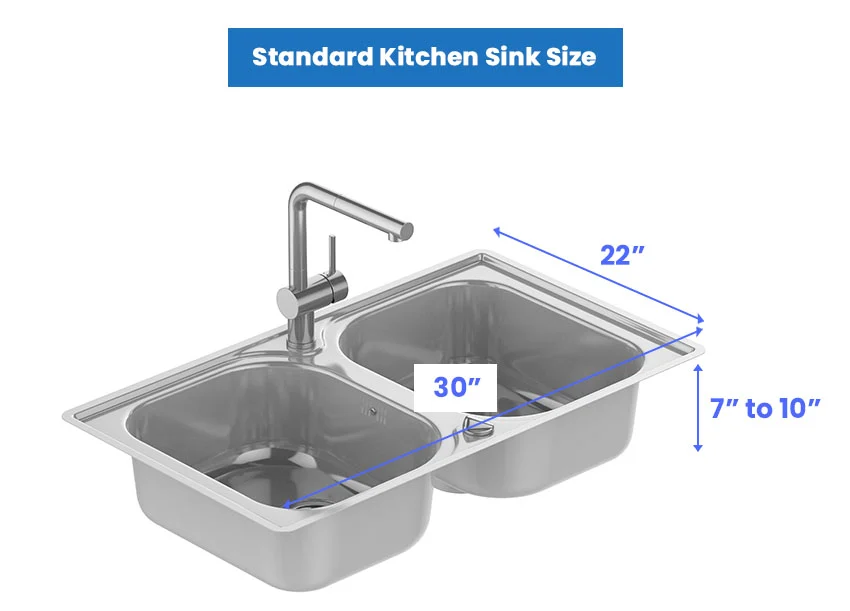 Whether a homeowner is choosing the perfect sink to go with their ideal kitchen or is looking for a sink to upgrade the look of their kitchen, there are a lot of sizes available to cover their countertop.
Choosing the perfect sink can last homeowners 15 years or more, so it is better to make their decision based on size instead of a particular sink's price.
Kitchen sinks are available in many sizes, from the smaller 9 inches or 23 centimeters kitchen sink in length to something as big as 40 inches or about 102 centimeters. But if the homeowner is looking for a standard size to start with, the average sink will measure 22 by 30 inches or 59 by 76 centimeters.
This size will be a good fit for most standard types of countertops or cabinets, and they can easily adjust the width for a much bigger one if they have more space to work with. The depth of these kitchen countertop sizes can vary widely, but 7 to 10 inches or 18 to 25 centimeters is the standard.
Undermount Kitchen Sink Sizes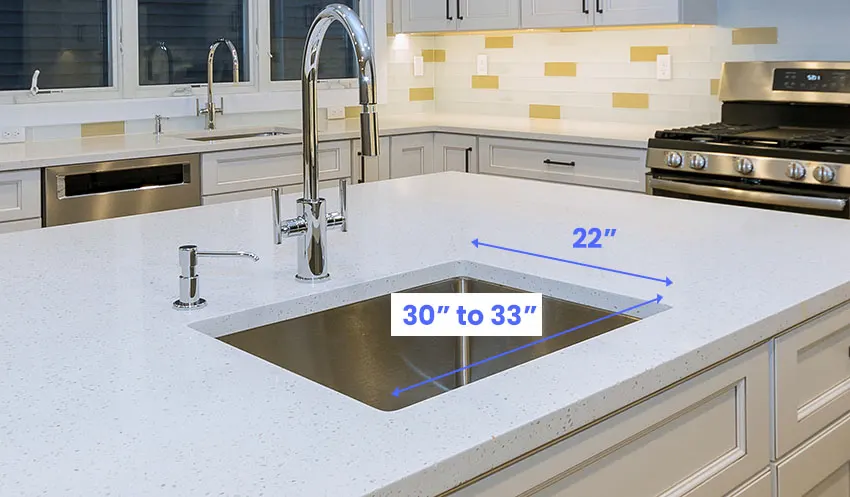 One of the most familiar types of kitchen sinks is an undermount kitchen sink. These sinks are mounted on the countertop's underside and are fastened shut by using clips and brackets, plus plenty of adhesive.
This is one of the most typical styles since it gives a great look by having the rim of the sink concealed. Because of the way all undermount sink is supported, a solid countertop surface made of quartz or granite is required for maximum durability.
Undermount sinks are available in many sizes, but the most standard size has a width of 22 inches or 56 centimeters and a length from side to side ranging from 30 to 33 inches or around 76 to 84 centimeters.
Undermount sinks are also the easiest to replace with another undermount sink. Still, if a homeowner is looking to install a different sink style, this calls for needing to replace the countertops or the cabinets.
Drop In Kitchen Sink Sizes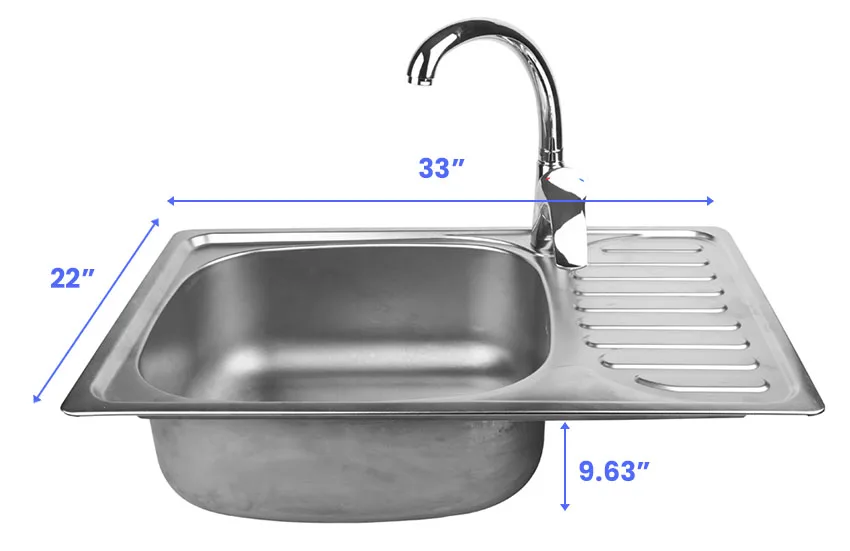 A type of kitchen sink that is easy to replace and install is a drop-in sink. All it takes to install this type is for it to be lowered into place on the countertop with its edges resting right on the countertop. There are many shapes, sizes, finishes, and materials available for drop-in kitchen sink giving many homeowners the option to choose an ideal one for their home.
One particular drop-in sink is the single basin kitchen sink with a length from side to side of 33 inches or 84 centimeters, a width of 22 inches or 56 centimeters, with a depth of 9.63 inches or 24 centimeters.
There is also the double basin drop-in sink which still has the exact size of 22 by 33 inches or 56 by 84 centimeters, with the only difference being partitioned in the middle for any purpose a homeowner wants.
Double Kitchen Sink Dimensions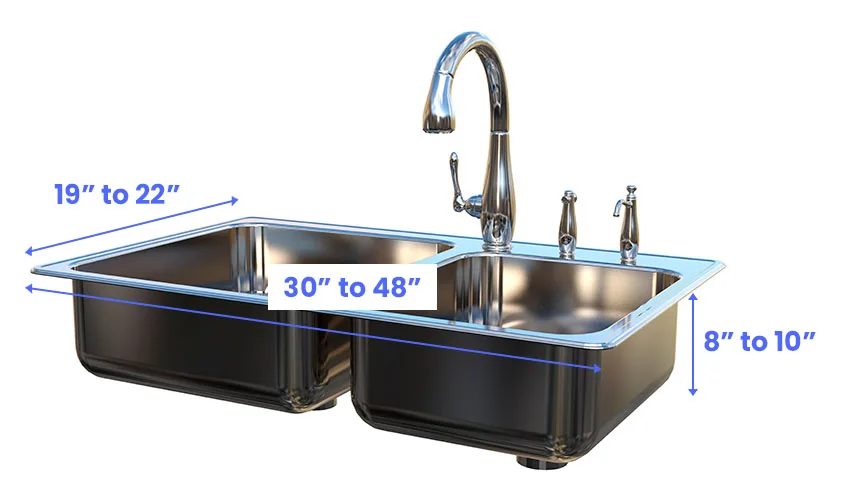 For a larger kitchen for an enormous household, a double kitchen sink is the best option for this type of need. Double kitchen sinks are available in many styles, materials, and sizes, and getting one perfect for a home is easy as long as they consider factors to fit their needs.
The most standard double sink is 22 inches or 56 centimeters wide with a length from one side to the other of 30 to 36 inches to 76 to 91 centimeters.
Aside from the standard, there are many sizes available, and widths could range anywhere from 19 to 22 inches or 48 by 56 centimeters. On the other hand, lengths can measure from the standard 30 to bigger 48 inches or 76 to 122 centimeters. As seen on the ranges, the sizes for double sinks are significantly larger than single bowl units.
A double sink's depth ranges from 8 to 10 inches or about 20 to 25 centimeters. One factor that can affect a homeowner's decision in deciding on the sink's shallowness or depth is their own height. Shallow sinks are for people with an average height, while deeper sinks will work better for taller persons both in productivity and ergonomic factors.
Standard Farmhouse Sink Size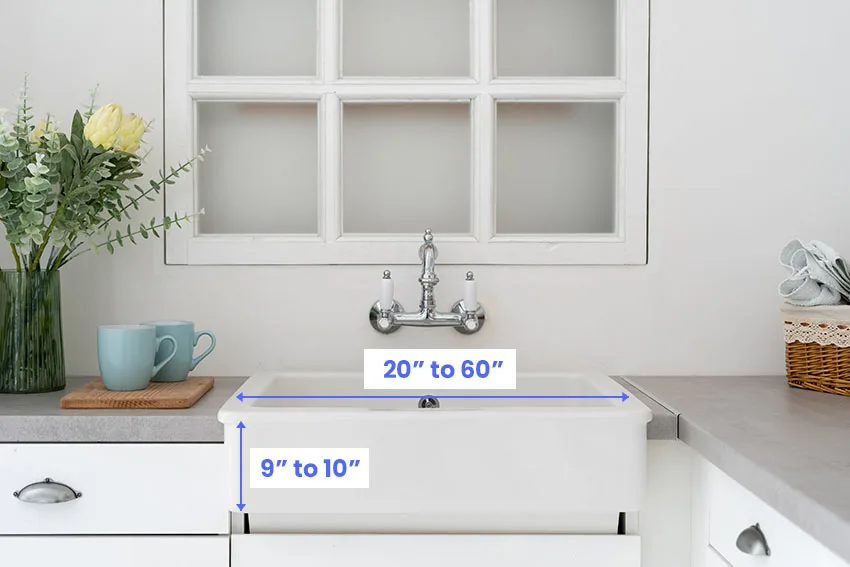 If a homeowner wants a unique option for their kitchen sink, opt out of the usual drop-in or the undermount sink and get the more stylish farmhouse sink.
This style works like a drop-in sink, but the difference is that it has an exposed front-facing side that gives it that elegant farmhouse feel. This sink is more specialized than most since it requires a space cut out for the sink in order for it to blend with the countertop seamlessly.
Farmhouse sinks tend to be a little larger than any other sink type (besides utility sinks), so ensuring the correct size for a kitchen is integral for maximum use and aesthetics. Farmhouse sinks have a length that can range from 20 to 60 inches or about 51 to 152 centimeters. At the same time, height is either 9 to 10 inches or 23 to 25 centimeters.
A small farmhouse sink is between 20 to 24 inches or 51 to 61 centimeters, while midsize farmhouse sinks stand at 30 to 40 inches or 76 to 102 centimeters; anything larger than that is considered a large size.
Kitchen Sink Cutout Size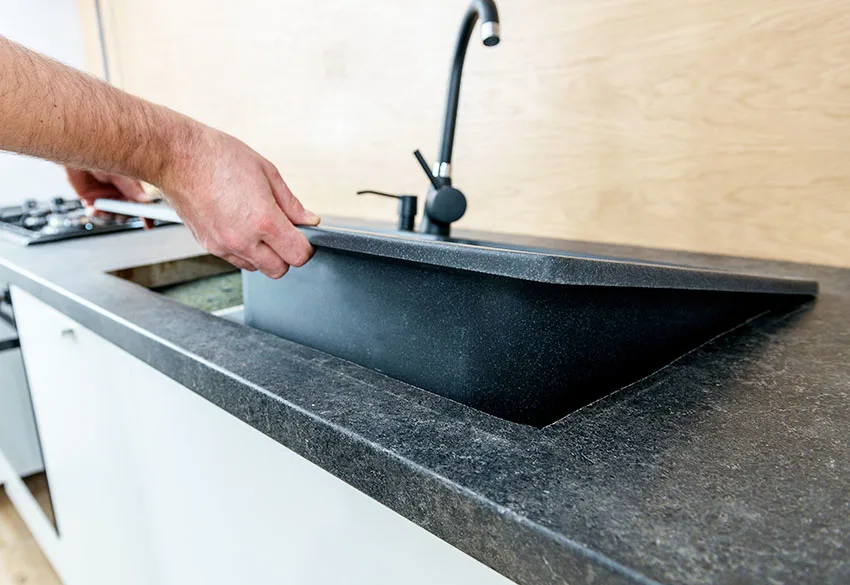 A kitchen sink cutout size will differ from one sink type and one sink size to the other. Essentially, a kitchen sink cutout size is the specific dimensions a homeowner will need to install the perfect sink on their countertops. Knowing this size is integral to proper installment, not too loose or too tight. An overmount sink, for example, will need a smaller cutout size for installation over other sink types.
Learning to measure the cutout size is pretty straightforward and requires only a few measurement numbers. This size will also vary widely whether they want to install a drop-in, undermount, or double sink.
A standard sink cutout for a specific sink measures around 18 by 18 inches or about 46 by 46 centimeters with a depth of 12 inches or 30 centimeters.
Kitchen Sink Drain Pipe Size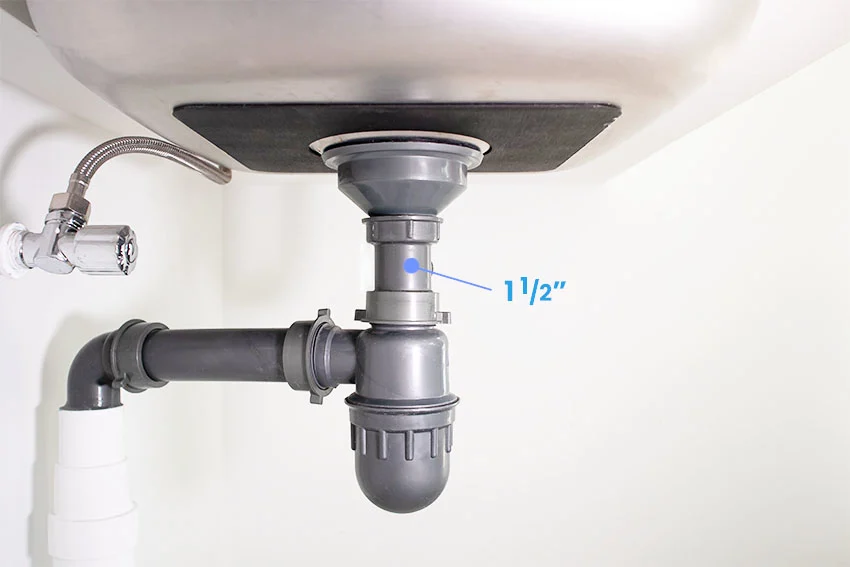 If anyone is using a kitchen sink, they would know that water empties by passing through a drain pipe. Although this complex system is usually left to the contractor or the architect designing the draining system, it's essential to know a little about it for minor repairs when it calls for it.
A sink drain system is the vertical length of pipe inside a countertop underneath a sink. They can be just the pipe or a system of complex drainage with a dishwasher pipe connected to it or even a garbage disposal chute.
Many older drains have tailpieces that are 1 1/4 inches or about 3 centimeters, but the modern drainpipe is slightly thicker at 1 1/2 inches or 3.81 centimeters. Thicker pipes are usually the preferred option because they offer faster water flow, and an adapter can always be utilized to switch from a narrower to a broader drain pipe.
How Do I Know What Size Sink I Need?
Choosing the right sink size will not only make or break the complete aesthetic of the kitchen, but it will also dictate how practical and comfortable a homeowner will be when utilizing the kitchen sink.
Picking the wrong size will pose many risks, from dripping to broken dishes to developing back pain. These are only some of the issues posed by choosing the wrong size, making measurements, and considering many factors integral to purchasing the right one.
Getting the perfect sink for a home should include factors such as the homeowner's height, overall kitchen size, physical needs, countertop or cabinet sizes, sink design preference, and upgrades and accessories like kitchen faucets, strainers, and many others.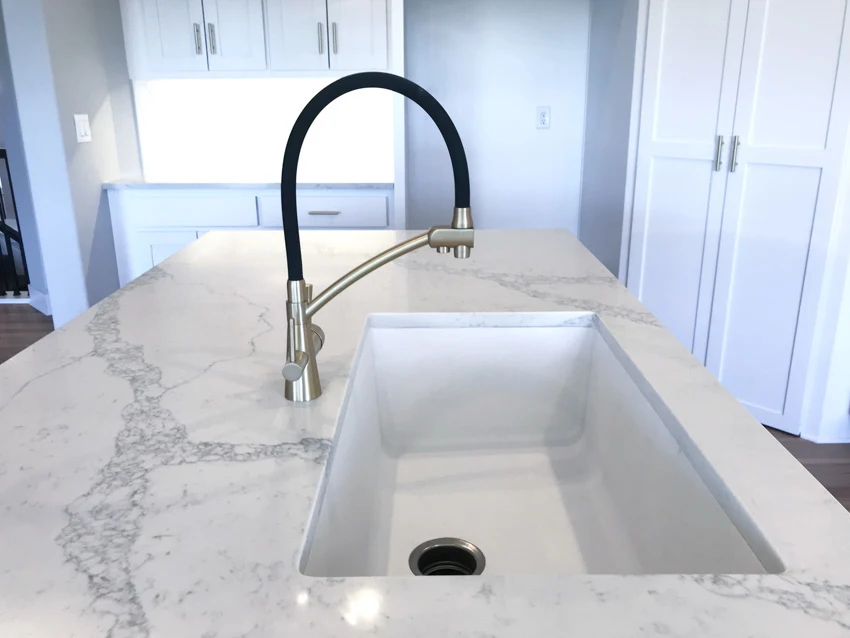 A no-brainer way to get a kitchen sink is opting for the standard size, and, usually, a sink that is 22 to 30 inches in length or 56 to 76 centimeters is what experts recommend.
Depth is also a factor because any kitchen sink depth lower than 7 inches or 18 centimeters will be insufficient and will quickly pile up. Going for a sink depth of 8 inches or 20 centimeters and above is better if they belong to a bigger household with a heavy dish load every meal.
Whether buying a new sink or replacing an old one, one foolproof way to know the size of sink you need is by measuring your current kitchen sink.
How To Measure Kitchen Sinks
Knowing the exact measurement is vital to figuring out what sink will work for a specific kitchen; with this in mind, it will be easy to pick a particular sink, and focus on looks can take the front seat. All that is needed to measure a kitchen sink are a pencil, a piece of paper, and a measuring device, whether a tape measure or a ruler.
The first step to every measuring task is determining the project scope, and for kitchen sink measurement, it will usually include its depth, width, and length.
Factors like getting the same sink or opting for a new style entirely are also crucial since it could make the work easier since all it needs is the old sink's length, width, and depth. If what will be done is replacing a sink with another style or type, there are more steps to be done.
The first step to measuring for a total replacement is calculating the length and width of the countertop or cabinet's cutout, plus measuring the depth of the existing sink. If a drop-in sink is currently installed, going under the counter to the cabinet is necessary in order to measure the depth.
Simply measuring the basin will not give an accurate measurement. Once you have these numbers, the replacement sink for a home should not be longer, deeper, or wider than these numbers.
At the same time, if a homeowner wants a deeper sink to replace their older one, that can be done by measuring the available length and width for the counter or cabinet. This will determine the usable surface and dictate how big or deep a new kitchen sink could be.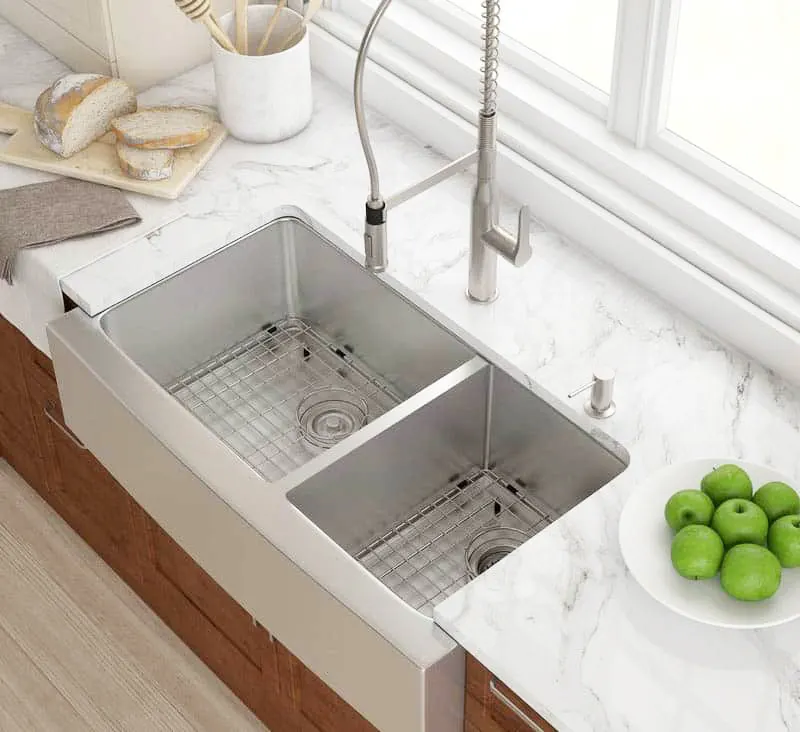 To figure out the maximum width, measuring from the edge of the counter up to the wall is needed. If the homeowners choose to install a farmhouse-style sink, it's okay for the measurement to jut out from the face of the counter.
The next step is to measure the length of the counter underneath. Measure from the inside side to side and subtract 3 to 4 inches from the total for the hardware needed to mount the sink.
The last thing is measuring the sink's depth. Do this by laying a straightedge on top of the sink and measuring your sink's deepest end. If an undermount sink is installed, it will usually be deeper than it is.
For a farmhouse sink, you can measure from the countertop to the top of the cabinet underneath it. This will show the homeowner the maximum depth they should consider for a farmhouse sink installation.
Pro-tip: for people looking to protect the sink's bottom by buying a sink grid, calculate the width and length of the kitchen sink's basin. The chosen grid should be this size or the closest to it to protect the basin sufficiently.
For more more related content visit our bar sink dimensions guide here.