This gallery of the types of pool plaster includes what it is, different finishes & materials, top plastering companies, colors, cost, and the pool plastering process.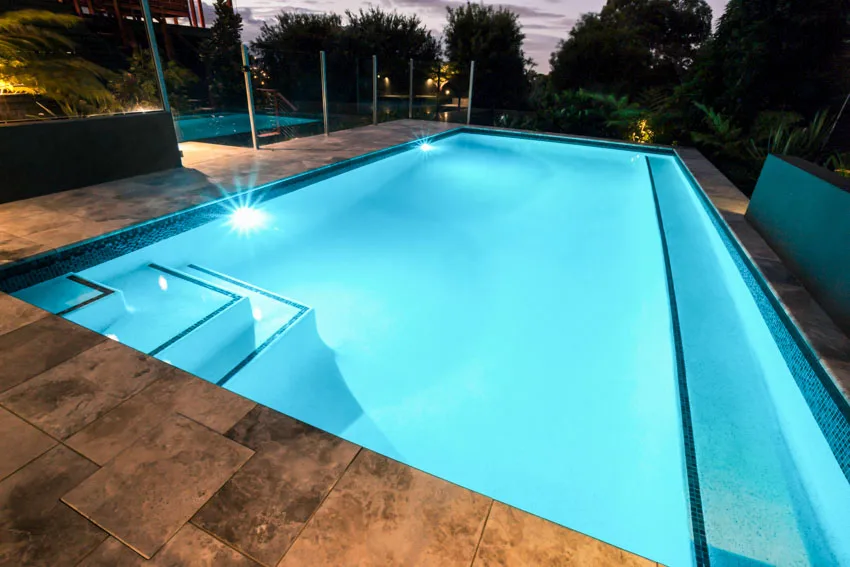 In terms of creating the ideal pool, you want it to appear as good as or superior to what you envisioned in your mind. You want to have a pool that will make your neighbors jealous; a pool that looks fantastic in actual life as well as in magazine or website photographs.
Fortunately, there is pool plaster for in-ground swimming pools. The final treatment for the majority of pools is typically applied using pool plaster. Pool plaster delivers a protective surface that will assist augment the lifespan and usability of your pool in addition to giving it a superb look and elegance.
We have put together a comprehensive guide to pool plastering in this article. Hence, you will know precisely all the details about pool plastering.
What Is Plaster for Swimming Pools?
Marble dust and white Portland cement are normally combined to make pool plaster. Numerous additives are available for strength, application convenience, as well as color.
The finish coat of a swimming pool is generally a white portland cement plaster that has been given a smooth, steel – trowel finish. – Portland Cement Plaster Manual, 1980
Plasterers can employ quartz, glass, or ceramic aggregate to add specks of a certain color or utilize color compounds to create any color of plaster. Pea gravel-sized or somewhat bigger pebbles are compressed into the plaster substrate to create eye-catching pebble surfaces.
A large percentage of swimming pools have a finishing protective cover of pool plaster. Its typical color is white, and among its uses are to establish a waterproof barrier and make the pool bottom smooth. Plastering the swimming pool is a necessary stage in any pool construction since it provides the pool with its finished appearance.
Additionally, pool plaster is a traditional method of finishing numerous projects. When used underwater, it creates a watertight sealing that highly porous gunite or shotcrete cannot. Under ideal circumstances, plaster finishes last 20 years, but that is rarely the case in the real world.
The plaster surface is designed to deteriorate gradually, at which point it will eventually need to be repainted or at the very least repaired. The plaster dries underwater, so as soon as the finishing touches are applied, the plasterers begin filling the pool with water.
Plaster Finishes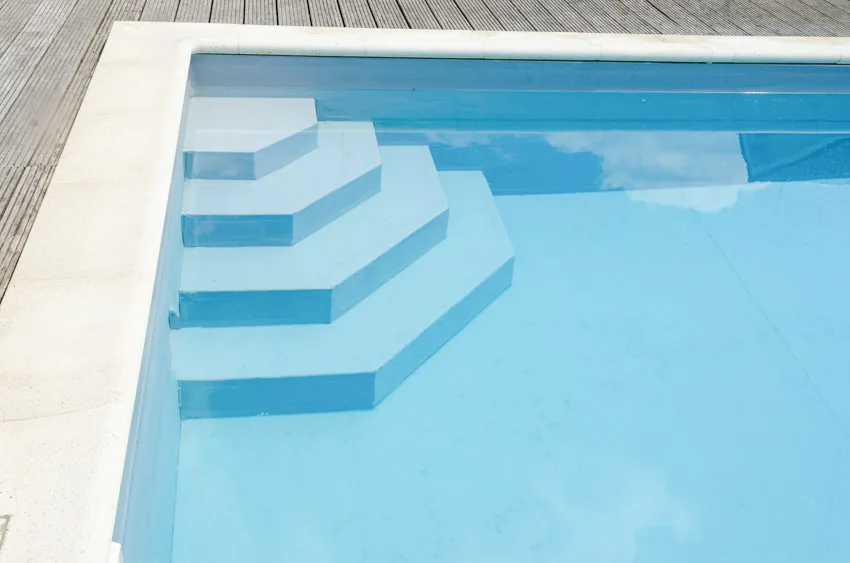 The simplest technique of pool finishing is by using plaster, which has been used since the 1960s. They have a flawless finish thanks to the hand troweling of a combination of white cement and fragmented marble.
The types of pool plaster finishes provide a tried-and-true choice at a reasonable cost for individuals who like a more traditional appearance or want to create a pool in a Santorini style.
They do, nevertheless, have drawbacks, particularly in terms of upkeep and durability. Typical white, gray, or other light-colored plaster used in the pool may make frequent wear-and-tear discoloration, scaling, and darkening more obvious.
These flaws will be somewhat more concealed by plaster finishes in dark colors. Here are the types of pool finishes using plaster:
Traditional White Plaster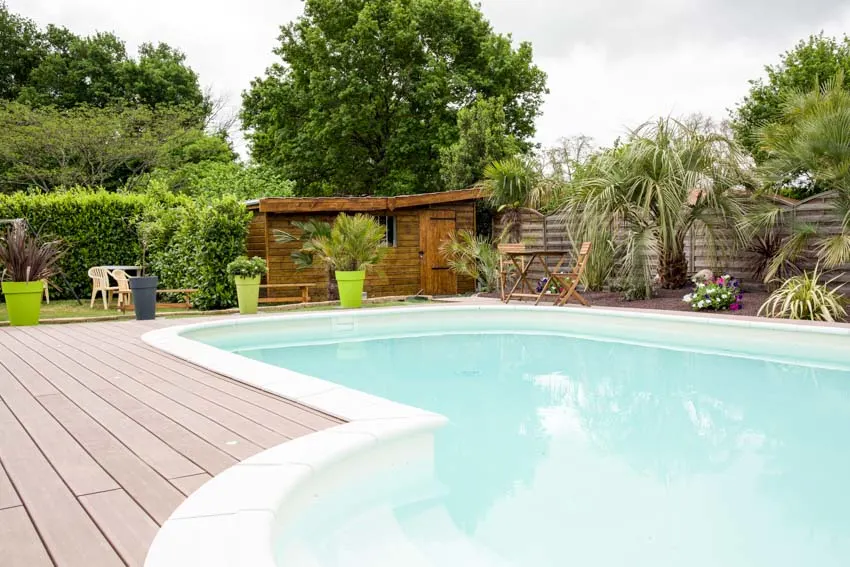 Typically, this kind of pool plaster is either white or light gray. The advantages of utilizing a traditional white plaster include providing the water in the swimming pool with a classic design appearance and the tropical, aquamarine water that so many individuals desire.
While being less expensive than the more luxury ones, this choice does necessitate more maintenance activities.
Marcite Plaster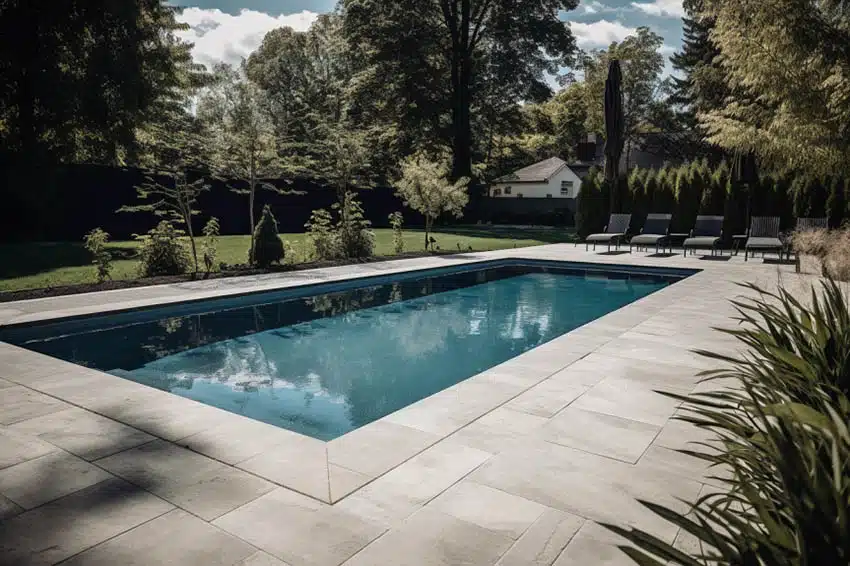 White Portland cement, marble particles, and reinforcing ingredients to increase strength and moisture resistance are the main ingredients of Marcite. It creates a smooth substance when combined with water, which professional teams use to coat the interior of pools.
With hand-held trowel equipment, they spread it over the concrete surface to produce a smooth and firm exterior. Marcite is also the least expensive material to use whether replastering an old pool or building a new one. It can survive roughly 8 to 12 years with appropriately kept pool water.
Unfortunately, the pool water damages Marcite's durability in areas with particularly "hard water," or water with significant alkaline and calcium content. Quartz or pebble is generally a wiser choice in these circumstances.
Color Plaster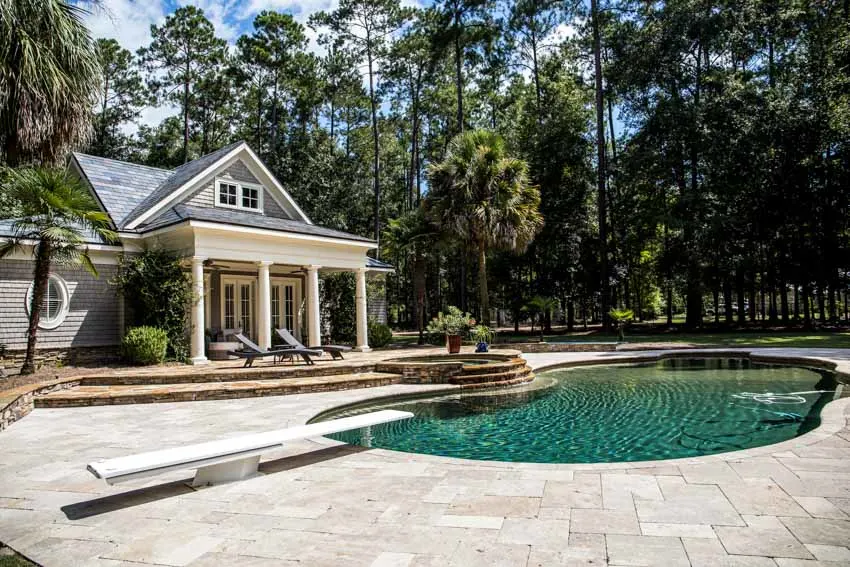 The pool water has more of a natural pond or lake appeal thanks to colored plaster, which offers the very same capability as traditional plaster but is frequently colored a little darker (typically gray or blue).
As with traditional types of pool plaster, this darker plaster conceals water stains better, but you will probably need to refinish it every 10 to 15 years.
Marble Plaster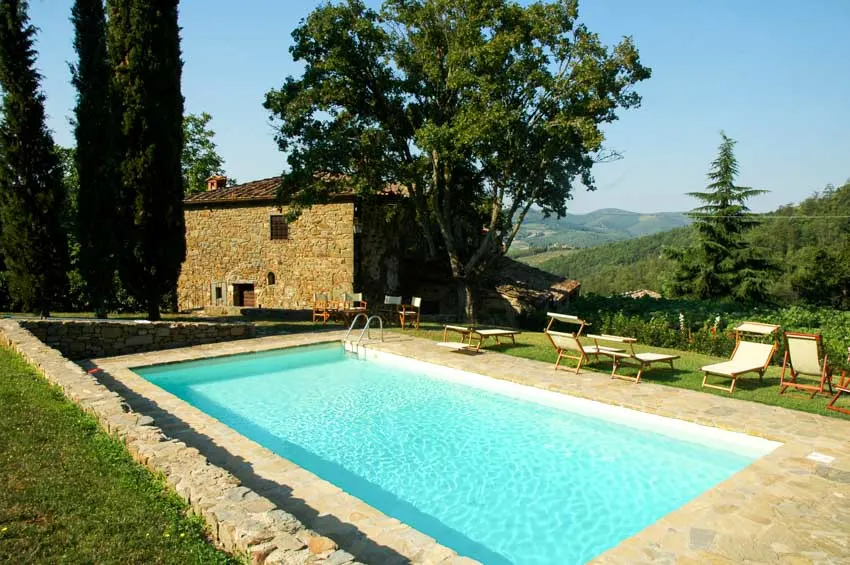 The option that is among the most frequently used types of pool plaster nowadays is the marble plaster. Cement and white marble dust are combined to make marble plaster. Marble aggregate is another name for crushed marble. Polishing marble plaster after it has been applied to the surface brings out its luster.
Marble pool plaster, which is classic and straightforward, offers pools a sleek, timeless appearance and creates an appealing, streamlined, long-lasting interior surface. Marble has a varied appearance, thus polishing it changes the color and texture of the water in addition to making it smoother.
Indeed, white marble plaster is the least costly plaster to use when resurfacing your pool. Although it usually has a white appearance, it occasionally gets colored blue to bring out the color of the water. White marble plaster has a lifespan of 9 to 12 years and is simple to manage and sanitize thanks to its flawless surface.
Quartz Plaster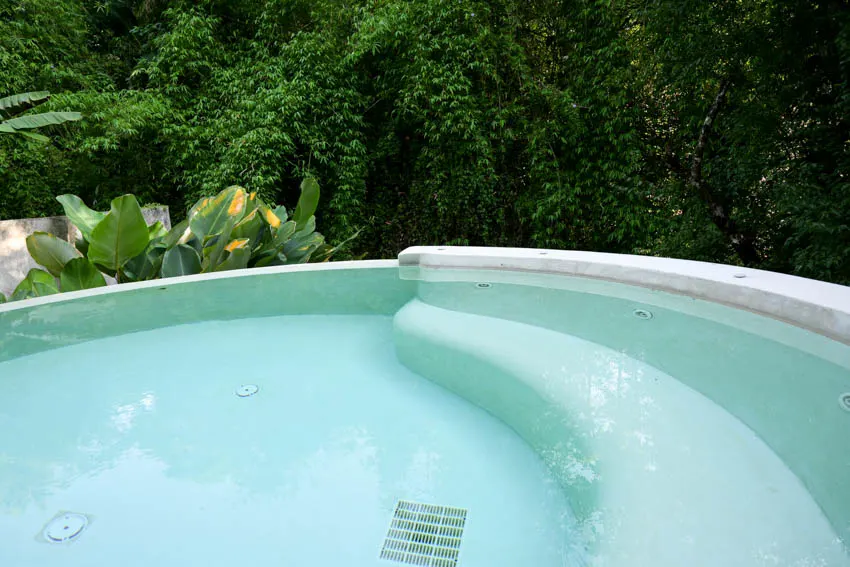 Comparable to marble plaster, quartz plaster is also known as Diamond Brite plaster and often utilizes crushed quartz rather than marble. However, quartz has a finish that is tougher, more resilient, and better suited to endure harsh chemicals and weather than marble.
Aside from that, quartz provides the plaster with a shimmery appearance. Among the other types of pool plaster, quartz normally comes in 17 various hues to provide you some variety even though it still has a relatively simple appearance and appears to lack any patterns or ornamentation.
Since they are UV-resistant, the colors will not deteriorate with time. Additionally, this kind of plaster offers a smooth and carefree surface.
Pebble Aggregate Finish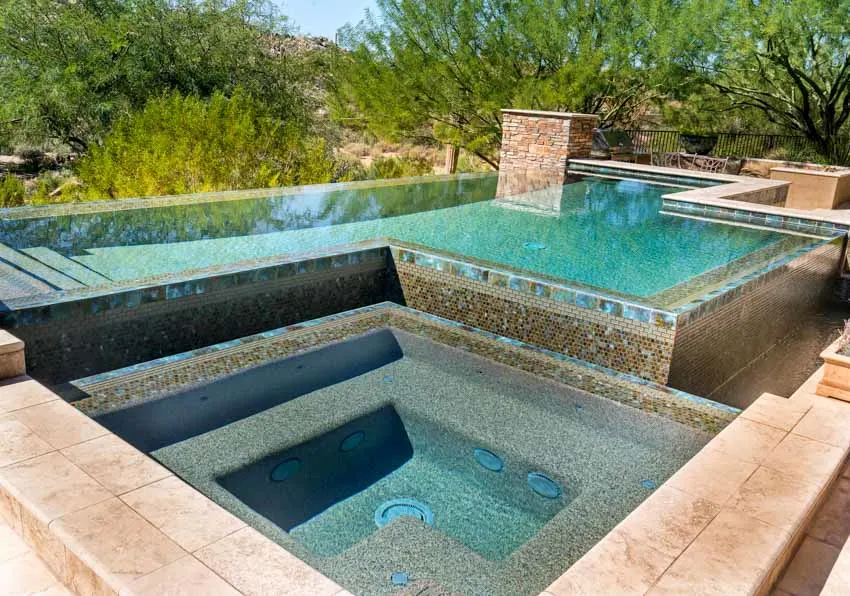 Pebble aggregate finish is uncovered, as opposed to polished aggregates such as quartz and marble. This blue-lagoon appearance is produced by mixing cement with smooth stones, pebbles, and coloring agents.
For a more natural appearance, pebble aggregate adds river pebbles and tiny quarry rocks to the cement. It offers a non-slip outer layer with a focus on a pebble seaside aesthetic and comes in a multitude of colors and textures.
Additionally, pebble aggregate plaster is a kind of plaster that incorporates sizable chunks of crushed rock or streamlined stones into the cement.
Depending upon the swimming pool size and position of the aggregate, pebbles produce an extremely rough surface that, in some situations, can make it appear as though you are stepping on a river or lake.
Your pool can seem quite contemporary with this style of plaster. Contingent to the size and variety of rock used, you can make various designs. The pebbles and stones also produce an incredibly robust surface that can endure up to 20 years, longer than any other form of plaster on this listing, especially in regions with severe weather.
Roll-On Plaster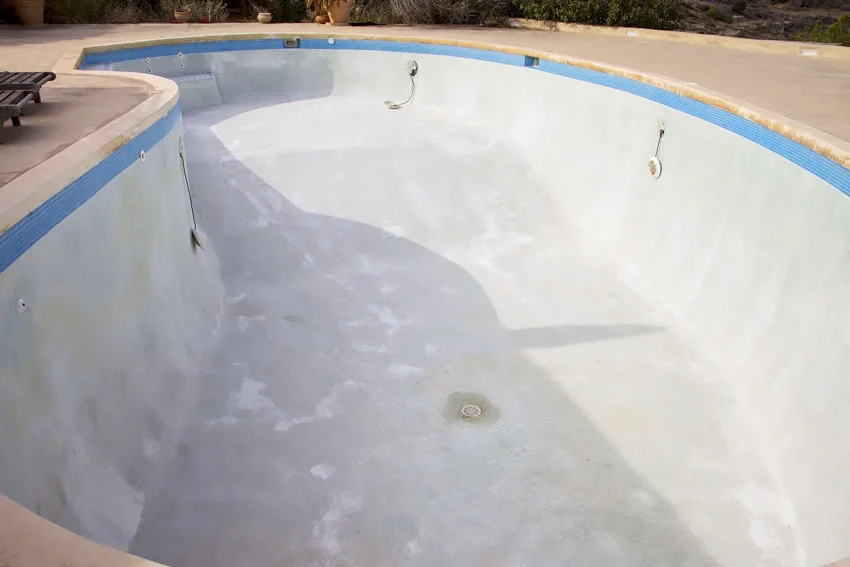 Roll-on types of pool plaster is a cutting-edge concrete-based type of pool plaster and refinishing treatment for pools made of gunite, shotcrete, concrete, or ICF.
It can also refinish your current pool plaster and Marcite. Using a regular paint roller, it can be very simple to apply. Typically, it comes in a pre-blended package version.
Pool Finish
Here we share the different finishes for swimming pools.
Ceramic & Porcelain Tile
Ceramic and porcelain tiles interestingly provide a premium appearance despite typically being the least costly pool tile finish option.
Ceramic is less durable than porcelain, while porcelain has a more appealing glass-like gloss. Porcelain tiles come in a limitless variety of styles and designs, and they can optionally be textured for anti-slip gripping.
Glass Tile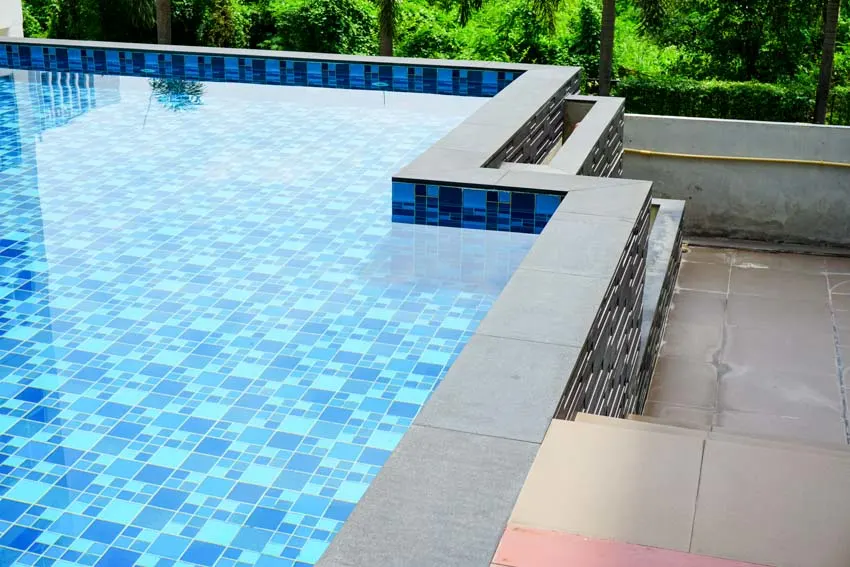 Glass tile is the most pricey tile finish selection. Glass tiles offer a level of glamor and richness that no other finish could, only from an aesthetic perspective.
Aside from that, glass can be used to adjust the water hue; some varieties are light in hue, whereas others are dark (you can even obtain them in black) for an appearance that contrasts more sharply with the remainder of your yard.
Glass tiles are a great option because they are non-porous and resistant to fire, heat, UV radiation, and ice. They are also renowned for being simple to maintain and tidy up.
Glass Bead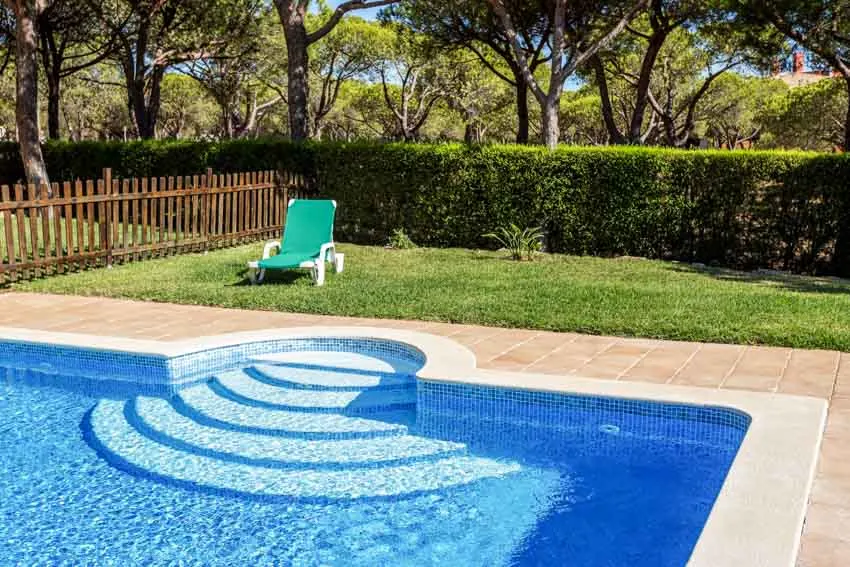 This type of pool finish is uncovered. This aggregate creates a sparkly look by combining cement with glass beads (and occasionally pebbles).
They are the preferred aggregate choice since they give the pool a 3-dimensional character, which is ideal for modern designs. Glass bead aggregate is a fantastic pick to be used as an embellishment because of its brilliance.
Usual premium specialized aggregates are often made out of glass beads. This adaptable glass material can be used to improve the luster of swimming pool surfaces, floors, worktops, and other specific decorative constructions.
It is normally sold as iridescent irregular-shaped beads. This enables the creation of a single material with a reflecting brilliance, a beautifully smooth texture, and luminous transparency.
Plaster Finish Companies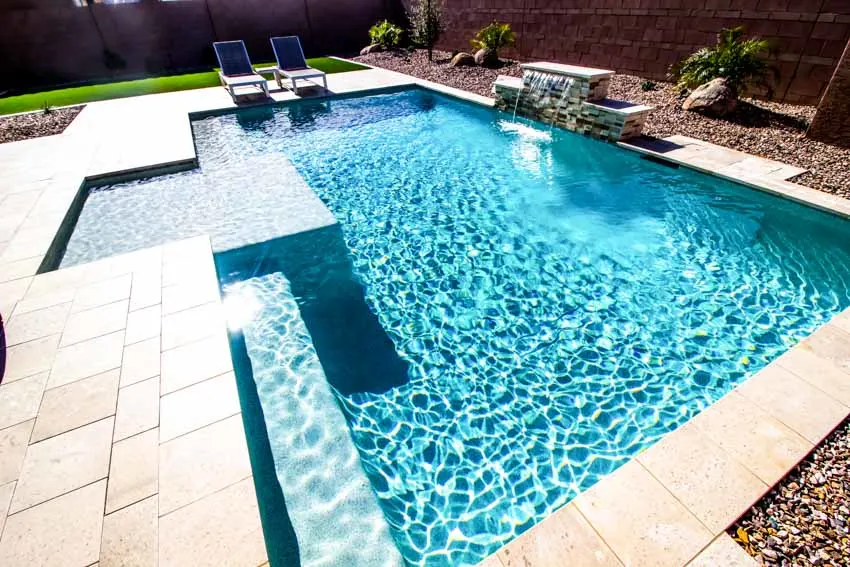 Diamond Brite: For new or renovated swimming pools, Diamond Brite finishes are mixtures of carefully chosen quartz aggregates and strengthened white Portland cement.
An appealing and incredibly durable substitute to conventional pool coatings is offered to pool owners by Diamond Brite finishes. They come in a selection of hues and textures.
An accentuated, non-fading surface is produced by this plaster pool finish company by mixing resilient quartz aggregate with white cement. The end result is a distinctive finish that can survive years of family pleasure including the impacts of extreme weather and aggressive chemicals.
Diamond Brite makes it simple to match your color schemes with a selection of 17 unique factory-blended finish colors. The pigments are mixed thoroughly, non-fading, and wear-resistant. The common lifespan of this plaster is 9 to 12 years.
PebbleTec: PebbleTec brand pool coatings offer timeless splendor and natural refinement. The naturally polished pebbles that make up this genuine pebble finish give it a moderately rough texture and non-slip surface.
A pool may mix with landscaping and certain swimming pool water features, thanks to the special properties of this brand of plaster, producing the most natural setting conceivable. For people who are searching for a more natural appearance for their pools, spas, or other water systems, the PebbleTec pool interior would be the ideal option.
A variety of spectacular pool water colors are available with PebbleTec's realistically patterned surfaces, including Caribbean blues, profound ocean blues, emerald greens, elegant blacks, and grays, as well as vivid lagoon greens.
QuartzScapes: Your pool and spa will have a stunning and long-lasting appearance thanks to QuartzScapes. The QuartzScapes plasters, a superior mixture of fragmented quartz, white concrete, and color tinting, combine durability and attractiveness for an unmatched finish that will stand the test of time.
A ceramic color coating is applied to quartz crystals, one of the world's hardest rocks, to create a long-lasting aesthetic that will not fade or scratch over time. 16 vivid colors are available in this option. The lifespan of QuartzScapes plaster is approximately 9 to 15 years.
The QuartzScapes Reflections specialized aggregates will give your pool a beautiful glow when included in your pool finishing, whether you decide to go subtle or a little louder with the enhancement.
RiverRok: The natural pebble pool finish from RiverRok combines carefully chosen natural pebbles with strengthened Portland cement, making it perfect for newly constructed or renovated swimming pools.
RiverRok plaster finishes, which come in a range of hues, are precisely blended to offer pool owners a very appealing and lasting alternative to customary pool coverings.
Florida Stucco: Florida Stucco provides many types of pool plaster finishes consisting of high-quality colored quartz pebbles (aggregates), white Portland cement, and unique compounds to improve strength, thickness, bonding, and hardening. There are 14 lovely color choices to pick from.
Plaster Colors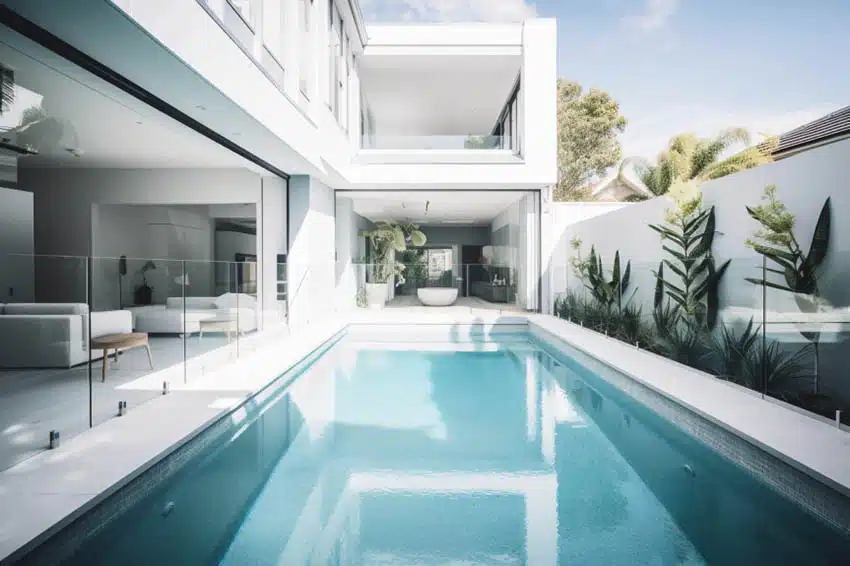 White: A tried-and-true, vintage pool plaster finishing color is white plaster. When it was essentially the only pool finish obtainable in the 1960s, it gained popularity. White plaster is still extensively utilized today for individuals who want to recreate the glitz and glitter of Hollywood.
The soft turquoise color of a typical swimming pool will appear in the water when using white plaster. However, the color will become a few shades darker when sunlight is usually present.
Light-Colored: When opposed to a white plaster finish, a light gray or blue pool finish provides your swimming pool with a little more color saturation.
As you walk from the entrance to the shallow part and then into the deep side, a light blue plaster offers a gradient hue. The water hue will get darker as the pool gets deeper, which is particularly obvious with light-colored plasters.
Blue: It may appear as though you had a pool filled with sapphire stones depending on the blue you use. Using plaster in a navy blue hue is the simplest way to get this appearance.
Remember that colors can differ slightly between manufacturers. Whatever you decide, a light-colored deck and blue plaster work nicely together to make the pool stand out.
Green: The majority of green-colored types of pool plasters are normally encountered in resorts, where they are used to create pools with a light turquoise color that has a distinctively tropical feel.
The water's color in the shallower regions of the pool contrasts sharply with the water coloration in the deeper parts as with any light-colored plaster.
Teal: Teal-colored plaster has a distinct appearance, and many homeowners prefer it for a variety of reasons. Teal plaster does have a darkened tint than green plaster, which results in darker, more consistent water color all over the pool.
Dark Gray or Black: Dark gray or black plasters genuinely stand out and add a high-end aesthetic to the pool. The stone deck, including the dark stone wall with black water theme accents, looks great with a dark gray plaster. These plasters improve the reflectivity of the water, simulating a natural lake.
If you use black plaster, it will appear as if you have a massive pool of crude in your yard. The reflection of the sky as well as the encompassing setting off the pool's surface, on the other hand, is incredible, and it incredibly complements a modern home.
Medium Gray: Medium gray delivers a more subdued appearance than teal types of pool plaster as it does not have quite so much green in its hue. It also provides the pool with a more modern and luxurious feel.
With this level of tint, any water streaks on the plaster would be less visible. This option also gives you more versatility because it works well with both a light and dark patio.
Plaster Cost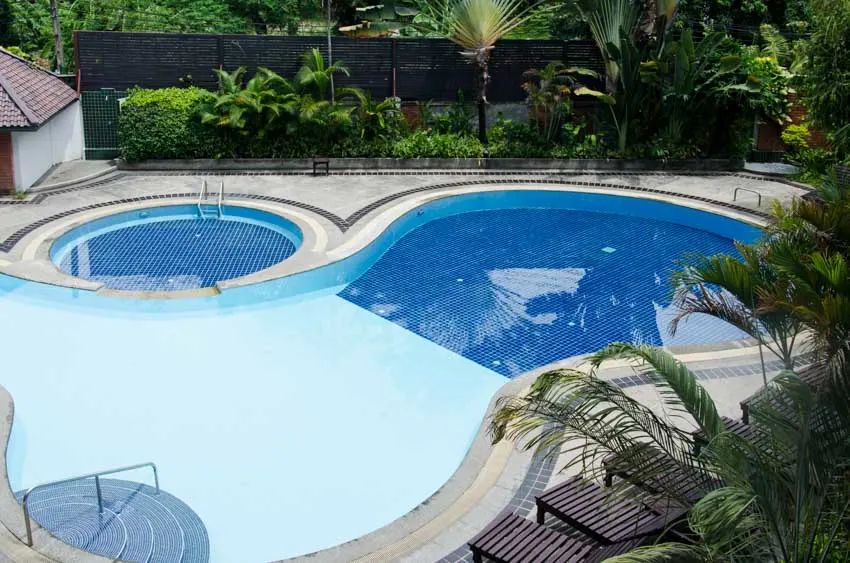 The cost of plastering a concrete or gunite pool will be most heavily influenced by the overall surface area (in square feet). The quantity of work and materials required to build a new pool surface depends on the size of the pool. Typically, the entire price comes out to $5 to $10 per square foot.
Plastering an in-ground pool typically costs around $2,500 to $6,000 including labor and supplies. The overall cost of refinishing your pool will be significantly influenced by the size of your pool and your location. After estimating the work and attention your pool will necessitate, pool plastering contractors charge on a per-job basis.
Plastering Process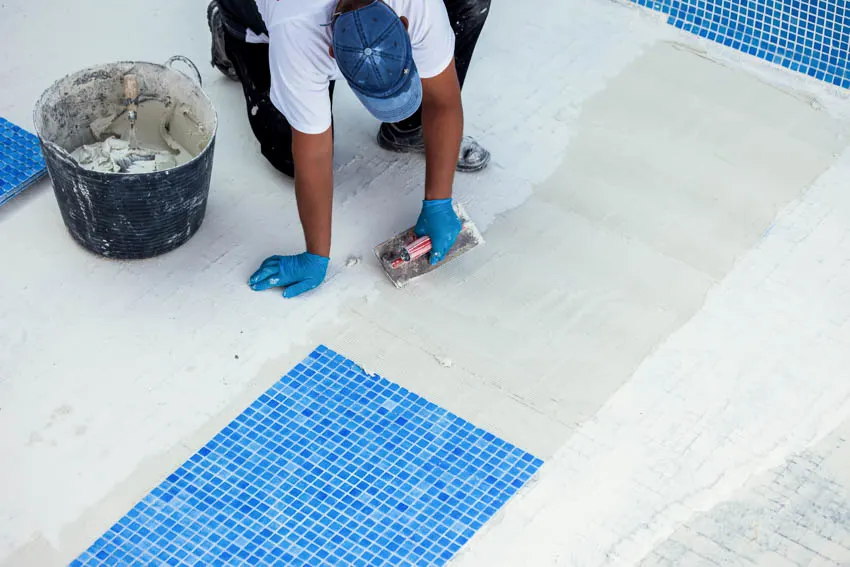 Plastering a swimming pool is best accomplished by a qualified contractor who has the necessary knowledge and tools. The standard procedure is as follows:
• Cleaning and emptying the pool, removing debris, and scrubbing the pool walls using a wire brush or chisel to eliminate peeling plaster are all steps in the process.
• The pool is being acid-washed.
• Sanding the pool surface to obtain a seamless surface that will aid in the adhesion of the new plaster.
• Applying the fresh plaster in small pieces and letting each thoroughly dry.
• Adding new water to the pool and changing the chemicals.
How Long Does It Take To Plaster A Pool?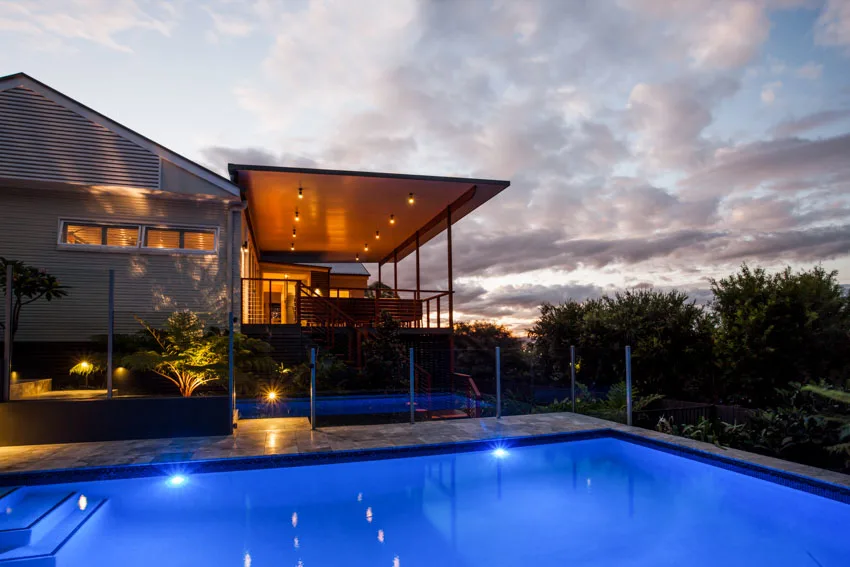 The answer is determined by the size of your pool and the amount of work required. The procedure could take much longer if your pool has substantial plastering damages or other architectural faults. Numerous pool plastering works, on the other hand, can be accomplished in a few days to a week.
Replastering an average-sized pool takes anywhere from 4 to 7 days on average. Unfortunately, rainfall, thunderstorms, as well as hurricanes can all delay the replastering process.

Another alternative to plastering is applying a pool liner over the plaster. However, this process can take several weeks. A typical pool liner can last from 10 to 15 years before needing replacement.
New Plaster Problems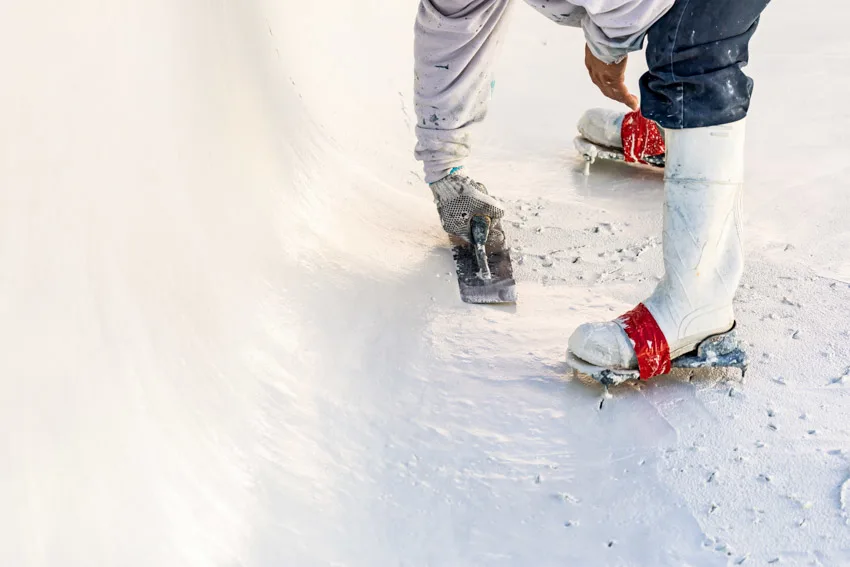 White patches appear upon occasion in newly installed white and dark-colored types of pool plaster. The seamless yet ugly white spots usually appear during the initial year of plastering.
Pool plasterers wrongly assumed that aggressive pool water created the spotting and gave it the name "spot-etching."
A thorough test identified that the spotting is caused by poor plastering techniques. The key contributing factors are injecting calcium chloride into the plaster mixture, applying too much water to the plaster layer while troweling, as well as troweling too late.
In some cases, these poor practices result in a brittle, porous, and softening surface. Experts concluded that the patches and adjacent areas had not been formed by vigorous water.
Whenever water is troweled again into the plaster layer, it creates an aqueous cement mixture referred to as laitance, which causes porosity, contraction, and cracking. Deformation and cracking are further exacerbated by the inclusion of calcium chloride in the plaster mixture.
Another element that contributes to the visibility of white soft spots is the broad flat "graying" of plaster induced by the application of calcium chloride to the plaster mixture.
This issue is made more noticeable by the color contrast between the sporadic white spotting and the bigger gray areas encompassing the spots.
How Long Does Plaster Last for the Pool?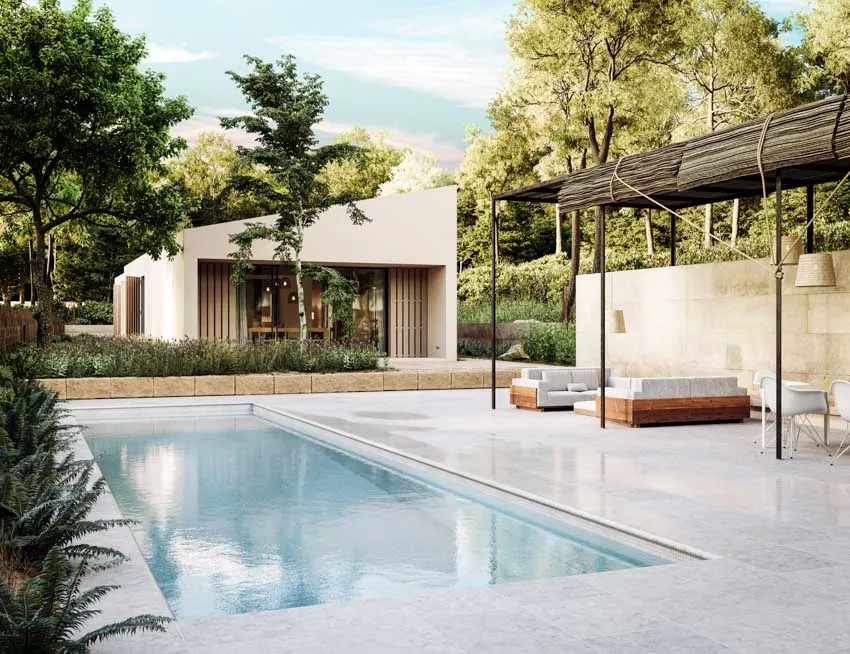 A well-maintained pool's plaster surface can survive around 15 to 25 years. Water balance that is correctly managed is the key to a pool plaster surface's long life.
Every pool surface that has improper water balancing will be easily damaged, and in many situations, the warranty on that surface will be invalidated.
Most of Mother Nature's best resources are used to make most types of pool plasters. The major sector of the building industry includes cement-based products like plaster.
Cement is the world's and the building industry's backbone. Hence, pool plaster is indeed durable.
See more related content in our article about the different types of pool design software on this page.