Here's our gallery of backyard lazy river pool ideas including the best water features, cost and designs.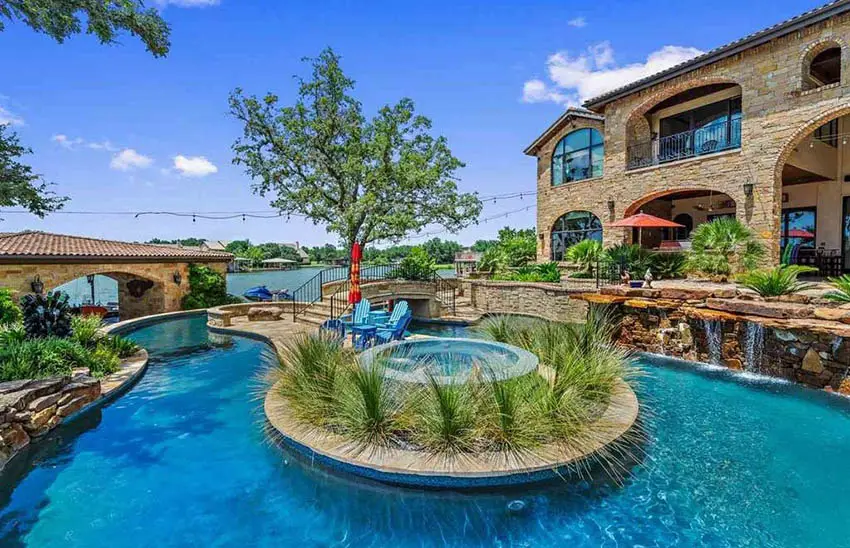 A lazy river is one of the most well loved attractions in water parks — a gentle, calming ride which takes you through a tranquil course, while basking in the sun. Because of the enjoyable feeling it offers, a lot of people have become drawn to making it a part of their own home. Surely, any swimming pool is a great addition to any backyard, but a lazy river can heighten the experience and make it more entertaining and relaxing.
Below, we give you the answers to some of the most common questions on building a backyard lazy river, along with some great design ideas and tips you can try out for your own home.
What Is A Lazy River Pool?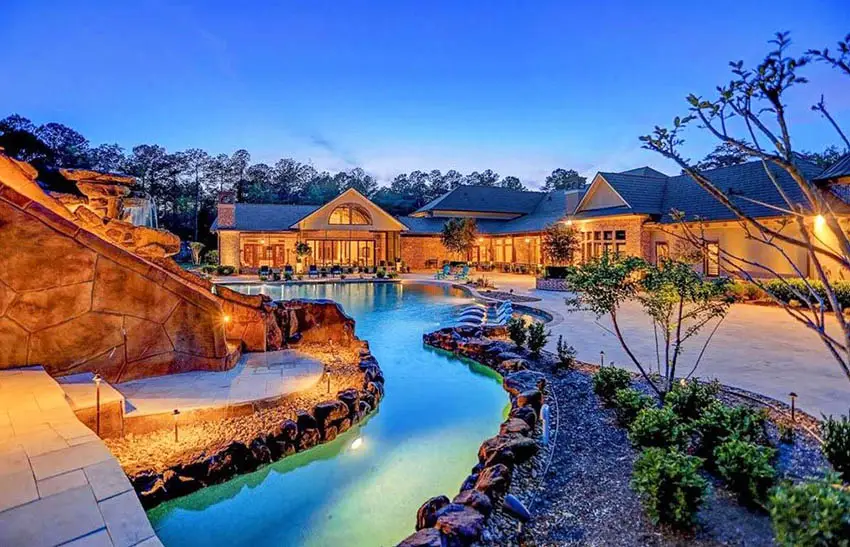 A lazy river is a shallow pool, usually 2½ ft. to 3½ ft deep, that has a slow water current. It flows similarly like a river, and provides a relaxing way for guests to gently gently ride along, while lying on rafts.
Lazy rivers are a common feature found in water parks, resorts, hotels, community pools and recreation centers. But nowadays, you can find them in residential settings too — thanks to a more simplified design, installation and water current system. Most lazy rivers connect to larger pools, while others simply complete a course or a circuit. They appeal to audiences that are looking for a calmer and slower paced activity, compared to thrilling water slides.
How Do Lazy Rivers Work?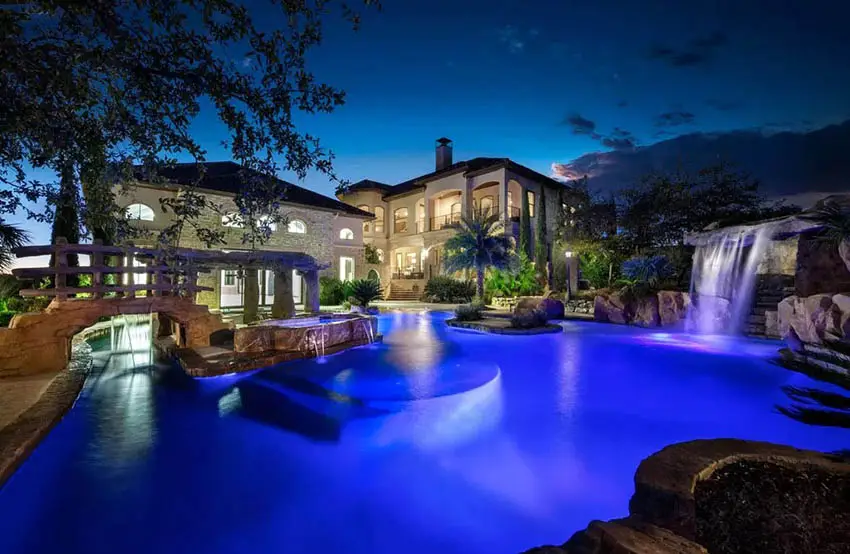 The heart of the system of a traditional lazy river makes use of the same pumps found in pools and spas, only in a larger size and quantity. The gentle flow of water and the slow current in lazy rivers are produced by a current system with flow couple jets and intake locations. Together, they work to ensure that the current is even and consistent all throughout the course of the lazy river.
For large lazy river pools, the pumping system moves tens or even hundreds of thousands of gallons of water at typical speeds of 1 to 3 miles per hour. This is achieved by placing low or medium head pumps in strategic locations all throughout the course of the artificial river.
Backyard Lazy River Pool Cost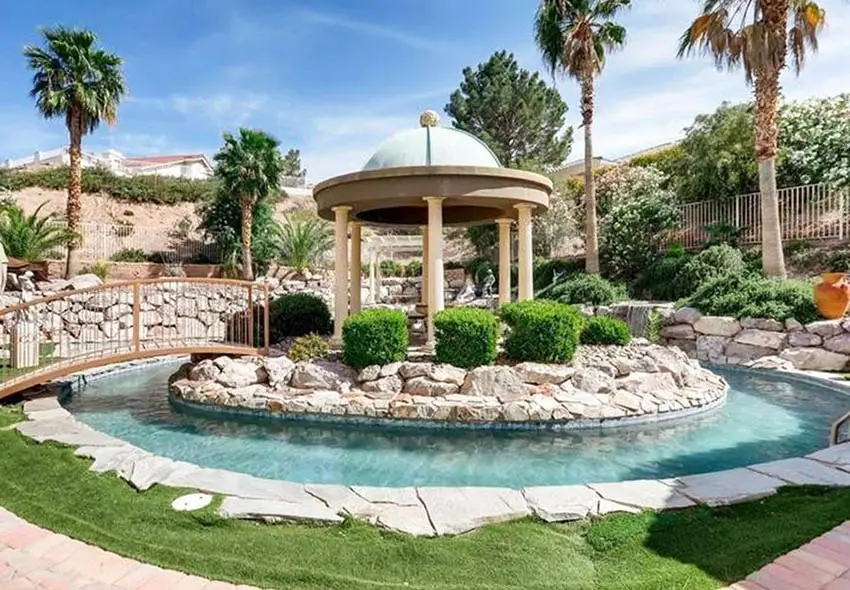 A lazy river is mostly a customized pool, so this means that its construction cost varies greatly depending on the type of project and features included. Most consider it to be very expensive type of luxury swimming pool— with estimates from pool experts exceeding up to $500,000. However, this does not mean that you can't build a backyard lazy river pool with a lesser budget. As we have said, there is no accurate value for it as it depends on a number of cost factors.
Average Lazy River Pool Cost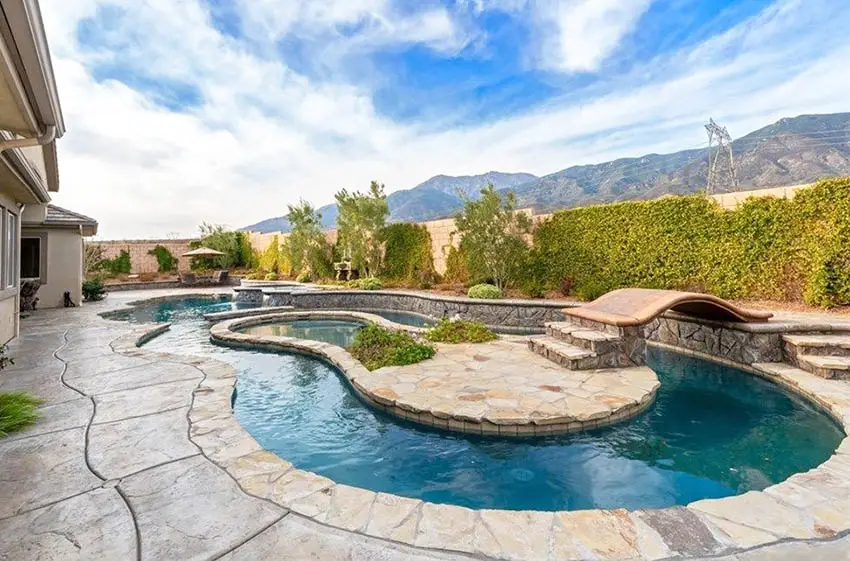 On the average, a simple backyard lazy river pool in an oval shape costs below $120,000. However, a 400 foot backyard lazy river pool with a more complex design can cost over $600,000.
Based on the estimated prices of trusted pool makers, the standard cost for a 50ft x 100ft x 52in backyard lazy river pool is around $80,000, but the price gan up to $88,000 if you want it with a current. Whereas, a smaller sized lazy river pool with the dimensions of 18ft x 30ft x 52in only costs around $9,000. You can get the similar size with the current for only $11,600.
If you are working with a limited budget, you can explore other options to save on costs. You can check pool suppliers as they offer no frills, oval shaped lazy rivers with prices that range from $7,249.99 to $9,649.99 for a 15ft x 24ft x 52in size. These packages already come with the pump, filter, hoses, connections, skimmer and the ladder.
If you'll notice the price for each size of lazy river pool differs greatly, and this also varies from one supplier to another. If you want to get the best deal, obtain quotations from at least three suppliers for comparison.
Expect your total project cost to go lower or higher depending on the following factors:
● The size of the lazy river pool – The pool size is the most significant factor which defines the price. In general, expect to pay around $100-$170 for every square foot.
● Location – The area where you live is also another factor since the price of labor and materials vary from one place to another. Aside from this, you also have to pay for permits needed to construct a backyard lazy river pool.
● Lazy River Type, Speed and Dimensions – The type of backyard lazy river pool
Every river holds a different construction price. A pool for family fun or relaxation is classy and elegant, but pricey. Or it could be adventurous and exciting, which will also cost you more. So build a river that fits your personality and life
When planning for a lazy river consider the speed of the current and its mode; whether it will be fixed or varied, or it will twist or go on a straight path. Also, consider the length and dimensions. Obviously, the longer and deeper the pool, the more labor, and more materials will be required.
● Materials – The materials used in making a backyard lazy river pool will take up a chunk of your budget. The most common and cheapest material to use is vinyl. Whereas, concrete or gunite is considered to be a premium material and considered to be the most expensive. Another option is fiberglass, which is considered to be a mid priced material and costs between a vinyl and a concrete or gunite pool. Finishing materials such as tiles and mosaics can also add up to the total cost of a backyard lazy river pool.
● Design and Additional feature – The "extras", accessories like hot tubs, waterfalls and other water features, can cost you more than the lazy river itself. There are additional add-ons, such as a water slides and diving boards. There are also accents such as fire features, pool lighting, outdoor kitchens and more.
● Maintenance System – Aside from the materials and labor needed for construction, building a backyard lazy river pool will accrue additional costs for its maintenance. Lazy river pools need maintenance systems which will prevent any type of debris from floating along the water current.
According to homeowners, the monthly cost to maintain a backyard lazy river pool is around $500. In addition to this, you will also be needing extra budget for the maintenance of the pressure valves and pumps that keep your water flowing. Lastly, expect to pay more for the chlorine that you need for the water.
Lazy River Pool Kits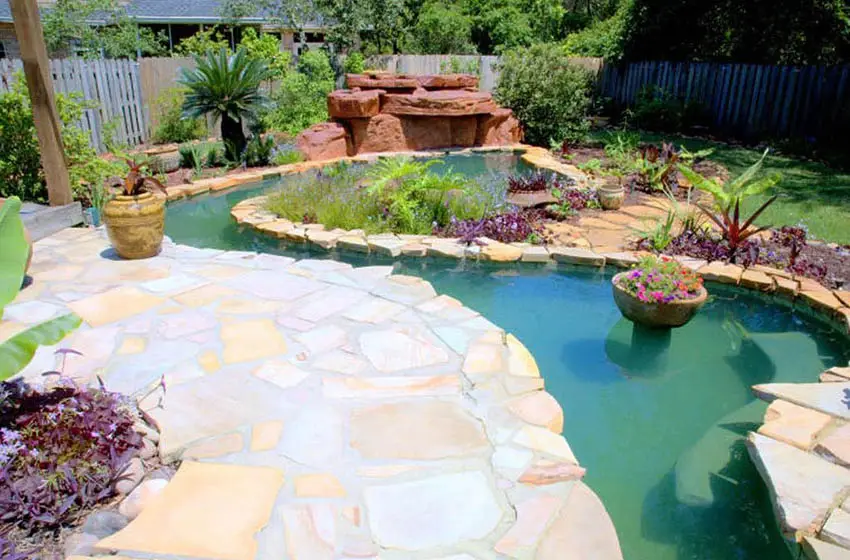 If you want to have a backyard lazy river pool but you are dealing with a limited budget, one alternative you can try to save on costs is to use a do-it-yourself lazy river pool kit. Trusted suppliers offer lazy river pool kits that are easy to assemble and perfect as a DIY project. These pool kits do not only contain the complete materials that you need in building a backyard lazy river pool, but they also typically come with a 20-year warranty.
When you decide on ordering a lazy river pool kit from a pool kit retailer, they will give you several options for the materials. The total price will depend on your specifications, but in general, they cost less than custom made lazy river pools. Based on the estimates of trusted suppliers, a 44′ x 48′ x 48 lazy river pool kit approximately costs $28,905.00
There are several components of a lazy river pool kit and each element is made up of a different material. The pool walls, for example, can either be made up of polymer or steel. The pool wall braces are fabricated with heavy duty steel, while the pool liner is usually made of vinyl. Pool liners come in a variety of colors and designs, most of which mimic the appearance of tiles.
Below are some of the typical contents of a lazy river pool kit.
● Pool liner
● Pool wall
● Pool wall braces
● Pool bottom
● Corner Radius
● Pool coping
● Polymer pool step
● Liner Over Steel Pool Step
● Additional features (optional) : Pool Bench/ Swim Out, In pool spa, spill over spa
● Pool Step Jet Kit
● Deck Jets
Lazy River Pool Designs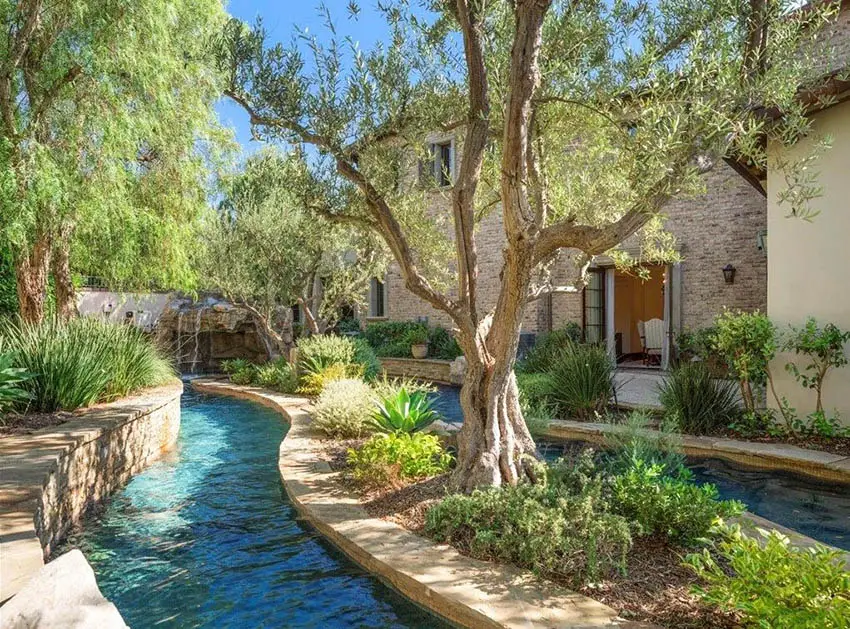 There are a lot of designs which you can explore for lazy river pools. You can customize it in any shape, size and style that you want — from a simple round or oval shaped pool to more complicated forms.
There are also several features and accessories which you can add to your backyard lazy river pool design. Here are some popular and special design features which you can try out:
Waterfall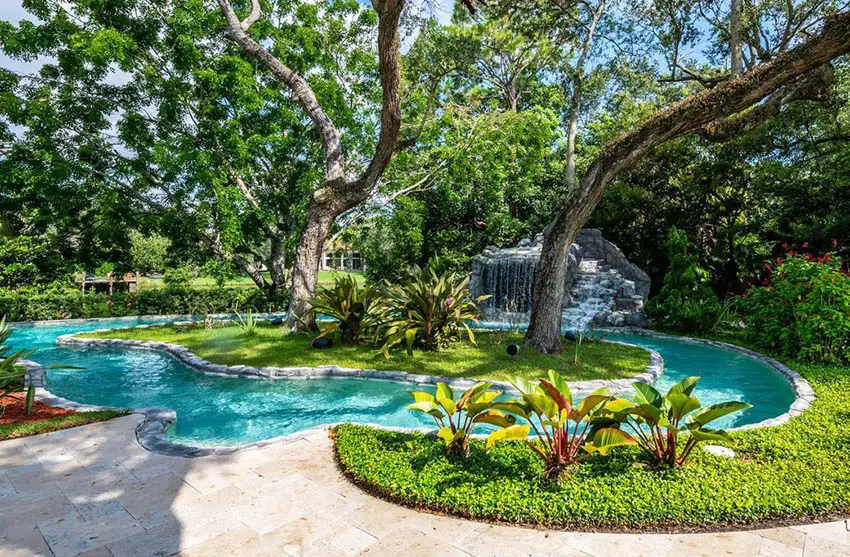 Swimming pool waterfalls are not only the perfect center of attention in backyard lazy river pools, but they also help elevate the experience. A stunning waterfall is the perfect feature for a tropical themed backyard. To complete the look, you can add in some palm trees and rocks in the surrounding landscape.
Fountains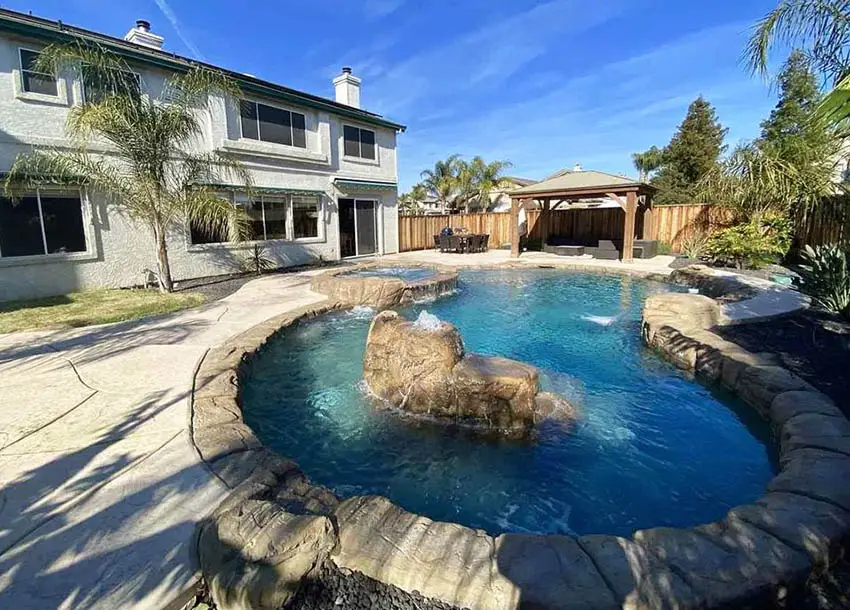 Fountains which have gentle bubblers or spray streams of water that fall away into the lazy river are sought after features of a custom design.
Rock Water Features
Custom rock features with waterfalls, slides and diving platforms can enhance the ambiance of the backyard.
Pool Grotto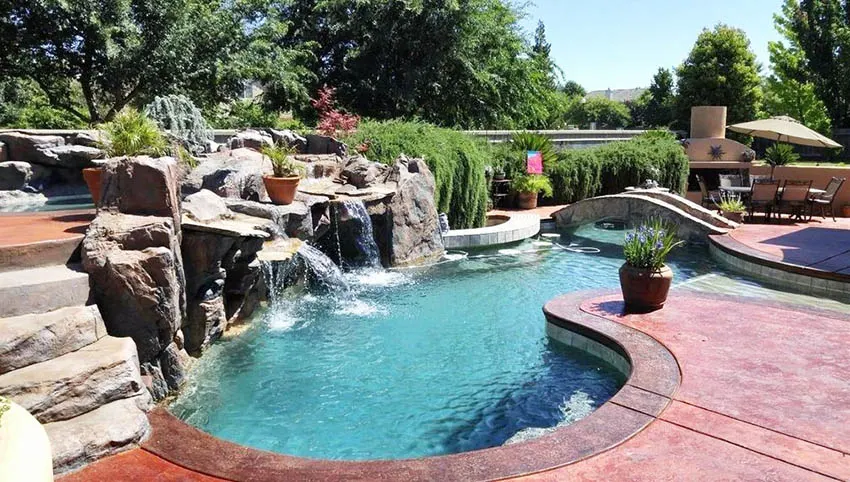 A grotto is a large rock waterfall with a nook or a cave like space beneath. A pool grotto can serve as an extension of your lazy river. This is a fun addition since you can swim into the cavern or relax in it.
Island
Adding an island to your lazy river pool completes a "beach getaway" vibe. You can put an island at the center of the lazy river and it can serve as an oasis where you can set up almost anything. You can put in a swimming pool cabana, or an umbrella and some chairs if you want a small nook for eating out, or alternatively, you can add lounge pool chairs for added relaxation.
If you have some more budget, you can also ask a professional to install a hot tub or a soaking pool on the island. To make your island more interesting, make sure to work on the landscape — build a ring of trees and flowering plants around the island for more visual interest.
Sunbathing Shelf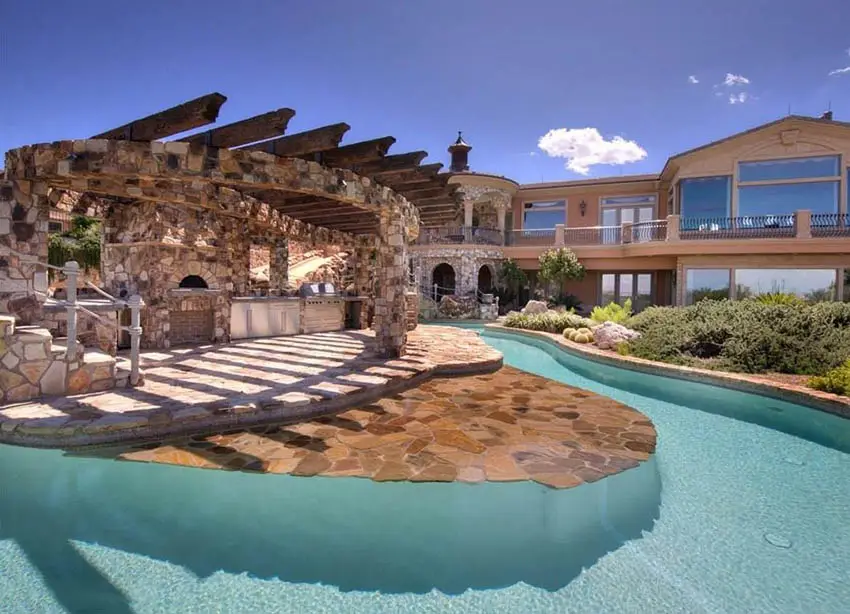 A sunbathing shelf provides a place to enjoy the water and stay cool without leaving the comfort of the pool. These come in a variety of style to resemble a natural beach or rock formations.
Bridge Over the Lazy River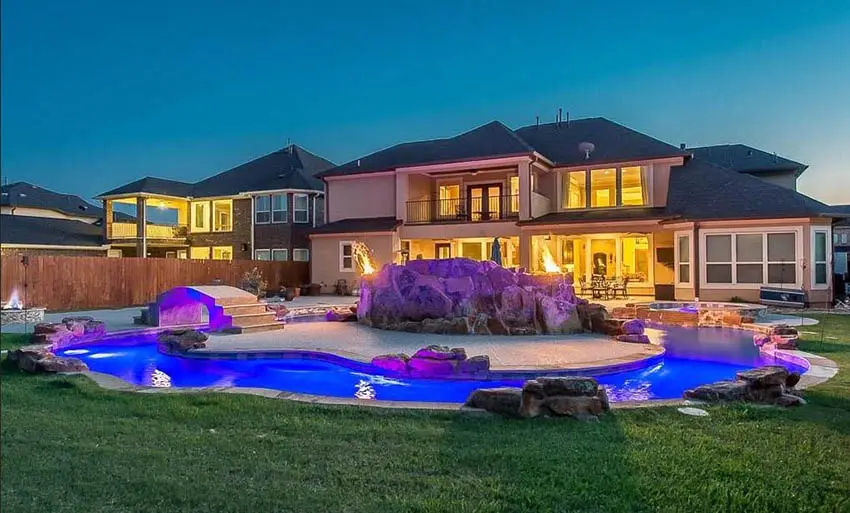 If you have an island, you can also add in a bridge which will extend over the lazy river. You can experiment with the design of your bridge and use a variety of materials such as bricks, rocks and metal, to make it more interesting.
Scenic elements and landscaping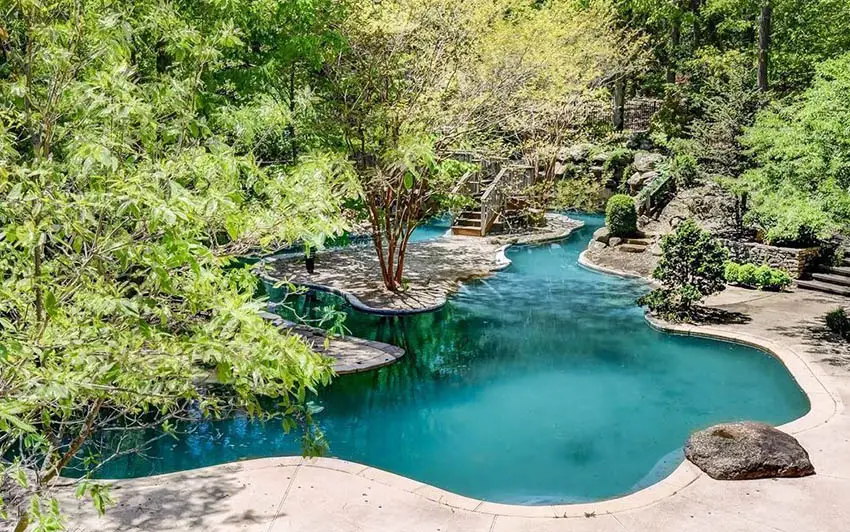 For a more enticing lazy river, you can add other scenic elements and landscaping. Trees, plants and large planters can complete the whole look of your tiny oasis and gives a feeling of being on a real river or tropical lagoon with nature. See more lagoon pool ideas here.
Custom Lazy River Pools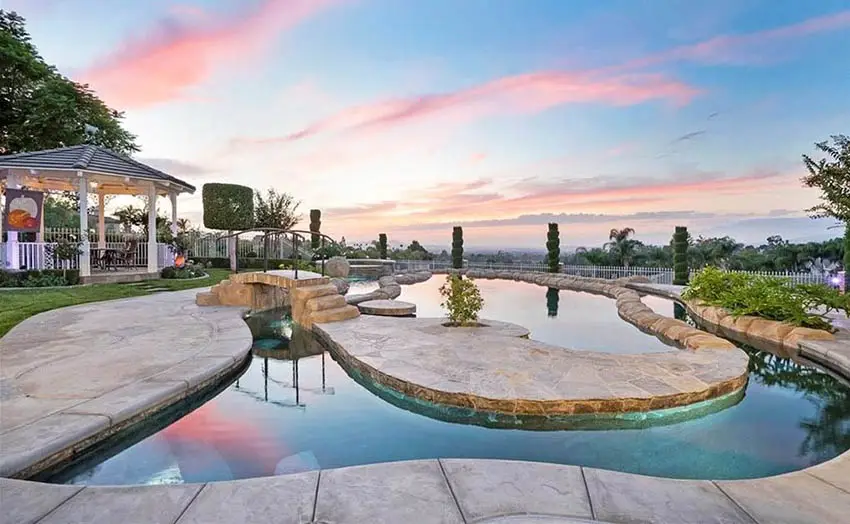 Aside from ready to assemble pool kits, another option you can explore is a custom made lazy river pool. Custom lazy river pools are the perfect choice if you have a particular design in mind that you want to achieve. In this option, your lazy river pool is tailor made according to your specific needs, requirements and preferences. You can have it constructed in any way you want by a pool designer, manufacturer and supplier.
In order to plan your custom lazy river pool properly, you need to have an idea on some of the common design considerations, requirements and standard measurements for lazy rivers:
● Standard measurements of lazy river pools – Usually, the standard measurements are 50 feet long by six feet wide and 3.5 feet deep. But this can be adjusted according to what you want.
● Minimum width of lazy river pools – The width of the pool has to be at least 6 feet.
● Minimum depth of the pool – the depth of lazy river pools start at 3 ½ feet.
● Minimum size of plot for lazy river pools – Most swimming pool designers can create a pool with a lazy river in a plot with an area of 30 feet x 40 feet or 20 feet x 50 feet.
● Recommended course length for lazy river pools – Lazy rivers sprawl, so pool professionals generally propose at least 50 to 60 feet length for the pool. Given the rate or speed of the current, this length is enough for the course to be enjoyable.
● Recommended speed of the current – The current of lazy rivers are gentle and slow . A laid back ride moves at the rate of 1 to 2 miles per hour, however if you want something livelier, you can go for something closer to 3 miles per hour.
For more ideas check out our swimming pool water features gallery.