Here are a variety of pool retaining wall design ideas including popular types, cost and building tips.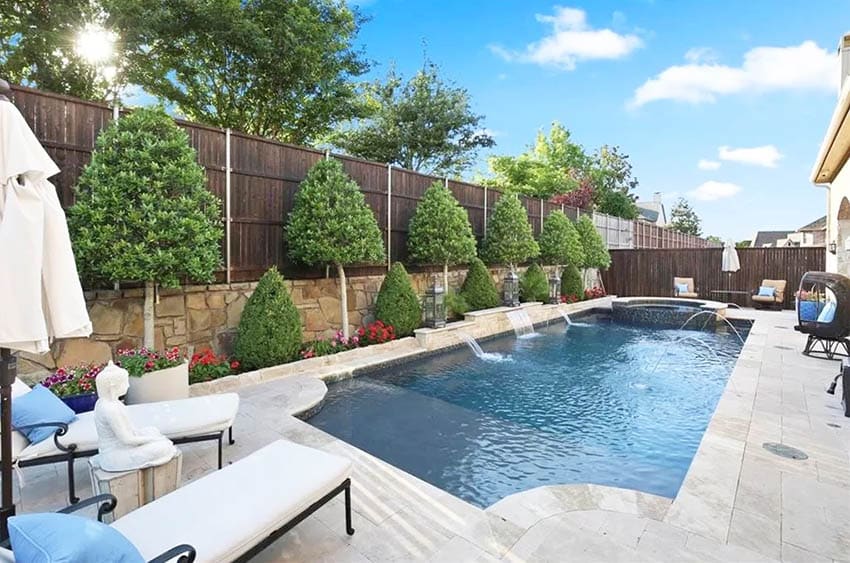 Building a pool is an exciting event for homeowners. Not only does a pool provide a place to lounge outside, but it also skyrockets your property's market value. While the end product is enjoyable, though, the process of building a pool can be stressful. If the subject of pool retaining walls has been brought up, you may not be sure if your pool will need one.
What Is a Pool Retaining Wall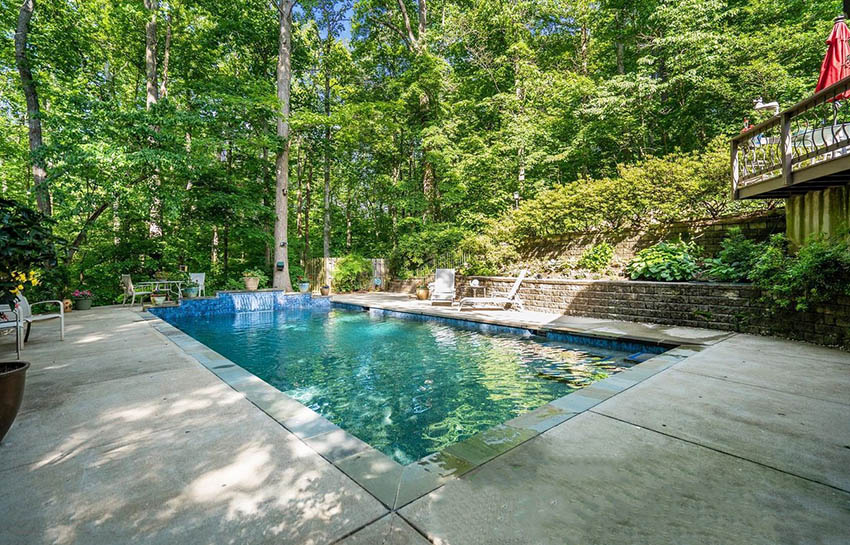 A pool retaining wall is a small wall that surrounds part of a pool. The wall serves as a barrier around the pool, as well as housing for additional features such as waterfalls. These walls can range in height dramatically, from one to several feet.
Pool retaining walls can be made in any design scheme to suit your pool and the layout of your yard. They can even be designed so that they create a bench for additional seating on the pool patio. Waterfalls, jets, fountains, and planters are just some of the additions that can be added to your retaining wall. Not only do these additions increase the enjoyment of your pool, they also increase the value of the property.
The options are truly endless when it comes to the design of your pool retaining wall. The contractor that is installing your pool can help you to decide on materials that would be best for the type of design you would like to create.
Do I Need a Retaining Wall for My Pool?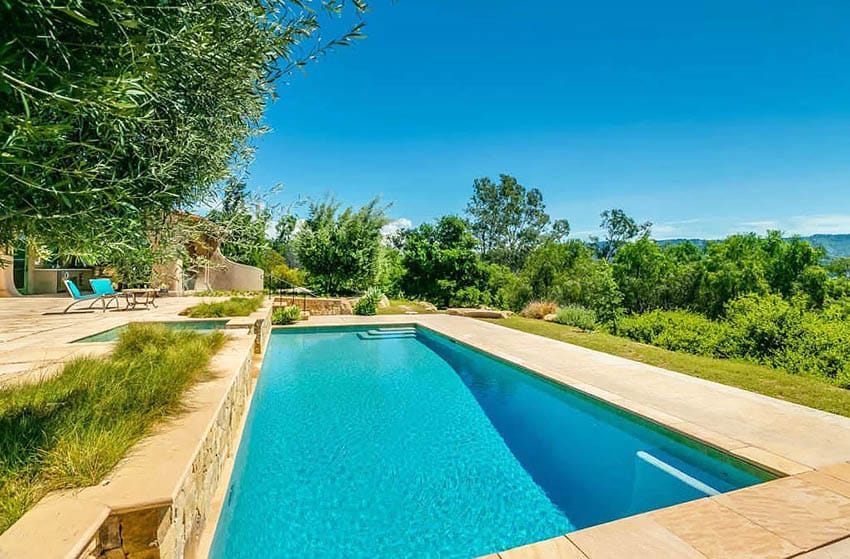 If you have a level yard, chances are that a retaining wall is not necessary. You can choose to build one, but it is not necessary for the construction of your pool. Whether or not you need a retaining wall for your pool is dependent on the levelness of your yard. Yards with significant slopes will likely necessitate building a retaining wall to ensure that materials do not run down the slope onto the patio or even into the pool.
Another reason you may need a retaining wall for your pool is to prevent the high side of the slope from eroding. A retaining wall serves as a hard barrier that prevents soil from falling onto the pool patio. This is especially helpful in areas that have particularly loose soil. Loose and sandy soil make the chance of erosion higher, making this type of wall worth the cost.
The necessity of building a retaining wall can be discussed with the contractor who is overseeing the installation of your pool. They will be able to give you a final determination on whether a retaining wall is needed, as well as how it will fit into the design of the pool overall.
Pool Retaining Wall Cost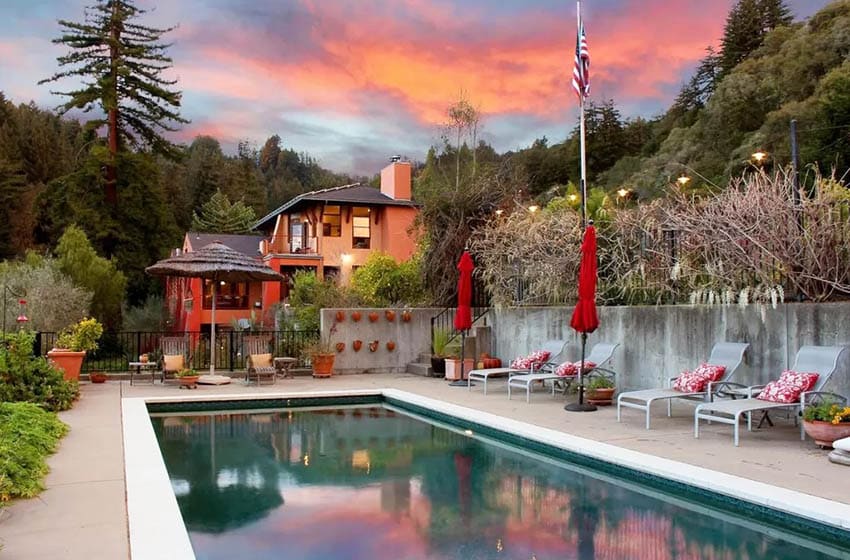 The cost of a pool retainer wall is determined based on the materials used, the design of the wall, and the labor of installation. As discussed, retaining walls typically fall into one of two types: masonry walls or segmental walls. The cost of these two types varies greatly, making it a significant factor in the price of the wall overall.
Segmental walls are made from pre-cast blocks stacked without mortar. This type is more budget-friendly and can even be done as a DIY project. Masonry walls, on the other hand, are made from poured concrete that is faced with stone. The cost of this type is driven up because of the stone that is used to face the wall.
The size and design of the wall will also play a part in the overall price. Larger retaining walls will require more materials, making them more expensive. Larger walls also require more effort for installation, raising the price. If you choose to add any features to the wall, such as a waterfall, this will raise the cost as well.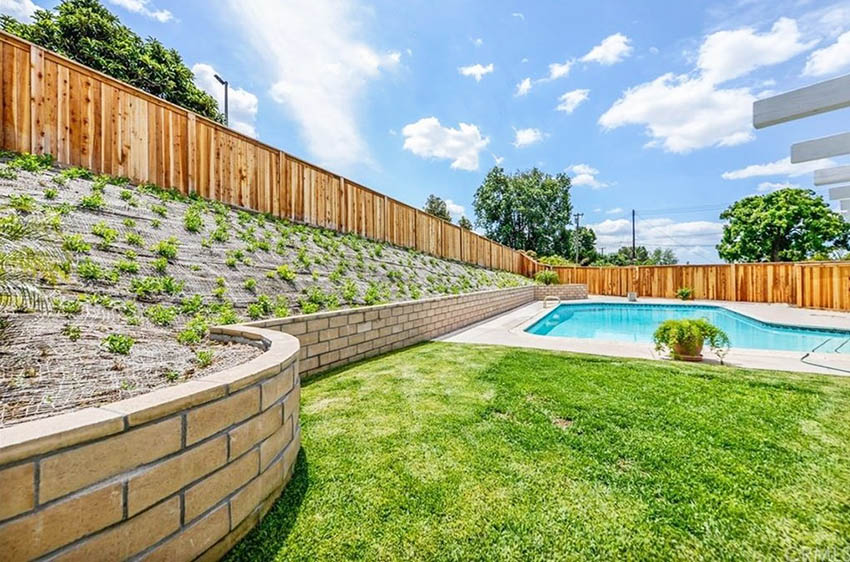 The final piece that factors into the price of a pool retaining wall is installation costs. If you choose to go with a segmental wall, you can save money by building it yourself. Conversely, a masonry wall requires professional installation in most cases, so you must hire a contractor.
All in all, the cost of a pool retaining wall can vary greatly. However, there are some general estimates that can be made. On average, most people seeking out a retaining wall will pay $1,000 to $5,000 for a partial retaining wall or between $6,000 and $20,000 for a full retaining wall with additional features.
Retaining Wall for a Pool On a Slope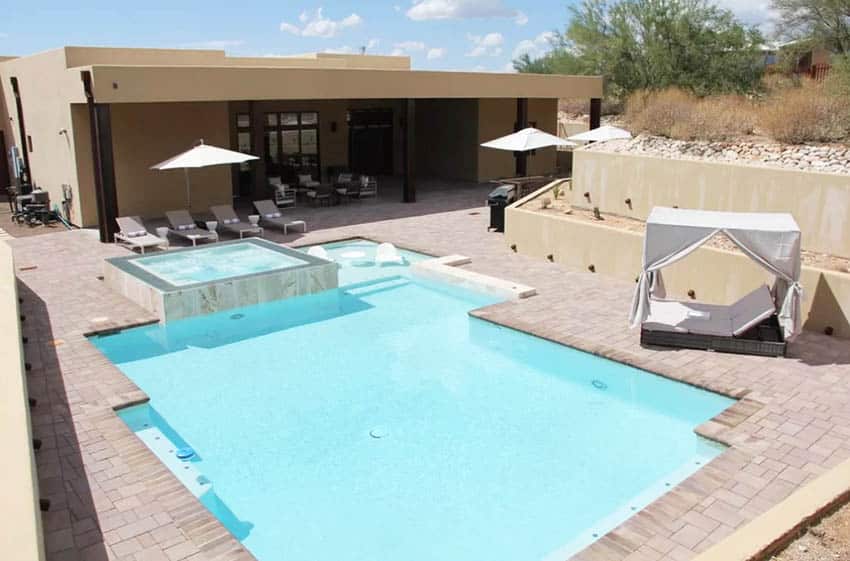 Unless you live in a perfectly flat part of the world, chances are you have a sloped yard. If you're looking to put a pool in your yard, though, this slope can become a bit of a problem. There's no need to resort to an above-ground pool and miss out on all that an in-ground pool has to offer. As discussed above, retaining walls serve as a tool to ensure that your in-ground pool is not negatively impacted by the slope.
When putting a pool on a sloped yard you have three options. You can put the pool primarily on the high point, the low point, or somewhere in the middle. Putting the pool primarily on a low point makes it more likely that water and debris will become a problem. Installing the pool primarily on a high point is often impossible, making it necessary to go somewhere in the middle of the slope. Your backyard layout will impact the pool shape and size you are able to select.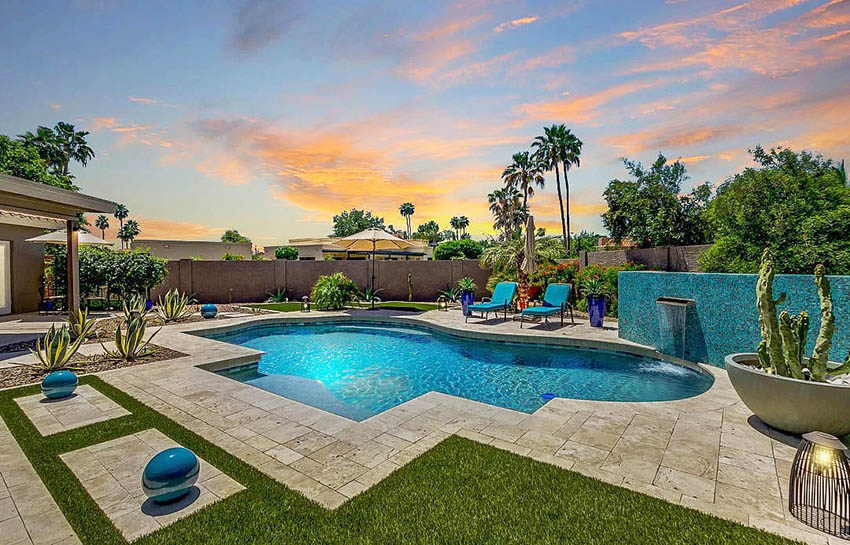 An retaining wall can be used to create a pool water feature giving it a focal point while adding character to the design.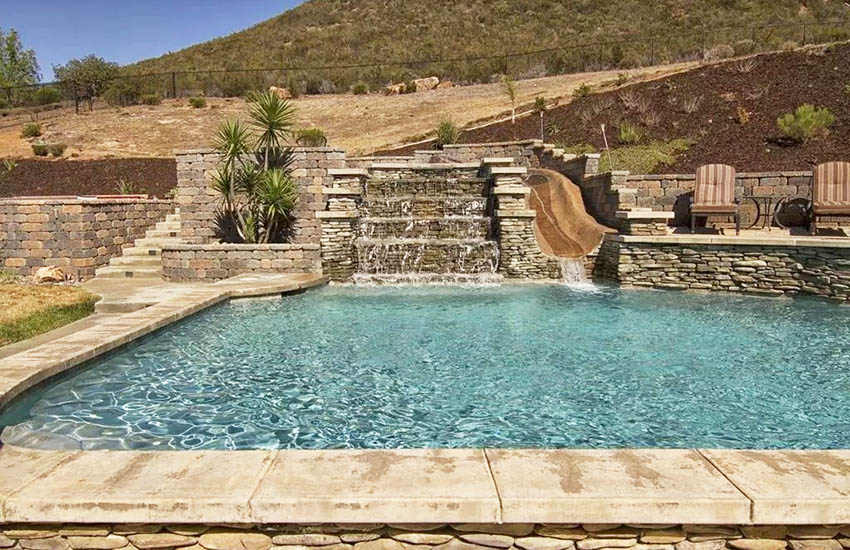 This swimming pool design uses a stacked stone retaining wall with custom slide and waterfalls to create an impressive backdrop. A concrete patio is added to create an inviting place to gather and entertain.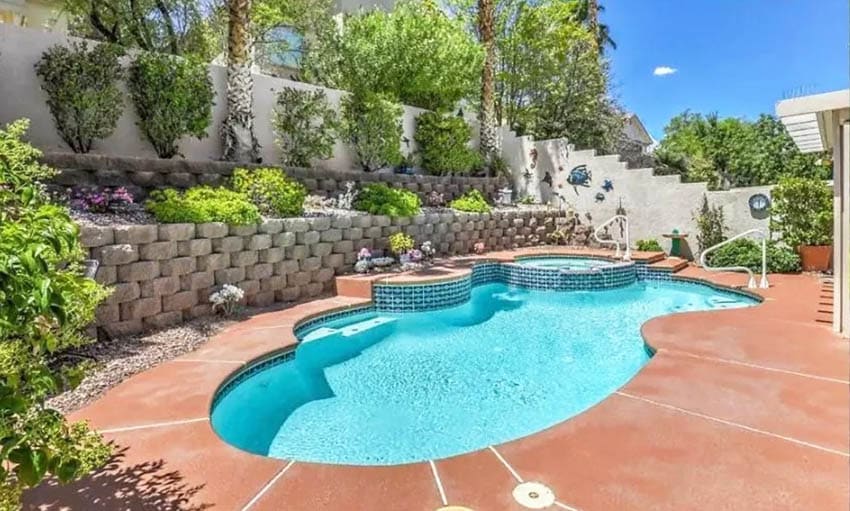 This backyard pool features a rustic concrete block retaining wall with a tiered garden.
Above Ground Pool Wall Problems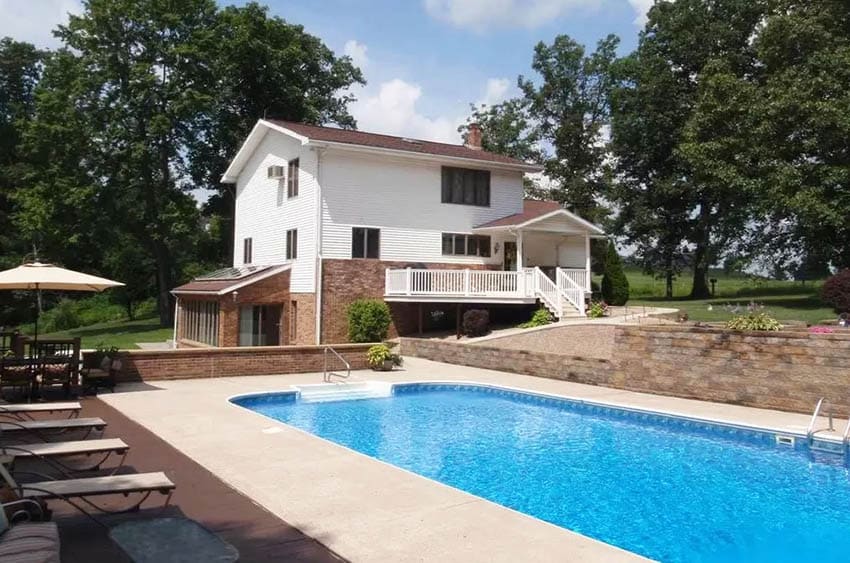 Above-ground pools are not immune to the problems that a sloped yard can cause. These pools can also experience issues associated with runoff and debris, primarily on the pool wall itself. While a retaining wall is not needed to prevent runoff from entering the pool, one is needed to support the high end of the slope.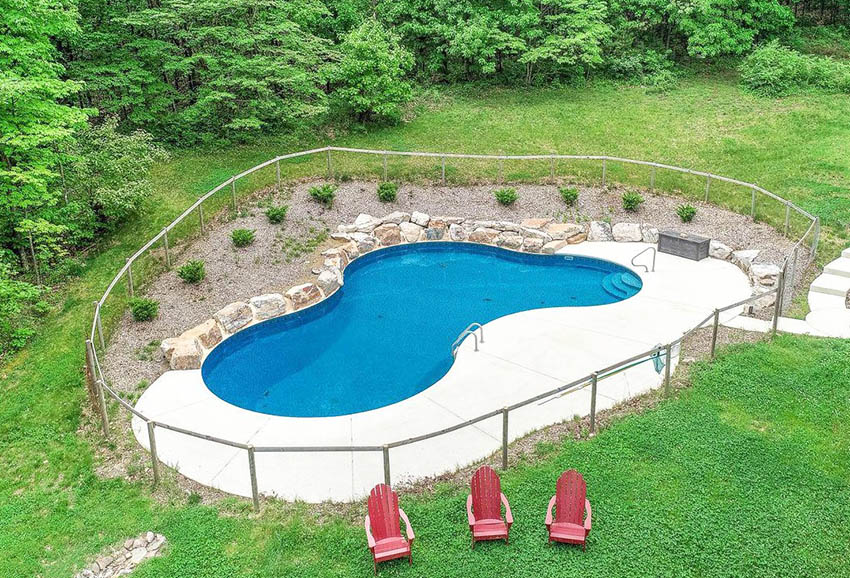 If the high end of the slope is not supported by a retaining wall, it may begin to erode over time. This can cause serious damage to the wall of your above ground pool, and can even cause structural collapse. Adding a retaining wall can prevent this while also ensuring that your above ground pool looks finished and permanent.
For more related designs visit our swimming pool fence ideas page.