Here's the pros and cons of faux wood blinds with what they are, different types of materials, if they're energy efficient and how faux wood compares to real wood blinds.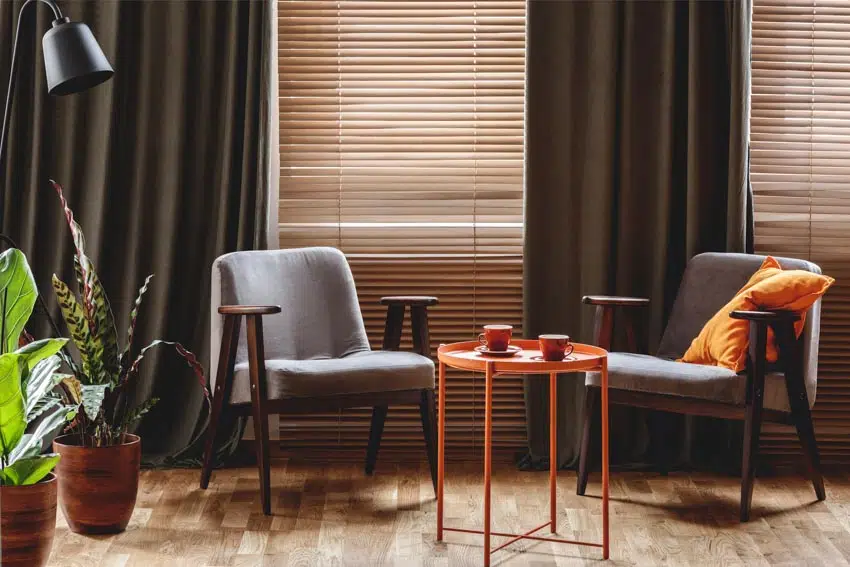 Having control over the level of light, ventilation, and privacy is one of the major features we look for in a window treatment, and undoubtedly the faux wood blinds offer this feature at a fraction of the cost. Aside from functionality, the versatile window treatment brings that luxurious feel and look of natural wood into your interiors.
Faux wooden blinds are made from polyvinyl material, which makes them more durable compared to your blinds, which are made of wood which makes them more durable and resistant to moisture damage.
What Are Faux Wood Blinds?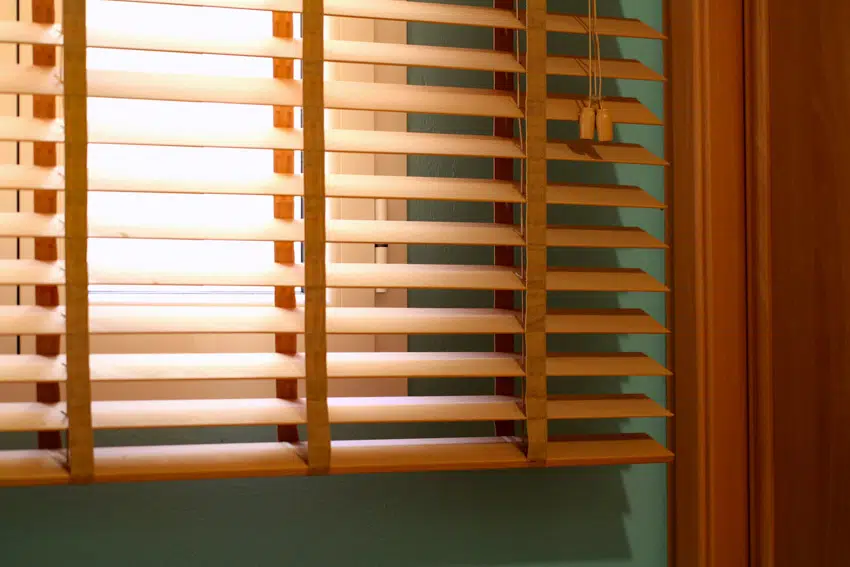 Faux wood blinds are horizontal types of window blinds that basically simulate the look and even feel of wood. The man-made window treatment is made using composites, foam, or PVC (polyvinyl chloride), the same material used in PVC pipes.
With a range of wood stains and colors that mimic the real thing, you can match them with any interior style you have. Quality-made faux blinds are typically infused in UV inhibitors as well to make them fade-resistant.
Like blinds made from natural wood, faux wood blinds have the same options and controls as the said window treatment. Rootless, bottom cutouts, and side cutouts are popular options homeowners can choose from.
We credit the first use of window blinds to the ancient Egyptians, where reeds were made into mats and hung over windows. The use of blinds then spread to Persia and reached Venice, where it became popular, thus coined the term "Venetian Blinds ."
Window blinds reached the United States thanks to John Webster, an upholsterer from London who introduced the window treatments to the high society.
Faux Wood Blinds Pros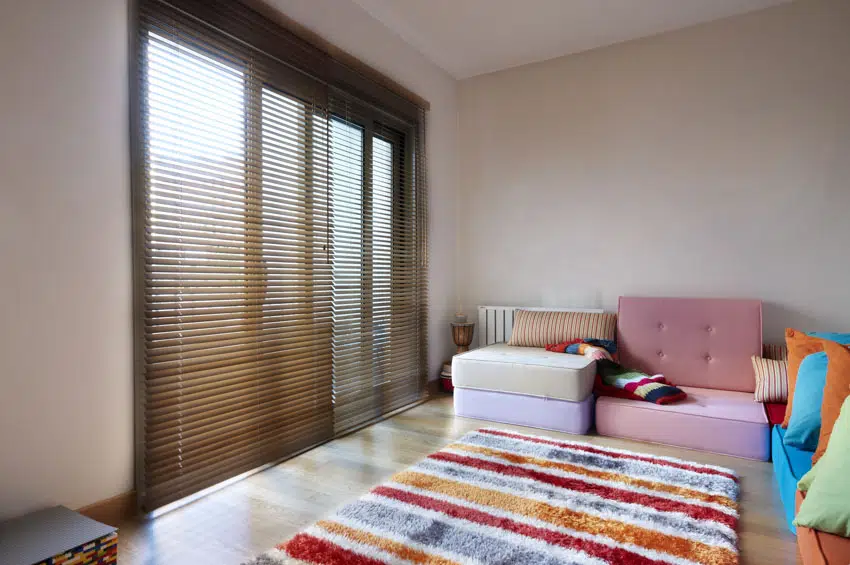 1. It Looks Like Wood But Is Less Pricey: One of the reasons why faux wood blinds continue to be a popular window treatment is their affordability. From economical to high-end options, a faux wood blind design suits your needs and budget.
In addition, faux window blinds' availability makes them more affordable and can be bought at local home improvement stores.
2. Water and Moisture-resistant: As faux wood blinds are made from synthetic material, it does not absorb water, making them great for bathrooms, kitchens, gazebos, and other areas where moisture is present. See more examples of the types of bathroom blinds here.

3. Does Not Warp Or Crack: Under varying temperatures, wood blinds expand and contract, which can cause them to lose their structural form. The engineered material of faux wood blinds means it won't crack or warp when constantly exposed to humid areas and changes in temperature.
4. A Good Range Of Options: Unlike wood blinds with limited availability of coloring and texture, faux wood blinds come in a broader range of designs. There are window blind suppliers who provide customized faux wood blinds where you can choose the size, color, and texture to accommodate your preference.
5. Durability: For active homes with curious children and other activities where window blinds receive a lot of wear and tear, the durable material of faux wood blinds means it won't wear out quickly.
6. Color Consistency: The great thing about engineered materials such as faux wood blinds is that you get consistent quality throughout the product.
7. Ease In Cleaning: With a durable surface, regular cleaning by simply wiping the slats with a clean cloth or with soap is easy. For stubborn dirt or spilled over substances, you can pressure wash the slats without the worry of damaging your window blinds.
Faux Wood Blinds Cons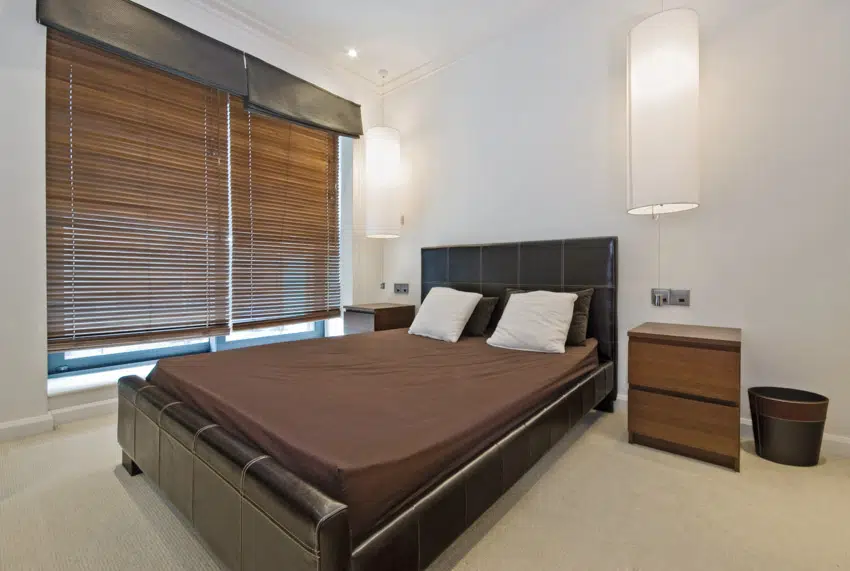 1. Can Discolor Overtime: Due to constant exposure to the elements, discoloration is a common problem with any plastic material. Choose faux blinds that have UV inhibitors or multiple layers of protective stains that will protect the coloring of your faux wood blinds.
Indoor factors such as cigarette smoke and accumulated dust can also discolor your window treatment and turn it yellow. You can try washing them with water to remove the stains to remove these indoor pollutants.
2. Heavy Material: There is a misconception by most as they think that the plastic content of faux wood blinds makes them lighter than the natural wood, but in reality, faux wood is actually heavier than natural wood. This makes it challenging to install the window blinds in larger formats, making them better suited for smaller-sized windows.
3. Unhealthy Chemicals: While faux wood blinds prevent mold or mildew from forming, the fumes emitted from the surface stain or finish can have harmful chemicals that can pollute your indoor air. It is best to find reputable suppliers that are quality checked for safety requirements and does not use toxic chemicals or materials in production.
4. Nothing Compares to the Real Thing: Faux wood blinds can never compare to high-quality authentic wood material. Some homeowners find simulated materials less attractive and desirable than the real thing, leading to search for an alternative to blinds made of faux wood.
Faux Wood Blinds Materials
1. 100% PVC Faux Wood Blinds: The solid PVC material makes it moisture resistant from the surface and into the material, making it highly durable. The PVC faux wood blinds usually range from $40 to $70 for a 36-inch x 60-inch window.
2. Composite Faux Wood Blinds: As the term implies, this faux wood blinds material has two or several materials used. For instance, a PVC material is used with air bubbles combined with wood pulp.
3. Wood Core Faux Wood: The composition of wood core faux wood is made from wood pulp similar to that found in particleboard. The wood pulp is then wrapped with laminate. The wood core faux wood has a lower chance of warping or cracking.
With an improved printing process today, you get a seamless replica of genuine wood without hardly knowing the difference from the authentic. This is something to be considered when assessing the pros and cons of faux wood blinds.
Are Faux Wood Blinds Energy-Efficient?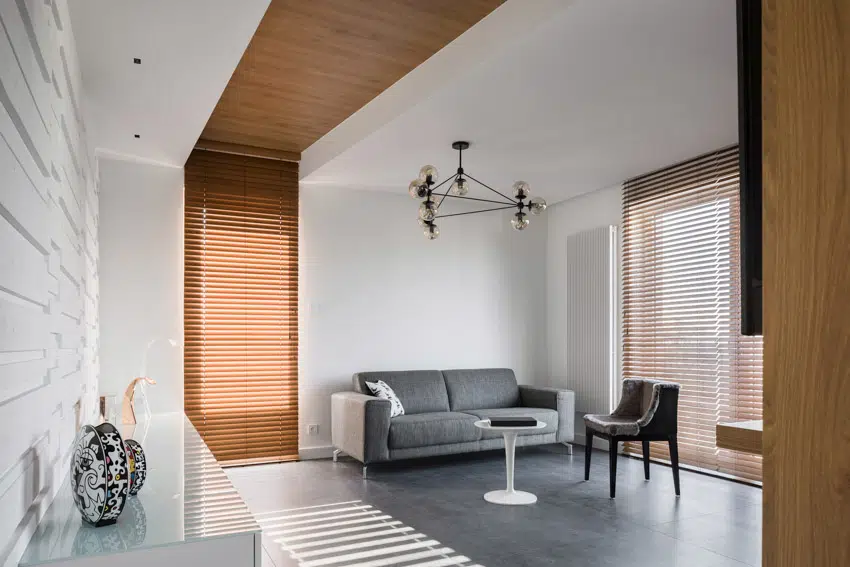 Faux wood blinds provide a level of energy efficiency as you can control the amount of direct sunlight and ventilation according to your needs.
When fully closed, you can block a significant amount of heat and cold, but not entirely, as there are gaps between the slats and the sides where cold air and direct sunlight can still penetrate through.
If you're aiming solely for energy efficiency and live in an area with extreme weather, it is best to go with honeycomb types of shutters which are structured with cells for better insulation. You can compare them with the pros and cons of faux wood blinds to get a better picture of both options.
Are Faux Wood Blinds Good?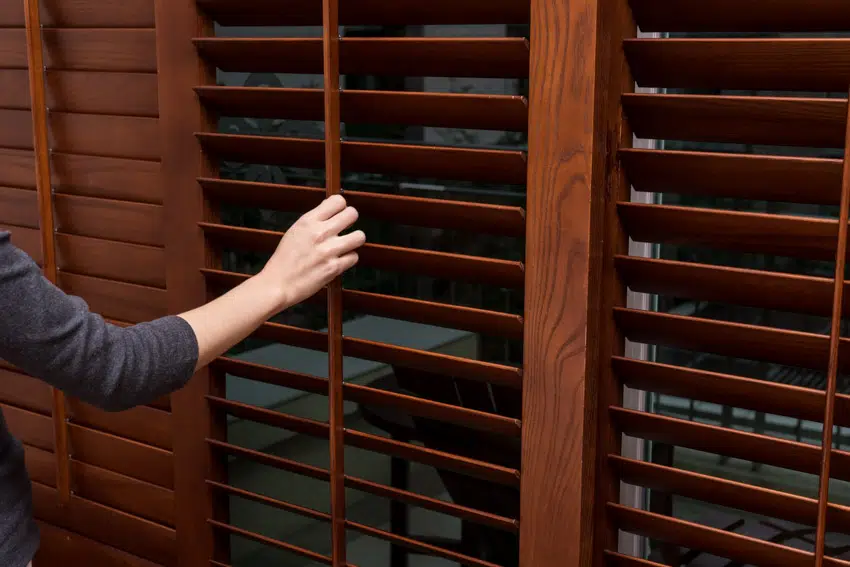 When it comes to window treatments, faux wood blinds are one of the best options because of their durability while allowing you to control the amount of privacy, daylight, and ventilation. Moreover, you get to incorporate the beauty of an organic finish without dealing with the limitation of natural wood.
Plus, you can choose the best faux wood blind that fits your budget with its affordability and availability. Compared to most materials, the faux wood blinds are incredibly robust, making them a practical investment for your window treatments.
What's The Difference Between Faux Wood And Wood Blinds?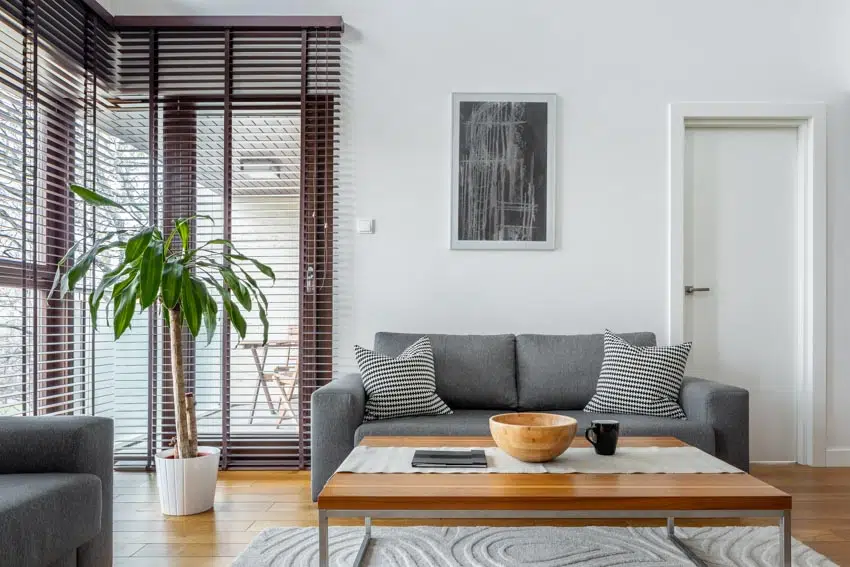 The main difference between faux wood blinds and wood blinds is what material they are made out of. Wood blinds are purely made of natural wood cut into slats and stained or painted to the desired finish, while faux wood blinds are made from engineered materials such as composite or PVC.
While most wood blinds are produced to show the raw material's natural wood graining and color, the faux wood blinds are made to simulate the natural wood.
When it comes to the width, real wood blinds usually come with a maximum length of 94.50 inches or 240 cm, while faux wood blinds have a maximum width of 102 inches or 260 cm which means you have broader coverage.
Another difference between faux wood and wood blinds is that faux wood blinds are heavier than wood blinds. It is best to have faux wood blinds in sections for easier control and installation for wider windows.
See more related content in our article about what color of blinds should I choose on this page.