In this pecan wood flooring guide we cover its appearance, why it's a hardwood, how to identify if it's engineered, cost and the different types of pecan floors.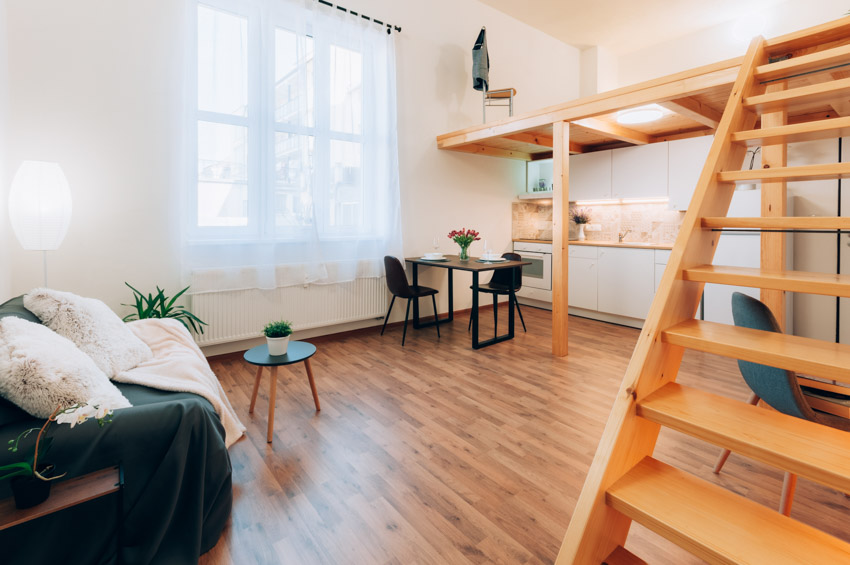 If you are into warm-looking hardwoods that have interesting variations in between different planks, pecan wood flooring just might do it for you. There are oftentimes considerable variations in color and this is something that a lot of homeowners look after especially if they're into creating a space that has a lot of depth and texture.
One of the best home upgrades you could ever get is getting hardwood floors for your home. There are endless choices when it comes to the colors, dimensions, wood types and so on that it would seem impossible to settle on just one. But you can.
Pecan wood flooring is one of the most beautiful hardwood flooring types you could ever go for. It brings great value for your money while at the same time, delivers aesthetics very few could ever rival. Here are a few of the pecan wood flooring characteristics you should get acquainted with.
What Does Pecan Wood Look Like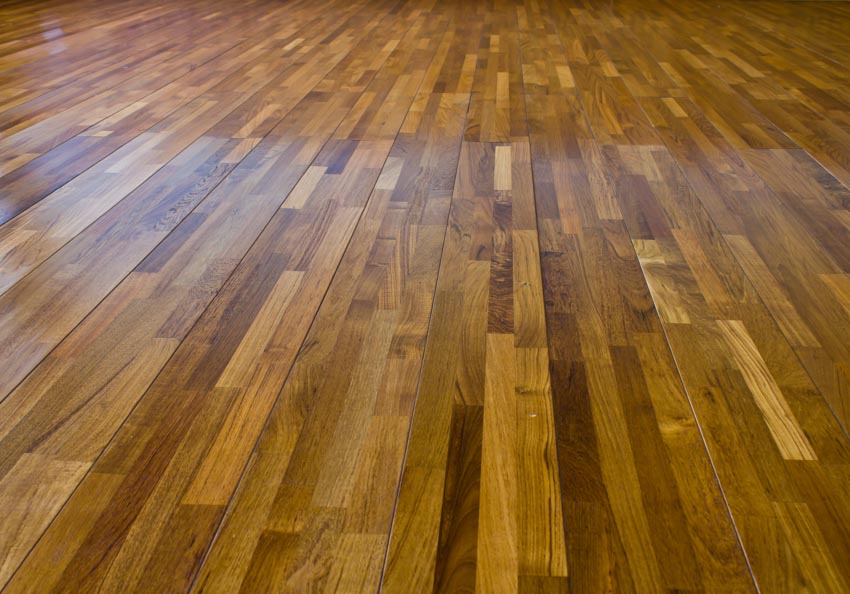 Unique Grains: For starters, what exactly does pecan wood look like on your floors? It's a little hard to pin this down exactly as no single pecan wood plank looks alike. But in general, it has a very unique and wavy look to it. It also boasts a somewhat pecked looking grain to the wood.
This is one of the most distinctive looks of pecan wood. Its grain appearance and design really stand out from the rest. It also has the tendency to look swirled and very organic and natural.
Occasionally, you'll be able to see some pecked streaks on its planks' surfaces. If you opt for pecan wood planks that have lighter colors, the grain design tends to look more pronounced or accentuated. Darker colored planks, on the other hand, tend to have less pronounced-looking types of wood grain patterns on them.
Regardless if you want to go for light or dark colored pecan wood planks, this type of wood will be able to offer you the best-looking natural grains compared to the rest of the other wood types for flooring available on the market right now.
Variety In Colors: Pecan wood's natural color tends to range from light to medium browns. There will be certain instances wherein they will have underlying hints of red in the planks as well.
The wood's natural coloring is a standout and can be quite beautiful all by itself but there are certain homeowners who would want to go for a variety of colors for the hardwood flooring in their homes. This is where pecan wood can actually stand up to the challenge.
Pecan hardwood planks are actually available in a lot of different shades or colors ranging from the pale whitewashed colors to a subtle whiskey brown to the really dark browns with red veins in them.
Depending on your manufacturer of choice, they can come in a wide variety of textures as well. The three most common textures pecan wood planks available are flat sanded, natural face, and hand scraped flooring.
If what you're after is a look that's kind of textured and weathered, showing signs of being worn in, natural face textures will work best for you. If you want something a little smoother and polished with little to no texture at all, the flat sanded planks might work better for you.
And lastly, if you want something that comfortably sits right in the middle with the charm and appeal of both textures, you can opt for the hand-scraped ones.
Is Pecan A Hardwood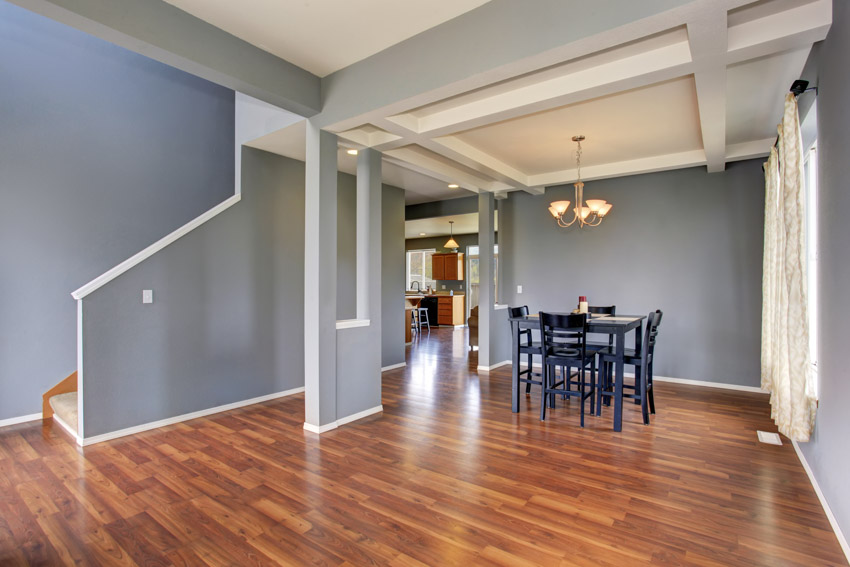 Pecan identifies as a hardwood. To the untrained eye, this can be a bit difficult to decipher. This distinction between softwoods and hardwoods can at times get a little bit lost in translation but to simplify it a bit, the categorization between softwoods and hardwoods isn't actually based on the density of the wood material.
As a matter of fact, it has been noted that some softwoods are as a matter of fact, harder than some known hardwoods. The classic example to this is comparing pine wood and balsa wood.
Pine is known as a softwood whereas balsa is categorized as a hardwood. However, in terms of density, balsa wood is actually considerably softer than pine wood. It somehow seems contradictory but that's how the distinction is made. Trees that produce their seeds by way of cones, also known as conifers, are traditionally categorized as softwoods.
The wood species that do not produce cones, on the other hand, are designated as hardwoods. Pecan falls under this category as it isn't a type of conifer. You can also easily identify hardwoods during the wintertime as they tend to lose their leaves during that season (a deciduous trait) whereas conifers tend to retain their leaves all year long.
Pecan has a great Janka Hardness rating of 1820 though. This means that it isn't totally contradictory to its classification as a hardwood. It means that the wood species is dense and hard enough to be of value as a flooring material yet not too tough for it to cause too much trouble to get it fashioned into planks of your desired dimensions.
Pecan Engineered Hardwood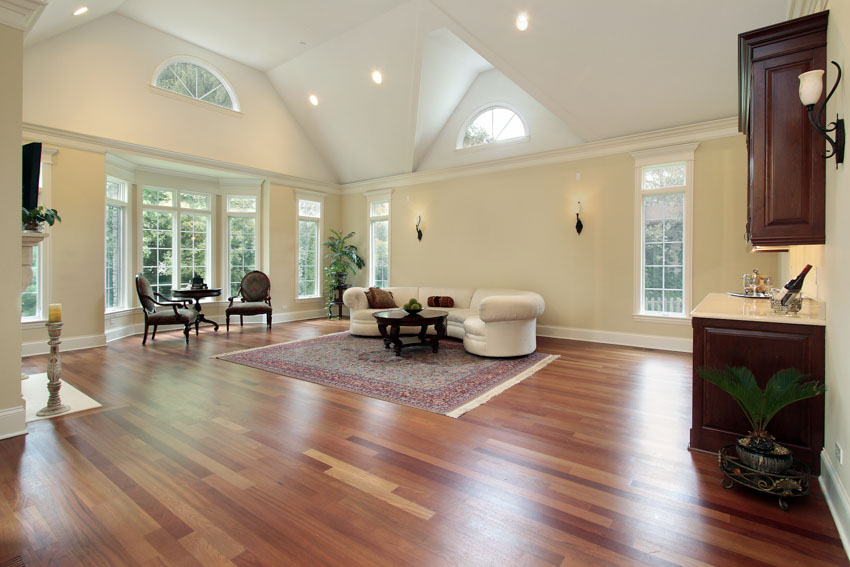 Engineered pecan hardwood is a great option for you to consider if solid wood pecan planks aren't available in your area. Although engineered pecan hardwood might initially come off as a bad thing, this isn't necessarily the case.
The top layer (or the layer that's visible to the eye) is among the types of wood veneer surfaces that are 100% real and true pecan hardwood. There are, however, lower layers made out of wood-derived materials that support the top layer.
This can be a mix of board and timber glued together and comprised of different materials, depending on who manufactures your pecan engineered wood. So yes, although it's not 100% pure pecan hardwood flooring, to the naked eye, you can't even tell.
Here are some of the benefits of opting for pecan engineered wood:
Better Price: Although nothing quite takes the throne when it comes to authentic hardwood flooring, the reason why engineered hardwood is so commonly available is that the real thing can be quite expensive.
Therefore, opting for the engineered hardwood version of pecan can be the budget friendlier middle ground you're looking for. Granted, it's still more expensive than vinyl or laminates but not quite as pricey as traditional pecan hardwood planks. And unlike vinyl (LVT flooring) or laminate flooring, it looks the same as expensive pecan hardwood.
Looks Stylish: Because of the fact that it looks the same way as authentic pecan hardwood flooring looks like, it means that engineered pecan hardwood actually looks expensive and stylish.
It is also oftentimes available in a wide variety of different finishes. Pecan hardwood flooring has the appeal of looking distinct and timeless and this is the same look you'll be able to achieve with engineered pecan wood.
Better Temperature Resistance: This is one major differentiator between traditional pecan hardwood and engineered pecan hardwood. The engineered version is actually far more resistant when it comes to temperature changes or even moisture.
It doesn't expand or shrink as much as traditional hardwood does. This makes it very ideal for any new home renovations or if you happen to have underfloor heating at home that's water-feed.
Popular Types Of Pecan Wood Flooring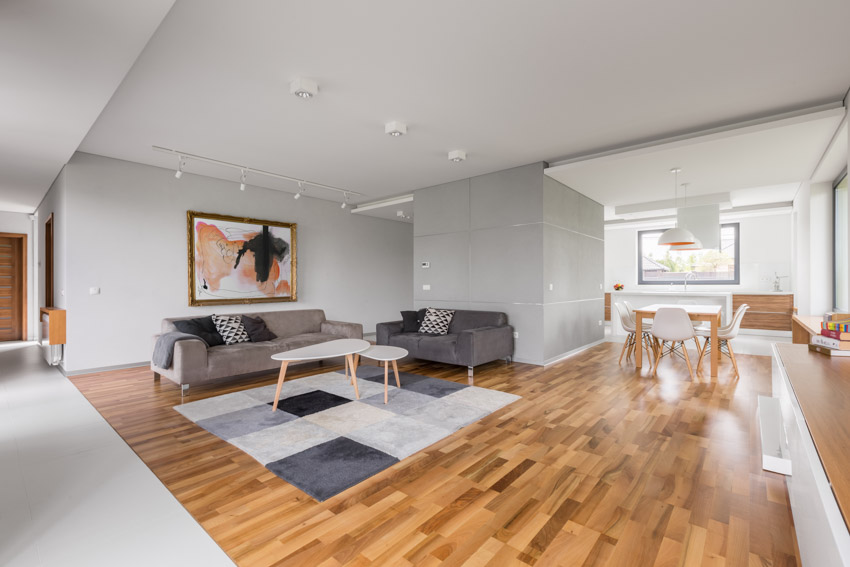 Spalted Pecan: This type of pecan wood is known for its "spalting" appearance. This occurs during the process of when the tree dies and creates distinct and unique characteristics on the planks produced.
The colors can range from gray to a very light blonde in the sapwood part and can go to a very rich reddish brown in its heartwood. There are also noticeable brown or blank ink-like swirls all throughout the wood planks produced.
Spalted pecan is quite known for its "burling". There are lots of mineral streaks, open knots, or even wormholes. This gives the planks a distinct sense of uniqueness and character.
Texas Pecan: This type of pecan is known as the state tree of Texas. It is known to be one of the hardest native types of wood in the continental US. This pecan wood type is known for its striking color contrasts which are also oftentimes uniquely grained.
This is at times referred to as "calico". Its sapwood can go from yellowish brown to extremely pale whereas its heartwood can go from medium brown with a reddish undertone to a lighter shade of brown. It's known to finish well and can be quite durable.
Brazilian Pecan Flooring: Brazilian pecan flooring is known to have linear grains. It has very minimal swirls and waves on its planks. If you like the variegated look of pecan but want to keep it minimal, Brazilian pecan wood planks can achieve the look for your floors.
It's also known to have a vast spectrum of colors ranging from light to dark and they oftentimes fall on the same plank board. The pieces can vary greatly depending on which pieces you pick out. They can range from blonde to red tones to medium to dark browns.
Hickory Pecan Wood Flooring: Hickory pecan wood flooring is considered as one of the most durable types of flooring materials for interior design available. There's usually a high contrast between the heartwood and the sapwood. What this creates is a look that commands interest and attention in any room.
If you want to create spaces in the home that has the flooring as one of the focal points in the design, then hickory pecan wood flooring can be a pretty good bet for you. It is usually characterized by calico colors from white to reddish brown. This high contrast type of coloring delivers a bold statement and is oftentimes best paired with a clear or transparent finish.
Southern Pecan Wood Flooring: Southern pecan is a pecan species that are native to the United States. It usually grows along the flood plains and river bottoms of Texas and the Mississippi Valley.
Its main characteristics are its pecky and swirled dark streaks and pale auburn color in the planks. These features can make your flooring look absolutely gorgeous and showstopping.
There are certain depths and textures that no other wood planks for floors will be able to offer up to you. The sapwood of Southern Pecan usually has fine brown lines and alongside those lines, they radiate with shades of whites and creams.
The mineral streaking can also turn out to be very distinct and visually interesting. The grain patterns can look very irregular and wavy which is why, for better appreciation, southern pecan can be better appreciated in planks with wider dimensions.
Is Pecan Wood Expensive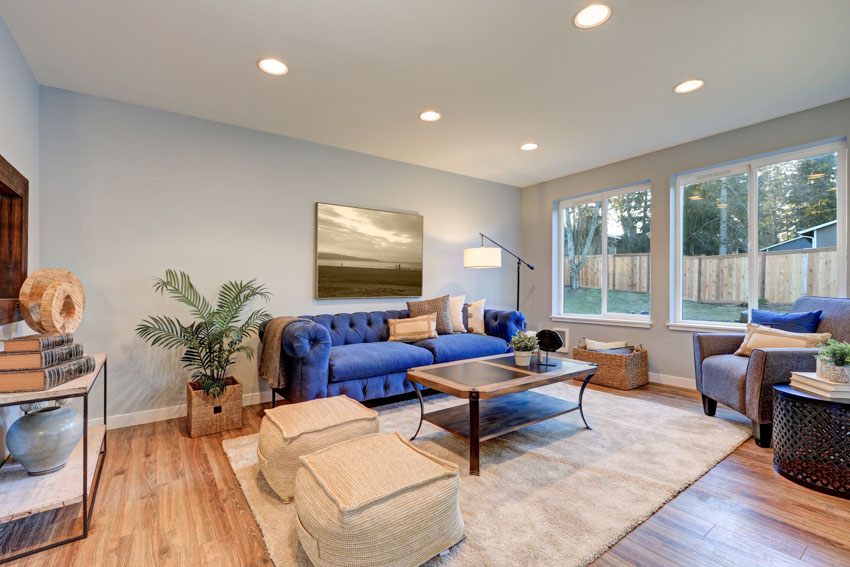 This is one of the most common questions asked. This stems from the fact that pecan is categorized as a hardwood. Hardwood has a reputation for being punishingly expensive at times. But there's no need for you to fear. Pecan wood actually isn't that expensive at all.
As a matter of fact, most woodworkers would consider pecan wood as a somewhat reasonable and budget-friendly alternative compared to the other types of hardwood being sold in the market these days.
The reason why pecan isn't so expensive despite its unique and distinct appearance and considerable hardness and durability stems from the fact that the raw material is easily available everywhere. Pecan thrives in most areas of the United States. This means that you don't have to suffer under the add-on expenses of importation, taxes, and freight and cargo.
It isn't as expensive as the other hardwoods but we also wouldn't say that it comes cheap. You need to factor in the costs of cutting down and processing the raw material along with its relatively slow growth rate. This isn't that big of a concern though as there's a lot of supply of pecan wood to go around but still, it factors into the cost at some point.
In general, compared to most of the hardwood options and materials available, pecan wood can be relatively more affordable, enough for you to say it isn't all that expensive. It is also known to be slightly less expensive compared to the highly popular birch wood and maple wood.
See more related content in our article about reclaimed engineered wood flooring on this page.