Discover more about matte porcelain tile including what it is, how it's used in floors, countertops & showers, the pros and cons, different designs, and the problems with matte porcelain tiles.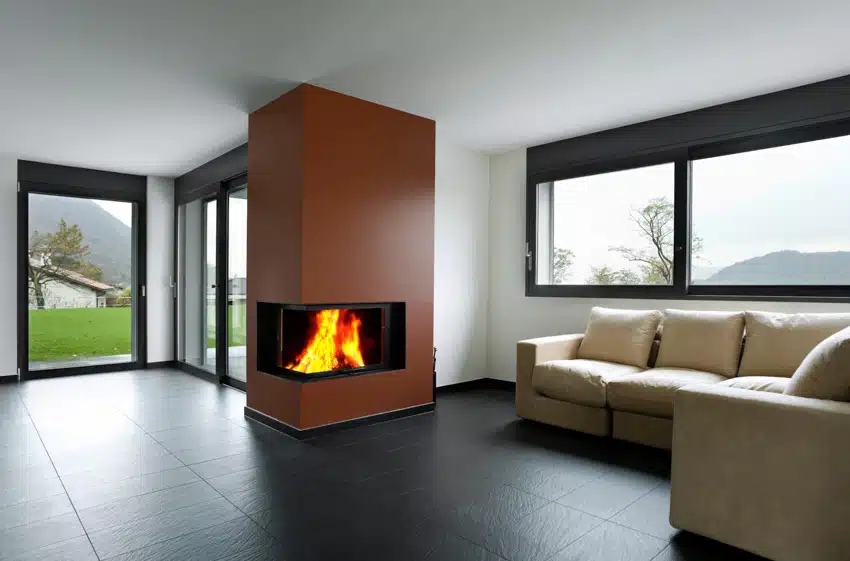 Matte porcelain tiles are often used for flooring because of their ability to withstand heavy traffic and moisture without breaking or becoming slippery. These durable tiles are a perfect solution for any home or office, adding sophistication and elegance to the décor. The matte finish provides a beautiful contrast against existing interior design materials in your home.
If you're replacing your kitchen floor or upgrading the bathroom shower, matte porcelain tiles come in numerous sizes, patterns, and designs. Often, the designs are made to mimic the look of other materials creating the perfect complement to a home's interior design without using less durable tile.
Designs and patterns include wood-like matte porcelain tiles and designs resembling stone, marble, and concrete. Many tile outlets include intricately designed matte porcelain tile done in colors to match any design theme.
Read on before you decide which tiles to purchase for your home project, and learn about the versatility of these beautiful matte porcelain tiles.
What Is Matte Porcelain Tile?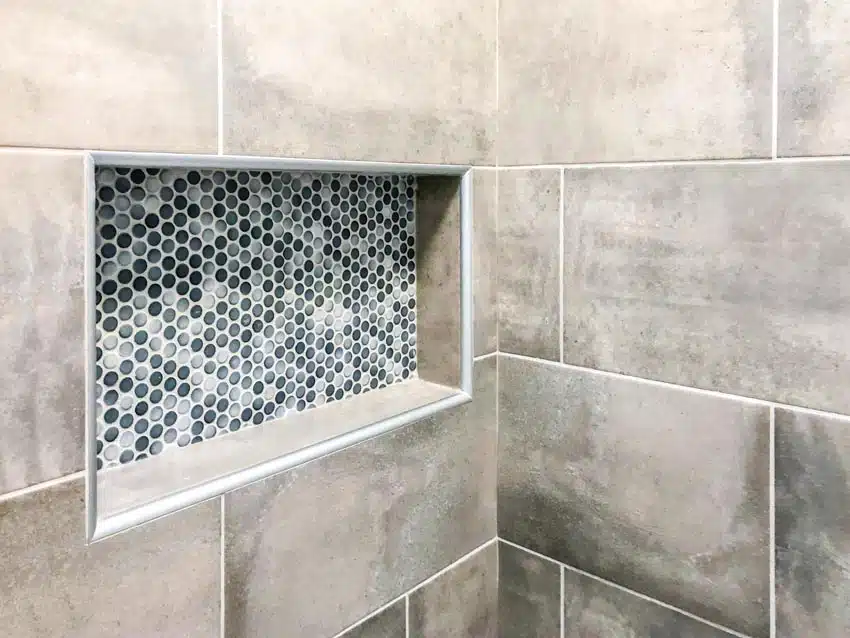 Matte porcelain tiles are made from dense natural clay, molded, and pressed into shapes and sizes. The pieces are then fired at an extremely high-temperature range of 1922 to 2282 degrees Fahrenheit long enough to wick out almost all the moisture.
The resulting tiles are very smooth but don't reflect light like other types of ceramic tile with glossy finishes. Porcelain is a perfect material for tiles, making them resistant to spills, stains, and moisture.
Matte Porcelain Floor Tile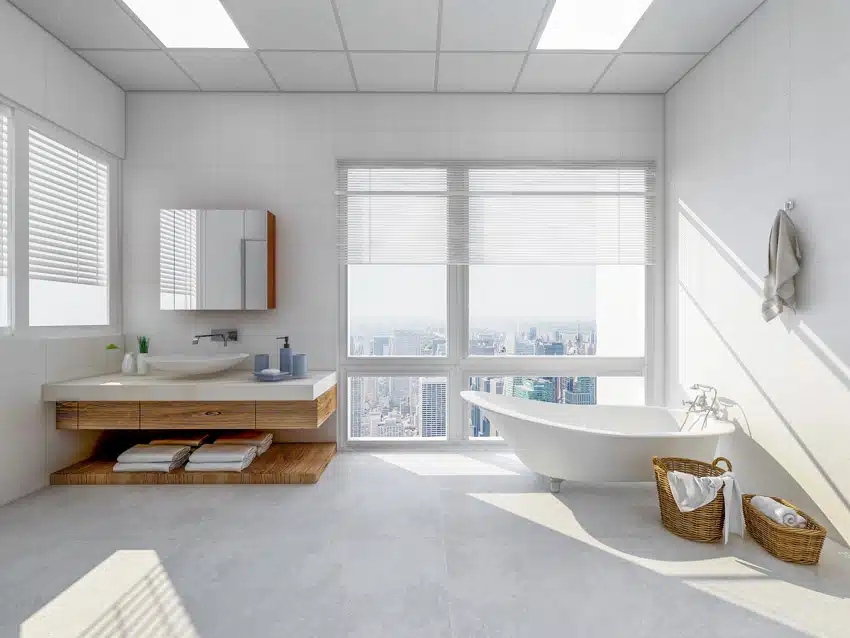 Matte porcelain floor tile is an excellent choice for rooms needing a durable, easy-to-clean surface or areas prone to leaks or spills.
Kitchens, laundry rooms, basements, and bathrooms are all areas with plumbing that could cause leaks. Floor tiles made from matte porcelain have a special top layer that makes them non-slip, keeping areas such as kitchens and shower stalls safe.
However, porcelain types of floor tiles are cold to touch, similar to cement floors and ceramic tiles, creating icy floors in the winter. Matte porcelain floor tiles have a 3500-degree Fahrenheit melting point making them an excellent option for floors with radiant heat installed under the surface.
Matte Porcelain Tile In The Shower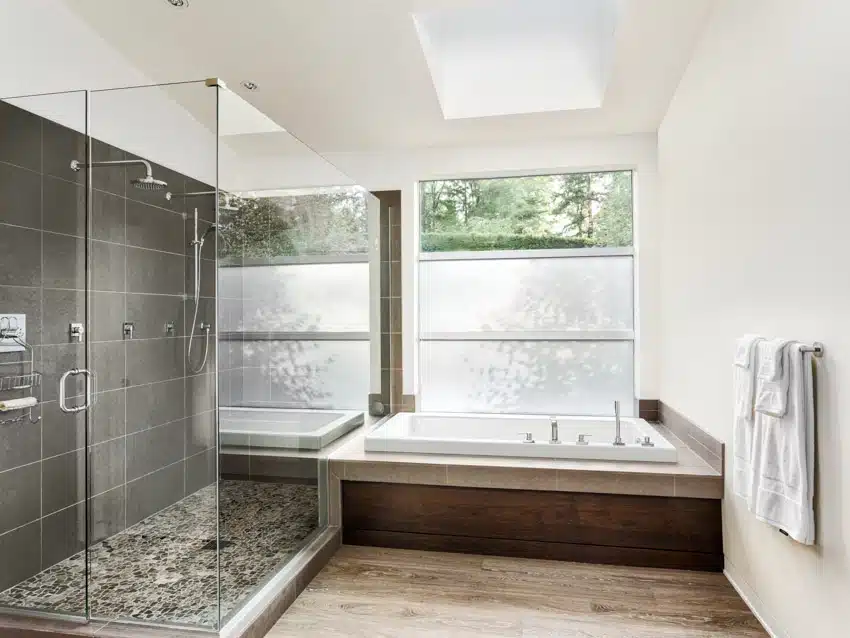 If remodeling your bathroom, matte porcelain tile is an excellent option for the shower pan, walls, and shelving. It creates a unique look and feel for the bathroom compared to plain ceramic glossy tiles. And, of course, it's non-slip and easy to clean.
Matte Porcelain Tile Pros And Cons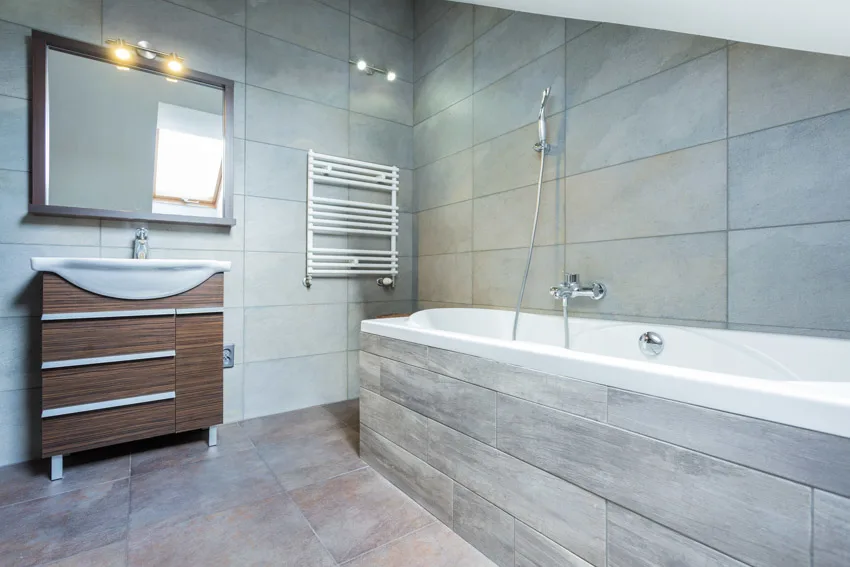 Matte porcelain tiles come with advantages and disadvantages based on their application. These long-lasting tiles are packed with options to emulate the design theme of any room or space where they're used.
Before deciding on matte porcelain tile for your new build or renovation and remodel, consider the pros and cons of these classy tiles.
Pros Of Matte Porcelain Tile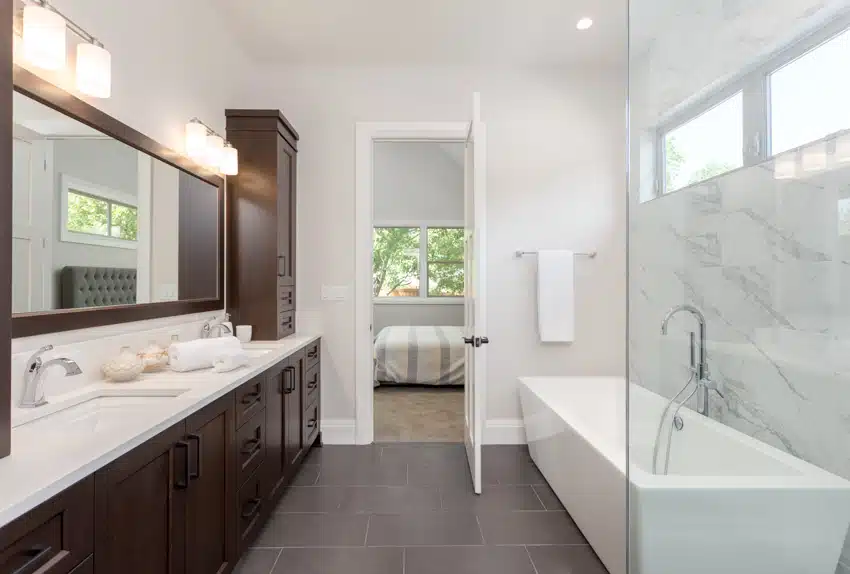 Matte porcelain tiles are durable: Porcelain tiles are one of the most durable tiles available. The strong materials used for porcelain are fired at high temperatures, creating a hard, thick, solid product.
These tiles can handle the impact when a heavy item is dropped on them in both residential and business environments. Matte porcelain tiles are perfect for high-traffic rooms and outdoor areas.
These tiles are non-slip: Matte porcelain tiles have better friction than glossy tiles and are a better option for households with children, pets, or older adults with mobility issues. Still, keep tiles dry, or they could become slippery, and the dampness can create the perfect breeding ground for moss, mold, or algae.
Porcelain is fire resistant: Because of the high temperatures used to fire porcelain, matte porcelain tiles are also fireproof. They don't burn, smoke, or create toxic fumes.
Porcelain tiles are moisture resistant: Porcelain tiles are resistant to moisture and damage from being exposed to water in bathrooms, laundry rooms, or showers. Porcelain tiles have a low moisture absorption rate of 0.5 percent.
Matte porcelain tiles are low maintenance: Porcelain is a strong material made from thick clay, sand, and feldspar. Although matte porcelain tiles don't have a glossy finish, the porcelain repels liquids so that spills can be easily wiped away. This makes matte porcelain tile flooring an excellent choice for entryways, mudrooms, and outdoor applications.
Stylish designs: The flexibility of porcelain tile during manufacturing creates a blank canvas allowing countless colors, textures, and designs to be created. The options are endless, and many tile companies are catering to the ever-changing design trends and need for tiles that can hold up to frequent use.
Naturally rustic: If you're designing your home or office with a rustic or outdoorsy style, matte porcelain tiles add a naturally rustic touch due to the tile's organic look and feel.
Matte porcelain tiles are stain resistant: Porcelain tiles are stain resistant, repelling liquids and preventing them from soaking into the material. Glazed porcelain tile is even more stain-resistant; however, matte porcelain tile does a great job of preventing stains.
Affordable: Matte porcelain tile is affordable compared to ceramic or other materials. The initial installation of porcelain tile may cost more, but its durability and low maintenance add to the pros of using this impressive tile option.
Matte porcelain tiles bring warmth to any space: Although cold, their style brings warmth and quiet to inside rooms and offices. There's less noise from foot traffic, and matte porcelain tiles create a comfortable environment without the shiny finish.
Cons Of Matte Porcelain Tile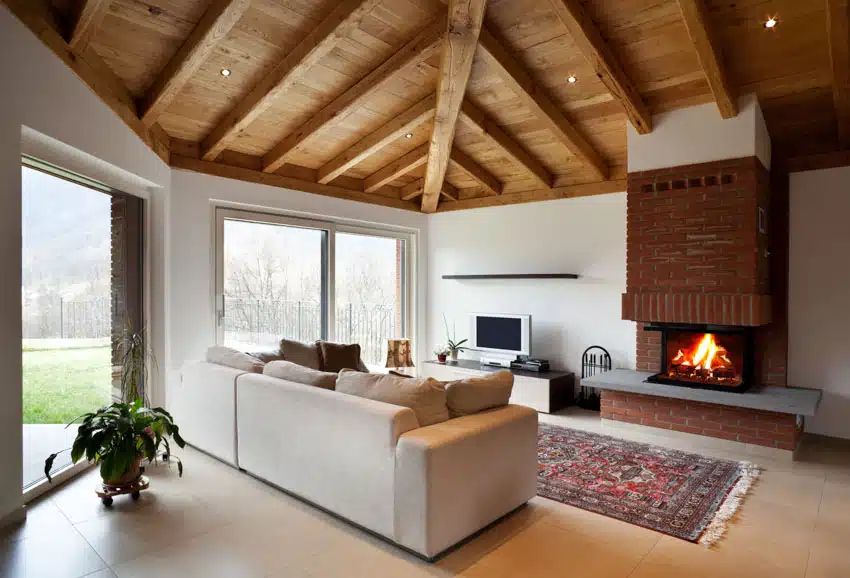 Matte tiles are not suitable for darkly-themed rooms and spaces: Matte porcelain tiles are not the best for dark rooms due to their matte finish.
A matte finish doesn't reflect light. Using matte porcelain tiles may cause a room to seem darker, especially if the space does not have enough types of windows to let in natural light.
Matt porcelain tiles are not a good choice for small rooms: A room or space with small square footage will feel smaller with matte porcelain tiles, especially if they have a dark color scheme.
If that small space doesn't have windows to let natural light in, just like a darkly-themed room, the lack of reflective light from the tiles will shrink the room.
Stains can be stubborn: Although matte porcelain tile is stain-resistant, it can be challenging to clean when the tiles do take on a stain. Matte tiles aren't smooth, and the hard-to-see uneven surface texture can hold onto stains and make them hard to remove.
Conceals scratches but does not prevent them: Although matte porcelain tiles tend to hide scratches, they don't prevent them from happening. Without a glossy top surface, scratches occur easier. If grease or oils stain the matte tiles, the scratches will make it really difficult to clean.
Matte Porcelain Tile Grades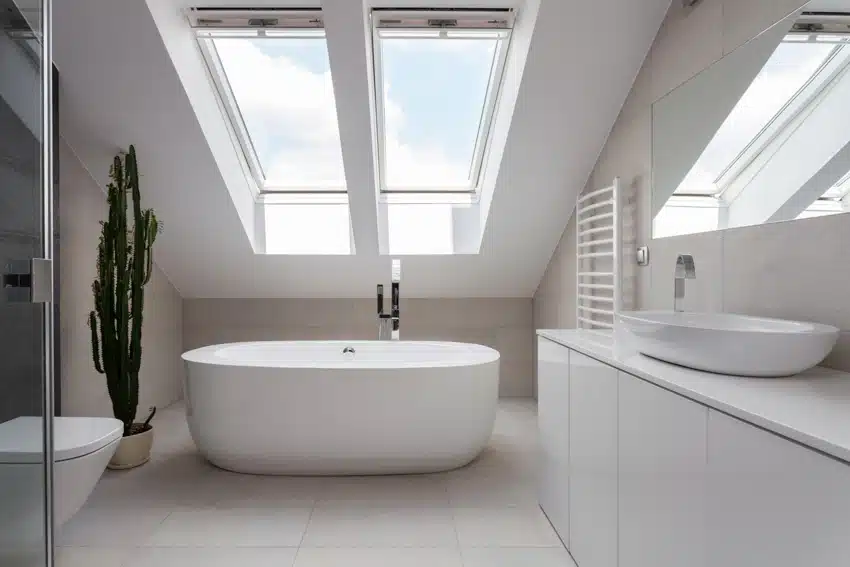 Installing the correct tile is essential to prevent problems with matte porcelain tiles. The best way to do this is by understanding the Porcelain Enamel Institute (PEI website) wear rating. PEI ratings are determined by the tile's thickness, hardness, and durability and include five levels.
The lowest ratings represent tile suitable for walls, while higher ratings mean the tile can withstand heavy use and impacts. This doesn't mean thinner tiles or tiles with a lower rating are inferior.
Instead, the PEI's wear rating system ensures the tile is used in an optimum setting. By installing tiles in the best setting, the tiles last longer and save money from not having to replace them.
• Grade 1: Matte porcelain tiles marked grade 1 are considered the least durable; however, they still carry all the qualities of porcelain.
Grade 1 tiles are not meant for floor tile and are used mainly for walls and backsplashes. They're not recommended for commercial use. Shower surrounds are typically PEI-1 tile.
• Grade 2: This grade level is an all-around tile option for countertops, backsplashes, shower stalls, walls, and flooring in rooms with light foot traffic. These Grade 2 tiles are often used in residential bathrooms but not for commercial uses.
• Grade 3: Tile marked Grade 3 can be used in rooms with average to heavy foot traffic and is a good tile for all residential uses but not commercial ones.
Grade 3 is the most substantial tile homeowners need for all applications and is durable enough to use outside. There are some commercial uses for Grade 3 tile, but they are limited to light applications.
• Grade 4: This strong tile rating is used for all residential purposes and medium commercial use. Grade 4 tile can also be used for residential and commercial outdoor projects and light institutional needs such as in a hospital, school, or retail store.
• Grade 5: Grade 5 is the highest rating and is acceptable for all residential needs, heavy commercial use, and institutional foot traffic. It's the strongest and most durable porcelain tile available.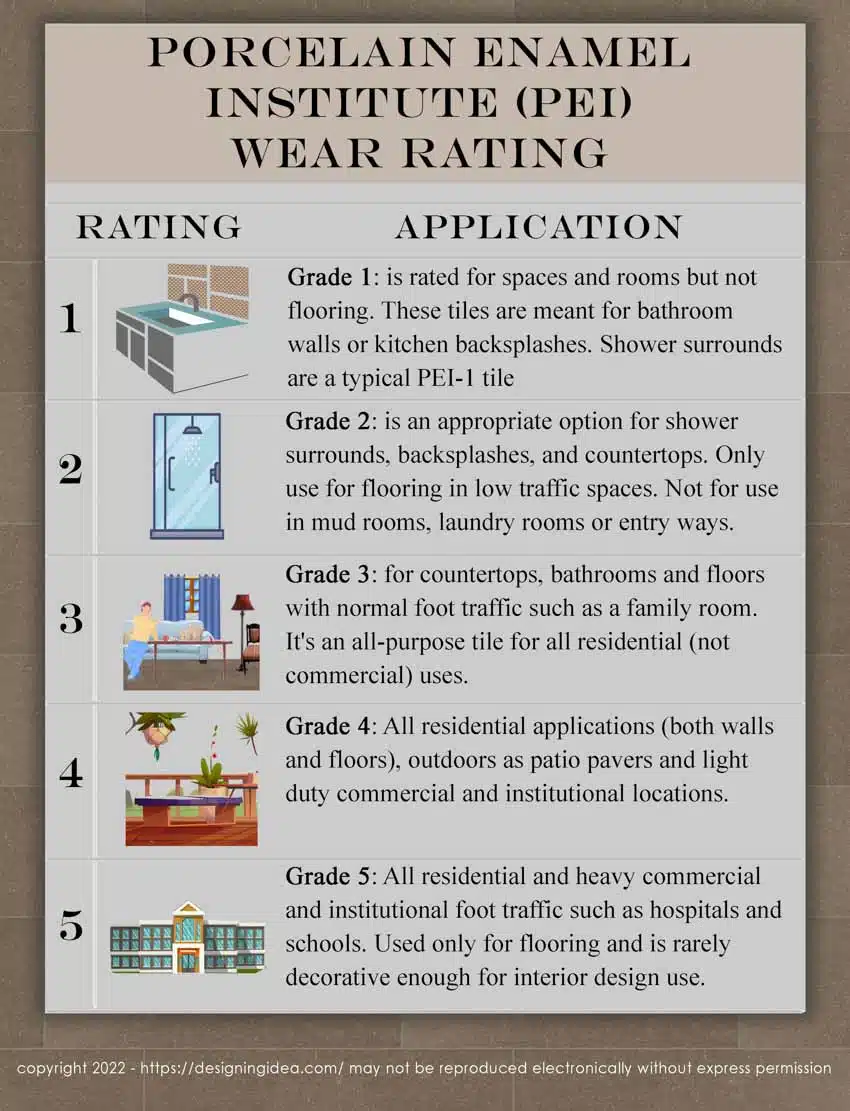 This tile is commonly used for flooring and is not found with ornate designs or finishes making it unattractive for residential design use. Common uses for Grade 5 tile include schools, grocery stores, hospitals, shopping malls, and industrial facilities.
Matte Porcelain Tile Problems
When purchasing tile for a home renovation, new home build, or office remodel, keep in mind the PEI wear rating for matte porcelain tile to avoid matte porcelain tile problems. However, other situations may arise when using matte porcelain tile.
Too much humidity can cause damage to matte porcelain tiles. In areas with constant high humidity, the moisture can be absorbed into the naturally occurring pores in the tile and cause the porcelain to expand and contract, causing damages such as cracks and warping.
At times, matte porcelain tile may become dull. Reasons this may happen depending on the type of sealant used when the tile was manufactured and the products used for cleaning.
Other factors that could cause dullness are the type of use in the area where the tile is used for flooring and how long it has been since it was installed. Some matte porcelain tiles can be sensitive to acidic cleaners, dulling the finish, and may need to be resealed.
Does Matte Porcelain Tile Need To Be Sealed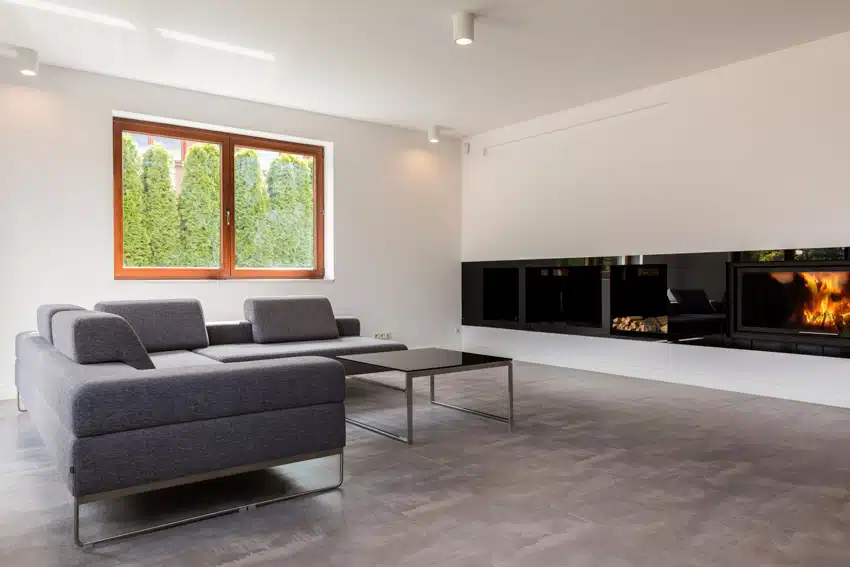 Matte porcelain tile should be sealed and resealed on a regular schedule. As a material made from mostly clay and without a glossy finish, matte porcelain tile can absorb moisture leading to discoloration and damage from moisture.
Two leading sealers used for matte porcelain tile are liquid and powdered. Liquid sealers are often used on glossy tiles as they add to the shiny finish.
Powdered sealants are more appropriate for matte porcelain tiles because they don't leave a shiny surface. Powdered sealers must be reapplied more often because they don't create as tight as liquid seals.
How To Clean Matte Porcelain Tiles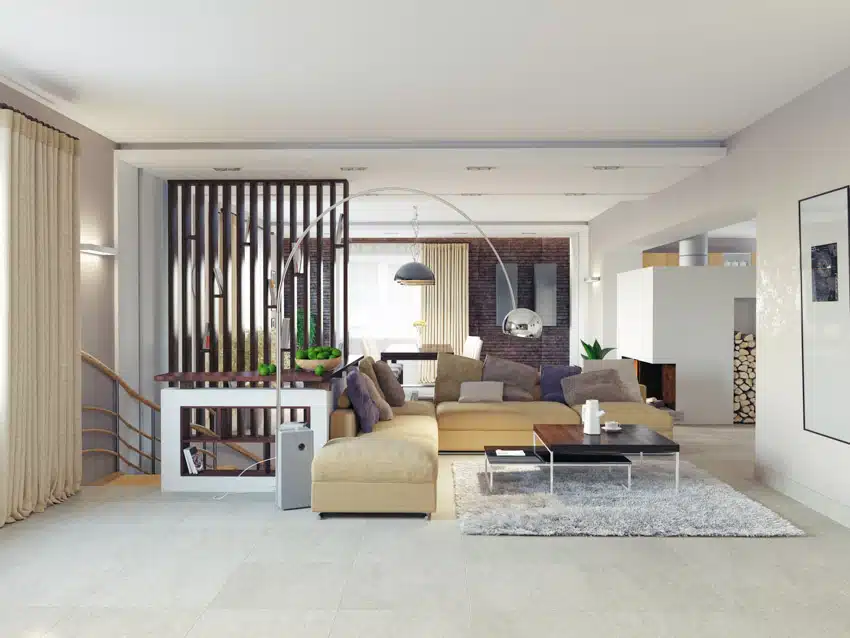 Matte porcelain tiles are made with a special coating that gives them a distinctive look. This coating also makes them resistant to stains, which makes them a popular choice for bathrooms and kitchens. However, it also means they need to be cleaned differently than other tiles.
Be careful not to use too much water or cleaning liquids when cleaning matter porcelain tiles. The porous surface of the tile may absorb the excess liquid and damage the tiles, and any grout lines that become saturated can cause fluids to seep under the tiles and cause pitting, cracks, or fissures.
Always dry the surface of the tiles with a clean cloth and if mopping matte porcelain tiles, be sure to have a fan on, a door or window open, and if the tile seems to remain wet, go over it with a dry microfiber cloth mop.
How To Clean Matte Porcelain Tiles in a Shower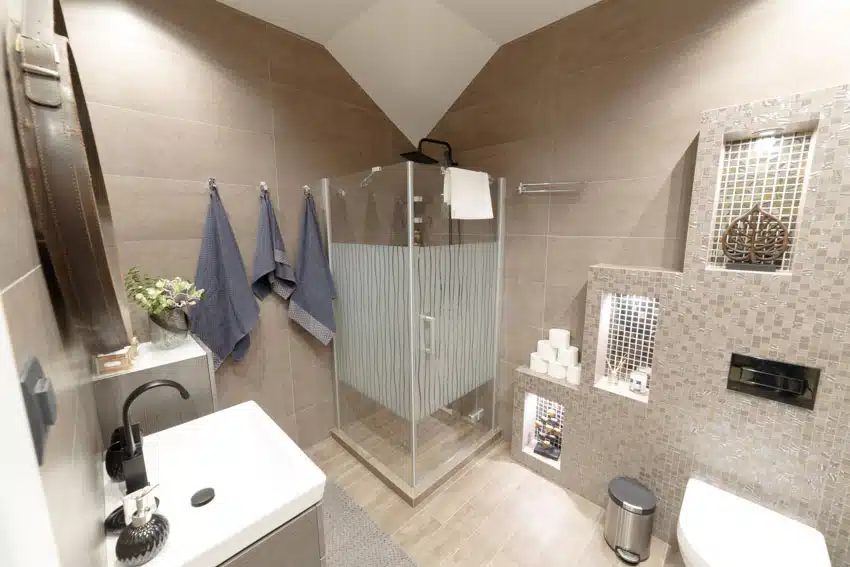 However, one of the most important surfaces in your bathroom is your shower tiles. These matte porcelain tiles can get extremely dirty over time, and you need to know how to clean them efficiently.
Make a mixture of equal parts vinegar and hot water in a bucket and use a microfiber cloth to apply the mixture to the tile on the different types of shelves, walls, and shower pan. Wait 15 minutes, then wipe it with a clean, damp cloth.
Stubborn stains in the shower, such as build-up around the drain and any crevices where soap scum and debris can gather, can be cleaned with a toothbrush. If stains persist, wet the area with the vinegar and water mixture and sprinkle some baking soda on it, letting it foam.
Use a toothbrush again to scrub the foam into the stain and rinse with the vinegar and water solution. Wipe clean with a damp clean cloth.
How To Make Matte Porcelain Tile Shiny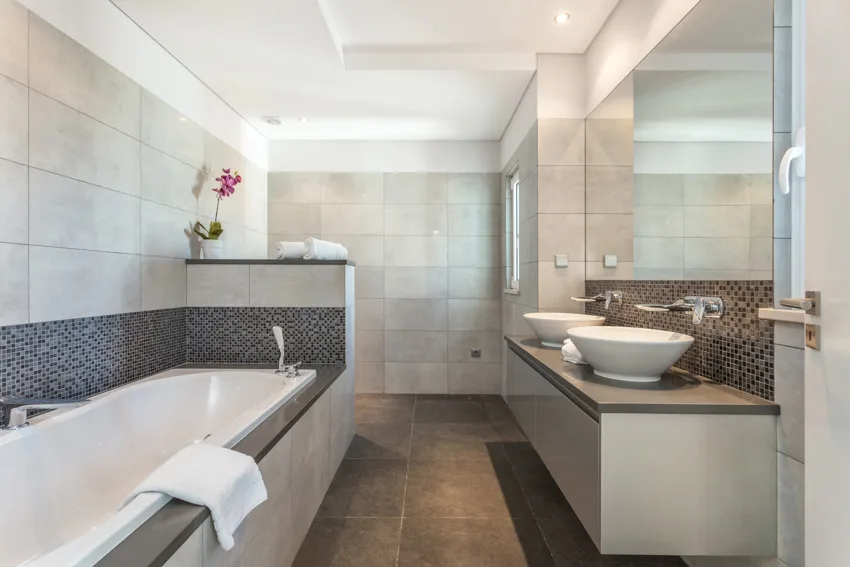 As mentioned, matte porcelain tile can lose its luster and dull over time. The best defense to avoid dulling is cleaning the tiles regularly, removing dirt, grime, and any built-up stains.
If you prefer to create a glossy shine on your matter porcelain tile, sealants are used to protect the tiles and add a shiny finish. You can use a high gloss finish wax that is recommended for matte tiles for best results.

Polished Vs Matte Porcelain Tiles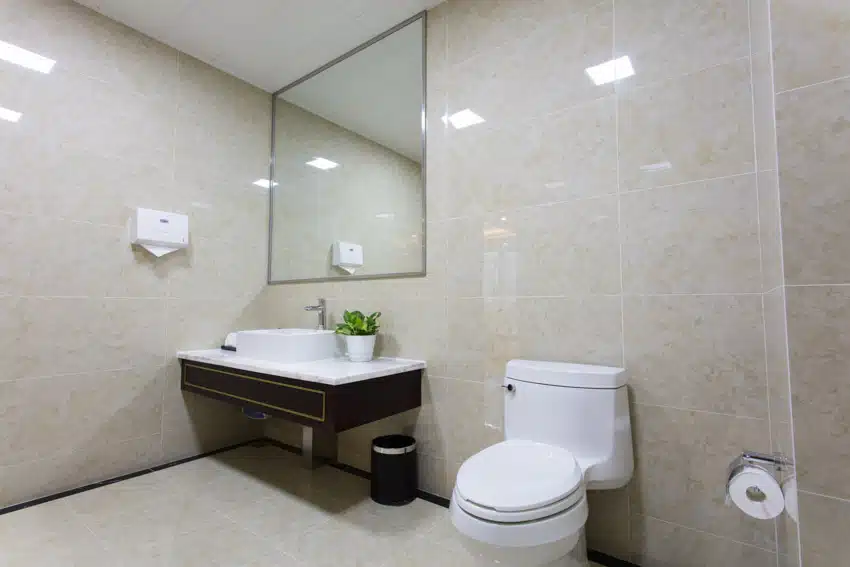 Polished porcelain tiles provide a brilliant shine, especially in rooms and spaces with lots of natural light. The reflections of both natural and artificial lighting create a spacious feel to any room and expand the openness needed in rooms such as entrance lobbies, ballrooms, libraries, and recital halls.
However, polished porcelain tiles become very slippery when wet and pose a hazard to older adults, children, and people with mobility issues. Matte porcelain tiles, on the other hand, offer a safe, non-slip surface with rich tones and a warm design. They provide traction and resistance to prevent slips and falls.
Polished porcelain tiles are a breeze to clean, usually only needing a quick vacuuming and damp mop to remove any dirt. In contrast, matte porcelain tiles are more prone to stains and discoloring.
The polished, glossy surface of porcelain tile is like a mirror and will show the slightest smudge, fingerprints, or dirt when used for floors, walls, and backsplashes. Both options are durable and long-lasting, making a great choice for your home or office.
See more content like this in our article about floor tile sizes on this page.