Here we share our dumbwaiter design guide including details about manual, elevator and DIY models.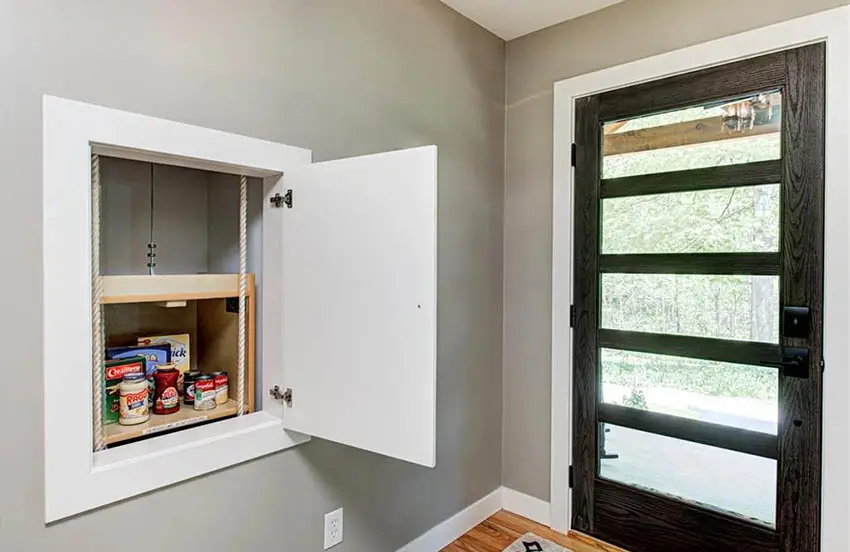 Dumbwaiters were in use around the beginning of the 19th century but the first recorded use dates back around 200BC when Romans used it to allow movement of goods.
What Is a Dumbwaiter?
A dumbwaiter is basically a small service lift which is enclosed in a shaft and dropped by ropes or chains on a pulley to be raised or lowered by a hand rope guided by rails. It is used for bringing groceries, moving laundry, dirty dishes, and hauling suitcases between floors of a house, multi-story building, café, and restaurant.
Early dumbwaiters were simple human powered devices; these then evolved with electric motors being added in the 1920s. In the 21st century, this service lift is still in use in most modern restaurants, bars, clubs, and pubs and has ever since become an essential tool catering to different purpose and functions on more than one floor.
Nowadays, designers, architects, builders, and homeowners have been incorporating electric dumbwaiter mostly for kitchens and using this lift in addressing the need to be able to move heavy and precious items between floors.
Today, dumbwaiters are fabricated with cutting-edge technology and modern finishes which becomes an interior design feature altogether.
Dumbwaiter Elevator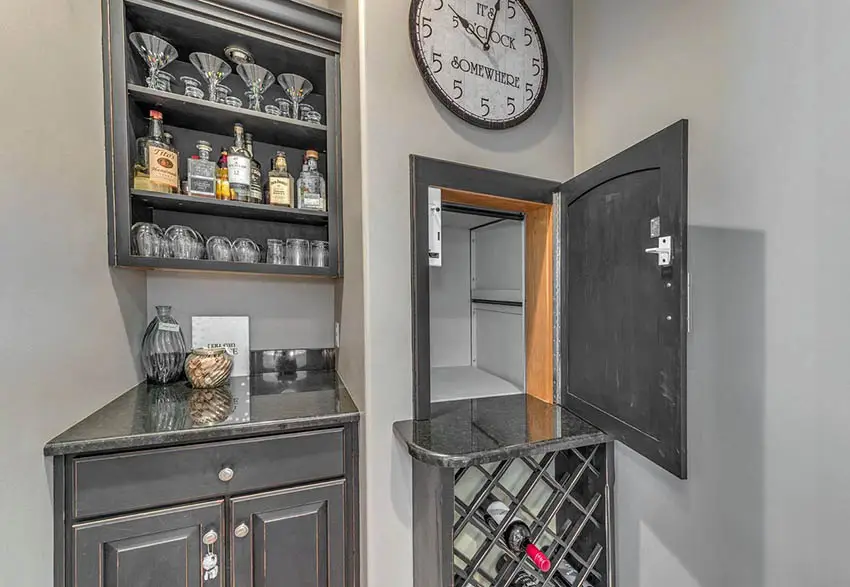 The term dumbwaiter elevator refers to a miniature freight elevator which usually measures 24 to 28 inches in width, 24 to 30 inches in height and has a depth of 24 to 28 inches for a standard dumbwaiter elevator – although, there are custom sizes available.
Intended to be used for carrying objects between floors, the dumbwaiter elevator's capacity ranges from 100 to 1000 pounds and travels to a speed of 30 feet per minute for a motorized dumbwaiter elevator.
Usually, for residential dumbwaiters has two stops and for industrial buildings it can have three up to six stops. Some manufacturers nowadays, offer customized unlimited number of stops depending on the need and requirement.
These days, dumbwaiter elevators are used in banks for moving their customer's assets from one place to another and in hospitals for bringing food and medication between floors. Dumbwaiter elevators are also used in stores for hauling up goods from the warehouse and in breweries for transferring kegs from the cellar.
For home's dumbwaiters are often found in kitchens and hallways to bring supplies from one level to another. They often bring food from a lower level to a kitchen pantry or can be used to bring food from a kitchen to a dining room on another floor.
Manual Dumbwaiter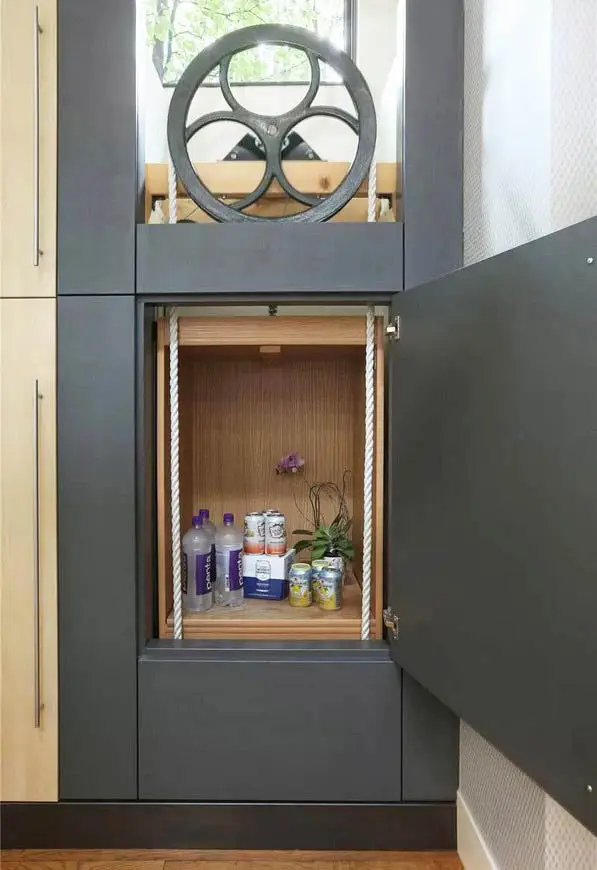 Since manual dumbwaiters are built by means of a hand-operated pulley system, they are best to be installed and used in houses since they are not used as much than they would be in an industrial building.
Manual dumbwaiters are operated by pulling on a hand rope to raise and lower the lift which is counter balanced by adjustable iron weights and the extra load in this service lift is offset by the friction in the pulleys.
There is a locking mechanism or brake in the front bearing of the main shaft which locks the lift when not in use. The brake lever is attached to a check rope which allows the speed of the service lift to be regulated when the break is released. Manual dumbwaiter's door needs to be manually locked.
Dumbwaiter Cost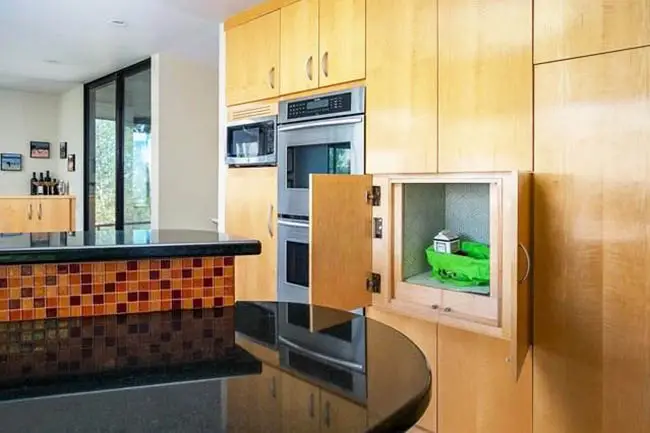 For a typical residential dumbwaiter, which measures about 20 inches wide, 16 inches deep and with a height of 30 inches – it will cost about $2,000 plus installation cost of about $750. Cost would vary depending on whether the installation was done on a bare wall such as in a hallway, or as a custom kitchen cabinet install.
Larger and commercial models and would usually starts at $10,000 for a new shaft with a motorized dumbwaiter. Depending on its required specifications, model and size a commercial dumbwaiter can cost between $20,000 to $40,000.
DIY Dumbwaiter (Do-It-Yourself)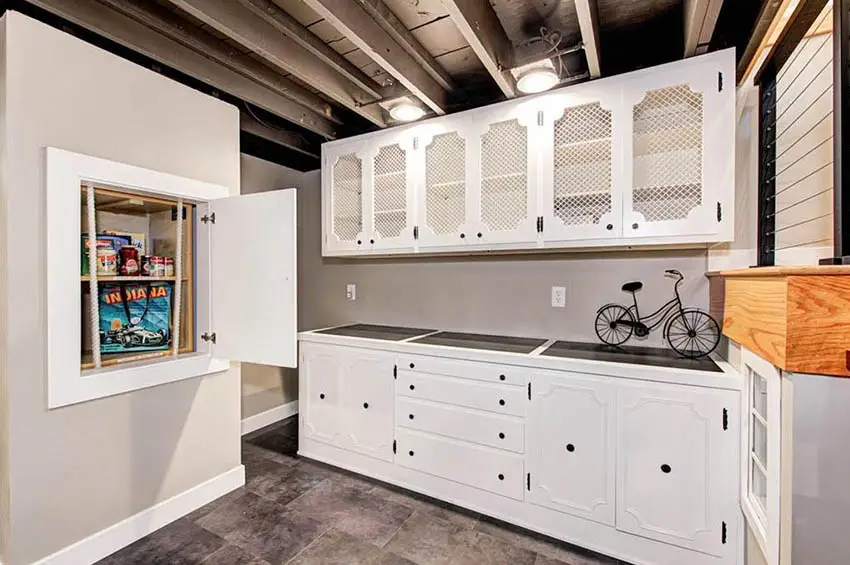 The general design of the dumbwaiter is that there should be enough space to build the shaft and a track for the tray with the consideration of installing it where you will be able to reach the tray comfortably. It is best to use half of the tray's width and adding around two inches for clearance. Make sure that the pulley arm should be high enough to be able to pull the tray toward you.
Make sure that the dumbwaiter shaft's dimension should suit the size of the tray and the height from the ground floor to the desired floor level. Remember that the shaft only houses the dumbwaiter and by itself is not structural.
At the rear right end of the base of the frame, fasten a heavy and swiveling pulley to the floor. At the top of the frame on the rear right, you need to attach two fixed pulleys into a joist or a load-bearing member.
Install a heavy cord to lift the box by placing the box inside the frame and running the cord up over the first pulley in the upper frame, then down to the pulley at the bottom. Run the cord again up to the top going through the second upper pulley to the right and let the remaining cord drop to the bottom and tie it to a metal cleat for support.
DIY Dumbwaiter How-To Video
Dumbwaiter Kit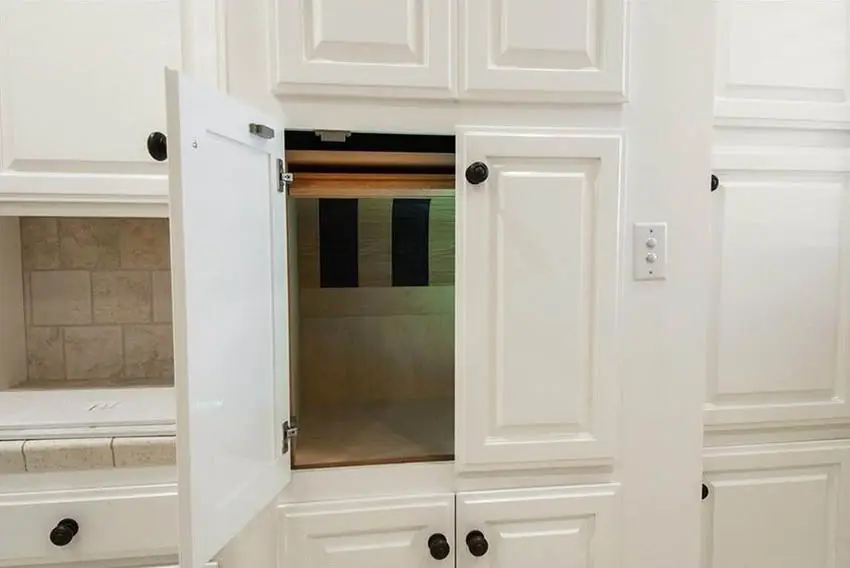 When it comes to installing dumbwaiter for a residential or industrial building, it is important to consider whether a customized dumbwaiter design or a dumbwaiter kit will work well with the space and the requirement.
Dumbwaiter kits are pre-assembled dumbwaiters which costs lesser than custom built dumbwaiter, yet offers the same quality. Dumbwaiter kits comes with a set sizes and lifting distances. The installation of dumbwaiter kit is easier to set up into an existing structure; and usually installs in one day.
Dumbwaiter kits includes the following:
• Guide rail and trolley assembly
• Motor
• Dumbwaiter lift with a gate system
• Controller
• Call/Send stations with pre-wired harnesses
• Door safety interlocks
• Switches
• Dumbwaiter assembly hardware and manual
Where to Buy Dumbwaiter Kits
The top three places to purchase a residential dumbwaiter kit are at:
Dumbwaiters.com – www.dumbwaiters.com/residential-dumbwaiters
Elevation Innovation Lifts – www.eilifts.com/residential-dumbwaiter-econo-lift-residential-systems
Assisted Lifting – www.assisted-lifting.com/collections/dumbwaiters
Outdoor Dumbwaiter
Need a lift to move something from the deck to the ground and the stairs are just becoming a challenge or it is just too far away to go around, then installing an outdoor dumbwaiter is the best way to go.
Installing an outdoor dumbwaiter design is a great way to bring groceries or luggage up and down without using the stairs. Hauling furniture in or out of your home will be a breeze. An outdoor dumbwaiter will surely save you the space, time, energy and even save you unsafe stair climbing. It can also enhance the design and add value to your home.
For more related content take a look at our kitchen pass through window ideas gallery.