Here we share our backyard essentials guide including what additions you should consider getting and our top picks for a stylish outdoor living area.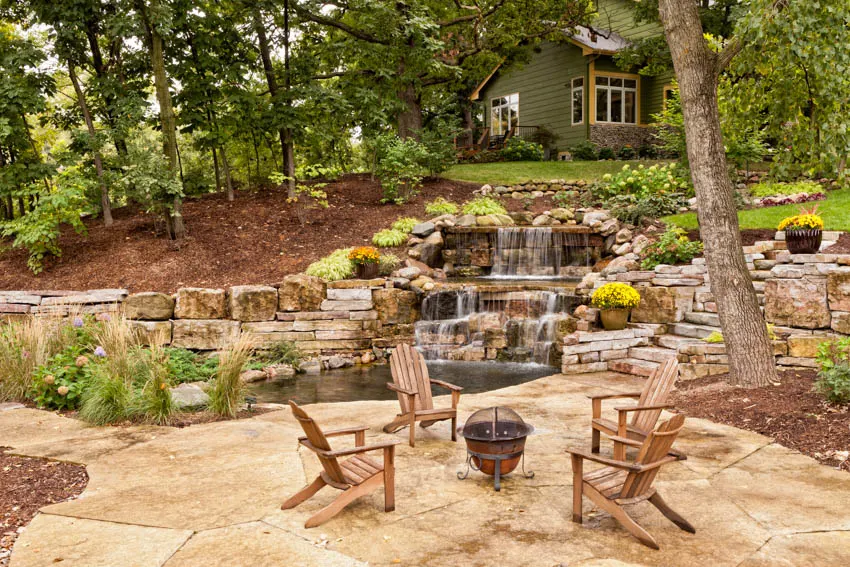 When it comes to your backyard design it's important that it's as cohesive as possible and has everything you need for outdoor living. This requires a little bit of vision and planning.
Here we've brought in some of the most important things needed so you can start turning that outdoor space at home into a beautiful space you'll be happy to share with friends and family.
Rugs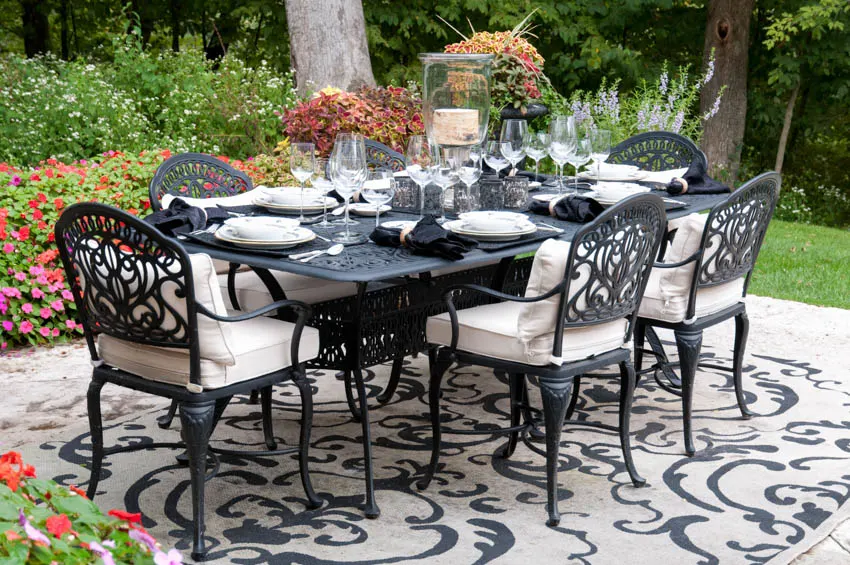 This might probably raise your eyebrow a bit. After all, rugs are popular for the indoors. But the thing is, a rug really can do wonders for your backyard or any outdoor area in your home.
Rugs are among the backyard essentials can have that grounding effect that not only helps add dimension to your space but bring in textures, colors, shapes, and a softer cushion for your feet to walk on as well.
There are different types of rugs that come in literally hundreds of designs and materials so feel free to pick a vibe or design and a rug that can go along with it. Grass textures such as jute and reed can help bring culture and resort vibe so they're also quite popular as outdoor rugs.

Lighting Fixtures
Nothing beats dining in the outdoors when the weather's nice. Set up your backyard with some ambient lighting to help get you and your guests in the mood.
You can go with something more understated such as recessed lights that requires some attention to their installation or you can go with the easier options such as pendant lights or outdoor lamps, even.
If you happen to be a little handy, you might even be able to get it done yourself. You can illuminate your backyard by choosing from many outdoor types of lighting fixtures. The best part is that it doesn't always have to break the bank if you happen to be resourceful enough.
Outdoor Tablecloth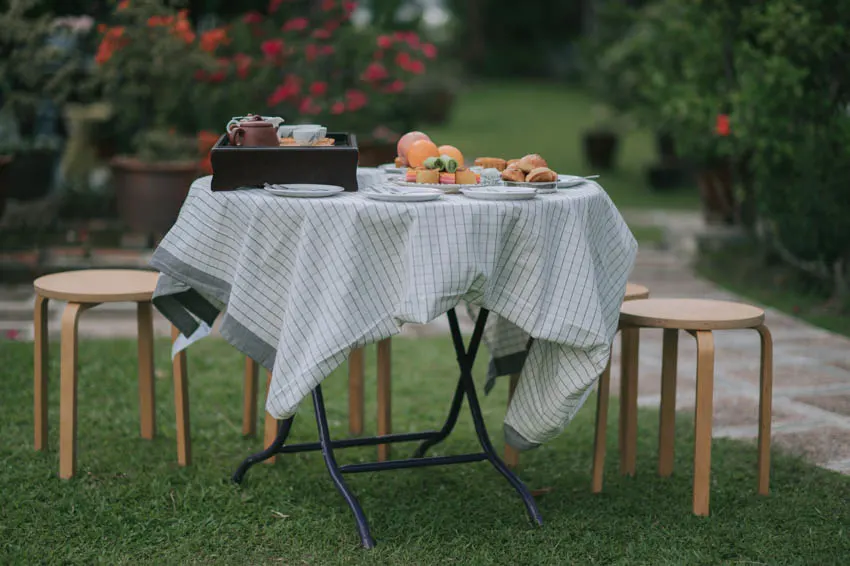 It sounds pretty basic but the thing is, it's oftentimes the little things that go unnoticed. Outdoor tables are known to experience and show a lot of wear and tear mainly because of the fact that they're oftentimes exposed to the elements.
If you happen to have some guests coming over or if you just want to dress your backyard up a little, a brightly colored tablecloth thrown on your table can definitely transform the space into something cozier and more inviting.
Decorative Plants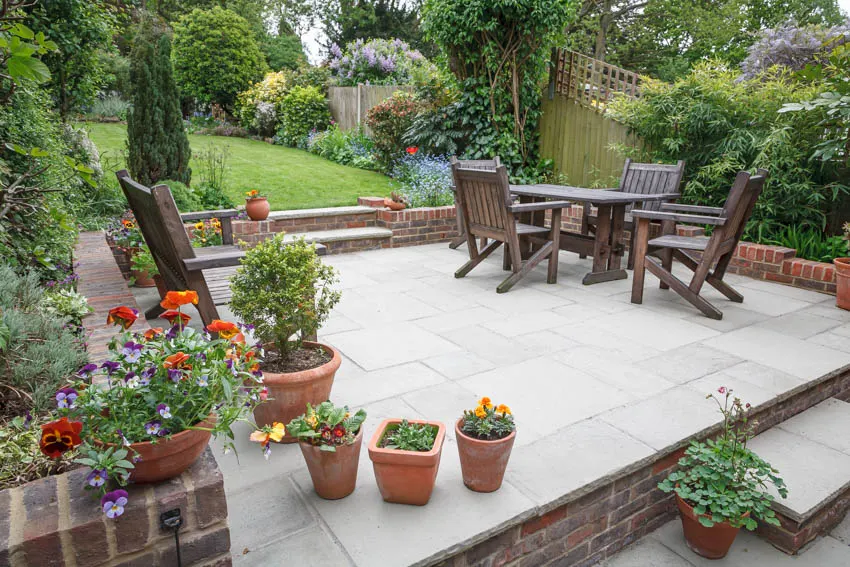 What better way to dress up the outdoors with the very things that come from nature, right? Honestly, you really can't go wrong with some well-placed plants in your backyard. If they can do wonders for your indoor décor, they can do just the same or even more for your outdoors.
It would be wise though to consider what kind of climate you have in your location. For example, succulents like the sunny outdoors. You can also be creative in the way that you get them showcased, from artisanal pots, to macramé hanging planters, or you can even go all out and get an entire vertical garden constructed and installed.
Plants are perfect both as a decorative element and as a divider, should you need to section certain areas out or if you just want a lush-looking backdrop for your outdoor space.
Adorning your backyard space with plants comes with so many benefits that go just beyond the aesthetic. Are you tired of having mosquitoes in your yard? Plant some herbs such as rosemary, catnip, basil, or even lavender to keep them away.
Plants look great, they keep the air clean and scented, and they come with so many other health benefits. Honestly, we don't think you need a lot of convincing with this one.
Fire Pit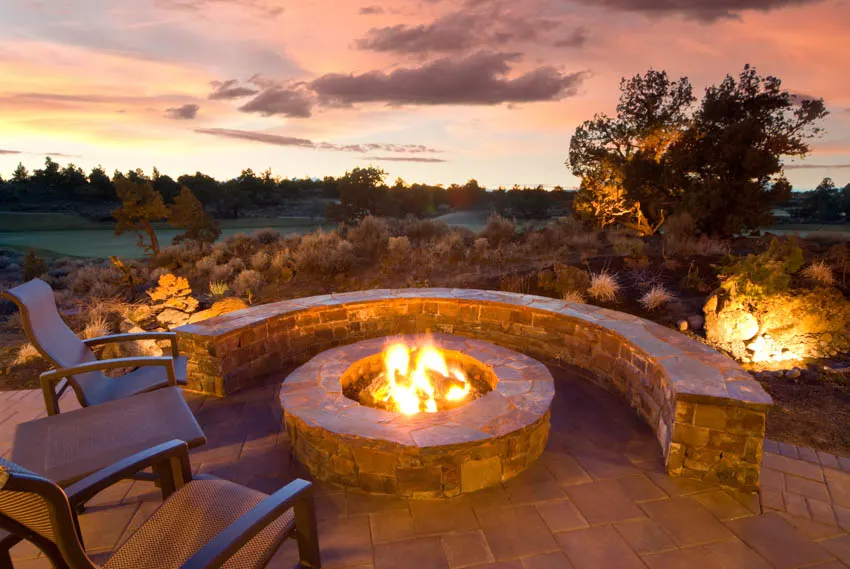 There's just something about a nice fire pit that brings people together and when you're having friends and family over, you would want to do just that.
A fire pit can be considered a great centerpiece for your outdoor setting. It can keep you warm, it looks gorgeous when done right, and as an add-on, you can even grill on top of it.
A fire pit is one of our favorite backyard essentials. There are a lot of portable fire pits that you can get your hands on if you're on a tight budget so don't let the potential costs turn you away. You can even build it yourself if you're not much of a fan of the gas-fueled ones. See more fire pit designs here.

Outdoor Seating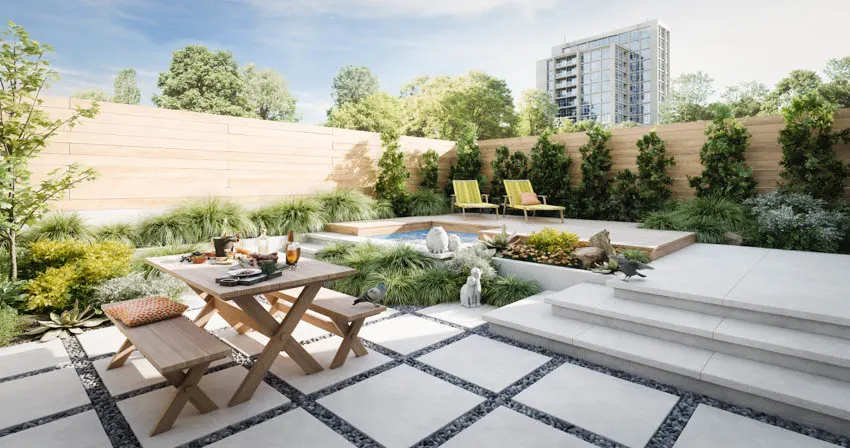 A great space doesn't have much use if people don't have enough chairs to sit on. Work on maximizing your outdoor seating options in your backyard.
This is one of the backyard essentials that can come in handy for when you're having people over. You also don't have to spend an inordinate amount of money just to get a lot of seating capacity in your backyard.
You can get outdoor benches and other creative seating that are readily available that you can decorate with outdoor throw pillows and other similar aesthetic elements.
The best part in getting your seating planned is that you don't have to lug heavy pieces of furniture around just so that everybody can sit when the time comes.
Multipurpose Poufs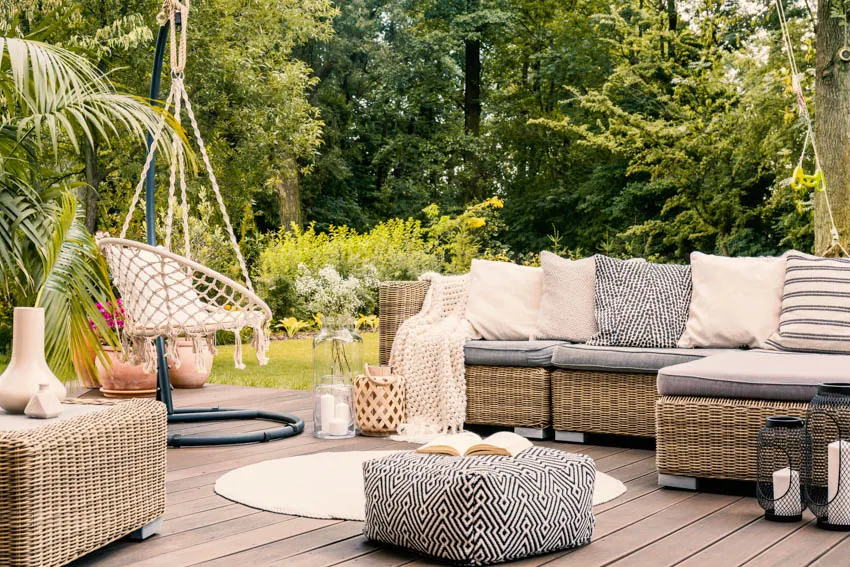 Poufs are great because they can be used for literally anything. Need a footrest for when you're relaxing and reading a book? Pull up a pouf.
Need extra seating space? Get a pouf out. Need a temporary table to hold your food and drinks for you? A pouf will serve you perfectly.
Poufs can be stored easily so you can just stow them indoors when you don't have a need for them and they look great indoors too.
Look out for poufs that are made out of materials that are weatherproof such as faux leather. But really, you can get one in any material of your liking that would best suit your design preferences for your backyard.
Throw In Some Shade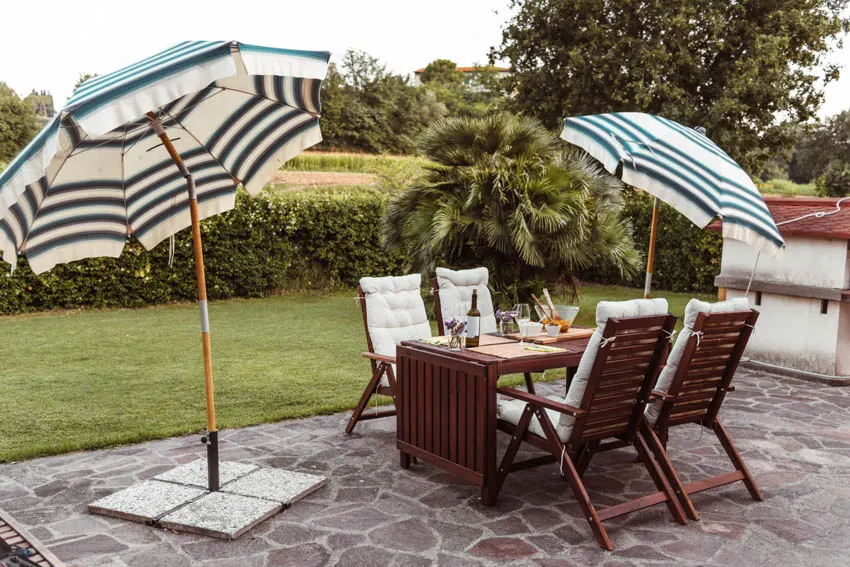 Summers are great and all but the sun and the heat coming from it can be a little punishing at times. Having a source of shade in your backyard will provide you with that much-needed respite from the punishing sun.
You can get pergolas constructed or you can even have some outdoor umbrellas set up as the perfect pairings with your tables and chairs in the backyard.
Retractable awnings or sun shades are other alternatives that can turn a hot sunny backyard into a place you can relax and enjoy more often. See our gallery of pergola ideas for more inspiration.

What Should I Put In My Backyard?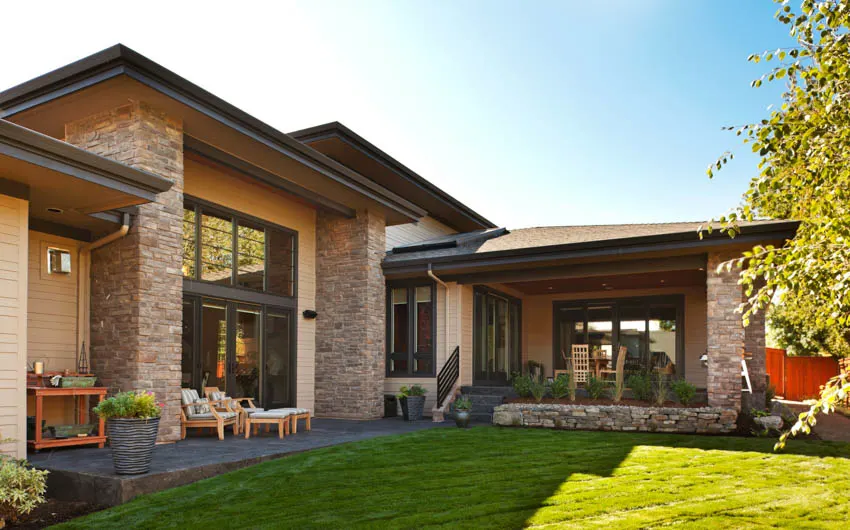 There's no definitive answer to this question as it all depends on how much space you have and how your budget looks like. But if you ask us, here are some backyard essentials that will help bring your backyard space to the next level.
Summer Kitchen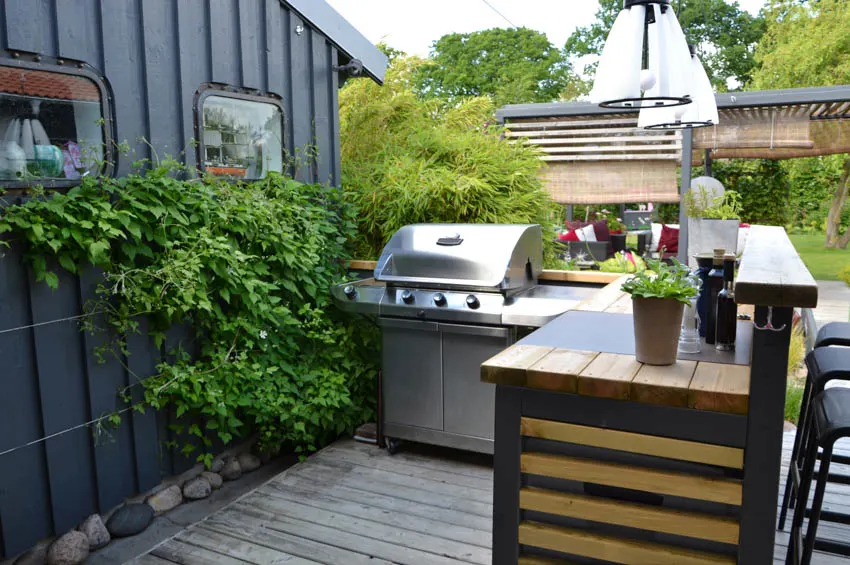 A summer kitchen in the backyard works great especially during the hot months and when you're throwing parties or having people over. It can help keep your indoor space spic and span.
Obviously, this will cost a little bit more money than the other backyard elements but if you have the budget for an all-out upgrade, it certainly wouldn't be a bad idea at all.
You can keep it basic by going for the outdoor kitchen must-haves, such as a grill, a small fridge, and maybe a sink and some counter space.
For those with a larger budget, custom outdoor kitchen designs can provide maximum outdoor livability. Many of these come equipment with all the appliances one needs to prepare and cook everything outside.
Large Hammock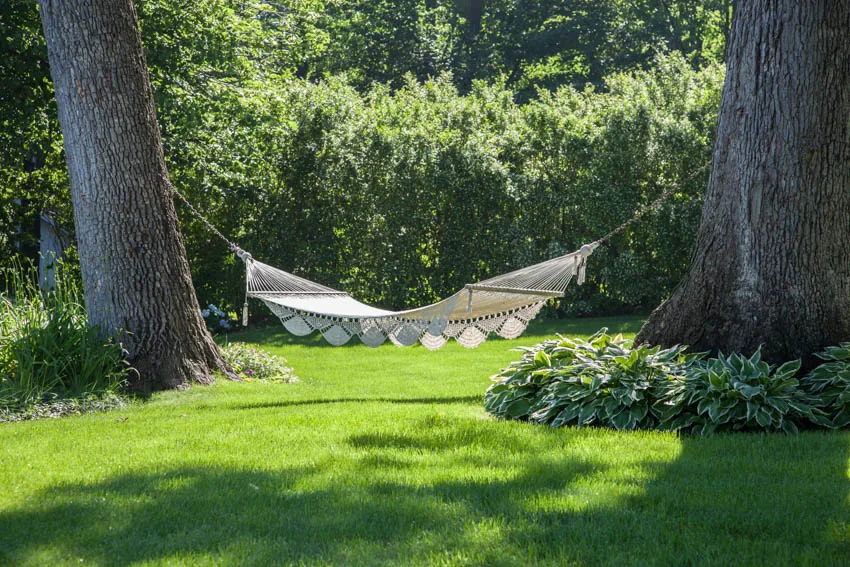 Who doesn't like to nap in the outdoors during a breezy afternoon? Having a large hammock in place is one of the backyard essentials that can give you that space that you can relax in. Go for the sturdy ones that can bear a lot of weight so that you can share them with the family.
Water Features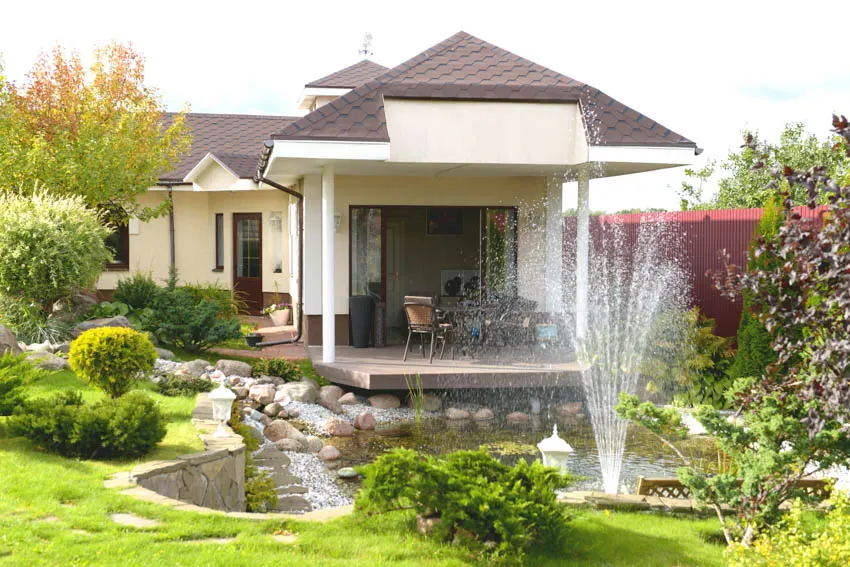 If you want a little bit of zen vibes in your backyard you can put in a fountain or other type of water feature to create a relaxing ambiance.
Creating some form of white noise is especially useful in areas with ambient traffic noise or other disruptions such as airplanes to help create a more calming environment.
Projector Screen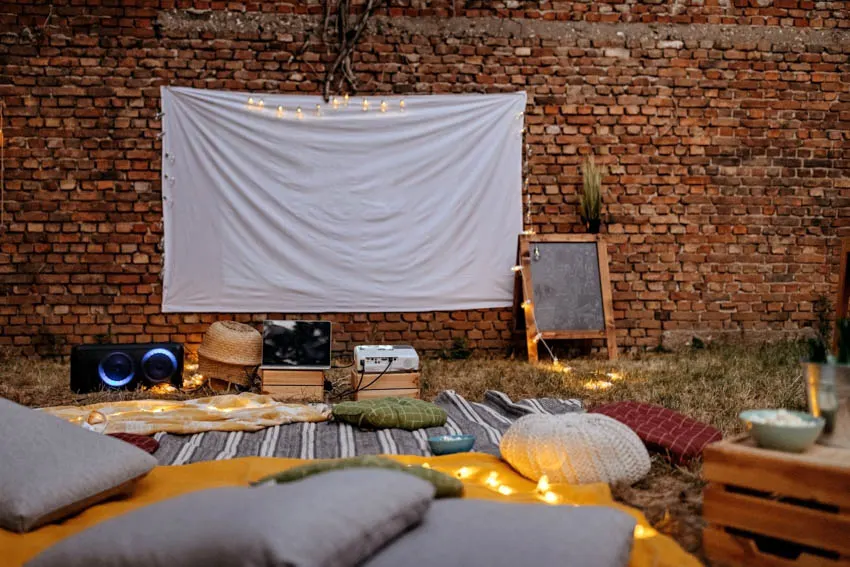 Bring some grilled food, some lawn chairs, and have a nice movie on and you're in for a real treat. Watching TV indoors has become a thing of the past especially if you can have an outdoor projector screen to watch your movies from.
There are also outdoor tv designs that can work for areas such as covered patios or pavilions. While not as low cost as a projector screen an outdoor tv can enhance your home's outdoor living and resale value.

These are just some of the add-ons on top of having the usual tables, chairs, and umbrellas for the outdoors. See more related content at our article about maintenance-free outdoor furniture on this page.