Here we share the best home office video conference background guide including background setup, wall colors, and ideas for creating an amazing background for your video conferencing.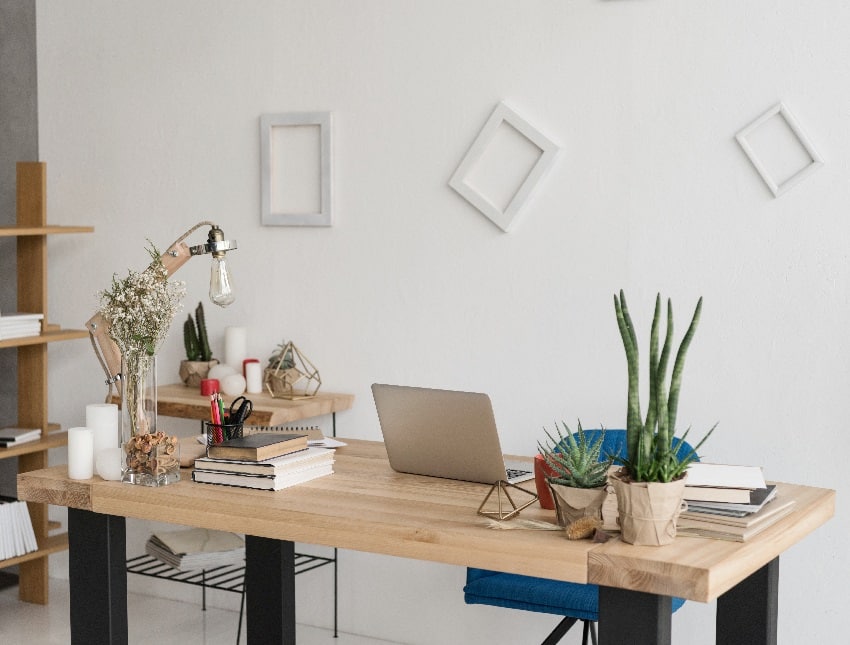 COVID-19 has created a major change not only in the way we live but in how we conduct our businesses.
Everything is done remotely. Video conferencing and online interviews have replaced face-to-face meetings. Because of this, having a home office becomes a necessity for a lot of people.
And along with this comes the challenge of creating a video-worthy background. You don't want to get caught having an unprofessional background. It affects both your branding and reputation.
So here are a few tips to help you create an office background that will wow anyone you'd have a meeting with.
How to Set Up A Home Office Background For Video Calls
Having a good web camera, microphone, and internet connection is a no-brainer. Besides that, you also need these four elements to create the best video conferencing setup:

Background

Lighting

Environment

Ergonomics
Background
Your background should not only be clutter-free but also aesthetically pleasing. Therefore, you need to choose the best spot in your house.
If you don't have a home office or a dedicated spot for video calls, you can create one by painting a portion of your wall with a neutral color. You can also find more home office built in ideas here.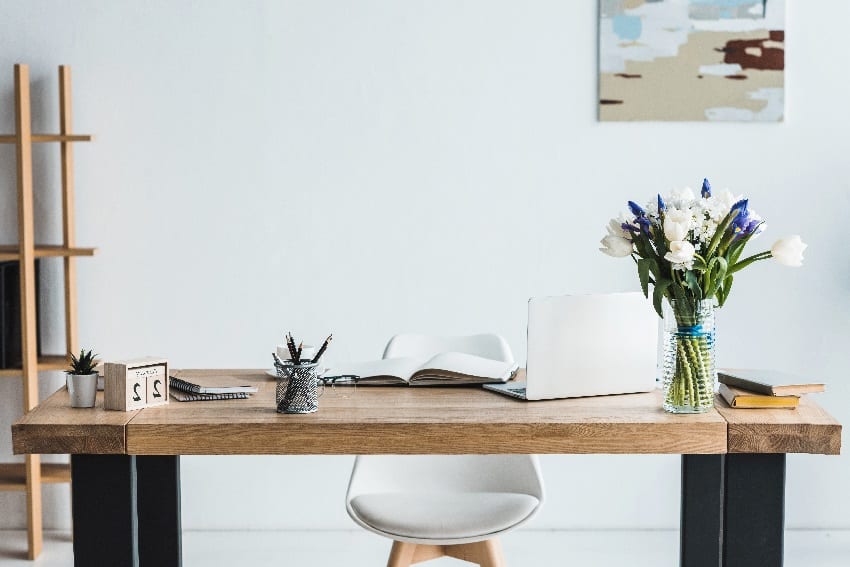 You can also rearrange your room and re-design your interior a little, like adding some books or plants.
If you are in a hurry, you can just use a virtual background or blur it. Most video conferencing platforms have these features. The only downside to virtual backgrounds is that it's too common.
Lighting
Isn't it annoying to talk to someone with their face hidden by shadows? It feels like you're in a cheap spy movie. And you don't want to give off the same vibe to someone during video calls.
Avoid such situations from happening by setting up your video calls in a well-lighted part of your room. Use natural lighting as much as possible.
To find the best lighting in your house, turn your webcam on and go around your house to find the best spot.
Never sit with your camera against the light but in front of it. If your ceiling lights are too bright, you might want to turn them off to optimize the natural light.
Environment
Ensure a distraction and noise-free environment to avoid any embarrassing situations. You don't want to get caught with your children suddenly barging in or your naked roommate passing by behind you.
To avoid this, sit across the doorway and make sure there's no space behind you where someone can walk unannounced.
Ergonomics
Your comfort is also necessary during video conferences, especially if it's going to be a long one. So make sure you are using a comfortable chair and everything — pens, notebooks, cups, etc. — is within reach.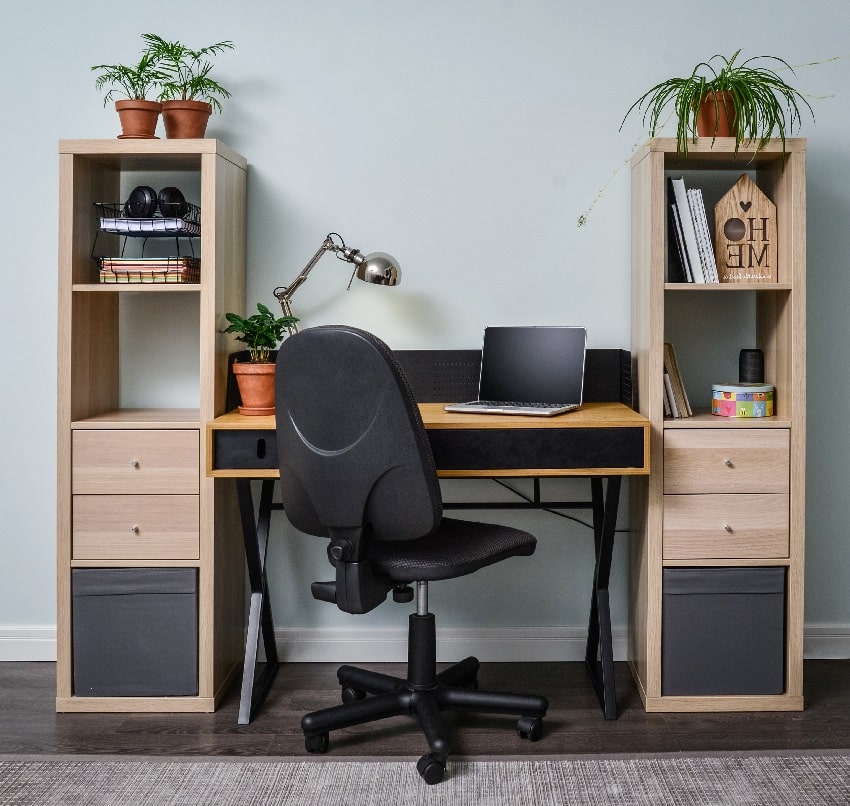 If you are using a laptop, make sure that you put it on a steady surface with the camera at eye level.
Never put your laptop on your lap. Not only is it considered unprofessional but you don't want to put yourself in an uncomfortable situation if you type something.
Best Wall Color For Video Conferencing
White is the safest choice when choosing a background color when doing video calls. But it is also boring — looks like you're inside the hospital.
Why not try new and exciting colors that would add some oomph to your video conferences. Exciting, however, does not mean neon bright colors but something different from the usual white background.
Go for neutral hues because they look easy on the eye and give off a professional vibe. Here's some suggestions:
Navy Blue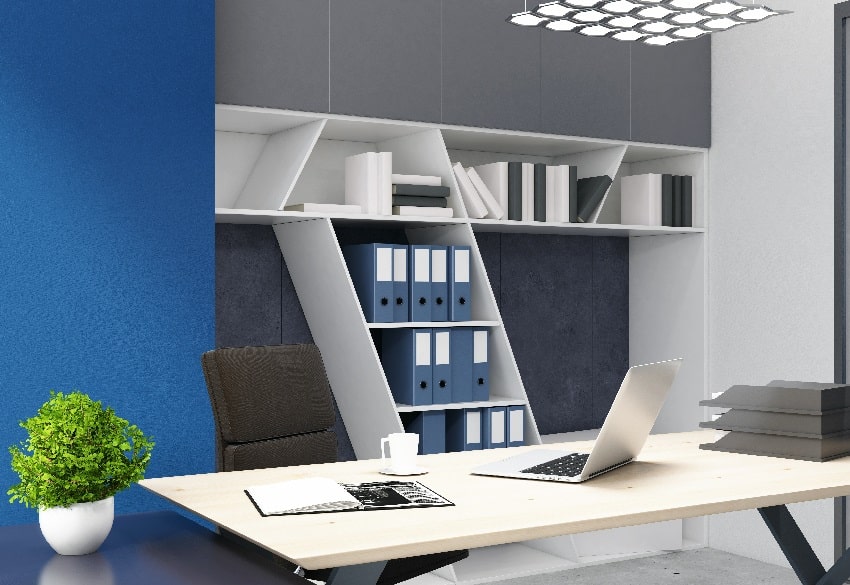 You can never go wrong with this classic color. It looks calming and professional on camera. Blue also helps you stay focused and more productive. Highlight it with gold or light color for maximum effect.
Sky Blue
This light tropical color increases productivity and efficiency. And according to color psychology, it makes you calm and centered. It's also a versatile background color because it complements other colors without overpowering them.
Add some more excitement by accenting it with white or silver. Read more about what colors go with light blue walls here.
Cool Gray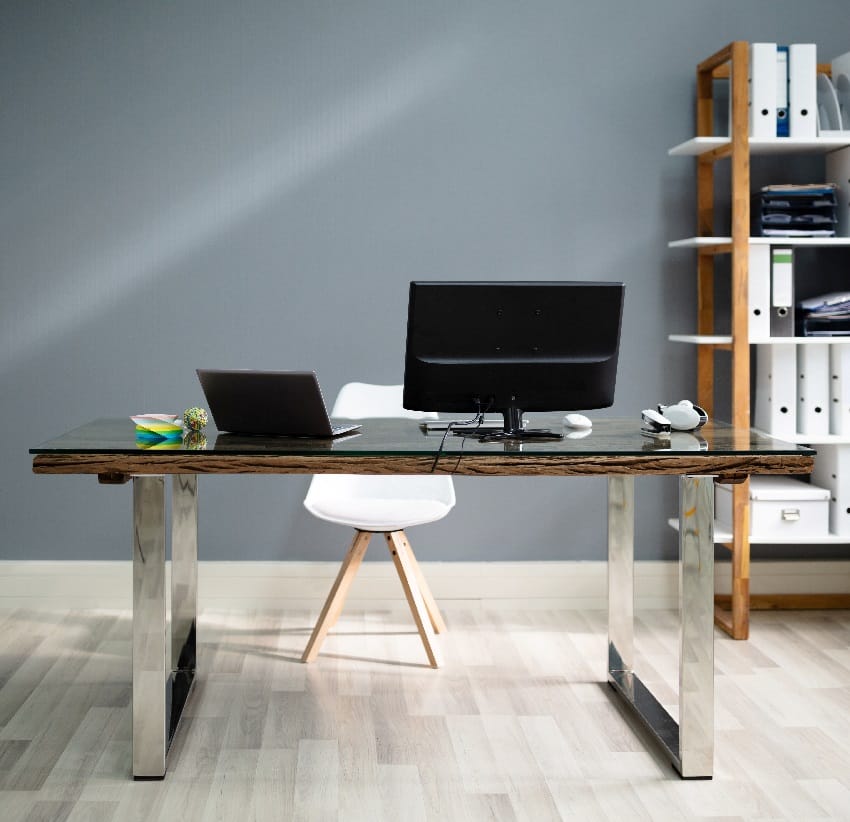 Cool gray or flagstone is another versatile color backdrop for video conferencing. The color gives your room a timeless and elegant look. For a more exciting effect, accent it with bright yellow.
Powder Pink
Although it was popular only in recent years, powder pink makes a perfect background for your home office. Not only does it look good on camera but it boosts your creativity and improves your concentration.
Olive Green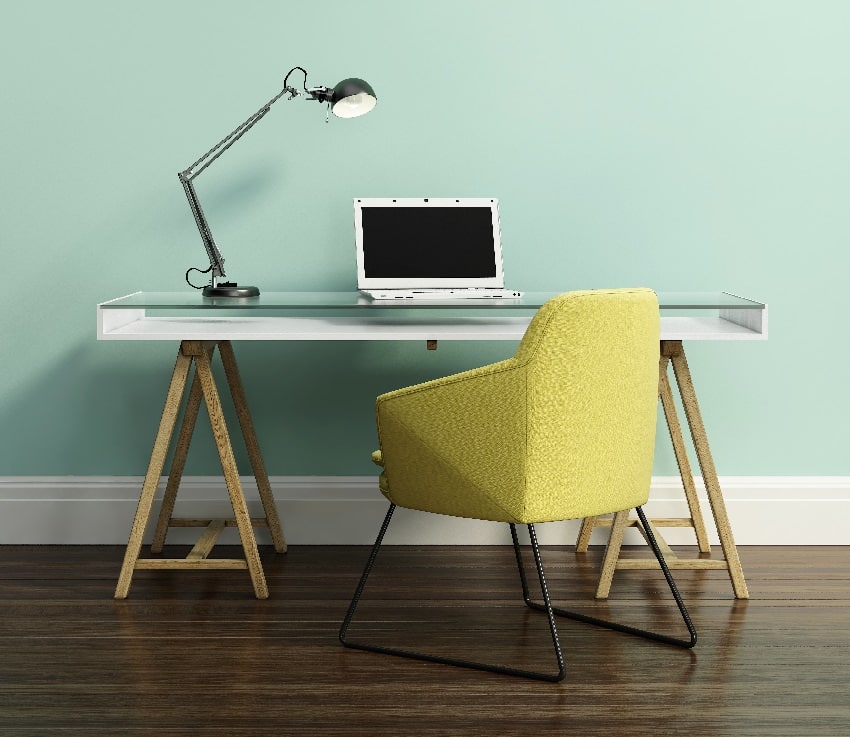 Green is easy on the eye. It is energizing and calming at the same time. Add silver or brass accents to further enhance your green background. See more colors that go with green here.
Cream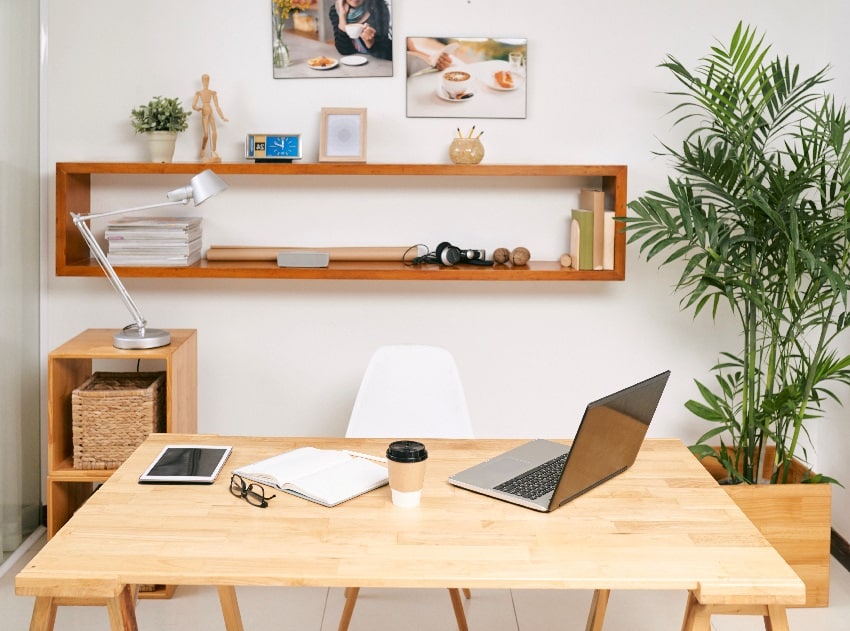 If your room receives enough natural light, painting your wall with cream-colored paint will make it warmer.
Best Background Ideas For Video Conferencing
Aside from adding accents or painting your walls, here are more ideas for achieving an amazing background for your video conferencing.
Whiteboard
Whiteboard is a versatile background, especially if you are very creative. You can write something interesting on it — perhaps a math equation or a thought-inducing quote.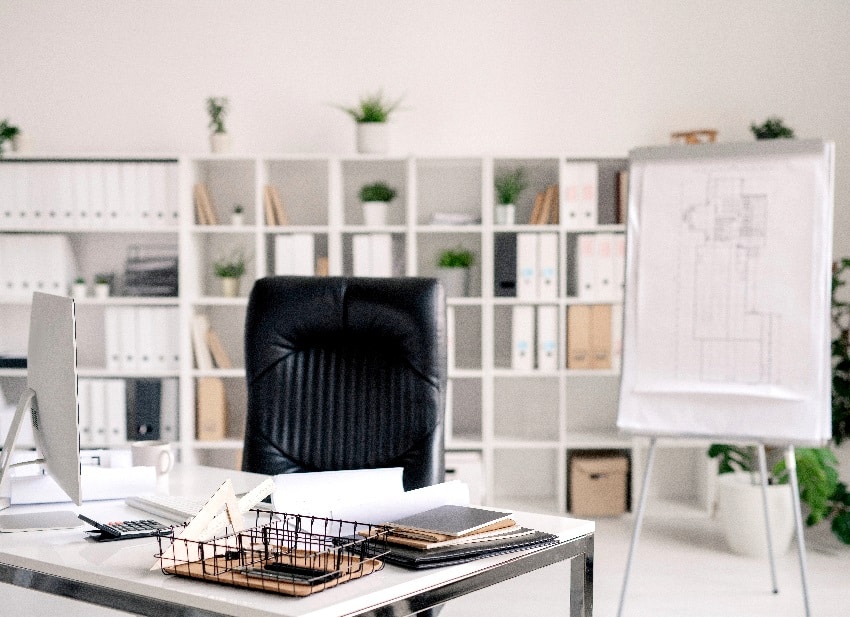 It's also the perfect background if you need to write while explaining something to the people on the other lines.
Be careful, though, when using a whiteboard because it produces glare and is very reflective.
Wall Decals
Wall decals of your business or company logo is a cool background for your video calls. It sparks enough interest or curiosity, making it a good conversation starter or ice breaker.
Retractable Banners
If you're looking for a different video background that is easy to set up, retractable banners are for you. All you need is to place it on the floor and pull it up.
TV or Computer Monitor
This works even better if you have a big TV or computer monitor.
Place your TV screen behind or beside you. Turn it on but put it on mute — it gives off a newsroom aura. Just make sure that the images will add interest and not embarrassment.
Summing it All Up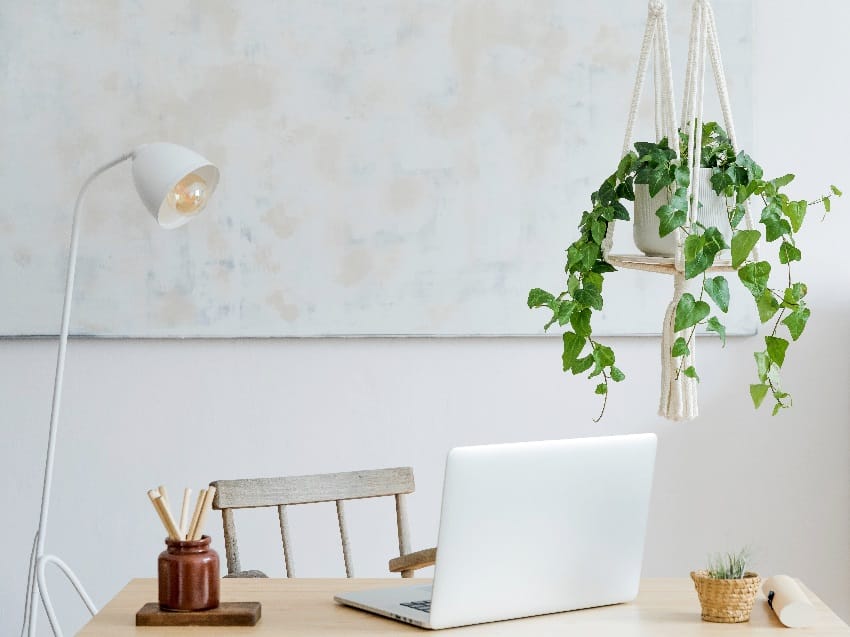 Creating or finding the right background for your video conferencing shouldn't be difficult. Aside from the suggestions we gave you in this article, there are still a lot of ingenious ways of creating a background. Be creative but don't go too overboard.
For more related ideas visit setting up a home office for remote work page.