Here's our guide to pavers vs concrete driveways covering their durability, maintenance, design and cost.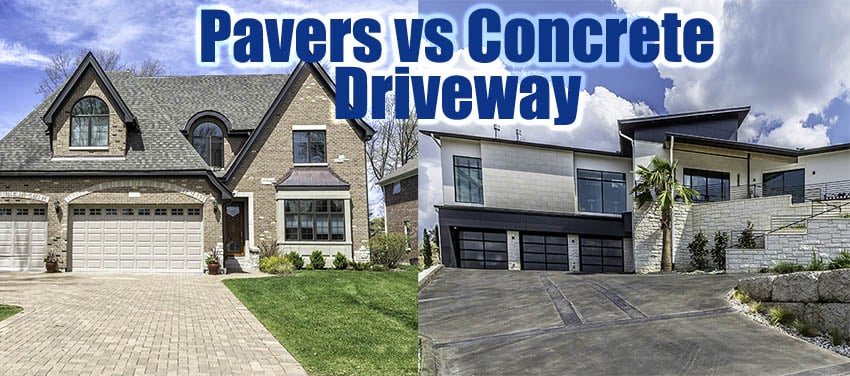 Creating a good-looking driveway is a worthy home upgrade that costs less than most outdoor renovation projects, and pavers and concrete are the two most popular driveway materials you should consider.
Evaluating between pavers and concrete for your home's front driveway will involve weighing in their main features that will accommodate your needs and preferences.
To begin we'll take a look at pavers then we'll see how they stack up against concrete driveway designs. For more types of driveways visit this page.
Pavers Driveway Durability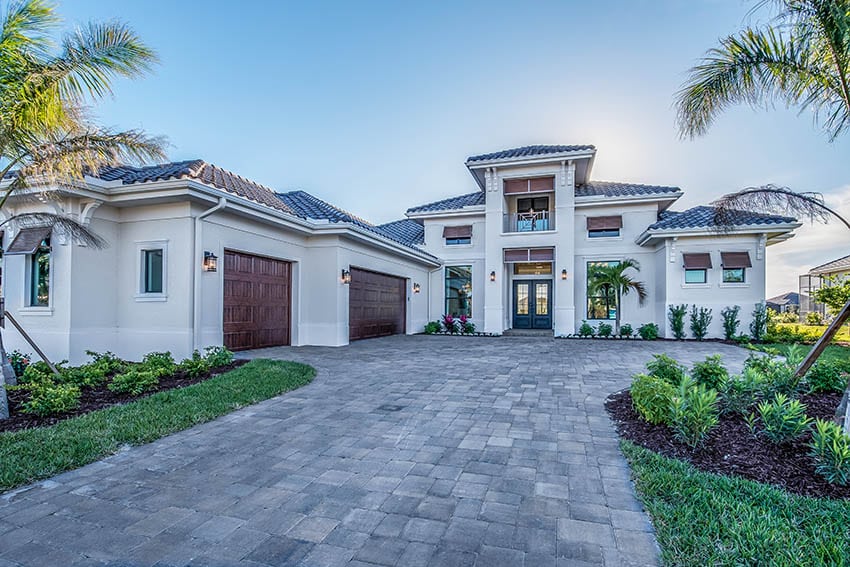 Pavers are measured to have 4x the strength of the typical concrete pavement as brick and concrete pavers are manufactured in a controlled environment until they reach their optimum strength.
This stable composition makes them stronger than poured concrete, as concrete will expand and contract depending on the surrounding temperature.
The constant or sudden shifts of extreme temperatures can cause cracks thus weaken the material. For natural stone pavers, they are normally stronger than bricks and concrete pavers because of their composition and makeup.
Another reason why pavers are stronger than concrete slabs is that pavers are interlocking modular pieces that allow water to drain between each piece especially for open-graded pavers. The fillers between pavers are known as joints and are filled in with polymeric sand.
The semi-pervious surface prevents water ponding on the surface that can cause extra water from seeping through the driveway material that will eventually lead to weakening the material and cracking.
Driveways made from pavers usually last around 50 to 100 years on average.
Pavers Maintenance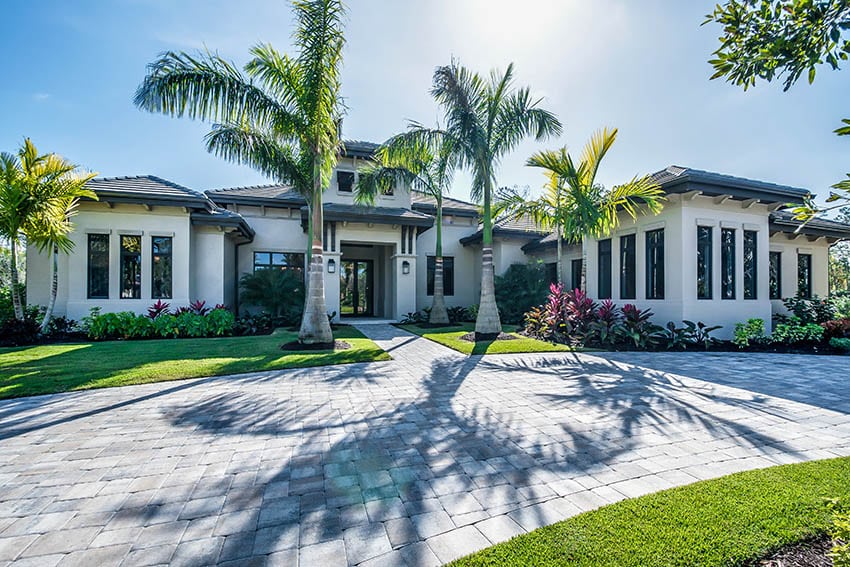 Unlike concrete which is easier to maintain because of its monolithic structure, pavers can be more of a challenge to clean because of the crevices between the pavers. These joints allow grass to grow and lodge debris and dirt over time.
For some stains, you can power wash to remove them but for natural stone pavers that have a variety of patterns and colors, stains are even hardly noticeable. Another advantage of pavers over concrete is that you replace stained or cracked pavers with new ones without a major renovation.
Pavers Design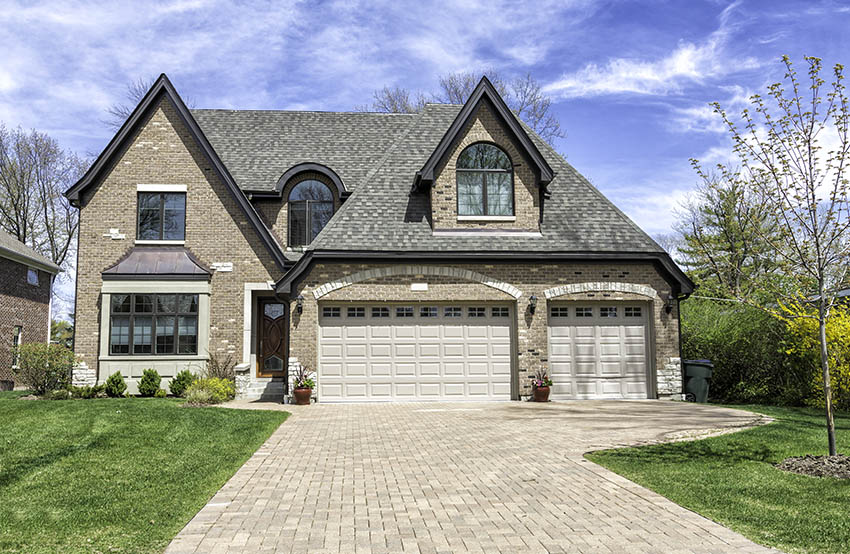 Overall, pavers are more aesthetically pleasing compared to concrete, and a property with a paver driveway looks more expensive than that of a concrete driveway.
Pavers offer more colors and patterns to choose from, making it possible to have a unique and attractive driveway that is tailored to your needs. The individual pavers come with different shapes and colors that you can arrange with whatever pattern you want.
The most common paver patterns are herringbone, flagstone, basketweave, running bond, stack bond, cobblestone, crazy, and European fan paving patterns.
Pavers can also be made with different materials such as bricks, bluestone, travertine, rubber, plastic, cobblestone, and many more types.
Concrete Driveway Durability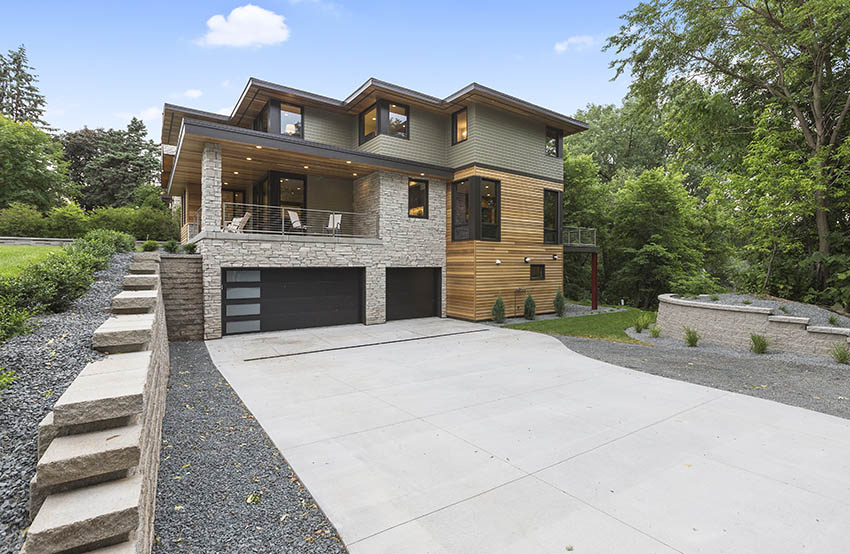 With proper maintenance and have no cracks, concrete can last on an average of 30 years. Though concrete is less durable than pavers, it lasts longer compared to asphalt which has a 20-year life service.
Aside from maintenance, the longevity of concrete will depend on a lot of factors such as the temperature and weather it is exposed to, quality of concrete, workmanship, and method used in its installation.
To get the optimum strength and durability of your concrete driveway it is recommended to have 4 inches thick of concrete slab for the usual passenger driveway cars and 5 inches thick for heavier vehicles.
If you have poor soil quality, it is recommended to have a deep gravel depth of 5 inches to 12 inches, as opposed to the standard 4 inches gravel deep. Read more about all gravel driveways here.
The minimum PSI (pounds per square inch) for concrete driveways and walkways is 4,000 psi, but it is ideal to have 4,500 psi.
Concrete Driveway Maintenance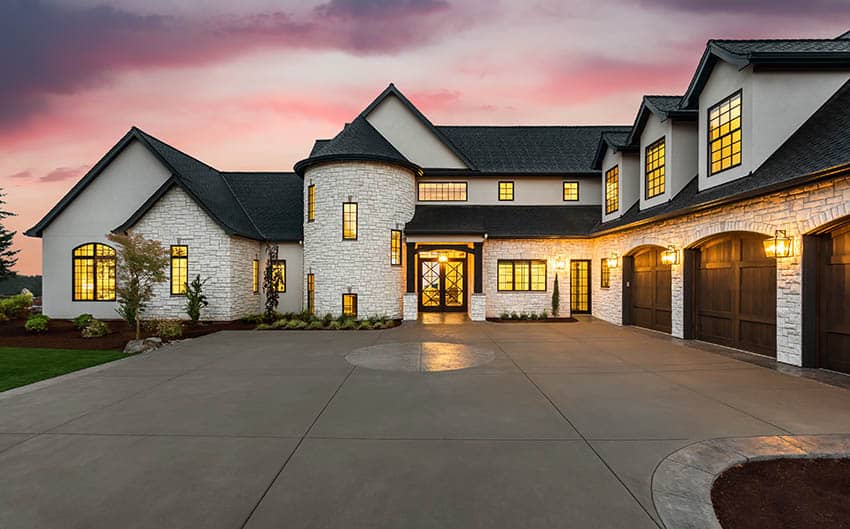 Having a concrete driveway means a maintenance-free pavement that you may just need to sweep off dirt and debris. Stains can occur but you can use a high-pressure hose to rinse away to stain. For thorough cleaning add liquid dish detergent or bleach to the area and rinse it quickly with water.
There are specialized cleaning agents you can purchase that can remove oil and grease from concrete as well. And if you're short on time, you can hire a concrete driveway cleaning service for the job.
Concrete Driveway Design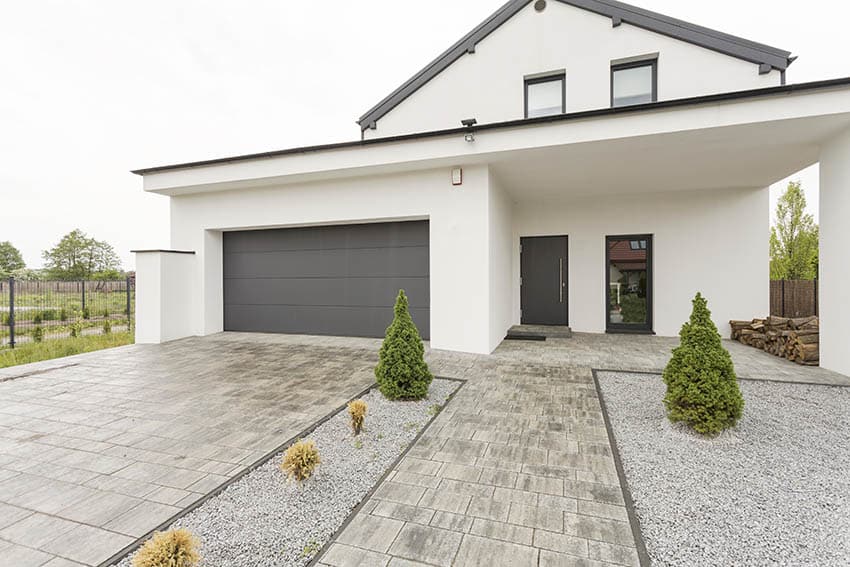 Although not as attractive as pavers and has fewer surface designs to choose from, poured concrete driveway can take almost any driveway shape and slope, making it a simple yet versatile option.
Concrete is a great choice if you need a modern and minimalistic look for your driveway, though you can also change its color by applying solid color stains. See more pictures of modern driveways here.
If you have an existing concrete driveway and want to change the color, you'll need a stripping solution to remove the existing sealer. After using sealers, you can then apply a solid color stain.
Paver Driveway Cost vs Concrete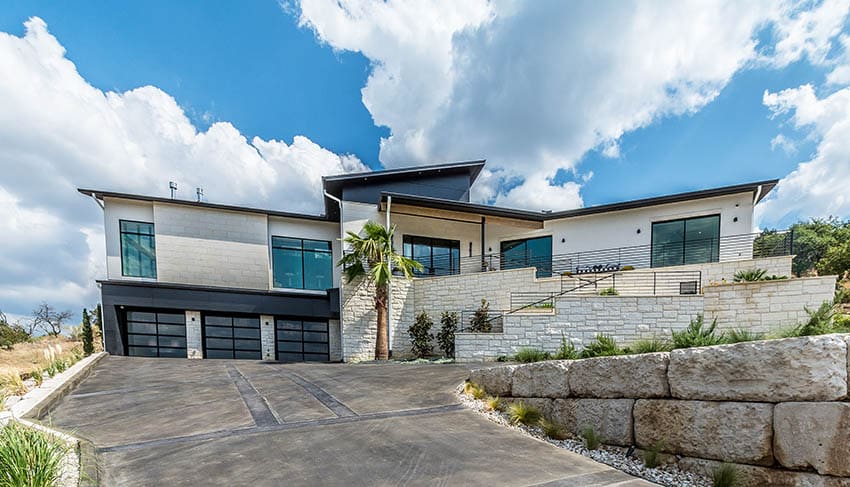 When it comes to cost for pavers vs concrete driveways, installing a concrete driveway is less expensive than pavers.
Concrete costs around $7-$10 per square foot while pavers cost around $9-$14 per square foot depending on the material.
So, for instance, a typical concrete driveway of 700 square feet will costs around $7,000 to $8,000, while a brick driveway will cost around $9,800 to $10,000.
Stone pavers on the meanwhile can cost as much as $25,000. In addition to the raw materials, the pavers are labor-intensive and are more expensive since you'll need to lay out the pavers one at a time.
If you plan to make it a DIY project, you'll save around 30% to 50% on labor costs but can be time-consuming. It is recommended to have professionals do the installations for both pavers and concrete.
Which to Choose Pavers or Concrete?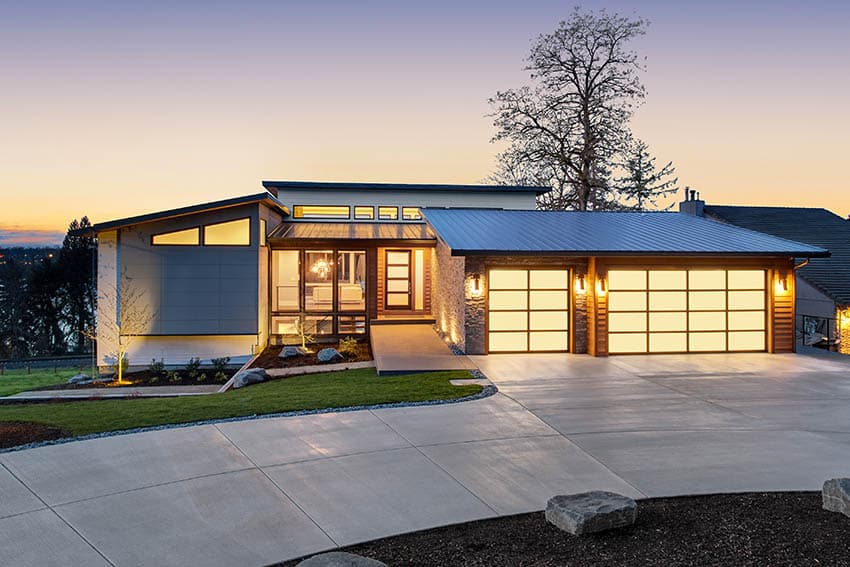 Concrete and pavers are both conventional driveway materials that are excellent choices when matched with your particular needs.
If you are out for longevity and have money to shell out upfront, then driveway pavers are a great option for you.
For those who want a relatively durable driveway without the costly expense then concrete is the better choice. Take note though that potential cracks on your concrete driveway can cost you more in the long run. While pavers can be high-maintenance that can cost you additional time and fees in maintaining them.
Both concrete and paver materials can have a heated driveway snow melting system installed underneath the surface, which can help prevent slipping adverse weather conditions.
Though between the two, you'll find pavers have a great advantage when it comes to curb appeal and if you're looking to sell your property in the future then a paver driveway may add to a home's resale value.
If you're looking for something in-between, then concrete pavers are great options as they are made of concrete that is in a controlled environment reducing constant expansion and contraction. Concrete pavers can also simulate the beauty of stone and brick paver driveways.
What are your favorite when it comes to pavers vs concrete driveways. Let us know what you think below.