In this wardrobe dimensions guide you'll see the standard wardrobe size, wardrobe box sizes, hanging rail height and popular brands dimensions.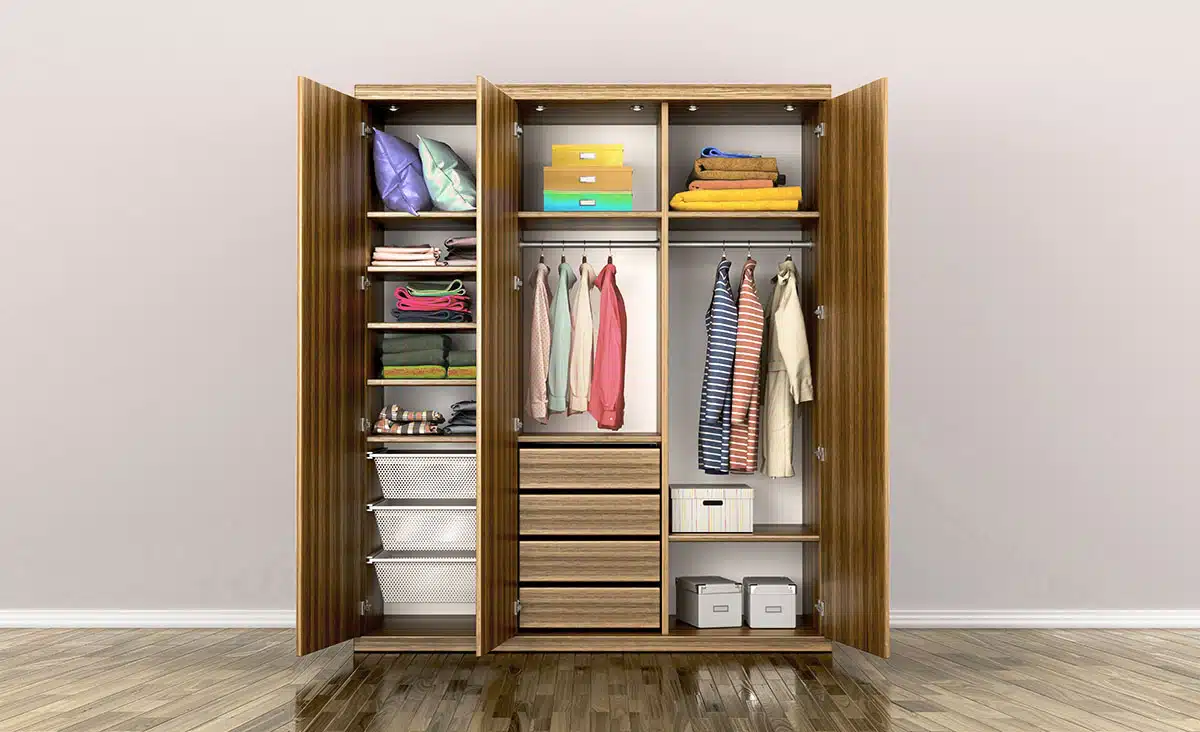 Home spaces are more functional with the ideal wardrobe dimensions. Living in an area with proper storage for different clothes will give more comfort to homeowners knowing that each space has a sense of purpose.
Understanding the different wardrobe dimensions will guide homeowners in ensuring that every inch of their home is functional and well-thought-of.
When one has the right wardrobe dimensions, arranging clothes, changing in the morning, and keeping the room neat are all going to be laidback chores. If the wrong dimensions are taken in the limited room, this may take up unnecessary space.
Standard Wardrobe Dimensions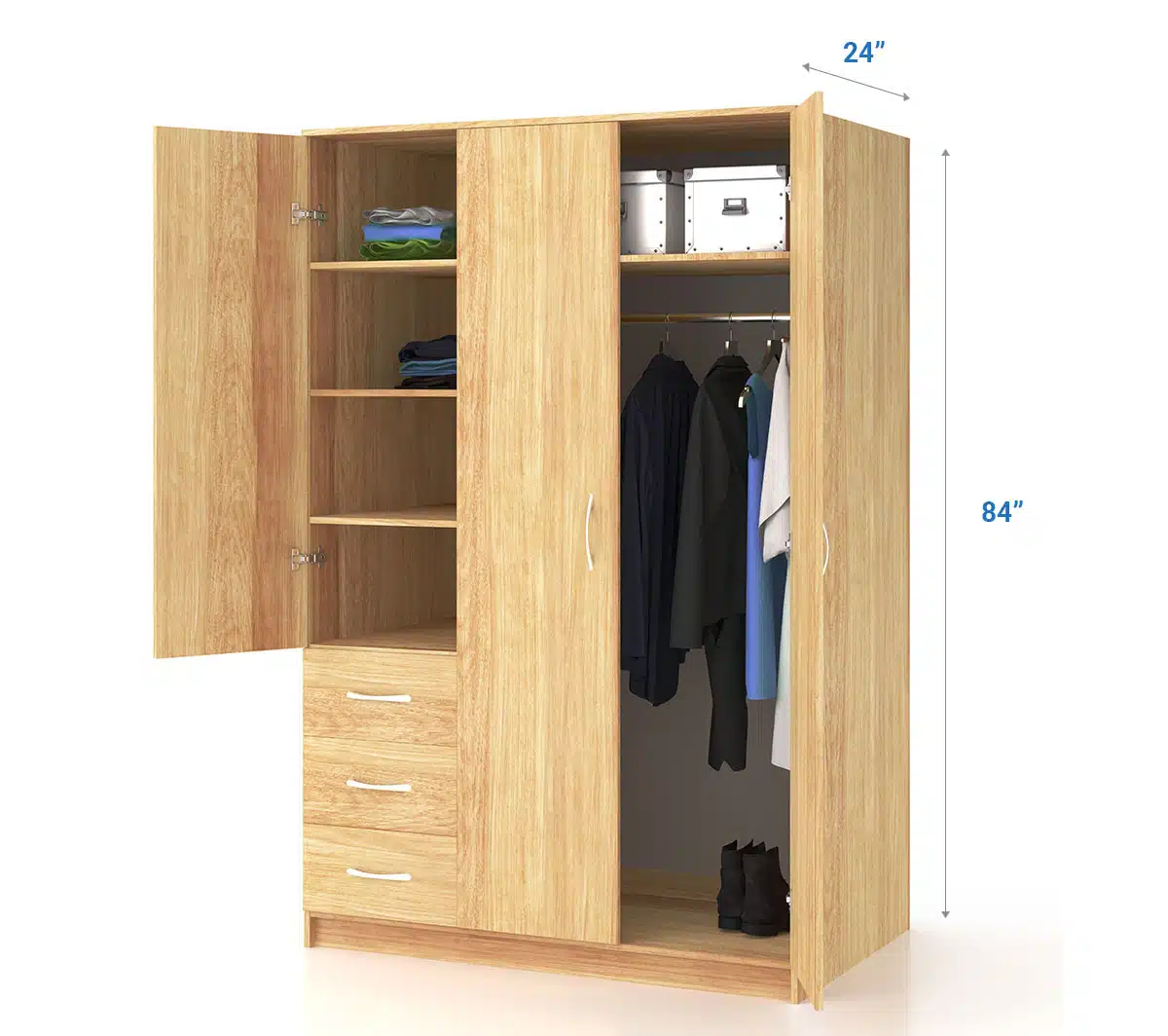 The standard wardrobe is a staple in almost all homes. The design may vary as the standard wardrobe is very easy to customize, depending on the different needs and preferences of the owner.
Standard wardrobes in many people's homes usually have a height of 84 inches tall and a depth of 24 inches. The number of doors depends on the width of the entire wardrobe. And this width will also depend on the space available in the room.
For standard wardrobes, doors are usually the hinged or swing type. This is the typical design in traditional homes. It can also be changed into sliding doors for a traditional style closet feel, which is now more common because of their space-saving feature.
When homeowners don't have a preference as to how their wardrobe designs are sized, the standard dimensions are used as a reference for some home builders. Custom homes are designed with specific bedroom wardrobe sizes to accommodate the homeowner's personal preferences.
When it comes to maximizing your wardrobe's space, there are a few tips to consider. Before starting to fill an empty wardrobe haphazardly, empty it completely and sort your clothing by type. Donate or throw away all clothing items you will no longer wear.
Items such as shoes, boots, jackets, coats, sweaters, shirts, socks, belts, ties, hats and gloves should be sorted by season. Next, consider the season and place the clothing you will be wearing in the near future within easy reach at the front.
There are several different sorting methods which include categorizing by type, color, outfit, or use. Choose the sorting method you like best and make sure to use hangers for dresses, blouses and jackets while folding other products such as skirts, shorts, underwear and t-shirts and placing them on shelves or in drawers.
Wardrobe Box Dimensions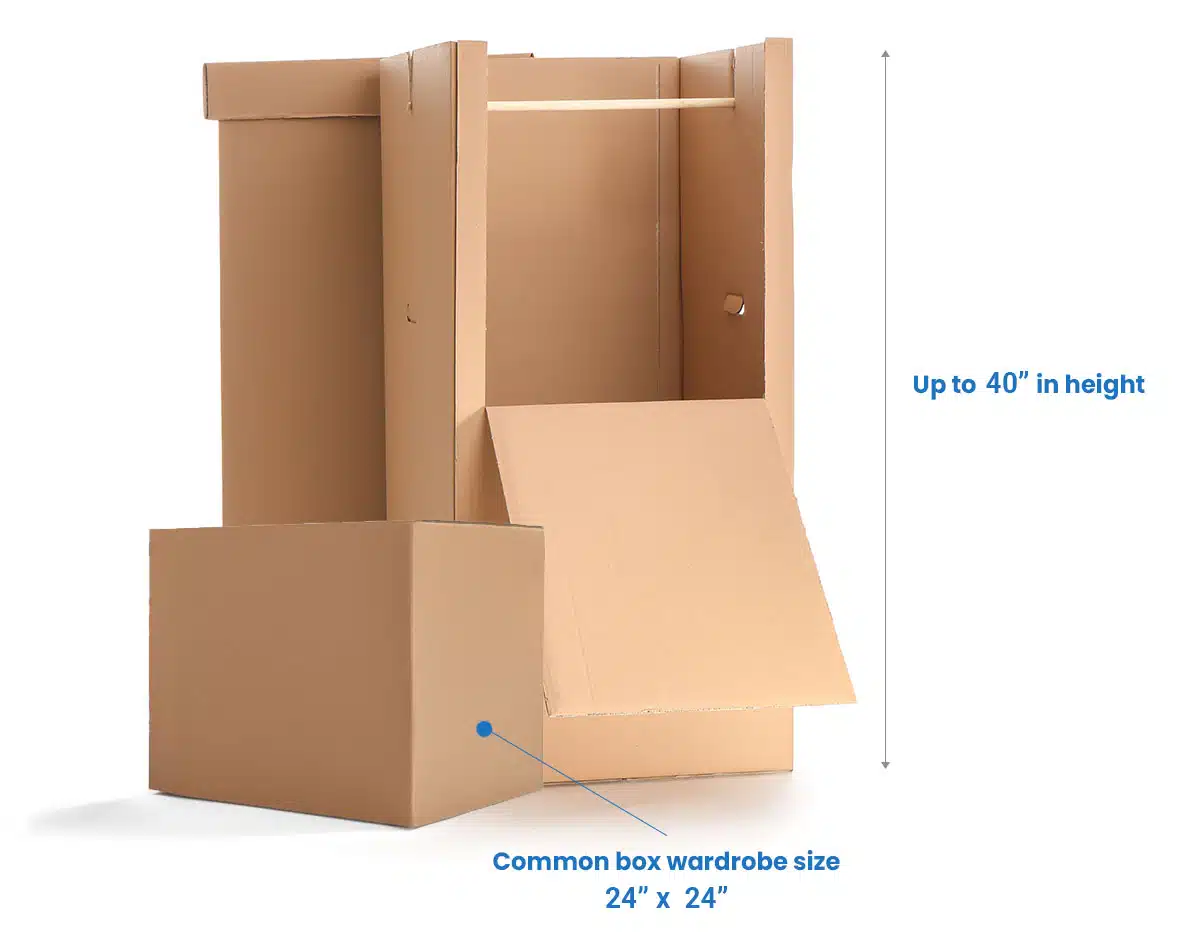 Convenience is on another level with wardrobe boxes. These travel and moving staples are perfect if you want to store clothes without the hassle of folding. Such storage solutions are boxes with a rod for clothes to hang on.
Most wardrobe boxes are 24 x 24 inches, enough to fit shirts. Some boxes can have a height of 34 inches, and some can even stretch to as high as 40 inches tall.
Just like other wardrobes, these boxes can fit various clothing pieces such as dresses, jeans, and shirts, depending on how you place them accordingly.
Dorm Wardrobe Dimensions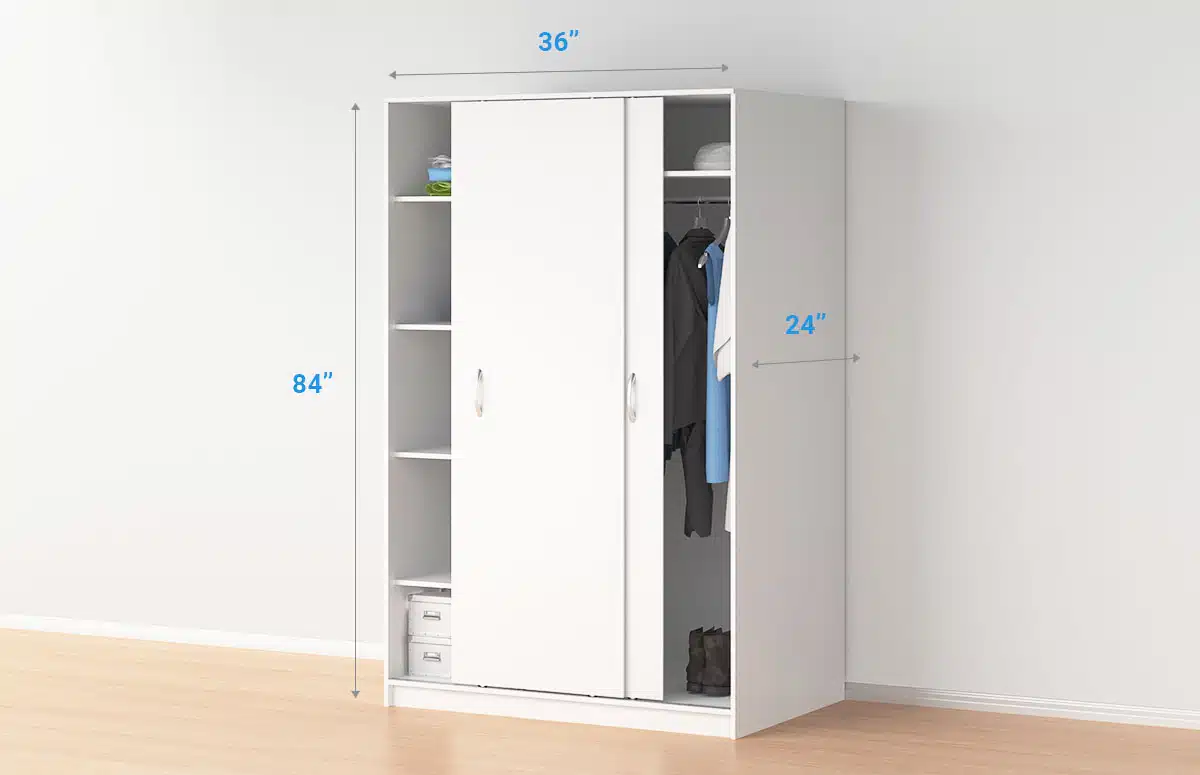 Dorms can have tighter spaces compared to other bedrooms. One may need to fit in a lot of things and essentials, but the wardrobe should not be sacrificed for a functional dorm room.
College dorm wardrobes usually have dimensions of around 36 inches wide, 84 inches tall, and 24 inches deep. Some may have a more challenging wardrobe height of 70 inches tall.
This may be limited compared to more spacious living areas, but these wardrobes can also fit a ton of daily school outfits. Dorm wardrobes may have standard hinged doors and some with stacked shelves on the side.
Dorm bedroom measurements and clearance requirements should be double-checked before purchasing any storage products to avoid potential problems.
Small Wardrobe Dimensions
The function is still top-notch in small wardrobes. These storage spaces can hold minimal clothes, and some might need a few tricks to fit clothes exactly in one. Still, it functions ergonomically in apartments, condominiums, and homes.
The standard wardrobe dimensions still apply to smaller ones but with a difference in the depth, which is 20 inches, compared to the standard of 24 inches.
Small wardrobes usually need adjustments, such as hangers slightly tilted to adjust with the depth. These wardrobes may have no doors to maximize their space and utilize every inch to the brim.
Wardrobe Hanging Rail Height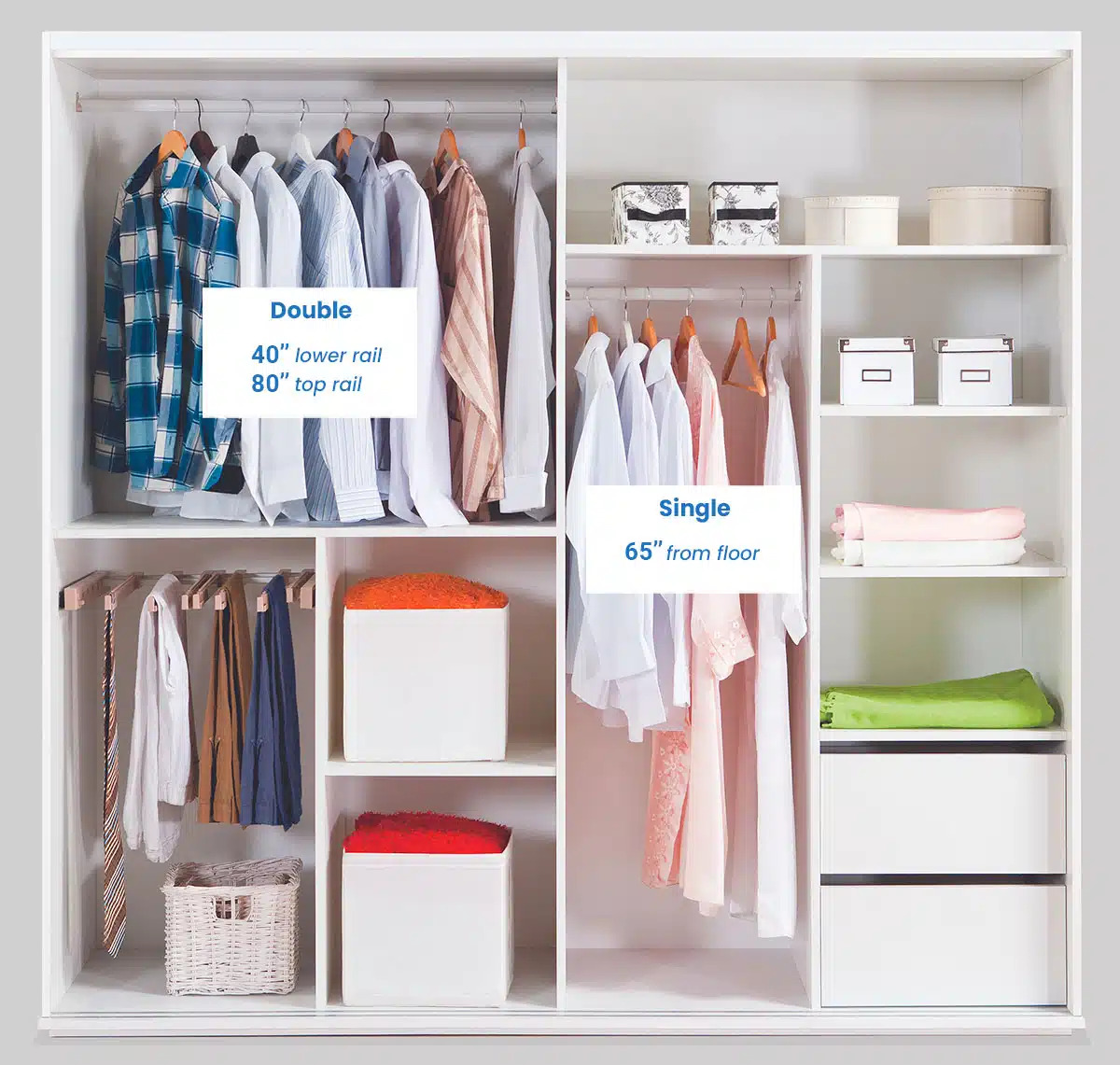 Some outfit pieces are best stored in hangers that fit well in wardrobes that can accommodate these long pieces of clothing. These clothes are best stored in wardrobes with hanging rails.
Wardrobes with hanging rails usually have a standard rod height of 65 inches from the floor. This standard is usually for single-rod setups.
For double-rod systems, the lower rod is 40 inches from the floor, and the second one is 80 inches.
The height of the hanging rail matters because it can affect the way one stores and folds the best clothing pieces. Although some may have custom-built wardrobes, the standard height is built to accommodate various clothing pieces for long-term storage or daily use.
Hemnes Wardrobe Dimensions
Modern wardrobes with a hint of familiarity are what Hemnes wardrobes are all about. These wardrobes include functions of the standard wardrobe with other ergonomic features. They come with an array of accessories that enhance their functionality.
Hemnes wardrobes have a width of 47.25 inches, an overall height of 77.5 inches, and a depth of 23.25 inches.
It has a different dimension than the standard ones, which can accommodate clothes comfortably.
Hemnes wardrobes may come with two sliding doors, a clothes rail, a stationary shelf, and an adjustable one. Its knobs are similar to those of traditional ones.
Brimnes Wardrobe Dimensions
The unique feature of the brimnes wardrobe is how its dimensions bring style and functionality in harmony. This wardrobe fits a lot of clothing styles, such as skirts and pants and other textile pieces for storage, with an edgy and inimitable look.
The Brimnes wardrobe has a width of 46 inches, a height of 74.75 inches, and a depth of 19.75 inches.
Although the depth is a struggle for some, this unique storage piece accommodates clothing pieces in various lengths.
Brimnes wardrobes can come in two or three-door designs. This wardrobe has a clothes rail and both a fixed and adjustable shelf.
Another feature is that the Brimnes wardrobe may have a mirror door which may be placed on the right or left side, giving the user a storage solution that caters to their individual requirements.
The wide variety of wardrobe dimensions brings out how one handpicks their furniture together with their lifestyle. Wardrobes are essentials that should bring out ease to homeowners, not just for daily changing of clothes but also for long-term storage.
Since wardrobes come in a wide range of designs, it pays off to be knowledgeable of how different dimensions and materials can play a role in their placement.
Although some may need smaller ones, and others may require huge wardrobes for walk-in closets, functionality, and design should meet, and it all boils down to one's preference.
Visit our closet vs wardrobe comparison guide for more related content.