Here's our HDPE outdoor furniture buying guide including what it is, different types, if its safe for use and how durable and weather resistant it really is.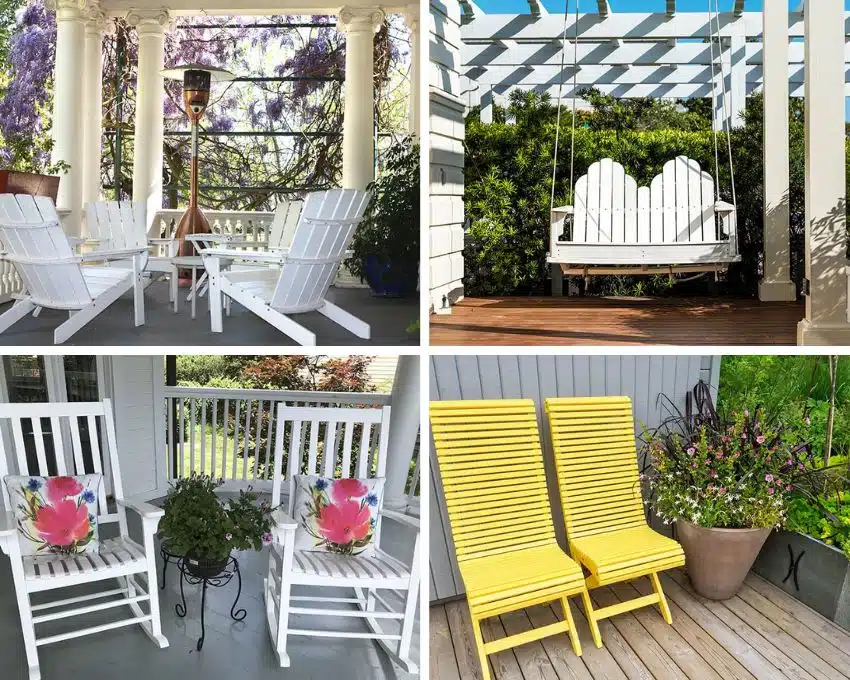 If you've spent any time shopping for outdoor furniture you've probably ran across HDPE or High Density Polyethylene furniture. It is a durable man-made material that can withstand adverse weather conditions, high use and requires little to no maintenance.
What Is HDPE (High Density Polyethylene)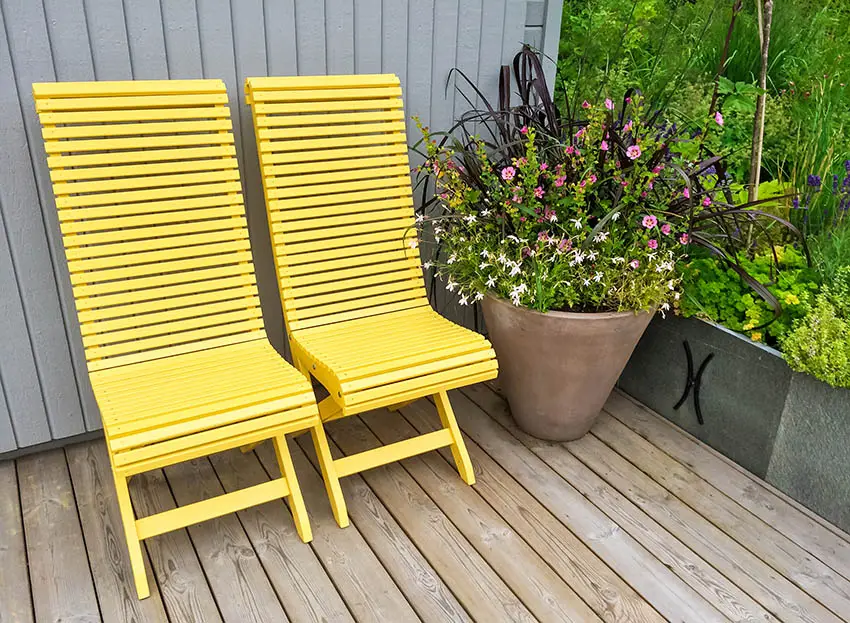 HDPE in a nutshell basically refers to a type of material that is categorized as a thermoplastic polymer. It is mainly made from petroleum.
It is considered as one of the most versatile type of plastic materials out there and has been quite known for its tensile strength, high density ratio, its strong resistance to impact; and even its extremely high melting point.
The evolution of HDPE has been quite interesting. For starters, it hasn't always been in the outdoor furniture scene. This material has actually started off as bottles for various grocery items such as milk, water, juices, cleansing products; and so much more.
Its transition to outdoor furniture isn't something completely surprising though as we're constantly looking for ways to innovate and to get better products that can withstand the elements.
One downside to using garden furniture is that it gets rained on or dried out in the sun or slushed up when it snows. Traditional materials such as wood or metal either rot or erode and it can be costly or it might not retain its original look for a prolonged period of time.
This is where HDPE outdoor furniture comes in. It's easy to clean and it doesn't require too much maintenance. It can be left out to brave the elements and enjoyed whenever the family wants to hang out on a good day.
Plastic wood is high-density polyethylene (HDPE) with pigments and ultra-violet (UV) inhibitors. It's ideal when projects will be in constant contact with the ground, because it won't rot. -Danny Proulx, Building More Classic Garden Furniture. United States: F+W Media, 2001.
It is also something that's very lightweight. Transporting it is easy and you don't need a lot of labor around. In essence, it's actually a type of plastic.
Before you look down on it though, there are some real merits to HDPE being used as outdoor furniture. It is very cost efficient to mass produce. Its main material is naturally tough and resistant to moisture, it is easy to form and process, and it has the required strength from basic furniture material.
Is HDPE Good For Outdoors?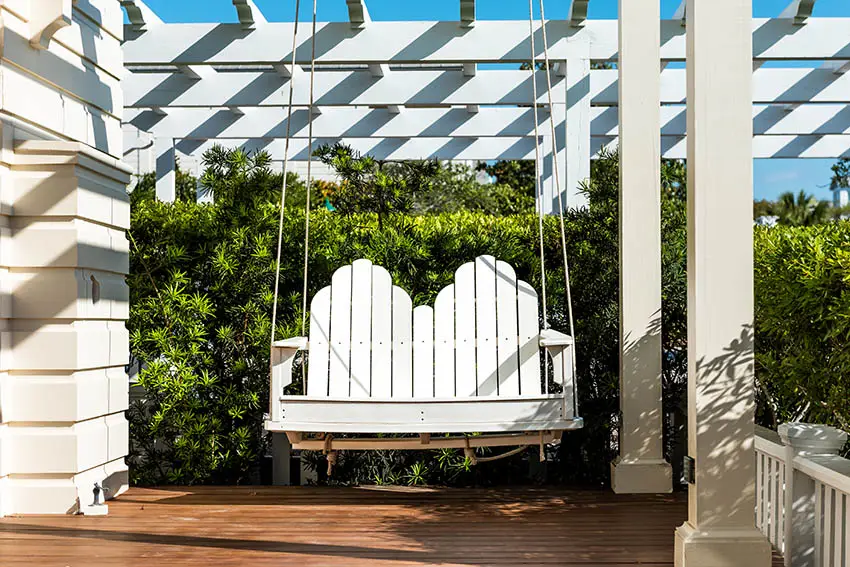 Outdoor furniture can be a very demanding industry since the shapes and sizes as well as actual designs will vary greatly depending on the needs of the end user.
Whatever the preferred material may be, the general requirement is that it needs to be the type of furniture that is built to last and is durable enough for long term use. HDPE is a preferred material for this as it satisfies all of the basic needs, and then some.
HDPE has major advantages over other materials such as wood or metal. It has unlimited color options and everything is customizable. It has flexibility on the designs. It is extremely low maintenance and requires no painting at all.
It is also the type of material that does not easily crack or break. The overall lifespan of the outdoor furniture is longer which translates to bigger savings over the years.Read more about maintenance free outdoor furniture here.
Types Of HDPE Patio Furniture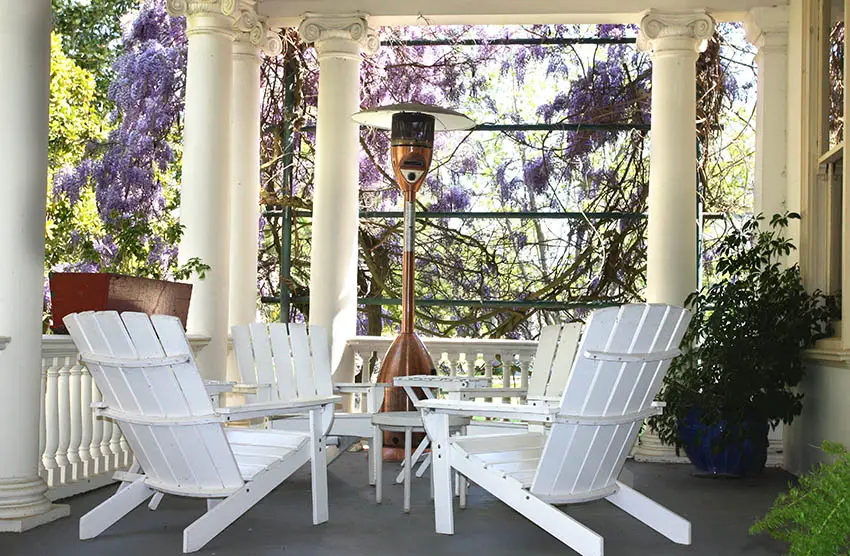 One of the main beauties of HDPE patio furniture is that it can be literally anything and everything that you imagine.
Before you can even think it, there is a pretty huge probability that it's already been manufactured and that it's already out in the market. You just need to find yourself that one perfect item that you wanted for your patio furniture lineup. That's how convenient HDPE furniture is.
And while it is absolutely important to make sure that you get to secure furniture that is beautiful in all the rooms of your house for all seasons, finding outdoor furniture for your patio is just as important.
You are going to need furniture pieces that could withstand the outdoors with little to no maintenance and they also shouldn't break the bank while you're at it and this is where HDPE patio furniture comes in.
Popular types of HDPE outdoor furniture include:
Dining Tables
End tables
Adirondack chairs
Rocking chairs
Chaise lounges
Loveseats
Ottomans & foot stools
There are so many types of patio furniture but more or less, they all sing the same tune. You can leave them out in the open, completely to the mercy of the elements for 12 months in a year and you wouldn't have to worry about them rotting or having their paint peeled, or being eaten out by insects, and so on.
You buy it and you end up using it for a lifetime. That's usually the type of guarantee HDPE patio furniture provides.
It can be literally anything for as far as HDPE wicker patio furniture is concerned because it can be made into anything. You need a durable dining set? Say no more. You need chaise lounge chairs that the family can relax in out on a sunny day? You've got it. HDPE basically has it all out for you.
Is HDPE Weather Resistant?
The long and short answer to this is a big resounding yes. Structurally, it has high impact and chemical resistance which goes to follow that it is also extremely weather resistant.
But more than that, it is also resistant to molds, mildew, and as we mentioned before, insects. Because of this, its projected lifespan is much longer and it can definitely outlast traditional outdoor furniture materials.
Other choices for more natural weather resistant furniture includes teak wood and IPE wood furniture.
Is HDPE Safe For Furniture?
One thing you ought to know about HDPE is that its initial or primary use was food-grade. It means that it doesn't have the tendency to leach out of its original casing and cause any health dangers.
So when it comes to furniture use, there really is no issue at all with its safety. Keep in mind as well that this material is something that cleans very easily. It can be handled with ease as well and transportation is a breeze.
Is Polywood The Same As HDPE?
Polywood is basically another nickname for HDPE as it is made from it. It is also considered as lumber, it is a recyclable lumber and its main ingredient is HDPE.
Polywood is a great wood alternative that is most well-known for its exceptional durability. It can withstand the hot sun. It can take getting snowed in. It can stand out in the rain.
It can even face up to strong coastal winds without ever having the need to get it waterproofed or repainted or stained.
To see other outdoor furniture ideas visit our article about aluminum vs steel patio furniture.