Here's our guide to closet makeover on a budget tips including several ways to cheaply organize, best products to use and the average cost for a closet makeover.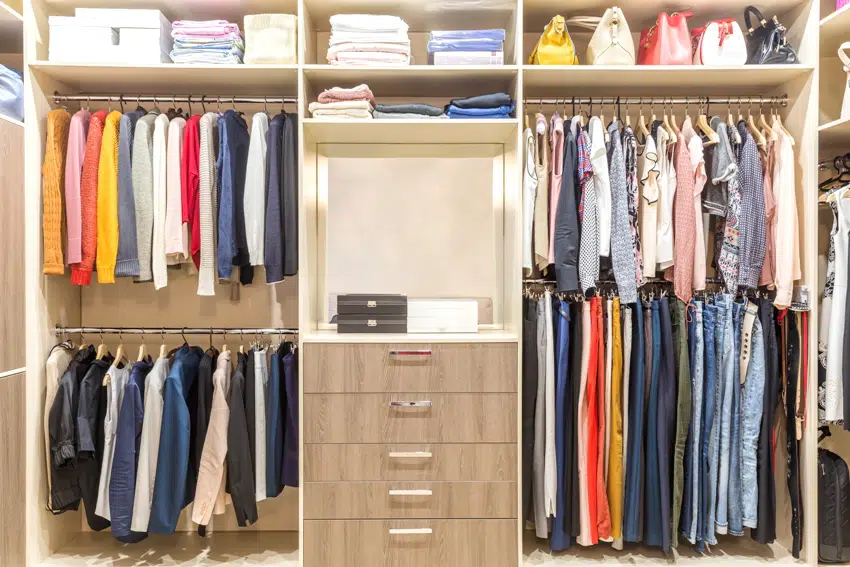 A closet full of clothes, accessories, shoes, and other items can present difficulties. Finding things can become a challenge. Trying to remember where you put it adds to the stress.
That's why having an organized closet is very important. Yet, this is not a one-time job because you tend to mess it up from time to time.
Closet organizers can solve the problem but they are expensive. Besides, making sure that the contents are well-arranged is still your job.
You can hire a closet organizer. But, it can be costly for such a menial task. Why not do it on your own, so you can save money and remember where you put your own things.
How Can I Organize My Closet Cheaply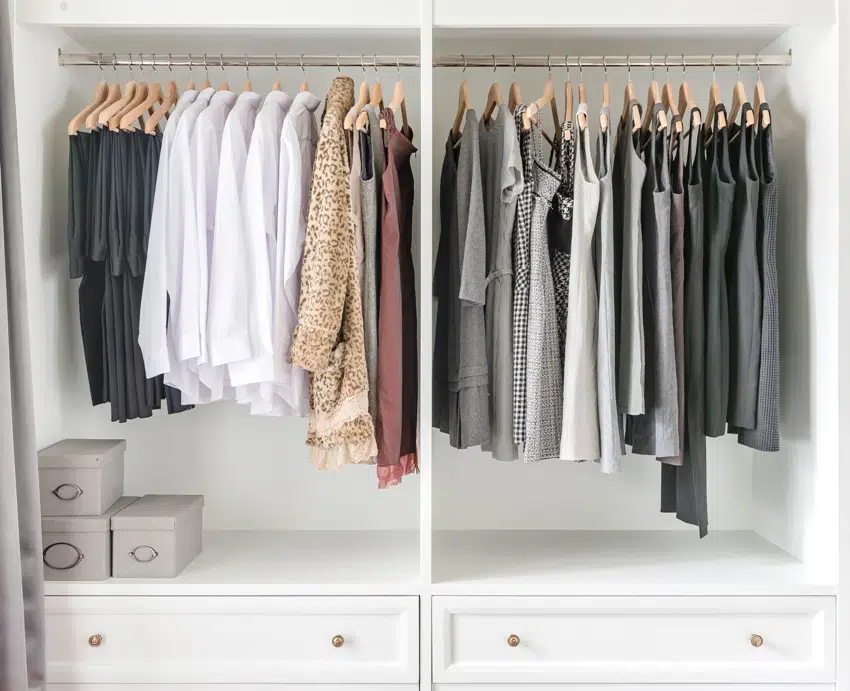 Organizing your closet does not need buying an expensive organizer. You do not need to hire a professional. Here are ways to organize your closet at no cost at all.
Categorize the contents of your closet
Sort out your things and make one pile for each category. One pile must be for pants. Put together all dresses, all shirts, all blouses, and all undergarments.
You will find it easy to arrange things of the same kind.
Separate items you want to keep and those you want to discard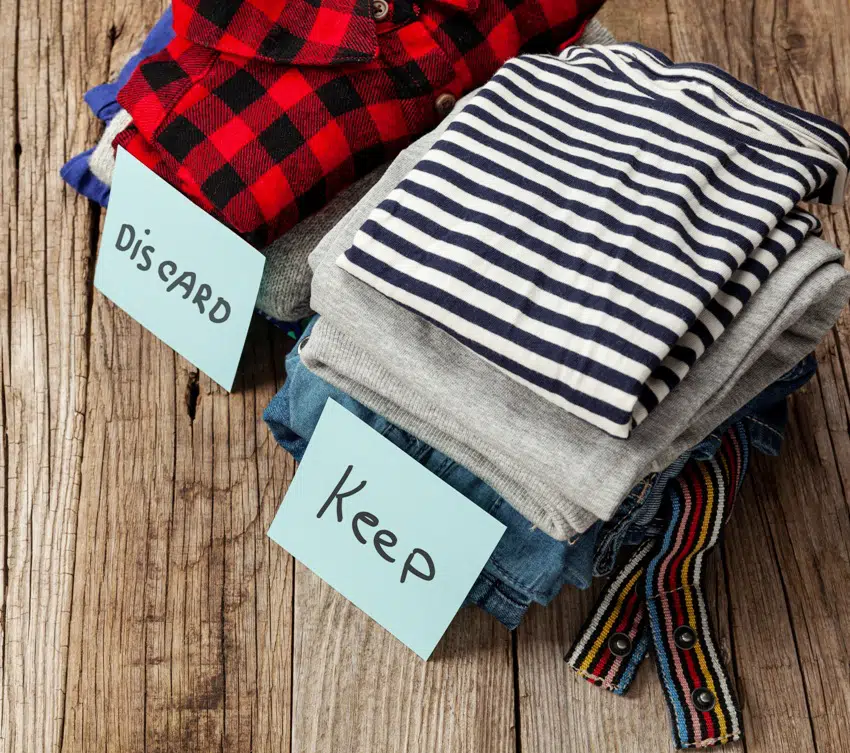 You might have worn some of your clothes several times. Or others have become too loose or too tight.
Some of your clothes may have frayed. Others have lost their color due to frequent washing. Others may be out of fashion. Place them inside a separate box for donation.
Removing them leaves more space in your closet. Use the space to store those items you want to keep. See our ultimate design guide to the types of closets here.
Roll small items and place them in a box with a separator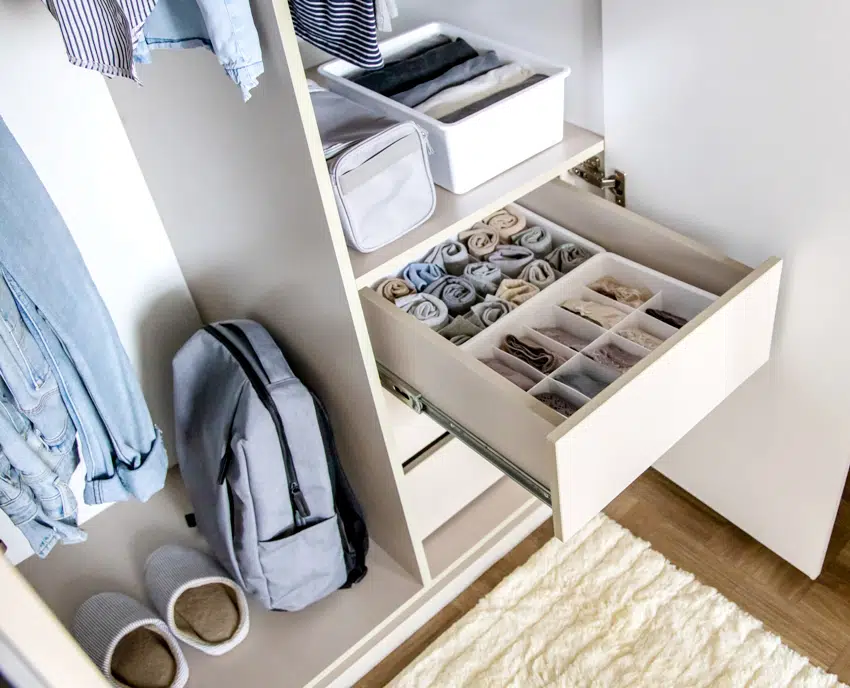 Undergarments, socks, and handkerchiefs can disappear in a mountain of other clothing. Keep them in a box with separators.
Put all undergarments on one part of the box, socks, and handkerchiefs on the other.
Roll socks in pairs. You can arrange undergarments and handkerchiefs by color. Rolling them will prevent creases and save space.
Place shoes on shoe racks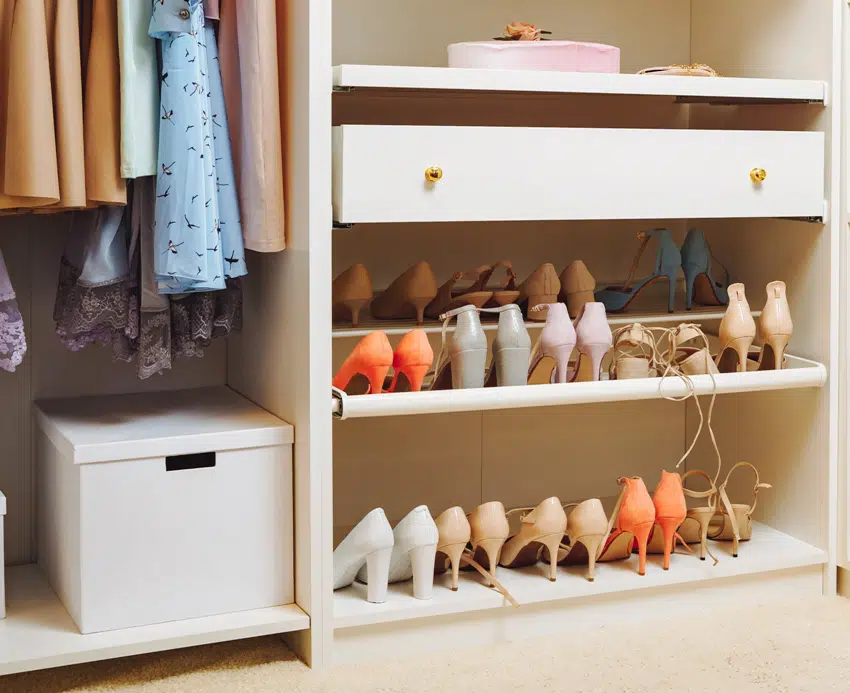 Use vertical space in your closet to place shoe racks. The ones you always wear must be within your reach. Place those that you seldom use on the back or the far end.
Use matching hangers
Using hangers of any color can add to the clutter. Use sturdy hangers of the same size and color.
Invest in sturdy hangers. Plastic hangers can break. Thin and soft fabrics can slip from wooden hangers.
Use velvet hangers. They do not bend. They are sturdy and can last a lifetime.
Organizing your closet on your own will save you hundreds of dollars on fees.
How Much Is A Closet Makeover?
Are you planning to give your closet a makeover? The general average price for a closet reorganization is between $125 and $358 per linear foot. See the best closet design software for more ideas.
Other add-ons that can increase the price are:
Storage system

Lighting

Décor

Paint
Hiring people to do your closet makeover is expensive. People with limited budgets avoid paying for the services.
There is a way to do it on your own and save money. Here are some tips for reorganizing your closet at the least cost.
Get rid of excess
Do you have more than one of everything? The first step in reorganizing our closet is to throw away what's not needed anymore.
For example, ten pairs of pants are too much. Why not choose five pairs of your favorite. It will give your closet more space.
Do the same with dresses, jackets, and shirts. Holding on to old clothes will add to the clutter. Donating excess baggage will give you breathing space. Giving away some can bring you happiness.
Make use of the space under your bed.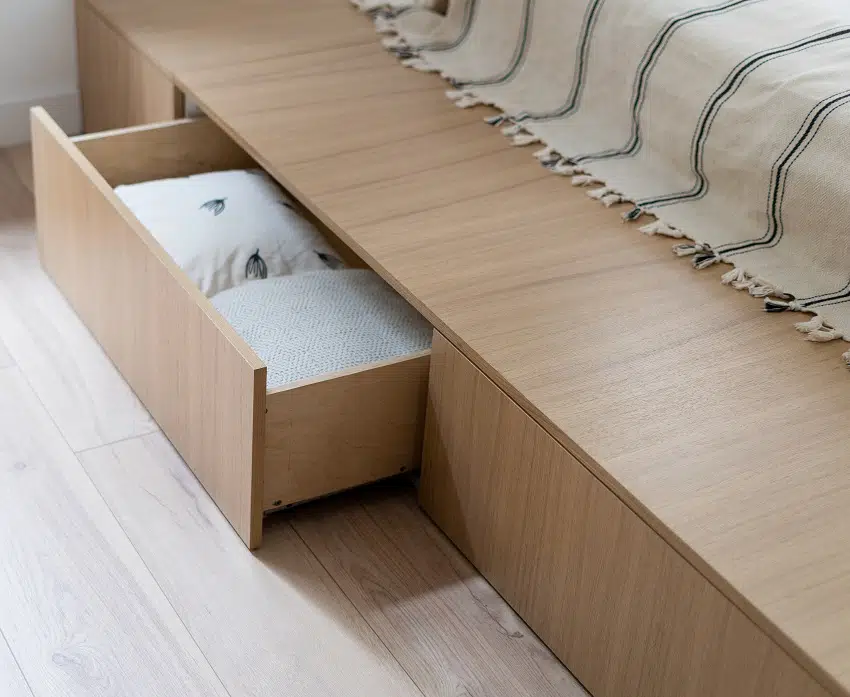 You can place some of your stuff in storage bins. Push these bins under the bed and out of sight.
Storage bins are good for storing items that you use once a year. You can store Christmas trees and Christmas decors this way.
Thick winter jackets also fit this category. Once winter is over, put them aside for the next winter.
Use hanging canvas or fabric cabinets
They allow you to save space. They are cheaper than wooden shelves.
Store your shoes in clear plastic containers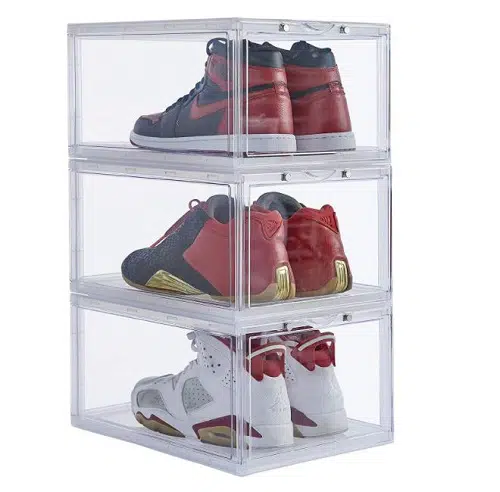 See this Stackable shoe organizer in 3 clear plastic shoe boxes at Amazon [sponsored link]
It will be easier to find the shoes that you want to wear. Containers can also prevent scratches on your shoes as well. See our gallery of closet shoe storage ideas here.
Use color coding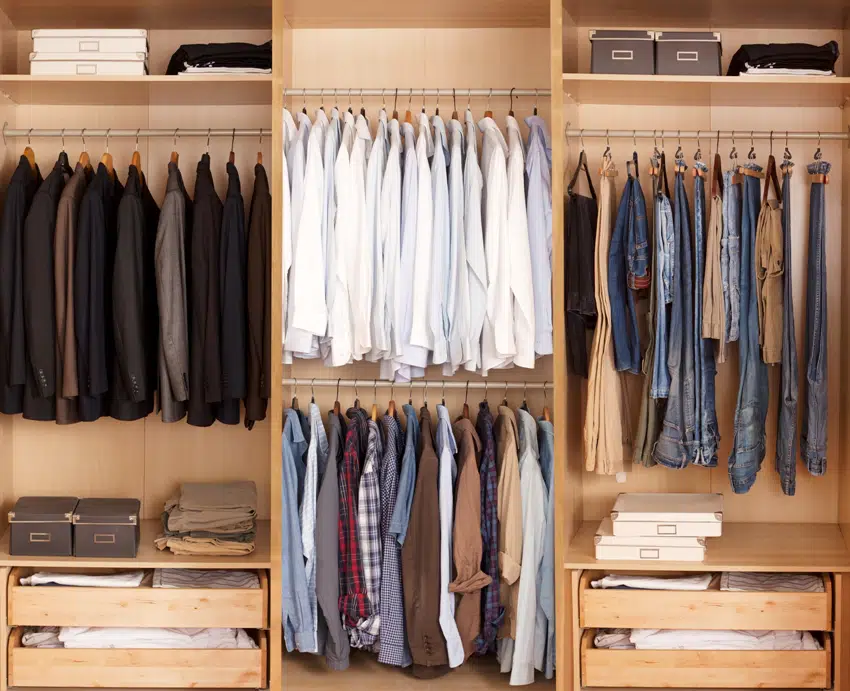 Color coding is one way of organizing your closet. Arranging your clothes by color will help. Use the rainbow colors. If you have patterned items, group them together or assign another color. You can find things much faster and easier.
The Cheapest Way To Organize A Small Closet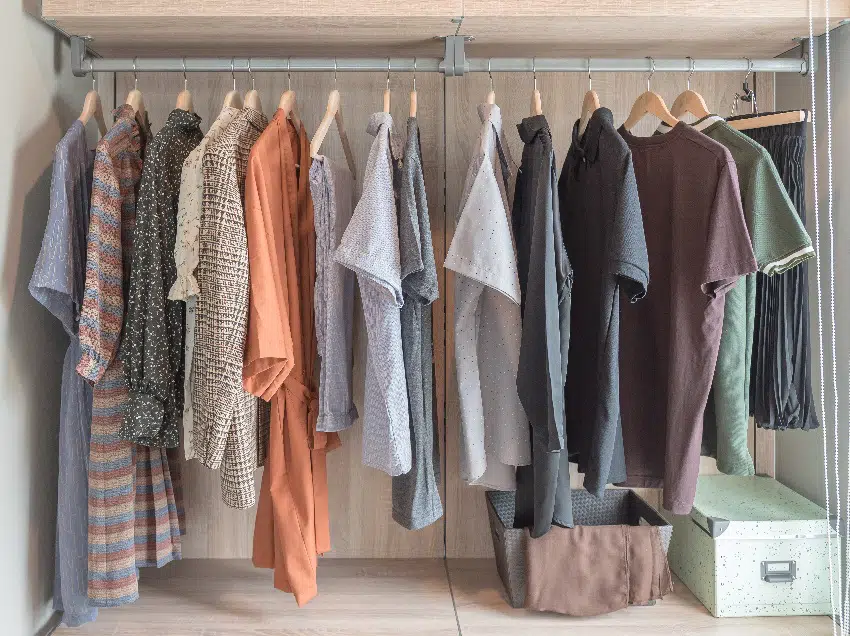 A small closet does not need a professional organizer. You can do it yourself at no expense. Here's how.
Keep foldable storage bins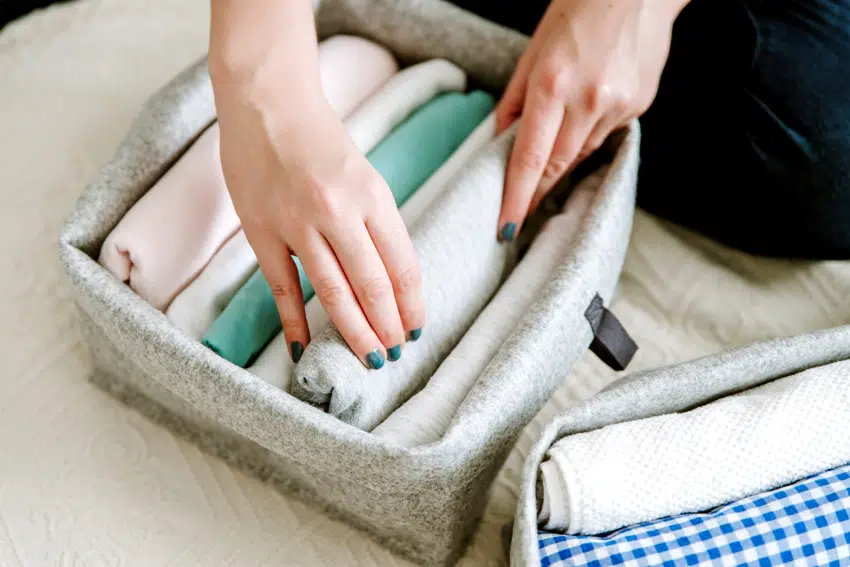 Having foldable storage bins will help. These containers can hold loads of lightweight materials. They are easy to transport. You can stack a lot of folded items in them.
They can withstand any weather. You can collapse them when empty to save space at your home.
Use closet shelf dividers
Shelf dividers allow you to separate items in your closet. You can stack sweaters in one place, pants in the other.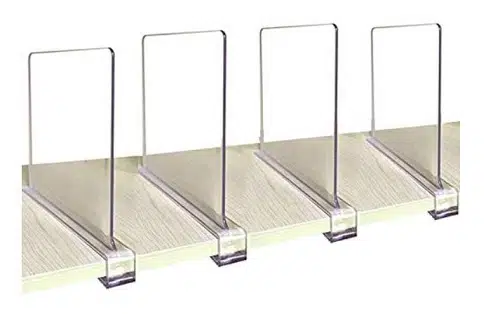 See this acrylic shelf dividers for closets at Amazon [sponsored link]
You can prevent shoes and bags from touching your clothes when storing them side by side.
Mesh storage stack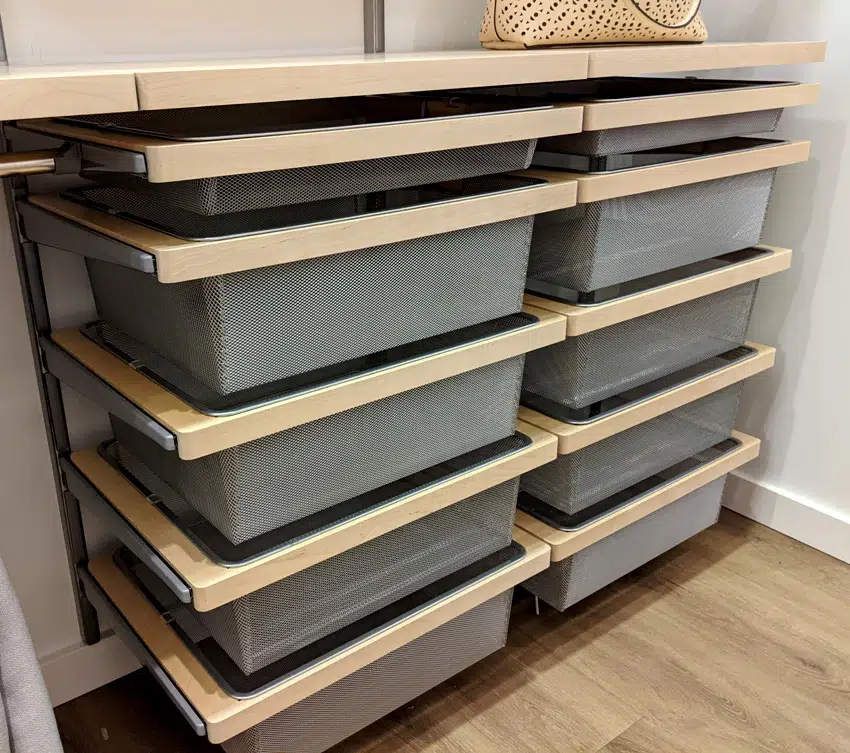 This mesh storage stack allows you to see its contents. You can find what you need with ease. You can stack towels, blankets, and beddings. You can place it in any part of the house.
Hanging shoe organizer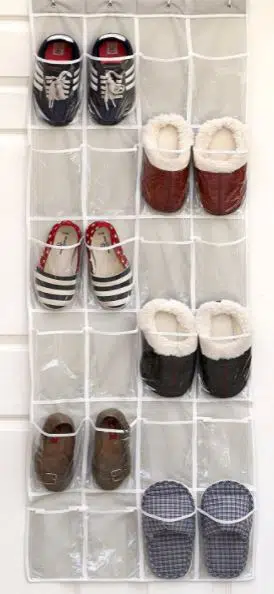 See this door hanging shoe organizer at Amazon [sponsored link]
A hanging shoe organizer is a solution to the lack of space. You can hang it behind your door. It has pockets for storing shoes.
This shoe organizer saves floor space. It keeps dust and dirt away from your shoes.
Having a well-organized closet is not only good for your eyes but for your mind as well. Looking at neatly stacked clothes feels calming. With a well-organized closet, you will have a well-organized life.
For more related ideas visit the closet size design guide page.