Here we share our painting laminate kitchen cabinets guide including materials you need, steps on how to paint, and the best laminate cabinet paint options.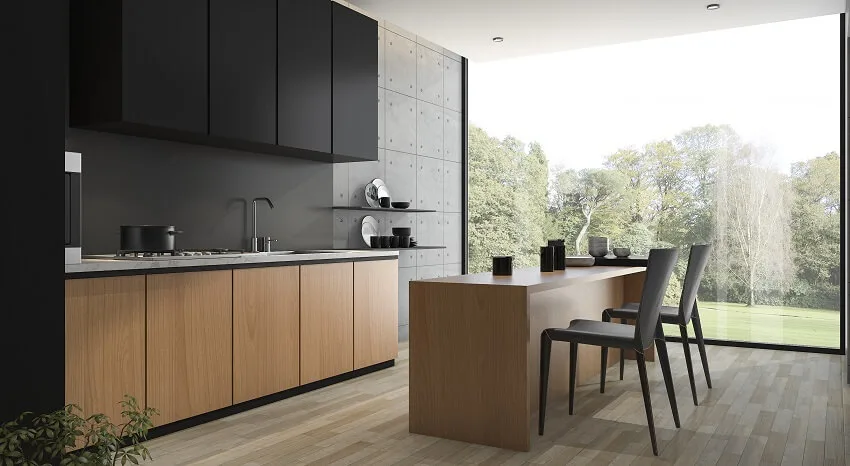 Thinking about sprucing up your kitchen cabinets for a new look? Do you know you can actually do a paint job to your kitchen cabinets and completely transform the look of your kitchen? And yes, you can also work on it even if what you have are laminate kitchen cabinets.
Painting your laminate kitchen cabinets is a more affordable way of updating your kitchen's look to something different and new. Whether you choose to hire professionals to do it for you or DIY it as a project, it is still the more cost-effective choice compared to replacing your kitchen cabinets entirely.
Can You Paint Laminate Cabinets?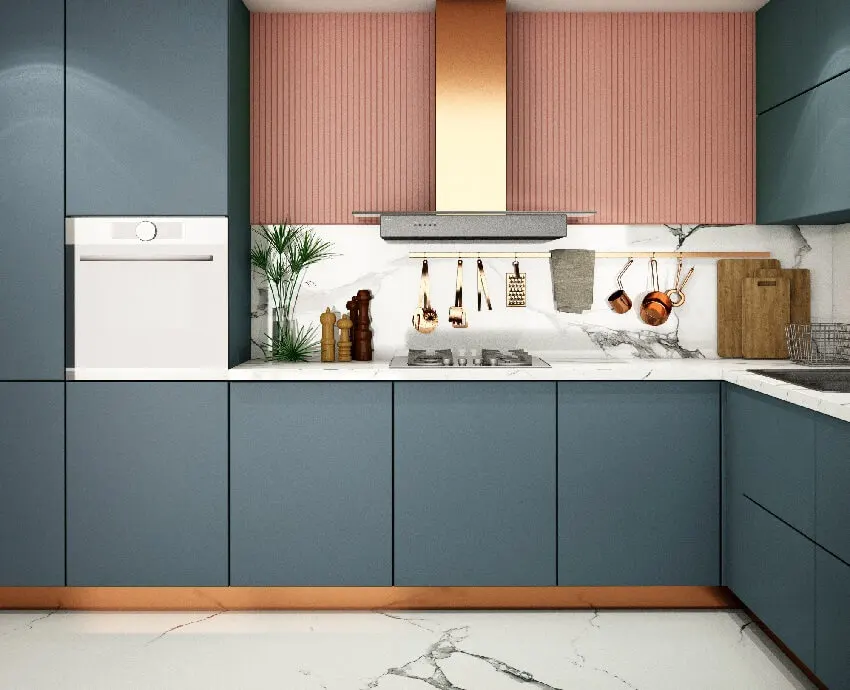 Laminate kitchen cabinets are known to be sturdy and durable so you might wonder if painting them is possible. The straight answer to that is yes, you can paint laminate kitchen cabinets but it may take more effort and a different approach just to accomplish this job.
Laminate kitchen cabinets are less porous, which means that there is a specific way that must be done for its preparation and paint application. When painting laminate kitchen cabinets you need to use tile and laminate paint, which is specifically created for laminated surfaces.
If you decide to skip using tile & laminate paint though, you can do so as long as you prep the cabinets in the right way, which involves cleaning, sanding, and priming the surface properly. Make sure you still use high-quality paint though for optimal desired look.
This DIY job can take several hours since you need at least 6 hours for the paint to dry. And since you would want to apply a second layer for protection and better coloring, including the primer at the start, it will take you a total of 18 hours just to wait for the paint to dry.
Let the paint fully dry before doing the next step. In addition to that, avoid using the cabinets for 1 week so that everything can settle, dry, and fully cure smoothly. You can also read our paint or stain kitchen cabinets guide to give you more information on cabinet-update ideas.
How To Paint Laminate Kitchen Cabinets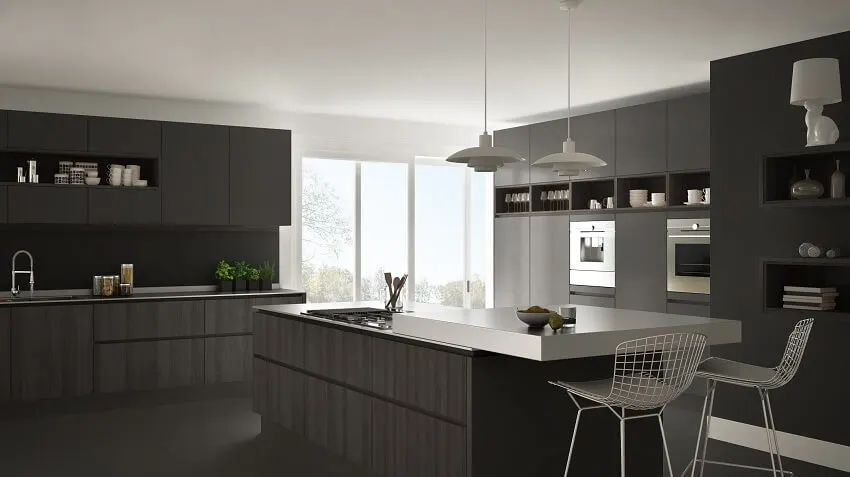 Hire a professional to paint your laminate kitchen cabinets or DIY – these are two options you have when approaching this project. Laminate kitchen cabinets can be expensive and replacing them costs the same way.
You can definitely save a lot of money by choosing to paint your laminate kitchen cabinets and even more so if you do it yourself. You may also check out our cabinet refacing vs painting guide for more related information.
Prepare yourself for this DIY project and check out these materials to gather and set them up.
• Tile and Laminate Paint or High-quality Paint
• Paintbrush
• Paint Roller Brush
• Primer
• Sandpaper (Preferably 440-grit and 400-grit)
• Bleach/Tile Cleaner
• Microfiber Cloth/Sponges
• Masking Tape/Protective Sheets & Covering
• Drill or Screwdriver
Once you've gathered all the materials and tools you need to paint your laminate kitchen cabinets, the next step is to prep the cabinet.
These are the right steps for painting your laminate cabinets.

1. Disassemble the cabinet and remove laminate cabinet doors and all hardware, including the hinges
2. Check and repair any cracks and damages found in the laminate
3. Clean and sand the cabinet doors and box lightly
4. Double-check dust on the cabinet with a tack cloth and clean them out
After prepping the cabinets, the next step is to apply a good-quality primer. For corners and uneven surfaces, use a high-quality paintbrush to apply the primer. For large surfaces though, you can use a paint roller brush for a smooth and even finish.
After the primer dries (which can take at least 6 hours), lightly sand the laminate surfaces using fine-grit sandpaper. Get rid of all the dust and sand using a tack cloth.
Painting the cabinets is the final step in this process. Choose a tile and laminate paint if it's available but if not, you can always choose high-quality paint.
Drying the paint also takes at least 6 hours and make sure to apply a second layer of paint to increase its durability and have a more solid color. And while they may look and feel dry, you have to wait for at least a week for the paint to fully cure and reach its maximum durability.
After the painting job, you need to re-attach and re-assemble the cabinet frames. You can choose to do this after 1 week so that the curing of the paint won't be disturbed. Don't forget the handles and fittings too.
How to Paint Laminate Kitchen Cabinets Video
Primer For Laminate Cabinets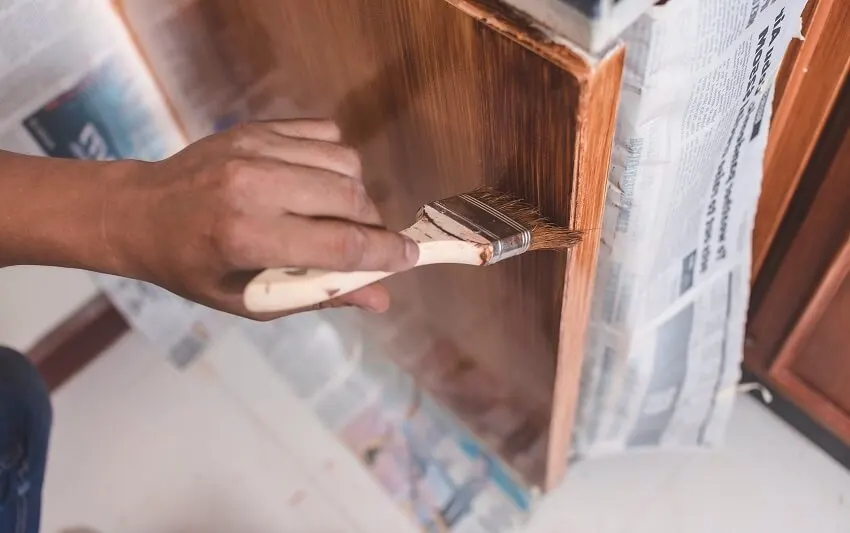 Using a primer is a must in painting laminate cabinets if you want to get to the color you prefer for your cabinets.
If you don't use a primer, you will experience one of these consequences:
• Bubbling, uneven, and messy look
• Paint failing to stick properly to the surface
• Resulting in a different hue of the paint color
There is a wide selection of primers that can help you with your laminate kitchen cabinets. Choose the one you've already tried and are comfortable using.
If you are new to this and don't know what to choose, here are some of the best selections offered on the market.
Sherwin Williams Extreme Bond Primer: Glides evenly on the surface with a super white color that flawlessly covers the cabinet but it can be a bit pricey.
Zinsser B-I-N Shellac-Base Primer: Easily covers up stains on your cabinet's surface and also seals knots in the wood. It is highly adhesive and even blocks out odors.
INSL-X STIX Waterborne Bonding Primer: Popular for its versatility, it is capable of bonding well to hard-to-coat surfaces that even end with a beautiful finish.
Rust-Oleum Painter's Touch UItra Cover Premium Latex Primer: Long-lasting, this primer option is versatile and can be bought in the colors gray and white. It also delivers a smooth finish and is capable of blocking stains.
Tip: Make sure to use a new and fresh primer for best results. Laminate is a material that doesn't easily play well with paints and primers and choosing a compatible one is necessary.
Best Paint For Laminate Kitchen Cabinets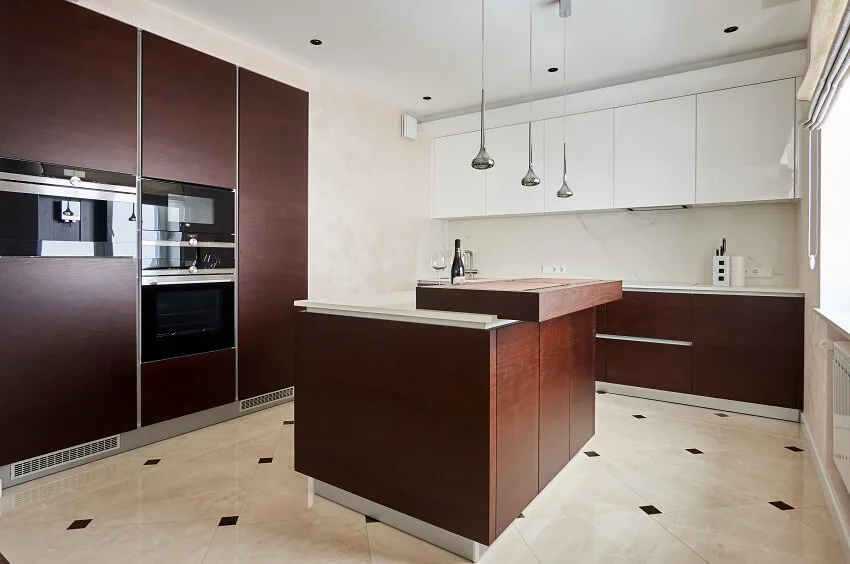 Paints are not best friends with laminate but it doesn't mean that you would have to suffer a bare-looking laminate kitchen cabinets because of it.
Choosing one can be a challenge more than doing the actual paint job. Take into consideration the following paint options and decide whether one of these can be helpful to you.
Benjamin Moore Advance: Proudly glides on the surface of the cabinet, capable of self-leveling and offering a smooth hard finish. Drying can be an issue though since recoating can take 16 hours in total.
Sherwin Williams, Proclassic Waterborne Acrylic Enamel: Covers the cabinet's surface fully with a wonderful satin finish. It is incredible to use but can be expensive and can't be mixed with dark colors too. Visit our guide to acrylic kitchen cabinets for more related article.
Valspar Cabinet Enamel: It is a viable option since it covers any surface of the cabinet, with four hours of recoating. Could be in any tint color you prefer, it also doesn't require a topcoat, which can save you money. It is only offered in a semi-gloss coat, which is a bit of a downside if you don't like your cabinets too shiny.
PPG Breakthrough: This is one of the most popular choices in the market, with low odor and fewer hours for drying. One big problem though is that it seems like only professionals can use this paint since it takes a more precise approach with no room for error in the application process. Not recommended for DIY-ers.
Painting laminate kitchen cabinets takes time and that's one thing you should have if you decide to DIY it. Waiting for the paints and primers to dry alone takes hours or even days. Set your priorities and decide if you can schedule them in your calendar.
Visit our laminate kitchen cabinets refacing article for more related content.