Here we share our Santa Cecilia granite countertop & backsplash ideas including what it is, the different types, finishes, schemes, ideal matching cabinet colors, and backsplash designs.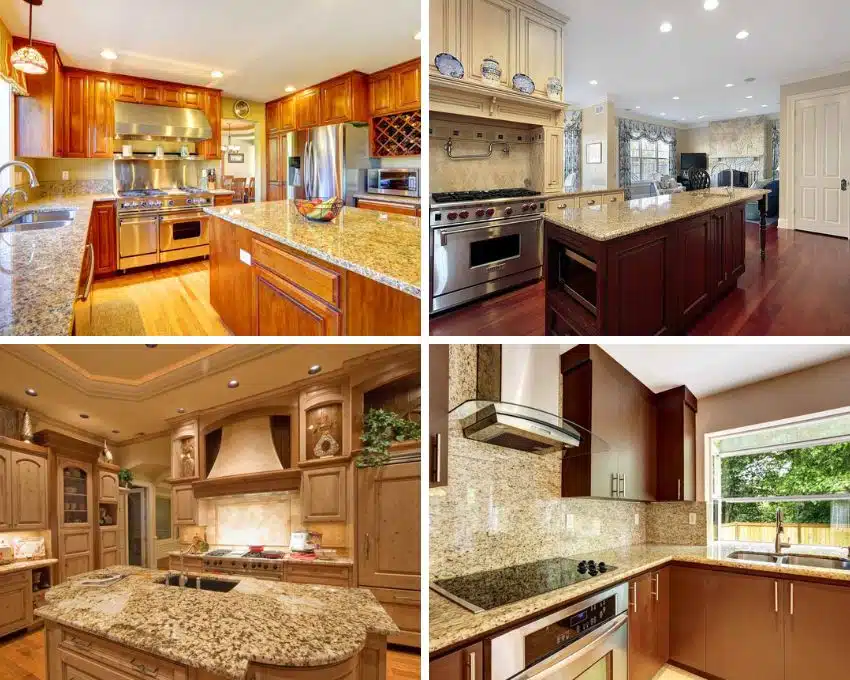 Granite from Santa Cecilia is not only an interesting natural stone but also a stunning one. Popular for its warm tones and golden appearance, this type of granite has been a consistent favorite for kitchen countertops not only in homes but also in commercial applications.

Below, we give you our very own guide on anything and everything you need to know about Santa Cecilia granite. Find out why it is one of the most popular varieties of granite today and discover the reasons why it makes a worthy investment for your home.
Quicklook: Different Variants Of Santa Cecilia Granite
• Santa Cecilia Classic Granite
• Santa Cecilia Light Granite
• Saint Cecilia Gold Granite
• Saint Cecilia White Granite
What Is Santa Cecilia Granite?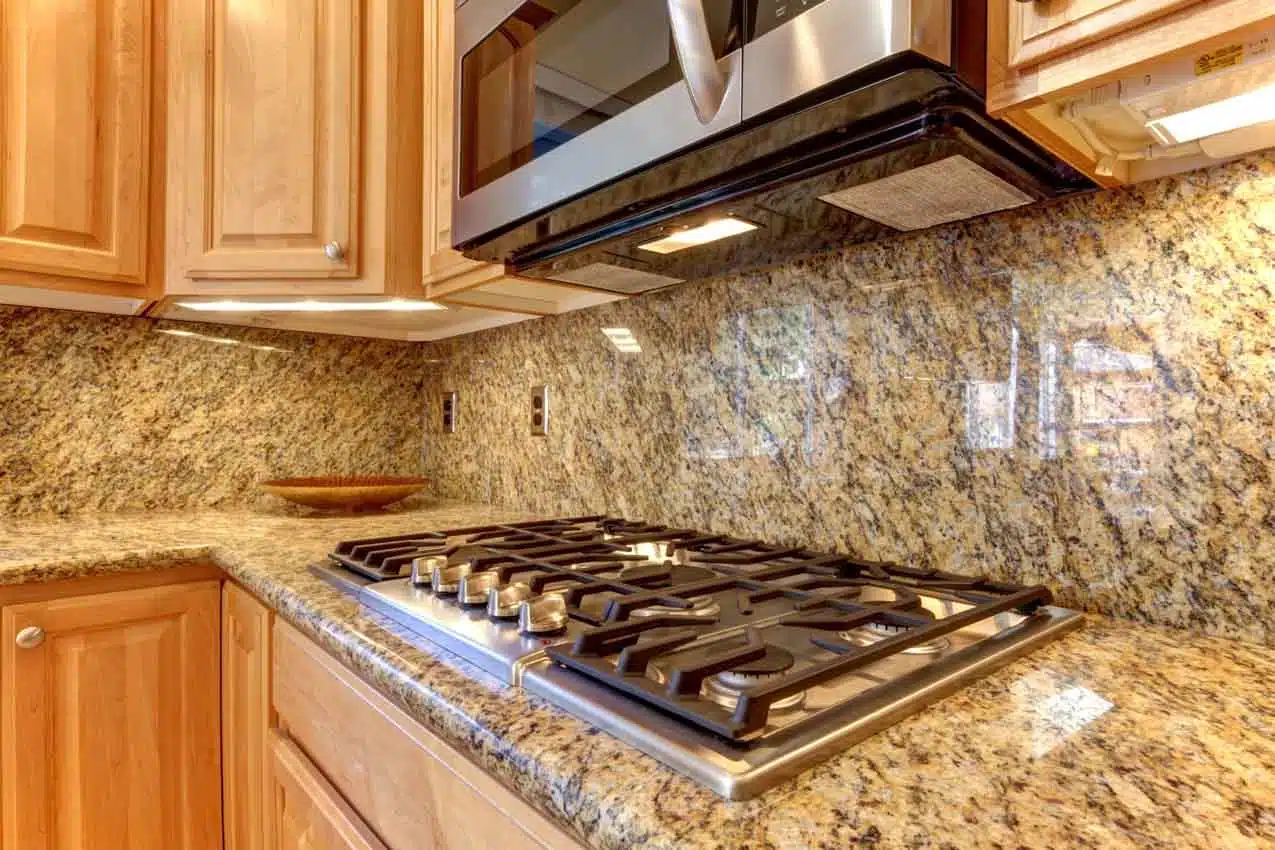 Santa Cecilia granite is quarried and mined in Brazil, more notably in the Sao Paulo region. It is an igneous rock that is composed of quartz, feldspar, and mica and is generally known for its golden-brown color that is highlighted with yellow and gold flecks and black and white veins. When it comes to its pattern variation, this type of granite is medium to coarse-grained.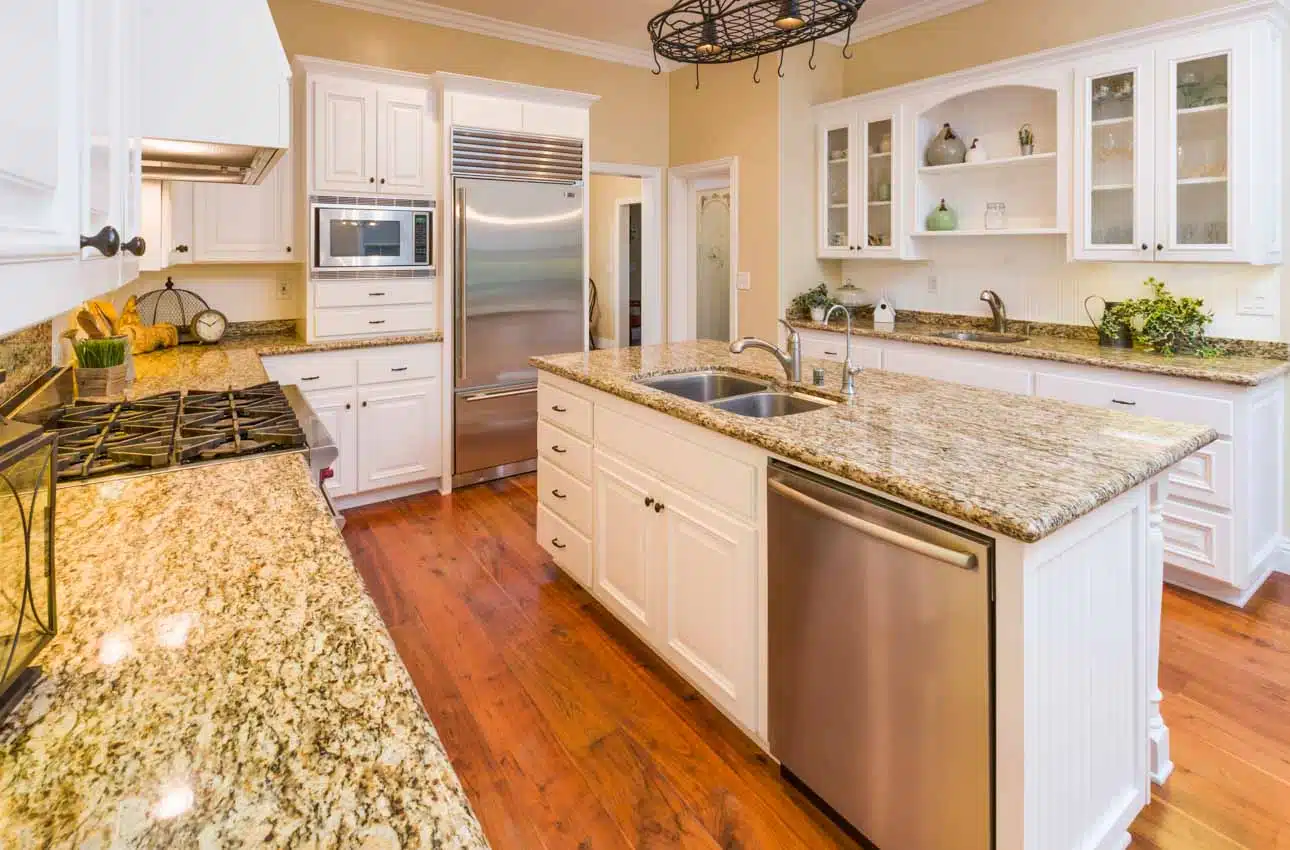 Like any other kind of granite, Santa Cecilia is extremely durable and resistant to stains, scratches, and heat. Santa Cecilia is typically used for countertops, flooring, and other features in both residential and commercial applications.
Its warm tones make it a great choice for a variety of different design styles which include traditional, contemporary, and modern interiors.
Types Of Santa Cecilia Granite Countertops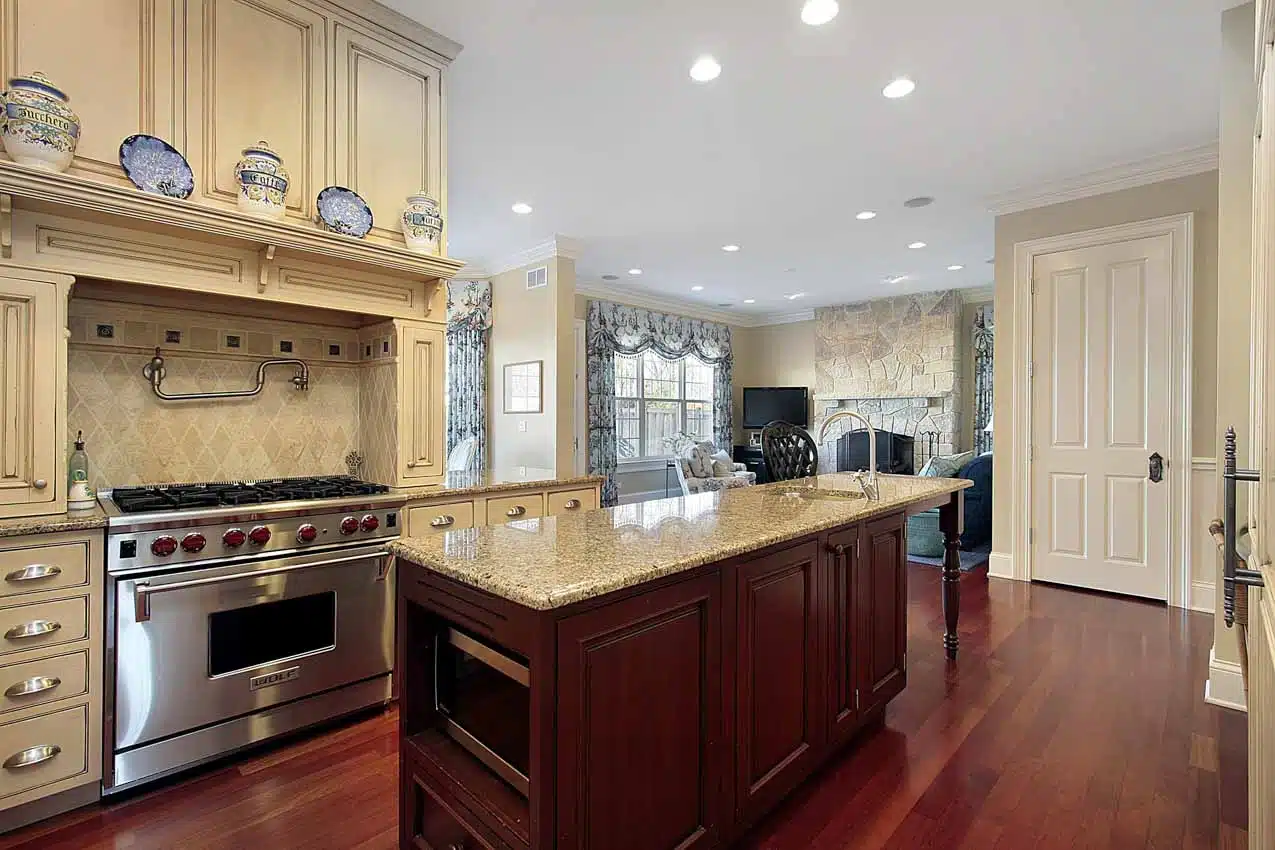 The color of this granite is extremely unique because it ranges from a light beige hue to mid-toned gray to a golden yellow base. The actual slabs have unique patterns of black and dark brown specks, and in some cases have a bit of burgundy in them.
Another feature that adds interest to its overall appearance is the tight and uniform pattern of the slab, highlighted with a bit of glitter.
Below are some of the types of Santa Cecilia Granite to consider.
• Santa Cecilia Classic Granite: Santa Cecilia Classic Granite has an overall yellowish tone, with flecks of burgundy, brown, and black. Its warm golden color cheerful and earthy vibe. This type of granite pairs best with light-colored kitchen cabinets.
• Santa Cecilia Light Granite: Santa Cecilia Light Granite has a lighter yellowish base compared to its classic counterpart. This granite type is accentuated with black veining and dots and contrasts well with dark-colored kitchen cabinets.
• Saint Cecilia Gold Granite: Saint Cecilia Gold Granite has a warm dark golden base color that is highlighted with beige, brown, and black flecks. The best quality this type of granite possesses is that the golden color of the slab gets bolder once it is exposed to sunlight.
• Saint Cecilia White Granite: Santa Cecilia Light Granite has an overall medium grayish tone combined with light golden yellow. The slab is highlighted with flecks of white and black.
Finishes Of Santa Cecilia Granite Countertops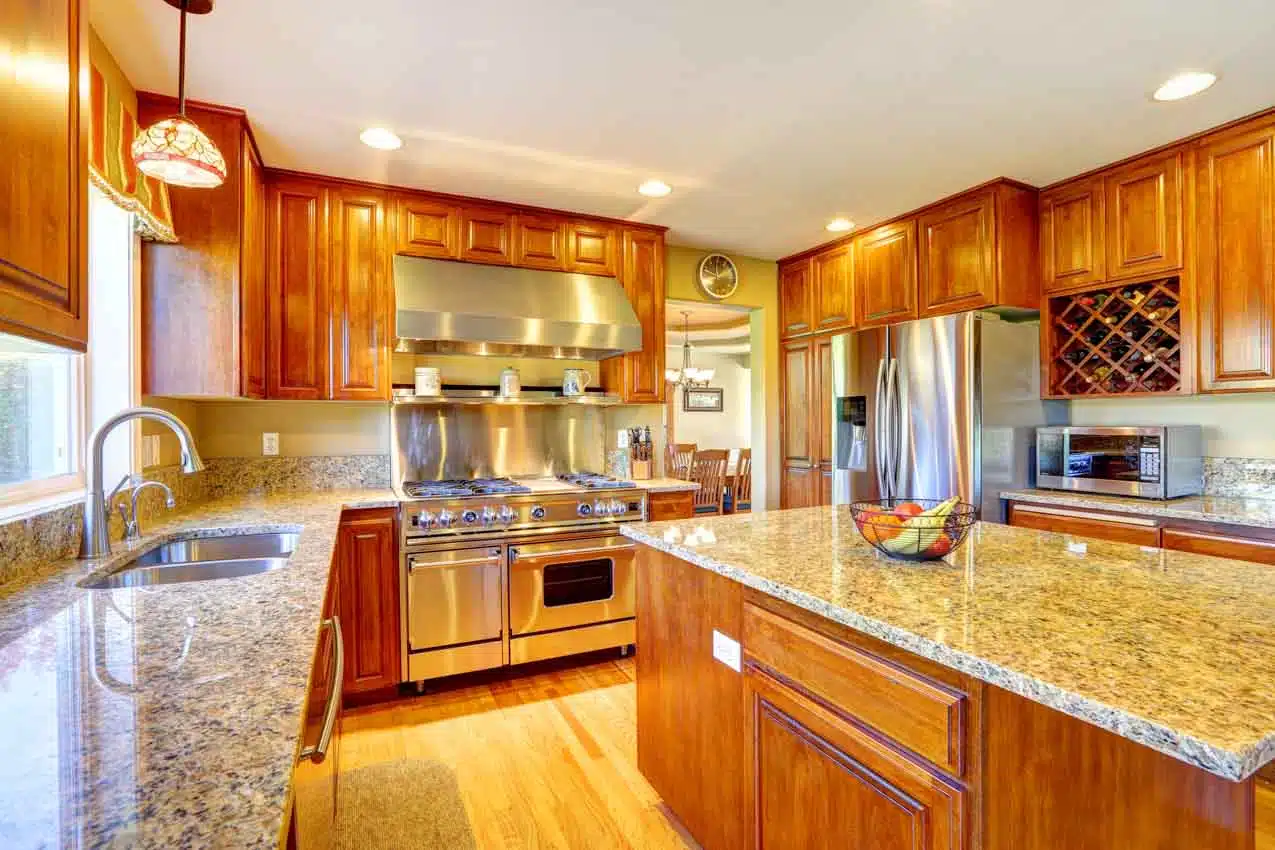 Polished Santa Cecilia Granite Countertops: A polished variant is the top finishing choice for countertops because its shiny finish gives kitchens a timeless appeal. Polished finish granite countertops have a smooth, mirror-like texture that is not only attractive but also scratch resistant.
• Honed Santa Cecilia Granite Countertops: Countertops that use this granite type offer a softer, matte finish that is smooth to the touch. This type of countertop is good for those who prefer a more subtle look, as it does not have the same shine as its polished counterpart.
• Leathered Santa Cecilia Granite Countertops: These have a coarse and more natural texture compared to other finishes. This type of Santa Cecilia countertop has a more interesting appeal because of its unique variation in color.
• Brushed Santa Cecilia Granite Countertops: Countertops that use this type of granite have a textured finish that appears as if it has small scratches. It offers a more uniform look and is best suited for a contemporary kitchen design.

Santa Cecilia Granite Color Scheme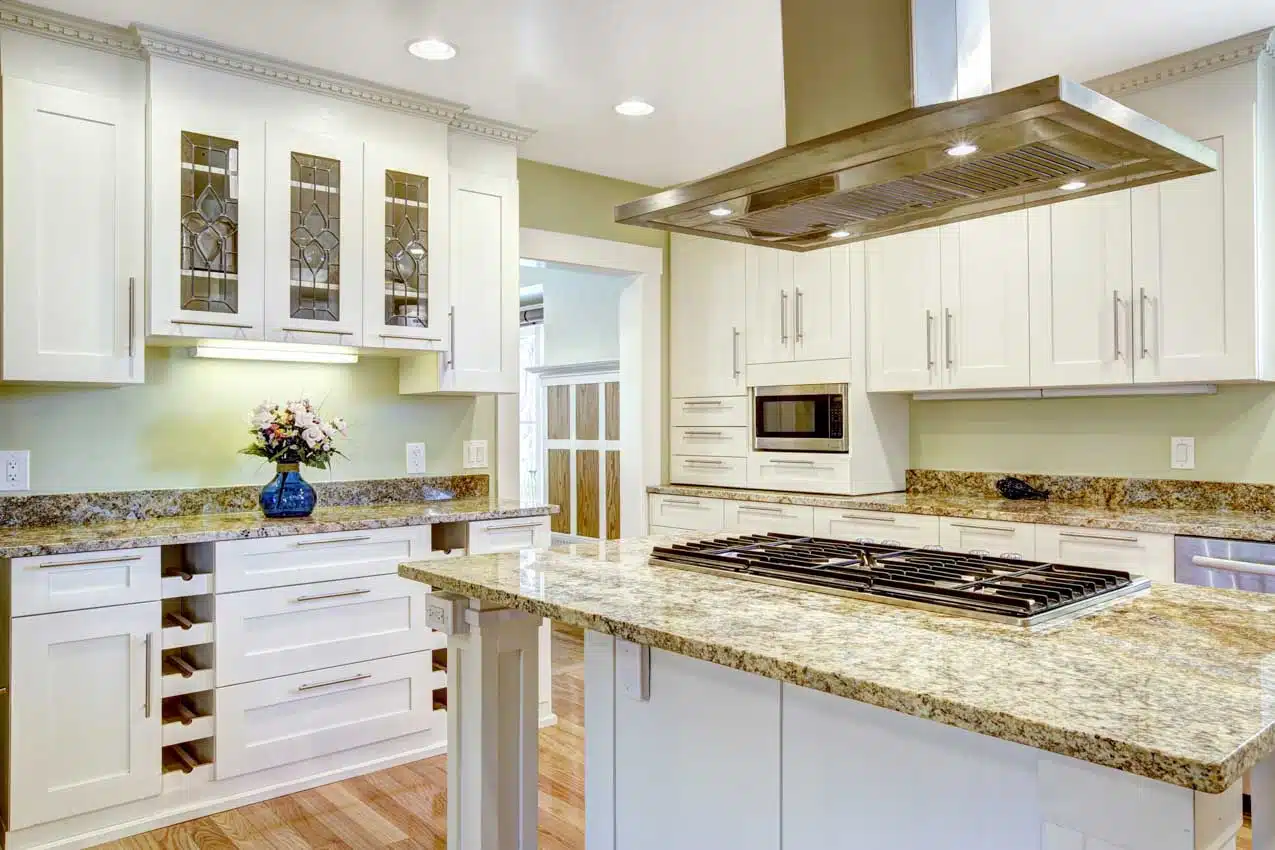 When choosing a general color scheme for this granite type, opt for warm and inviting colors such as beige, cream, gold, and light brown. For the accent colors, choose contrasting hues like a cool shade of blue, black, or mid-tone gray.
What Cabinet Colors Go With Santa Cecilia Granite?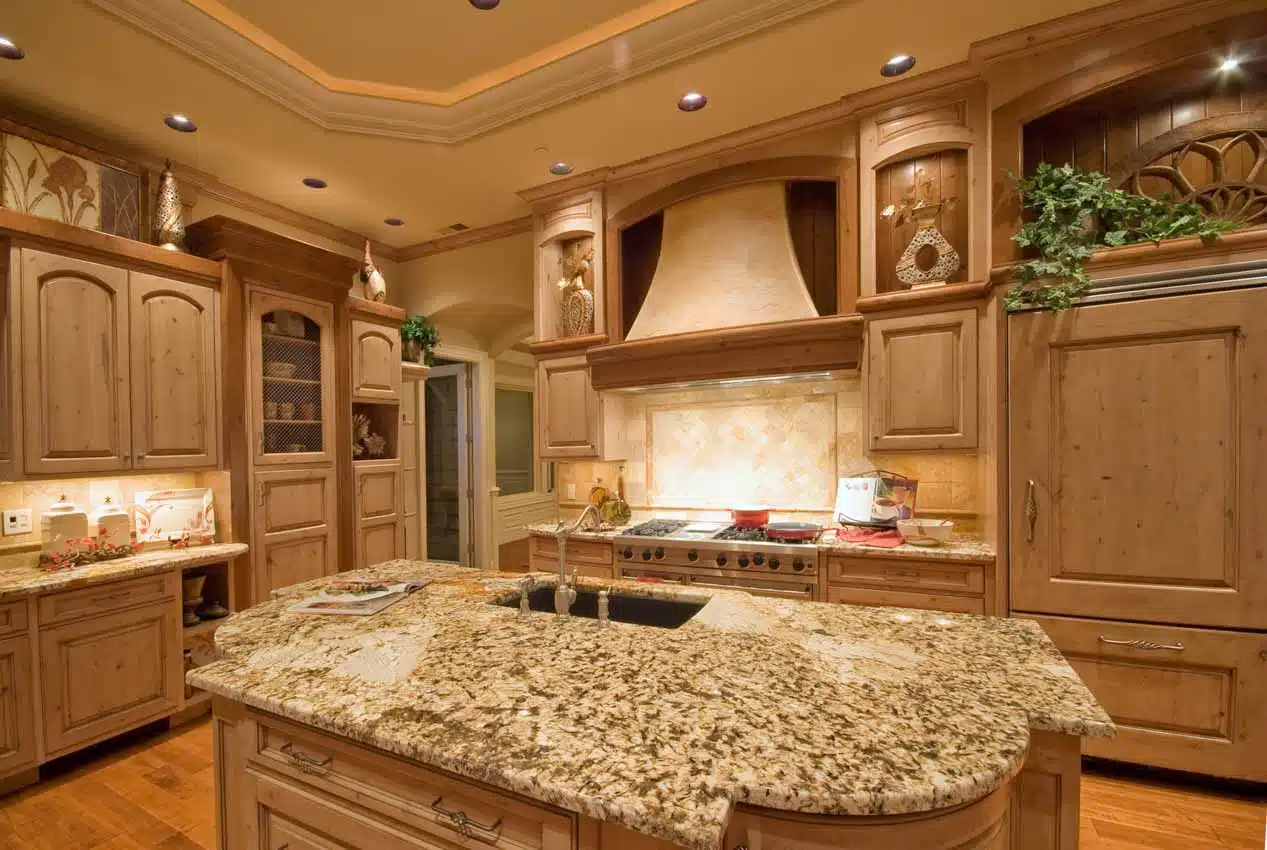 Santa Cecilia granite is a stone that works well with almost any style and color of the cabinet, including natural wood, contemporary, and modern cabinetry. In general, cabinet colors that go well include white, cream or beige, gray, medium brown, cherry, pine, and black.

• White kitchen cabinets: These countertops are an ideal backdrop for the white and cream cabinetry. White kitchen cabinets are a classic choice for any kitchen.
Painting the cabinets can brighten any drab and dreary kitchen. Doing the job properly does require a substantial amount of work, however, but the payoff is large. – EHow – Kitchen Cabinet Makeover: Eight Easy Projects, Editors of CPi
They can bring a refreshing look to a space or make a stunning statement in a modern home. The best thing about it is that it works with any tone of this granite — from light, classic to gray and gold.
Try matching white cabinets and classic Santa Cecilia granite with a rich brown island to make your color scheme more interesting.
• Cream kitchen cabinets: Another neutral that pairs best with this kind of granite countertop is cream. Cream kitchen cabinets pair well with this granite type because they share the same color temperature.
Cream kitchen cabinets are often made of wood and have a subtle, creamy hue that adds a touch of charm, warmth, and texture to any kitchen.

Along with golden Santa Cecilia granite, you can pair cream cabinets with other warm tones like brown, yellow, and orange. You can also add hardware in a variety of finishes such as gold, silver, or bronze, and a glass or tile backsplash to give it a more contemporary look.
• Gray kitchen cabinets: gray kitchen cabinets are another cabinet color that pairs well with these granite countertops. Regardless of this granite's undertone, gray kitchen cabinets complement the veins and striations found in the stone's surface.
Gray kitchen cabinets can be mixed and matched with a variety of accent colors, materials, and finishes to create a one-of-a-kind look in your kitchen.
Together with these granite countertops, gray kitchen cabinets bring a sense of sophistication and elegance to any kitchen. This pairing also suits modern and contemporary kitchen designs.
• Medium brown kitchen cabinets: Santa Cecilia granite countertops paired with medium brown kitchen cabinets create a naturally warm, cozy atmosphere.
This pairing can be matched with a variety of finishing materials and hardware and will work with any style of space from traditional or contemporary.
• Black kitchen cabinets: If you want to create contrast in your kitchen, try matching gray Santa Cecilia countertops with black kitchen cabinets. Gray slabs go well with black-and-white themes and industrial-inspired spaces.
• Cherry kitchen cabinets: These granite countertops will best stand out against darker cabinet colors like cherry. Golden-colored slabs and cherry kitchen cabinets are also perfect if you want to create a more dramatic look for your kitchen.
Santa Cecilia Granite Backsplash Ideas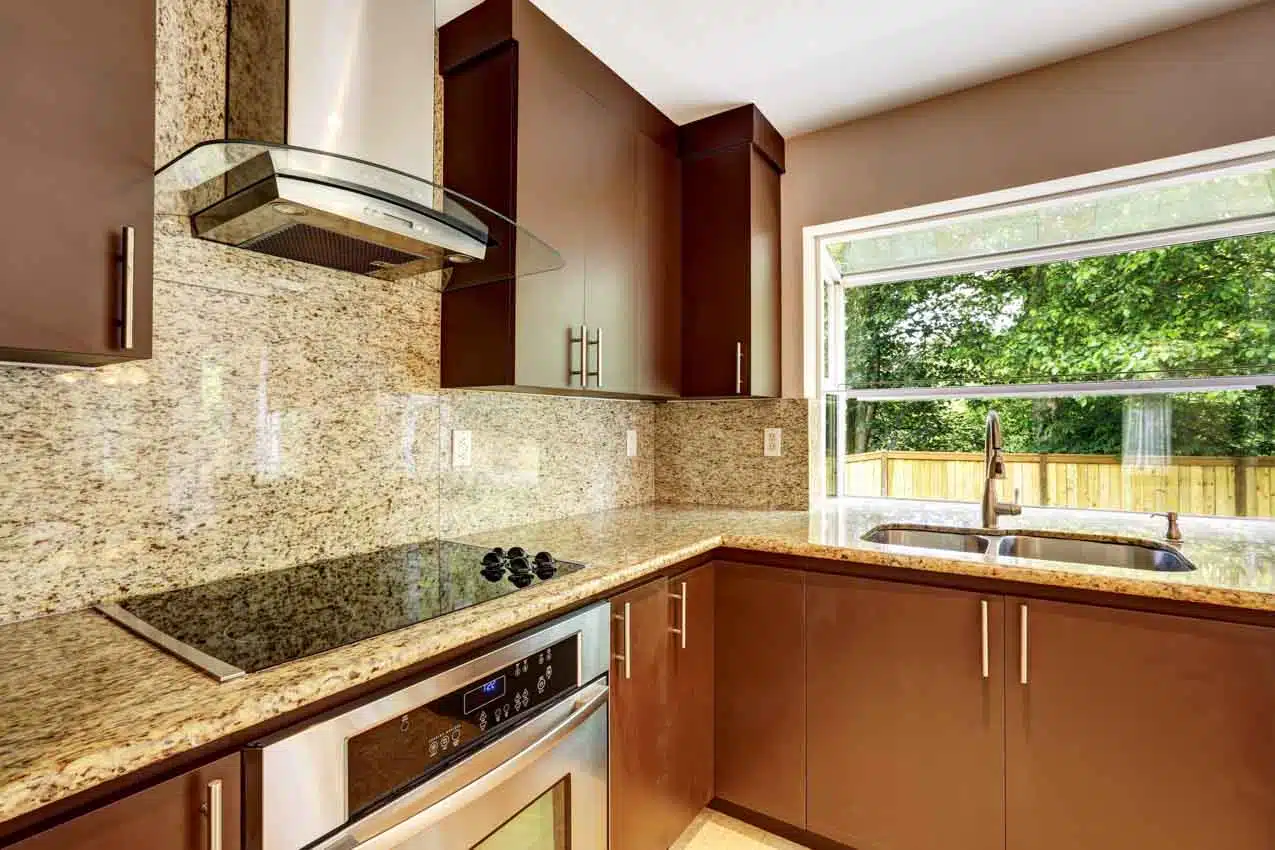 Aside from countertops, the warm golden yellow tone and the variety of colors, textures, and patterns of this type of granite can be used to create stunning backsplashes. Here are a few ideas for backsplashes featuring this granite type:
• Solid Slab Backsplash: A solid granite slab can be used as a minimalist backsplash for a modern-style kitchen.
• Strip: Create a modern, minimalist look using strips of this granite arranged in a simple, linear pattern.
• Mosaic: If you want something traditional, you can customize your own mosaic using tumbled Santa Cecilia in different shades.
Mosaics are also a great idea to add texture and dimension to your kitchen countertop. Aside from a mosaic pattern, you can also incorporate other custom designs like a herringbone, diamond, chevron tile backsplash pattern.
• Mixed materials: Combine this kind of granite with other materials like stainless steel or glass to create a one-of-a-kind backsplash.
• Use two variations of Santa Cecilia Granite: Design a backsplash using two types of Santa Cecilia like classic golden yellow mixed with the lighter variation. Combining two types will create contrast and create a dramatic, statement-making look.
How Do You Make Santa Cecilia Granite Look Modern?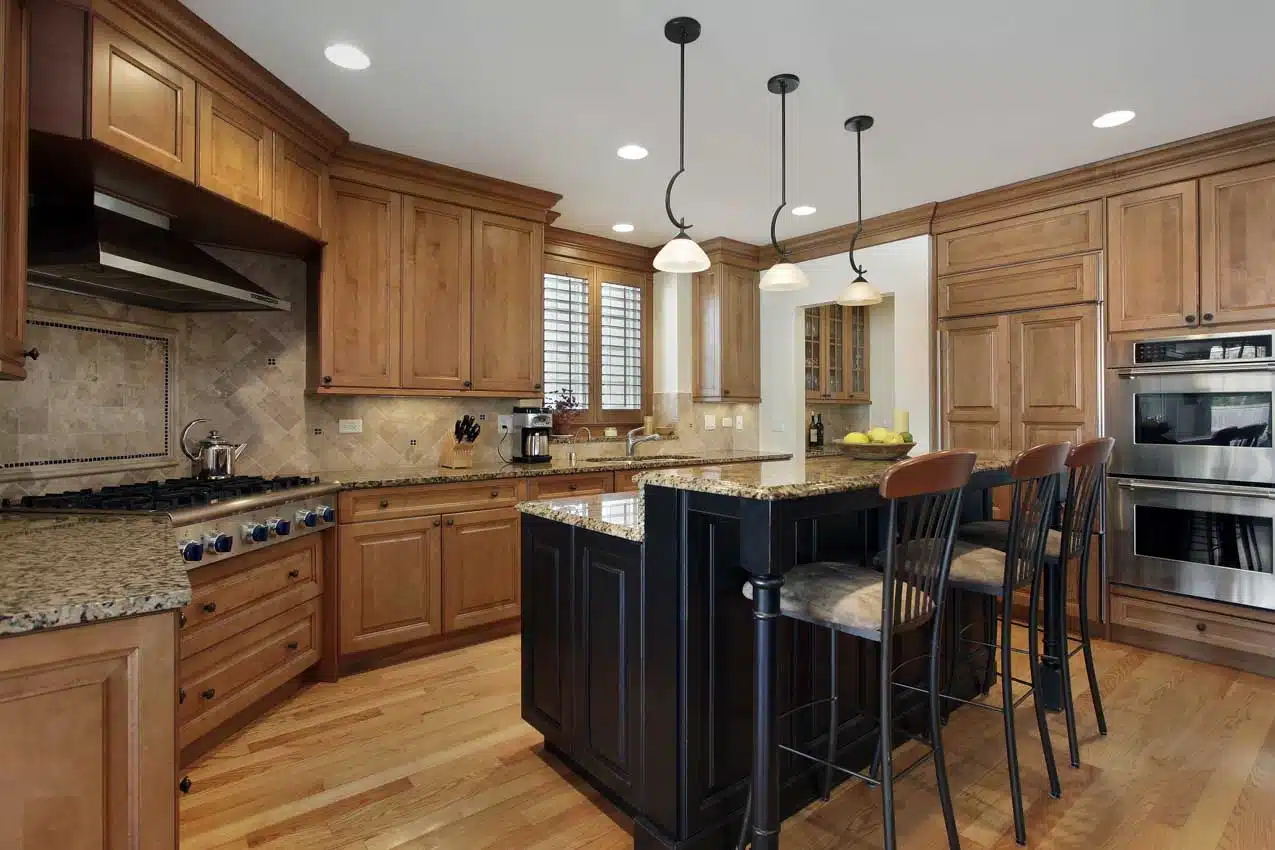 Santa Cecilia granite can easily look modern by combining it with the right accessories and finishes. If you want to update its look, you can employ simple and sleek finishes to complete the overall design of your kitchen. Here are some tips on how you can make this granite type look modern:
• Combine Santa Cecilia Granite countertops with modern-style cabinets: The cabinets are the most dominant feature in a kitchen. Because of such, they can easily anchor and dictate the space's overall style. If you want to make these granite countertops look modern, try pairing them with streamlined and simple cabinet styles.
• Use a light or neutral color scheme: A neutral color scheme is one of the trademarks of modern interior design style. If you want to update a space, using a light, neutral color palette that is dominated by whites, blacks, grays, and browns is the perfect trick.
• Match with contemporary fixtures and lighting: Make sure to include contemporary lighting and fixtures in your design. Simple and sleek accessories like pendant lights, track lighting, and glass lighting fixtures can easily make the rest of your kitchen space look more updated.
• Incorporate metallic touches: Metallic touches like stainless steel and chrome can also update the look of Santa Cecilia granite countertops. You can employ them in the cabinet hardware, faucet and fittings, appliances, and even the splashboard.
• Add contemporary artwork and modern furniture: Pair this type of granite with modern bar stools and contemporary finishing touches such as artwork to bring a modern feel to the space.
• Install a modern backsplash: Choose a modern backsplash like a glass slab or mosaic to go with these granite countertops.
See more related content in our article about backsplash for granite countertops on this page.